Best Thrifting in Albuquerque, NM
INSIDE : Looking for some fun unique home decor finds? Check out the best thrifting in Albuquerque, NM with addresses, descriptions and even a printable map for you to follow and shop along with!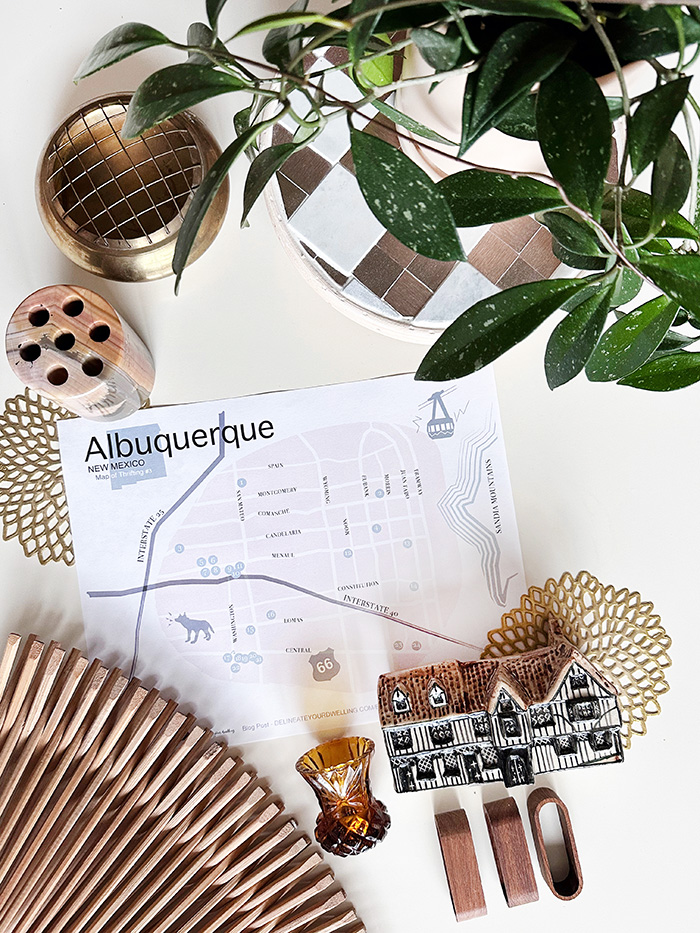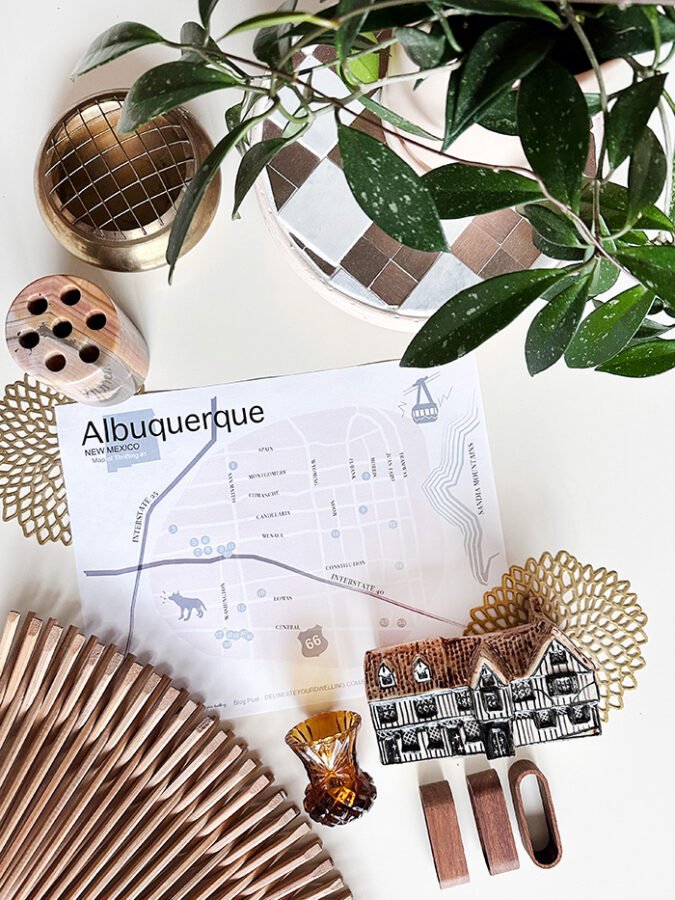 This post may contain affiliate links. See full disclosure here.
This post has been updated since it's original November 2021 publish date.
I love going to garage sales, Estate sales, antiquing, thrifting and even local consignment stores. There is something about the hunt of an amazing treasure (and deal) that lures me every time. As much as I love a good Big Box shopping trip now and again – thrifting can provide such unique finds for your home.
I like going out at least once or twice a month to see what I can find locally. Every time I share about my thrift adventures on Instagram or Tok Tok, my local Albuquerque readers ask one question over and over… "Where are you thrifting??!"
Best Thrift Stores in Albuquerque
I have been collecting locations and marking my favorite Thrift Stores in Albuquerque for a while. There are so many great thrift stores in our city. From shopping centers, old buildings and rows upon rows of strip malls in Albuquerque – it is surprising how many of them have amazing thrift stores tucked away in a corner!
It felt fitting to share some of my favorite home decor thrift stores with you all. Whether you are passing through visiting the Albuquerque during Balloon Fiesta or even if you reside here, be sure to download my Albuquerque Thrift Shop map and let me know which are YOUR favorite stops!
(Also note, I rarely – if ever – thrift for clothing. Some of these places do have clothes, but I am focusing on home decor for this roundup.)
Want to see some of my favorite thifting scores?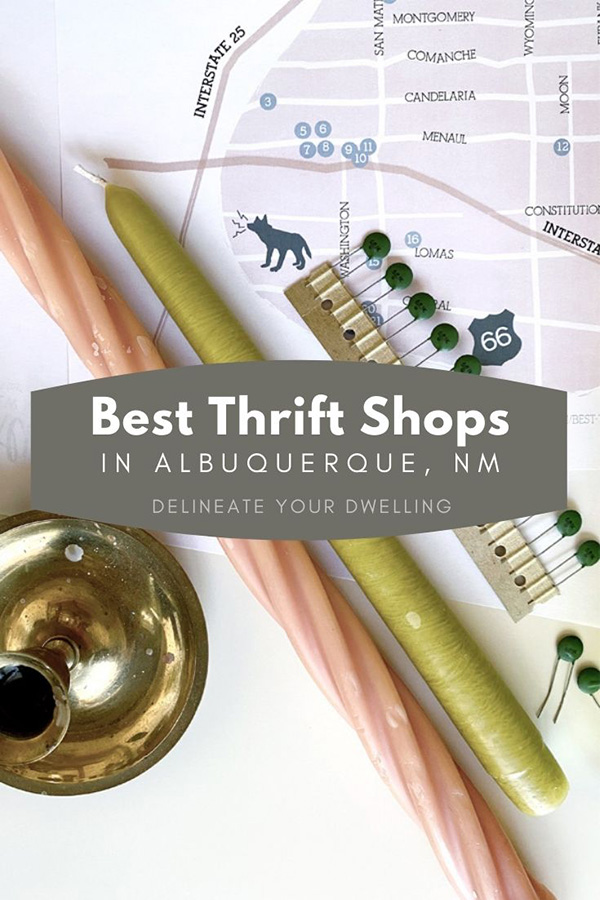 In this post you will find :
ADDRESSES to the best Thrift (and Antique) Shops in town
A Thrift PRINTABLE MAP to help you get to all the best locations
DESCRIPTIONS of my favorite spots
Best Albuquerque, NM Thrift Shops
Here is a list and addresses of some of the best Thrift and Antique shops around Albuquerque. I currently have 24 listed below, but I'm sure this is a list I will keep adding to with time!
Keep reading below for a quick description of my faves in more detail.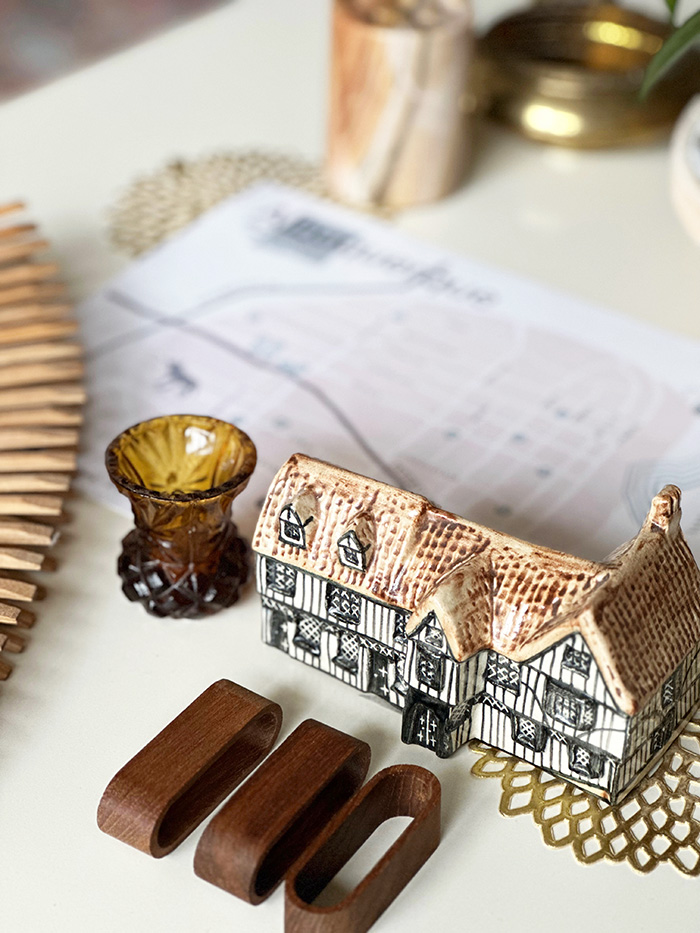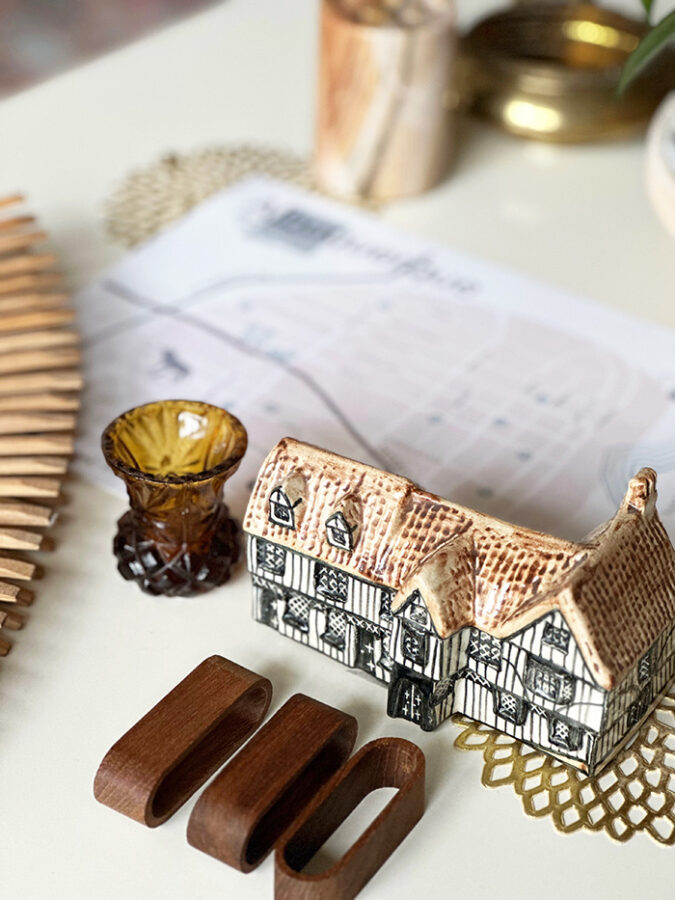 Goodwill, numerous locations across city
Grace Thrift Store, 8216 Central Ave SE
Greater Albuquerque Habitat for Humanity Restore, 4900 Menaul Blvd NE

Indoor Flea Market, 6201 Central Ave NE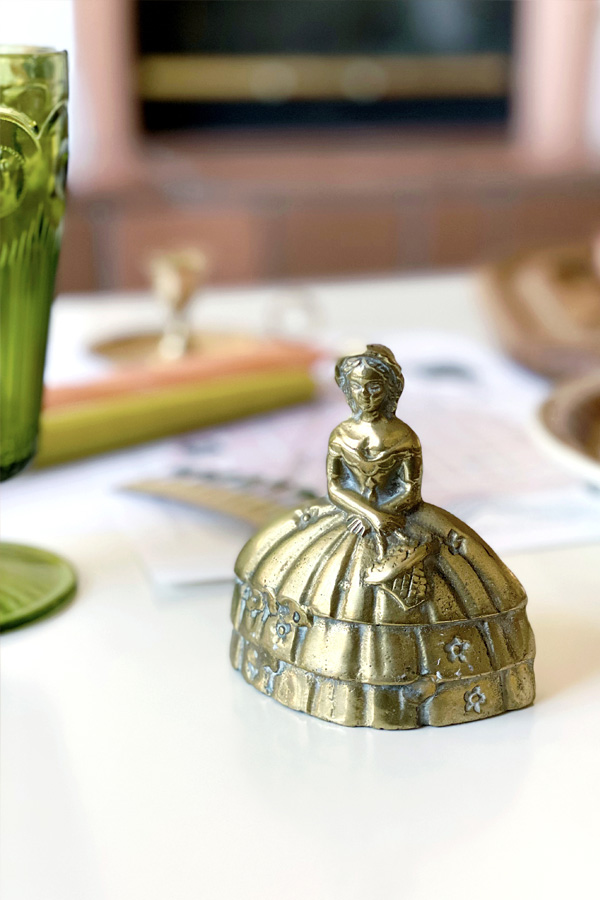 Albuquerque, NM Printable Thrifting Map
Looking to go out and make a day of your thrifting adventures? Tired of pulling out your phone to see where the next stop is? You are in luck! I've created a fun printable thrifting map for you to purchase, print out and take with you.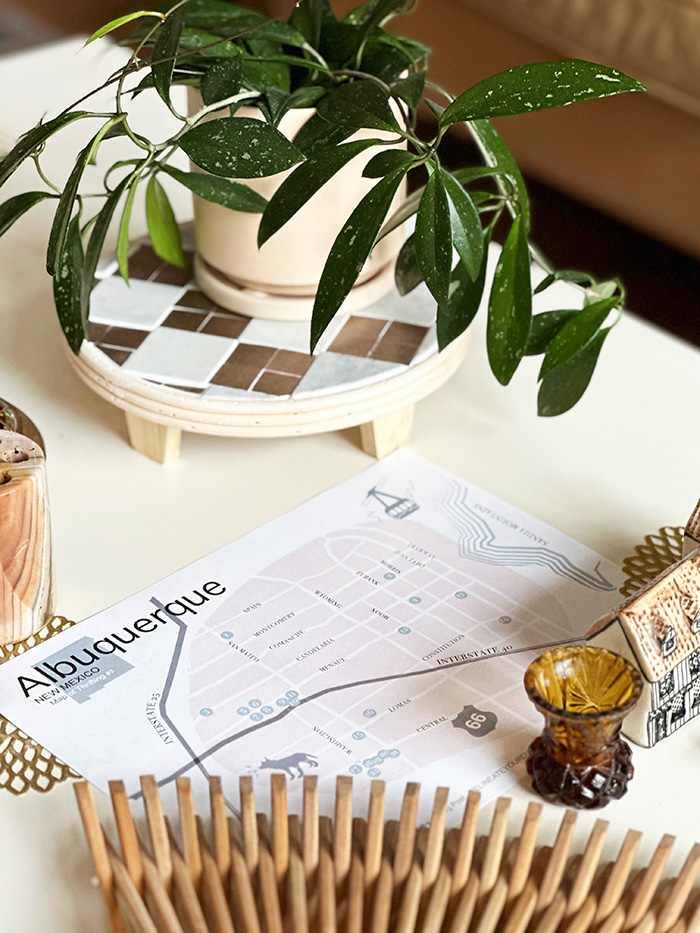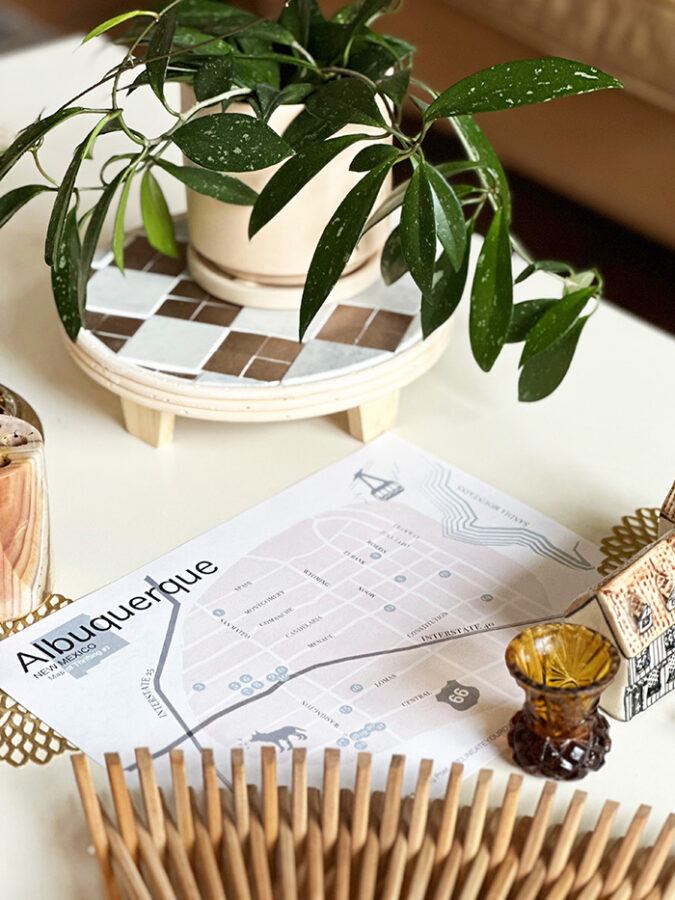 The Albuquerque thrifting map highlights all of my favorite thrift spots in town. The map shows all major cross-streets and major landmarks and the backside shows each of their specific addresses. I've also included the link back to this post, if you need to reference it for more information while out on the road.
You can now purchase this map without even leaving my site! You can purchase right below on the peach colored "Buy Now" button.
The front is a map of Albuquerque with dots for each of the 23 thrift shops. The back of the map has the names and addresses of each store. Hope this is helpful to you!
Thrifting in Albuquerque
My Favorite Home Decor Thrift Stores in Albuquerque
These are my most favorite thrift spots to check out. I have 8 listed in total.
Antiques and Things –
This is a great curated thrift spot. There are SO MANY booths in their location and all of them have just a slightly different vibe. But you will definitely find a booth or 10 that have items that catch your eye. You could easily spend hours in here. From gorgeous Mid-Century Modern furniture, to brass candlesticks. They've got it all. Definitely a fun place to stop in. *One of my faves.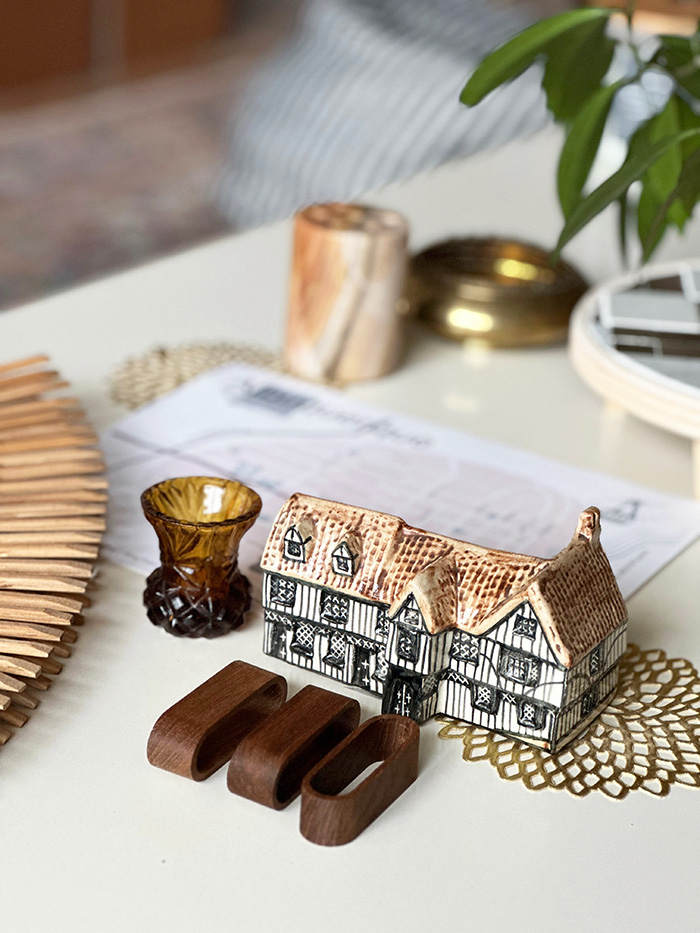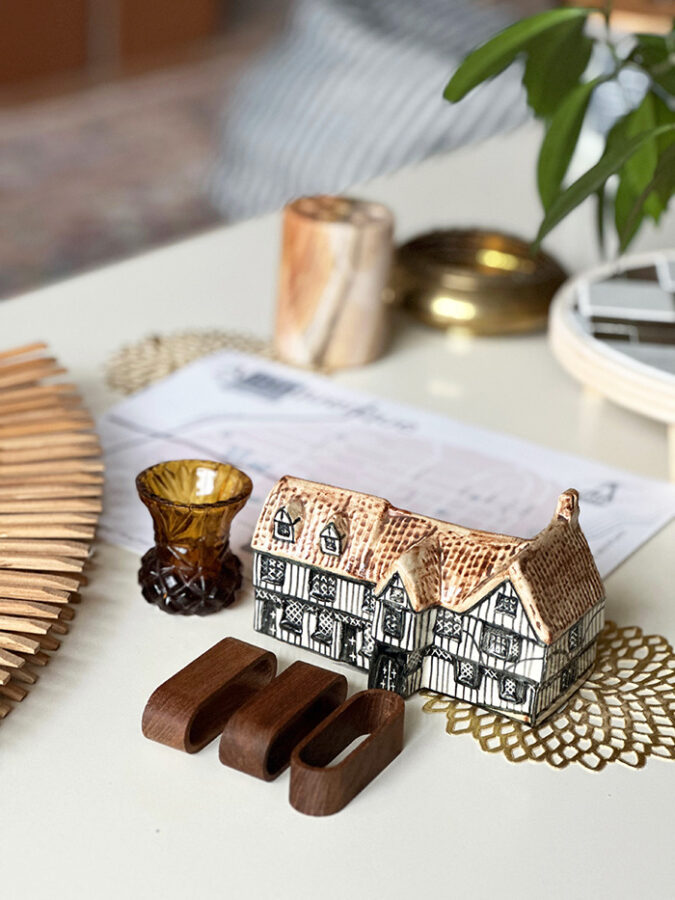 Classic Century Square –
This is a fun spot to go thrifting as there are THREE FLOORS to explore! The bottom floor is set up as curated booths. Right upon entering there is an amazing all brass booth with more brass all together than I have ever seen. There are records, lamps, glassware and just about everything in-between. The second and third floor is full of furniture. There are endless chairs, tables, side tables, consoles, etc… I'm not sure how they haul furniture up two and three stories, but that's where you'll find it.
Family Indoor Flea Market –
Family Flea Market might be one of my favorite hidden gems. It has a fun retro sign out front and the inside is just as eclectic in style. This market is also setup in a booth format. I feel like you have to do a bit of digging here, but I love it. I have found some of the most unique home decor treasures at Family Flea Market. From gorgeous brass gaskets that I display on books in my shelves, to a beautiful set of Mid-Century Modern glassware – they have it all.
If you like more unique finds, this is your spot. And make sure to go to the back area, past the red + white checkered floor… I always find something good back there. *One of my faves.
Family Thrift Center –
Family Thrift has an enormous clothing section, but if you follow the left wall back you will see they also have quite a few home goods. Once you reach the back of the store, there is a huge home decor area. They have a plethora of dishes, cups, candlesticks, etc… and more framed art than any local place I've seen. There is a very small bump-out room in the back that holds "seasonal/specialty" items.
I've found a few rattan chairs and side table in there for around $8. This is a spot I frequent often because it's a bit off the main thrift drag, but I always enjoy stopping in. *One of my faves.
Greater Albuquerque Habitat for Humanity Restore –
Who doesn't love the RE-Store?! It's a great spot when you are looking to upgrade stuff in your home like cabinets, light fixtures, tile, etc. They also have some great furniture finds, plus you are helping Habitat for Humanity!
Joy Junction Thrift Shoppe –
I love visiting Joy Junction Thrift Shoppe. Their first room upon entering is almost entirely clothing and jewelry, but keep making your way to the second room because that is where you will find all the home goods. They have an amazing selection of vases, pottery, dishware and baskets. Their framed art area is always very substantial.
And they have a nice selection of furniture from console tables, to dining room tables and chairs. And they always have a big upcoming seasonal area. I always find something good to bring home with me. *One of my faves.
Savers –
Savers is a national chain thrift store, but I love it all the same. They have a donation area and their clothing/purse/hat section is enormous. I always go for their small home items like the artwork, baskets, marble bookends, and other fun items. They always have a few things I'm excited to bring home with me. *One of my faves.
Surplus City Albuquerque –
How do I describe this gem of a spot? If you are looking for unique odds and ends this is the spot for you! They have isles and isles and isles of various parts to machinery, tools, electronics, gauges, spigots, engines, etc. The DIY potential in a place like this is almost endless. They also carried a small section of chairs, lamps, dishware (which I loved), textiles like yarn and belts. There was also an entire half the store devoted to clothing.
This is not your traditional thrift home decor store, but if you go in with an open mind – it's a real treasure trove. *One of my faves.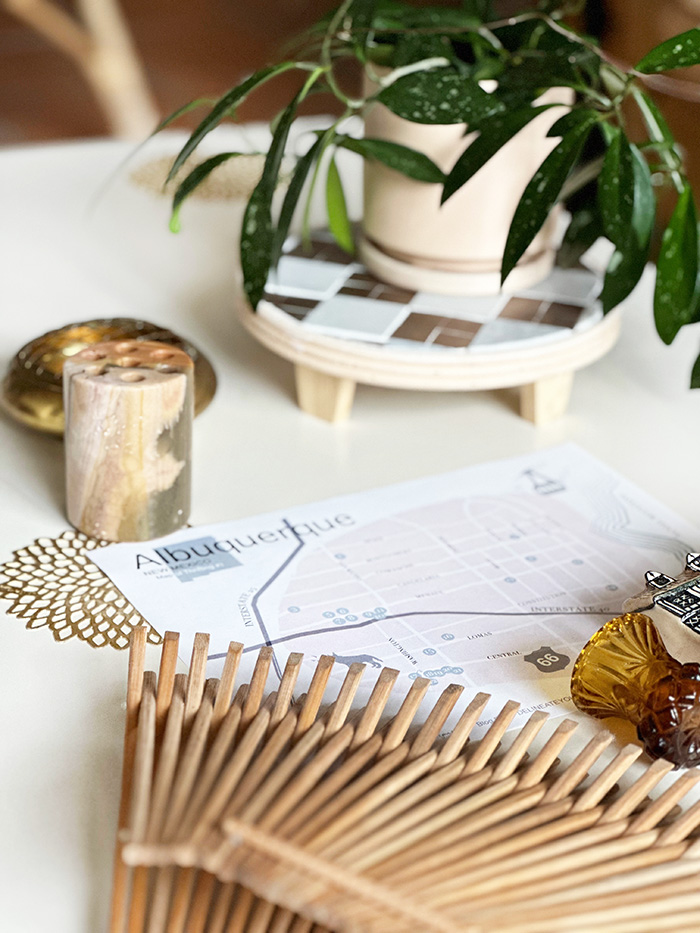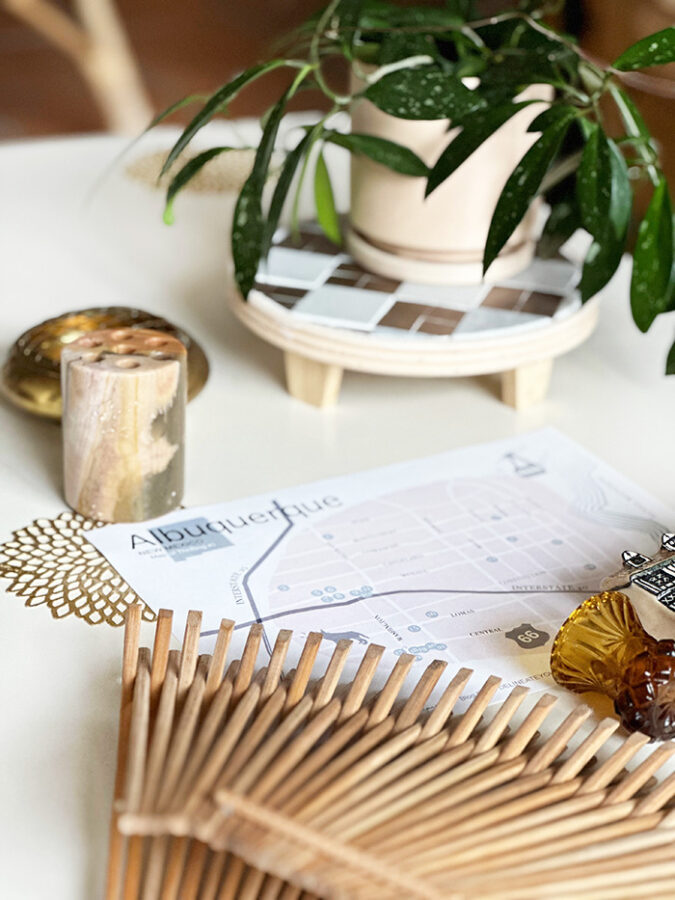 Looking for more Thrifting Ideas? Check these out…
Albuquerque, NM Best Vintage Shops
Frock Star Vintage Clothing
And Stuff
What Goes Around
Buffalo Exchange
Passion for Fashion Thrift Shop
Toad Road
Another thrift questions I get asked a lot is…
What time does Goodwill open?
Well, it might be best to check the hours of Goodwill in your local area first of all. However, for the most part Goodwill opens at 10am and closes at 6pm.
Now – be sure to let me know if there are any great vintage, home decor, thrifting spots that I have missed!
Want to check out more great things to do in New Mexico?
Best Restaurants in Santa Fe, NM
Best Day Adventures in Santa Fe, NM