INSIDE : Travel to the must see Organic Lavender Farm, Los Poblanos in Albuquerque, New Mexico and be prepared to be wowed. The property is full of rich history, stunning Southwest charm and beautiful views of the Sandia Mountains through well designed landscapes and gardens. You will not regret this visit.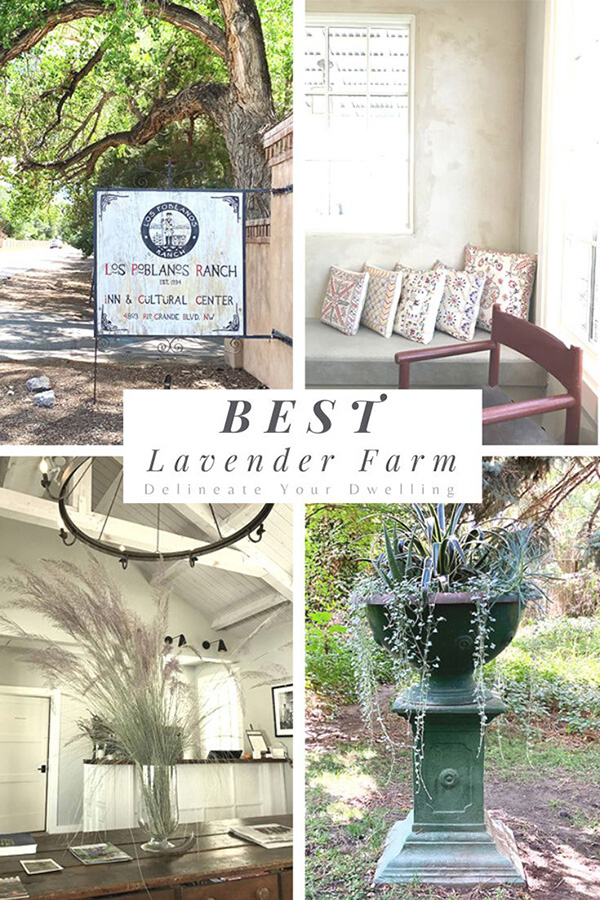 This post may contain affiliate links. See full disclosure here.
Los Poblanos is a true gem in the North Valley of Albuquerque, a beautiful lavender fam in New Mexico. I have been visiting it since at least 2015 and it has been so amazing to watch it slowly grow from an organic lavender farm to now having a full spa facility, numerous rooms to rent, a saltwater pool, CAMPO a delicious restaurant, a stunning Farm Store and endless other amazing amenities.
Let's take a little tour…
Los Poblanos Lavender Farm, Tree lined street
Upon arriving to Los Poblanos, the tree lined street alone is worth your visit. Many people come here just to take pictures because the street is that picturesque. In fact, it's become so popular that you are doing professional photos you need to get a photography permit.
I have been to this area numerous times through all different seasons over the years and the summer and fall leaves on these trees are my favorite, as seen below.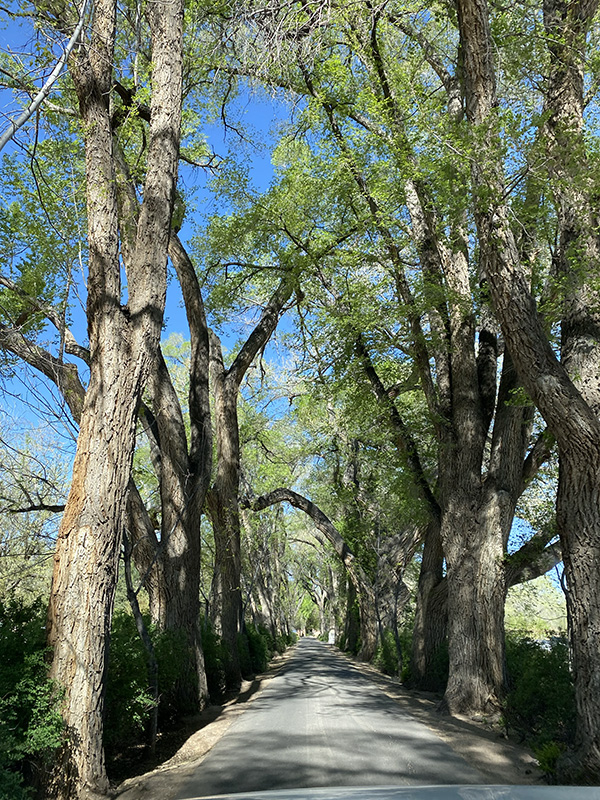 Los Poblanos Historic Inn
I have always always wanted to stay at Los Poblanos Historic Inn and this year for my 42nd birthday we were able to! We opted to stay in the Meem Greely 2 Deluxe Patio room. It was the most remote room on property.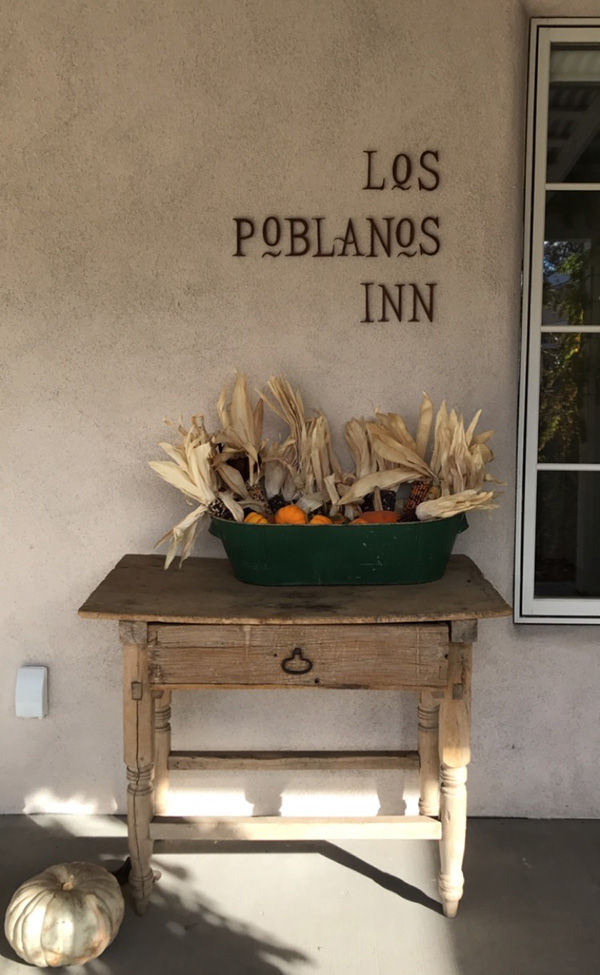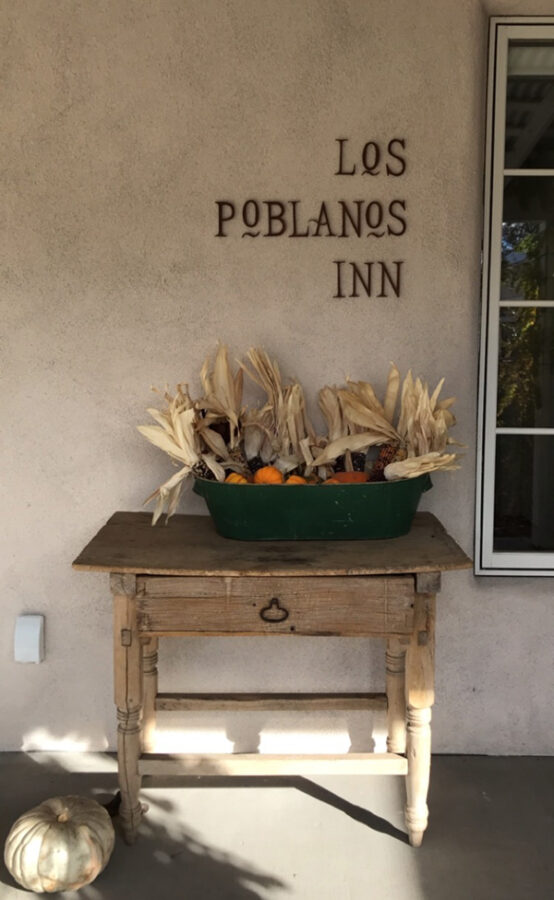 I loved that entering and exiting our room, we were greeted by a gorgeous garden designed by Rose Greely. We were tucked away from everyone and felt very secluded, but since we were staying in the more historic part of the property it felt a little more dated.
That being said, the room was lovely and felt fresh. The tiles in both the bathroom and the kitchenette were gorgeous! Next time we stay here, however, I think we would pick a room with a little more space for our family of four.
But for the dreamy factor… it was absolutely stunning.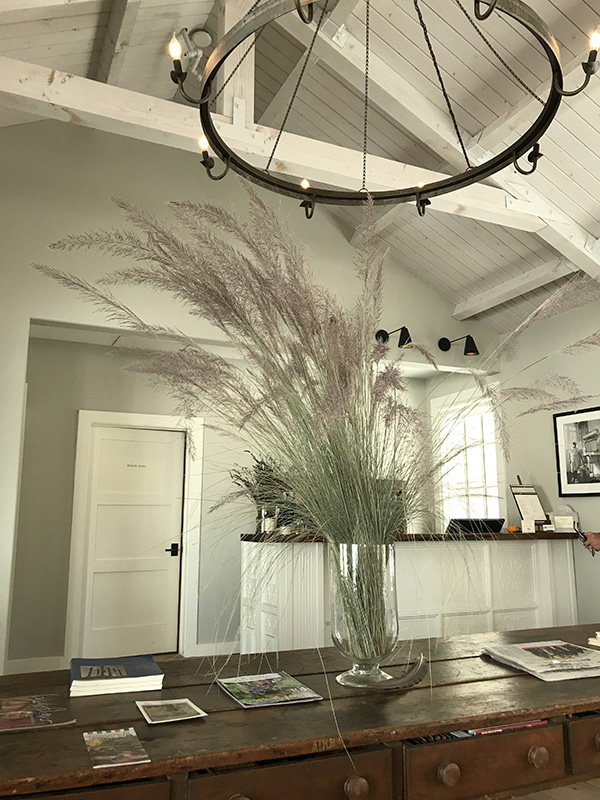 Los Poblanos Spa
As part of my birthday gift, my husband gave me a spa treatment and goodness it did not disappoint! The Hacienda is where their spa is located and architect John Meem, designed a central courtyard that all the treatment rooms are off of. It was bathed in sunlight, felt secluded with plants, greenery and a fountain in the center.
Imagine waiting for your masseuse in rooms with massive carved doors, gentle playing music and kiva fireplaces… I was so relaxed by the time my massage started. It was a lovely gift.
Los Poblanos Ranch
The Los Poblanos Farm Shop is a treat that anyone can enjoy, guest or not. Since visiting the Farm shop in 2015, it is amazing to see how much it has grown, transformed and become such a classic staple to the property over time!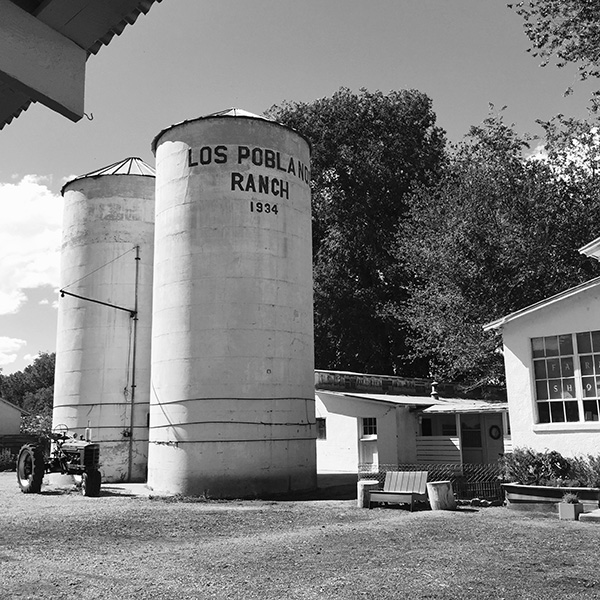 Los Poblanos Farm Shop
Upon entering the Los Poblanos Farm shop, there is a bakery, small coffee shop and a rotating selection of local food goods. You can purchase cooking lavender, lavender flour and many other items straight from the farm here.
A few more steps inside and you will find a plethora of handmade, local and non local goods. There are candles, jewelry, dishware, wooden cutting boards, tin ornaments, a small kid's section, gardening tools, etc…
Even if you don't make a purchase, the shop is a JOY to walk through.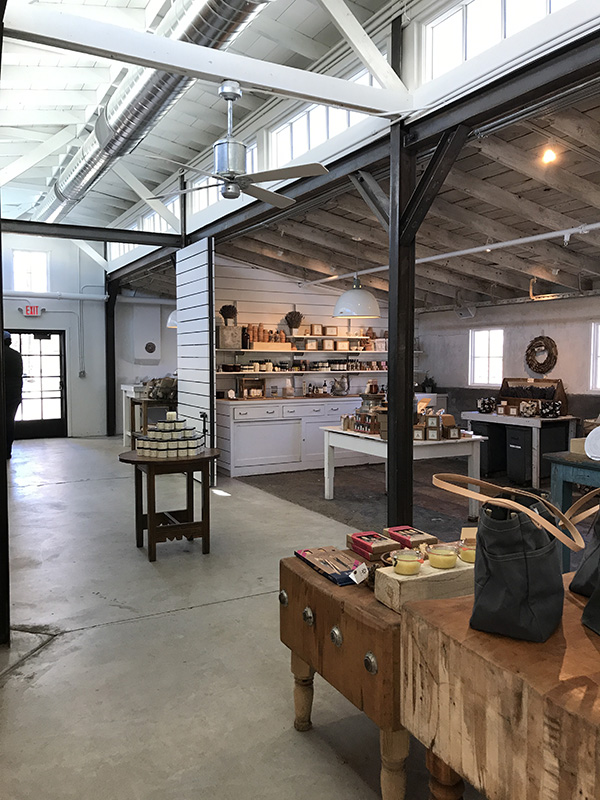 Where to buy Los Poblanos lavender products?
I love the smell of lavender. It's such a calm soothing scent! If you are at Los Poblanos then you must buy a wonderful lavender product. However, if you want to enjoy one of their items from the comfort of your home, you are in luck!
Whole Foods carries their products and you can order through Amazon. I especially love their Lavender Hand Soap, Lavender Lip Salve and Los Poblanos Lavender Mist.
Campo Los Poblanos Restaurant
Campo Restaurant and bar is a true treat. I have had brunch on a few occasions here, as well as dinner once. The bar alone is so beautiful and well worth stopping by before going into the restaurant.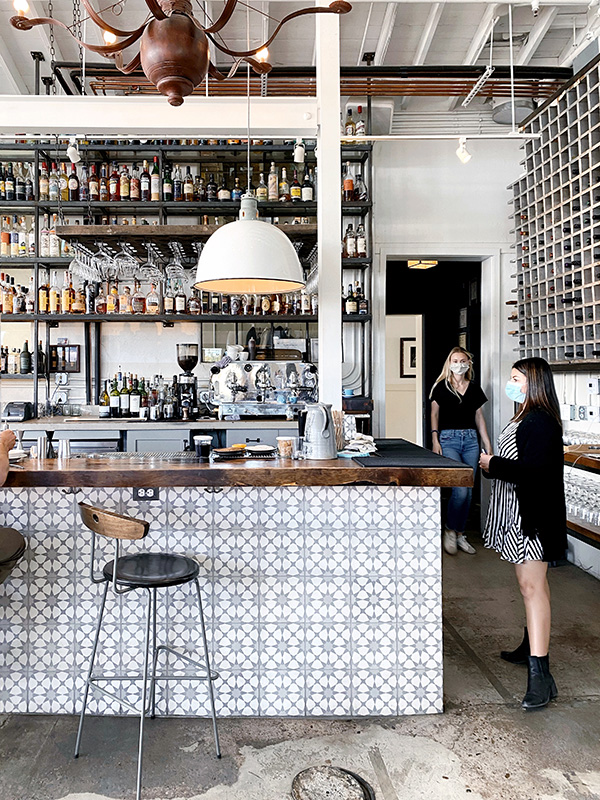 If you dine outdoors, expect to see at least one free roaming peacock and the views of the Sandia Mountains are wonderful at sunset.
I've eaten both outdoors and indoors and both experiences are great. Much of the food is locally grown on the farm and the menu is seasonally selected.
After having dinner here, my favorite parts were the appetizers and desserts. Delicious!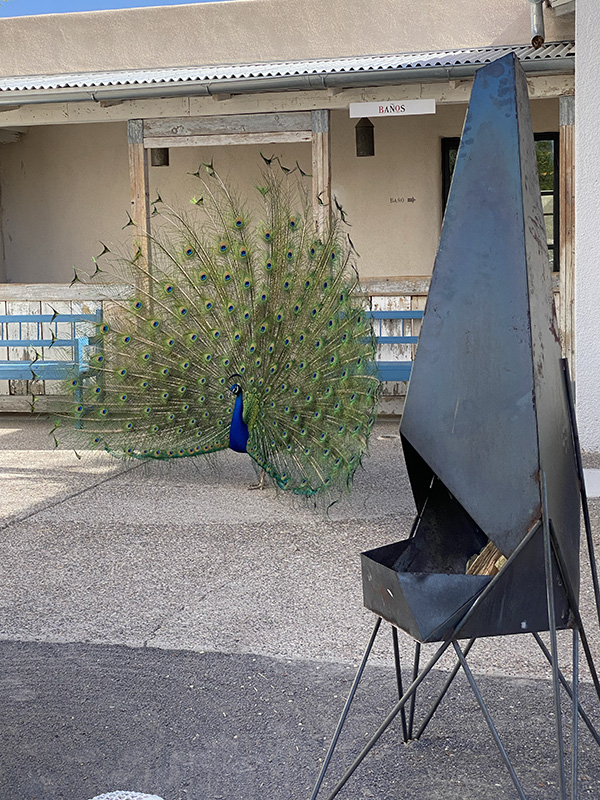 Organic Lavender Farm Gardens
I adored opening my door in the morning to the incredible gardens right outside our Meem Greely 2 room. As a landscape architect myself, I found it fascinating to learn the history of the gardens.
In 1933, Rose Ishbel Greely, educated at the Cambridge School of Domestic and Landscape Architecture, Greely was a pioneering female landscape architect in the early 20th century and was the first woman to be a licensed architect in Washington, D.C.
She was hired by Ruth and Albert Simms to design the gardens for their newly constructed Los Poblanos Ranch.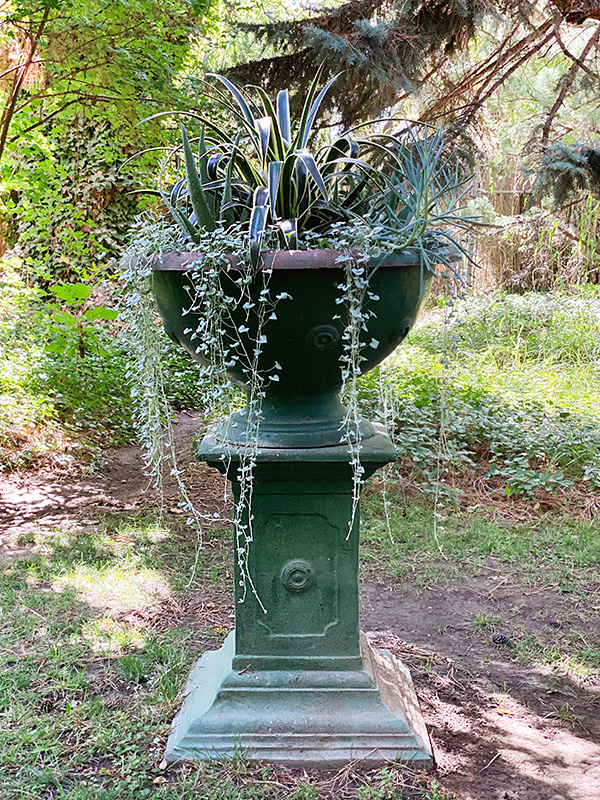 Judith Phillips, a local Albuquerque landscape architect, has continued her work in designing incredible landscapes throughout the entire property. It is impossible to not notice stunning vistas, plants in pots, hidden patio tables under weeping trees, the beautiful mix of edible foods and fruit trees designed in public spaces at every single turn.
Even without my landscape loving eye, Los Poblanos is simple and elegant garden eye candy everywhere you look.
Albuquerque Lavender Festival Albuquerque
The Albuquerque Lavender Festival is amazing to attend. The Lavender in the Village Festival features over 100 lavender vendors, as well as free yoga, live music, seminars, demos, kids activities, and so much more.
It is held, each year in the village Los Ranchos de Albuquerque, New Mexico.
Check on their website for dates, as it changes each year when it is held.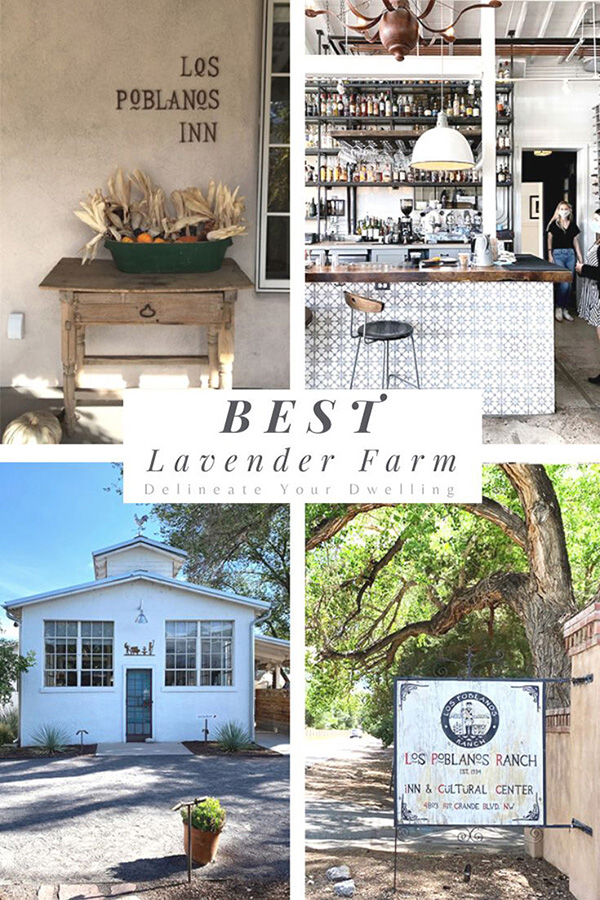 You really can not go wrong coming to visit here.
Want to check out more great things to do in New Mexico?
Best Restaurants in Santa Fe, NM
Best Day Adventures in Santa Fe, NM