INSIDE : Check out some of the best North Carolina Family Vacation ideas, including lodging and what to do! We took a full week and traveled by car across the entire state – see some of our must see spots to stop (and we also brought our dog!).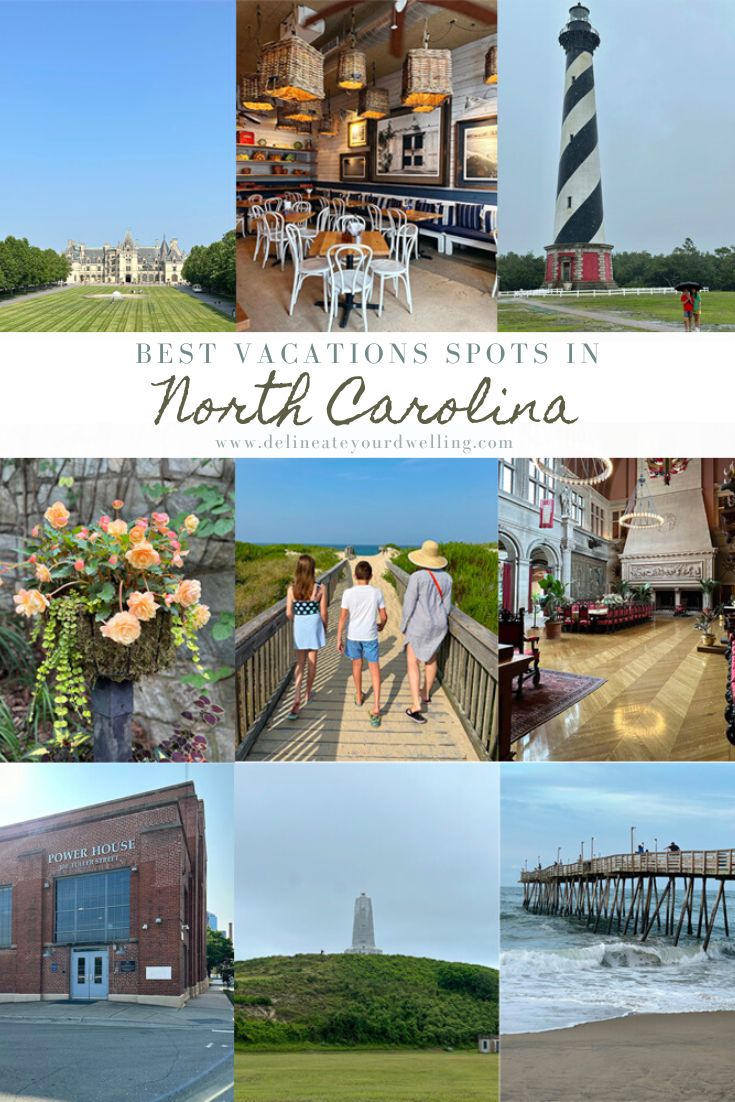 This post may contain affiliate links. See full disclosure here.
Twenty years ago I was at Purdue University getting my bachelor's degree in Landscape Architecture. The program was a five year program with a full calendar year internship in-between your junior and senior year. For my internship, I randomly choose Durham, North Carolina and I tell you what… I fell in love with the state from that moment onward.
Twenty years later (how am I this old??!) and my family decided to fly out to North Carolina and travel the entire state for a week. We had an incredible time traveling from Ashville to the Outer Banks with incredibly delicious meals all along the way! And did I mention we also brought our dog? Yes, dog friendly spots abounded on this trip.
So let's jump into the best North Carolina Family Vacation ideas!
Best cities to visit in North Carolina by car
Raleigh, North Carolina
Chapel Hill, North Carolina
Ashville, North Carolina
Durham, North Carolina
Charlotte, North Carolina
Kills Devil Hill, North Carolina
Kitty Hawk, North Carolina
What to do in Chapel Hill, North Carolina
We arrived late afternoon to Chapel Hill and a thunderstorm was just rolling in. So we checked into our hotel, The Sienna, Autograph Collection. It is an upscale boutique hotel and you feel that the moment you walk in the front doors. I might also add it's a dog friendly hotel and had a glass jar of dog milkbones to give our little Havanese puppy.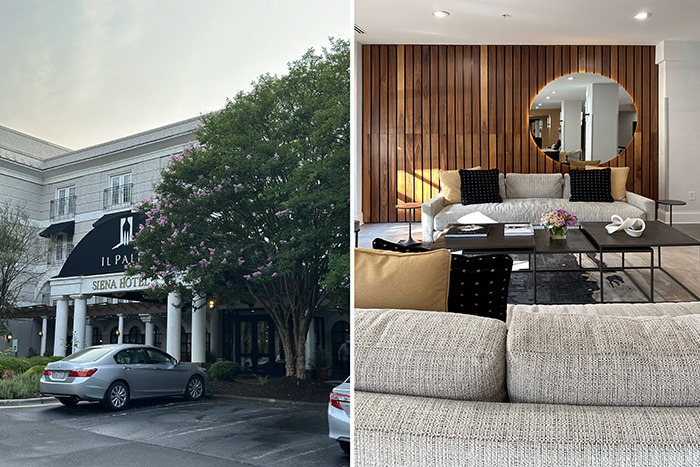 After we settled in and got Lou all situated, it was time to find something to eat. We choose BarTaco. It was located just a few moments away by car and it did NOT disappoint. Even still we keep talking about how delicious the tacos were.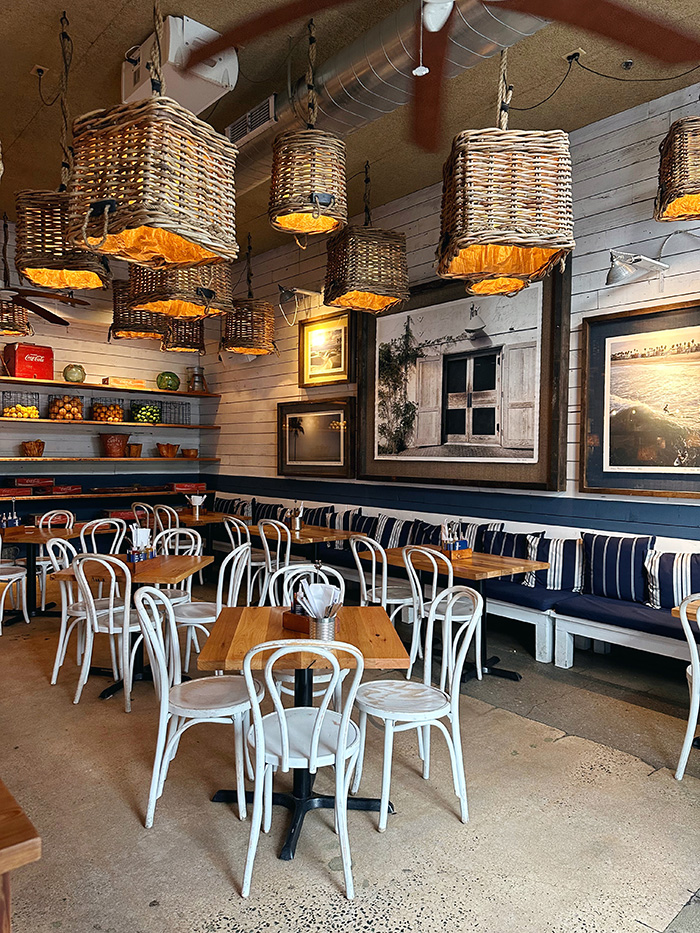 BarTaco is a chain, but the ambiance and decor really feels high end local. You order from your phone and mere moments later, the food started rolling in. We ended up ordering more tacos at the end because my kids and husband couldn't stop. Very delicious spot!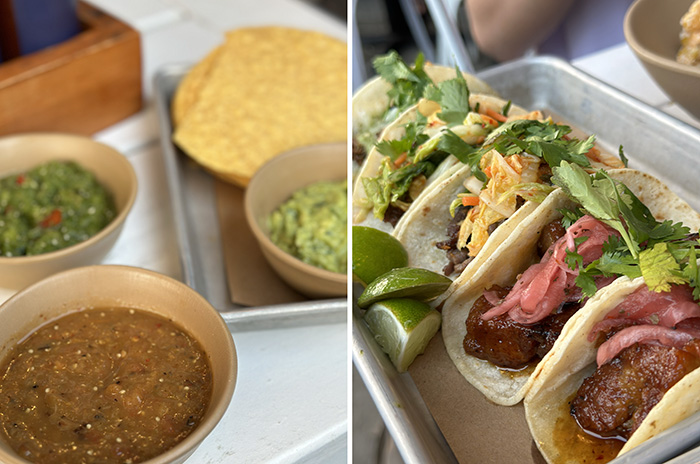 After dinner, we drove along the main corridor of Chapel Hill campus, Franklin Street. It started to rain again or we would have made a few stops along the way.
Franklin Street, Chapel Hill must see spots
Ackland Art Museum
Al's Burger Shack
Morehead Planetarium and Science Center
What to do in Asheville, North Carolina
The next morning we headed to Asheville. We got on Interstate 40 to continue our roadtrip at the Biltmore Estate. The drive was about 3 and a half hours, so it didn't feel too far of a drive.
We stayed at the Grand Bohemian Hotel, Autograph Collection, in Asheville and wow was it a fun and eclectic lodging! This was considered in the Biltmore Village and when we arrived we realized why… it was one single turn from the hotel to the entrance of the Biltmore entrance – very convenient.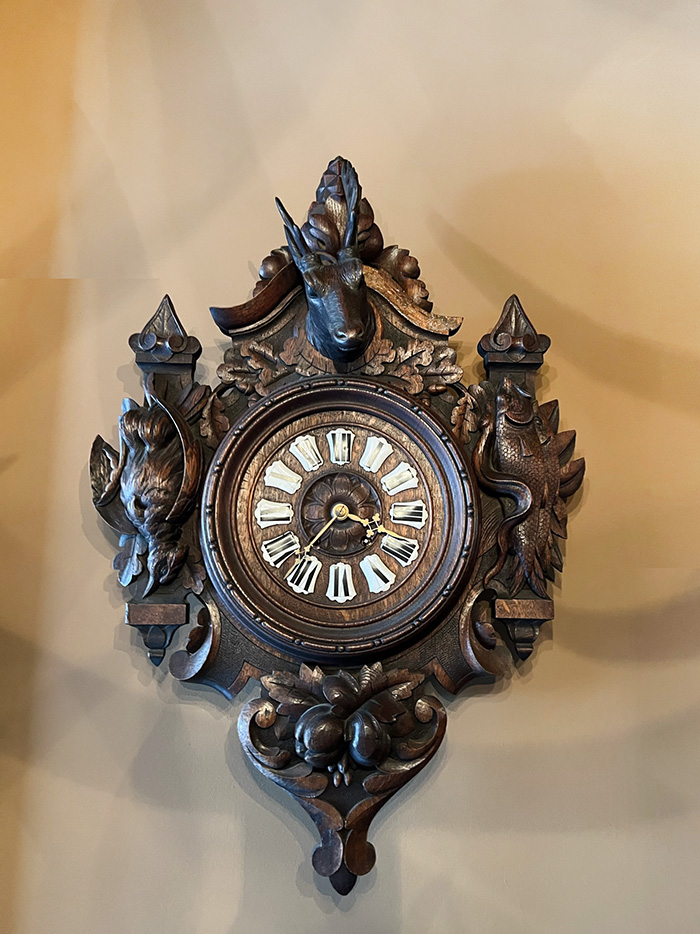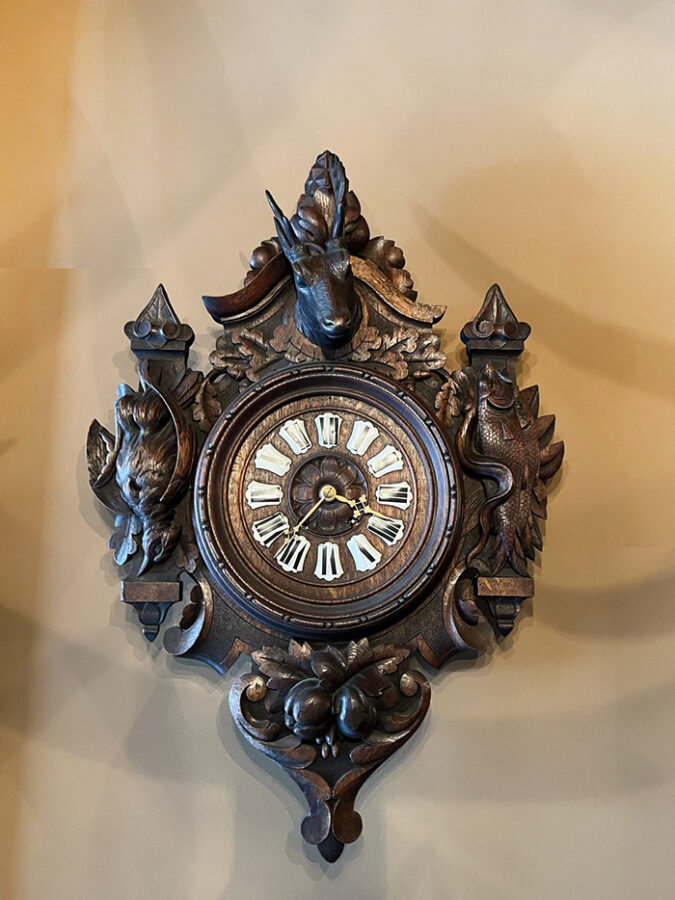 It was just about lunch time, so we put our dog on a leash and all walked over to Corner Kitchen to eat. We sat in their outdoor patio and it could not have been more lovely. The shade overhead was perfect, we were surrounded by vegetation and there even was a small water feature that added a lovely sound while we dined. I got a burger, my husband got a tasty Mexican dish, Huevos Tostadas and my kids shared a chicken + waffle – everything we ordered was delicious. Yum.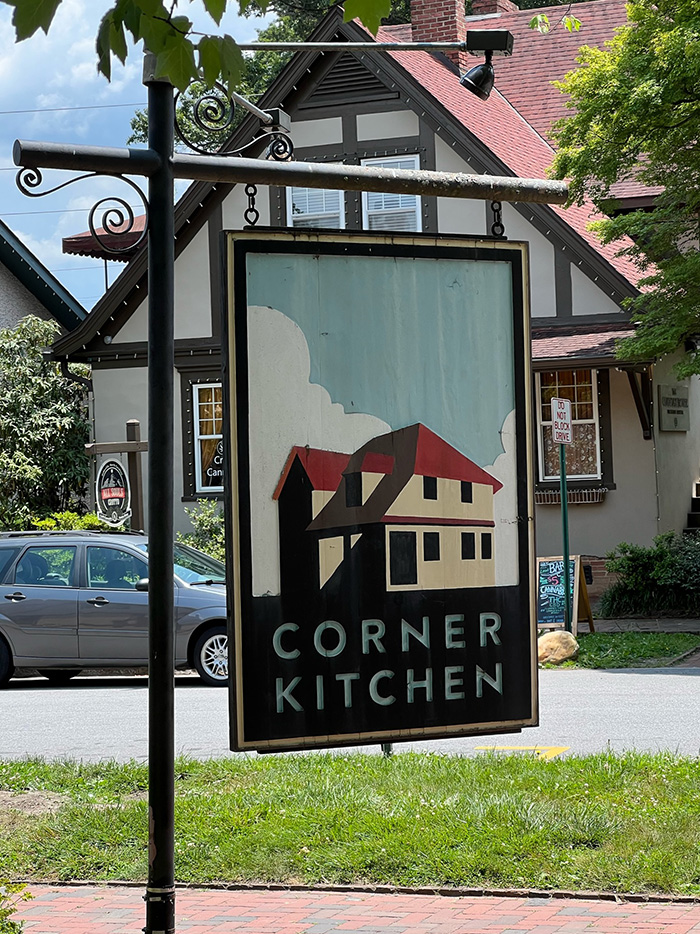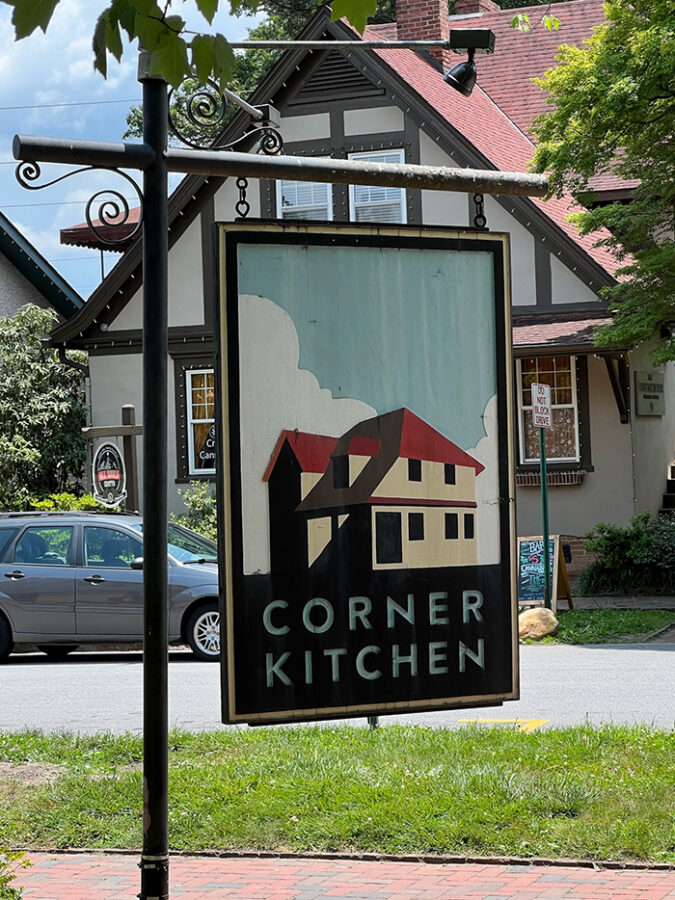 Biltmore Estate
It is important to get tickets for the Biltmore Audio Tour prior to your arrival. We got four tickets for our family a few weeks in advance with no issue. However, if you are traveling here during high traffic times you may need to get tickets even earlier.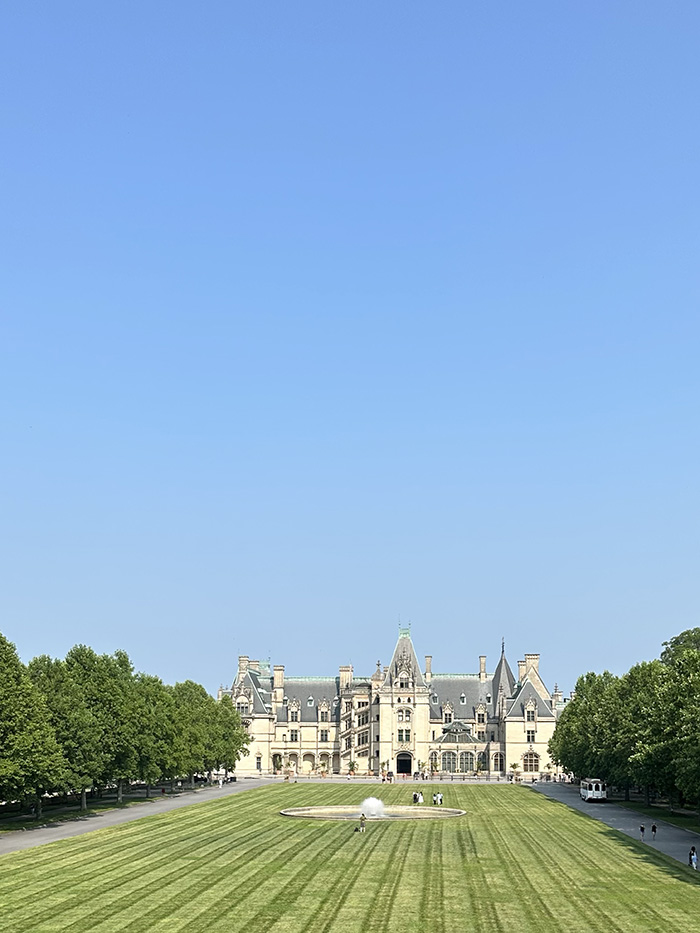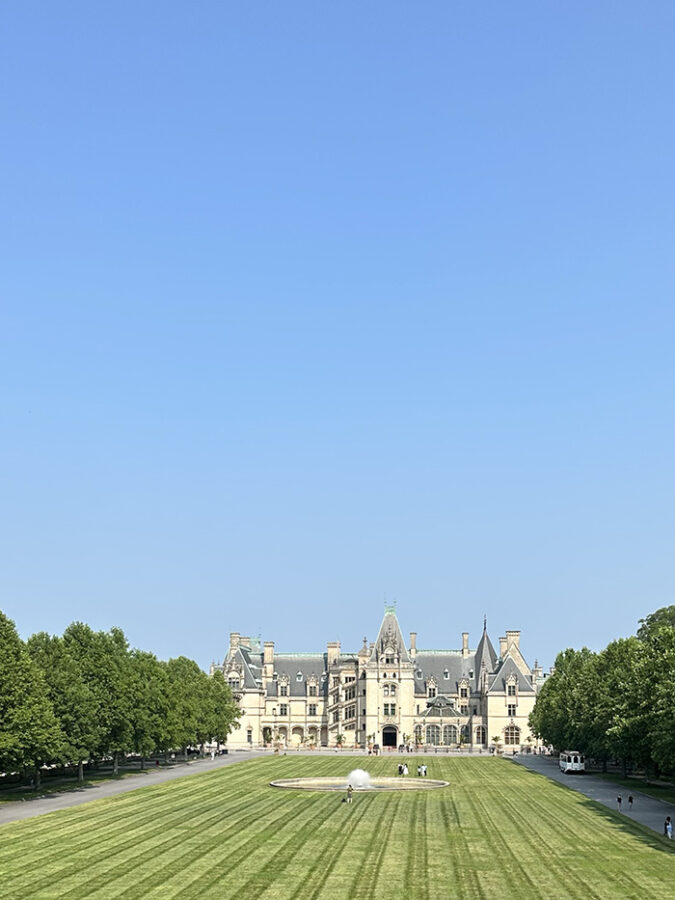 Our audio tour was at 430pm and the tickets we purchased included the seasonal Italian Renaissance show on property. So we opted to see the Renaissance show first. Womp womp, we went into with an open mind, but it really disappointed. They advertised it as a full sensory experience, so we thought it would be visual, interactive, walkable, etc… it definitely was not.
After walking in, you find a place to sit on a bench and simply watch a movie that is being projected on various walls, as well as two spots on the floor. It was fine, but definitely not something I would pay additional money to experience.
Biltmore Estate Audio house tour
Now the audio tour was fun fun fun! You can read more in depth about where we parked, the audio tour, gardens, conservatory and more in my Biltmore Estate in 2 days post.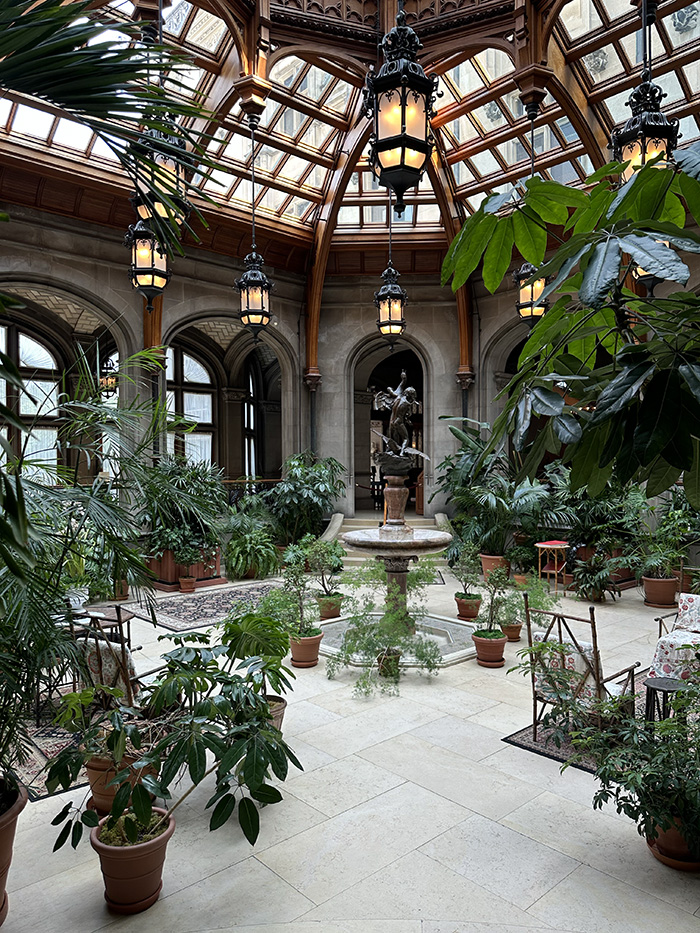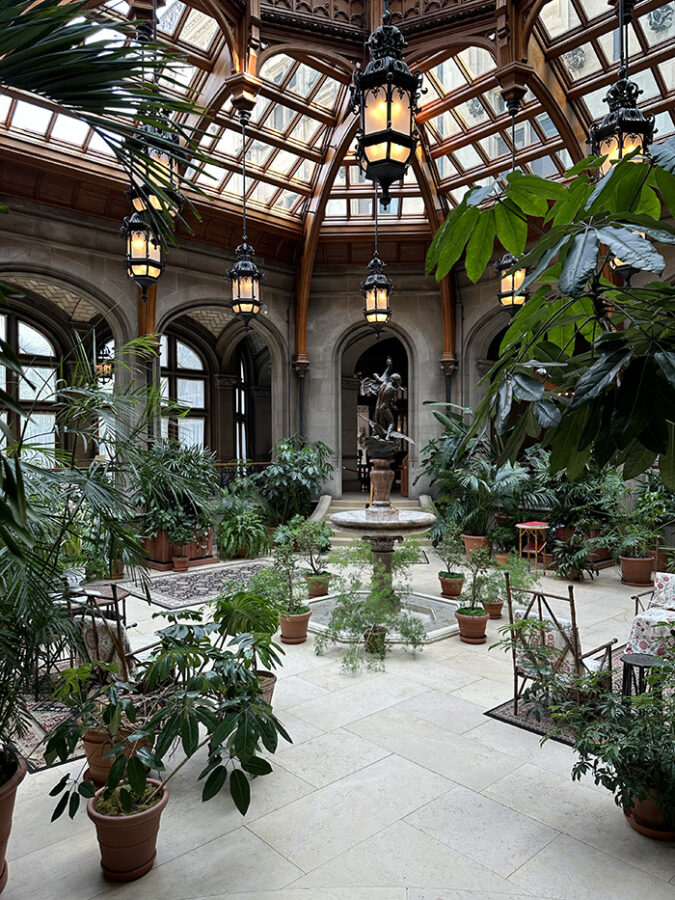 Biltmore Estate Winery
After the tour, we walked back to the car and drove over to do our Biltmore Wine Tasting. They had grape juice for our kids (aged 11 and 12) and we were walked through 5 tasting glasses of our choice.
There was a menu of about 20 Biltmore Estate Wines and after getting descriptions of each, we got to select 5 to try. I love a good wine tasting!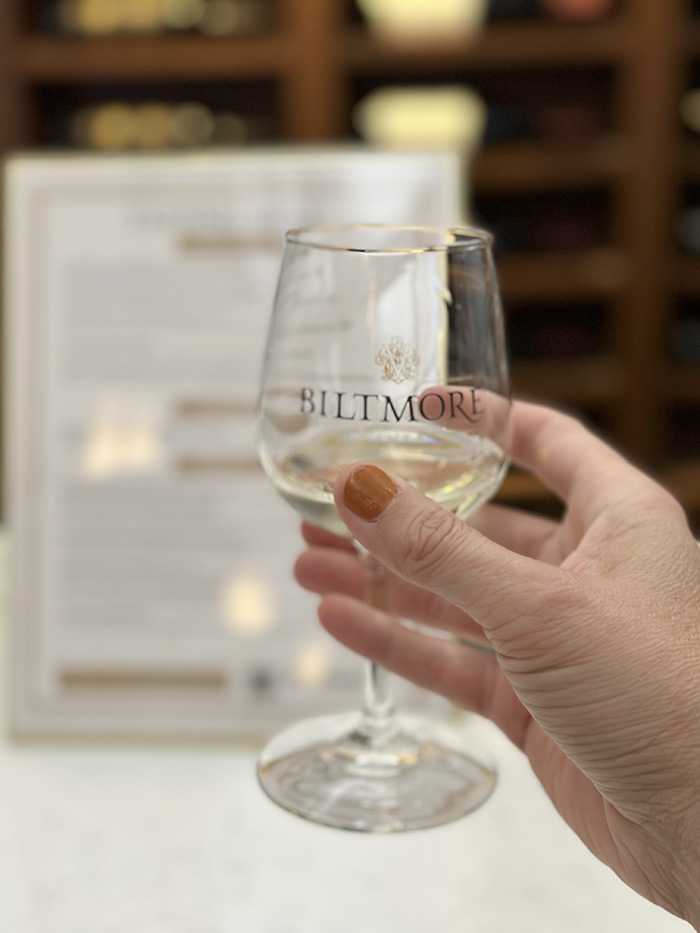 We ended up buying a red and white, the BILTMORE ESTATE® Sangiovese and the BILTMORE ESTATE® Dry Riesling. The riesling we drank later in the week at the Outer Banks one evening.
Where to eat around Biltmore Estate
You can eat on property, but honestly the lines were wildly long and the food looked okay. I'm sure it was lovely, but we opted to do our own thing. We went back to our hotel, got the dog and ate at Burial Beer Co., a local Asheville brewery.
My husband is a beer person and he was very excited about checking this spot out. He and I tried a few tasty drinks and we all loved our dinner.
The following day we had lunch at Daddy Macs and that was such a fun spot. The menu is endless and everything we ate was amazing. I had Bacon, Lettuce, Fried Green Tomato sliders…. and my kids tried Cheerwine for the first time, which they loved.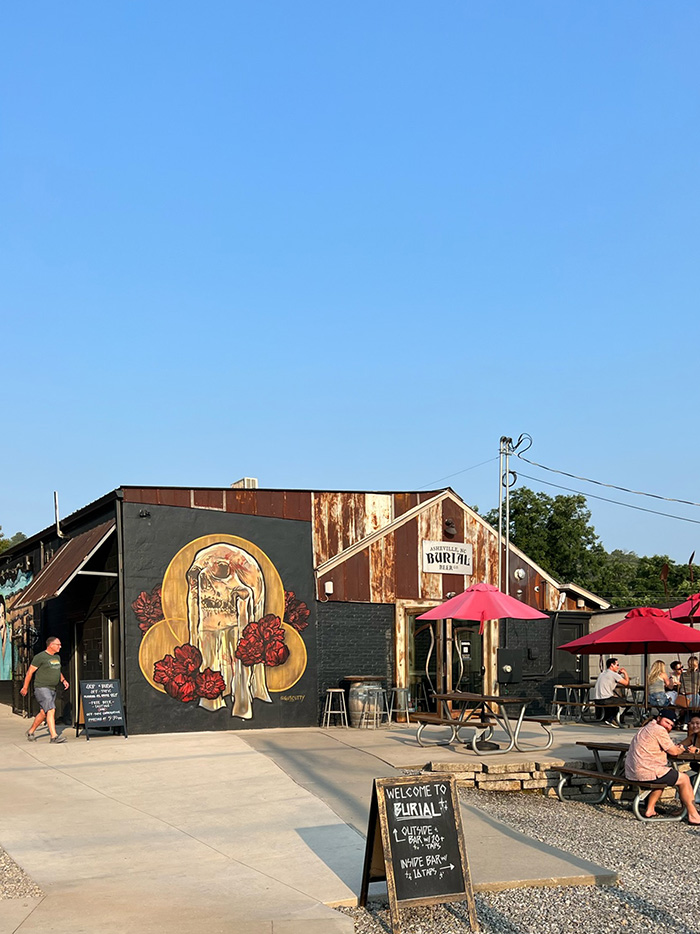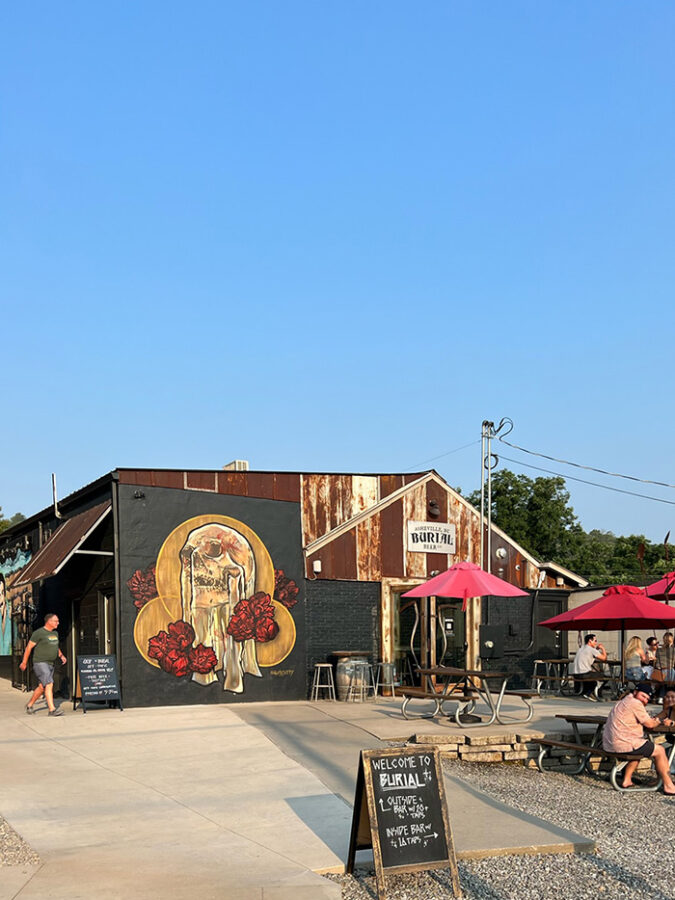 What is Cheerwine?
Cheerwine is a cherry-flavored soft drink by Carolina Beverage Corporation of Salisbury, North Carolina. It has been produced since 1917, claiming to be "the oldest continuing soft drink company still operated by the same family.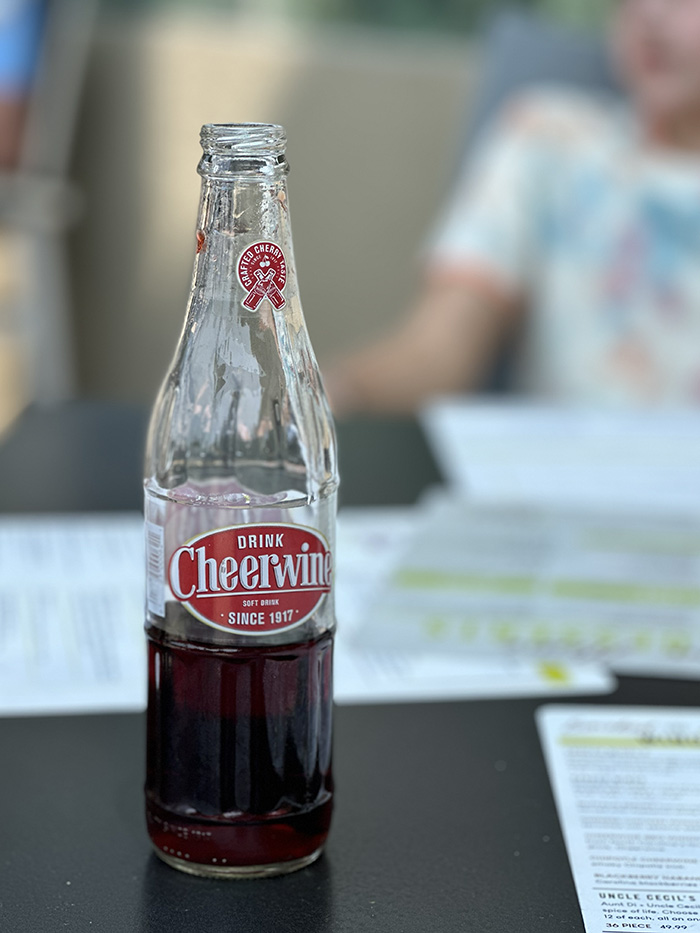 Once you enter the Carolina's you can find Cheerwine at the grocery stores, gas stations and grocery stores.
What to do in Durham, North Carolina
After leaving Asheville, we drove to Durham and stayed at AC Hotel near Duke University. It just so happened to be Father's Day that next morning and we walked about 45 seconds down the block to try Early Bird Donuts. There was a line out the door and although they were making donuts as fast as they could, people were leaving with boxes and boxes of donuts.
We only were able to try the glazed, but maybe it was from being so fresh, but it was one of the best donuts of my life. YUM.
Next we headed to downtown Durham in the Tobacco District. Brightleaf Square was the area I used to work (20 some years ago) and it was such fun to see how the area had grown and really improved since I had been there last. Tons of places to eat, drink and chill down in that area.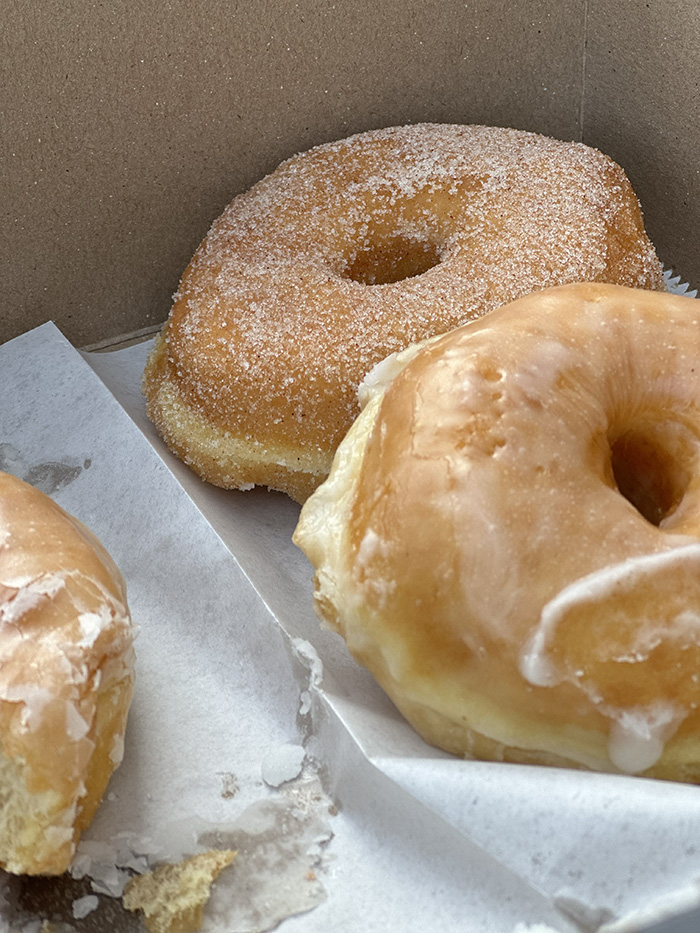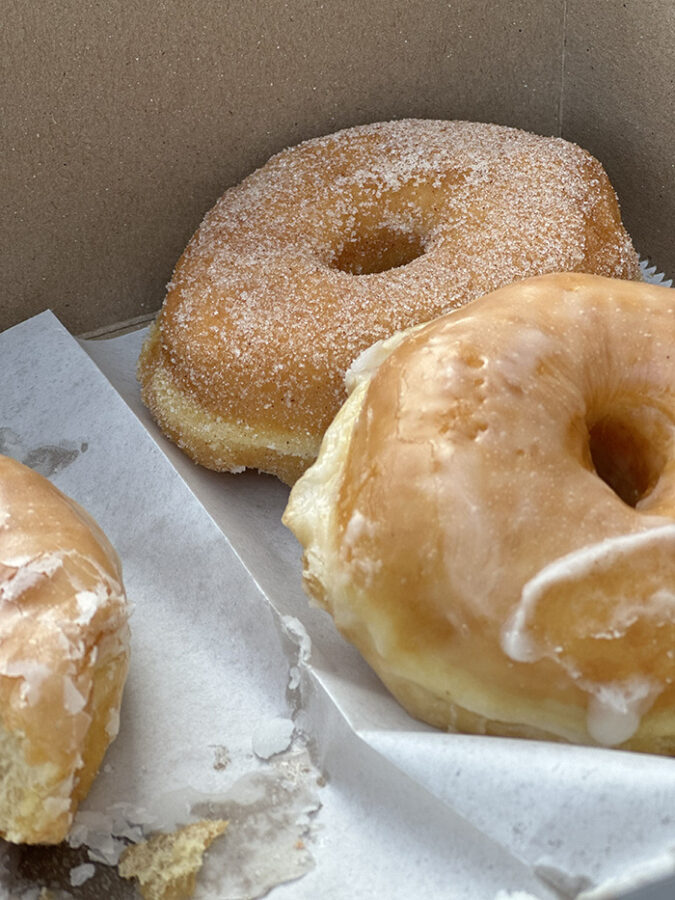 We really wanted to try Backyard BBQ Pit, but just ran of out time.
Durham must see spots
What do do in Charlotte, North Carolina
On our way to the Outer Banks from Durham, we made a spot in Charlotte to visit a family member. We met him at the Whitewater Center.
The Whitewater Center is the largest man-made whitewater river in the world and also an Olympic training site. We simply walked around the main water area and then had some fries, a beer and people watched – which means watched people kayak along WILD man-made courses.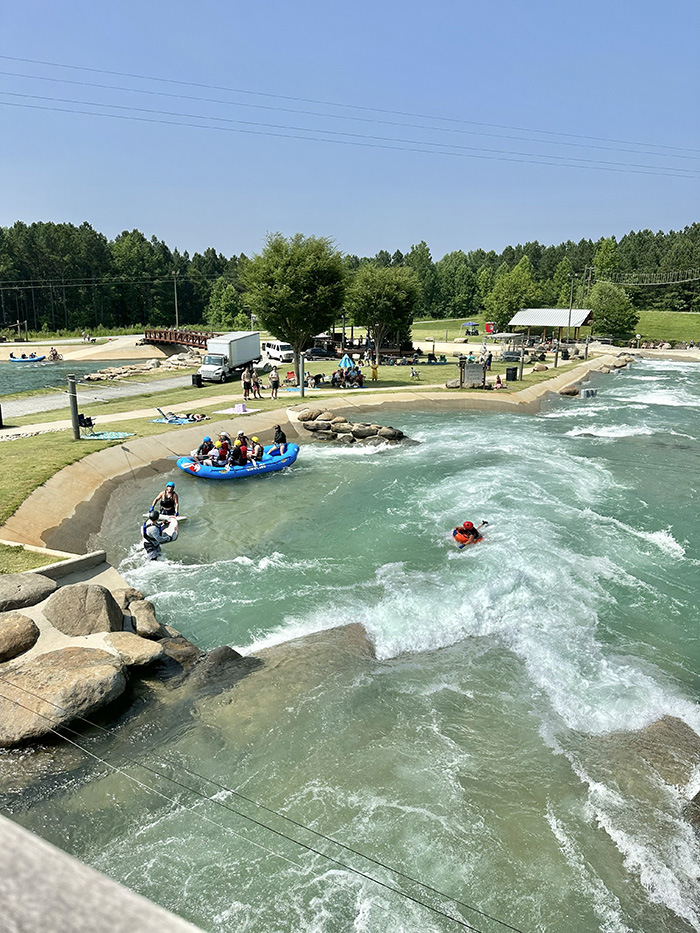 You can go whitewater rafting, whitewater kayaking, deep water solo, mountain biking, trail running, there are yoga classes, ropes courses, tree ziplines, rock climbing, rapelling and apparently ice skating when it gets cold.
A very cool place for adventure seekers.
Can dogs go to Outer Bank's beaches?
The short answer is sometimes yes/sometimes no. I highly recommend you look up the exact beach you will be on to see their dog laws because many of them have specific dog rules.
We stayed on Kill Devils Hill and dogs were allowed after 6pm from May 15th to September 15th. They had to be on a leash no longer than 10 feet.
However dogs were allowed all at times while we stayed at Kitty Hawk, but must display a current rabies tag.
What to do in Kill Devils Hill, North Carolina
Our last main destination was the Outer Banks. From Durham it took us about four hours to drive to Outer Banks. Traveling to the Outer Banks is quite a bit further than simply headed to the beaches of North Carolina, Wilmington Beach for example.
Best places to eat in Kill Devils Hill, North Carolina
Blue Moon (decent food, fun outdoor space)
Duck Donuts (people RAVED about these, I thought they were okay – sorry)
Stop N Shop Gas Station sandwiches (we ate these at the beach and they were amazing)
Mama Kwans (VERY DELICIOUS – I brought home a tiki mug from my cocktail)
We stayed in an Airbnb while in Kill Devils Hills and this was my favorite location. It was about a 4 minute walk to the beach and they provided a beach wagon FULL of fun beach accessories! They had beach chairs, an umbrella, two boogie boards, sand toys, bikes, etc…
It was a lovely stay with an outdoor shower to rinse off all of the sand, a hottub, a fire pit and hammock. Highly recommend this spot. It held quite a large number of people, as well.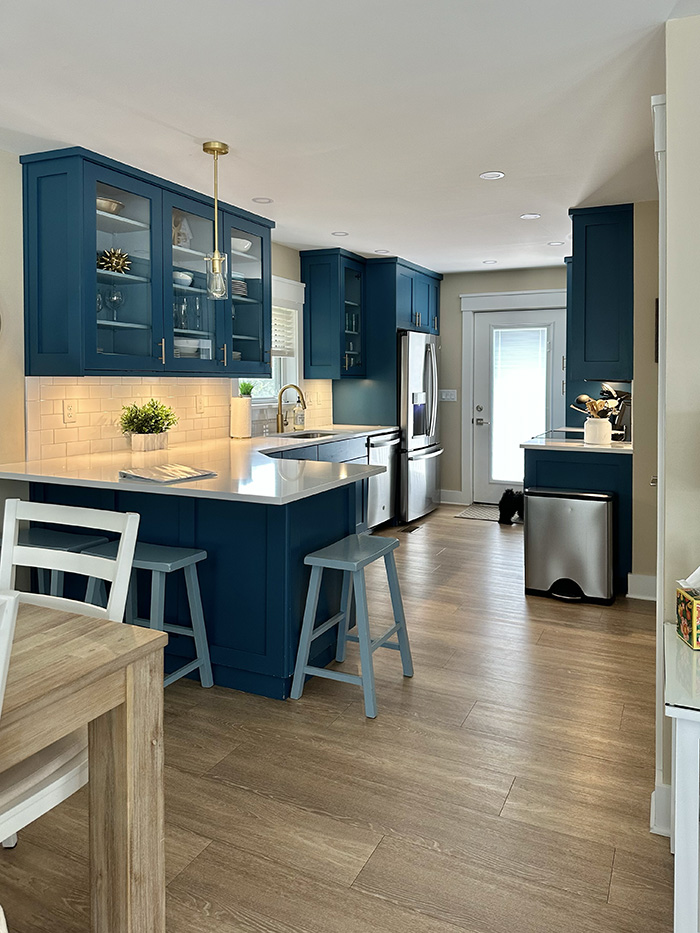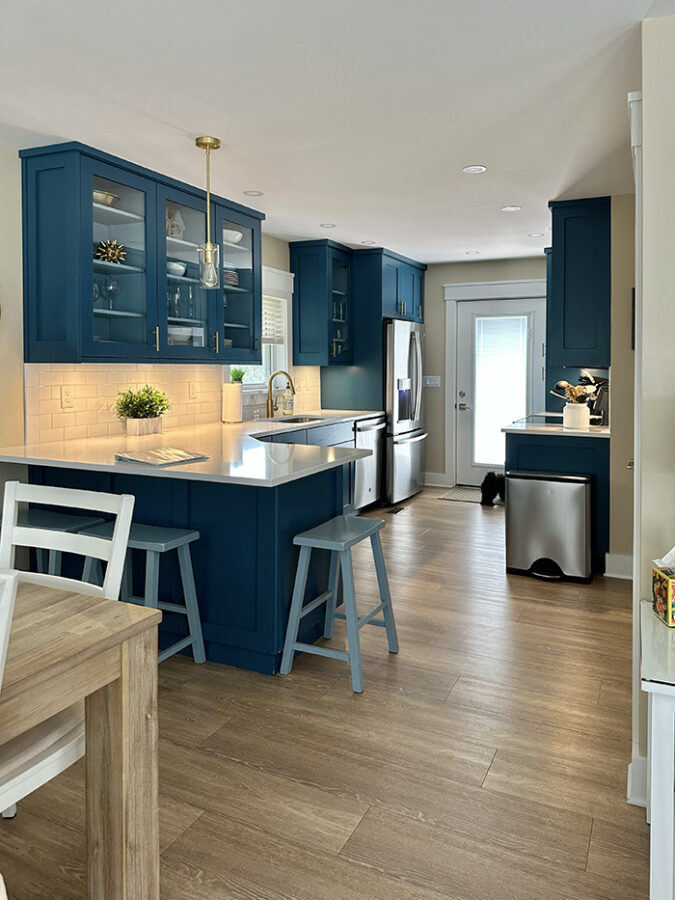 One day while at the beach, we saw dolphins swimming and jumping in the water. It was a sight to see!
See above for all the amazing places to eat while in Kill Devils Hill.
What to do in Kitty Hawk, North Carolina
The second half of our Outer Banks stay, we stayed a little more inland in Kitty Hawk. Our Airbnb was very modern and on trend. The kids especially loved their loft sleeping arrangement. The place was VERY clean and a label and direction on nearly every surface directing you how to keep things staying clean – ha.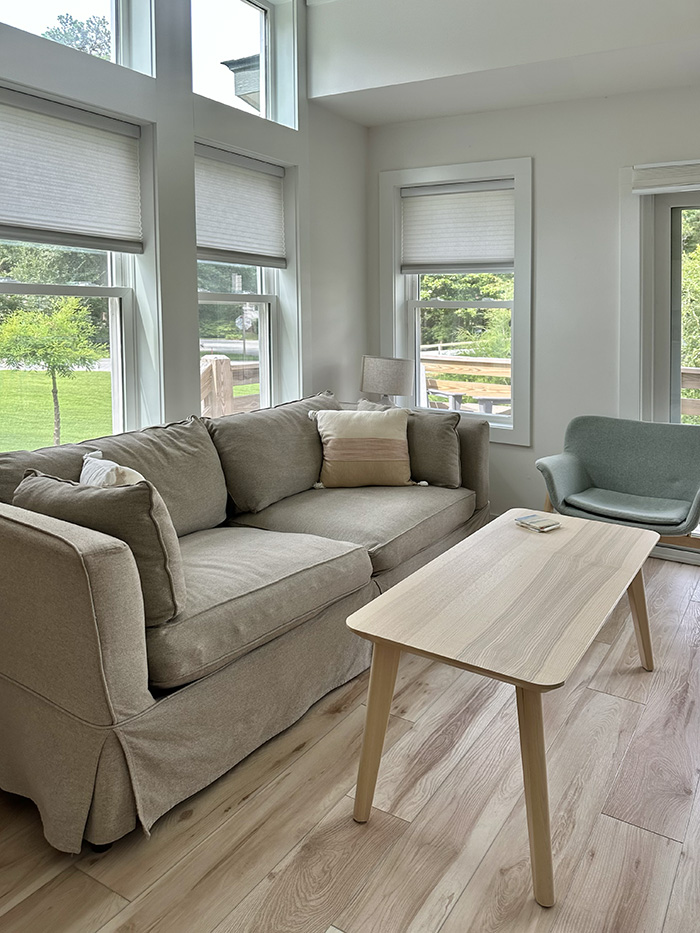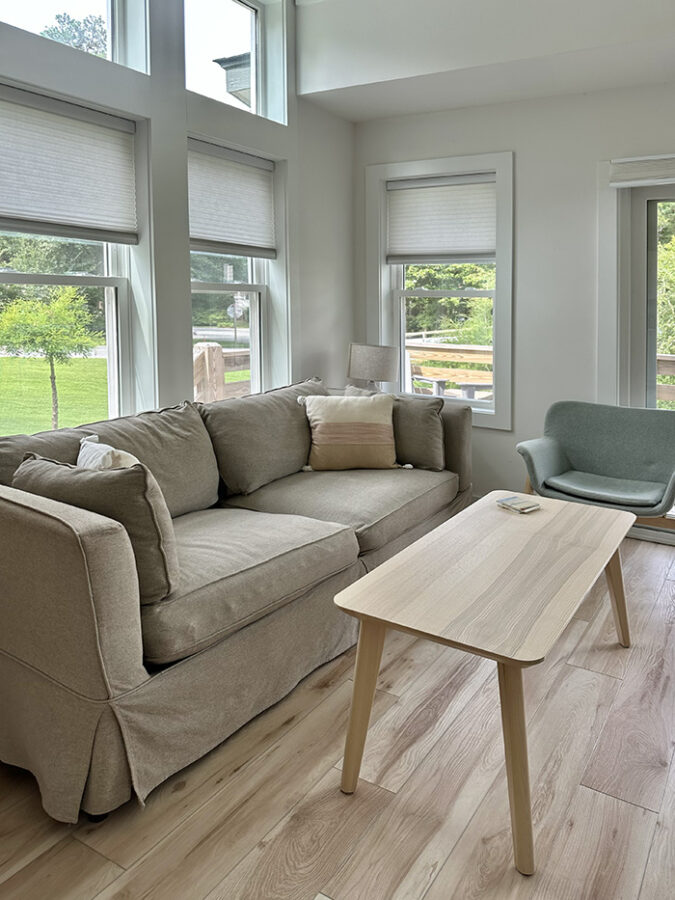 Best places to eat in Kitty Hawk, North Carolina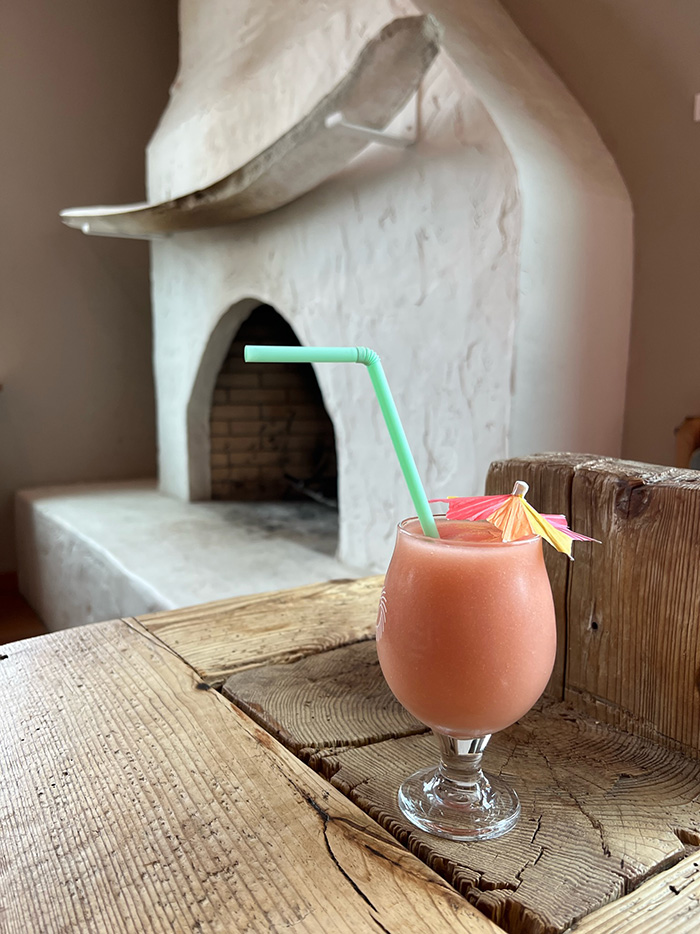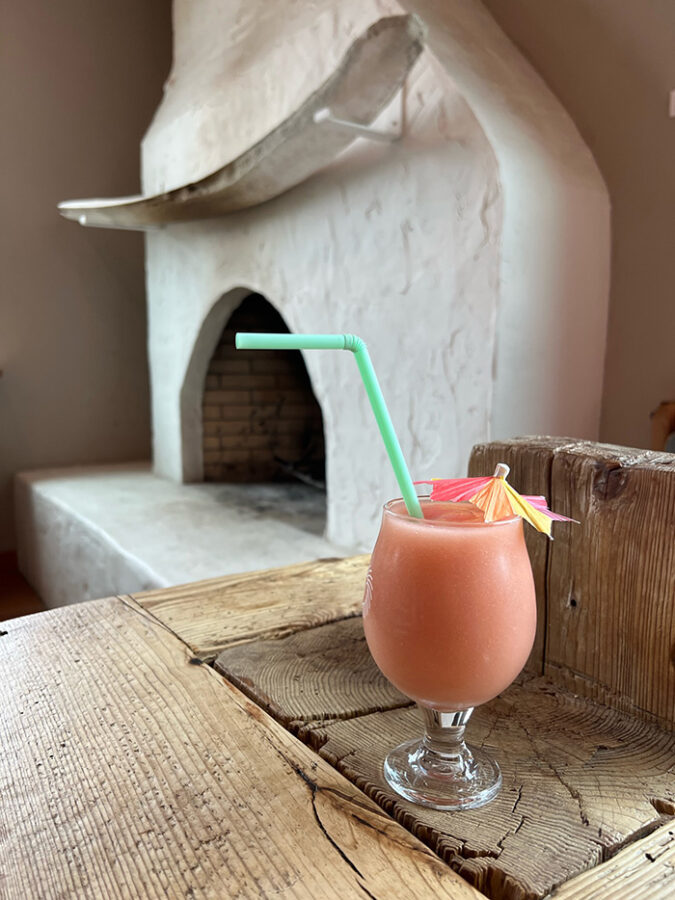 Once in Kitty Hawk, the weather took a turn and it was drizzling to full on rainstorm for the remainder of our time. We wanted to do the beach at lease once more, but that didn't work out.
We did however, go to the Wright Brothers National Memorial + Museum, Jocky Ridge, Sir Raleigh fort and walked along the Avalon Pier and beach that evening.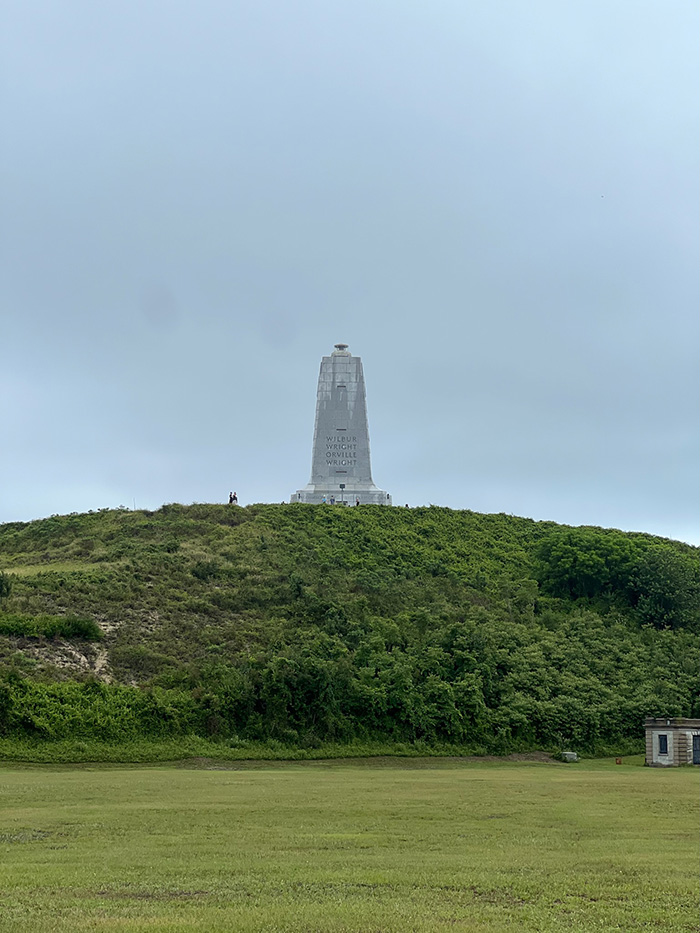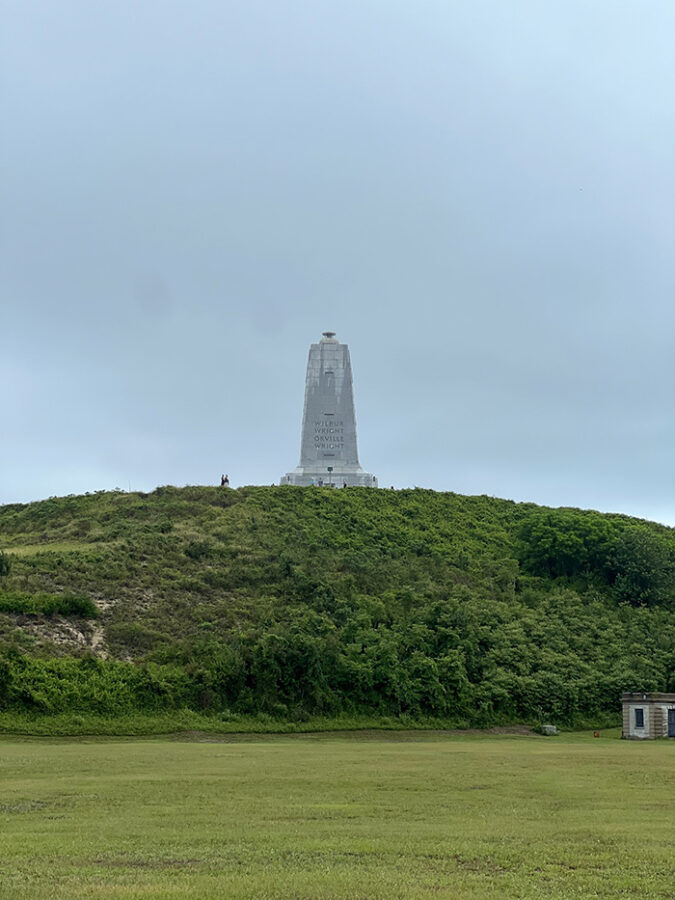 See above for all the amazing places to eat while in Kitty Hawk.
What to do in Cape Hatteras , North Carolina
The shelling is apparently amazing at Cape Hatteras, so my kids were excited to drive the short distance over to the Cape and check out what all the island had to offer.
The drive over was wild because of the shifting sands over time, the map was showing ocean, the road we were driving on and ocean. Quite a sight to see!
Shortly after arriving to Cape Hatteras the rain began and never let up. So we threw on our ponchos and checked out the Light House. Apparently it is open to the public to climb it, but was under restoration while we were there and closed off.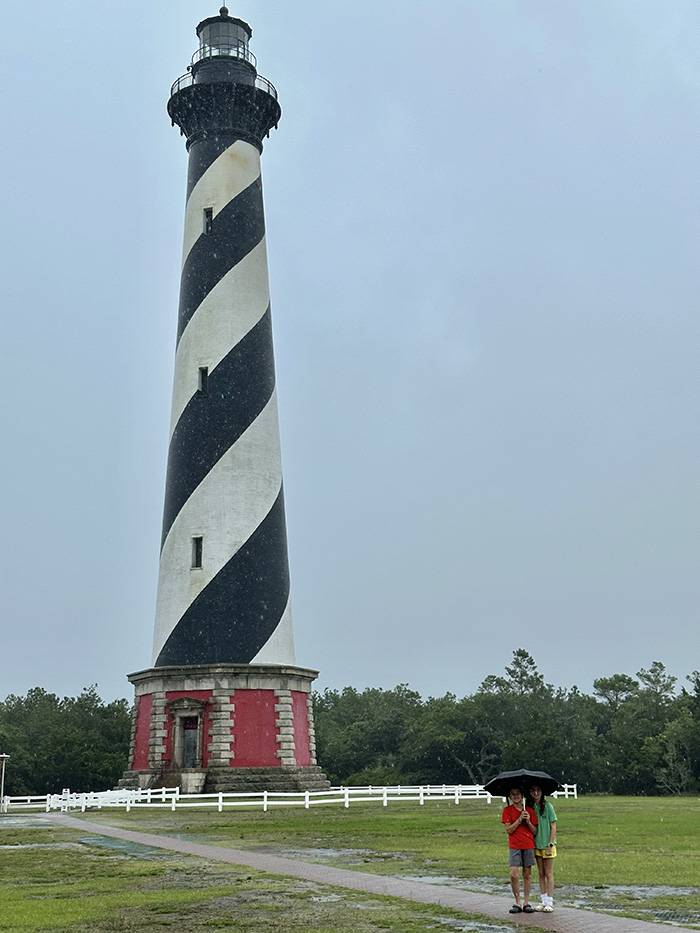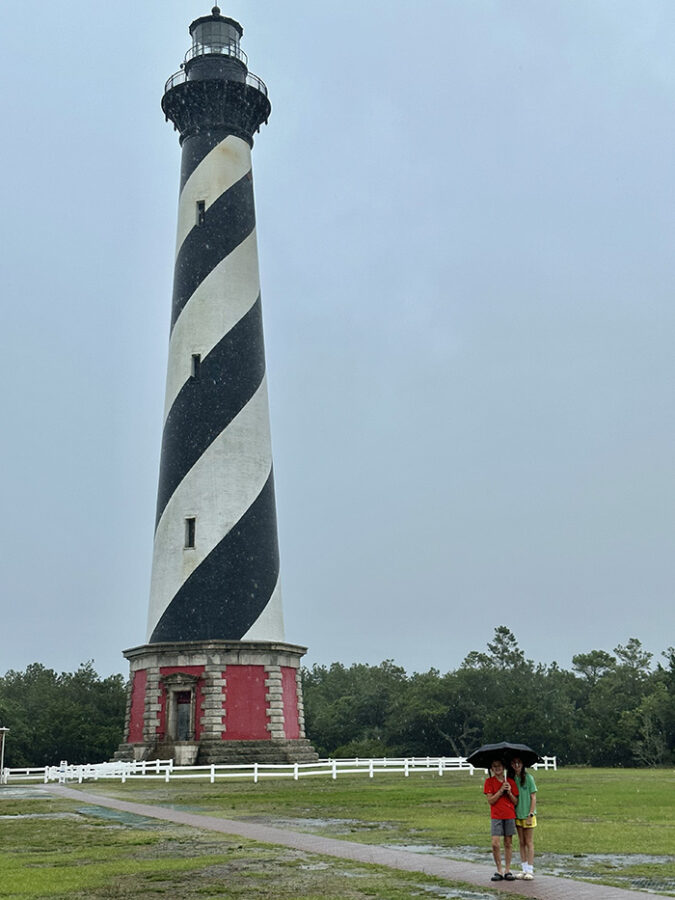 We had planned for a day outdoors and in the sunshine, so we had brought our dog along… so there was no available spots to eat indoors while it poured outside. So a lunch of meats and cheeses in the car was what we enjoyed.
Sort of a bust as far as our plans went, but fun to adventure out regardless.
Dog Friendly North Carolina locations
Seeing as how we brought our 8 lb. Havanese puppy along, we found quite a few places along our entire trip that were very dog friendly.
This is by no means an exhaustive list, but just the places we found to be dog friendly during our week long stay.
We just absolutely loved out North Carolina Family Vacation and I'm ready to go already! Make sure to share if you have any other must see places or ideas we should check out.
And if you are looking for other great travel posts, you might want to check these out…
Must See Organic Lavender Farm, Los Poblanos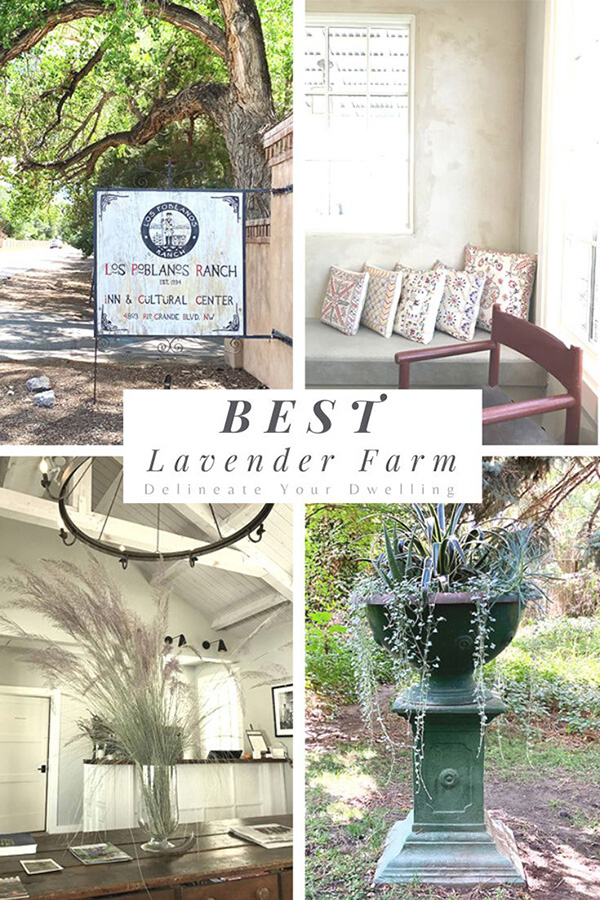 Must See Spots Pacific Coast Highway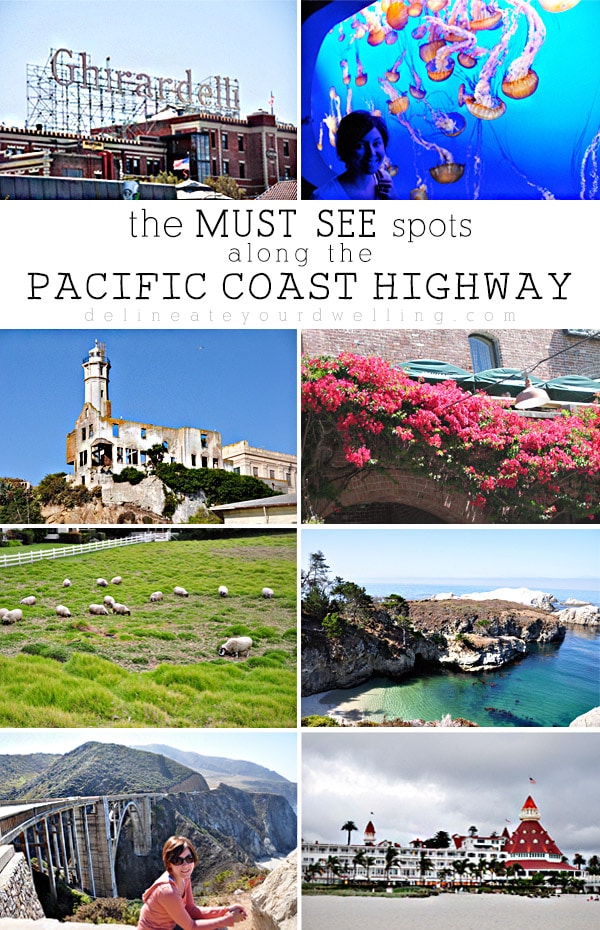 Best Day Adventures in Albuquerque, New Mexico