INSIDE : Check out my MUST SEE spots traveling down the Pacific Coast Highway. The PCH is an amazing road trip vacation along the Coast of California on Highway 1.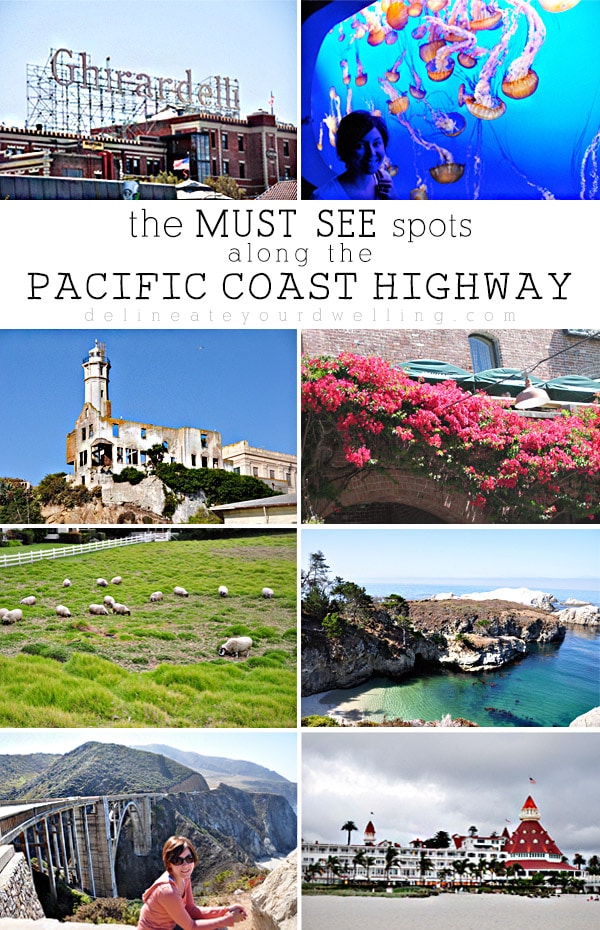 As summer inches a little closer every day, so does summer break and then best of all SUMMER VACATION! I've started to think a little bit about plans for short weekend trips, trips to the city (Chicago or Indianapolis, in my case) and bigger week long family vacations and it got me reminiscing about some of my favorite vacations.
Hands down, probably the best trip I have taken within the US was along the Pacific Coast Highway or the PCH as locals call it with my husband. Today, I'll be sharing my MUST SEE spots along the Pacific Coast Highway.
This post may contain affiliate links. See full disclosure here.

Before we had any kiddos on the scene, the husband and I decided to plan a road trip along the Pacific Coast Highway from San Francisco to San Diego, California.
We stopped along twelve different cities and it was the time of our life. Below shares some of our big highlights. If you are a book vacation planner, we found this book to be extremely helpful in planning some of our big stops.
MUST SEE spots along the Pacific Coast Highway : San Francisco
Painted Ladies:
We flew into San Francisco and spent a bit of time exploring the city. One of my dear friends lived nearby and we met up with her and went to one of the most photographed locations in San Francisco, Alamo Square's famous Painted Ladies.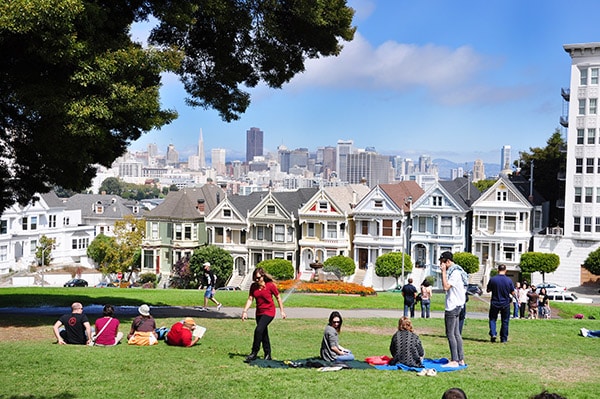 Alkatraz:
The following day we spent touring Alkatraz. You can take a ferry out to the island which adds to the mystery of it all. We did an audio tour and it was completely fascinating! So many stories as you walk through those halls. My husband loved this book about it.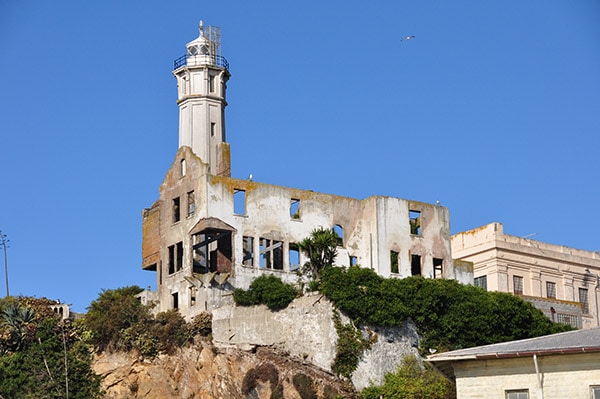 You know we made sure to get ice cream at Ghirardelli Square. Give me all the chocolate…. The sea salt Caramel ones are my fave.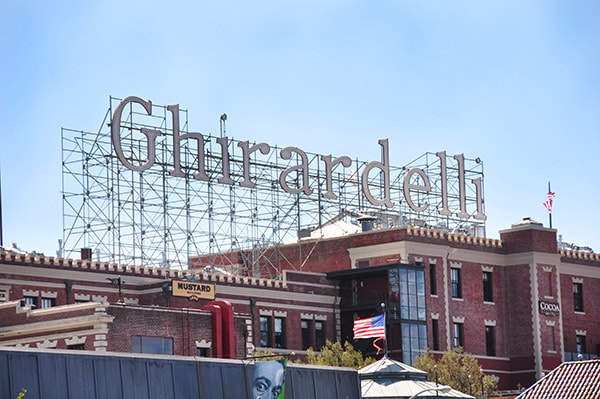 California Academy of Sciences:
California Academy of Sciences was another amazing SF stop. This museum is the only place on Earth to house an aquarium, planetarium, and natural history museum all in one spot. There is a four-story living rainforest and coral reef ecosystem, it's definitely a place to plan some time for discovery. It can easily be a full day just spent there.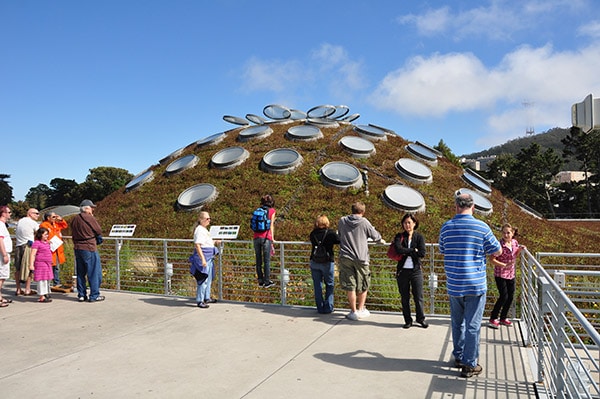 In the evenings, we took the trolly system to dinners where we could because… we were in San Francisco!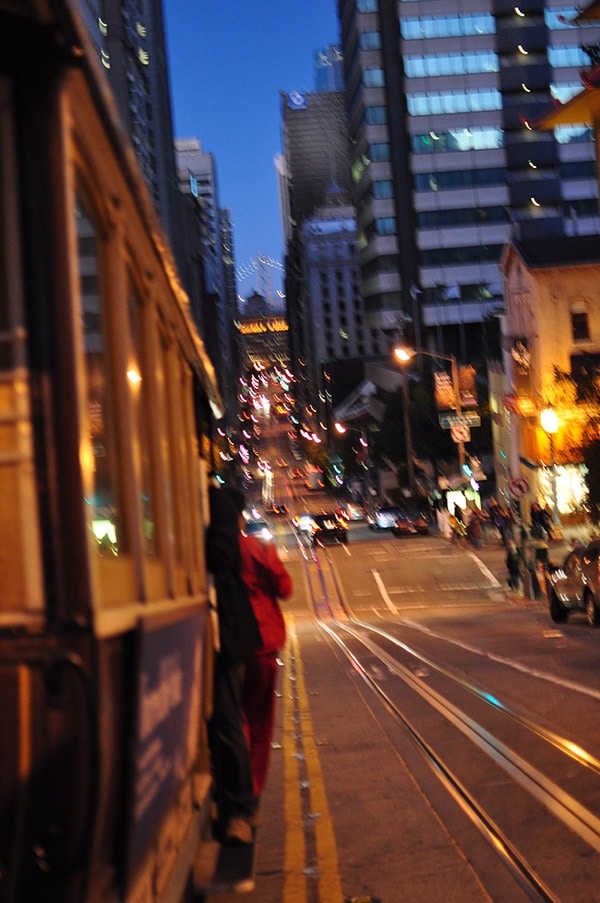 Before leaving San Fran, we also check out the Golden Gate bridge, Fisherman's Wharf, Union Square, Chinatown and many other spots!
Our favorite San Francisco travel book was this one.
MUST SEE spots along the Pacific Coast Highway : Pescadero, California
Duartes Tavern:
Once we left SF area, we rented a car and started heading down the coast. About an hour from SF is a town called Pescadero. There is a local dive tavern called Duartes Tavern. It doesn't look like much but it is rich in history and they are well known for their Artichoke Soup. So, we ordered an IPA and a bowl of soup!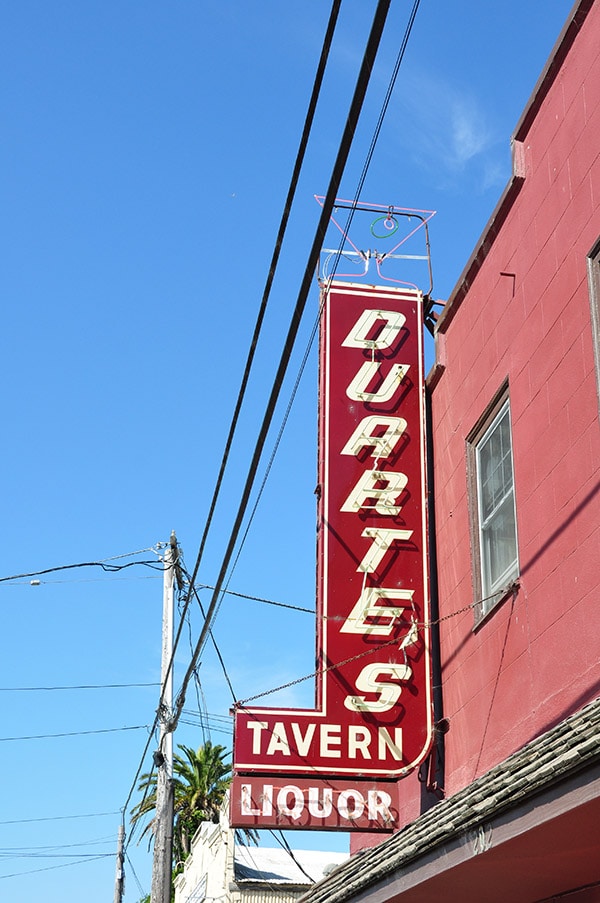 As we continued along the coast, we stopped at various lighthouses and beaches. I think we took in the upwards of thousands of pictures on this trip. The scenery was to die for, as every turn is yet another gorgeous ocean view. This book on Duarte's Tavern is so fascinating.
MUST SEE spots along the Pacific Coast Highway : Santa Cruz, California
Our next major city stop was in Santa Cruz. Aside from it being a beautiful coastal city with tons of tasty spots to eat, they are well known for the Giant Dipper wooden roller coaster, which we of course rode. It's currently the 5th oldest roller coaster in the country, built originally in 1924. And it's been in several movies including "Sudden Impact," "The Lost Boys," and "Dangerous Minds."
We enjoyed walking along the shore line in the evening and ate a lovely little Italian spot. I loved this vintage poster celebrating Santa Cruz!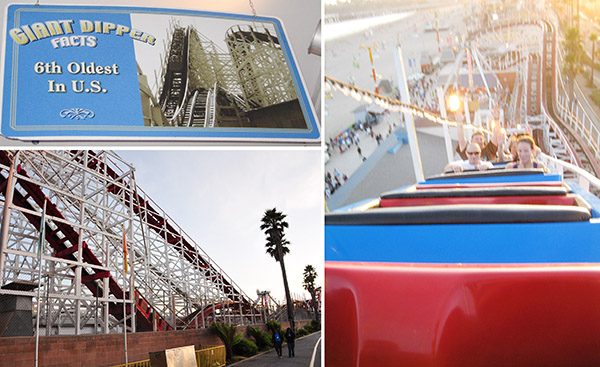 MUST SEE spots along the Pacific Coast Highway : Monterey, California
Monterey Bay Aquarium:
The next day, we got in the car and headed to Monterey, California. Monterey is a waterfront community with tons of outdoor water related activities; kayaking, scuba diving, surfing, whale watching and beach-going. This Monterey tee shirt made it's way home with us! But, they are best known for the Monterey Bay Aquarium.
The aquarium has an annual attendance of more than two million visitors and holds thousands of plants and animals, representing more than 600 species on display. The aquarium benefits from a high circulation of fresh ocean water which is obtained through pipes which pump it in continuously from Monterey Bay. I'd never seen live California Giant Kelp inside an aquarium before, so neat!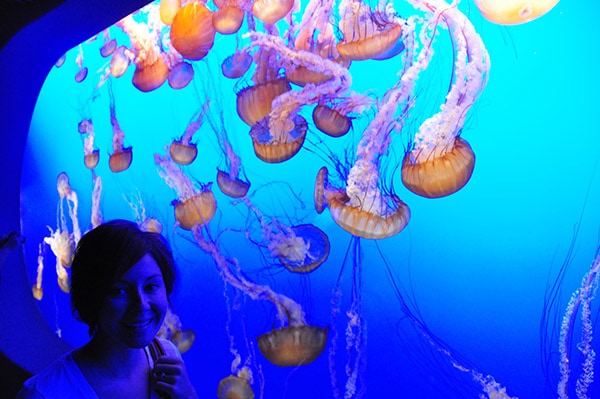 MUST SEE spots along the Pacific Coast Highway : Carmel By the Sea, California
Carmel By The Sea was our last destination for the day and after walking around the community a bit, I think we were happy to have some extra time there. This might have been one our favorite spots on the trip. This book was SO COOL talking about the history of this amazing little spot.
It's a small beach city, well known for the museums and library of the historic Carmel Mission. So many of the homes have a fairytale cottage feel, which just adds to it's quaint romantic feel. And you better believe I have since got these coloring pages of some of the adorable Storybook cottage homes there!
We ate at Mission Ranch which Clint Eastwood rescued from condo developers (yes, that Clint Eastwood – he used to be the mayor there!). We had the most amazing meal and overlooked a rolling grassy meadow with grazing sheep right at the ocean's edge. Truly, it was one of the most scenic spots you could imagine!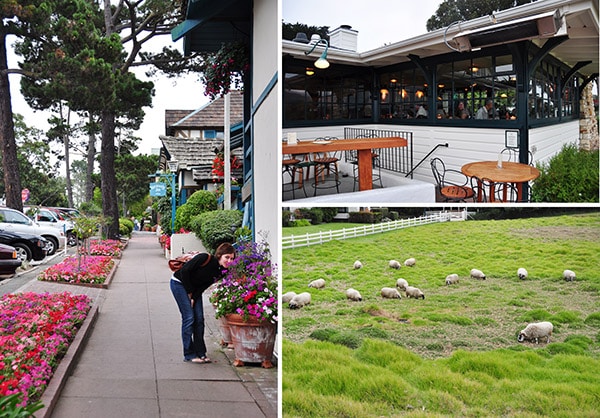 This was our halfway point of the Pacific Coast Highway. Come back for the rest of the MUST SEE spots, part 2!
Have you traveled portions of the PCH along Highway 1? What were your favorite locations, places to eat, spots to enjoy – share below I'd love to hear!
SaveSave
Want to check out more great things to do in New Mexico?
Best Restaurants in Santa Fe, NM
Best Day Adventures in Santa Fe, NM