Indigo Blue summer IKEA Wish List
Can I get a woot woot for IKEA?! I may or may not have a trip in my near future. Now, some of you luckys have an IKEA down the street. I'm much closer to a store now, but before we moved I had to leave the state to get some IKEA lovin' and that was so sad. But, I digress… with the sun finally starting to show it's face and everything outside greening up, I am ready to get my outdoor spaces ready for use. So, today I am sharing my Indigo Blue Summer Ikea Wish List!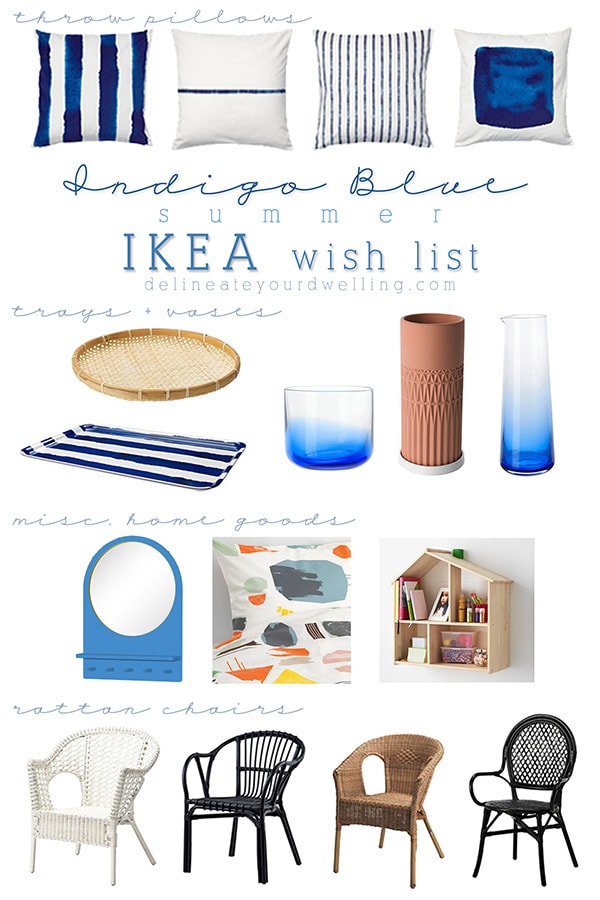 I'm guessing IKEA just released a few new products at the start of April, as I had just checked their website and then suddenly saw all kinds of new Indigo items pop up. I think blues are such a wonderful color to ring in the summer months, so you will probably be seeing a bit more of that color around the blog for a while.
Without further ado, my IKEA wish list…
Throw Pillows
I love adding color and warmth to a space with throw pillows. I love the bold colors of these Indigo blue patterns but that they are also very simple in style.



Trays +Vases
Nothing quite says outdoor dining like easy trays and colorful vases. My main outdoor seating area is a bit of a walk from our kitchen, so having a simple tray on hand is essential to carrying more outside with less trips involved. And the more time you can spend outdoors and not walking back and forth from the kitchen, the better!




a / b / c / d / e
Misc. Home Goods (not summer)
Okay, you caught me these are not necessarily summer items, but they are still on my wish list so I thought I would include them. (Note – The mirror pictured below is sold as yellow, but I was wanting to hang it in my son's room, so I plan to paint it blue.) I am also working towards getting my son out of a toddler bed and into a twin sized bed, so those sheets spoke to me! And goodness, can I see some fun play happening with that doll house for my daughter. Yes, please.


a / b / c
Rattan Chairs
You love them, I love them, everyone loves a good rattan chair. To be completely honest, I don't know where one of these beauties will go but I am fairly sure I can make a space. And it might be getting a color makeover, just putting that out there.


a / b / c / d
So, there you have it. How does my wish list stand against yours? Are you planning to use more Indigo blue in your decor this spring/summer, too?