Knit Glassware + Mug Covers
Friends, I can knit!! As of this past week, I can now do basic stitches and I never want to stop. Everyone is right when they say knitting is so relaxing. I teamed up with WeAreKnitters.com for today's post and am so excited to share my new skill with you, Knit Glassware + Mug Covers.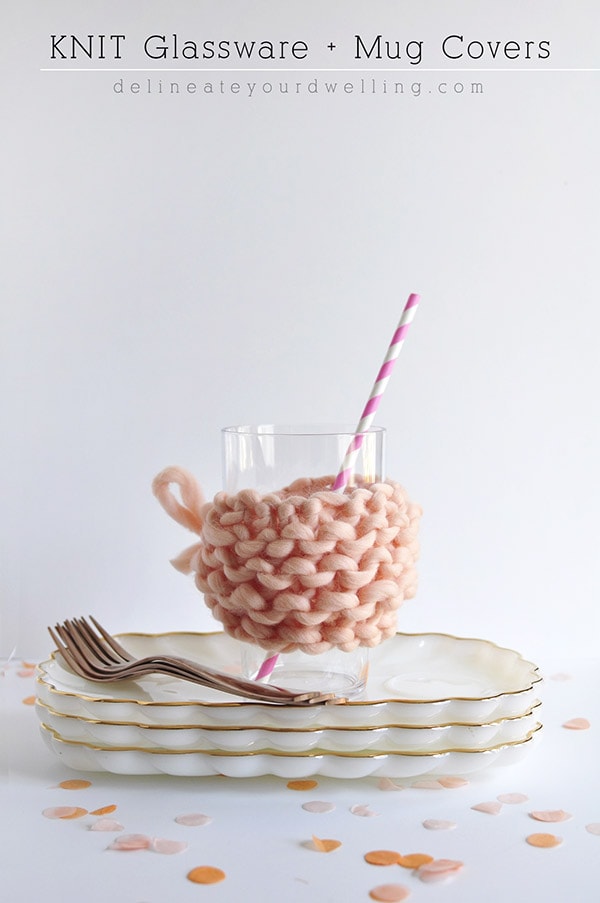 I have always wanted to learn how to knit. However, I've never taken the time to figure out what supplies I needed, what item I should knit (seeing as I'm a newbie), and then most importantly… how to actually do the knitting.
When We Are Knitters contacted me about trying out one of their knitting kits, I knew this would be the perfect opportunity. I made sure they knew I was a beginner, like REALLY BEGINNER and they assured me I could find the perfect kit. So, I selected these Mug Covers, as they were noted for the beginner level.
I selected the salmon 100% PERUVIAN WOOL and when my bag arrived, I was so excited to see the gorgeous color! Plus, take a look at those wooden knitting needles. Also included was the pattern, a knitters sewing needle and an embroidered label.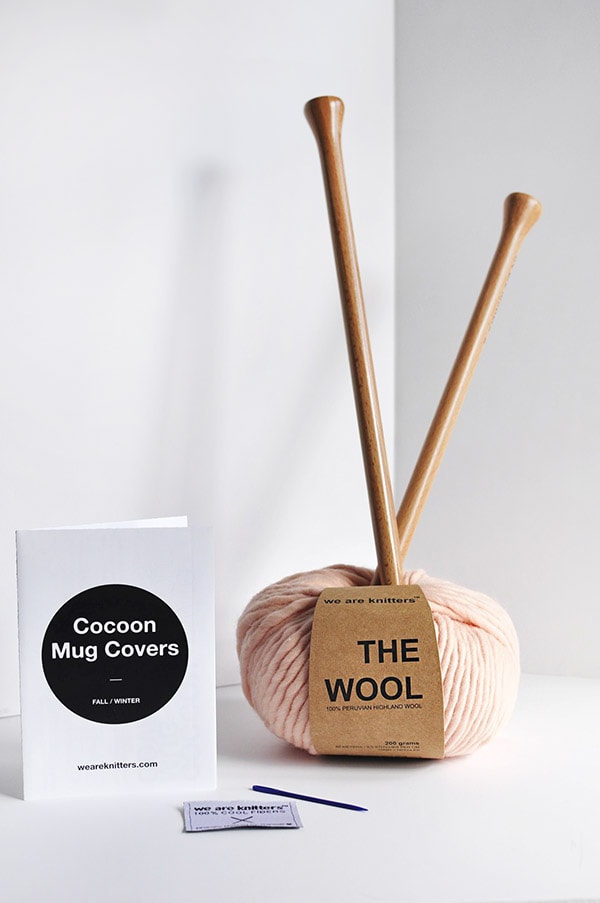 First thing first, I studied my pattern instructions from top to bottom about 22 times. Thank goodness, WeAreKnitters.com has several videos on their website that walk you through all the different stitches. So, after watching those also 22 times on my phone, I was ready to give it all a try. (They also offer multilingual support in the form of videos, blog posts, and one-on-one help.)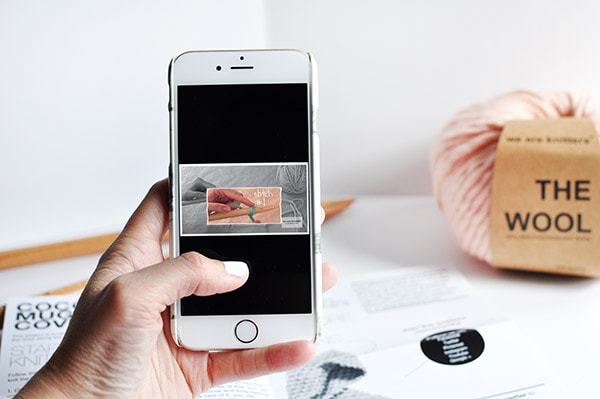 I would be lying if I said I got it on the first try. I probably had to completely start over 3 times. But even the mess up was kind of pretty.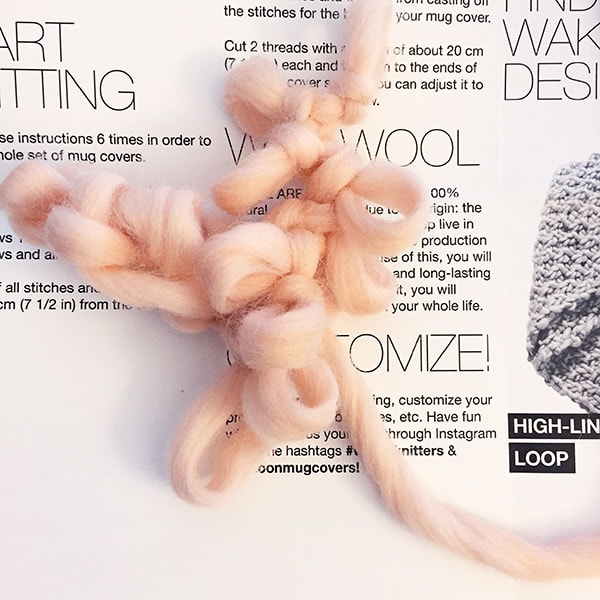 Then, suddenly it all began to click and I was knitting!!!
Casting on 14 stitches. Knitting 6 rows. And to end it, casting off.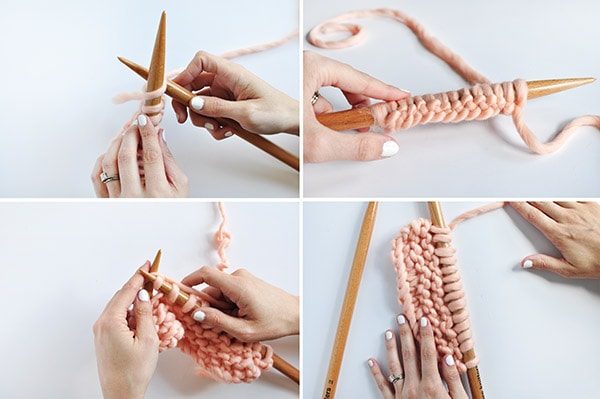 I'm not sure I would have EVER tried knitting had it not been for this kit and I can honestly say I am hooked. I immediately knit two more covers. I love it. I also got a blanket kit in Aquamarine wool and can't wait for a free moment to start on that project!
Now, these covers are for mugs, but since I don't really drink tea or coffee I thought they would be perfect once the weather starts warming up and all our glasses condensate with summer humidity. I host a weekly mom's happy hour and I think these will be perfect to keep our hands dry and all the while still looking lovely!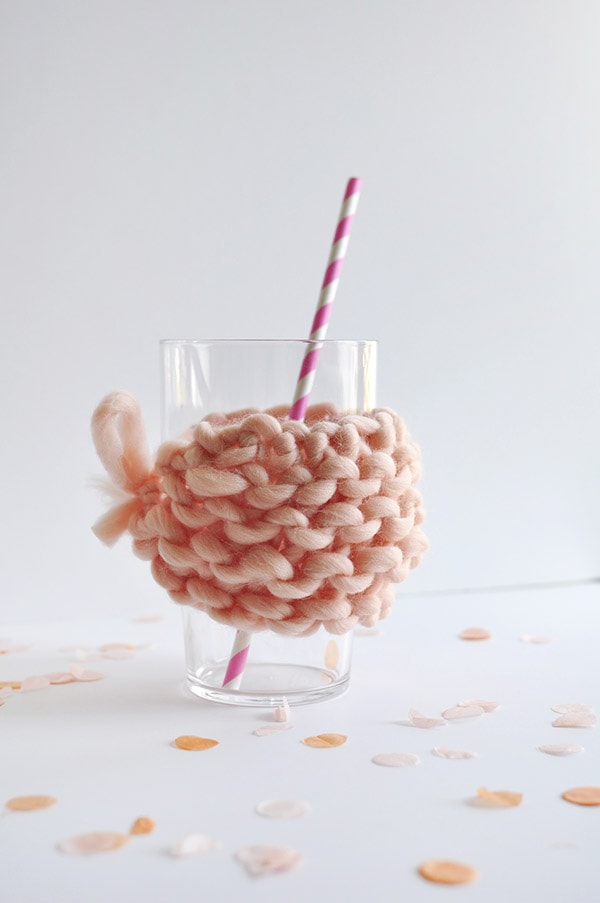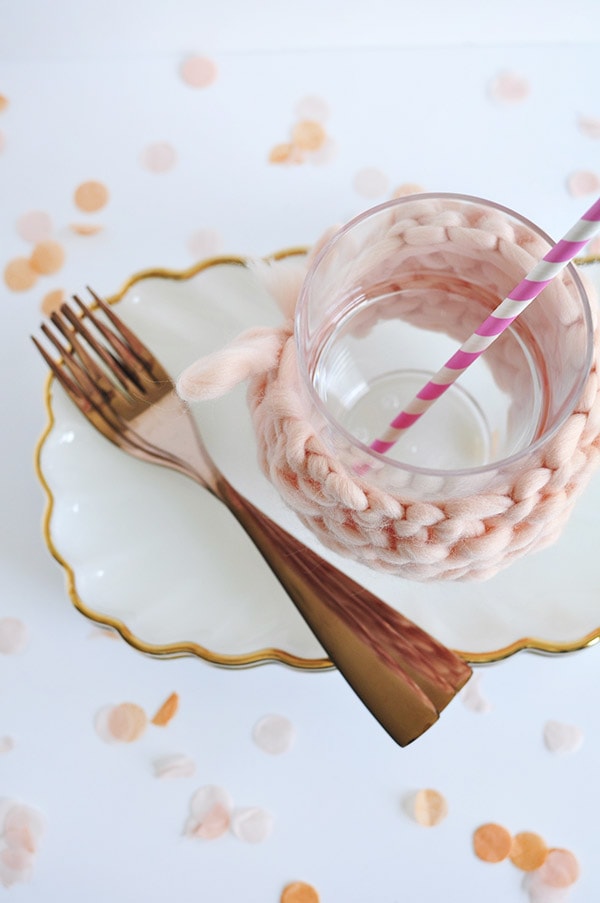 Do you see why Knit Glassware + Mug Covers makes me an instant knitting lover?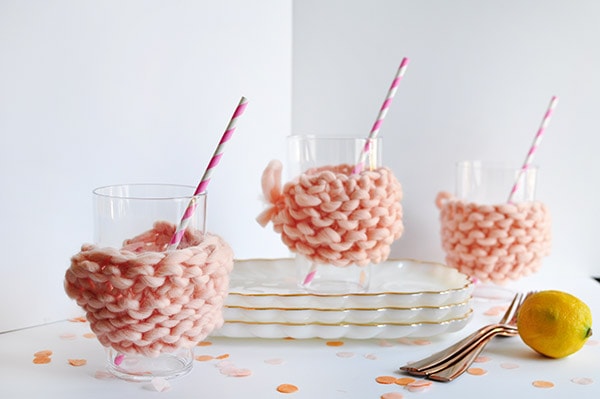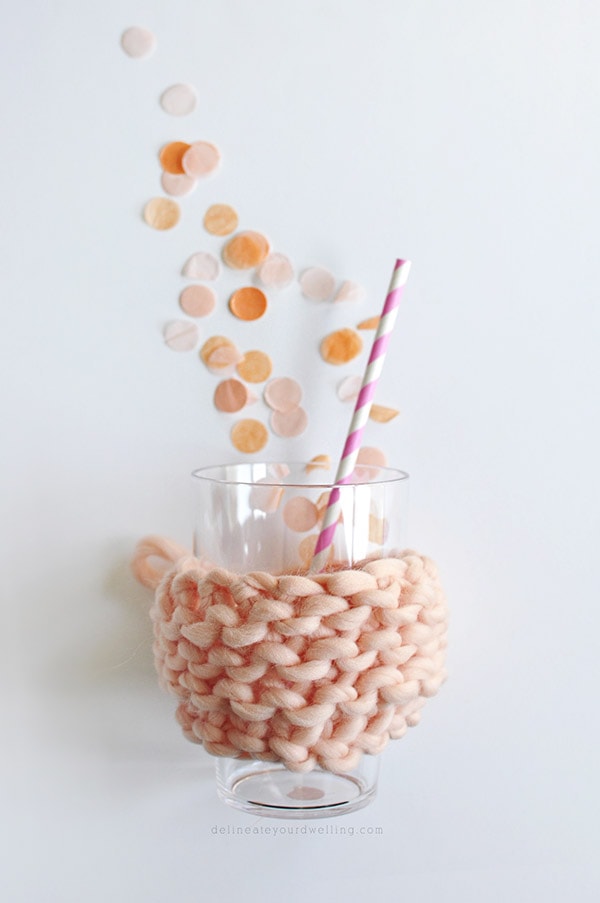 Now for the BEST part! We Are Knitters has graciously offered one of my readers a We Are Knitters Kit GIVEAWAY (Your choice of 1 kit valued at $100 or less)!!! Be sure to enter the rafflecopter below for a chance to win and the more entries you fill out, the better your chances. The giveaway will end next Monday at midnight. GOOD LUCK!
And if you want to make sure you get your hands on a knitting kit, you can use this coupon code for 15% off your purchase —> DELINEATEWAK

a Rafflecopter giveaway

WeAreKnitters.com provided the product for this post, but all opinions are completely mine. Thank you for shopping great company's that keep Delineate Your Dwelling going.