INSIDE : Check out the best areas to stop by and what to look for when thrifting home decor. Your home can be a place of beautiful statement pieces with these quick secondhand shop tips.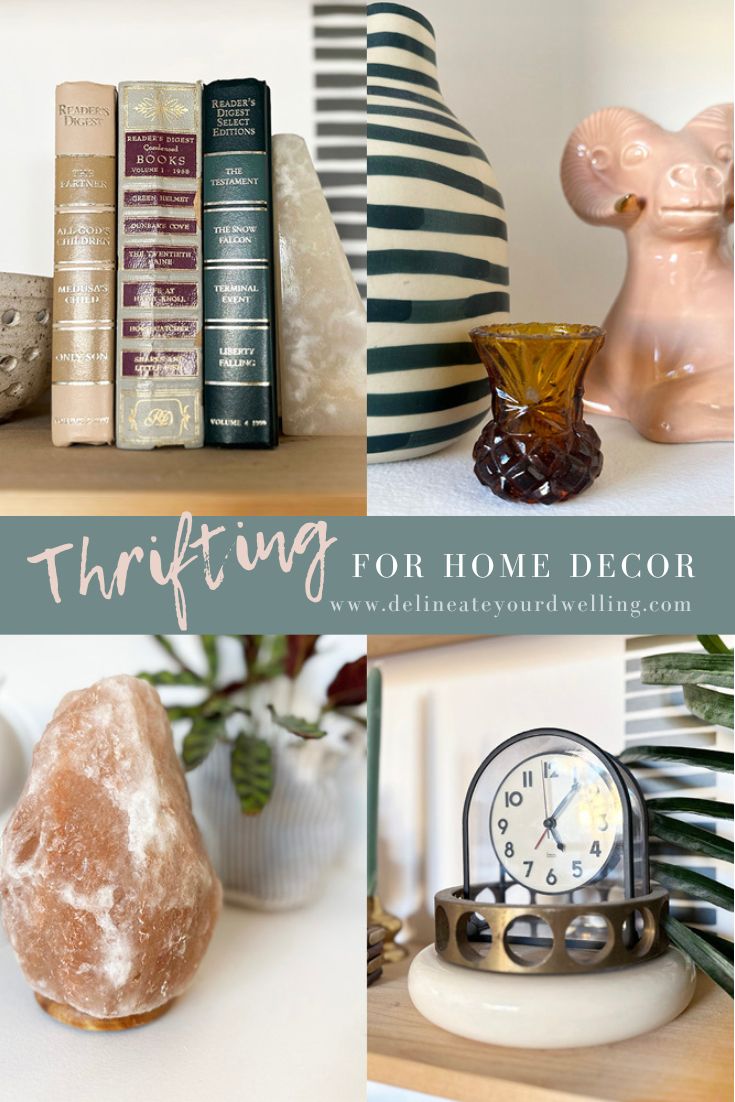 In the last few years, I have really seen such a value in thrifting for home decor. Don't get me wrong, I still love a big box store item here and there, but I really learned to enjoy the process of thrifting for home decor.
I love finding unique items that not everyone can say, "Oh yes that was Target last summer." And there are so many places to find good thrift home decor finds.
Thrifted items can be found from secondhand stores, vintage or antique malls, garage sales, Facebook Marketplace, Craigslist or eBay!
Looking for more Thrifting Ideas? Check these out…
I am often asked what I look for when I go thrifting for home decor because sometimes it's difficult to get to a thrift store and really be able to see beyond the piles of stuff to find those hidden gems. I've been there before, but I have a few ways that really help me keep on task to find the best home decor items.
Make a "Keep your Eye out for" Thrift Checklist
I have created a list in my phone's note app that during the week if I think of something I may want to find while out thrifting, I will add there. It's so helpful to have something to refer back to when I'm out and can't remember anything I need.
I've also created this simple Always Buy Thrifting checklist available for you to download.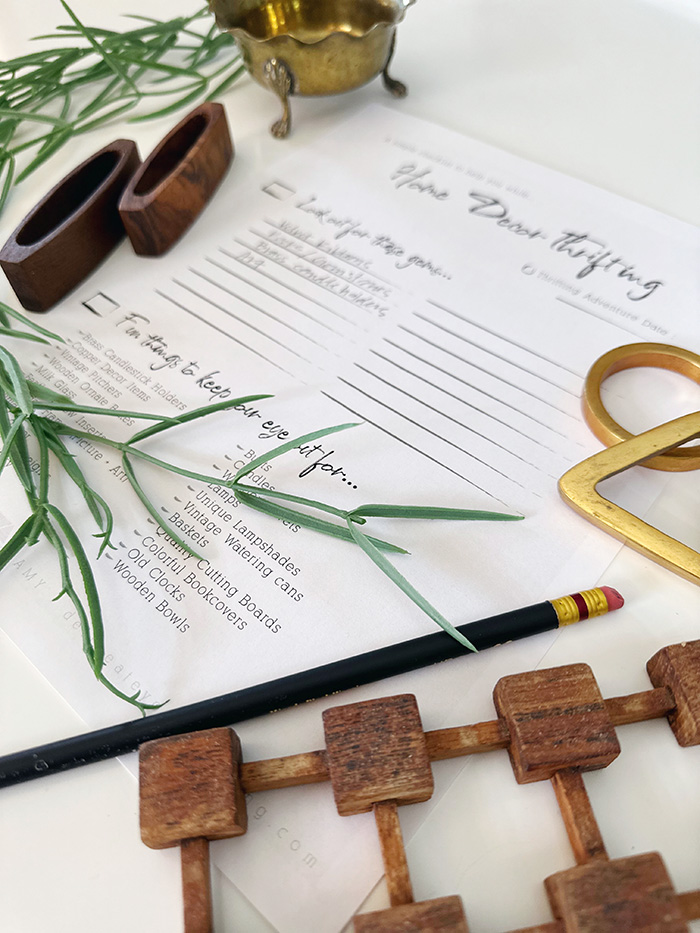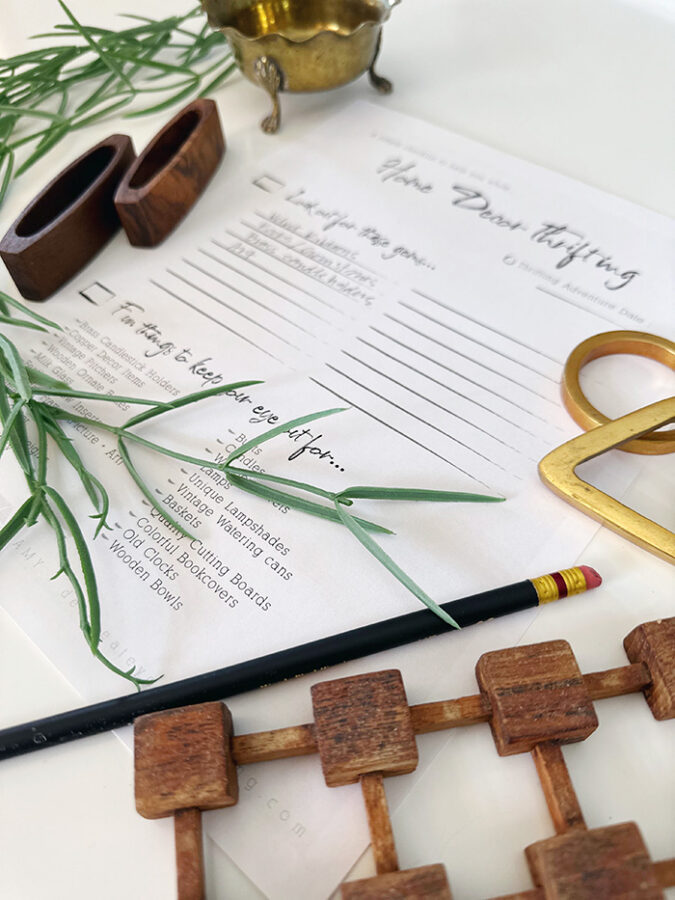 IT'S DOWNLOAD TIME:
Sign up for the DYD Insider newsletter to receive access to my ENTIRE DYD Printable Library along with this 'Thrifting Checklist' printable!!!
Already a DYD Newsletter Insider? Click on over here to access the printables library using the password found at the bottom of any email I've sent you.
Thrifted Home Decor, Things I Never Pass By
My very favorite types of thrifted home decor to buy are typically things made of natural materials. This is purely a personal preference, but I love buying pottery/ceramics and small decor items made of wood, stone, wicker, marble or brass.
Those types of materials often fall into numerous categories like baskets, picture frames, candlestick holders, bookends, wooden bowls, serving trays and more.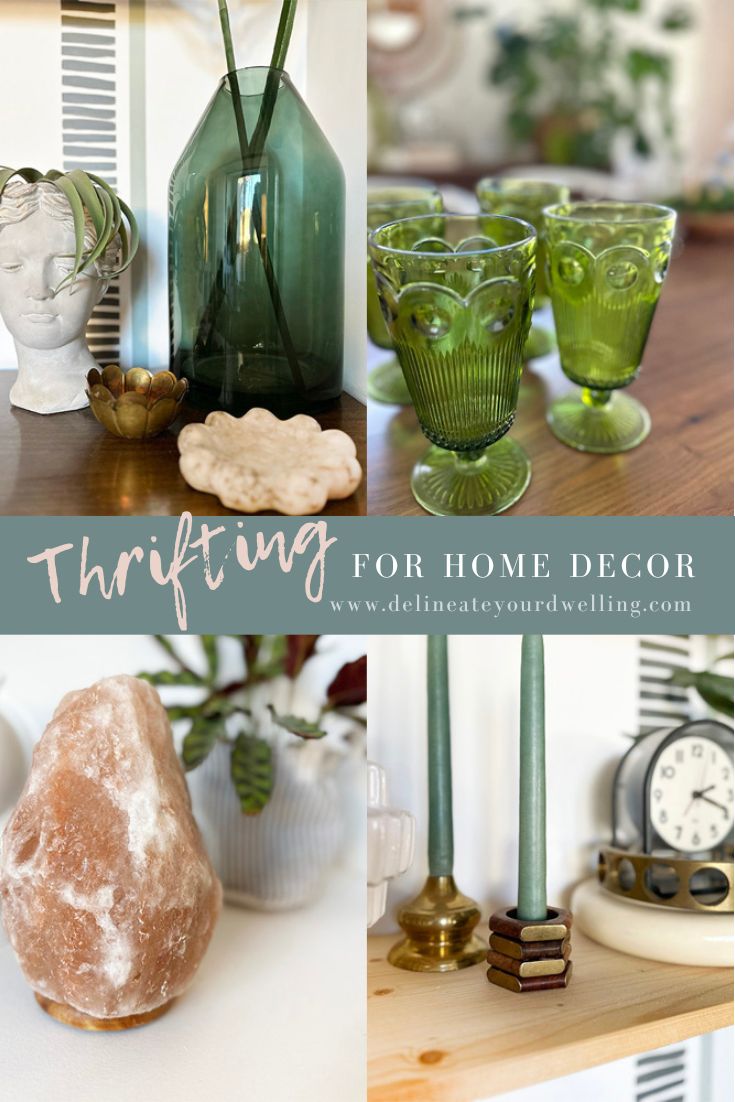 Best Thrift Store Home Decor items to buy
Sometimes thrift stores can be overwhelming. They do their best to have their shops broken up into categories, but when they get weekly and sometimes daily new items brought in it can get difficult to keep things organized.
Every secondhand shop will have a different layout, however it's helpful if trying a new place for the first time to walk in and take a quick "lay of the land". Typically there will be a larger furniture area, maybe an area for lamps, artwork, kitchen products, books and smaller home decor items.
Let's go into a few of my favorite categories in a bit more detail below and talk about what are the best items to buy in each of them.
Thrifted Books
I am always on the lookout for pretty thrifted books. I know the basic color palette of my home, so when I see a book that matches that overall color scheme I snatch it up!
Not only are thrifted books perfect to place on a bookshelf in your house, but they also are great to lay flat and stack other items on.
Thrifted Marble Bookends
Basically if you find something made of marble while out thrifting, buy it. I got a set (the other one isn't pictured) of these pyramid shaped marble bookends for $10 and I was so thrilled! I found a very similar set of Marble Bookends from AllModern and they were $77!
Marble is such a quality, heavy stone and it's beautiful patterning makes it one that will always be in style.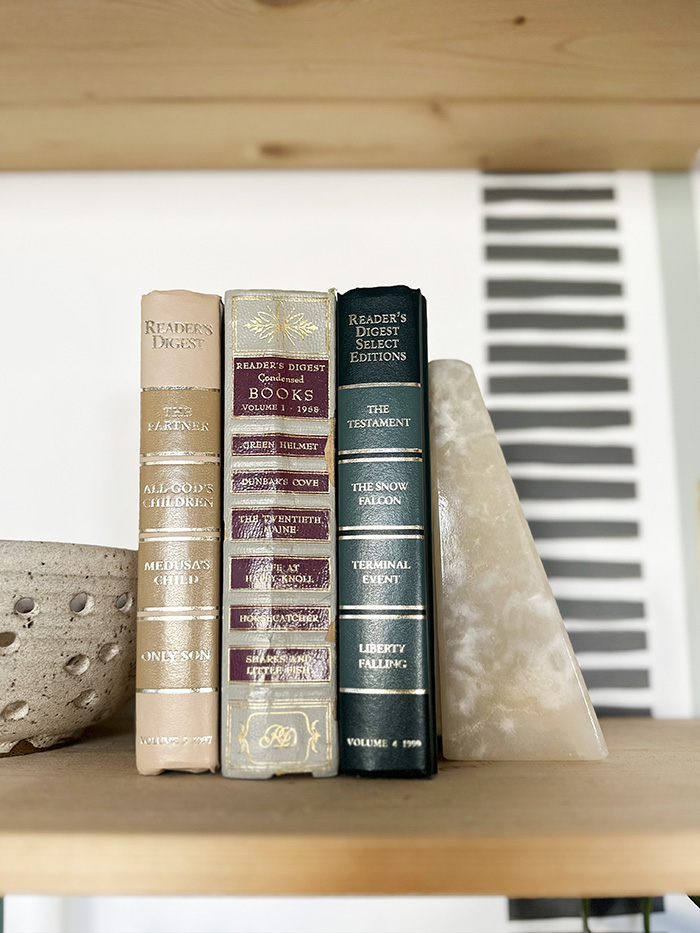 Thrifted Pottery, Vases and Ceramics
One of the easiest and fun finds to make while out at a thrift store is thrifted pottery, glassware or ceramics. Really there are endless of these items and they come in ALL different shapes, styles and colors.
All three of the below items were thrifted. I love the bold graphic stripes of the ceramic vase, next to my silly but beloved peach colored ram. The ram is hollow and I have some faux succulents living in there.
The small thrifted amber glass, I believe is a bud vase or maybe even a toothpick holder but I like it sitting out with this pair of items in our living room. It's only about 2″ tall and makes for an adorable little decor piece. I found the exact same one for sale on Etsy for $20, mine was thrifted for $1.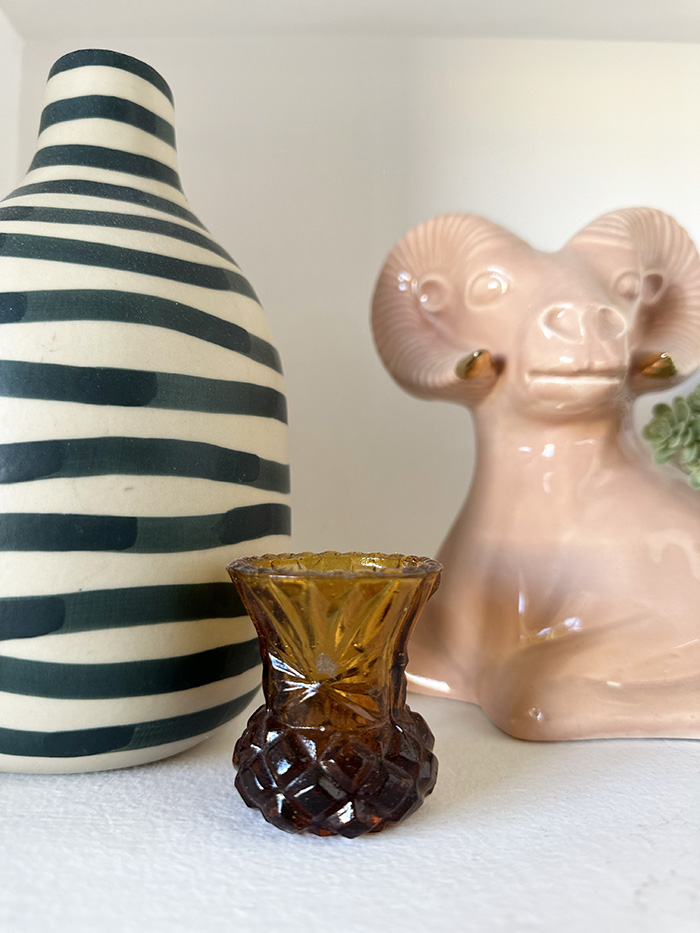 Thrifted Baskets
Thrifted baskets are probably the most common item to find while out shopping. There are endless shapes, colors, sizes and uses for them.
I have used many to hold my plants, as shown below on my peperomia.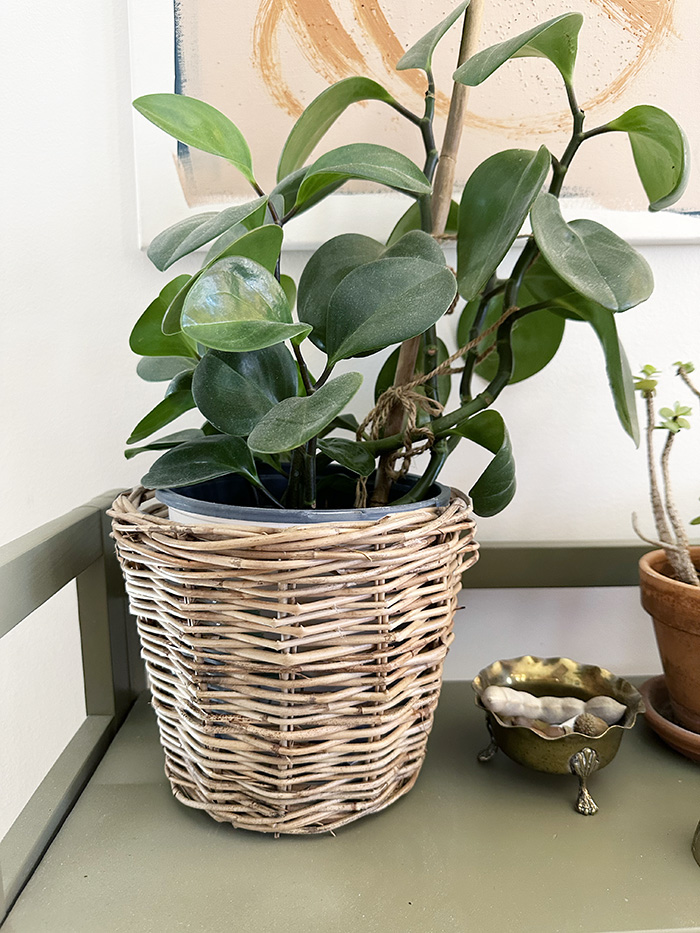 Other uses for thrifted and secondhand baskets could be trays on a coffee table, fruit baskets, containers for television remotes, book holders, linen napkin holders, clothes hampers, etc…
Whenever I find myself in need of a home decor basket, I try to thrift one instead of buying one new from a big box store.
Thrifted Glassware
There is typically endless glassware available when you check out your favorite secondhand store. I especially love looking for special glassware. These vintage green goblets I use every Thanksgiving or just for a special dinner.
Finding colored glassware in beautiful shapes is also a favorite of mine. However I have a thrifting friend who loves finding classic china glassware and tea cups. She can hardly pass them up! To each their own, I say.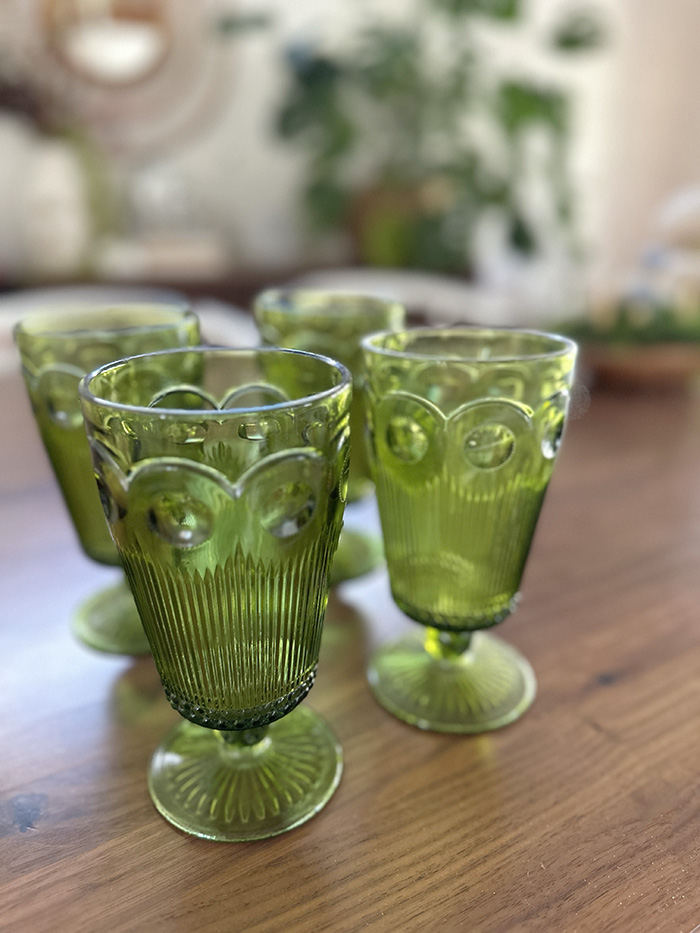 Thrifted Candles
I have found candles to be more available at Estate Sales than at thrift stores, however you can certainly find thrifted candles here and there. And I am always on the lookout for taper candles because we love burning candles during dinners, evening hangouts outdoors and to simply use as decoration around the house.
You can often find candles in groups when thrifting, so a bag of them for $3 or something like that.
Thrifted Brass
Thrifted Brass is like marble… it will always be a classic. I especially like getting brass candleholders. I have a few pairs of thrifted brass chambersticks that we use constantly (I love that they catch any wax drips).
The brass bulb candlestick below I loved for it's unique shape, I have never seen one quite like it. I got it for $4 while out thrifting and the closest I could find online was one for $42.
Thrifted Wooden Napkin Rings
I love wooden napkin rings. I will be honest, I don't use napkin rings often for their intended table setting purpose. I love using them for other creative home decor ideas, like below where I glued them together and use them as candle holders – ha!
I've seen people glue napkin rings together and use as pencil holders below. So clever!
I have another wooden thrifted napkin ring set and they are gorgeous. They have a slight rounded shape to them, very mid-century modern.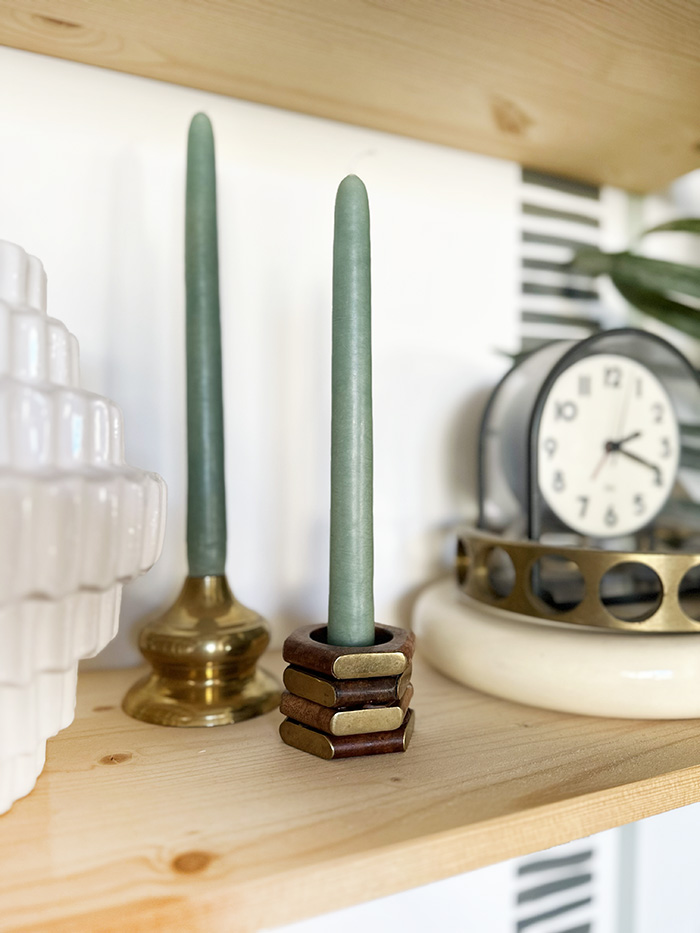 Thrifted Stone Bust
Finding a bust is such a thrift win! I did a bit of digging and my 10″ stone bust is actually from Anthropologie… so that beauty was originally $44.
I've seen thrifted busts being used as planters, spatchula holders, garden candle holders and more. They are a sophisticated classic French decor piece and using them in unique ways give them a very eclectic modern feel.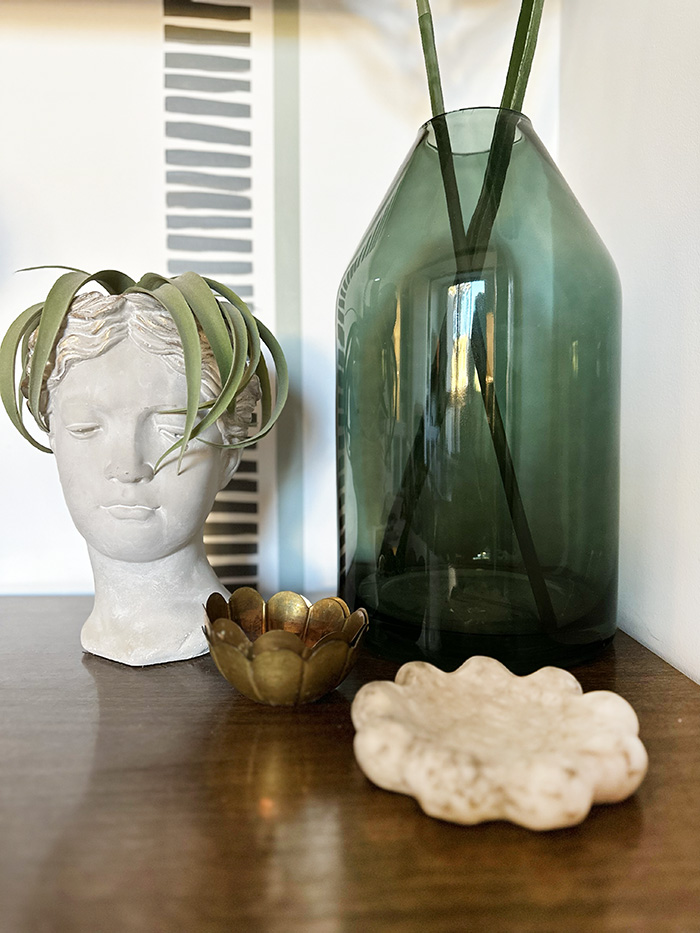 So basically no matter what you find when out thrifting, it's fun to find "one of a kind" home decor pieces because in my opinion, no two homes should look exactly the same. People are different. Styles are different. And homes should feel different.
Home Decor Sections of the Thrift Store I always Shop
Basket Section
Pottery/Ceramics
Brass
Candlestick holders
Wicker Furniture
Bookends
Marble
Wood Frames
Furniture Section
Kitchen Baking Section
Dinnerware Section
Book Section
Lamps
Wooden Bowls
Mirrors
Trays
Small side tables
Planters
Vases
Decorative Candles
Wood decorations
If you like this, you will also enjoy…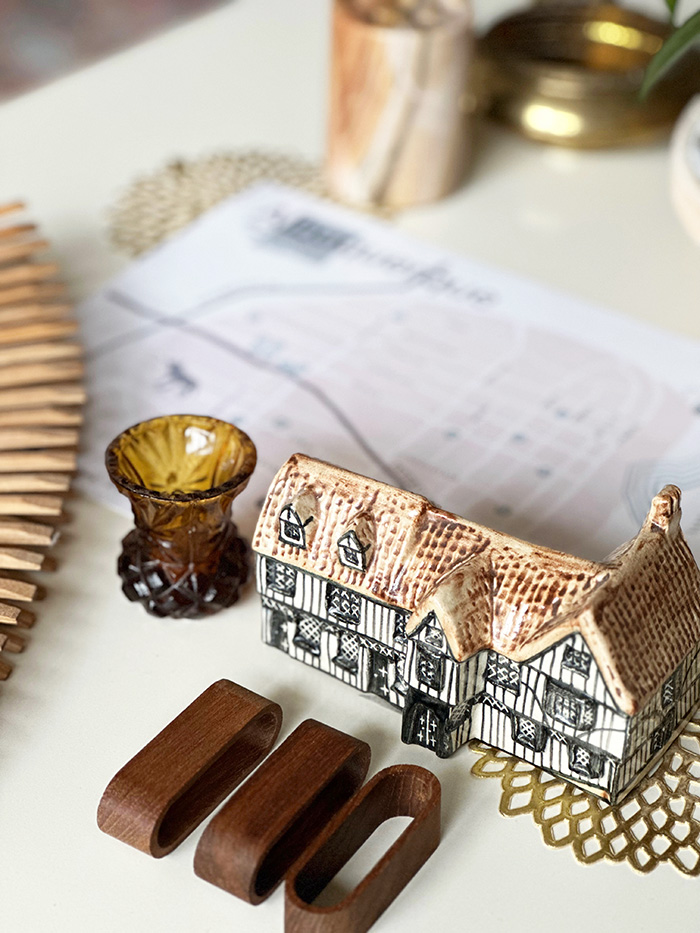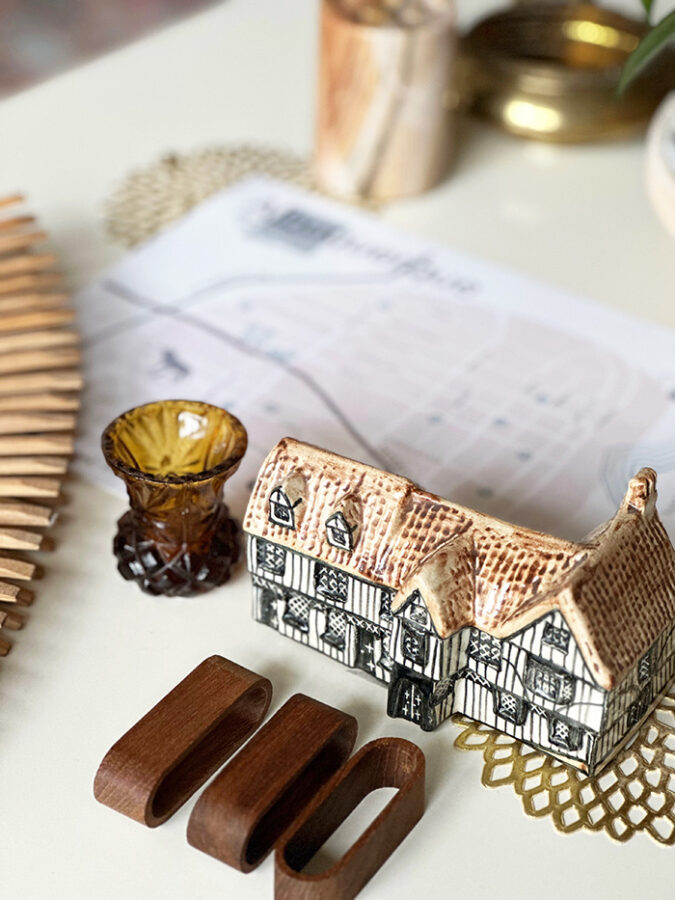 5 Great Reasons to Shop secondhand
Thrift Shopping Tips for the Best Home Decor Finds