Learn how to Thrift Home Decor
INSIDE : If you are a secondhand shopping newbie, sometimes walking into a thrift or vintage store can feel overwhelming. Learn how to thrift home decor because it can be intimidating when first starting out!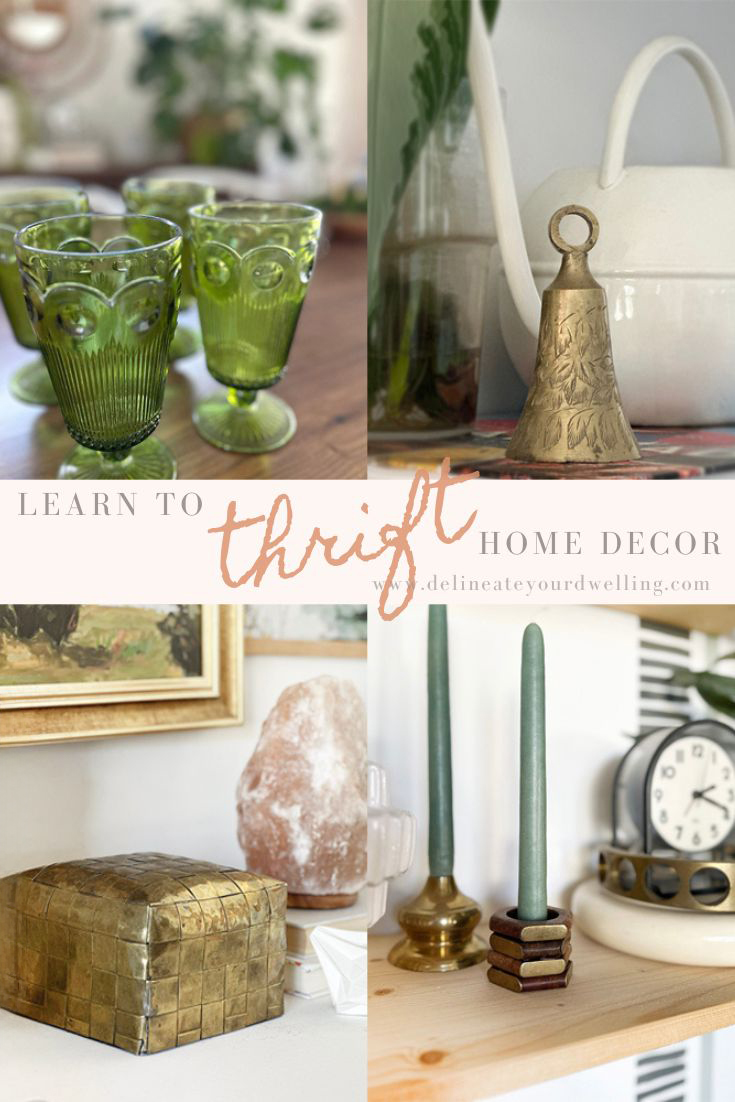 This post may contain affiliate links. See full disclosure here.
Thrifting is a great way to find unique and affordable home decor. Whether you're looking for a statement piece for your living room or just want to add some personality to your bedroom – you are sure to find something you love at a thrift store.
However, if you are a secondhand shopping newbie… sometimes even walking into a thrift or vintage store can feel overwhelming. So today, I wanted to help you learn to thrift home decor because it can be intimidating if you've not done it much.
I have written numerous blog posts about the benefits of thrifting, thrift shopping tips and even what to look for when out thrifting. You can see some of those below.
Looking for more Thrifting Ideas? Check these out…
Home Decor Thrifting
Here are a few tips to help you get started –
Know your style
Before you go thrifting, it is so helpful to have a general idea of what you like, what colors you are drawn to and what shapes or materials you generally like. Knowing these things before you head to the stores, will help you narrow down your search and avoid impulse buys that ultimately will not go well in your home.
Be willing to try new things
Don't be afraid to look at items that are outside of your comfort zone. You may be surprised at what you find. And remember that most items can be easily painted so color doesn't always matter.
Think outside the box for things you can repurpose like this thrifted cane chair I found. I repaired the wood a bit, took off the arm rests and gave it a whole new look with mint green chalk paint. You can read more about it here, Painted Cane Chair Makeover.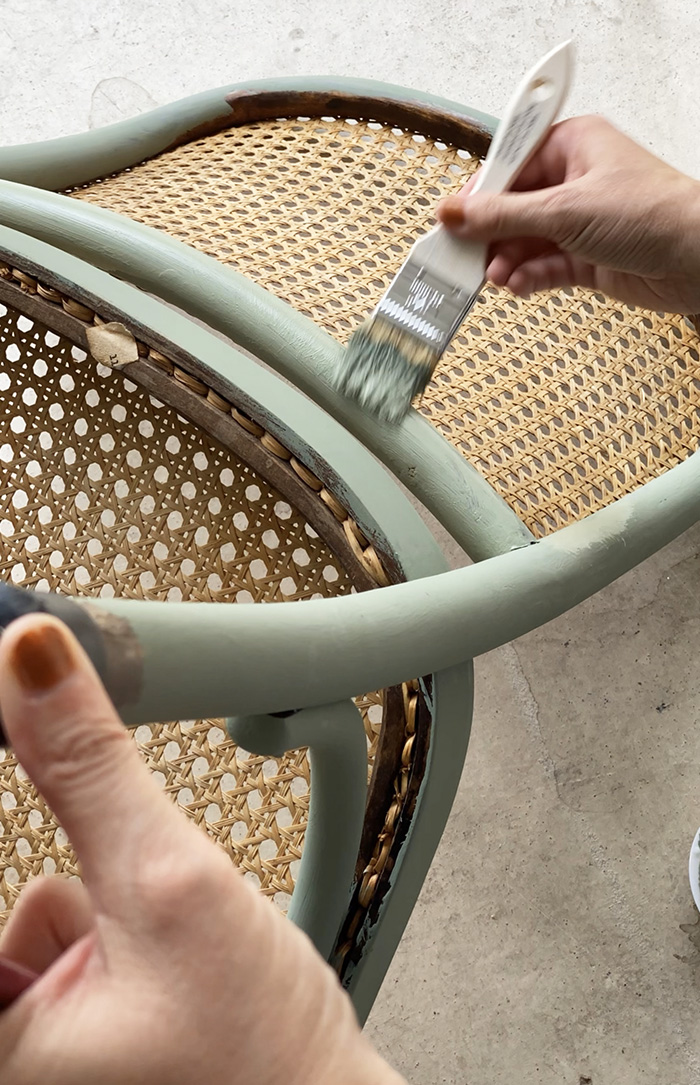 Inspect items carefully.
It is important before you buy anything, that you check it over throughly for any damage. And if you are buying a lamp or other small electronic test it in the store, before bringing it home to make sure it works.
Don't be afraid to negotiate.
Now this is a tip that intimidates me, but is worth trying if you are looking for a larger ticket item like a sofa, hutch or even a buffet. Most thrift stores are willing to negotiate on prices, especially if you're buying multiple items.
Visit thrift stores often
If you are really wanting to have success with your thrifting adventures then you have to visit more than just once a month. Going at least weekly is the best method to seeing what your local secondhand shop gets in stock.
A pro tip is visiting on weekdays during typical work hours (9am to 5pm) while most people are at work is idea so the items are less picked over. Even a quick run in during your lunch break is a good time to check thrift store inventory.
Keep a "Be on the Lookout" list
I created a printable for you to download and keep track of all those perfect items you are wanting to "be on the lookout" for. Sometimes thrift stores can be overwhelming and it helps to know what you are looking for before you head out.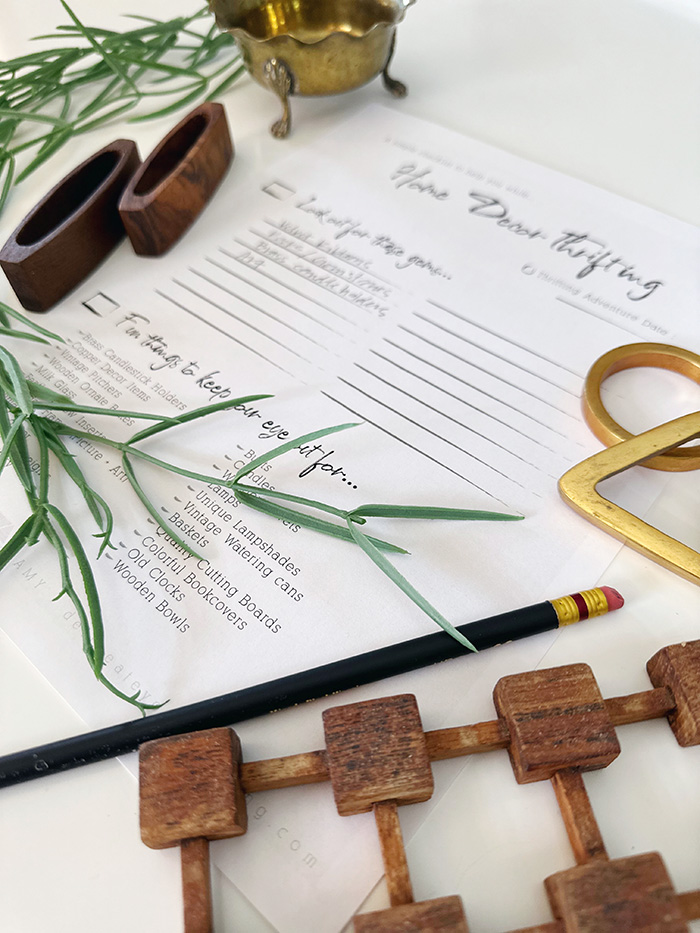 Ready to get the checklist? IT'S DOWNLOAD TIME:
Sign up for the DYD Insider newsletter to receive access to my ENTIRE DYD Printable Library along with this 'Thrifting Checklist' printable!!!
Already a DYD Newsletter Insider? Click on over here to access the printables library using the password found at the bottom footer of any email I've sent you.
How to decorate with thrifted decor
Once you've mastered thrifting for your home decor, it's time to start decorating with them in your house.
The beauty of thrifted decor is it creates a lovely eclectic look. Don't be afraid to mix and match different styles, metallics or colors (within reason).
Adding a thrifted accessory to your home decor is the perfect way to blend big box purchases (Target, IKEA, Wayfair, West Elm, etc…) and thrifted items together. Thrifted accessories could include things like throw pillows, blankets, and rugs.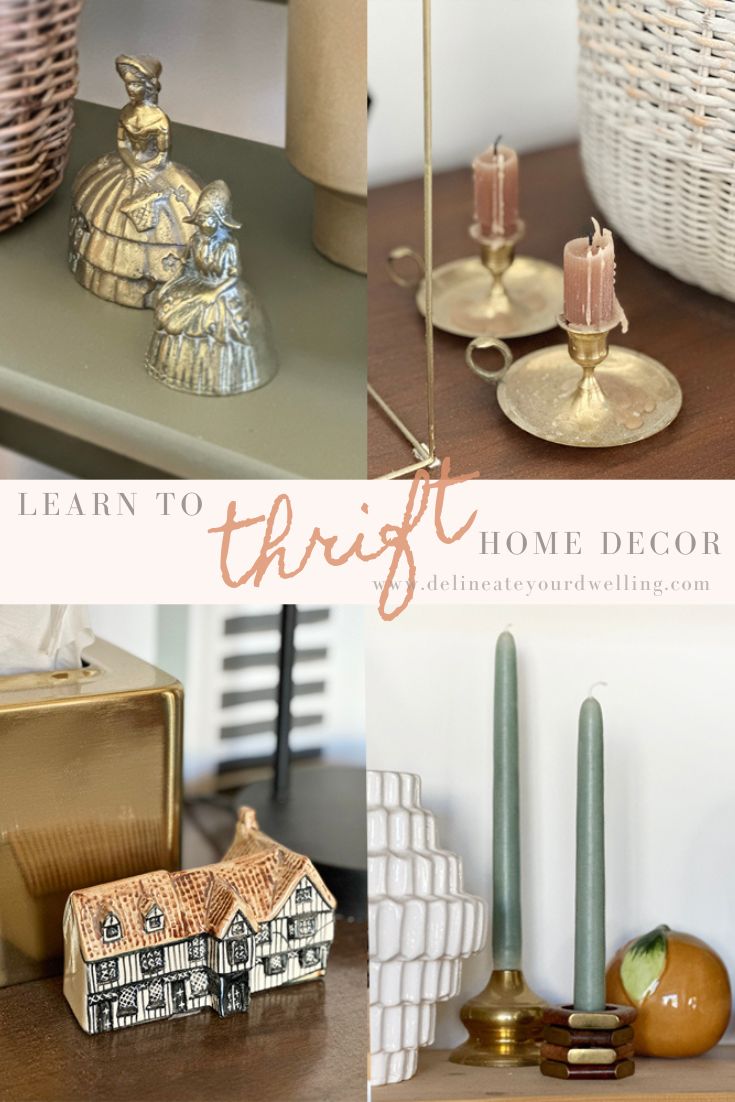 And adding a little crafty DIY refresh to your thrifted decor is totally allowed. I have spray painted, hot glued and added baking soda paint to a few of my finds. Not only is it fun to give items a new creative look, but it's a great way to save money and add your own personal aesthetic touch to your home!
Thrifting for home decor is a great way to find unique and affordable items. With a little bit of planning and creativity, you can create a home that you love.
Check out some of my recent Thrifting Adventures…