INSIDE : Learn how a painted cane chair makeover breaths new life into old thrifted finds! Using a mint green chalk paint is a simple DIY project to update a fun secondhand chair.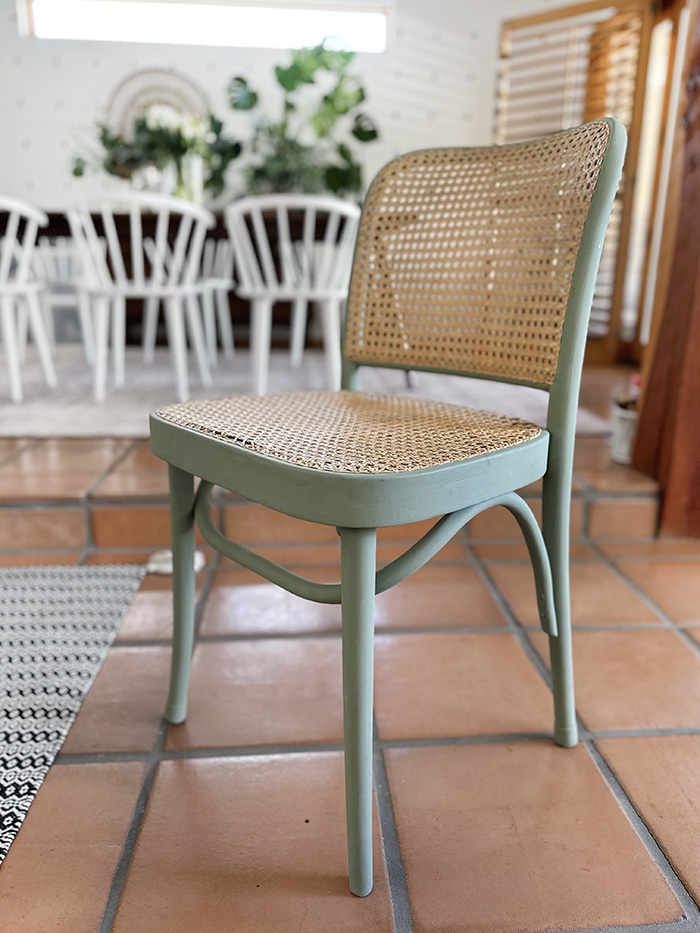 This post may contain affiliate links. See full disclosure here.
Last summer I thrifted this beautiful cane chair from a local secondhand shop. It was under $10 and I loved the shape of the chair backing, thought the caning was in decent condition and liked that it was a smaller profile chair.
I was on the lookout for a smaller desk chair for our living room and this thrifted beauty fit the bill perfectly!
Looking for some other Chair related DIY projects? Check out my Reupholstered Thrift chair, Painted Metal Chair and Stop Pinning Start Making Chair.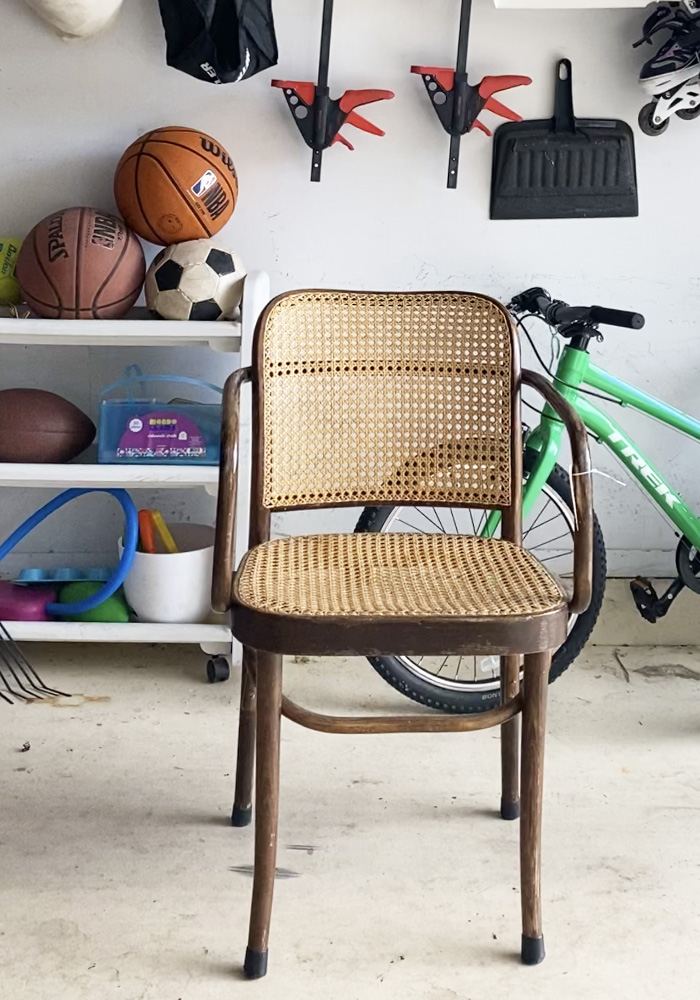 What supplies do I need to update a thrifted cane chair?
Warm water
Paint Brush (Wooster + Craft Brush)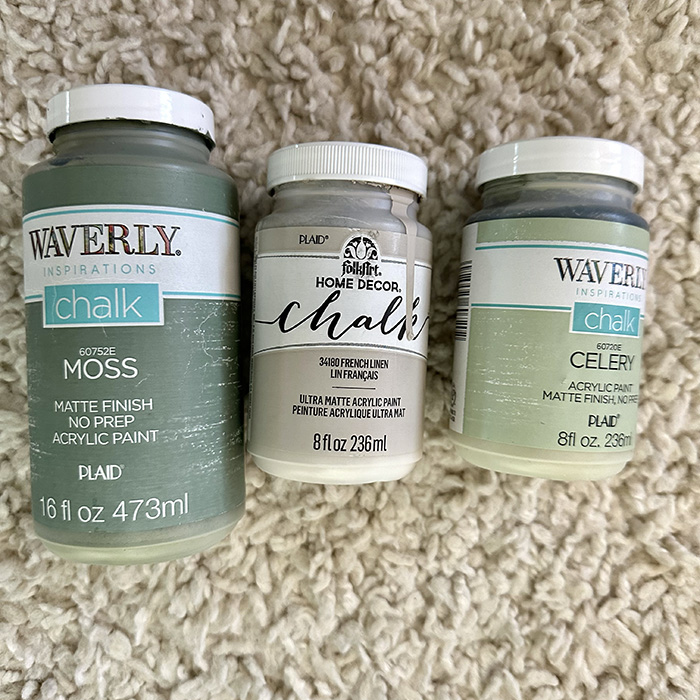 How do you modernize a cane chair?
To modernize an old thrifted cane chair, begin by doing a quick assesment on it.
I started off by removing the bottom support pieces of the chair, the chair's arm rests and the two front legs using my electric drill.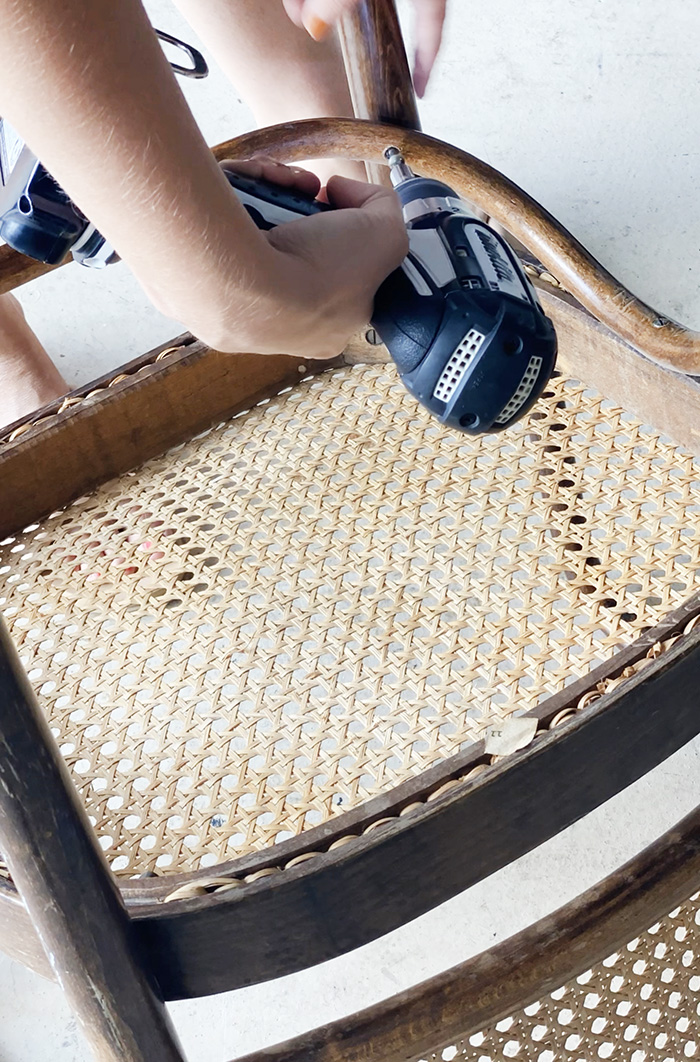 Next up, I filled all dings, dents and various places that the wood needed some repair using wood putty.
After the wood putty was completely dried, I used sand paper to smooth down any rough spots and to give the wood a light texture to better hold onto the new paint.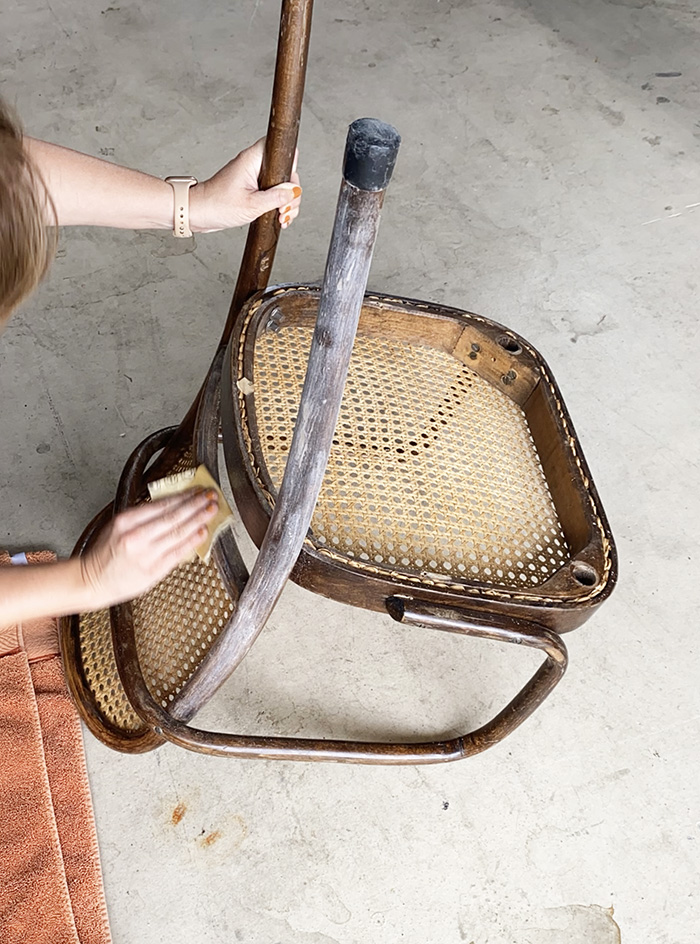 Looking for more Thrifting Ideas? Check these out…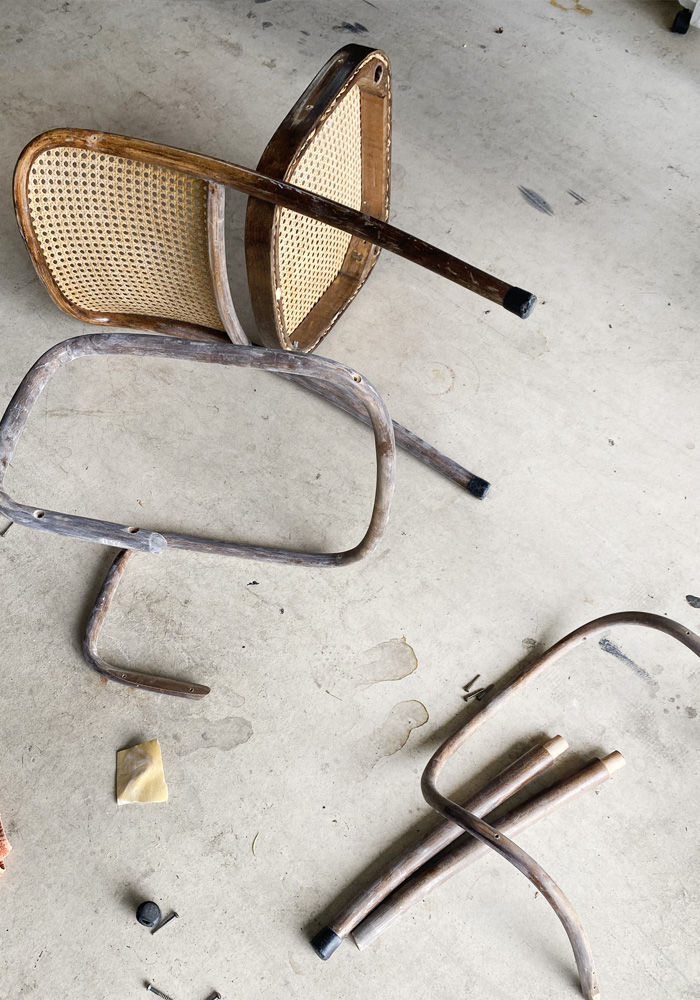 Can I paint or stain cane webbing?
Typically cane webbing will not absorb paint or much stain due to the hard slick outer surface, however it can be done.
When chair cane is stained, it is best done by allowing the stain to soak in from the back side. It seems water-based stains are best for this process.
Using paint on your cane will "stick" just fine. The main issue with paint on caning is the paint's lack of flexibility. Cane is very flexible, and "moves" quite a bit as it is sat on. Typically the paint will crack and flake off as the cane moves and flexes… not ideal.
How do you change the color of cane furniture?
Once the wood furniture has been filled and sanded, use a damp microfiber cloth and wipe down all dirt, grime and dust from the chair.
After the wood has completely dried, it's time to mix your paint colors! I couldn't find my perfect color, so I mixed three different paints together – Waverly Chalk Moss Matte Finish, Folkart Home Decor Chalk French Linen and Waverly Chalk Celery Matte Finish.
Mix the quantities until you are satisfied with the color you have and then begin to paint.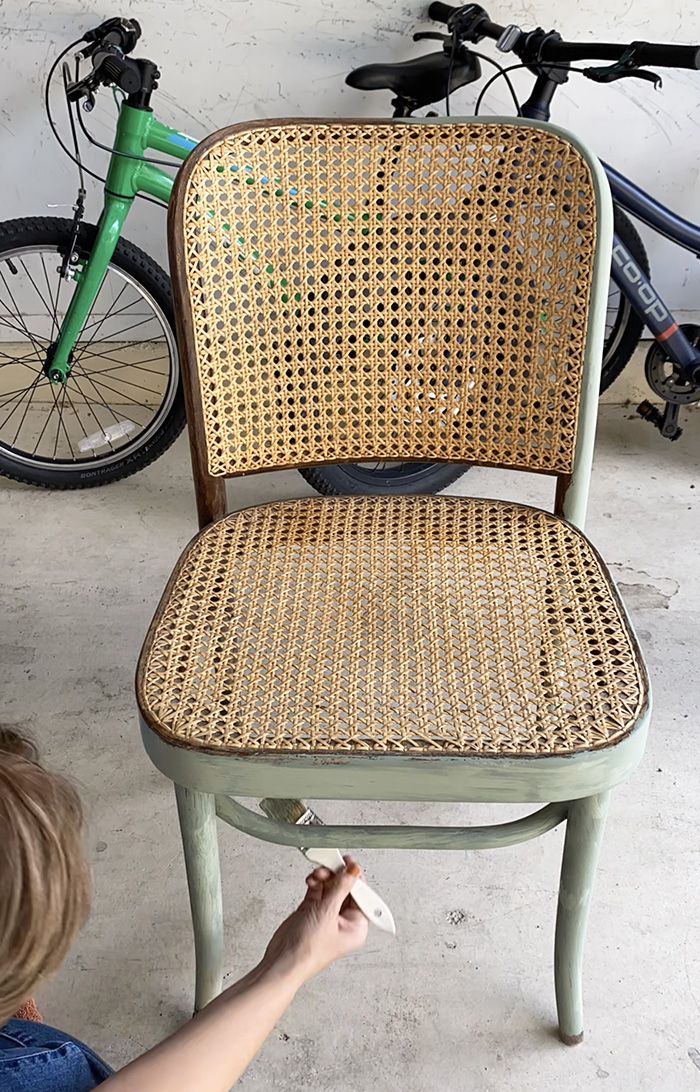 Paint a Cane Chair
I used both a handheld Wooster brush and a smaller craft brush to get into the smaller detail areas.
I gave the chair two coats for a nice even coverage.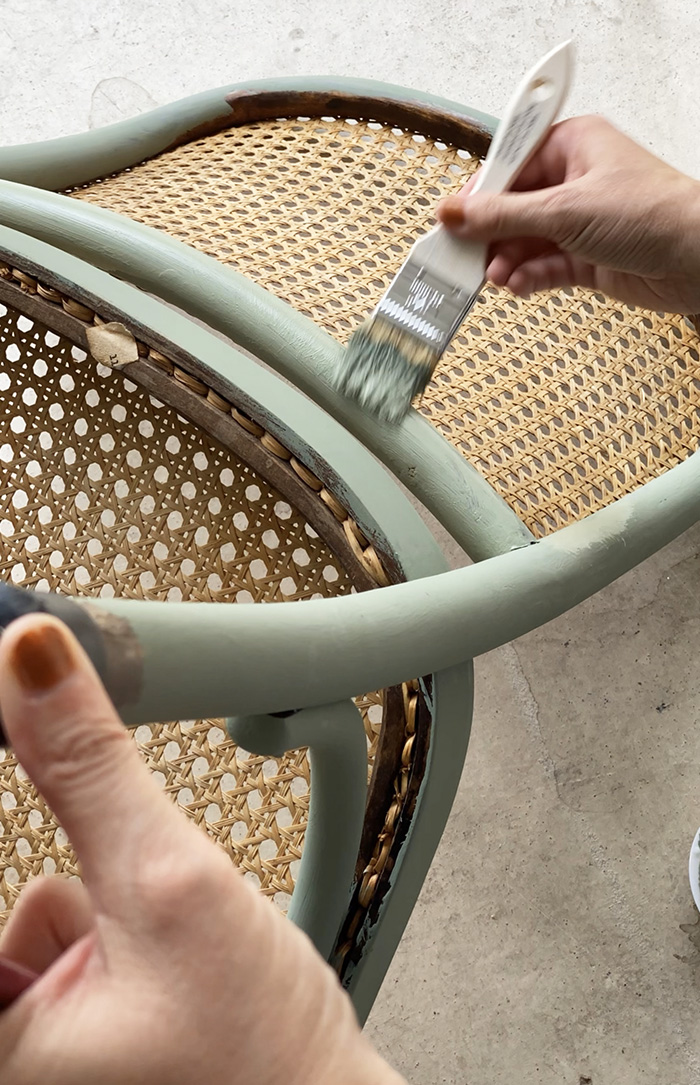 Green Cane Desk Chair
I'm so thrilled with the color of my refreshed desk chair! The green is a perfect mint color and it contrasts the wood of our home and the living room desk perfectly.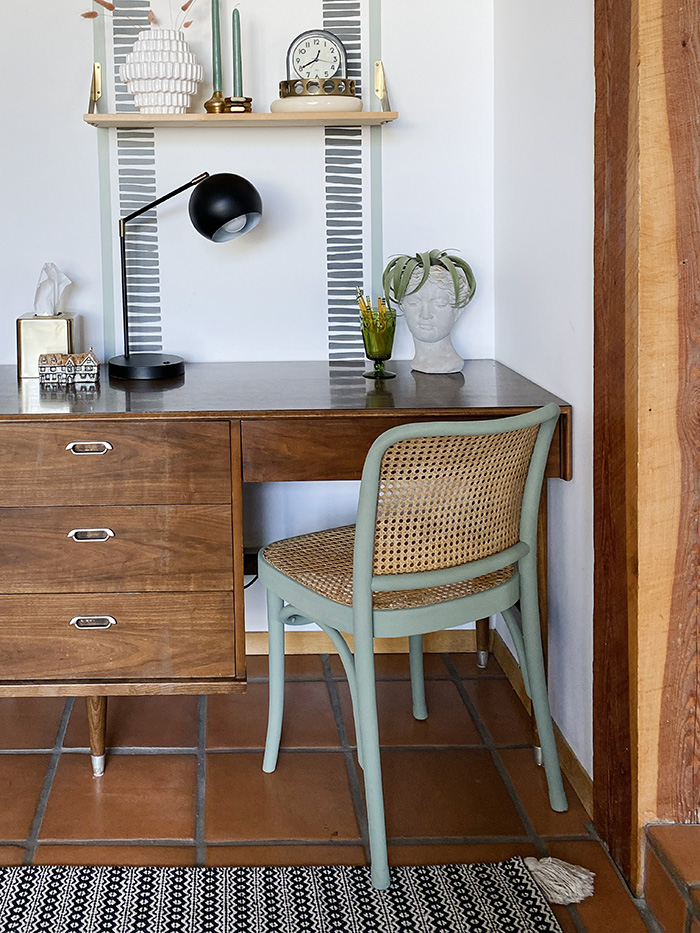 Want to see some of my Thrifting Finds? Check them out below.