Reupholster a Thrifted Chair
INSIDE : Looking to give an old chair new life? Learn how to reupholster a thrifted chair and give it a quick coat of new paint. Bring a whole new look to your space for under $30.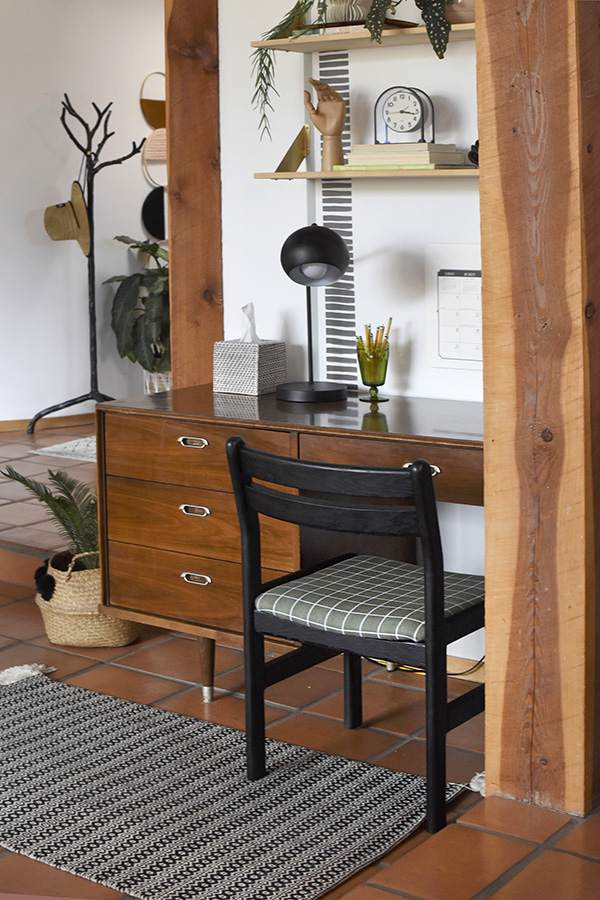 This post may contain affiliate links. See full disclosure here.
A few months ago I went to my local Goodwill and found this great desk chair for $7. You've got to love a good thrift score. I knew I wanted to give this chair a little love and use it in my living room. With some new reupholstering love and little spray paint, this chair has a whole new vibe.
Looking for some other Chair related DIY projects? Check out my Painted Cane Chair Makeover, Painted Metal Chair and Stop Pinning Start Making Chair.
What supplies do I need to reupholster a thrifted chair?
Thrifted Chair
Cordless Drill
Staple Gun
Screw Driver and/or Hammer
New Fabric
Sewing Scissors
Sanding Block
2 cans of Spray Paint
Cloth to wipe down chair
Optional : Batting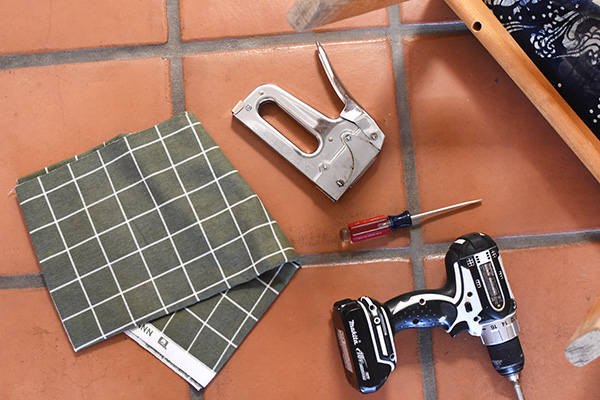 How to give a thrifted chair new life:
To give your chair a new life, start by filling it upside down on the floor. Using your cordless drill, remove any screws that are holding the chair frame and the cushion together.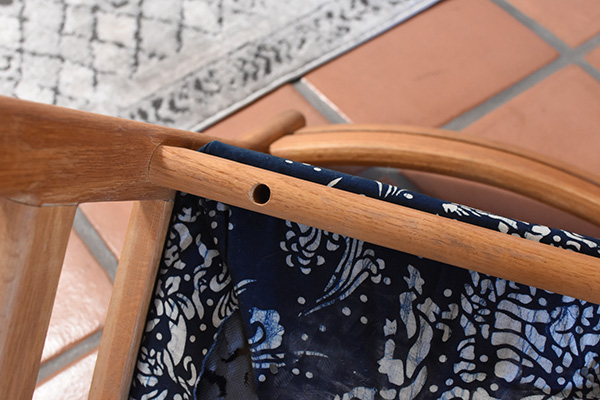 You will be left with just the wooden frame of the chair now.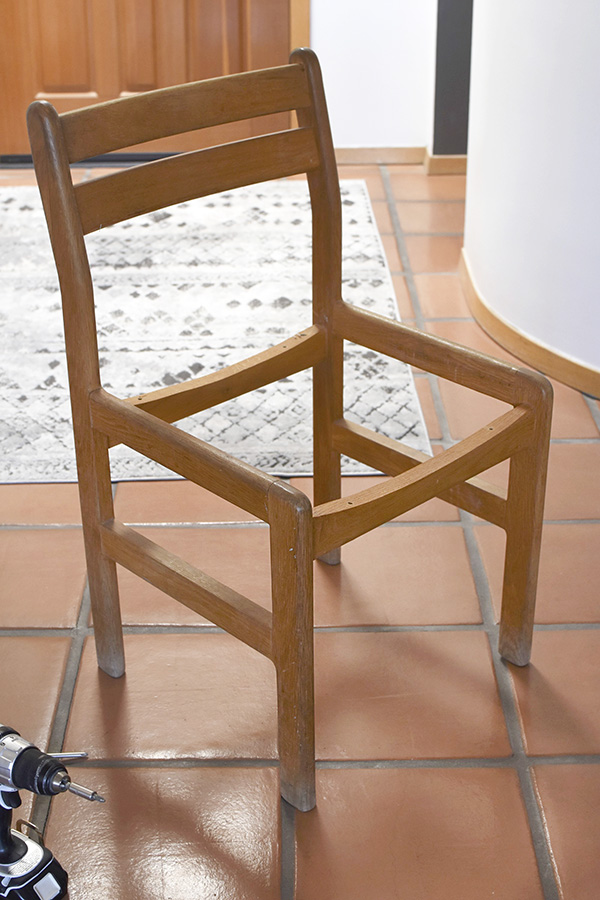 Next, decide if you want to remove the chair's current fabric cover or just cover it with your new fabric. After looking more closely at my thrifted chair's cushion I decided it was installed rather poorly and would be better for me to remove the top layer.
The previous owner had used upholstery nails and done a very sloppy job of it, but it still only took maybe ten minutes to remove them all. I used a screwdriver and a hammer to remove all the nails. Into the trashcan that top fabric piece went and then I gave the original fabric a nice cleaning/dusting and a heavy dose of Lysol spray.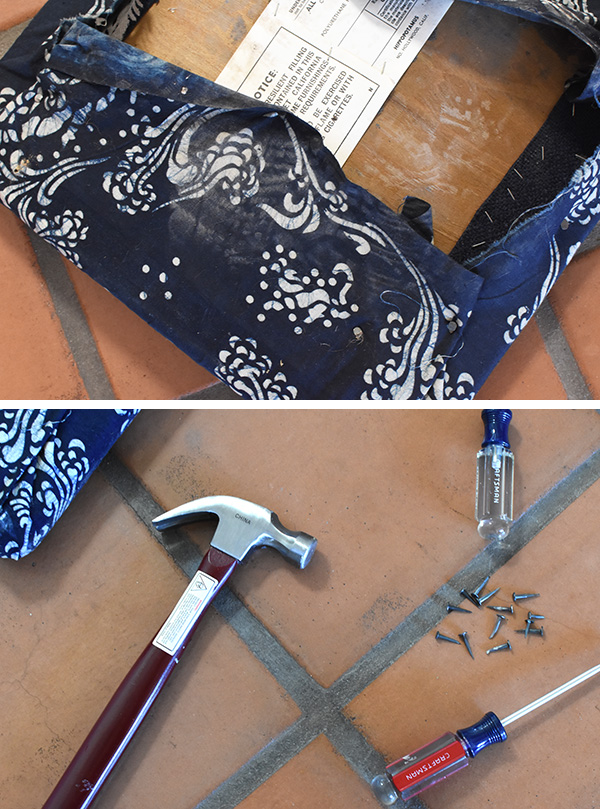 Want to see some of my favorite thifting scores?
Sanding your Thrifted Chair:
Now, this sanding step is not completely necessary for all upcycled chairs. However, since my chair had seen some wear and tear, the wood was a little rough and splintery in a few spots. I just used a simple hand sanding block over the entire chair for a nice smooth finish.
I preferred a sanding block to an electric sander because I could easily get into the tight corners with this much more easily.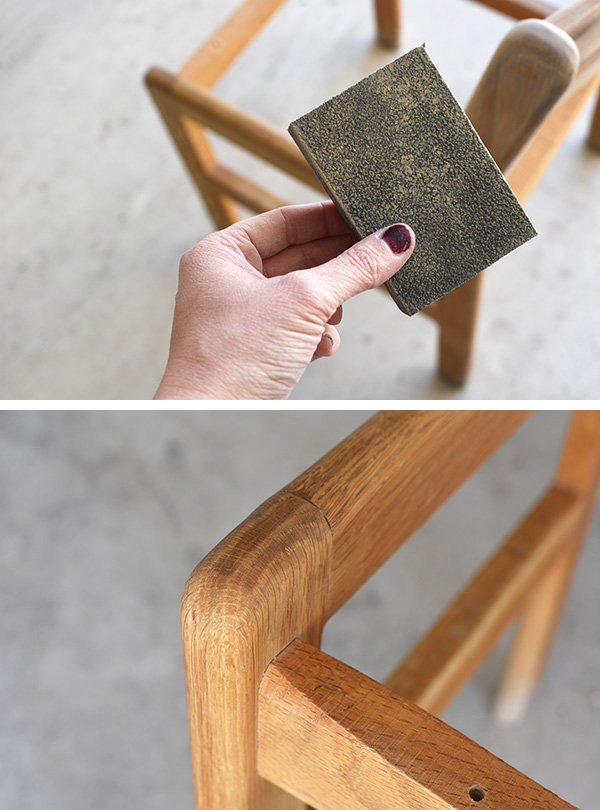 After the sanding was complete, I wiped down the entire chair twice with a slightly damp cloth. This helped ensure that there was no more dust on the wood.
How to paint an old wooden chair:
I choose to use a Flat Black spray paint on my thrifted wooden chair. Be sure to do this in a well ventilated area and put cardboard or plastic down to protect your flooring before you paint.
I didn't want drips, so I did a few light coats of the spray paint to allow for nice even coverage. It only took two or three coats. I ended up using a full spray can and was glad I had an extra one on hand for a few small additional spots.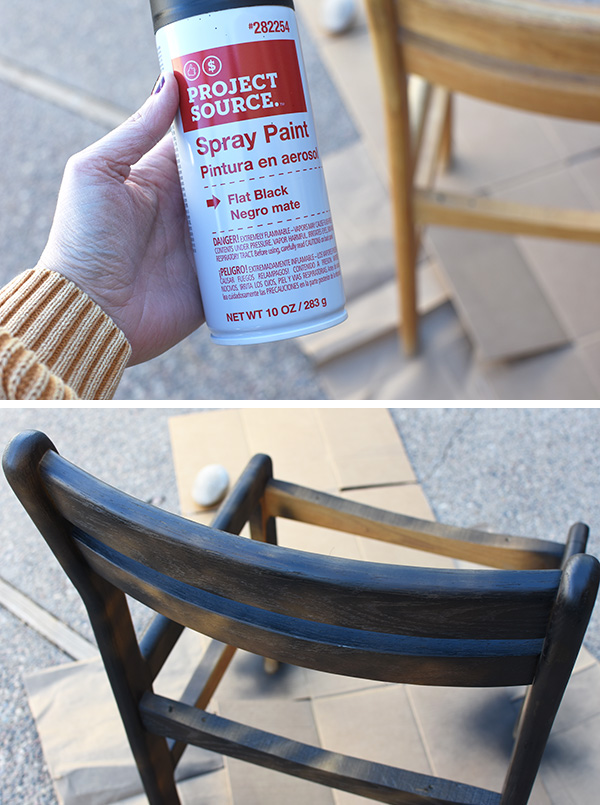 How to reupholster the cushion of a simple desk chair:
Once you have gotten to the base of your chair cushion, you have a few options to start with. If your chair needs a little more cushion or you are using a very thin fabric, then adding a layer of batting is a good idea. This can also help smoothen out any imperfections on your main chair seat. My chair didn't need any batting, so I just moved onto the next step!
Lay out your fabric with the pattern facing out and place the seat base on your fabric. With sewing scissors, cut your fabric to size down to size, leaving about 3″ extra (depending on the thickness of your seat).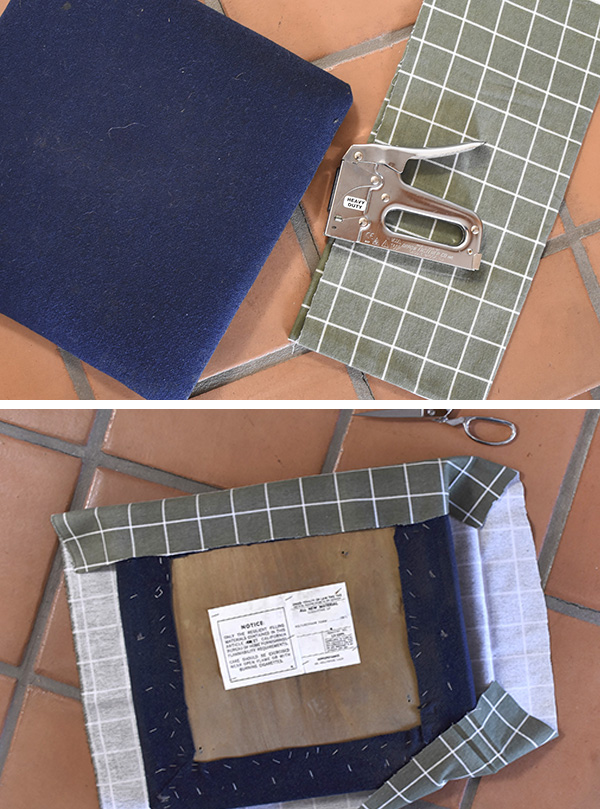 Start at the bottom center of the seat and using a staple gun, start to staple the fabric in place. After maybe three or so staples, start to work on the opposite side. Be sure to flip your cushion over and over to make sure you are pulling the fabric snug but not so tight that it pulls. Continue working your way around all four sides, leaving the corners un-done.
Once you get to the corner, simply handle it like a birthday gift. Wrap and tuck the fabric so it makes a nice clean looking corner edge. I always do three or four staples in this area to make sure it's nice and secure.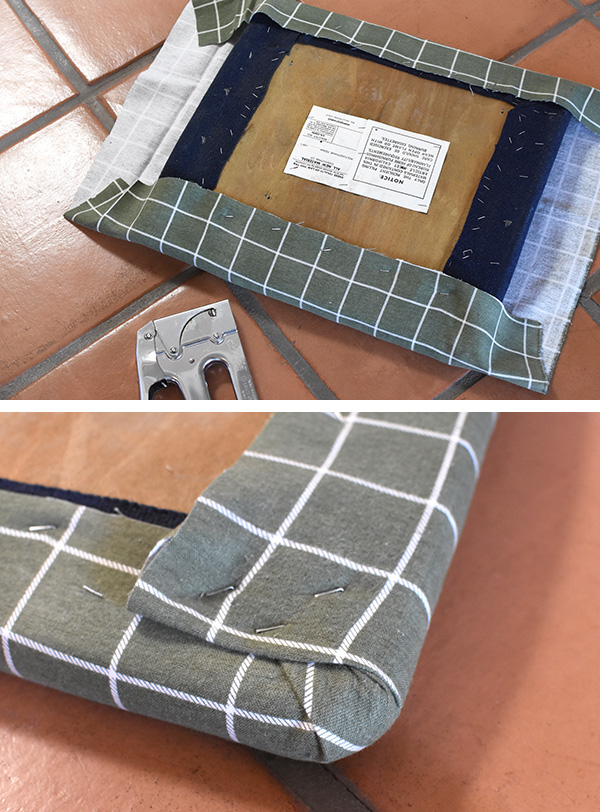 Finally, it is time to attach the seat base back onto your chair frame. It should take just a moment using your cordless drill to connect them back together!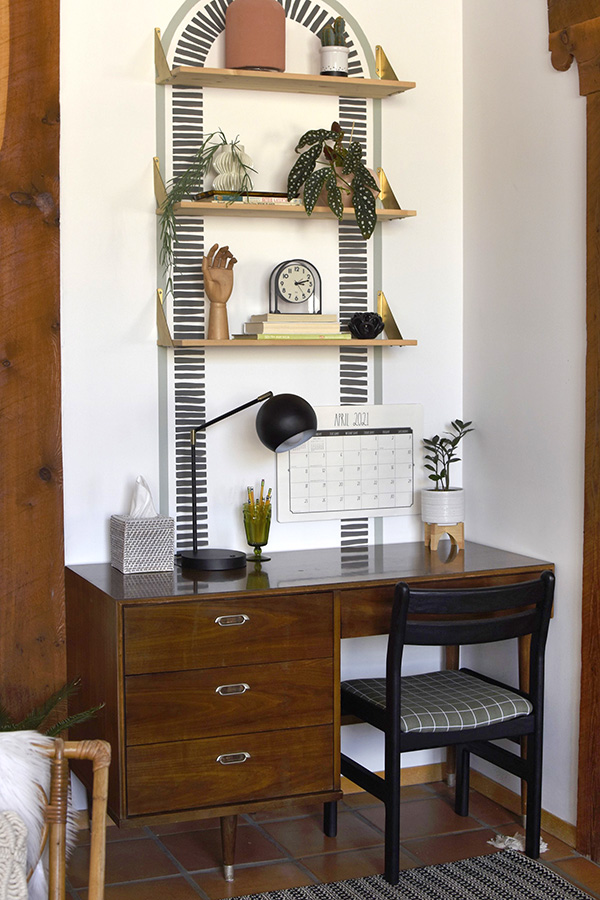 Look at the beautiful detail the black paint makes against the grid fabric and desk. I just love how it turned out!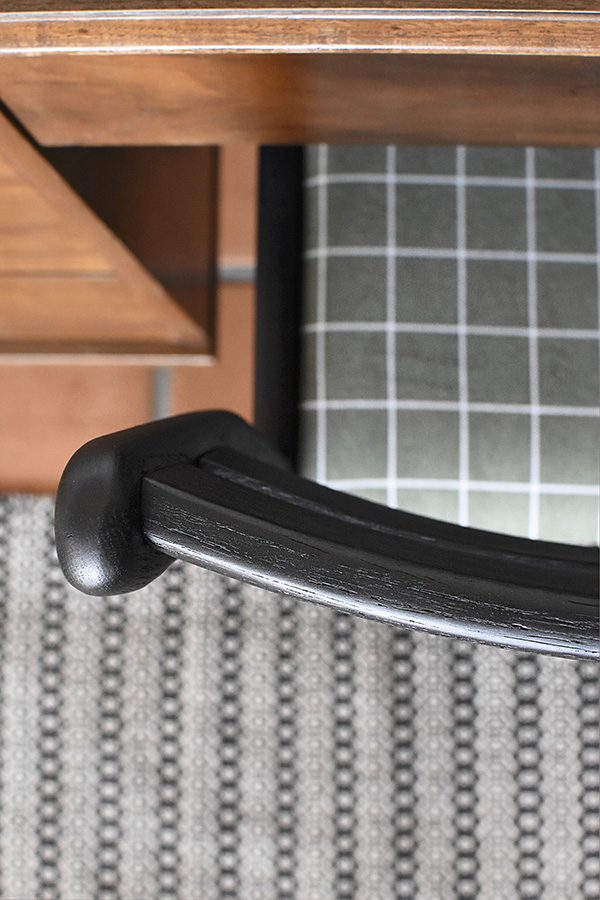 I think it really complements the desk area well and I still can't believe it only cost me $7 for the chair and then I bought spray paint and fabric. What a deal.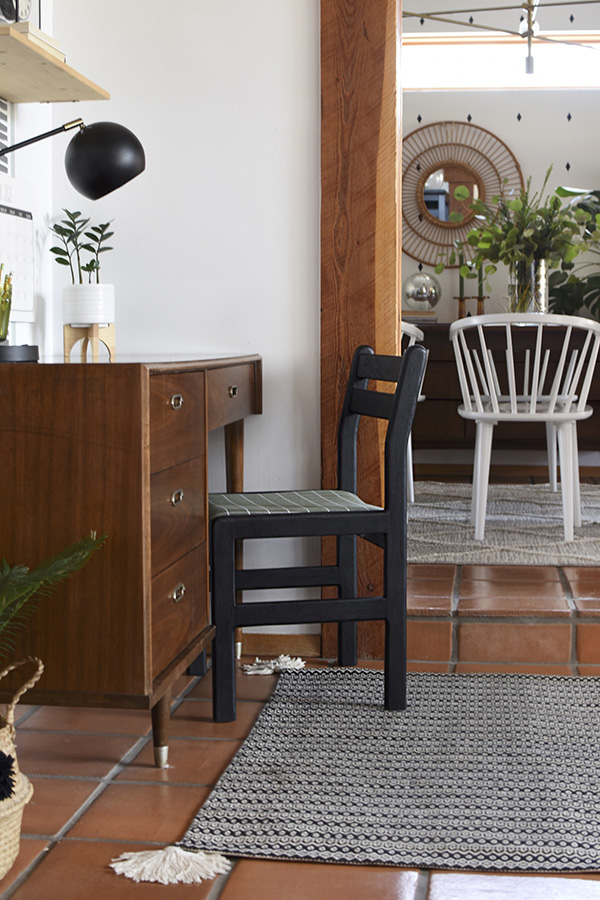 If you are looking for how to also paint this cool accent arch, you can check out that post over here.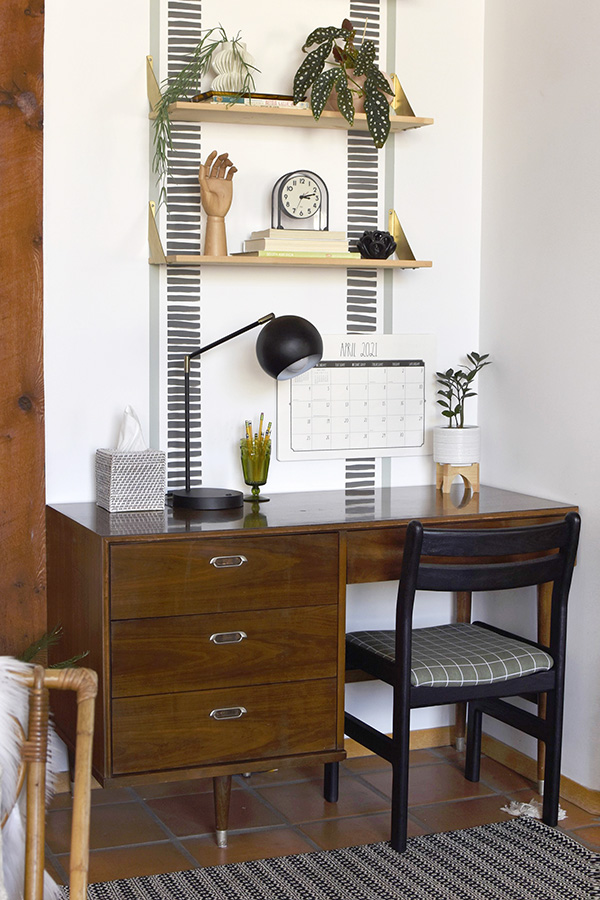 Sources for items shown in completed look :
Ikea Shelves
CB2 white textured vase
Polka Dot Plant, Angel Wing Begonia
Wooden Hand
Black Desk Lamp (similar)