Thrifted Neutral Cornucopia
INSIDE : Learn how to take a thrifted neutral cornucopia and transform it into a gorgeous gold centerpiece this Thanksgiving meal. Adding baking soda and paint will give your horn of plenty's fruit contents a modern fresh look!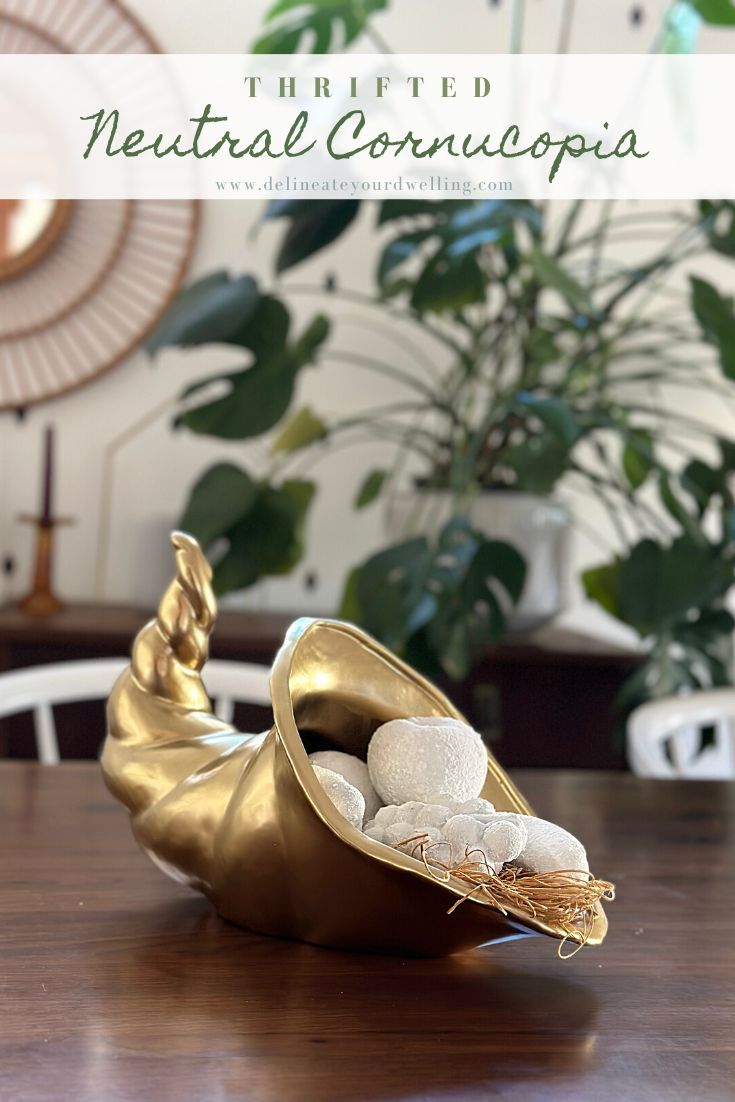 This post may contain affiliate links. See full disclosure here.
Thanksgiving is nearing, yay! It's one of my favorite holidays and with that, it's time to start thinking about how you may set your table when friends and family come to your home. Check out my Most Creative Thanksgiving Table Settings post.
I thrifted this beautiful ceramic Cornucopia (I mistakenly thought it was spelled Cornicopia until this year! Sheesh.) and knew I wanted it to play a center role in my decor but the bold colors were not my favorite vibe.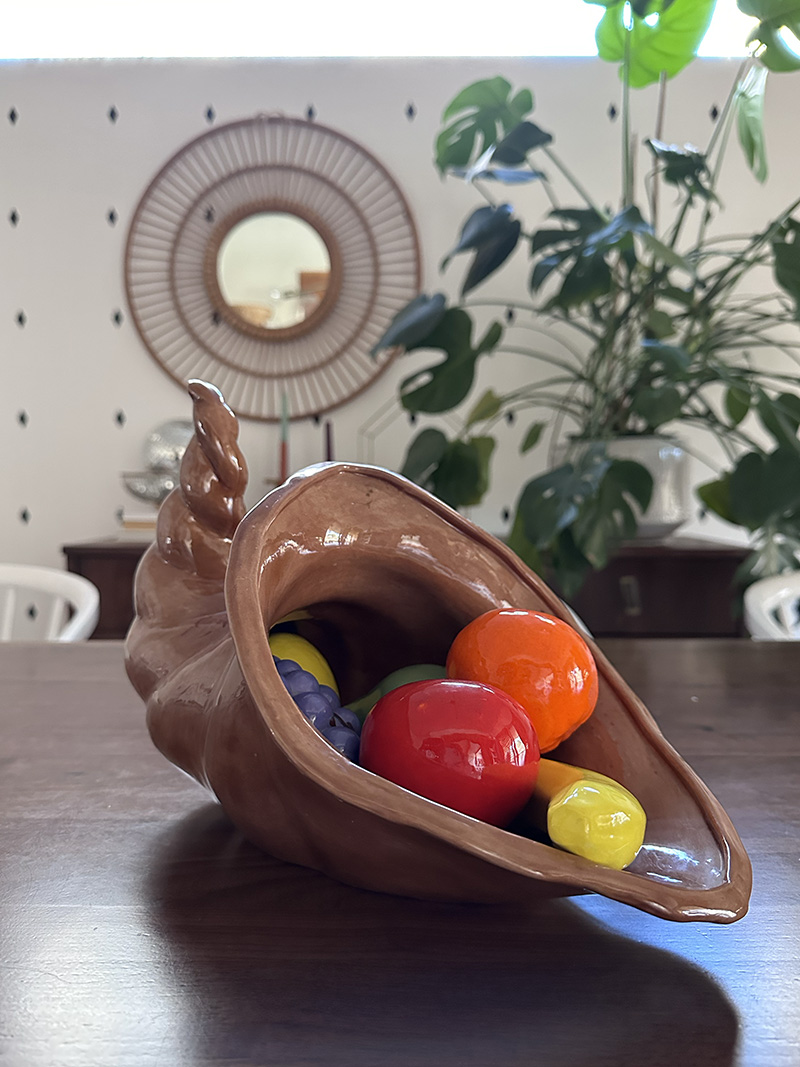 The cornucopia, also known as the horn of plenty, is typically shown as a large horn-shaped container overflowing with fruits, vegetables, nuts, and other symbols of prosperity.
The cornucopia has a long and rich history, dating back to ancient Greek and Roman mythology.
What is the point of a Cornucopia?
The goal of a cornucopia is to represent abundance and prosperity. It is also a popular symbol of Thanksgiving, as it represents the bounty of the harvest season.
Here are some of the specific meanings and symbolism associated with the cornucopia:
Abundance: The cornucopia is overflowing with fruits, vegetables, and other symbols of prosperity, representing an endless supply of food and wealth.
Nourishment: The cornucopia provides sustenance and nourishment, symbolizing the importance of food and good health.
Gratitude: The cornucopia is a reminder to be grateful for the abundance in our lives, especially during harvest festivals like Thanksgiving.
Prosperity: The cornucopia represents material wealth and financial success, symbolizing the desire for a comfortable and prosperous life.
Good fortune: The cornucopia is associated with luck and good fortune, representing the hope for positive outcomes and blessings.
Want to see some of my Thrifting Finds? Check them out below.
What goes inside a Cornucopia?
Traditionally, cornucopias are filled with fruits and vegetables especially those that are associated with the harvest season.
Some common items to include in a cornucopia are apples, acorns, bananas, berries, corn, cranberries, dates, grapes, gourds, nuts, oranges, pears, pumpkins and wheat.
When I purchased this cornucopia for $4 I thought it so odd that it included grapes and bananas, but upon doing some research found that those are very typical items included. I was thinking it was more gourds, corn and pumpkins – but incorrect!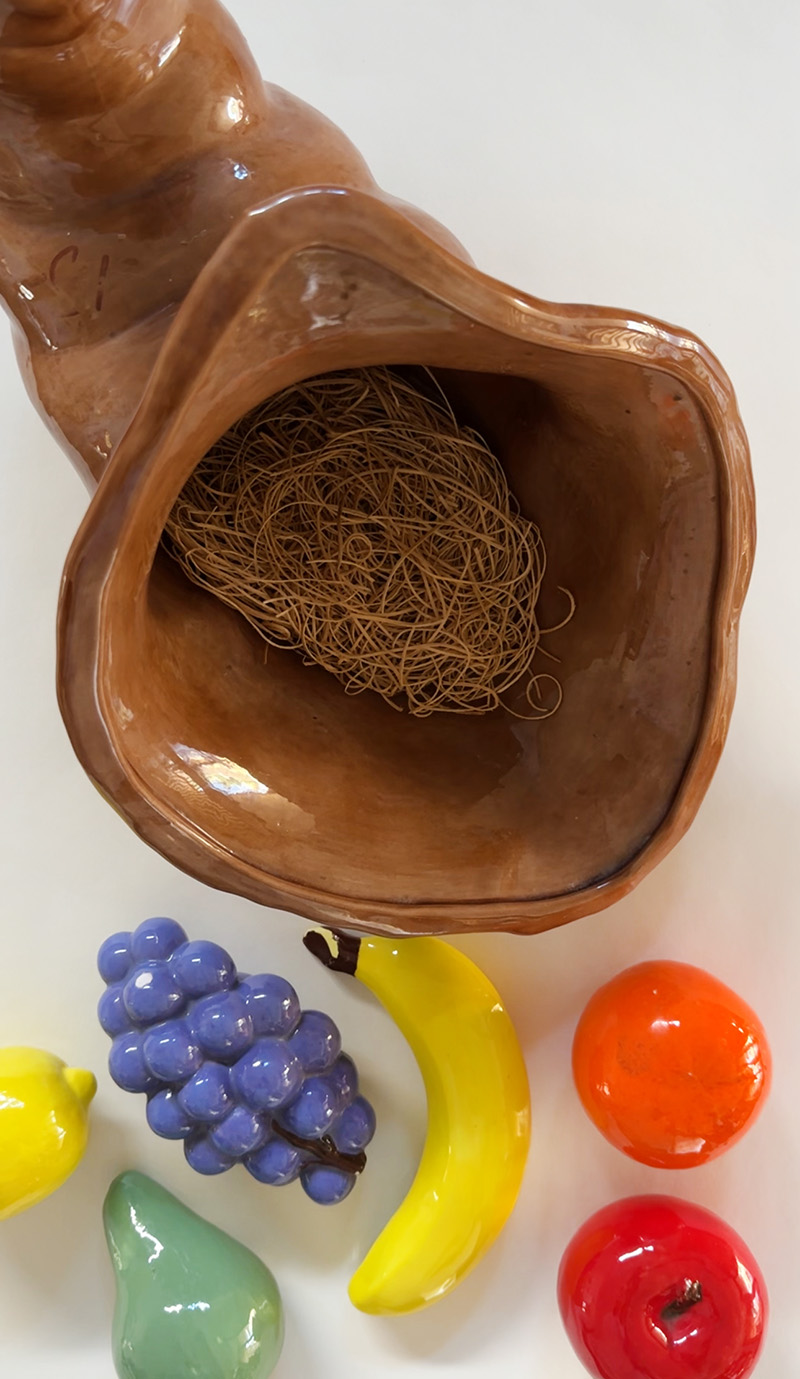 How to paint over ceramic
If you are planning to paint over a larger ceramic piece like maybe a vase or pot that are of more value, it is important to start with sanding first. You can use a fine grit sandpaper to create a rough surface that your paint can adhere to.
However, since this was just a thrifted decor centerpiece, I opted to go straight to the painting.
First I cleaned the entire cornucopia with a vinegar spray to wipe away all dust, grime and dirt.
I used my favorite Gold Rustoleum spray paint. I love the color of gold and it's coverage, in my opinion, is the very best. I gave the horn of plenty two coats of paint, allowing for it to fully dry in between.
And if you like, you can also apply a spray sealer to protect the paint and make it more durable. I like Rustoleum Painter's Touch Ultra Cover Spray Paint in clear for this.
Painting supplies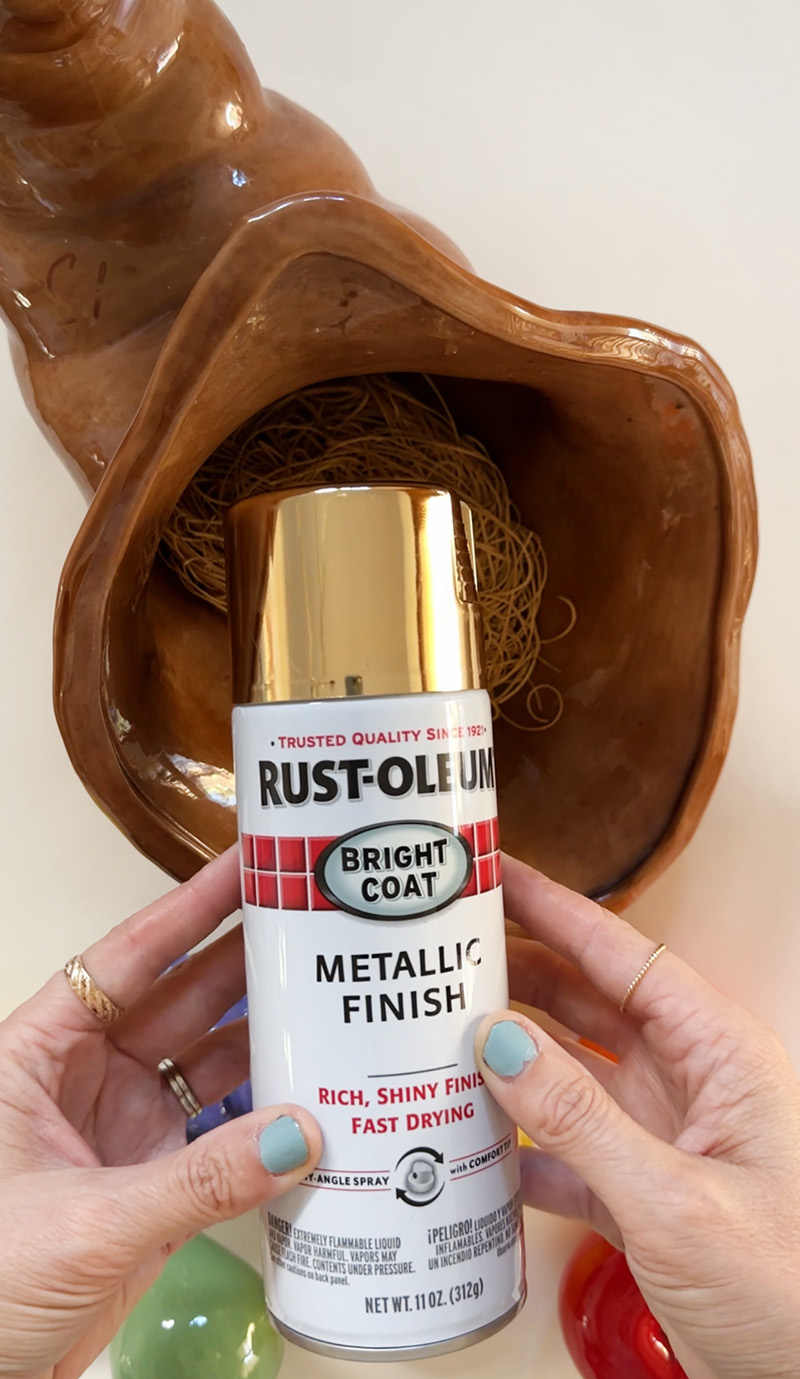 Baking Soda and White Acrylic Paint
I decided to use my favorite Baking Soda and paint technique to give the ceramic fruits a bit more texture, as well as making them a neutral white.
I poured white acrylic paint onto a paper plate and added in baking soda until it was the consistency that I wanted. The first coat on the ceramic fruit was thin and didn't fully cover all those bright bold colors underneath, but allow them to dry (which they do dry quickly with the baking soda) and then give them another coat.
Supplies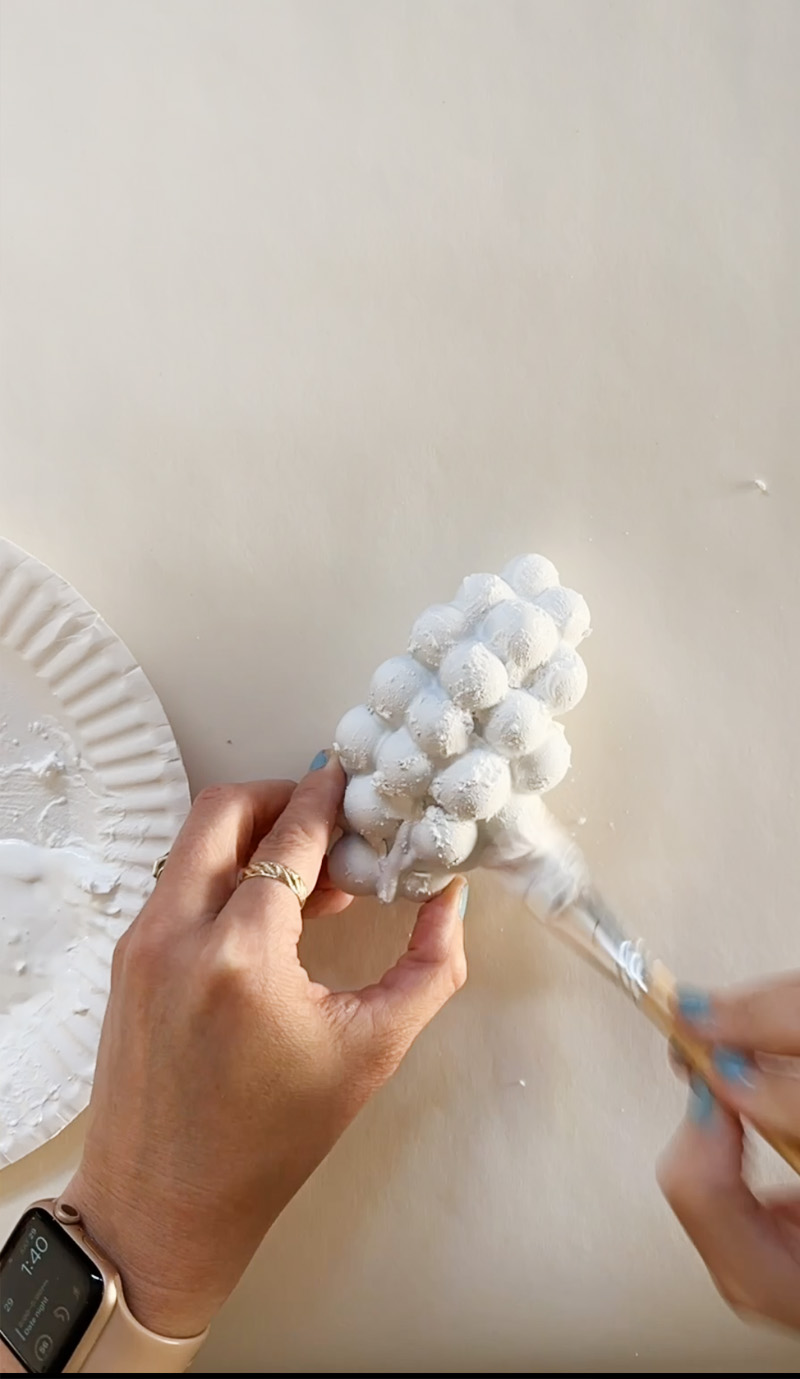 You can see how after one coat of the baking soda paint mixture, some parts were perfectly covered and other parts were still ceramic smooth.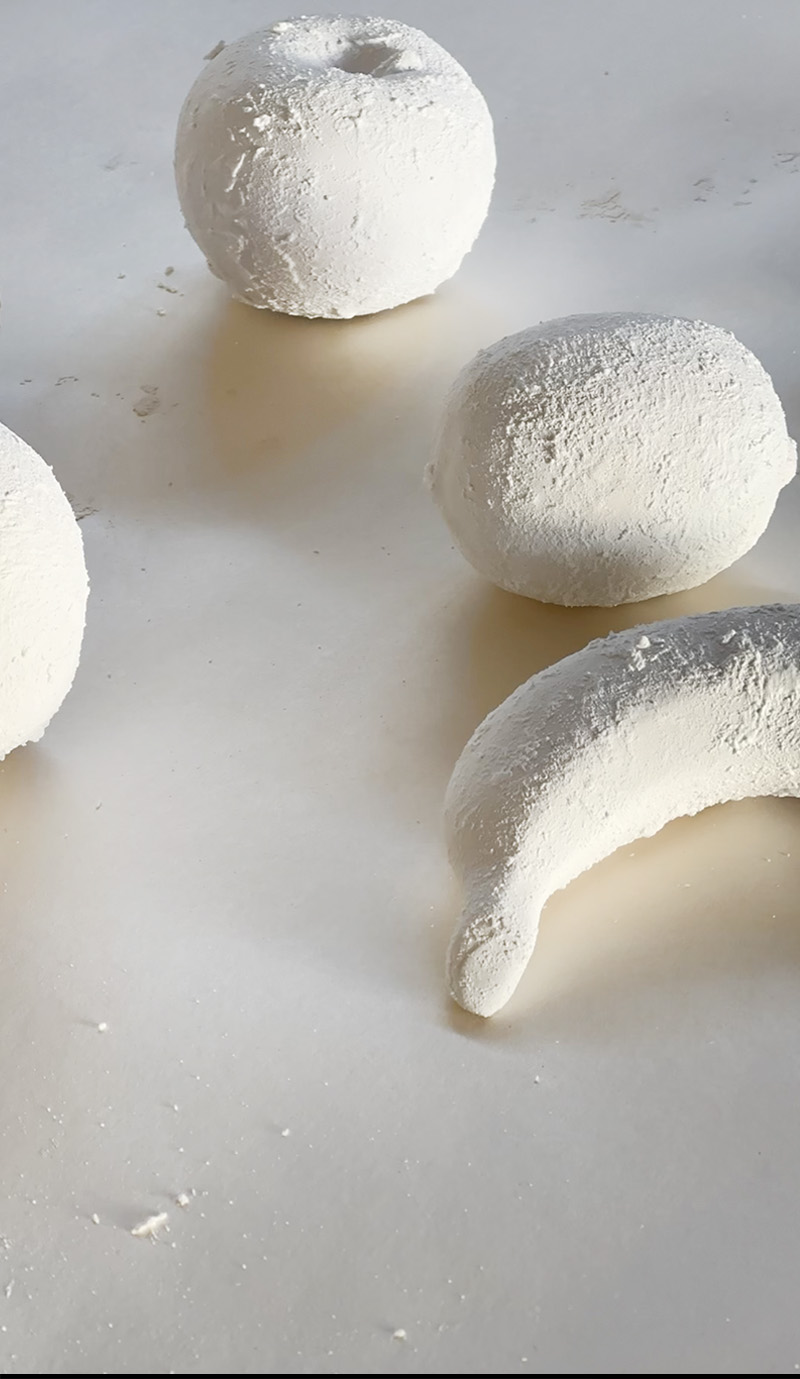 By the third coat, I was happy with the coverage and texture amount. This is a personal preference here.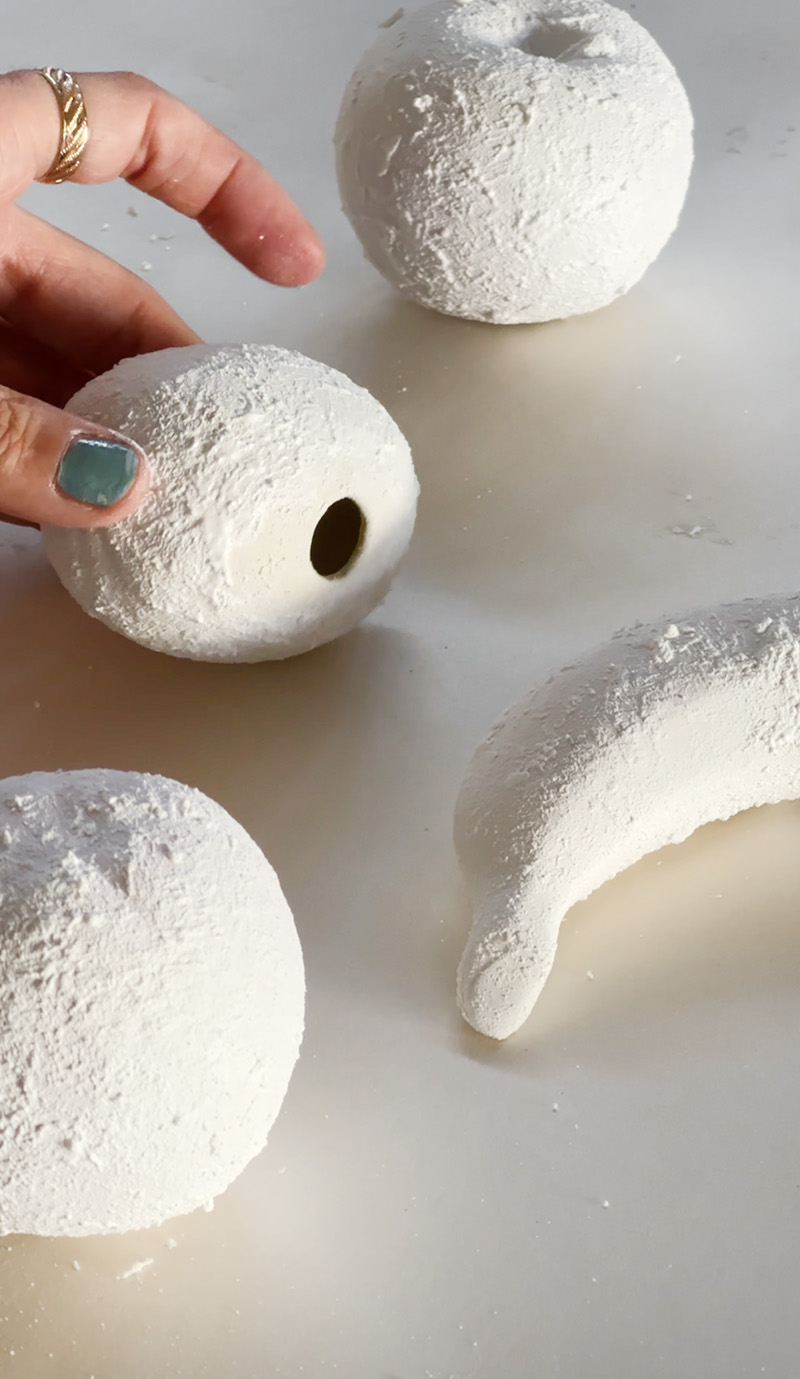 Gold Cornucopia for Thanksgiving
Once everything was dry I placed the fruit back into my now gold cornucopia. My thrifted set came with a wicker like filler, but if you need filler for yours, Spanish Moss is a great option.
I love it's gold color and can't wait to use it this Thanksgiving on our table.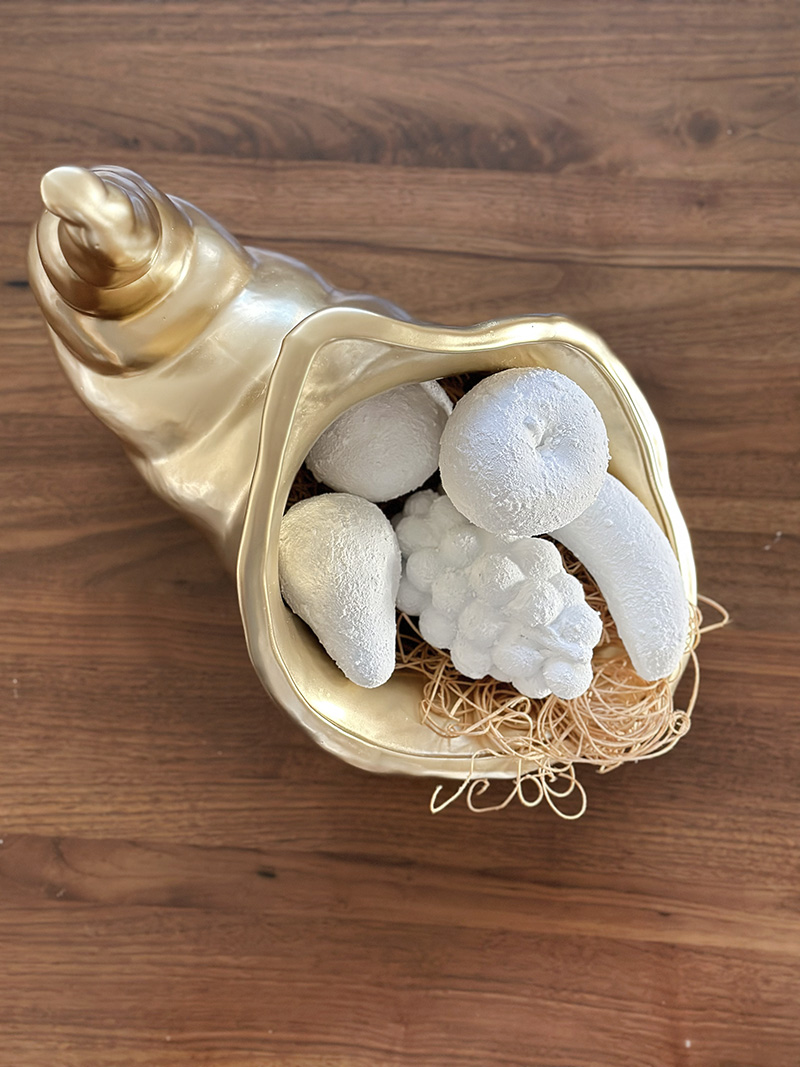 How to style a Neutral Cornucopia Centerpiece
A neutral Thanksgiving centerpiece can be just as elegant and inviting as a more traditional one and it's a great way to add a touch of neutral sophistication to your table. Here are a few tips on how to style a neutral cornucopia centerpiece.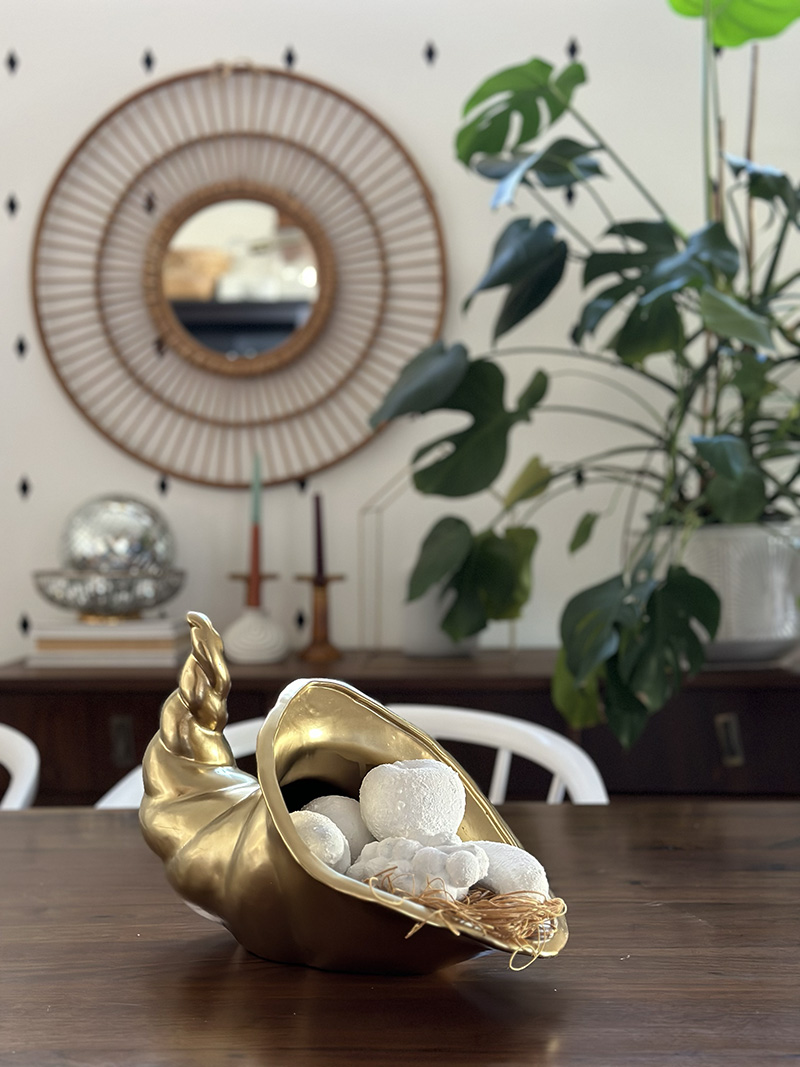 Start with a base
A neutral centerpiece can be anything from a simple bowl of white pumpkins to a more elaborate arrangement of branches, flowers, and candles.
For my neutral but moody look, I used a white with gold table runner as the base for my tablescape.
See my Candlelit Moody Thanksgiving Table Decor post.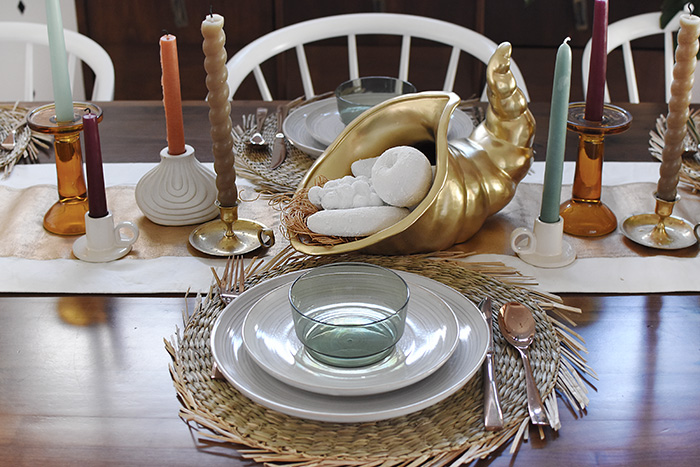 Add natural elements
Bring the outdoors in by adding natural elements to your centerpiece setup. This could include branches, leaves, berries, acorns or even pinecones. You can also add fresh flowers, but be sure to choose colors that complement your neutral palette.
My natural element was the Round Seagrass Placemats.
Keep it simple
The best neutral centerpieces are often the simplest ones. Don't be afraid to leave a little empty space on your table. This will help your centerpiece to stand out and create a more inviting atmosphere.