INSIDE : Learn the best way to create beautiful Candlelit Moody Thanksgiving Table decor. Through the use of baskets, greenery and soft jewel tones your Fall meal will be one to remember.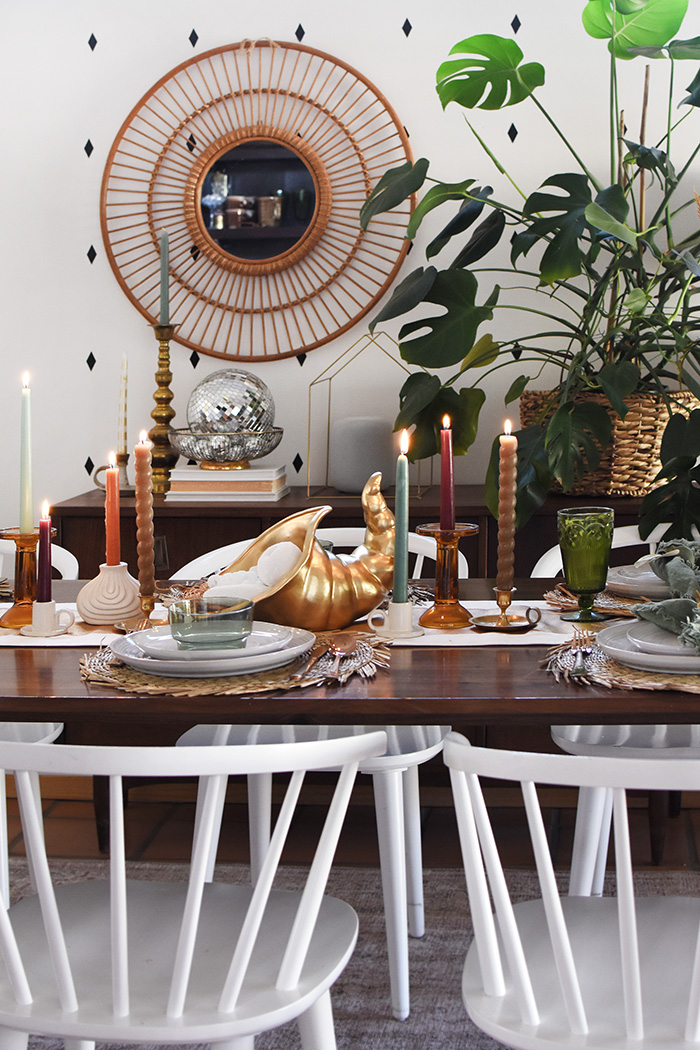 This post may contain affiliate links. See full disclosure here.
I've partnered with Artera Home on this post, but all opinions are completely my own.
With Thanksgiving around the corner, it's time to think about your table setting ideas! Typically we host Thanksgiving in our home. So I have quite a bit of experience with setting a table for the Thanksgiving meal.
I hope my moody, jewel toned, candlelit table gives you inspiration and ideas on how to style your own Thanksgiving table. Now let's get going!
Floral Thanksgiving decor
Whenever I am setting a table I like to start with a color scheme. For this moody candlelit Thanksgiving table, I used beautiful jewel tones as my color inspiration. I love the mix of greens, soft blue, burgundy, and rusty orange… a very romantic color combination in my opinion.
Creating a floral arrangement with those colors in mind, helped set the stage for the entire table's look and I was able to build from there.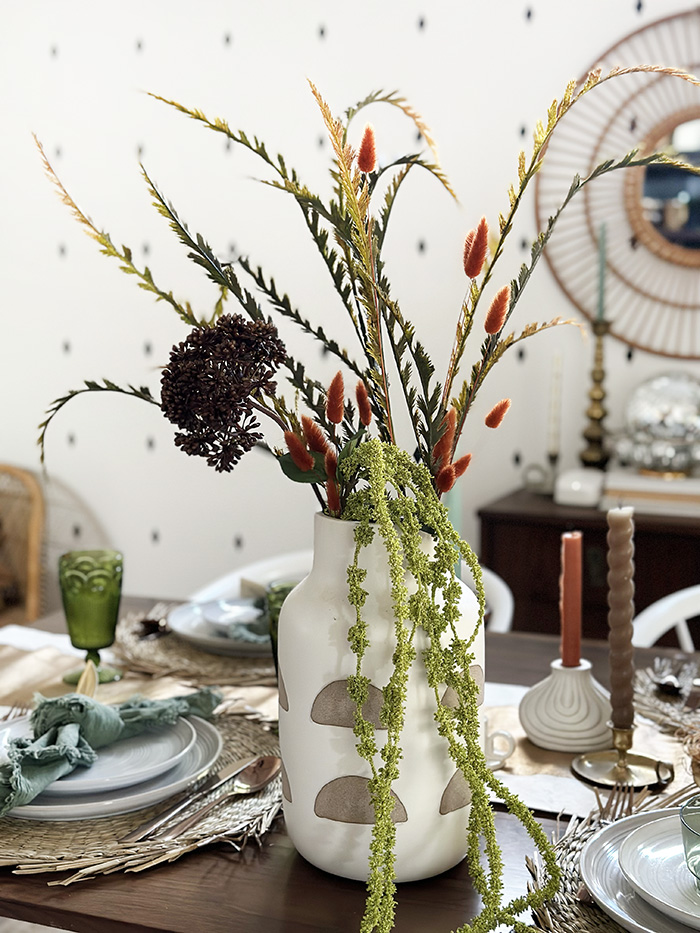 Create Zones for Thanksgiving Table
When hosting people over to your home, I always think it's a smart decision to create zones. In my dining room I created a wine zone, a meal zone and a dessert zone.
I used an Artera Home Kim Dinh Wicker Basket to contain my wine bottles. I love that these baskets come in a set of four, so you can pick the best size for what you need. And how beautiful is the center detailing of this basket!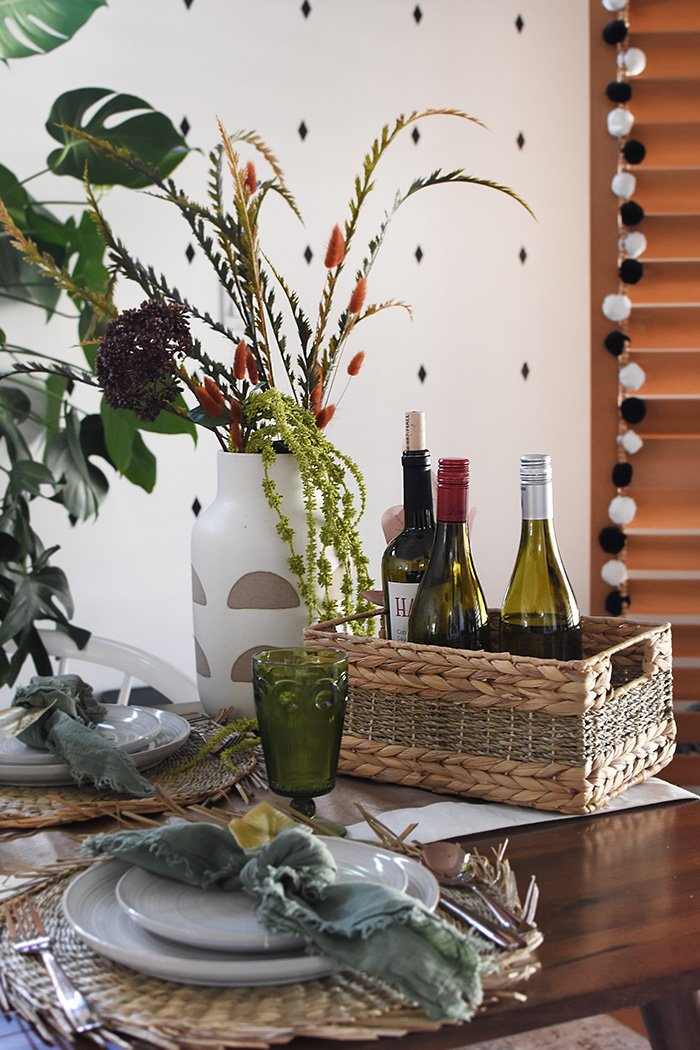 The meal zone is at the dining room table and our dessert zone is directly behind the table on the vintage buffet.
Creating zones for different activities or food types also helps keep everyone moving and cuts down on having big groups of people crowded together waiting to get a drink.
Moody Candlelit Thanksgiving Table
One way to immediately elevate your table is by adding candles. There is something about a candlelit meal that makes it feel special. I carried over the colors from my floral arrangement into my candles.
Adding them in different heights, colors and different types of candle holders, also adds interest and a bit of drama. I used amber glass, small white ceramic and traditional brass for my collection of candle holders.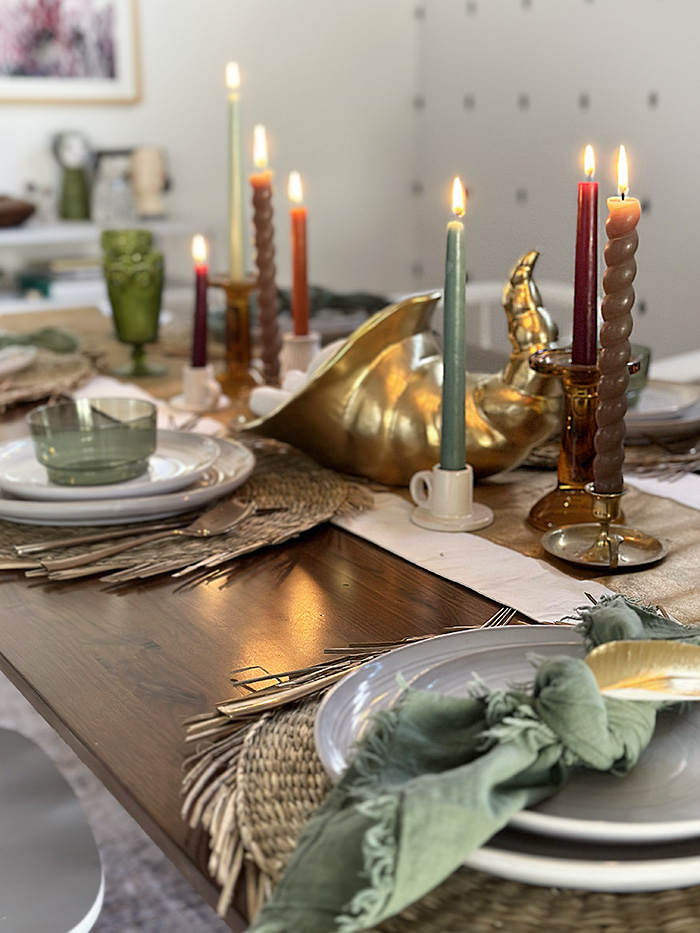 And you can see as the sun started to go down, how much beauty having lit candles can add to your gathering… everything has a beautiful candle glow cast on it!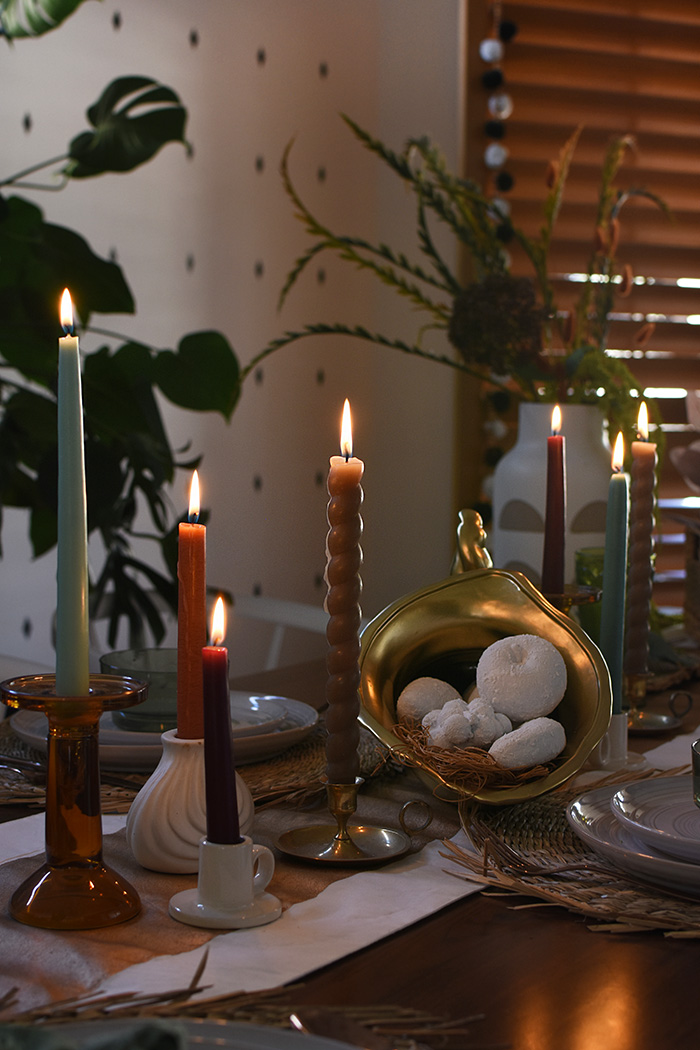 Adding Plants to your table decor
Another tip I always include in my table settings is adding plants to your decor! Plus, when you have a plant as large and lovely as this Monstera, it definitely needs to have it's Thanksgiving moment. I used a beautiful Artera Kim Chinh Round Wicker Basket to tie it into the decor of the room.
This basket also comes in a set of three, so there are options for which size works best for your plant.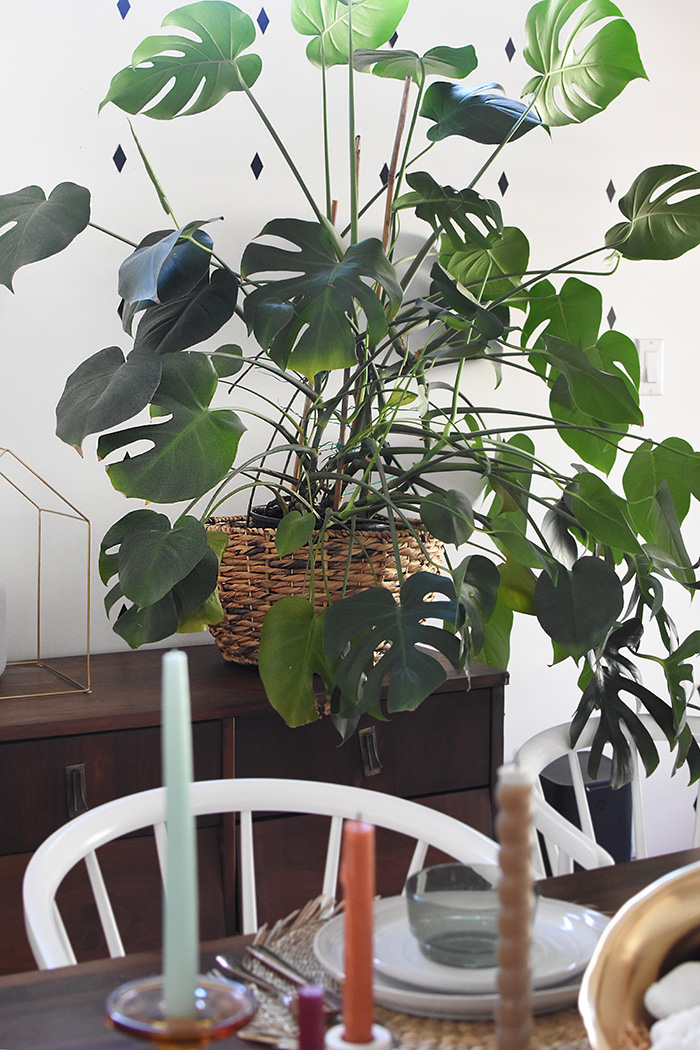 Moody Thanksgiving Table Settings
Part of creating a moody thanksgiving table is layering your dinnerware and place setting. I started with an Artera Home Quang Thien Wicker placemat. They come in a set of six and I love how sturdy they are, while creating so much movement.
Next, I added a dinner plate and salad plate with copper colored silverware on either side. And finally a loosely knotted sage green linen napkin with a gold leaf tucked in and my favorite green Vintage goblets.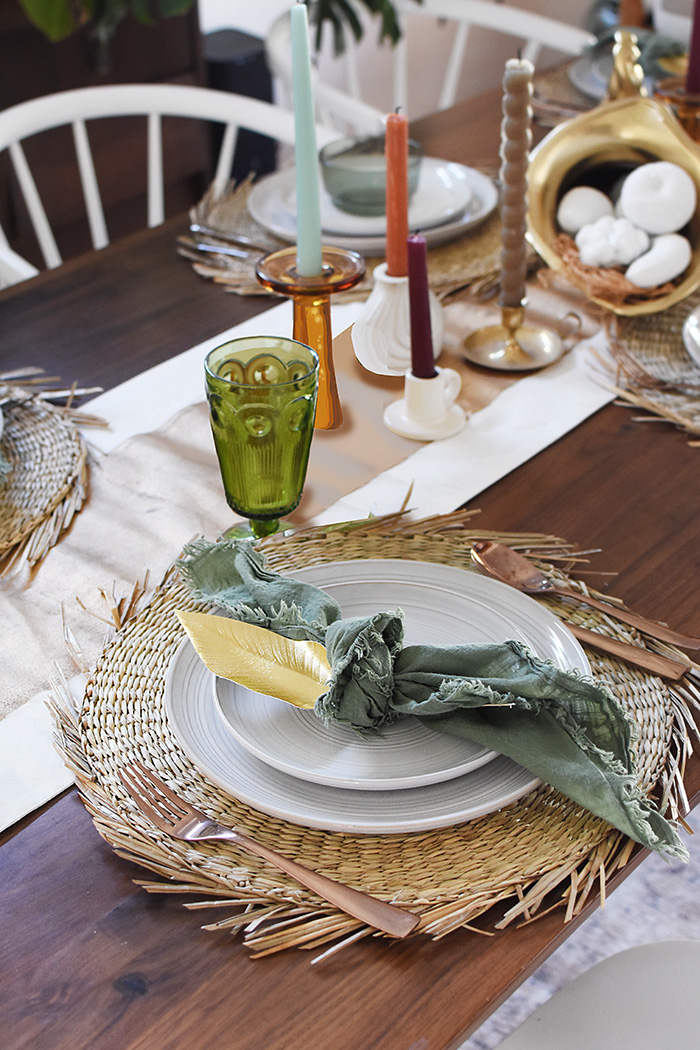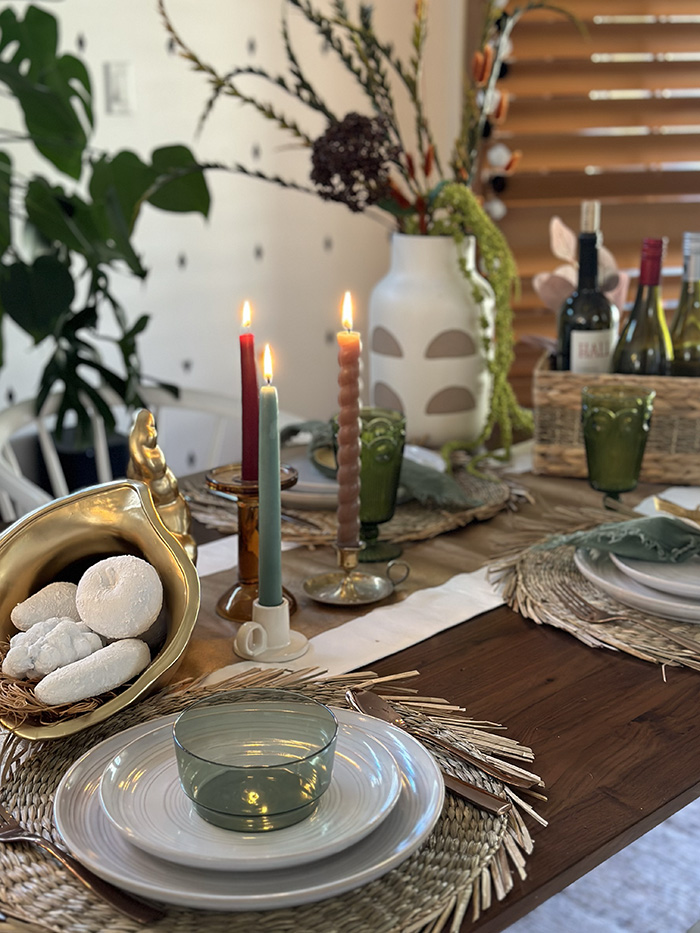 Thank you to Artera Home for sponsored this blog post.