Thanksgiving Table in black, white, green + pink
INSIDE : Set your table with this minimal decor for a simple and inexpensive Fall, Autumn or Thanksgiving Table in black, white, green + pink.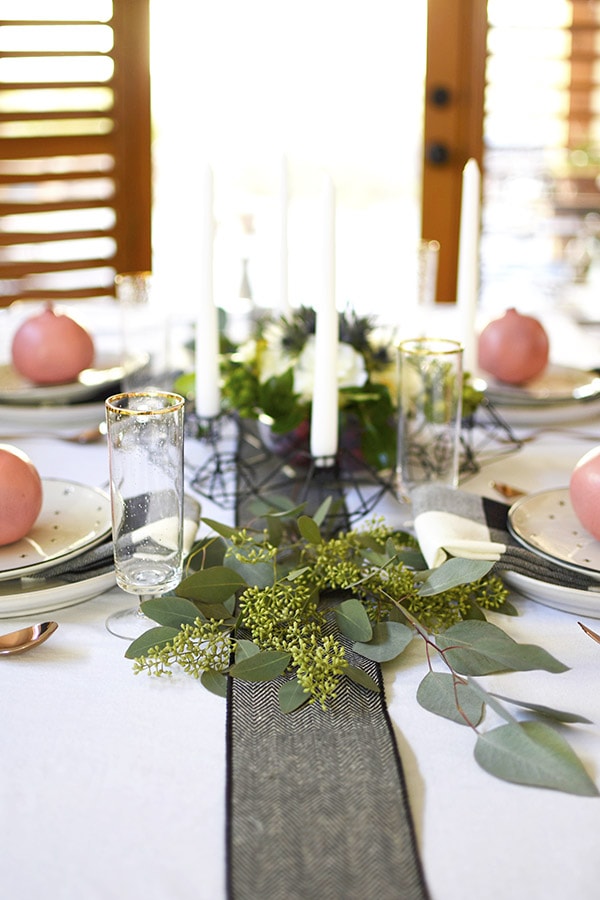 This post may contain affiliate links. See full disclosure here.
Everyone has their "thing". Some plan the meal for weeks in advance. Some worry about the entertainment throughout the day. Others are concerned about starting the food as early as possible so the rest of the can be spent relaxing.
As much as I love enjoying all of the above, I really find joy in creating and enjoying a pretty table setting on Thanksgiving! So today, I am sharing my Thanksgiving Table in black, white, green + coral.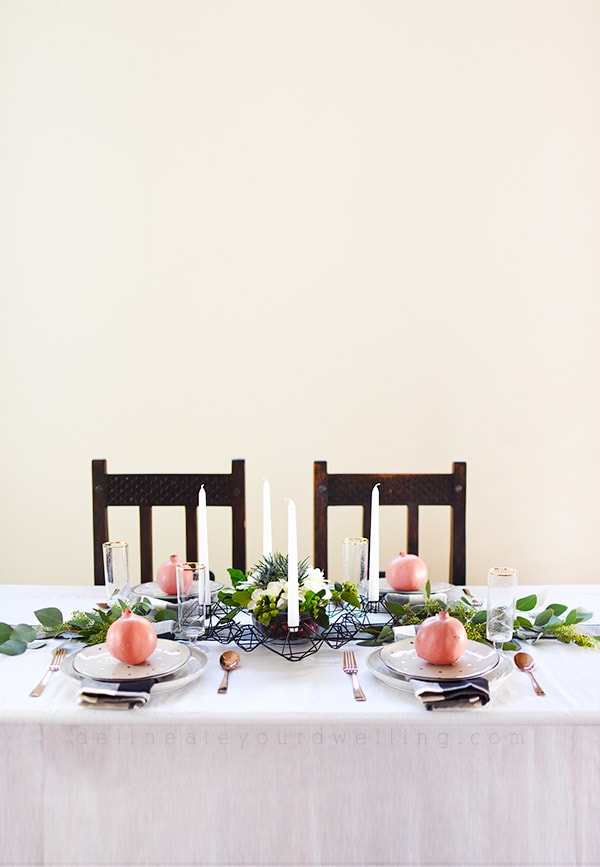 Each year I love dreaming up my new table setting for one of the biggest meal related holidays around, Thanksgiving. Over the years I have done quite a few different styles and colors. I've done a table of blue, a table of green + gold, and a very colorful but minimal table last year.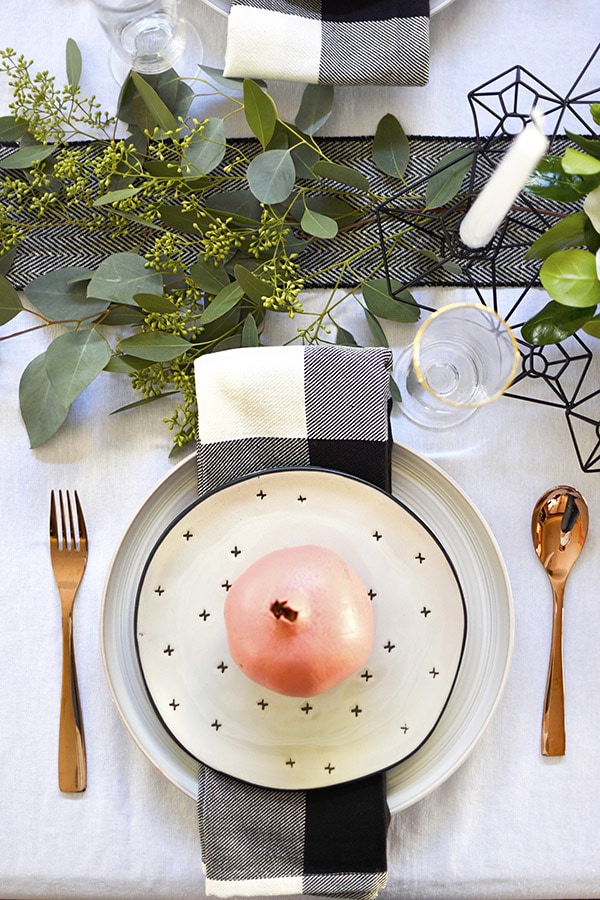 As you may have heard me sharing on Instagram stories, this year I wanted to incorporate black and white into my table more than ever before. However, it wouldn't be me without a little color thrown in there, too.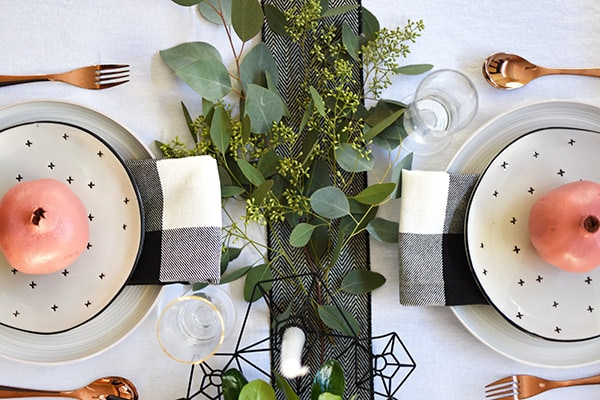 How to set a Black and White Thanksgiving table
Add flower centerpiece
The first thing to figure out when setting your thanksgiving table or any table for that matter, is the center piece. I found this gorgeous black wire candle holder/geometric wreath at a local shop and fell straight in love!
I was able to tuck in a floral arrangement of greenery, white flowers and then purple Thistle flowers. All of the flowers were sitting a bowl of water and cranberries!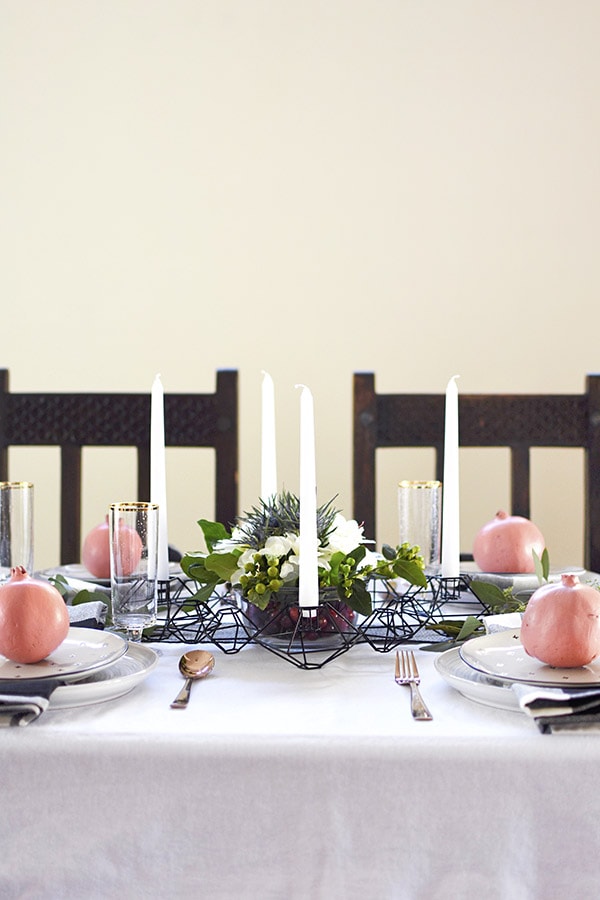 Interested in another beautiful centerpiece I made? See this Thrifted Neutral Cornucopia I updated for my Candlelit Moody Thanksgiving Table Decor. Ah, both were so dreamy!
Choose Dishware, Silverware and Napkins
Next up is selecting the dish-ware, silverware and napkins!
I knew using black and white as my base colors, I wanted buffalo check napkins and I really loved the quality of the ones I got. I plan to use them for many occasions in the future.
Then I set my everyday white dishes from West Elm on the table. We've had these dishes for 10+ years and they've held up wonderfully.
I recently bought a set of these dessert plates from Target's Harth + Home line and was thrilled with their price and quality!
I bought a set of Rose Gold utensils a few years ago that I always get out for more formal occasions. The final touch to my place setting was Gold Rimmed Bubble Glasses.

Add pops of color in unique ways
After so much black and white, I decided to add a pop of color and pomegranates were my go to choice… but I didn't care for their red color. SO I PAINTED THEM CORAL!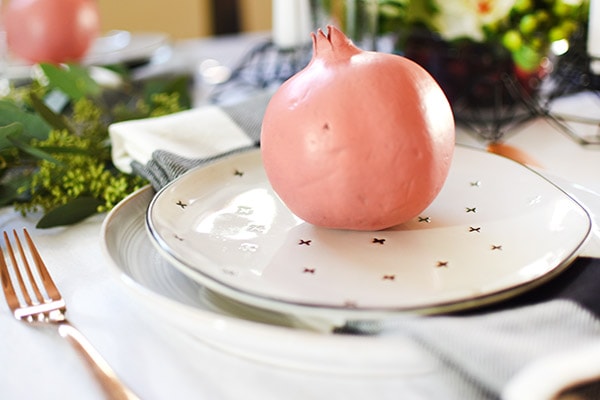 That's right, I got out my coral spray paint and gave each of them a nice even coat of paint. I was thrilled with their outcome, as they add just the most lovely pop of color to the table!
I love having a non traditional Thanksgiving black and white table. Most go for a typical Autumn color scheme, but sometimes it's nice to mix things up a bit.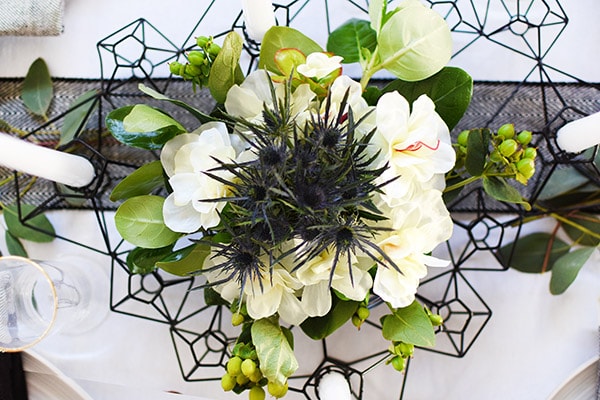 Our table feels elegant and special.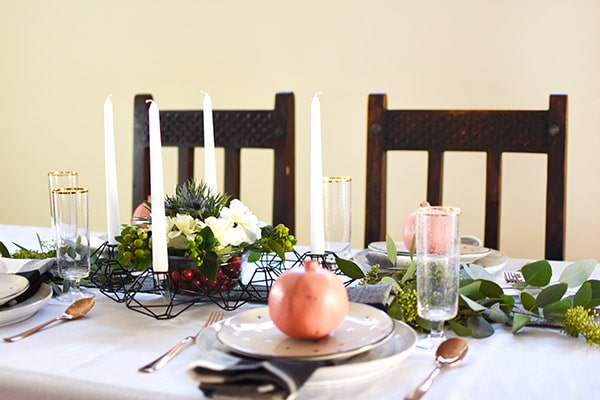 I am a firm believer in making your table work for you with the things you have and using the colors that speak to your heart and home. And sometimes it means getting out your fancy chinaware and sometimes it means spray painting pomegranates – ha.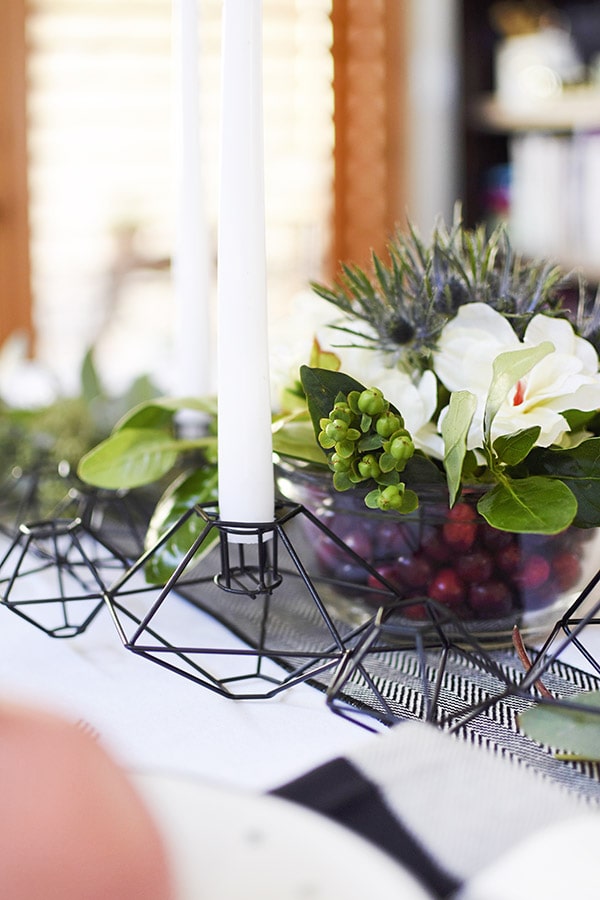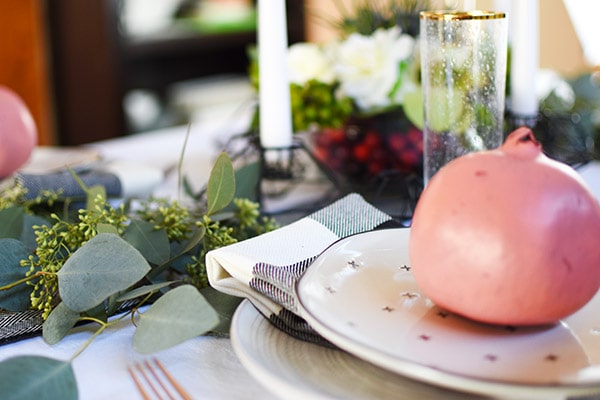 I struggled with using such non traditional colors but in the end I was really quite pleased with how everything turned out.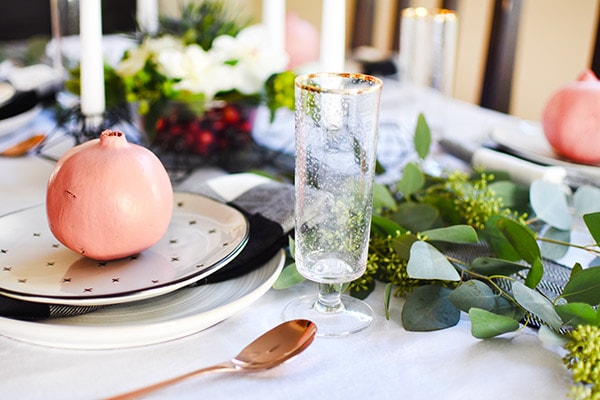 And as much as I adore setting a lovely table each year, more than worrying about the colors and silverware and the pretty plates… I love spending time at the table with the ones I hold most dear.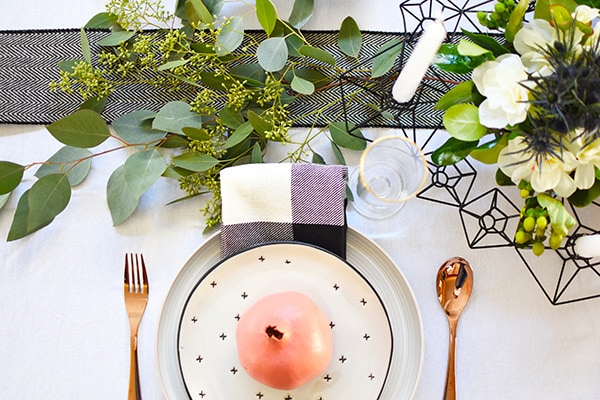 I hope whatever your table looks like this Thanksgiving holiday, that you are able to enjoy time spent with your friends and family! As my favorite author, Shauna Niequist would say, 'Time around the table matters.'
Looking for some of the lovely items I used on my table?

You might also like these Thanksgiving posts –