INSIDE : Check out some of the best Must See Thanksgiving Afternoon Movies! There is nothing like enjoying a huge meal together, cleaning the dishes and settling into a wonderful relaxing movie. Let me know which ones should be added to the list!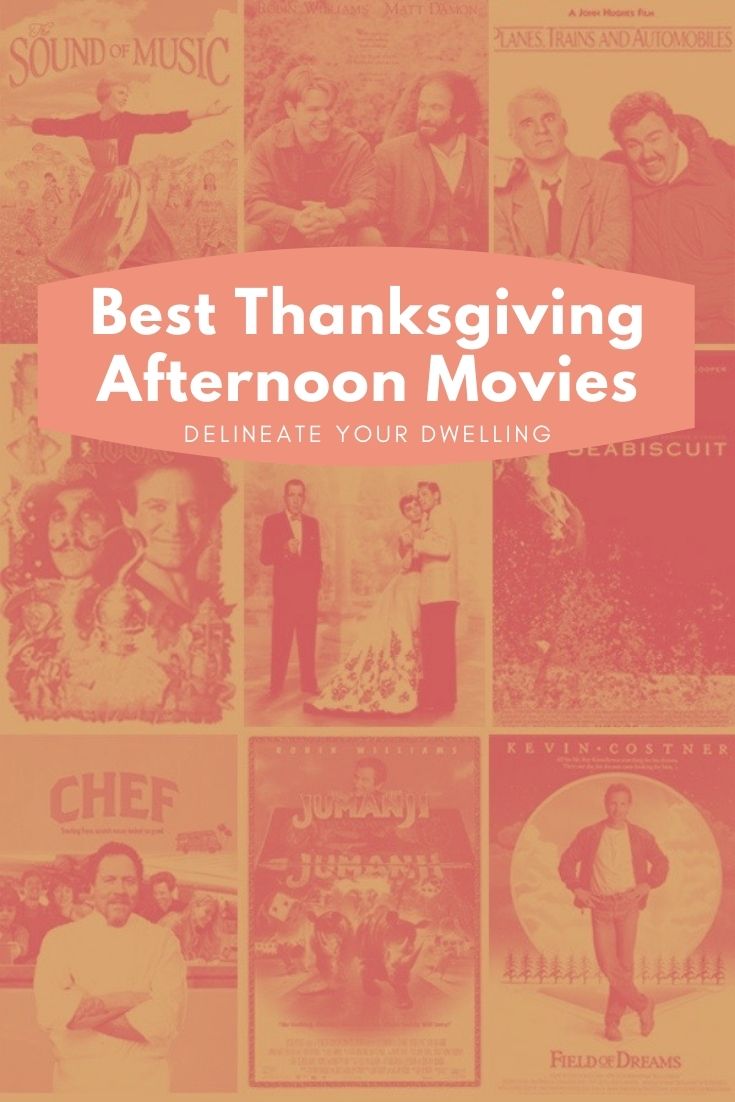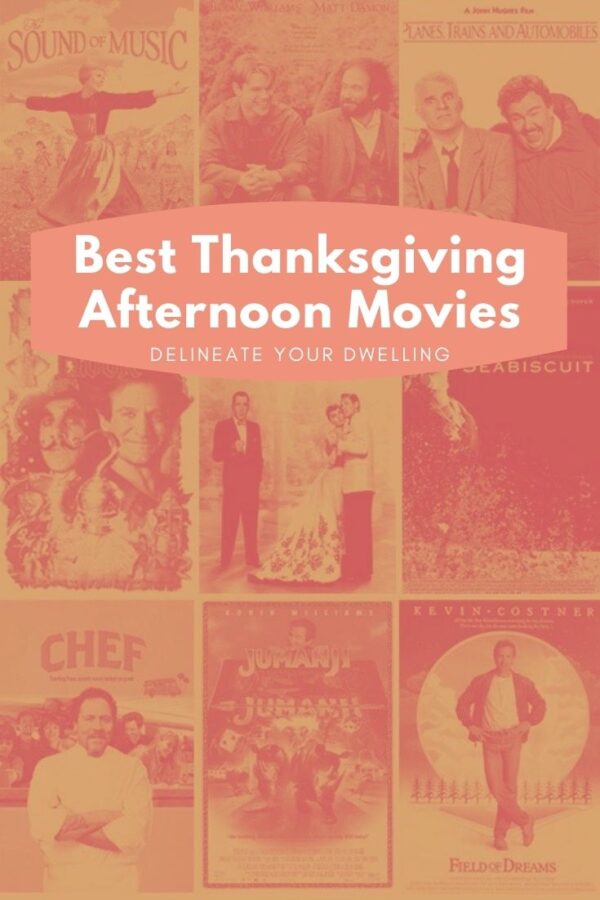 This post contains affiliate links. See my full disclosure.
Happy (just a little early) Thanksgiving to all my US friends! I was thinking about sharing some of my favorite side dishes or maybe some mouth watering desserts but honestly – I have a feeling that you already have your menu settled upon. So today, I decided to share a roundup of Must See Thanksgiving Afternoon Movies!
Often while my turkey is cooking, there is a lot of food preparation still going on… but at some point, things just bake and cook and there is a good piece of time to hang out with the family. This is the ideal time to all grab a beverage, cozy up on the couch together and watch a movie. And if you just can not pull yourself away from the kitchen, then wait until after your delicious meal and then enjoy the afternoon with a fun couch movie!
This is by no means a movie critics list, just a list of movies I enjoy and remember watching with my family on past Thanksgiving Day's.
Afternoon Classic Movies
The Sound of Music
(1965, Rated G – Family Friendly)
Julie Andrews in the heartwarming true story that has become a cinematic treasure. Rodgers and Hammerstein's "The Sound of Music."
Julie Andrews is Maria, the spirited, young woman who leaves the convent and becomes a governess to the seven unruly charm and songs soon win the hearts of the children and their father but when Nazi, Germany unites with Austria, Maria is forced to attempt a daring escape with her new family.
Goodwill Hunting
(1997, Rated R)
Will Hunting, Matt Damon, has a genius-level IQ but chooses to work as a janitor at MIT. When he solves a difficult graduate-level math problem, his talents are discovered by Professor Gerald Lambeau, Stellan Skarsgard, who decides to help the misguided youth reach his potential.
When Will is arrested for attacking a police officer, Professor Lambeau makes a deal to get leniency for him if he will get treatment from therapist Sean Maguire, Robin Williams.
Indiana Jones (1981 – onward, Rated PG + PG-13)
Based on the adventures of Dr. Henry Walton "Indiana" Jones, Jr., a fictional professor of archaeology. This fun action series was created by George Lucas and stars Harrison Ford as Indiana Jones. The first four films were directed by Steven Spielberg, who worked closely with Lucas during their production.
Mrs. Doubtfire (1993, Rated PG-13)
A divorced dad finds a way to reconnect with his family – he adopts a costume and accent and becomes Mrs. Doubtfire, an unpredictable and crazy nanny to his kids.
Lord of the Rings (2001 – 2003, Rated PG-13)
An epic high-fantasy novel by English author and scholar J. R. R. Tolkien. Set in Middle-earth, intended to be Earth at some time in the distant past, the story began as a sequel to Tolkien's 1937 children's book The Hobbit, but eventually developed into a much larger work.
Miracle on 34th Street
(1947, Not Rated)
Six year old Susan has doubts childhood's most enduring miracle Santa Clause. Her mother told her the "secret" about Santa a long time ago, so Susan doesn't expect to receive the most important gifts on her Christmas list.
After Susan meets a special department store Santa who's convinced he's the real thing, she is given the most precious gift of all – something to believe in!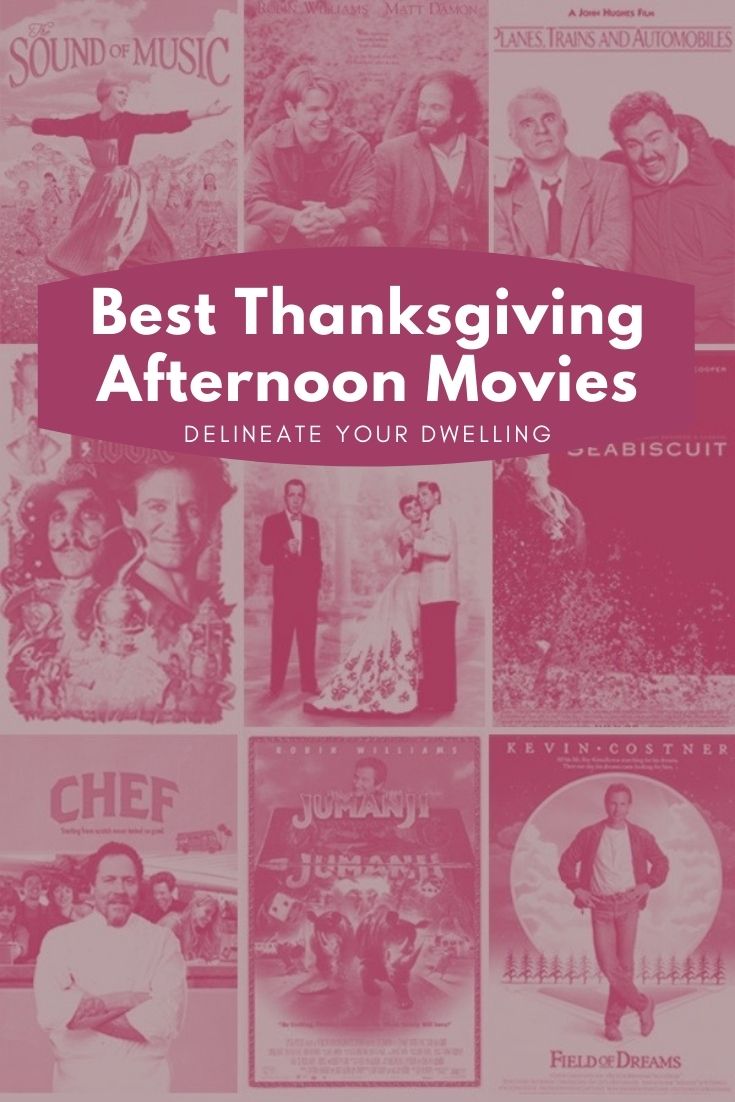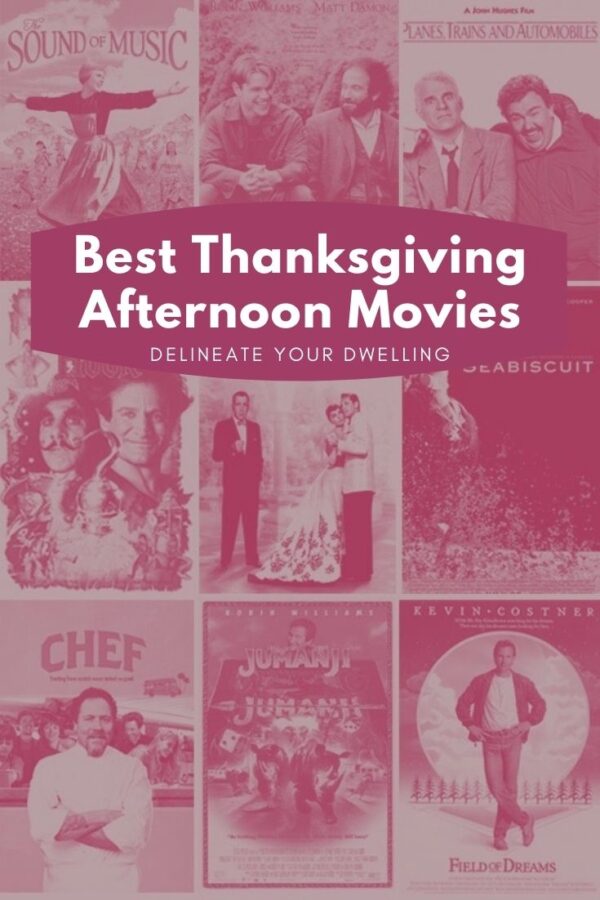 Planes, Trains And Automobiles
(1987, Rated R
This classic comedy stars Steve Martin and John Candy as unlikely travel buddies forced to partner up on a long road trip when their flight gets canceled. Together, they have to travel from New York City to Chicago to get home in time for Thanksgiving. They embark on a journey where neither of them seem to be able to catch a break — either from the fates or each other.
Top Gun (1986, Rated PG)
High-flying adventure with barnstormer Tom Cruise falling for his beautiful instructor, while he competes against fellow flyer Val Kilmer for the coveted 'Top Gun' award.
Jumanji
(1995, Rated PG)
Robin Williams, Kirsten Dunst and Bonnie Hunt star in this phenomenal adaptation of the award-winning children's book. When young Alan Parrish discovers a mysterious board game, he doesn't realize its unimaginable powers, until he is magically transported before the startled eyes of his friend, Sarah, into the untamed jungles of Jumanji!
There he remains for 26 years until he is freed from the game's spell by two unsuspecting children. Now a grown man, Alan reunites with Sarah and together with Judy and Peter tries to outwit the game's powerful forces in this imaginative adventure that combines breathtaking special effects with an enchanting mixture of comedy, magic and thrills.
Field of Dreams
(1989, Rated PG)
When Iowa farmer Ray, Kevin Costner, hears a mysterious voice one night in his cornfield saying "If you build it, he will come," he feels the need to act. Despite taunts of lunacy, Ray builds a baseball diamond on his land, supported by his wife, Annie, Amy Madigan.
Afterward, the ghosts of great players start emerging from the crops to play ball, led by "Shoeless" Joe Jackson. But, as Ray learns, this field of dreams is about much more than bringing former baseball greats out to play.
Honey I Shrunk the Kids (1989, Rated PG)
An inventor accidentally shrinks his children and the neighbor's kids. They then have to navigate through the front lawn with giant ants, sprinkler systems and more!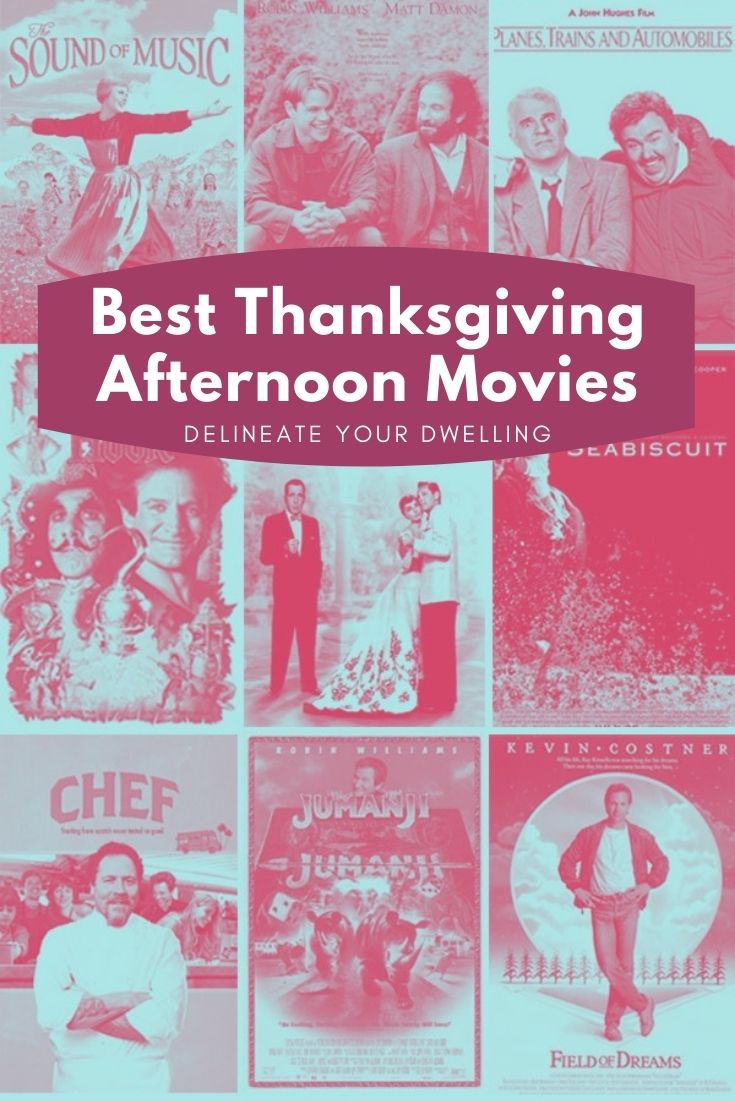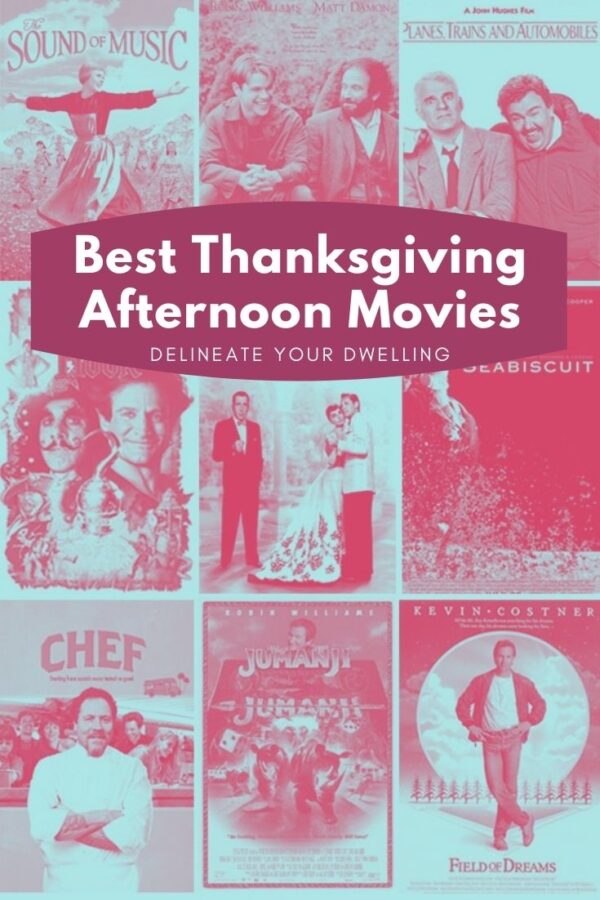 Chef
(1994, Rated R)
After a controlling owner, Dustin Hoffman, pushes him too far, chef Carl Casper, Jon Favreau, quits his position at a prestigious Los Angeles restaurant. As he tries to figure out what his next step should be, he finds himself in Miami.
Carl joins forces with his ex-wife, Sofía Vergara, best friend, John Leguizamo and son, Emjay Anthony, to launch a food-truck business, and the venture provides a chance to reignite his passion for cooking — as well as his zest for life and love.
The Blind Side
(2009, Rated PG 13)
Homeless teen Michael Oher has been lost in the system for years until he is taken in by the Tuohy family. They bring the stability his life has been missing and he brings to them an awareness of what their family may have lost in the hurried pace of their everyday life: togetherness. Based on a true story, it's terribly heartwarming. Be sure to stick around for the pics in the credits. And what goes together more than Thanksgiving and football? This movie has both!
A Christmas Story
(1983, Rated PG)
A Christmas Story, tells the story of nine-year-old Ralphie, Peter Billingsley. In the movie, Ralphie wants only one thing: a Red Ryder Range 200-Shot BB gun. When he mentions it at the dinner table, his mother's immediate reaction is that he'll put his eye out.
He then decides it's the perfect theme for a report for his teacher, but her reaction is like his mother's. He fantasizes about what it would be like to be Red Ryder and catch the bad guys. When the big day arrives he gets lots of presents under the tree including a lovely gift from his aunt that his mother just adores. But what about the BB gun?
A Charlie Brown Thanksgiving
(1973, Not Rated)
Turkey, cranberries, pumpkin pie…and the Peanuts gang to share them with. This is going to be the greatest Thanksgiving ever! The fun begins when Peppermint Patty invites herself and her pals to Charlie Brown's house for a REALLY big turkey party. Good grief!
All our hero can cook is cold cereal and maybe toast. Is Charlie Brown doomed? Not when Linus, Snoopy and Woodstock chip in to save the (Thanksgiving) Day. With such good friends, Charlie Brown – and all of us – has so many reasons to be thankful. This Remastered Deluxe Edition with Improved Picture and Audio is guaranteed to bring on that grateful glow.
Hook
(1991, Rated PG)
HOOK stars Robin Williams as a grown-up Peter Pan and Dustin Hoffman as the infamous Captain Hook. Joining the fun is Julia Roberts as Tinkerbell, Bob Hoskins as the pirate Smee, and Maggie Smith as Granny Wendy Darling, who must convince middle-aged lawyer Peter Banning that he was once the legendary Peter Pan. And so the adventure begins anew, with Peter off to Neverland to save his two children from Captain Hook. Along the way, he rediscovers the power of imagination, friendship, and of magic.
Sabrina
(1954, Not Rated)
Sabrina Fairchild, Audrey Hepburn, is a chauffeur's daughter who grew up with the wealthy Larrabee family. She always had unreciprocated feelings for David , William Holden, the family's younger son and playboy.
After returning from Paris, Sabrina has become a glamorous woman who gets David's attention. His older, work-minded brother Linus, Humphrey Bogart, thinks their courtship is bad for the family business and tries to break them up — but then he starts to fall for her too.
Seabiscuit (2003, Rated PG 13)
In the midst of the Great Depression, a businessman (Jeff Bridges) coping with the tragic death of his son, a jockey with a history of brutal injuries (Tobey Maguire) and a down-and-out horse trainer (Chris Cooper) team up to help Seabiscuit, a temperamental, undersized racehorse.
At first the horse struggles to win, but eventually Seabiscuit becomes one of the most successful thoroughbreds of all time, and inspires a nation at a time when it needs it most.

We plan to watch Charlie Brown's Thanksgiving and that evening once my young kiddos are in bed, I think we will enjoy Chef! What will you be watching?