INSIDE : Jump on this fun, easy interior trend and learn how to paint an Arch Accent Wall in your home. From a solid painted arch to a more graphic design, the DIY ideas are endless!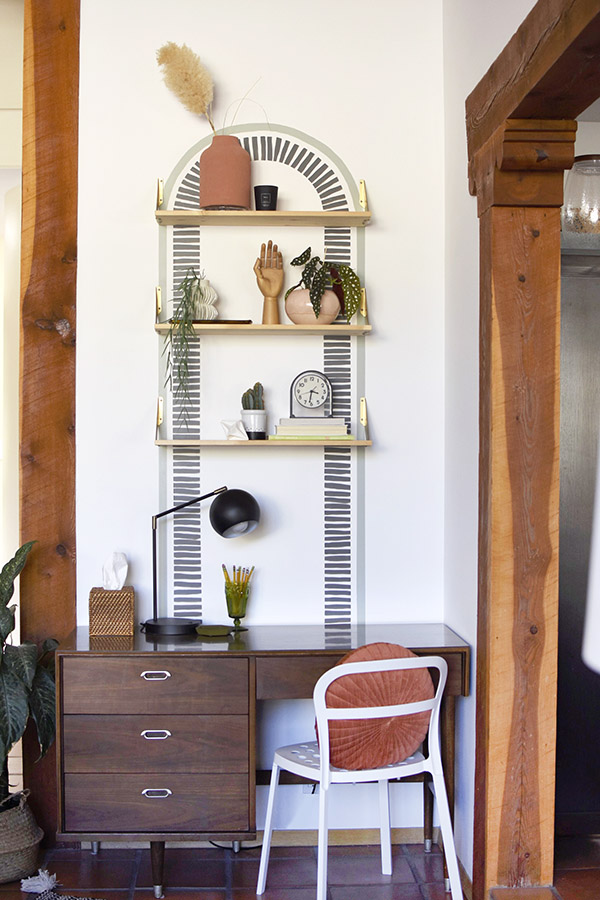 This post may contain affiliate links. See full disclosure here.
I have been seeing simple painted arches showing up all over the place in people's homes. It is a very easy paint technique that in just a few hours can completely change the look of someone's home.
I've seen people paint an arch over their bed to mimic a headboard. I've seen people painting arches over sideboards and console tables. I even saw someone paint an arch over their doorway, which I thought was so clever. This trend is one that is approachable and fun. I decided to try to put my own spin on this simple idea and made mine a bit more graphic in style!
This project was also recently featured on HGTV's social media as part of my Video Contributor work for them. Yahoo!
What supplies do I need to paint an arch?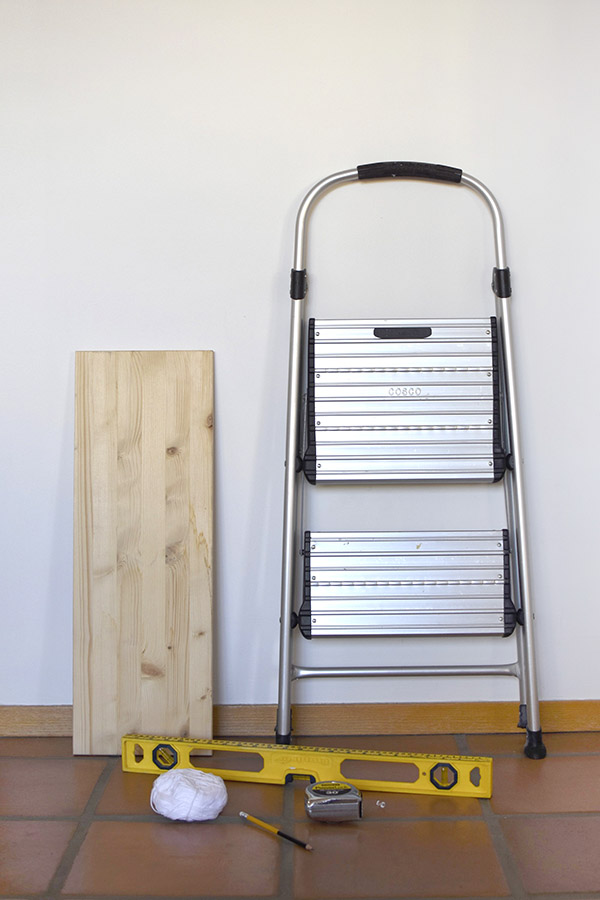 How do I paint an arch in my house?
Read more about how I used Behr Bit of Sugar White Interior Paint in our home.
Since I was placing my arch above a desk with shelves, I started first with measuring everything out. I drew a sketch first on paper with my layout. My desk was 30.5″ tall and I placed my first shelf 24″ above that. Then I had each shelf 14″ from each other.
I used masking tape to layout on the wall where everything would be located. This really helped because I ended up deciding only on three shelves after doing this.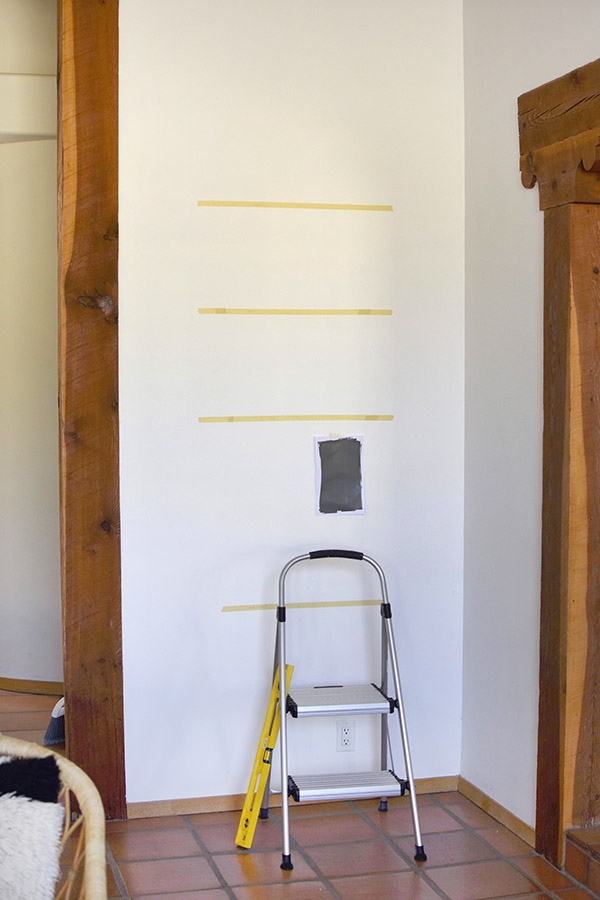 How to make a perfect hand-drawn arch
It's actually quite easy to create a perfect hand drawn arch using a pencil, string and a pushpin. Start by marking the two outside edges of your vertical lines of the arch. Then find the center of the arch and place a pushpin there.
Measure the height of your arch and cut a piece of string to that length. Tie your string around your push pin and the other end of the string around a pencil. Double check to make sure the length of your string still is the same length.
Now, lightly mark your arch on the wall with the pencil. Be sure to keep your pencil straight while making your mark. It should then line up perfectly with the vertical arch lines.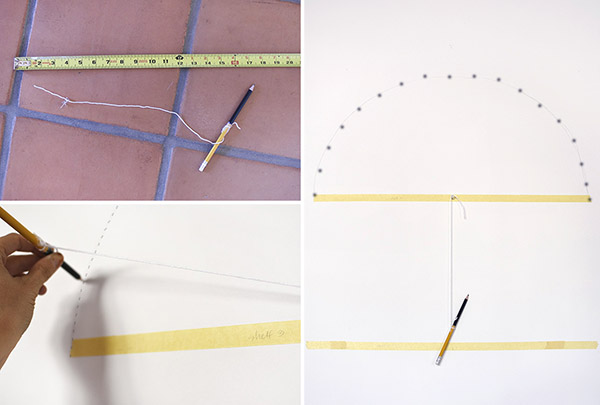 Next, start laying out the width of your accent arch pattern with painter's tape. I wanted my lines to be 3.5″ wide, so I started with the outside line and measured in – placing painter's tape on each side.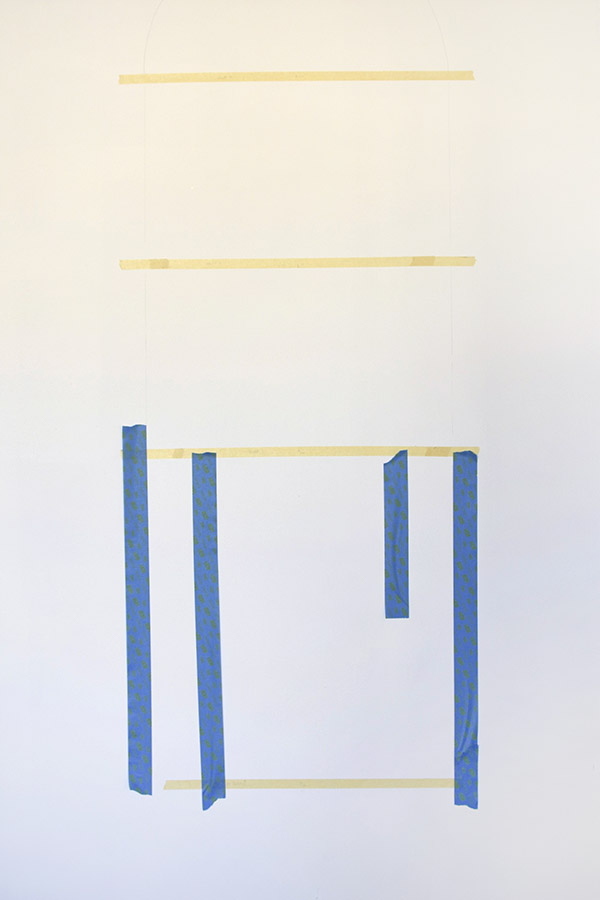 Painter's Tape Arch
To tape out the arch, simply tear your painter's tape into small 2-3″ strips and follow along your pencil line.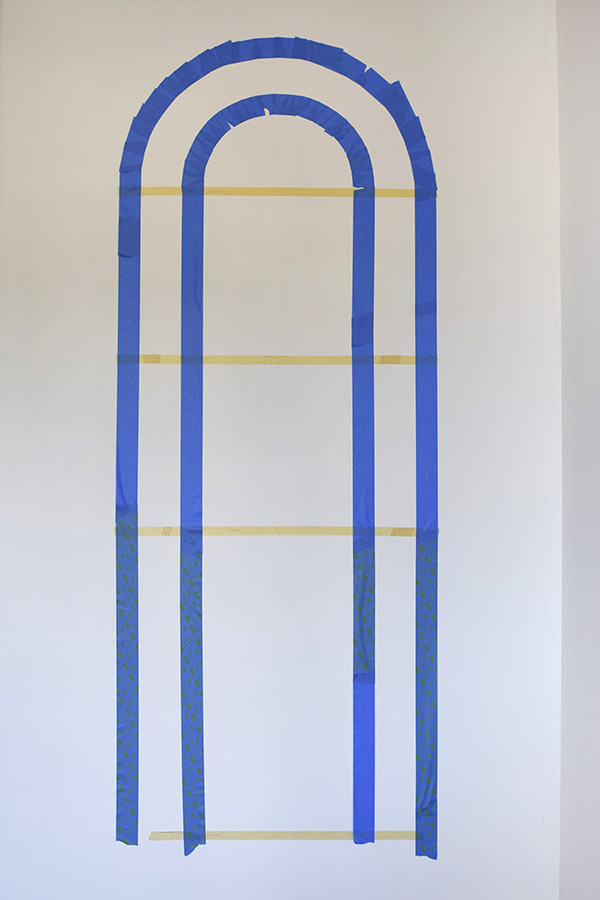 How to paint an arch accent wall
I wanted an organic medium thin line for the arch, so I used a medium sized angle craft brush for the arch accent brushstrokes. If you wanted, you could draw lines with a ruler, but I wanted my lines to be perfectly imperfect in straightness and distance.
I loved the deepness of the Behr Intergalactic N450-5 Flat Interior paint color.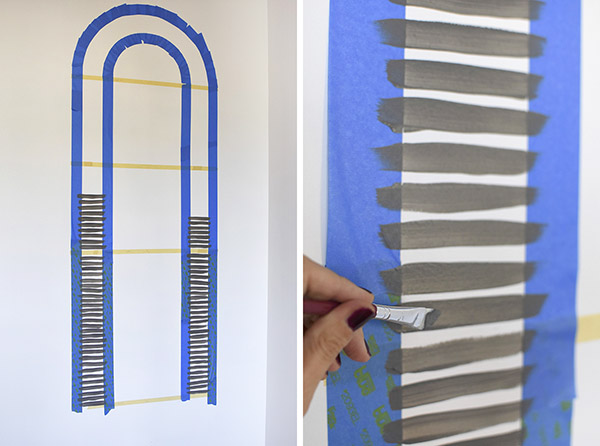 Once I removed the painter's tape and allowed the paint to fully dry, I measured out another 1″ and retaped my lines to make the outside light gray green #PPU11-14 Zen Flat paint line.
Painted Arch Accent Wall
You can really begin to see how this simple painted arch accent wall is beginning to take shape. Depending on how high your ceilings are and how wide your shelves are, you could stop after you paint the dashed arch.
Since my shelves ended up being a littler wider than my arch, I added the soft sage green outside border arch to give it more width and presence.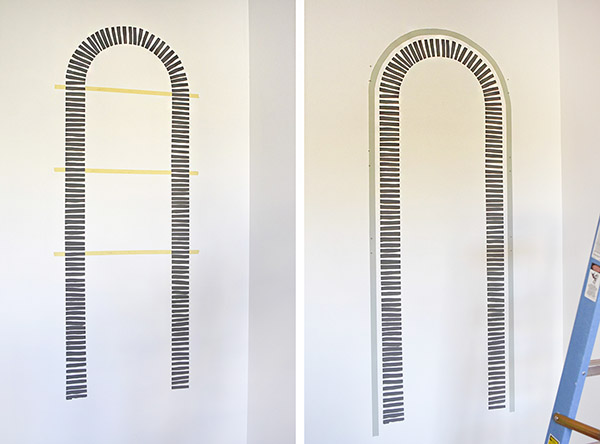 I lined up the outside line perfectly with my shelf edges and that small detail makes me smile every time I walk by!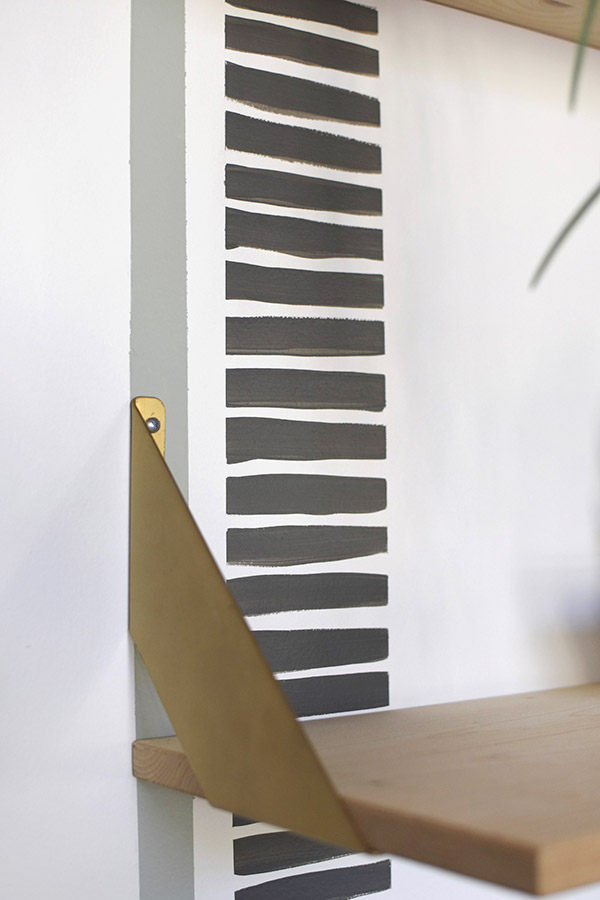 After hanging the shelves, it was time for the best part – styling!
Arched Accent Wall
This arched accent wall turned out spectacularly! It adds pattern and color without being a huge painted arch like so many that I have seen.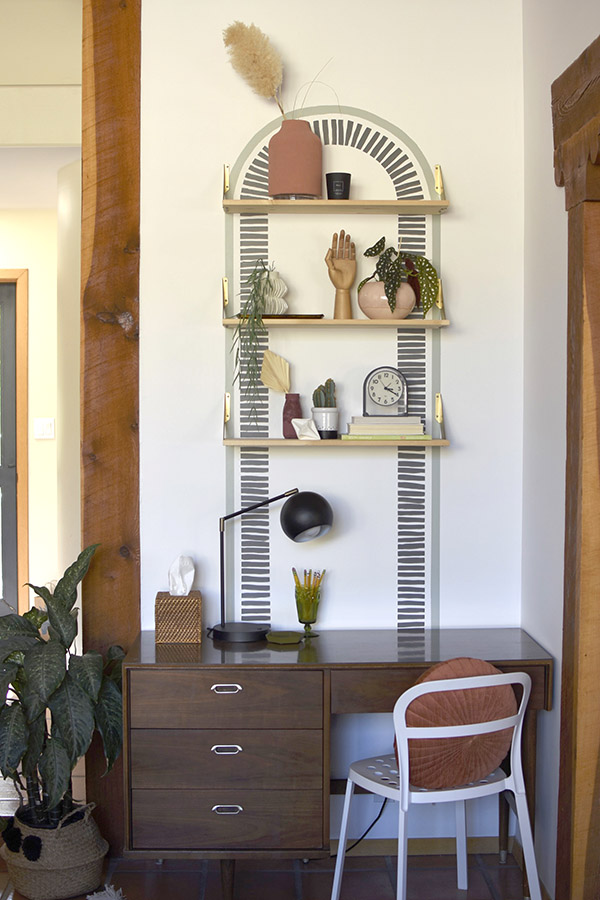 I gave the new baking soda paint technique a try for the top terra cotta pot and I've got to say – it's so addicting. I'll be sharing how to do that on Monday!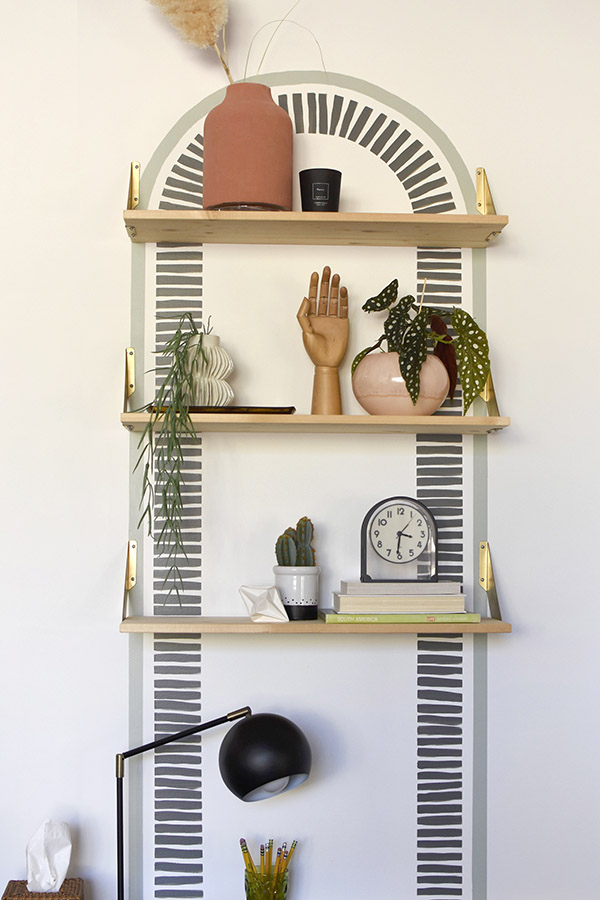 Using Behr Zen PPU11-14 Flat Interior Paint
I love the soft green color of Behr Zen PPU11-14 Flat Interior paint. I've painted a cane chair with this calming sage / mint green color.
I love a green with a bit of gray in it. It pairs so well with my darker gray paint color.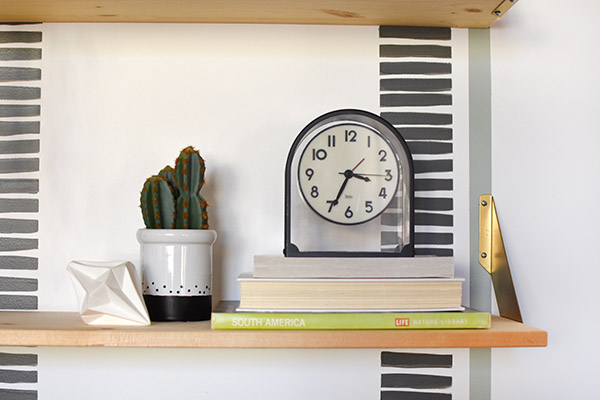 Of course, I filled other shelves with plants like my newly beloved Angel Wing Begonia (the one with the polka dots), a trailing hoya and a faux cactus.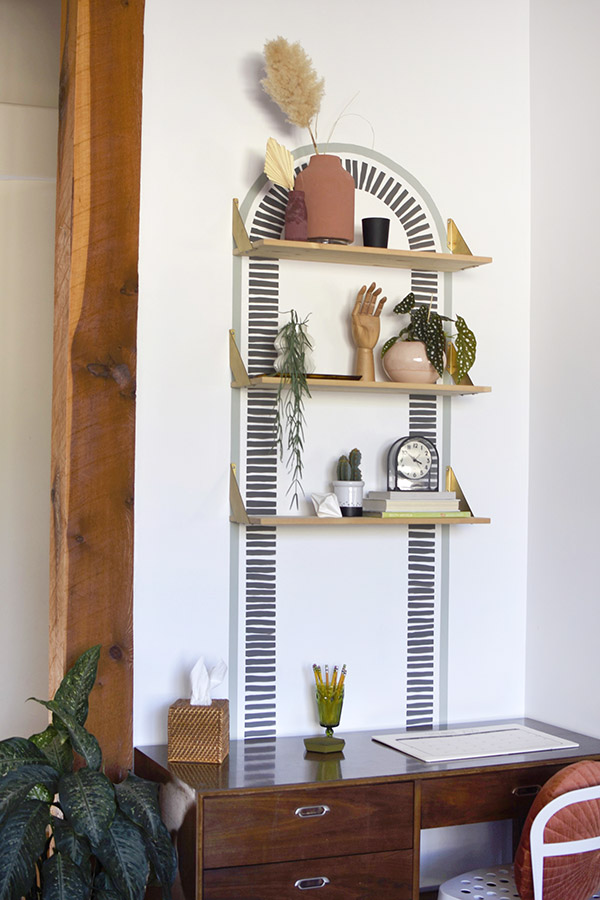 Since this is where my kiddos take turns doing distance learning school, task lighting and an endless supply of pencils are key to have nearby.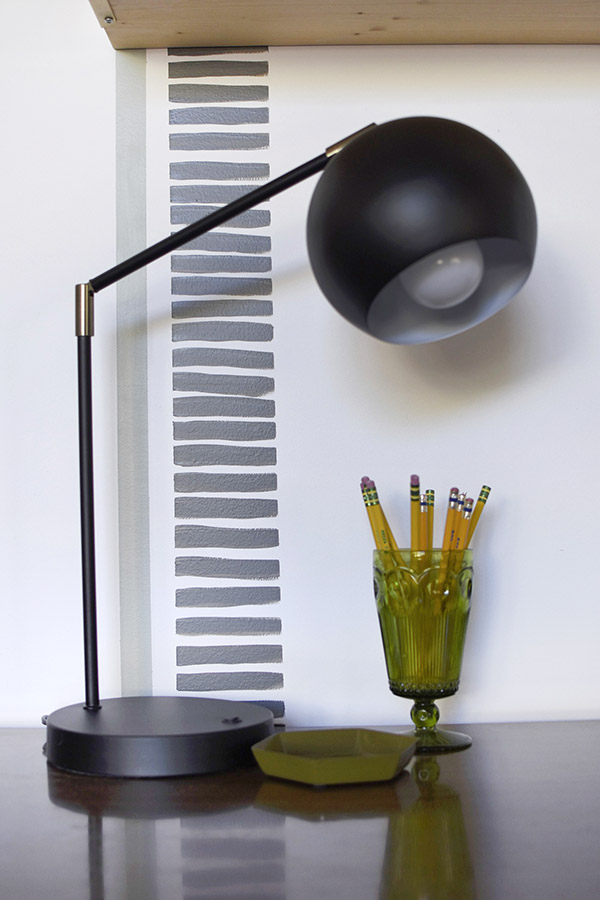 I adore how this project turned out. Since I haven't seen anyone make an arch like this, there was a bit of a learning curve for me to figure out the perfect spacing and making it all work perfectly with the shelf spacing and desk.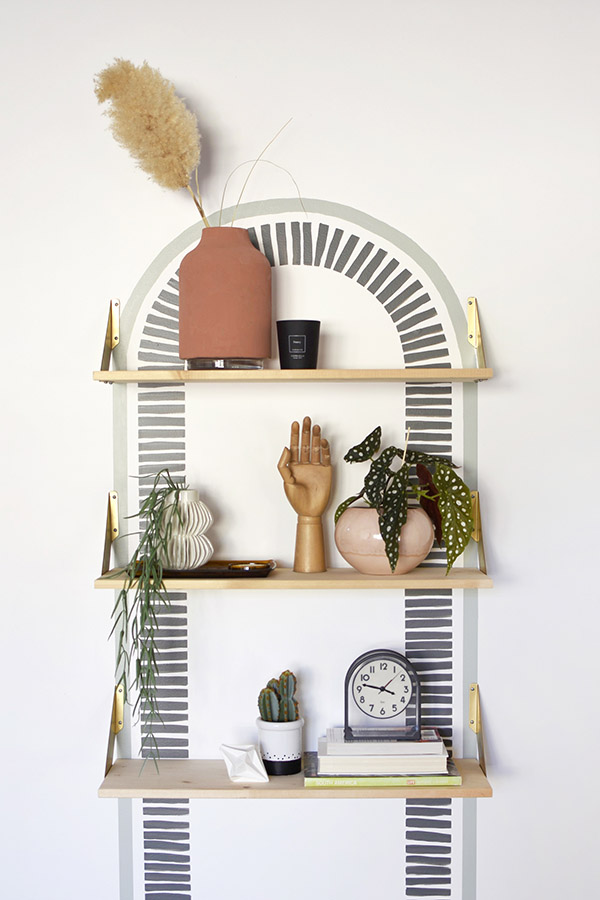 But wow, now that it is over – I couldn't be more thrilled! It's the perfect accent moment in our living room, without over powering.
And anytime I get to add more plants and cute little chachkies to my home… I'm pretty all in.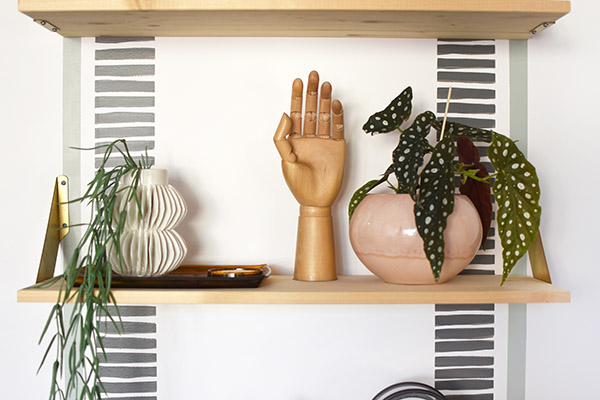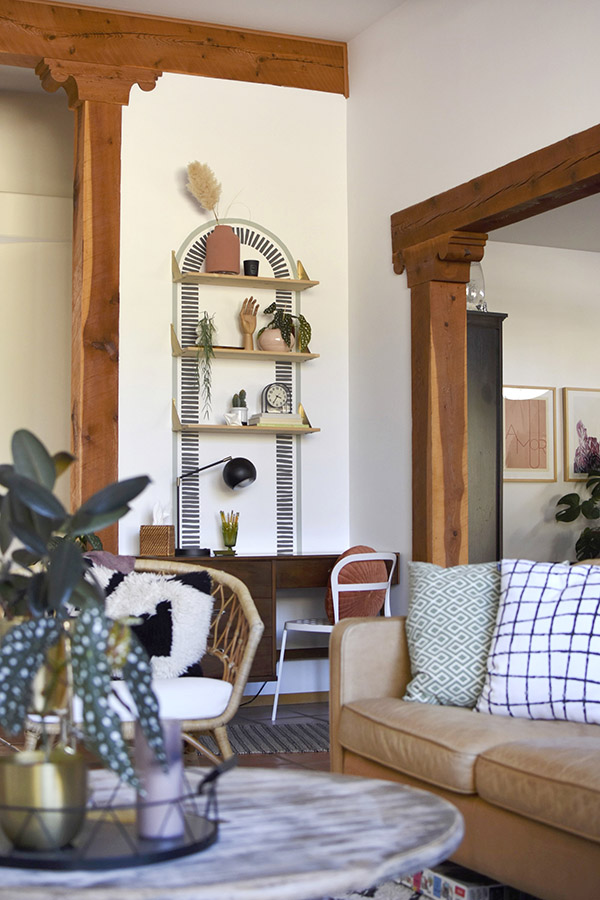 MY Home –> Want to check out a few other rooms in my home?
I love sharing inspiration, tips and inexpensive ways to make your home YOU.
Want to shop my Arch decor?