INSIDE : Add fun graphic pattern to any room by learning how to create a Stenciled Laundry Room Accent Wall with acrylic paint. Whether you are stamping or stenciling this is a great DIY project for any skill level to give your space a whole new look and feel.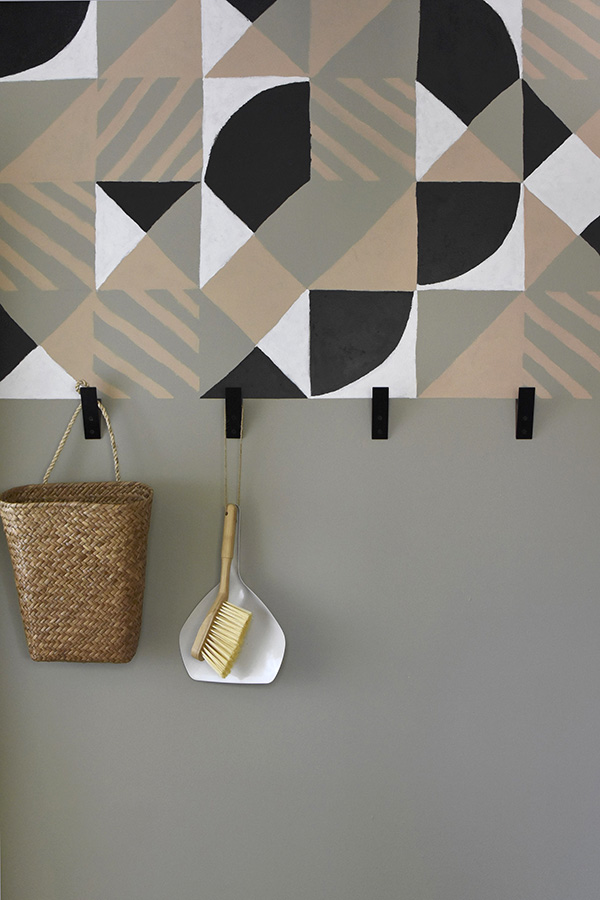 This post may contain affiliate links. See full disclosure here.
Anyone else with a random hodge-podge of a laundry room? It's not only the place where all of our left stuff goes, but it also gets all of my leftover creative "projects" when there isn't a better place for them. I had recently put up removable wallpaper from my office and then hung some hats on the wall. But I knew this all was a temporary fix.
Want to see how I tackled the Laundry Room Organization of this space?
We really need coat + school bag storage and it was time for a more cohesive look to the room in general. You can see the below image for my "before" shot.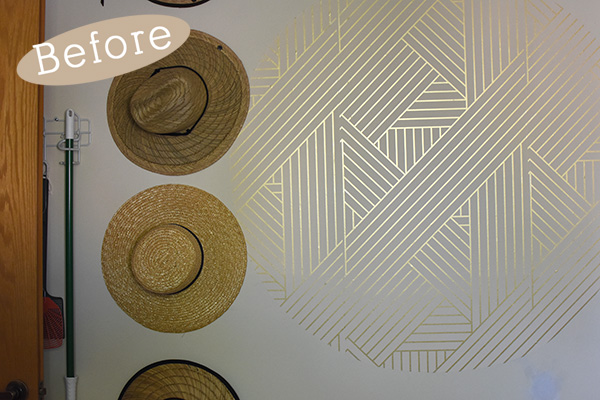 LOOKING FOR MORE LAUNDRY ROOM INSPIRATION?
Behr Stone Walls PPU8-19
I started off giving the room a fresh coat of paint. I chose a beautiful green/gray color as my main wall color. I used Stone Walls, Behr Scuff Paint. Since this is a high traffic place and the kids kick their shoes off and backpacks are thrown in here… going with a scuff paint made perfect sense to me.
And I was excited to use Colorshot Acrylic Paints to add some major graphic accent stenciling and stamping magic!
You can read more in depth about my Interior Paint colors here.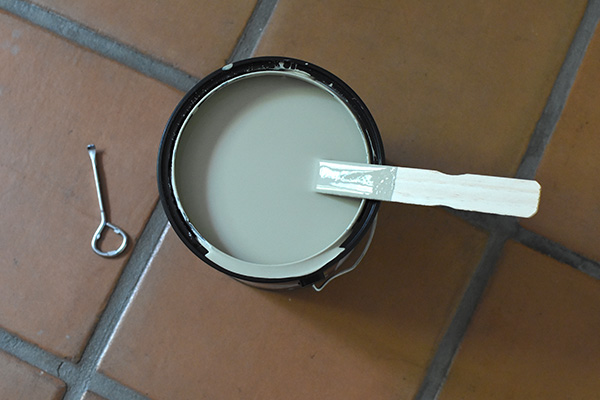 What supplies do I need to make a Graphic Accent Stencil Wall?
Thankfully the supplies for this project were fairly simple.
Colorshot Acrylic Paints – Skinny Dip, Marshmallow + Little Black Dress
High Density Foam
Flat Trays
Sewing Scissors
Ruler
Level
Painter's Tape
Pencil + Eraser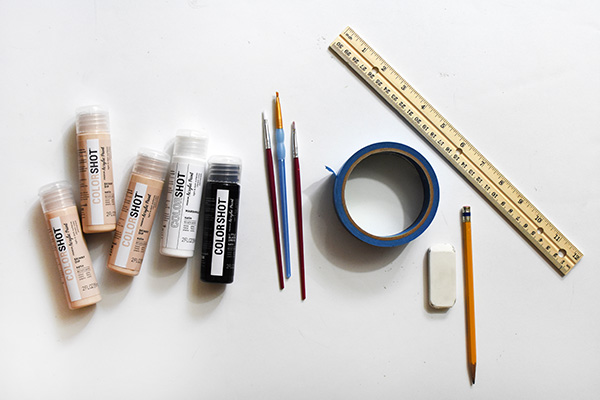 Before I started cutting any foam and doing any painting, I drew out four different stamped "tile" like square patterns. I knew that I could then flip and turn them to make nearly endless larger patterns on the wall. I brought them into photoshop to make sure I liked how it all looked and then was ready to get started!
How to create a foam stamp for stenciling?
I found 14″ high density foam that was perfect for my stamping project. And based on my wall measurements, where our doors were located, etc… I decided to make each of my pattern tiles 8″ x 8″.
Mark 8″ with a pencil and ruler and slowly cut with your sharpest sewing scissors.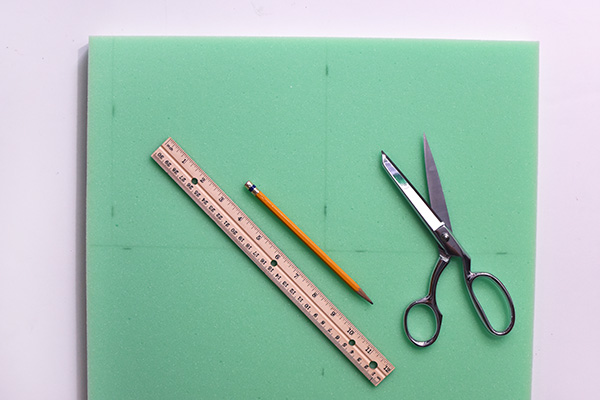 Foam Stencil Shapes
The important thing to remember when you are making a foam stencil is that you are painting with the sponge, but you can use the negative space to your advantage. Many of my patterns have multiple colors, so I was sure to plan for that when making my foam stamps.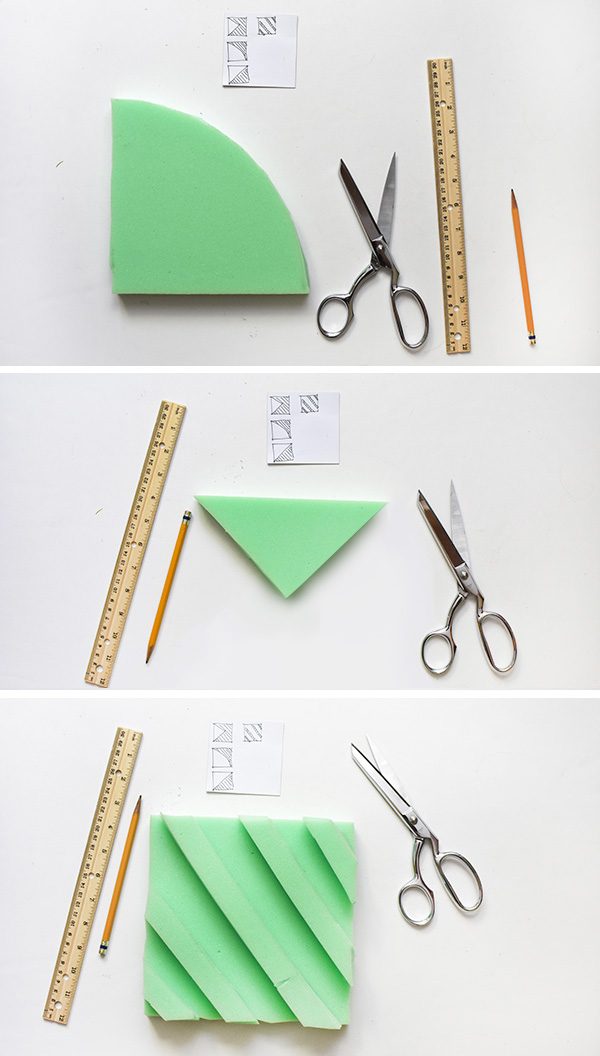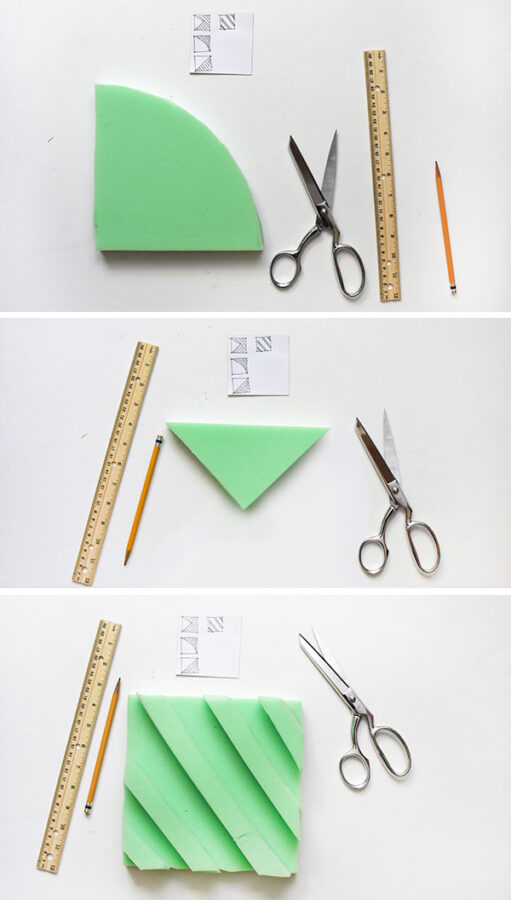 Once my stamps were made, it was time to get painting! You want to have a container large enough to hold your paint and stencil. I used shallow aluminum trays.
I also noticed as I went that it was helpful to use a paint brush to "paint" the paint onto the foam. And once the paint was applied, I would gently stamp the foam on my tray to get any excess off.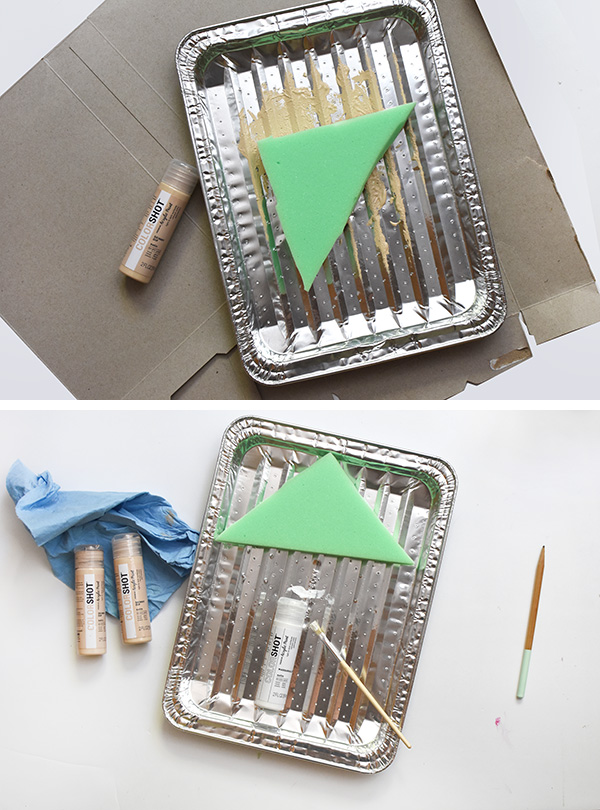 Can you stencil on the Wall with Acrylic Paint?
Yes, you sure can! Acrylic paint is a great medium for stenciling and stamping. The only thing to be aware of is that you may need to sand down any build-up when you go to repaint the room. But, this isn't a huge deal and can be easily taken care of.
The very first thing I did was use a tape measure and level to very lightly draw my 8″ x 8″ squares with a pencil. This helped make sure my lines were all straight.
I started in the upper right hand of my wall and moved left with my patterns. I used Skinny Dip and Little Black Dress as one of those colors were on every design. You can see how if I would have stopped after just one stamp, it would have looked light and a little messy. Don't give up, keep going with the process!
Next, I applied the Marshmallow White paint which really helped start to give my patterns shape.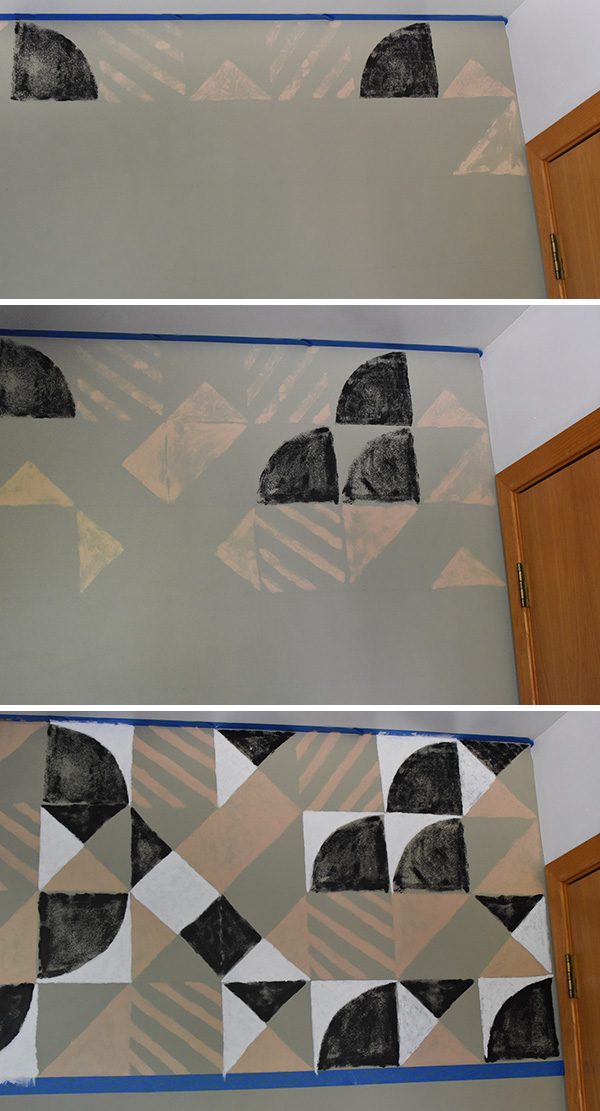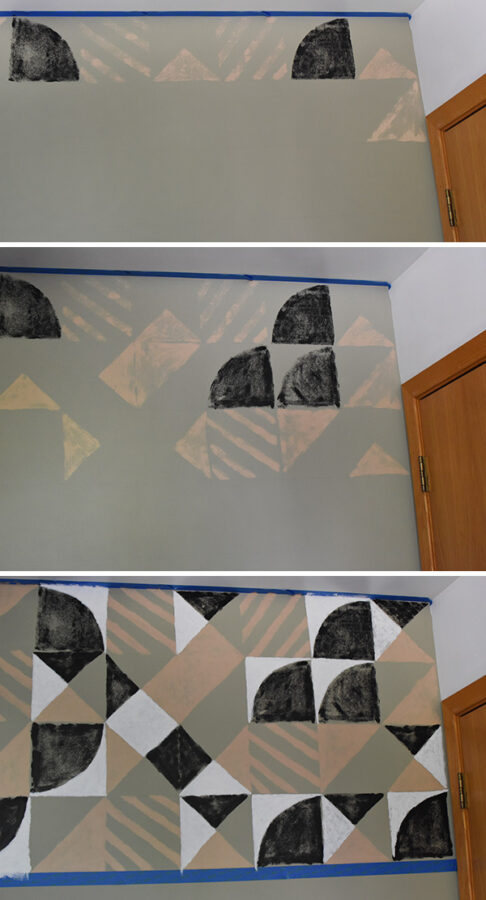 Slow refinement is the name of the game with a very graphic stencil pattern like this. I went over certain shapes a few times and used other sponges to help fill in pattern shapes a bit. Don't be afraid to even use a small brush to help clean up lines here and there.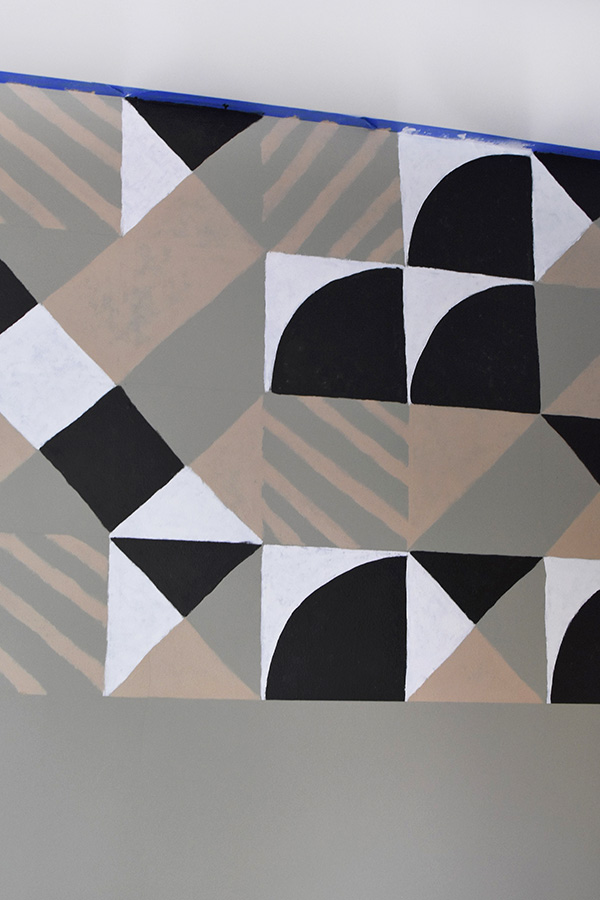 DIY Stamped Graphic Accent Wall
I really could not be more thrilled with the final end product! The lines are fairly crisp for a stamped project and I just LOVE how it looks. I loved working with Colorshot acrylic paints on making this come together. The paints were a perfect consistency and had amazing coverage.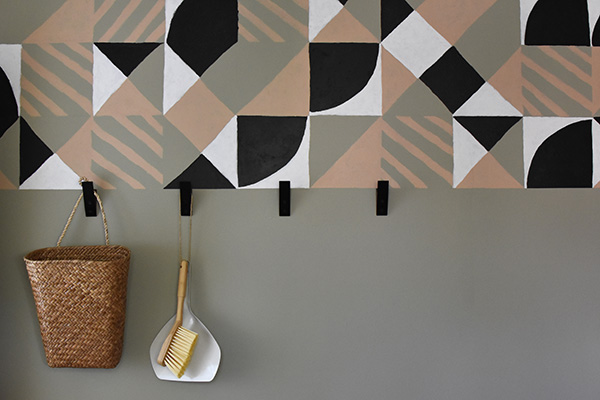 I installed four beautiful wooden hooks, which are going to be so useful in our laundry room!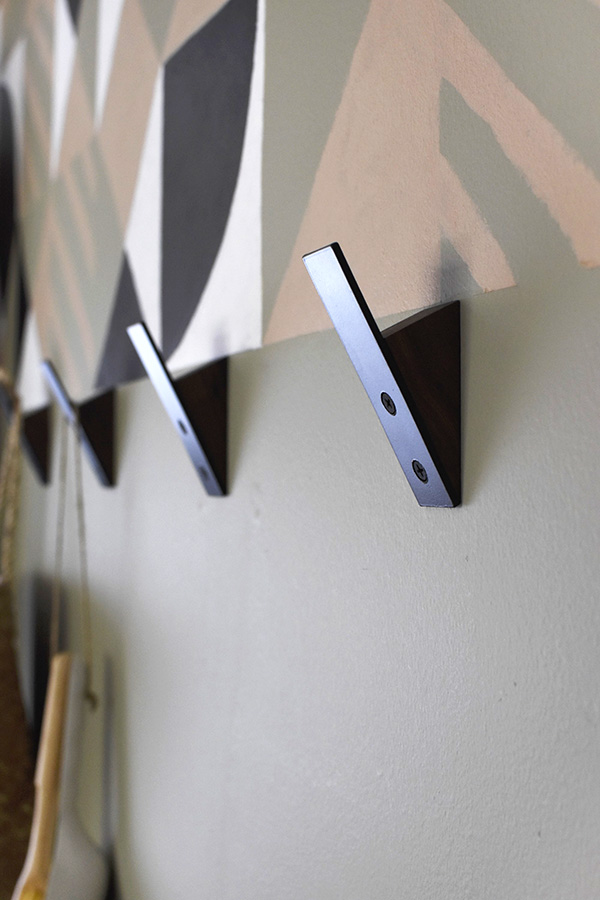 This graphic look took some planning, but once I got into the rhythm of it all… it was a cinch to do.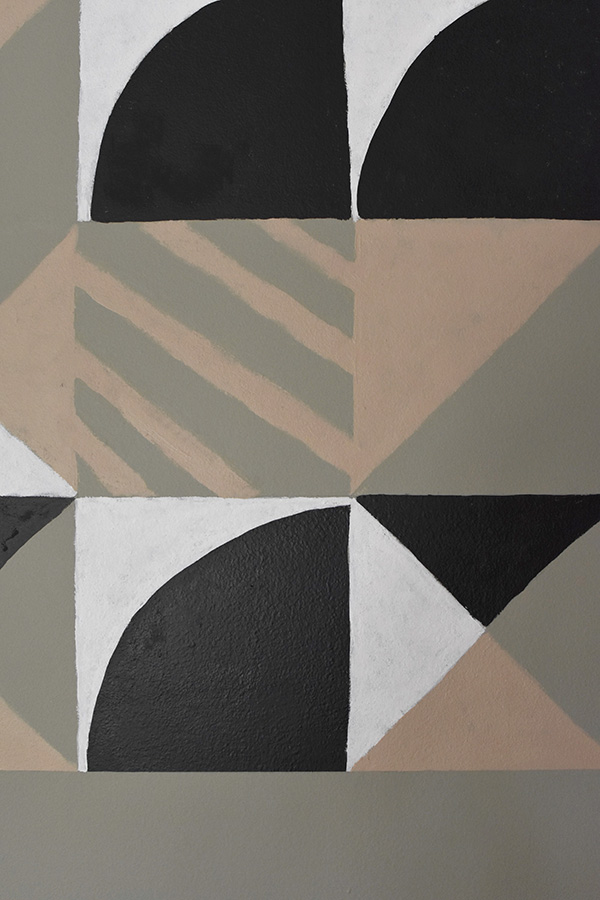 What a great addition to our home.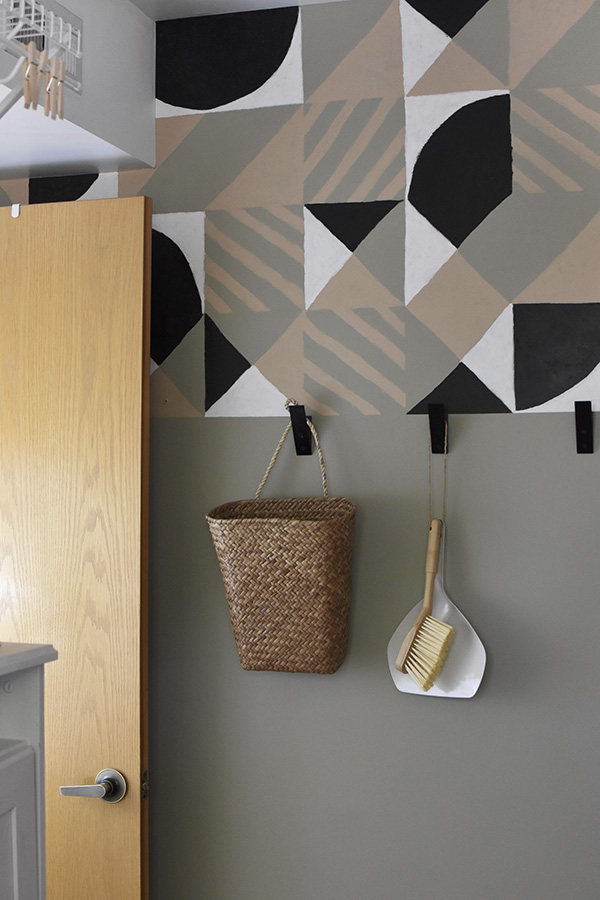 Thank you to Colorshot for this sponsored. All opinions are 100% mine.