16 Laundry Room Ideas that add beauty and function!
INSIDE : Creating a space that works and looks good can be challenging. Check out these inspiring 16 Laundry Room Ideas that add beauty and function and be prepared to want to dive into refreshing your own room!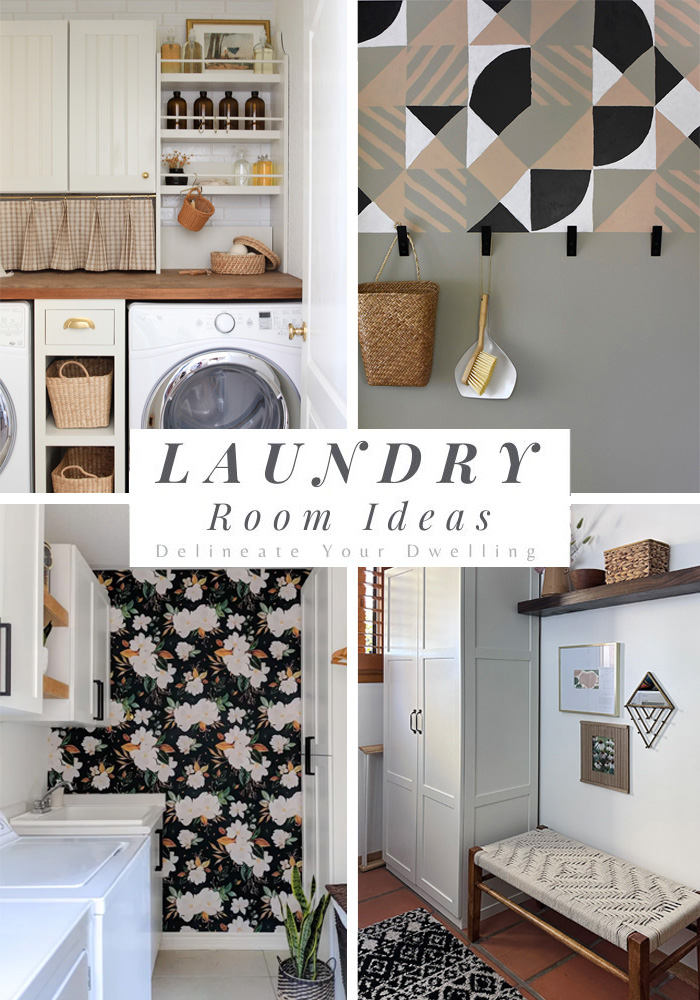 This post may contain affiliate links. See full disclosure here.
I painted a fun graphic Stenciled Accent Wall with Acrylic Paint in our laundry room last year. Part of that upgrade to the space was adding hooks for coats, backpacks and purses.
It was a huge improvement to go from cream walls to a fun graphic wall with a bit more storage… but it wasn't enough storage.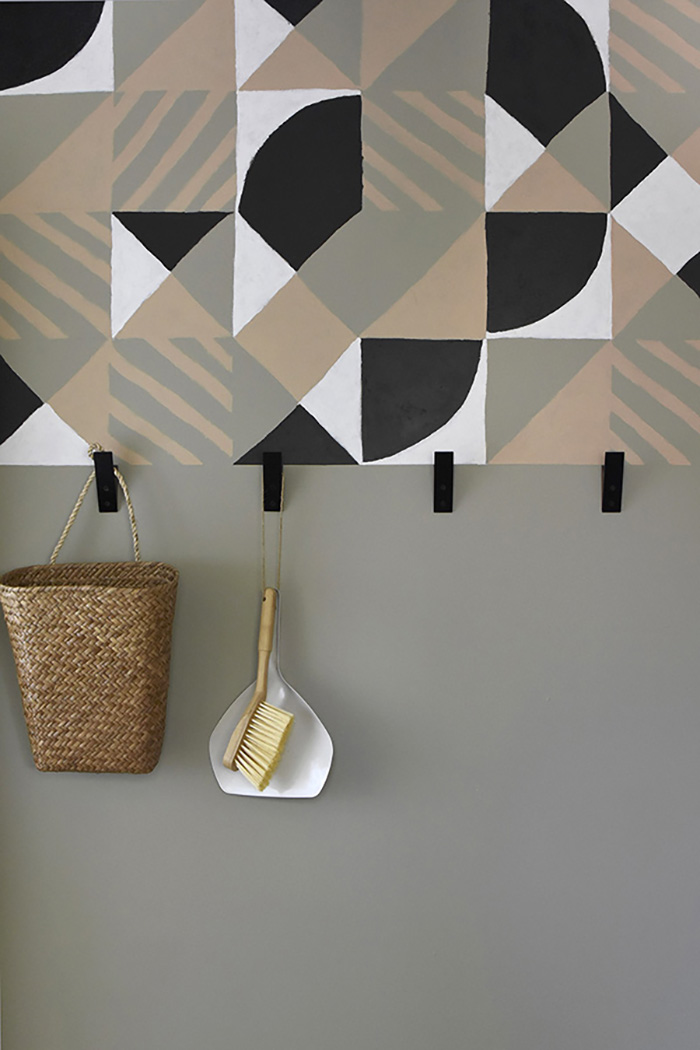 Small Laundry Room Ideas
Very recently, I looked around our small laundry room and realized how desperately I needed to get some better organization happening. Games were pilled up on the dryer, I found 4 completely empty boxes sitting around, it was in general a dumping ground for everything.
I did some major decluttering, built some storage, added functional decor and we are now one step closer to the Laundry Room being at it's full potential! You can check out the Laundry Room Organization I put in place.
No matter the size of your laundry room, big or small creating organization is a huge help!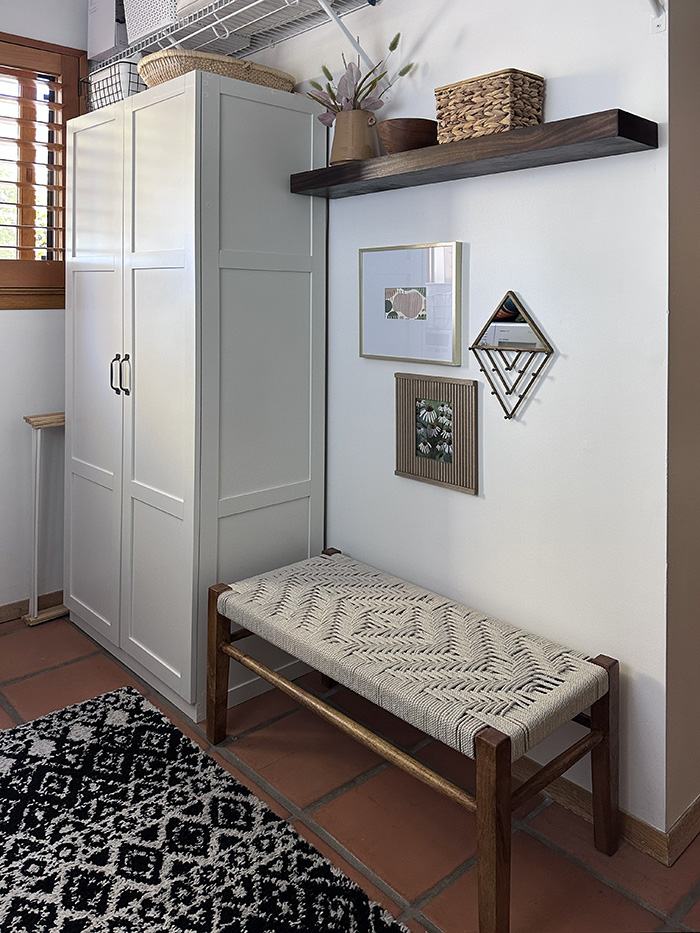 That being said, I still have a few more plans up my sleeve for our laundry room and in the mean time, I thought I'd answer some of the most frequently asked questions I get about Laundry Rooms. So, let's dive in!
LOOKING FOR MORE LAUNDRY ROOM INSPIRATION?
What should every Laundry Room have?
No matter the size of the area you have to clean your clothes, sometimes it's confusing to decide what every laundry room should have. Often laundry rooms are spaces that store quite a few items. If you are wondering what you should put in your space, see below for a list of items.
Laundry supplies
Detergent, bleach
Stain and odor removers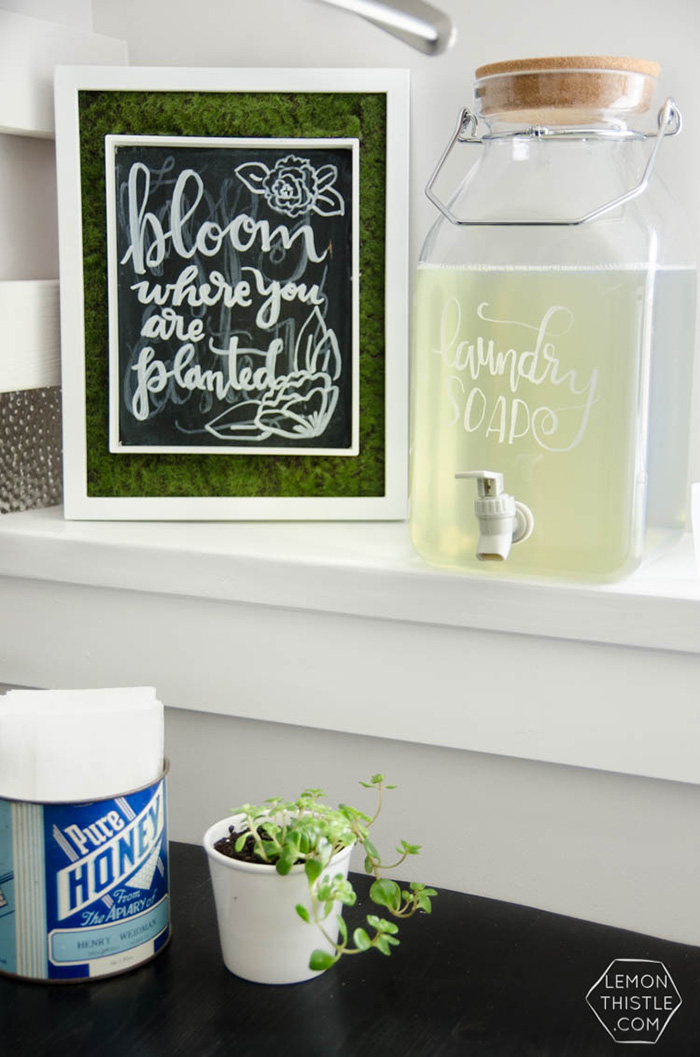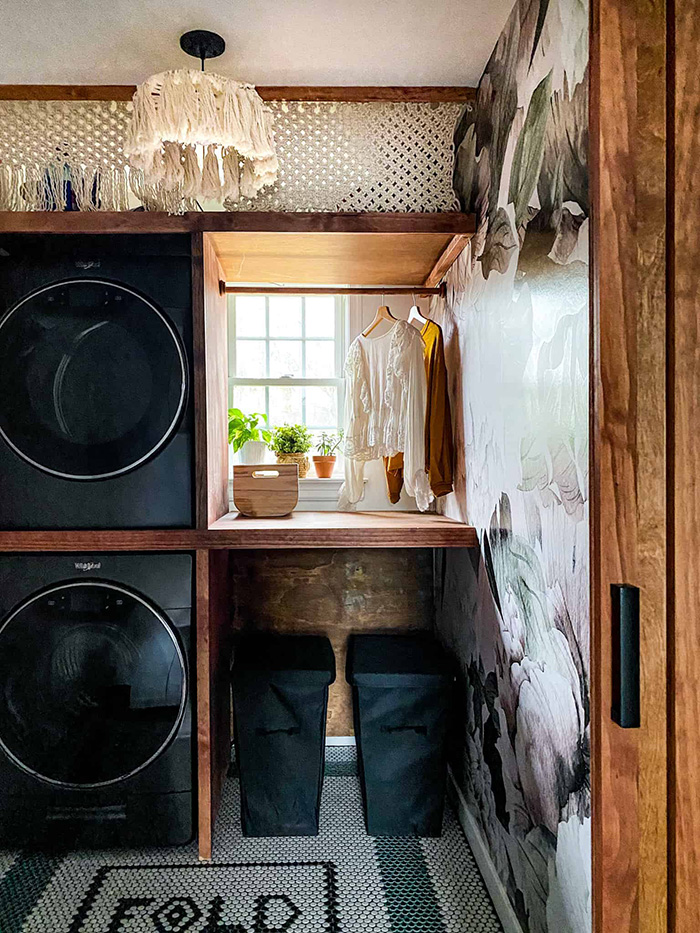 How can I make my Laundry Room look nice?
There should be a balance between form and function in laundry rooms. The actual use of the room is very utilitarian, but being able to spend time in a room that makes you feel good, is organized and looks pretty is important also. I'm a firm believer in making all rooms of your home work well and look nice at the same time!
Let's check out some ideas to decorate a laundry room below.
Laundry Room Wallpaper
One of the ways to make your laundry room look nice is finding some open wall space and adding color, pattern with the use of wallpaper. This will turn a dull area into more of an accent space.
I love how this bold black and white floral wallpaper easily becomes such a statement wall.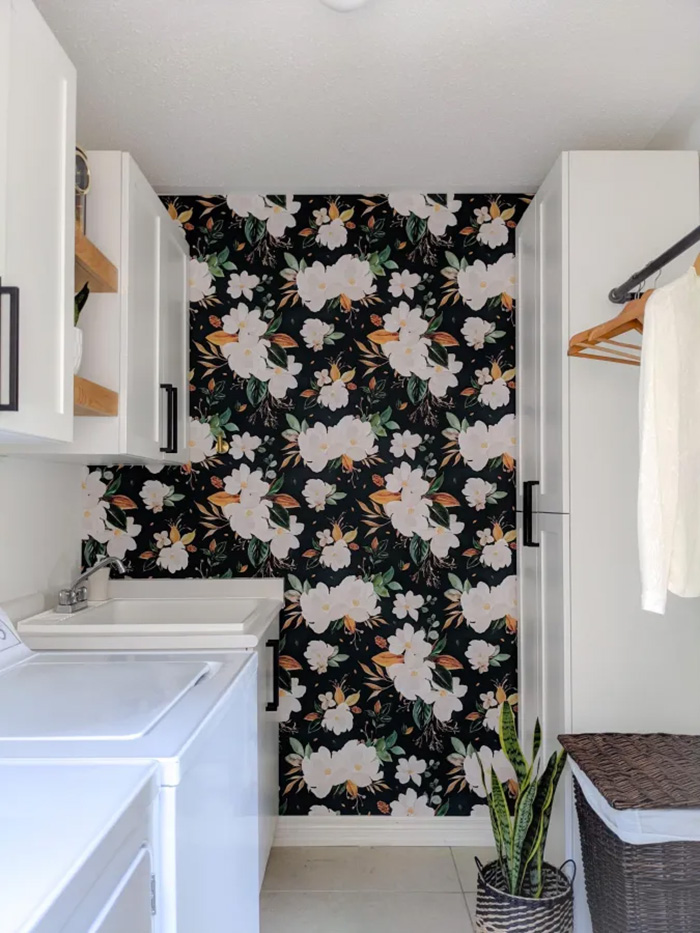 Laundry Room Storage Ideas
No matter how much you store in your laundry room, the important thing is setting things up for success. If you have a larger room, you can use cabinets, shelving units or cabinets to hold detergent, cleansers, and anything else you need.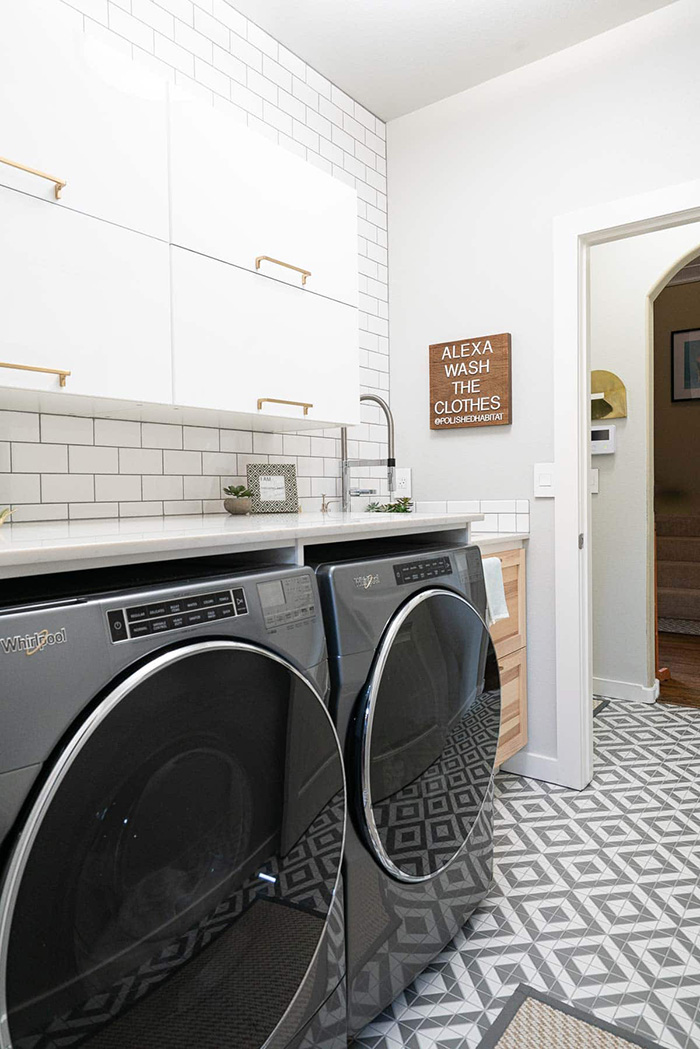 Laundry Room Hanging Drying Racks
If your home is anything like mine, there are a lot of clothes that need air drying only. All of my husband's button shirts for work, he likes to air dry. But sometimes finding the space to hang clothes can be a challenge.
Installing a rod to hang clothes for drying is an option, but also there are many beautiful hanging drying rack options. A simple white hanging rack is a nice addition, as is this simple fold out drying rack.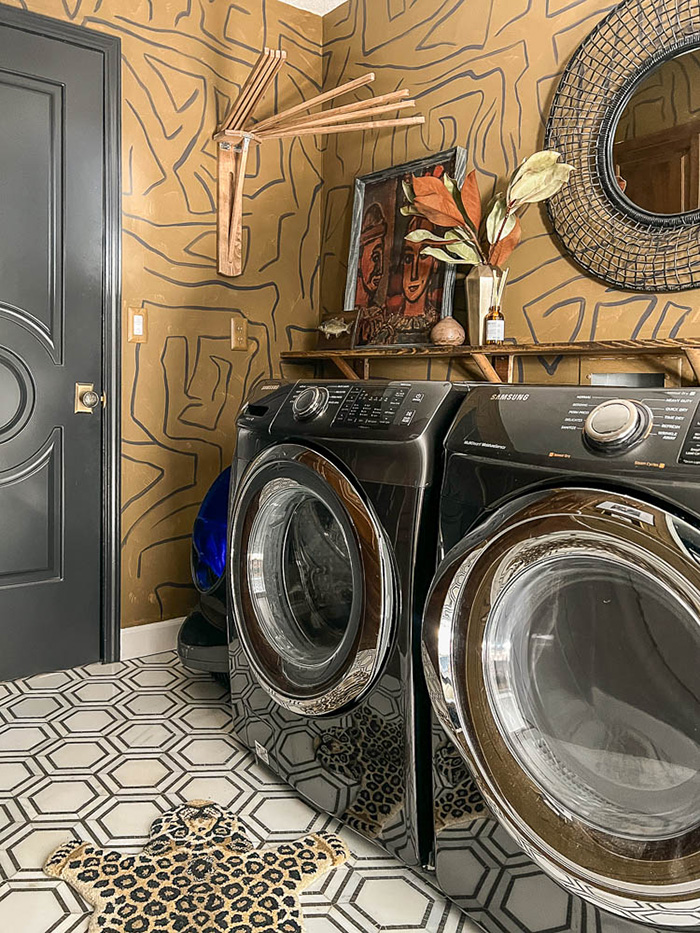 Small Space Laundry Room Ideas
Creating pretty organization is another way to make your laundry room storage look nice. Using small wicker baskets to contain dryer sheets or even dryer lint, glass jars for detergents, and pretty hooks for drying clothes are all great solutions.
However, a small laundry room nook in the hallway will need to be more creative with storage ideas. You can use a floating shelf above your washer and dryer, hang items from a suspension rod or even use an over the door organizer to hold smaller miscellaneous items.
Best Laundry Room Lighting
Having good lighting in your laundry room is helpful as you go about inspecting clothing stains, laundering bedding and sheets and doing other miscellaneous cleaning tasks. It's very popular to see chandeliers in a laundry room if the space allows.
Laundry Room light fixtures
Some of the best lighting fixtures for Laundry Room can be spot lights, chandeliers or even having a small table lamp resting on a shelf.
I love this beautiful wicker drum shaped chandelier for a laundry space.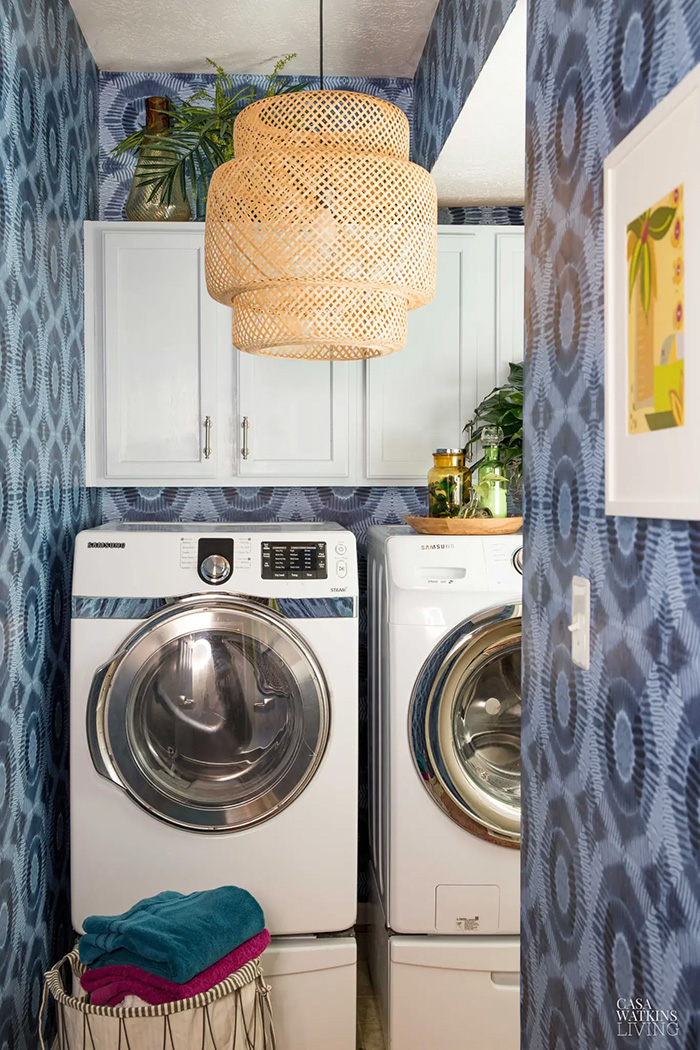 And a timeless Gold Chandelier with modern lines and modern bulbs also is a great way to match other metallic finishes in your laundry room.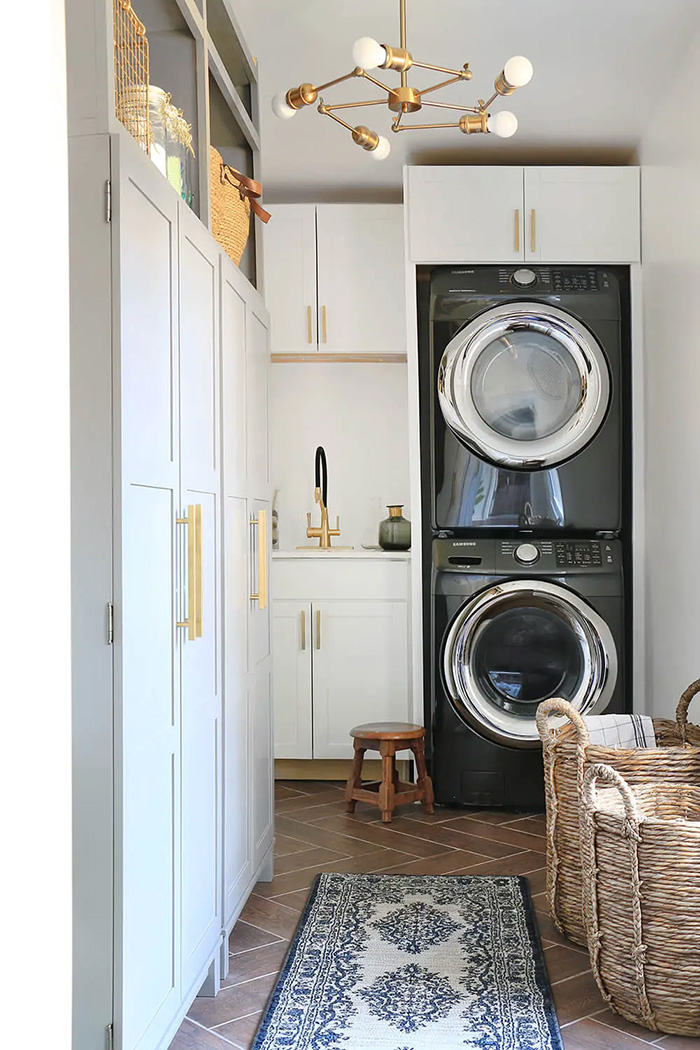 Going with a more traditional laundry room light like a flush-mount dome light is a beautiful look, as well.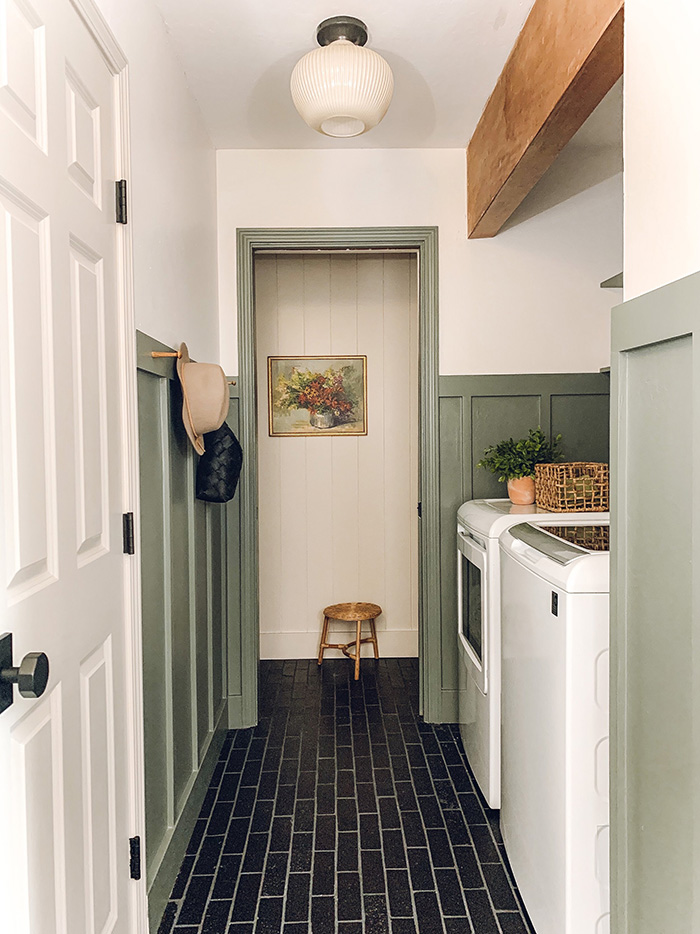 Laundry Room Decor
Adding in laundry room decor is an optional choice. I don't have tons of ample space in my laundry to add too much, but bringing in a few functional and small decorative pieces worked perfectly.
I hung a shelf and added some faux floral pieces, a wooden bowl to hold our clothespins and a wicker basket to hold space masks.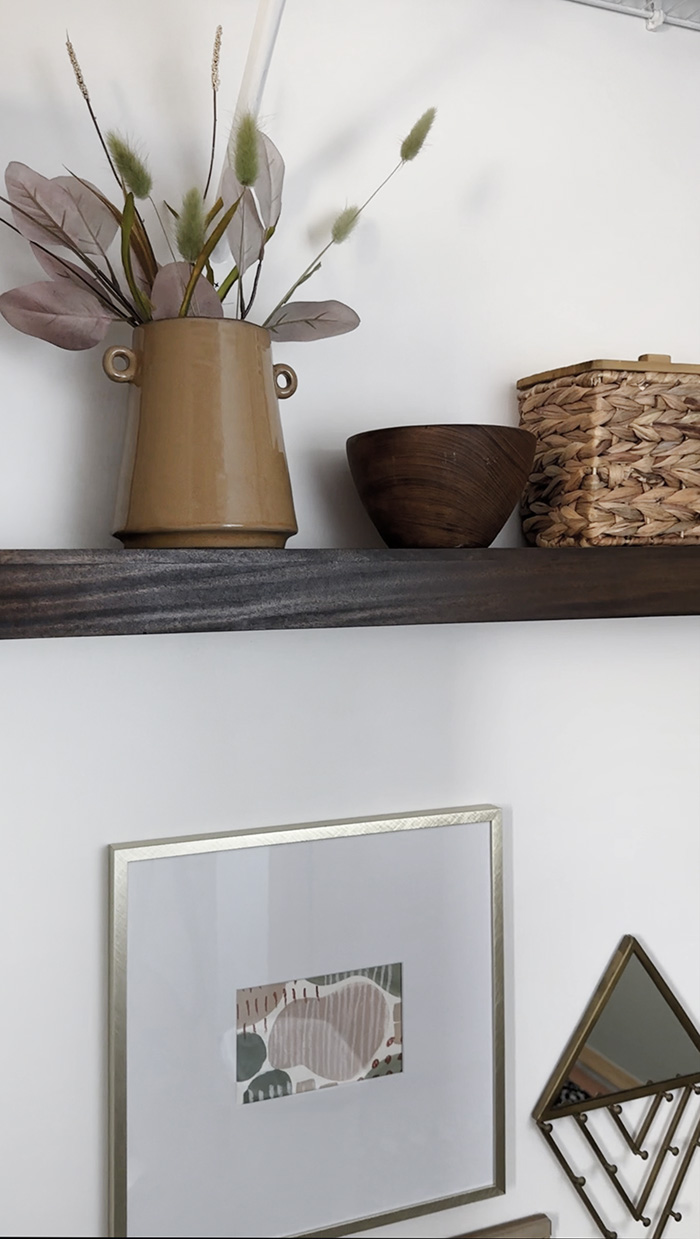 Likewise, adding in art prints in your laundry room is a great way to bring color and interest into your space.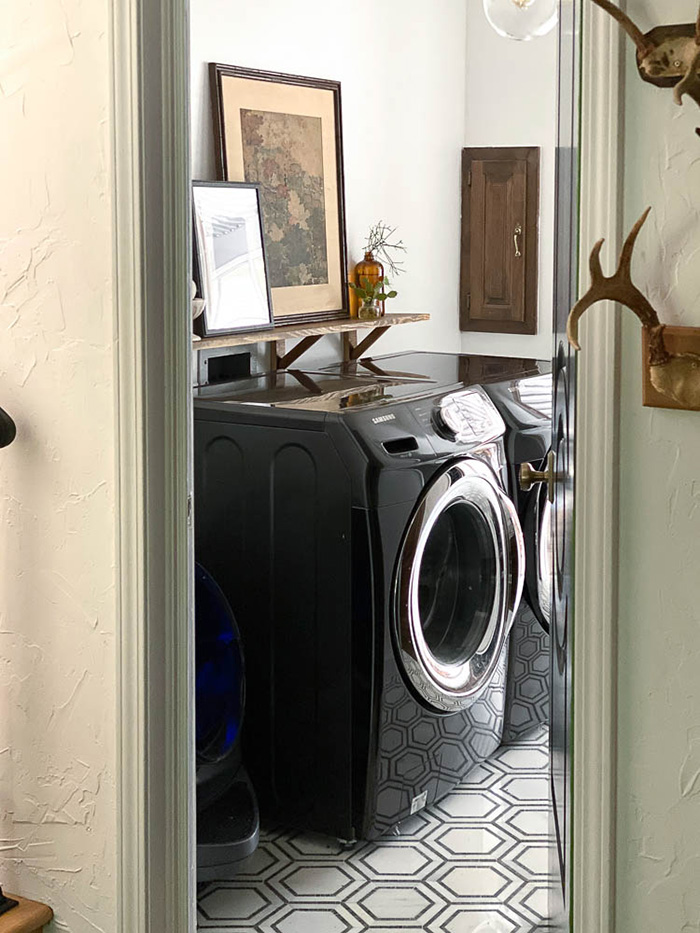 Colorful Laundry Rooms
Whether you bring color into your laundry room by painting the walls a fun happy color or you paint your cabinets, colorful laundry rooms are always spaces that draw you in.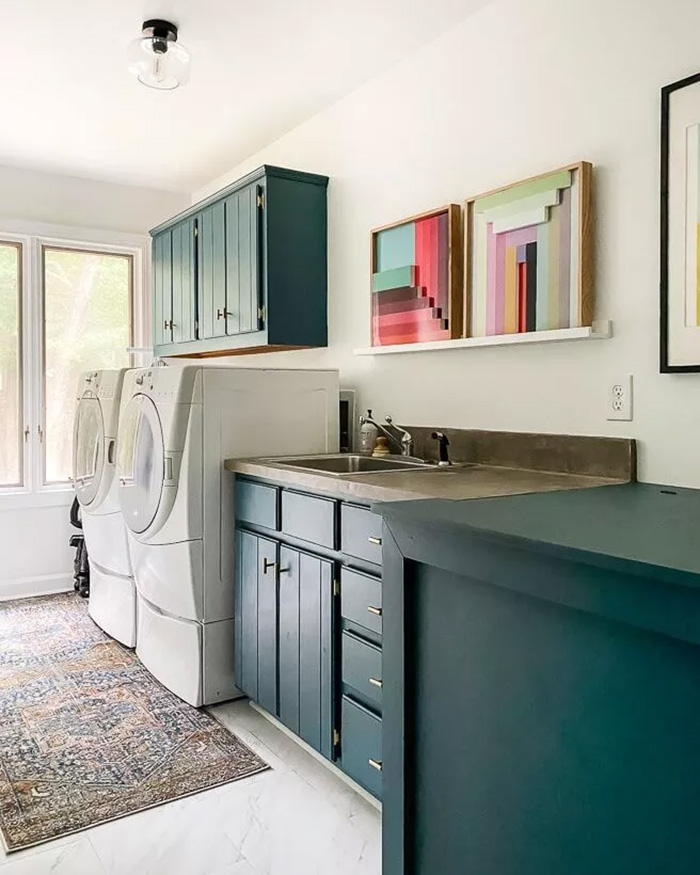 This soft lavender laundry room has such a beautiful feminine feel to it. I loved how even the checkered tile flooring incorporates the soft purple tones.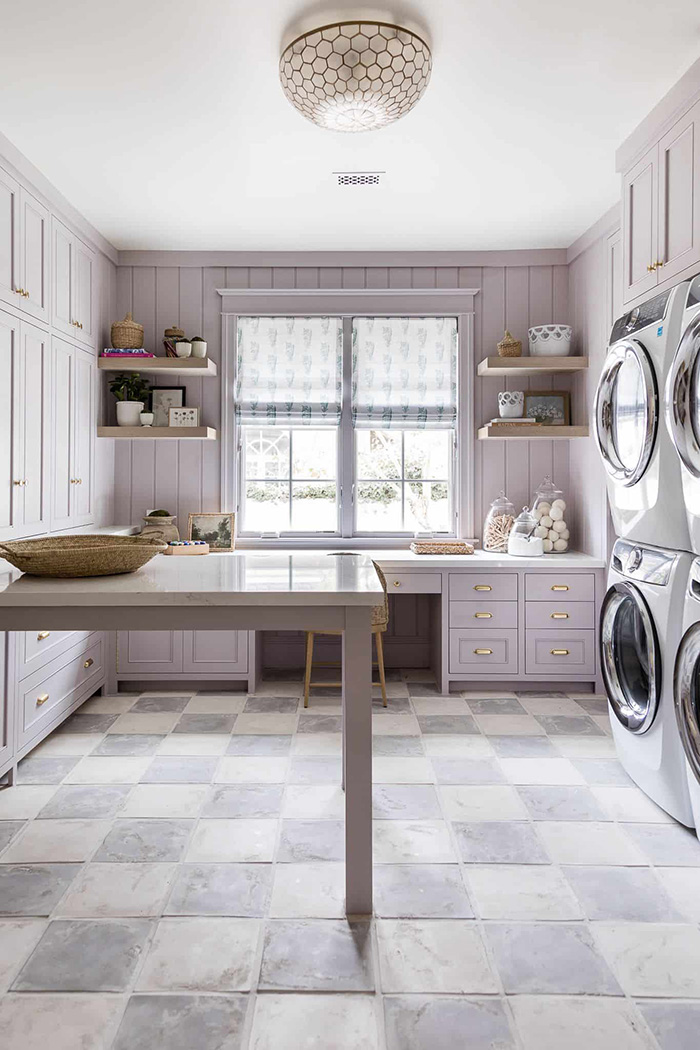 And adding a fun graphic feel to the space through stamp or stenciled patterns is another way to make the room feel colorful with a more modern twist.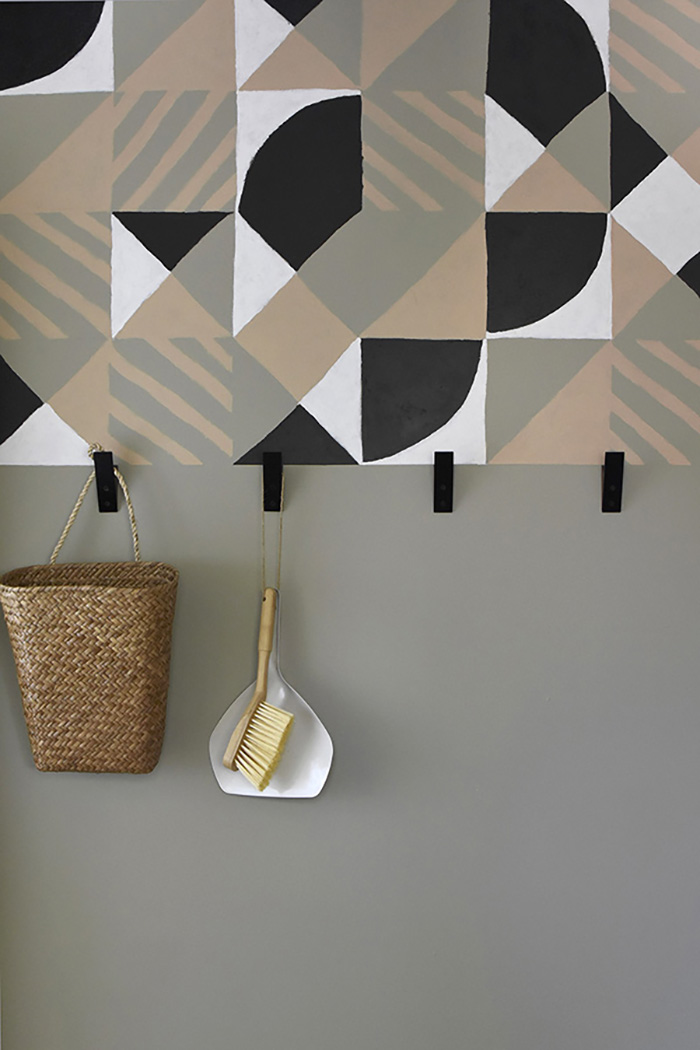 Laundry Room Tile
Installing tile in your laundry room can be a very smart choice. Flooring that can handle detergent spills with easy cleanup is key.
This crisp laundry room has a lovely white herringbone tile pattern on the floor for a timeless and easy to clean look.
Another great use for tile in a laundry room is used as a backsplash behind your washing machine and dryer. This is a great opportunity to use bold colors and patterns in your space since it's not a highly seen main living space.
However, as you can see below going with a simple white subway tile is also a beautiful look.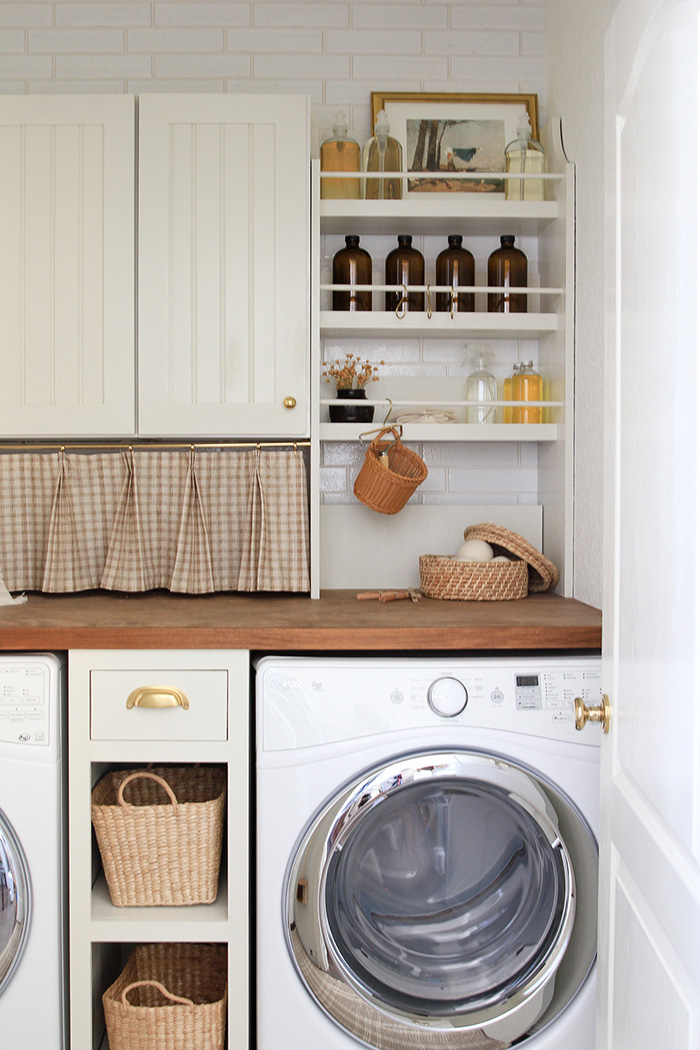 Laundry Room Waterfall Edge Countertop
Adding more folding space in a laundry room can be a huge help. I have long wanted to build myself a waterfall edge countertop covering the washing machine and the dryer.
I think not only adding it would help with folding, but also it would help with those lone socks falling behind the washing machine! We loose more socks that way – ha.
Building a simple wooden box around your washing machines also gives the appliances a more finished and complete look.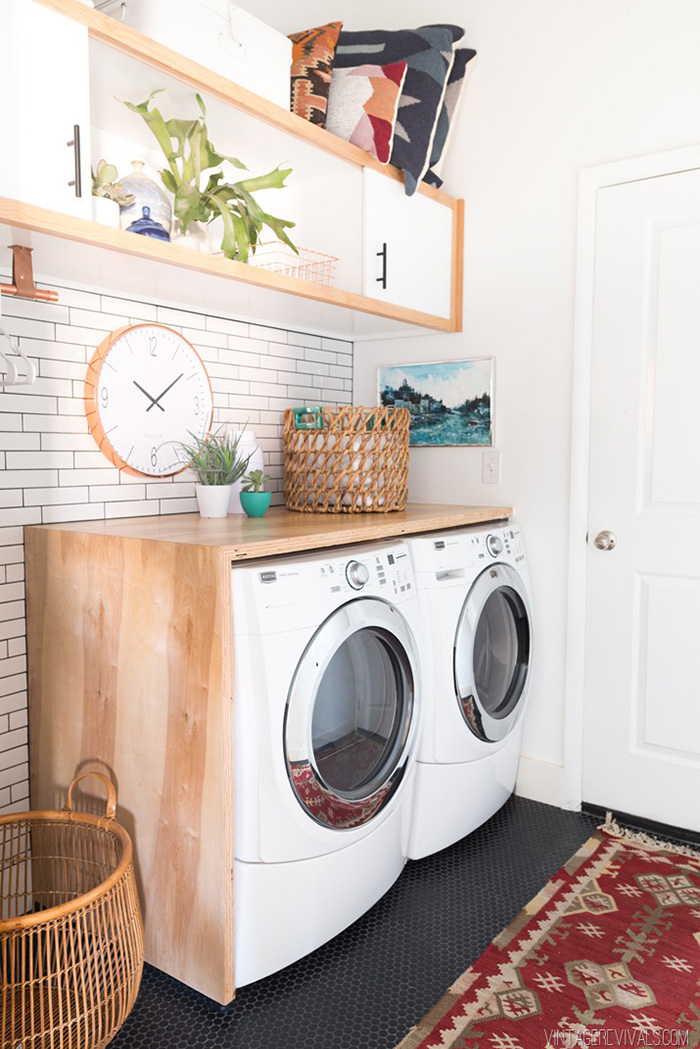 So tell me, are you inspired by these amazing Laundry Room ideas now?