INSIDE : Learn all the tips and tricks to getting your Laundry Room Organization under control. Whether you have a walk-thru laundry room, a mud room that doubles at a laundry or just a small laundry nook – these guidelines will help you declutter, organize and add functional decor.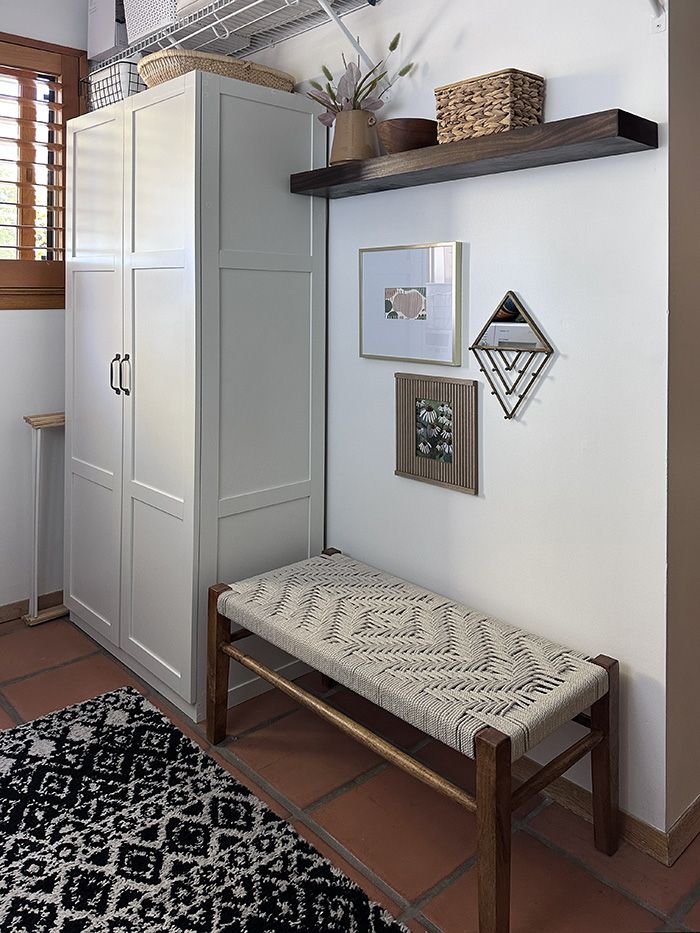 This post may contain affiliate links. See full disclosure here.
Last year I made a huge improvement to my laundry room. I created a gorgeous Stenciled Accent Wall with Acrylic Paint and added some much needed hooks to hold coats and purses. It was a night and day difference in the space… and that's as far as I got.
Recently, I was wading through our laundry room which acts as a "mud room" and a walk through to our garage, when I realized it was a complete disaster zone. Something needed to change before I lost my mind, but I didn't want to completely gut and redo the room… just a refresh and reorganization.
Looking for more Laundry Room Inspiration?
The scary Laundry Room BEFORE
Our laundry room slowly became the dumping ground for all items that didn't have a home any longer. This created us just dumping more things into the laundry room. It wasn't a good situation.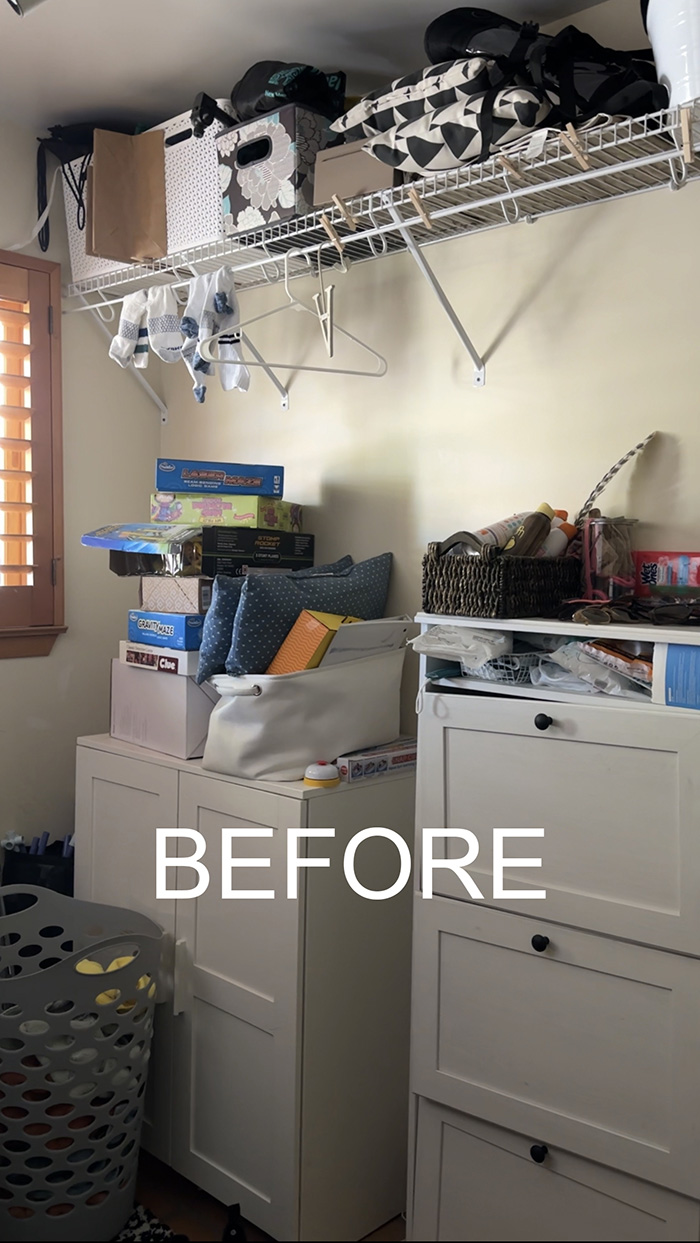 Remove Laundry Room clutter
Empty boxes
Old Tote Bags
Old Games
Broken IKEA Shoe Organizer
8 Random pairs of Sunglasses
Misc. Paper Clutter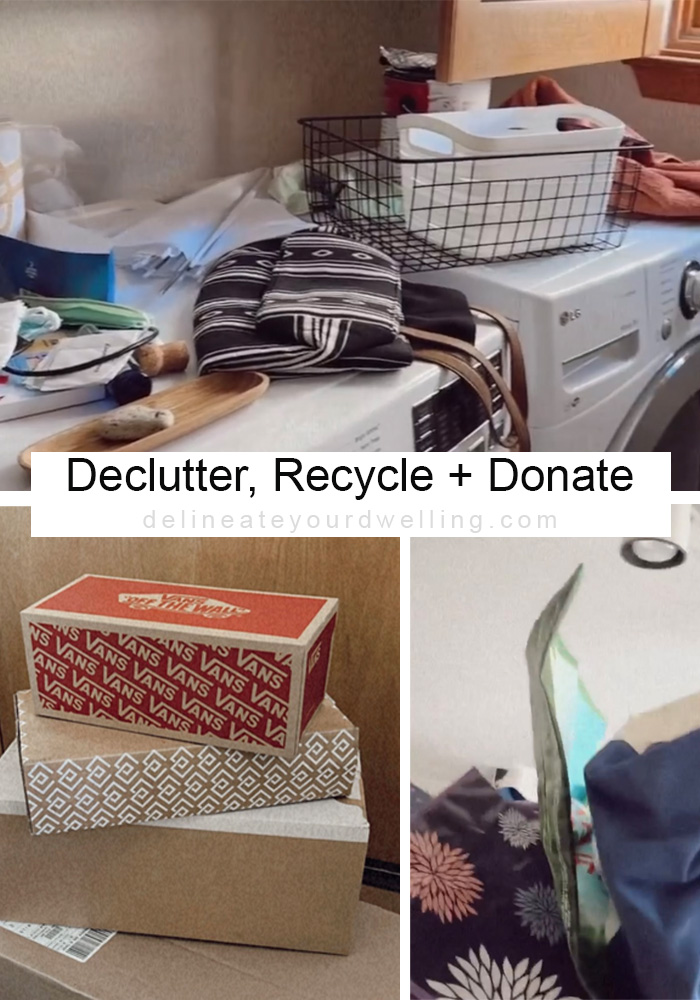 It is shocking how much lands in our laundry room and then never leaves. I found four boxes that were completely empty just sitting here and there. Recycling!
I also sorted through all the bins and baskets I had up on the highest shelf. I got rid of 12 (TWELVE) old tote bags that we haven't used in over five years. Donation pile!
Next, I went through all of our board games, card games and large oversized yard games. We had games with missing pieces, games that were too young for my children to play anymore and things we just didn't want any longer. Donation pile!
Seven years ago I bought and installed an IKEA Shoe Organizer. We loved and used it, then moved it across country when we moved from Illinois to New Mexico and used it a few more years. It's been very broken for two years, but it's sat there against the wall with slanted broken doors. It was well past time to remove it from the laundry room. Toss!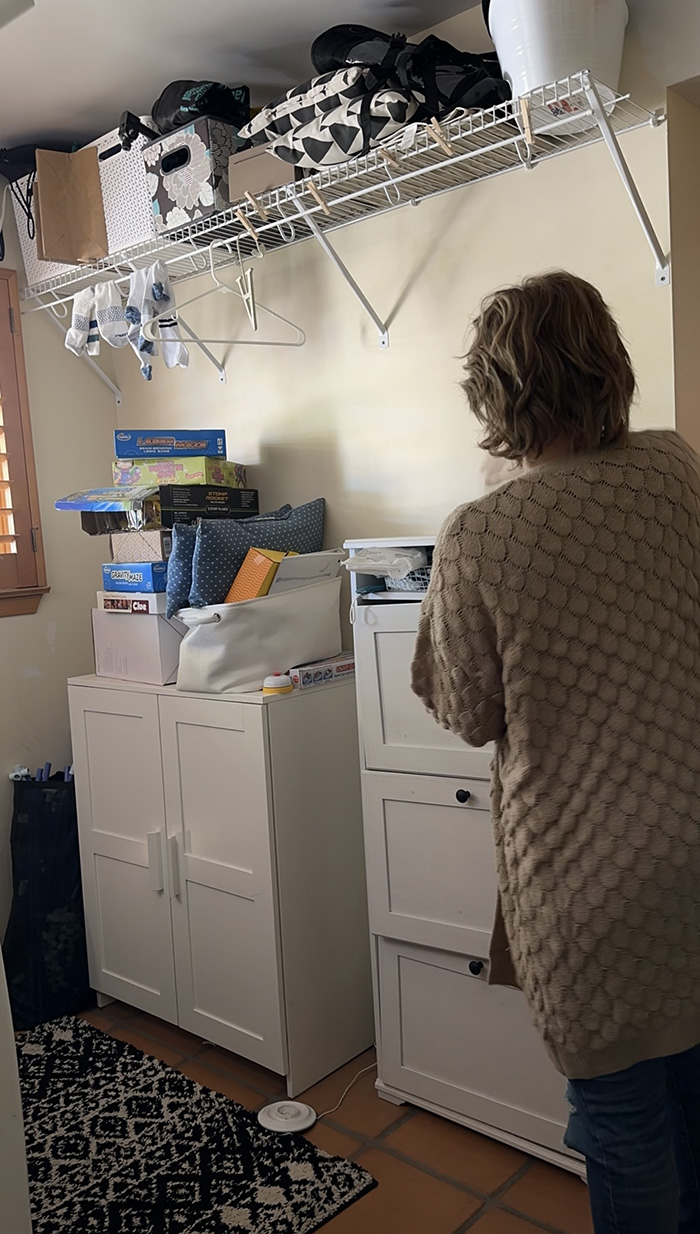 How many pairs of sunglasses does one person need, that's the question?! I can tell you, it's not eight. I have no clue why I have so many sunglasses, but keeping them ALL out on display just is not necessary. Time to relocate six pairs to another place!
Lastly, so many random miscellaneous clutter items. There were receipts that needed to be filed, school papers that needed to be tossed, various toys that needed to be put in bedrooms, trash from the cars that needed to be tossed, old towels that didn't have a home anymore, etc… It felt amazing to spread it all out and take care of business!
Laundry Room Fresh Coat of Paint
Now that the clutter was cleared and the laundry room was relatively empty, it was the perfect time to give the remaining three walls a fresh coat of white paint.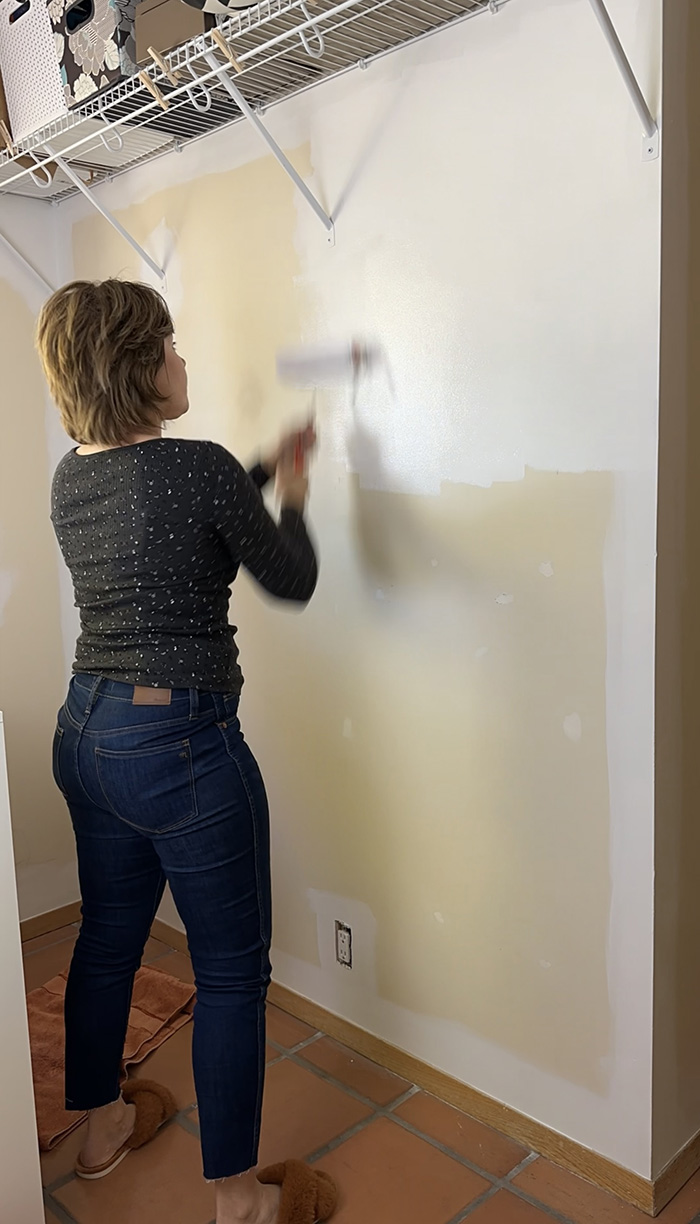 There were quite a few holes to patch and sand from the IKEA shoe organizer, but once the walls were prepped and cleaned, I got out my favorite Behr Premium Plus 'Bit of Sugar' white paint and gave everything a few even coats.
Add Laundry Room Storage and Organization
White Storage Cabinet with Doors
We previously had a storage cabinet that held many of our board games, but quickly we've surpassed the amount of games it could hold. Things were piled on top of the cabinet, on the floor and on our dryer. It was time to get something larger that we could grow with.
I found this very simple white cabinet with doors and it's been a dream. It took me about an hour and a half to fully install, but it was completely worth it.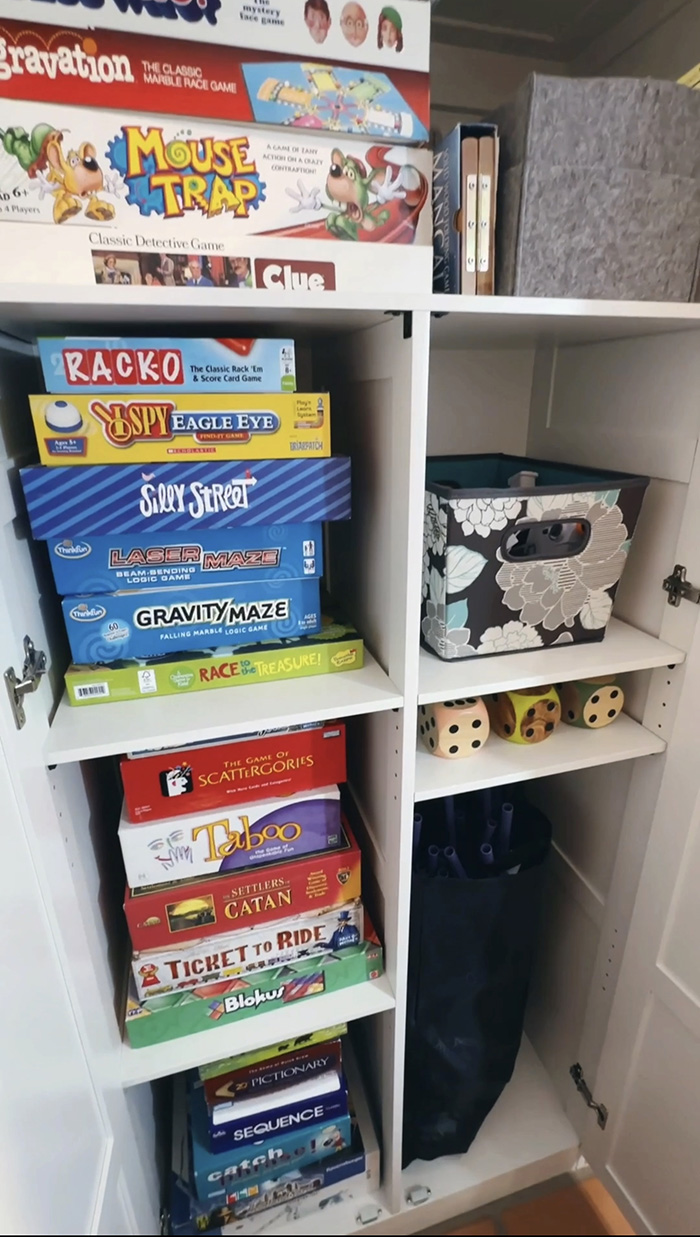 Being able to fit every single game we own, as well as our super fun (and huge) Magic Fort in one place is such a game changer!!
Storage Baskets
We already had wire shelving installed at the very top of our laundry room wall. It is a great place to store items that are used infrequently like, winter gear, our travel pillows, seasonal outdoor pillows, etc…
I found these great small white baskets from The Container Store for Laundry Room Organization and there were perfect for hiding the contents away, but also looking chic and pretty.
Shop Container Store Laundry Room Organization

Adding Laundry Room Decor
Now that decluttering, painting and organizing had taken place… it was finally time to make the laundry room look pretty with some fun, yet functional decor!
I hung a wooden block floating shelf about 36″ wide and it immediately grounded the space. On the shelf, I placed a decorative vase with faux greenery, a small wooden bowl that holds our clothes pins for hanging clothes to dry on the wire shelf above and a wicker lidded basket that holds spare masks.
Below the shelf, I hung a miniature gallery wall. Because the accent wall right beside this area is made up of greens, tans, whites and black – the art I selected tied those colors together.
I downloaded an 8×10 Coneflower digital download from Juniper Print Shop for only $20, which I was thrilled about.
I then painted a really fun Abstract Shapes piece that I will be sharing more about in an upcoming blog post.
And a beautiful diamond mirror/hook piece.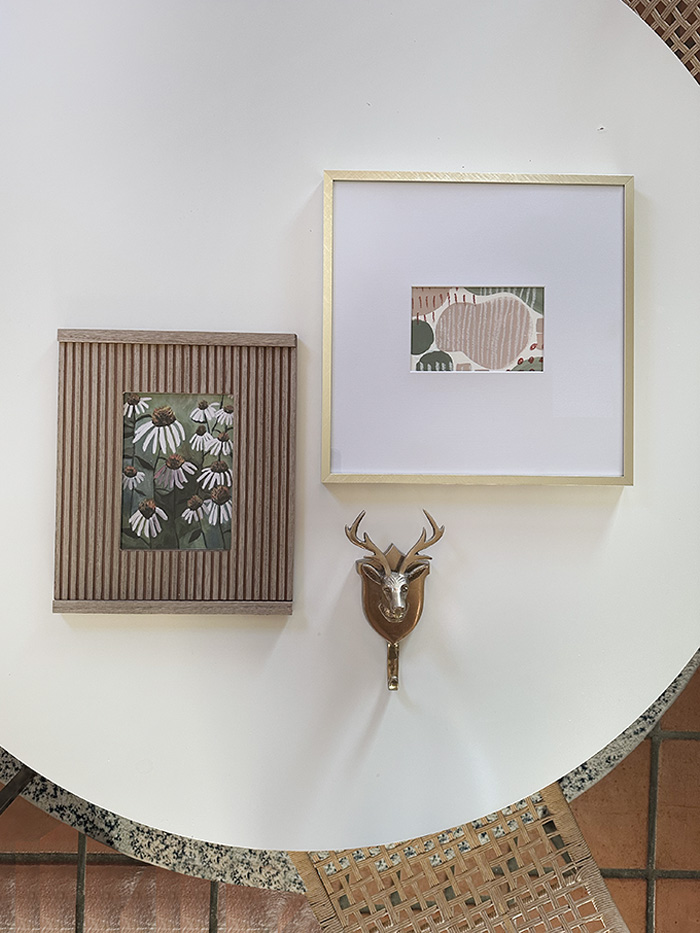 Laundry Room Seating
The last refresh to our laundry room I made was adding a small seating area.
I wanted something small and narrow for those quick seated moments that arise when you are pulling all your wet winter gear off, or taking off your shoes.
I got this lovely woven wooden bench from Target and I have to say I fell in love deeply. It's perfect for our seating needs in this space.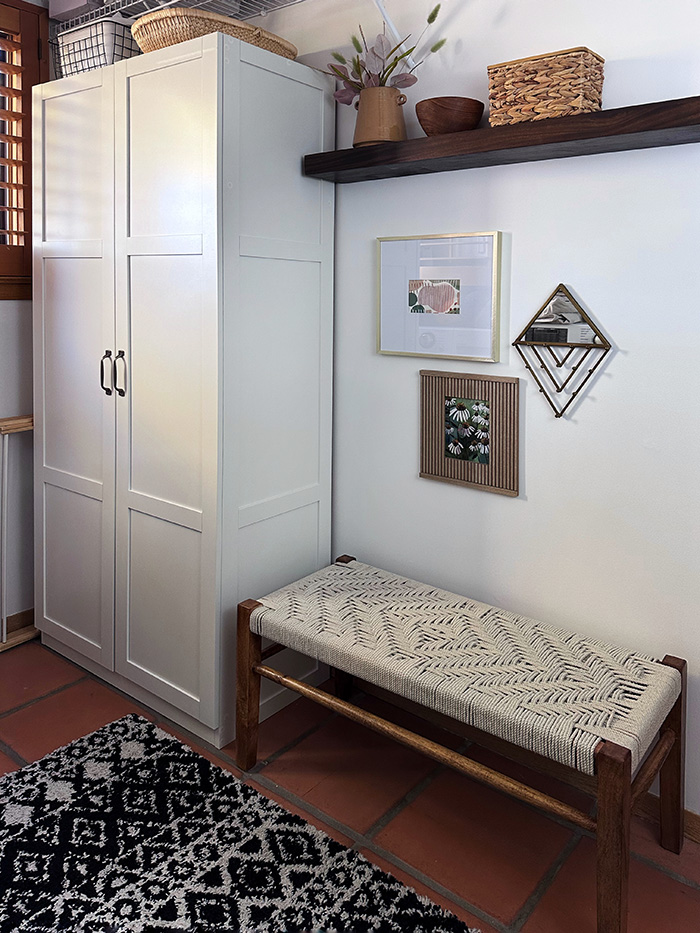 Looking to shop this post?

Organized Laundry Room
It's unbelievable the difference spending some time decluttering and organizing our laundry room has made in the space.
The white paint alone has made the entire room 1000% brighter feeling. Removing the broken IKEA shoe cabinet has made the room seem so much larger. Bringing in a storage piece that actually can contain everything we need it to contain, also has been so helpful!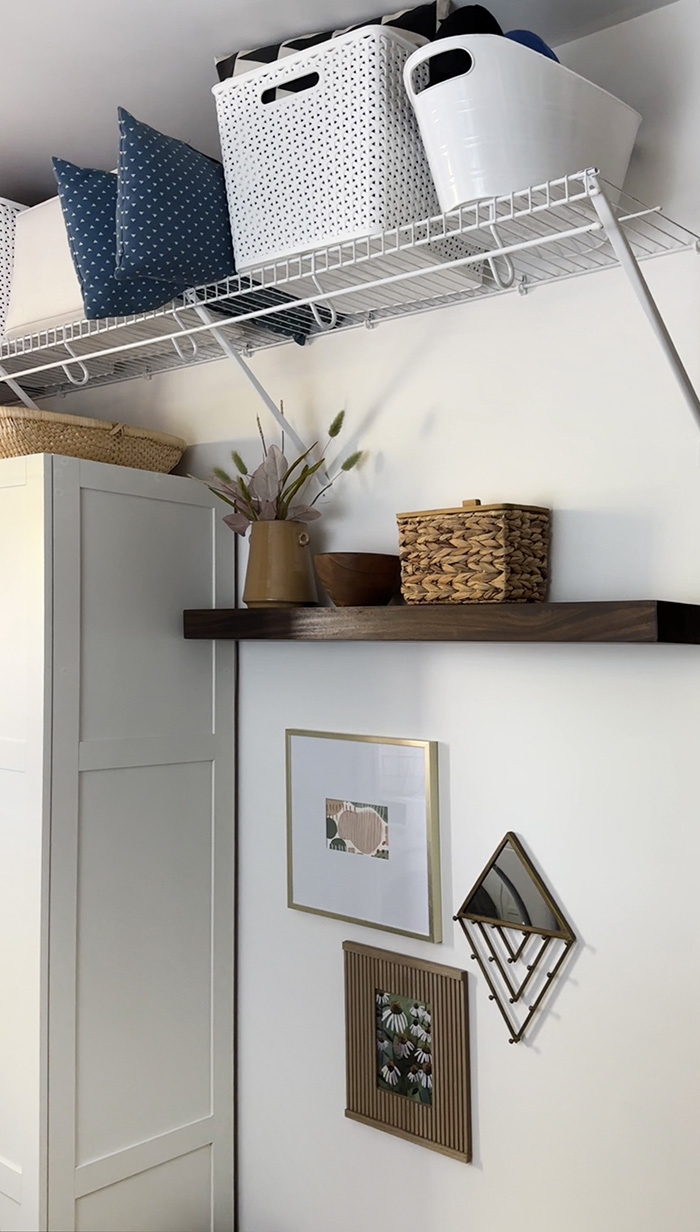 Our laundry room feels organized and after getting rid of so many things, it feels like we can actually keep this space tidy, picked up and functioning perfectly.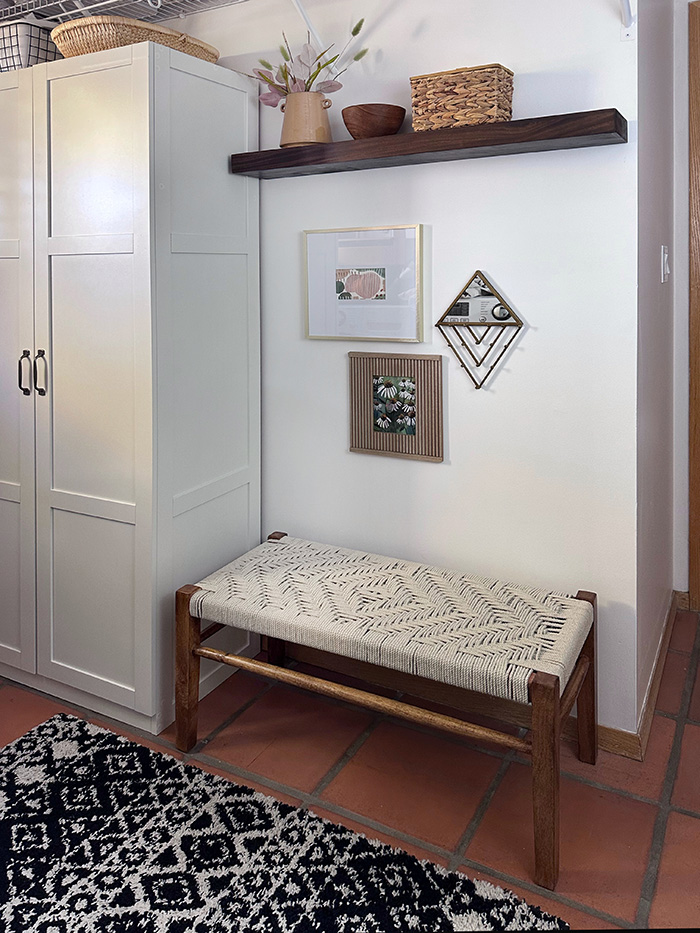 Laundry Room Refresh Future Plans
This laundry room refresh was such a success! I love how the room feels now and how much easier it is to use each zone of the laundry room.
There are a few things however, that I really still want to add to my laundry room. I would love to build a wooden table top over the washing machine and the dryer. I love that idea because it creates one unified surface across both machines. It also would be an excellent surface to fold clothes on.
I would also love to add a backsplash behind the washer and dryer. You might love these cool DIY Backsplash Ideas if that is of interest to you also.
Updated Laundry Room
Regardless, of future plans or not – our updated laundry room makes us all so happy. It's back to being a space we can move freely, do what we need to do and enjoying spending a bit more time in. That's three wins, if you ask me!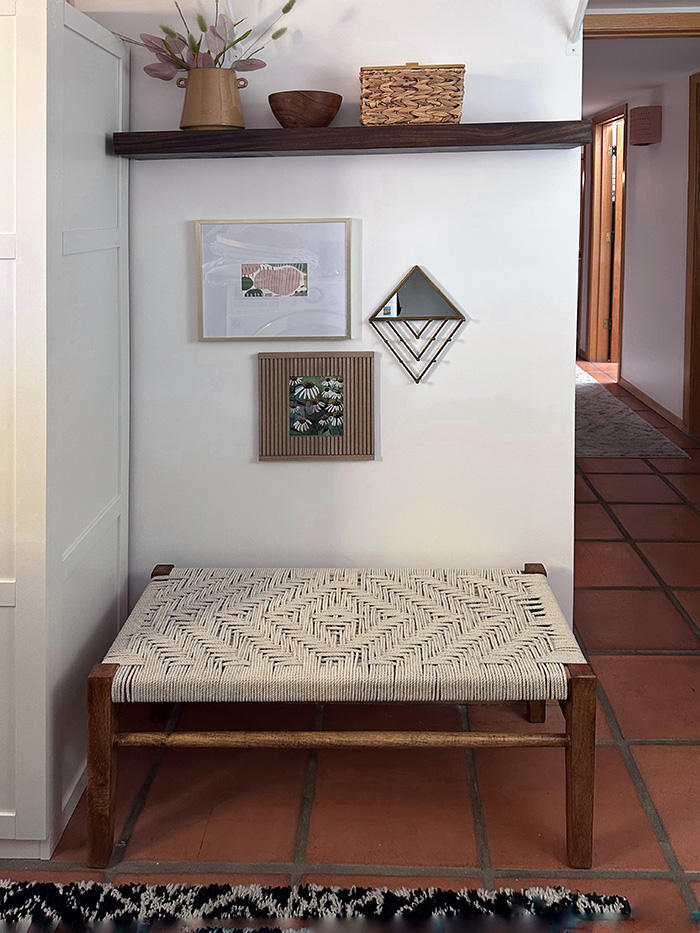 Looking for other organizing projects? You might like this, too.