Video is taking over the world! Okay maybe not taking over the world, but it does seem like videos are definitely becoming the new "thing". There are video options now with Snapchat, Facebook live, Instagram Stories, Youtube and probably so many more.
And of course, you should follow my creative Youtube Channel! It features home decor, crafts, a few plants and even some lifestyle content.
Now let's get to some of my Favorite Creative Youtube Channels!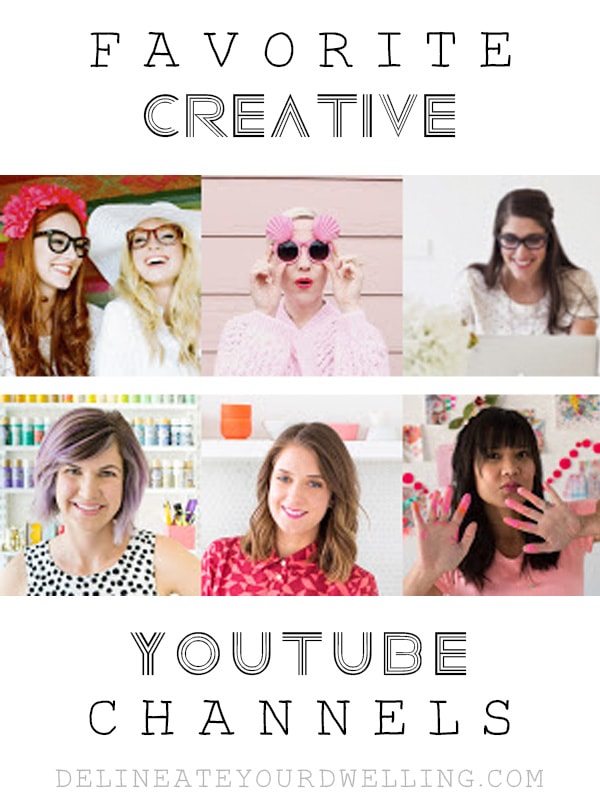 If you love these videos, be sure to click over to their channel and subscribe! I've subscribed to them and each time they post a new video, I get an email letting me know.
The House that Lars Built. Her videos are ridiculously cute and I love how each video always has one small clever little detail included. Plus, Brittany is just such fun. The girl could talk for 45 minutes straight and I'd watch every second. I just loved her 31 Day Flower Drawing challenge video!
Sarah Hearts.
Sarah has completely mastered video making! She creates the most wonderful craft and recipe videos that are perfect for sharing across all social media. She is a graphic designer turned maker with a passion for creating lovely things and everything she creates I adore.
Drink with James.
Okay,
Fohr Card
is a company that provides beautiful pitch tools, education and brand visability for influencers. Each week they do a video called Drink with James, where James Nord the founder of Fohr Card drinks whiskey while he answers readers questions related to blogging, Instagram, pitching to brands, etc.
<
Sugar and Cloth.
I have a creative girl crush on Ashley from Sugar and Cloth. Her color choices and fun DIYs are always so inline with things I'd love to create. Her team created a gorgeous color blocked wall in Houston, Texas and you better believe if I'm ever in the area… I plan to instagram the heck out of it.
Squirrelly Minds.
Tan from Squirrelly Minds creates and curates all things pretty and fun, from food to crafts to fashion to home! I love this delicious and equally pretty Ombre Sugar Cookie she shows how to make.
Oh Joy.
Joy Cho from Oh Joy is fairly well known by now. She has lines of products at Target which I always go ga-ga for. She worked with Land of Nod on the most precious bedding, pillows, etc you've ever seen. I love her use of bright color and pattern. I love this video of her sharing how to create a paper wall hanging!!
The Girls with Glasses.
Oh goodness, Brooke and Summer from The Girls with Glasses are just too fun. They are trendy fun happy mamas that love doing song parodies, trying out contouring makeup and break out an occasional DIY. Here is their introduction video about what they are all about!
Do you have any favorite YouTube channels? Be sure to let me know in the comments below!
Save
Save