Best Online Dried Flowers
INSIDE : Ready to bring some florals into your home but worried about them dying within a week? Check out where to get the best online dried flowers so you can have those lovely stems for years to come!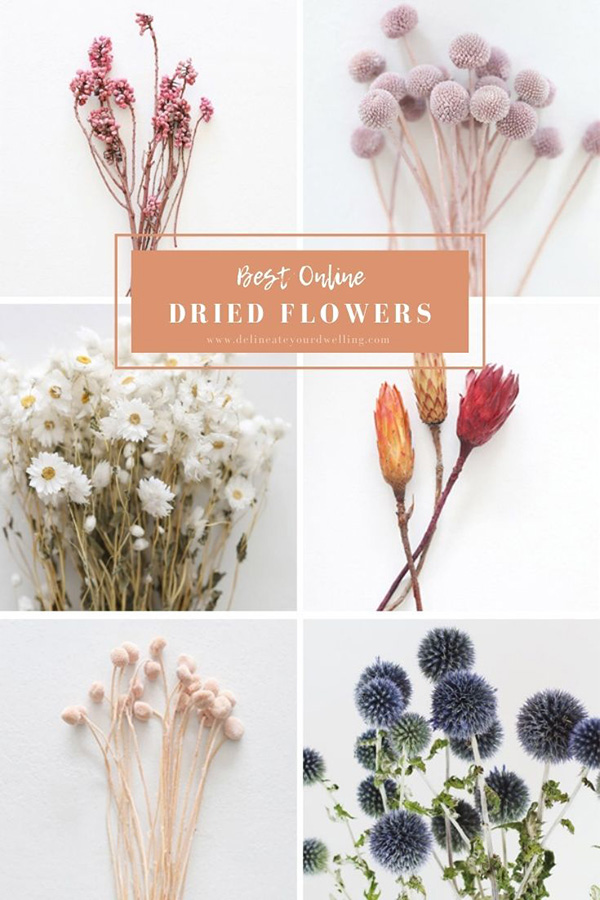 This post may contain affiliate links. See full disclosure here.
Dried flowers and grasses are such a perfect statement piece in any home. I have been a long fan of them and am excited today to share my very favorite places to find the flowers online.
Check out this gorgeous Dried Pampas Grass wreath I made for our bedroom, as well as the Best Places to buy Pampas Grass Online, 13 Creative ways to Decorate with Pampas Grass and my Dried Flower Arrangement Pinterest board for inspiration ideas.
DRIED FLORAL STEMS AND FLOWER ARRANGEMENTS:
I remember when I was younger, my mom would spend hours at our local craft store looking for dried flowers to using in our home. Wow, floral stems and dried flower arrangements have come a long way since the 1980's!! I can't wait to share some of my very favorite places to go looking for them online.
And I will go ahead and announce it here… my wedding bouquet was all silk flowers! That's right and not even one single person could tell. I had a gorgeous mix of dried flowers, faux succulents and a few other embellishments. It cost a fraction of real flower bouquets would have cost and I was able to keep my bouquet for years and years to come. Winning.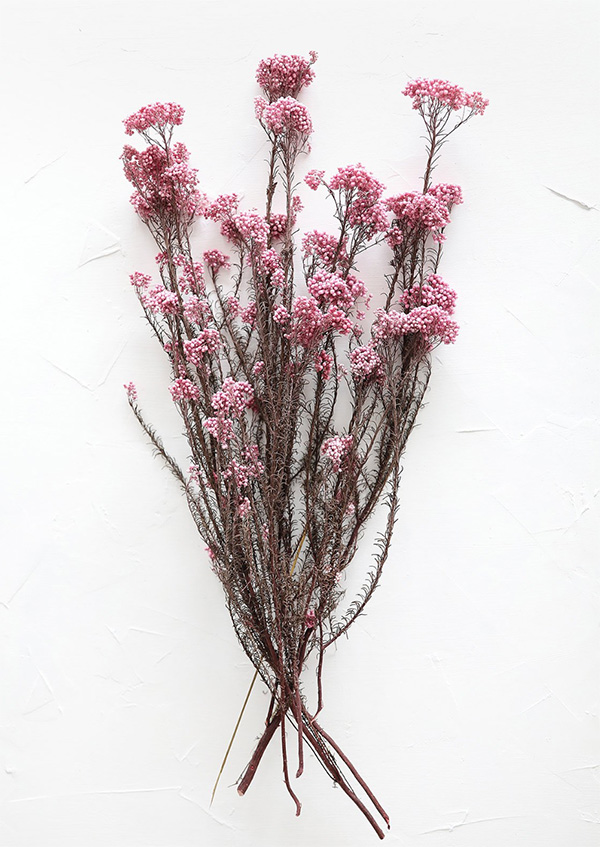 Best Online Dried Flower Shops
Personally, my very favorite place to shop for dried arrangements, floral picks, fake leaves/branches and silk plants is Afloral. I love that they have a Seasonal page so no matter if you are looking for new fresh Spring flowers or it's coming up on Fall and Winter leaves and evergreens… they always have just what you are looking for.

Two other spots that I love checking for dried flowers is Etsy and Anthropologie. Etsy of course, has just endless options for dried flowers. You can buy single stem pieces. You can buy arrangements. You can buy them in vases or just wrapped. Anthropologie, is well… Anthro amazing. Their selection is smaller than Etsy and Afloral, but you know it will always be right on trend and perfectly seasonal. Their price point might be the highest of the three, but it will be a lovely product.

What can I use Dried Flowers for in my home?
There are endless wonderful ways to use dried flowers and flower arrangements in your home decor. Here are a few of my favorite ways to use dried flowers.
Dried Flower bouquet
Flower arrangements in vases for Dining Room Table
Flower arrangements in vases for a Bathroom Vanity
Flower arrangements in vases for a Living Room Coffee Table
Dried flowers turned into Wreaths
Dried flowers displays hanging on Hooks
Dried flowers tucked into Napkins on a Tablescape
Dried flowers made into Bohemian Headbands
Dried flowers pressed to make Bookmarks
Dried flowers pressed into Necklace Lockets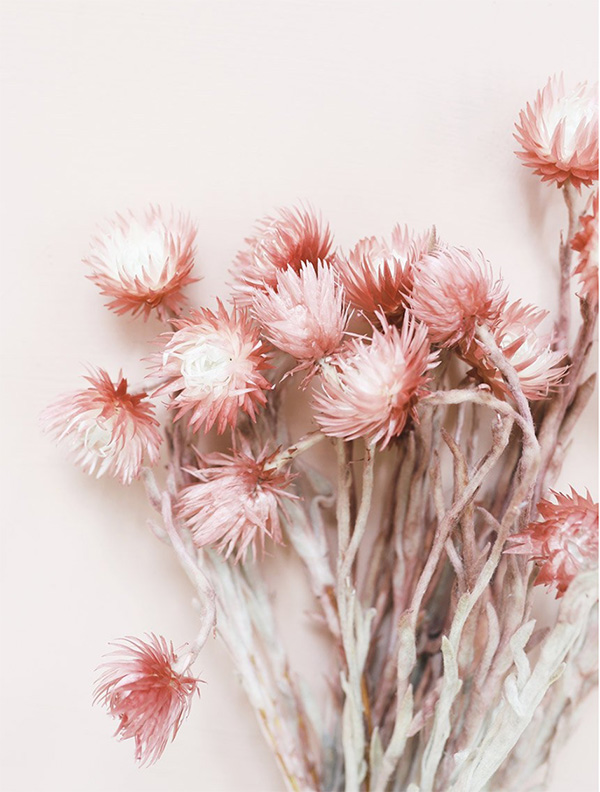 Can I dry my own Flowers at home?
Yes, it actually is quite simple to air dry flowers on your own at home.
To dry most types of flowers, you can simply let nature run it's course. Flowers with strong stems like sunflowers, hydrangeas, roses and globe thistles can be dried by leaving them in an empty vase in a cool room.
However, your flowers will keep a much better shape if you hang them upside down, so they won't droop while drying. First, remove all leaves and small branches from the stems. Next, tie all the stems together of the flowers you are drying and hang them upside down for about 3 to 4 weeks.
Where are the best places to buy Dried Flowers for sale?
Single Stem Dried Flowers

Bouquets of Dried Flowers

Can I use dried flowers for resin?
Absolutely! You can use casting resin with dried flowers. You will need to dry and press flat the flowers before using them.
If you are going to use flowers from your yard or a fresh bouquet, it is very important that the flowers are completely dry before they are cast in resin. If there is any moisture in the flowers, they will slowly rot even while in resin.
Once the flowers are pressed and completely dry, you can mix your resin and cast them.
Check out ALL KINDS of gorgeous Dried Flowers here:

And don't forget to pin for the next time you are ready to bring some dried loveliness to your home!!