INSIDE : The very best Modern Chest of Drawers, Media Stands and Media Consoles for your Living Room. Give yourself the gift of extra organizing storage space with a gorgeous piece of furniture for your home!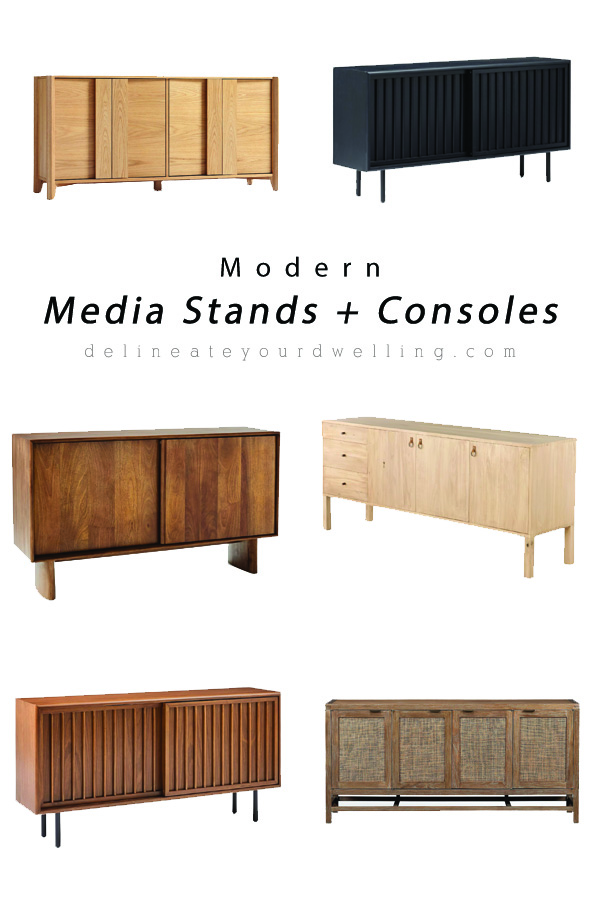 This post may contain affiliate links. See full disclosure here.
I am always looking for creative ways to keep our home organized and looking good while doing it. Our living room is full of Nintendo controllers and wires, endless books that the entire family is reading, spare notebooks, a few board games, rulers, markers and what feels like endless other items!
To the rescue is storing some of those living room items in a beautiful Modern Chest of Drawers, Media Stands, Media Consoles and Entertainment Centers. Let's take a look at a few of my favorite options.
You might also like my best Mid Century Modern Buffets for your dining room post, too. 
Shop these gorgeous media consoles:

But first, because I was curious myself between all of these options, let's do a quick Dictionary review of each term:
What is the difference between a Chest of Drawers, Media Stands, Media Consoles, Entertainment Center?
Chest of Drawers – Chest of drawers are typically a type of storage with a smaller width. They have smaller sized drawers, making them good for storing smaller, foldable clothing items, candles, or small home decor.
Media Stand – Media Stands are often fairly large, taking up significant space in a room. If used around under a television, they should be a bit bigger on each side of the tv. Media stands have plenty of storage with shelves, drawers and cabinets. There often is a little cut-out slot in the back to thread television cords through.
Media Console – Media Consoles are very similar to Media Stands. They typically are a piece of furniture lower to the ground to rest a TV on. It's lower for eye-level viewing. They can be either be a movable piece of furniture or pushed up against a wall.
Entertainment Center – An entertainment center is often the largest of the television related furniture pieces. They are meant to house all electronic appliances and components, such as televisions, speakers, gaming devices, controllers, etc. These pieces are often sizable and can even take up an entire wall space.
What are the best Modern Media Stands, Media Consoles and Chest of Drawers?
Okay, let's get to today's post, I am rounding up my very favorite media stand options. Click on the images below to check out more about each of them.

West Elm Black Slatted Media Console
With a beautifully dimensional front panel, the Slatted Media Console in black adds style and function to your living space. There are two compartments and four cord cutouts, making it the perfect hiding place for all your electronic cords.
All Modern Dakota TV Stand
This tv stand is made from solid acacia wood. It has four drawers and the lower cabinet are made for stashing tech or other items. The slatted doors let signals through even when closed. The black iron legs have gold foot caps for a fun retro look.
Crate and Barrel Vertex Media Console
This media console showcases a beautiful oak grain and the wood grain reverses direction from horizontal on the angled-in doors to vertical on the integrated pulls. It's legs go from top to bottom at the corners to help frame and add dimension to the console. Each of the two cabinets opens to an adjustable shelf for storing media components, books and board games.
All Modern Juaquin 55" TV Stand
This TV stand has a beautiful minimalist feel with clean lines and open glass shelving. Crafted from steel in a neutral finish, it's frame has a simple rectangular shape. Included are two staggered lower shelves made of tempered glass for an asymmetrical look. Each tier is accented by slim metal rods to create an understated pattern on the frame.
All Modern Ascent 60" TV Stand
Crafted from mango wood with a modern black-finished metal base, this tv stand has a very clean look. Two shelves on the right feature tech cord cutouts, so you can keep your electronics in reach. The two door cabinet opens and has two tiers of shelves inside.
West Elm Square Legs Wood & Iron Media Console
Beautiful iron and top-grain leather knobs and pulls in a Toffee Leather finish on this beautiful solid poplar wood media console from West Elm. It has 2 storage compartments with 1 adjustable shelf in each. There are 3 drawers that open on wood glides.
Crate & Barrel Blake 68″ Light Brown Teak and Rattan Media Console
This media console is the perfect combination of natural materials and classic design. The doors are inset with panels of natural rattan for a trendy look that helps with remote control signal access. This pieces is light brown with antique brass pulls. It opens to three sections, each with an adjustable shelf.
West Elm Anton Narrow Media Console
The Anton Media Console is made of dried solid mango wood that has natural variations in the wood color and grain. There are two doors and two cabinets with one adjustable shelf each.
All Modern Walnut Solid Wood TV Stand
This beautiful Walnut tv stand has a warm finish with a trendy slatted face. The tapered feet give it a fun Mid-century feel. The two slatted doors slide to reveal shelving with wire management cutouts, so there's plenty of space to stash your electronics.
West Elm Natural Wood Slatted Media Console
With a dimensional front panel, the Slatted Media Console in a natural wood tone adds style and function to your living space. Two roomy compartments and four cord cutouts make it the perfect hiding place for all your electronic cords.