INSIDE : Learn how to prepare a delicious Chicken Paillards Easy Weeknight meal with fresh ingredients and in no time at all!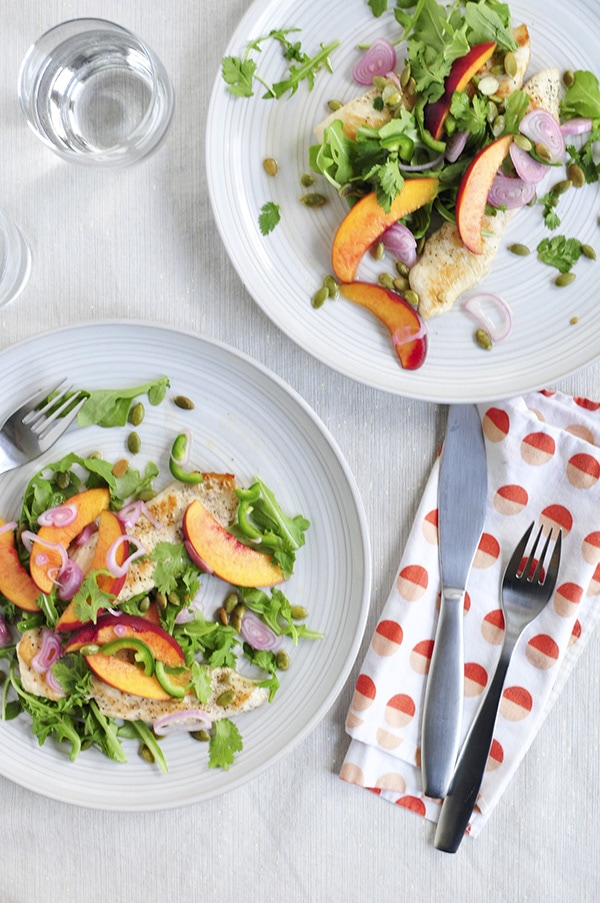 This post has been updated from it's original August 2016 publish date.
Have you ever had a busy week, just to come to the end of the day and realize you've not thought for even a second about the dinner plans? Well last week, my food dreams came true when I didn't have to worry that my family was going to suffer because I had two amazing meals waiting on my door step!
Today, I'm sharing about this delicious Chicken Paillards Easy Weeknight meal I made with Martha & Marley Spoon. Spoiler alert, it was incredibly delicious too.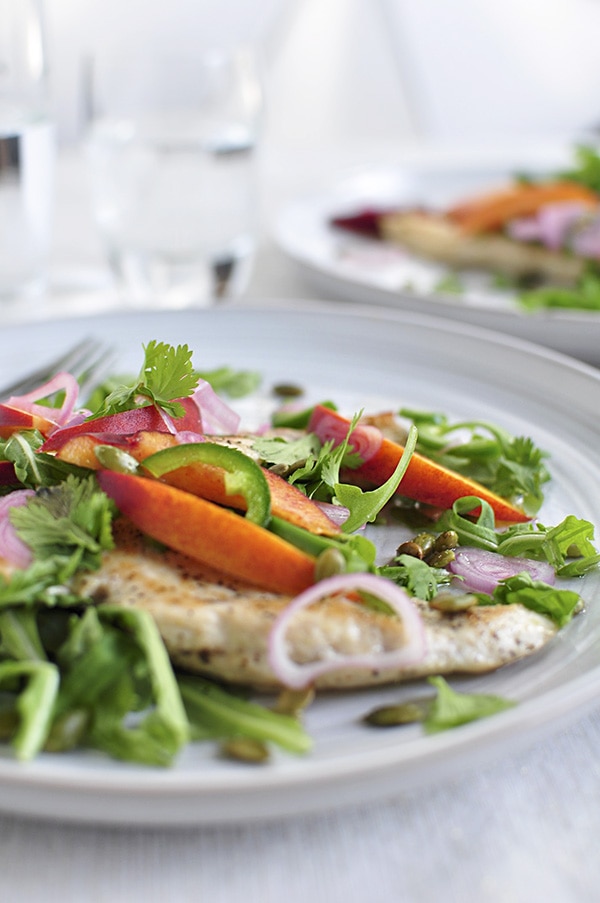 Looking for more creative Martha Stewart projects? Check out the 20+ crafts I've made using her amazing supplies!
I have long been dreaming about signing up for a monthly food subscription box, but somehow I just never got around to it. When I heard that Martha Stewart had partnered with Marley Spoon, I was very intrigued to say the least!
I was able to browse the Marley Spoon website and select which meals I thought sounded the best. They sound VERY FANCY, but trust me – so easy to make! I choose Chicken Paillards with Spicy Pickled Peaches and Arugula Salad and Whole Wheat Ricotta Spaghetti with Capers, Arugula and Pine Nuts. The very following week, an insulated Martha & Marley Spoon arrived at my doorstep.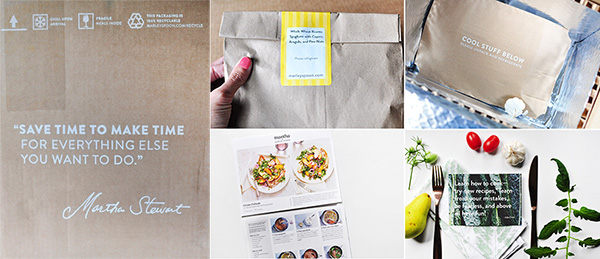 In true Martha fashion, the packaging was simple and lovely at the same time. The dry goods were packaged together and sealed with a label for the recipe it was used along with. At the bottom of the box was a special insulated cover that read, "Cool Stuff Below" and it held the chicken, ricotta and a few more perishable items. There were also ice packs included to make sure everything arrived fresh and the correct temperature.
Each meal came with a recipe card that highlighted smart cooking techniques and any ingredients. It allows you to learn and have fun! Plus, all meals are designed to be cooked and on your table in less than 40 minutes. What more can you ask for on a weeknight?
What ingredients are needed for Chicken Paillards?
Arugula | Peach | Shallots | Cilantro | Pepitas | Lime | Jalapeño | White Vinegar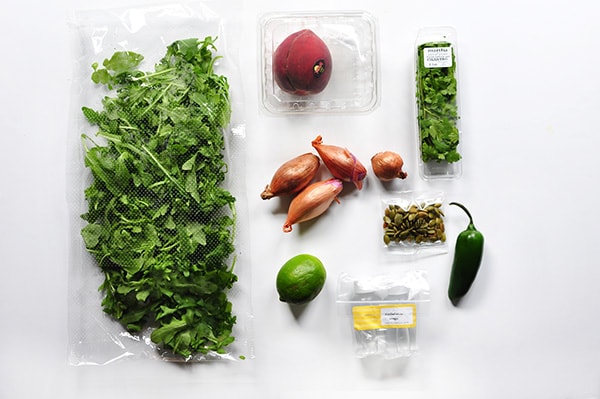 I pretty much fell in love with the entire process the moment my box arrived. See the bottom of the post for the full recipe!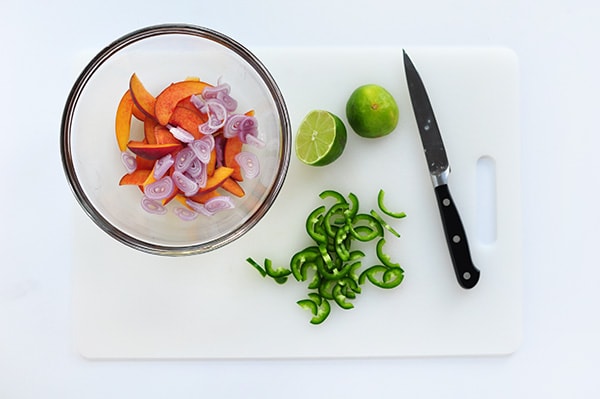 It wasn't until I started following the recipe that I really felt like a master chef! This dinner was hugely more fancy than my typical weeknight meal, but ready for this… it only took 30 minutes!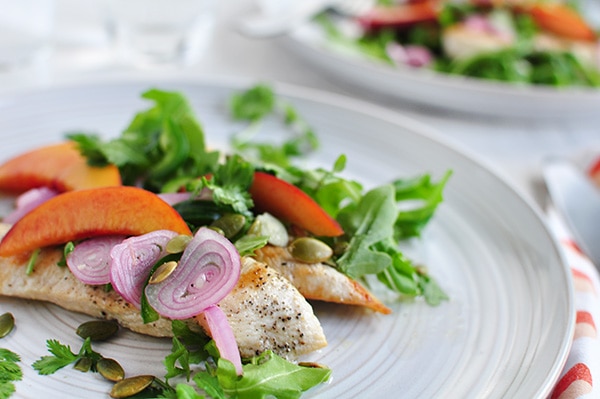 Is Pickling easy?
The steps were so simple and the taste was 100x more delicious than our average meal. I've always wanted to try pickling but thought it was a time consuming process. I was able to pickle the peaches during the 15 minutes it took to prep the rest of the meal and it added SUCH flavor! I want to try pickling everything now.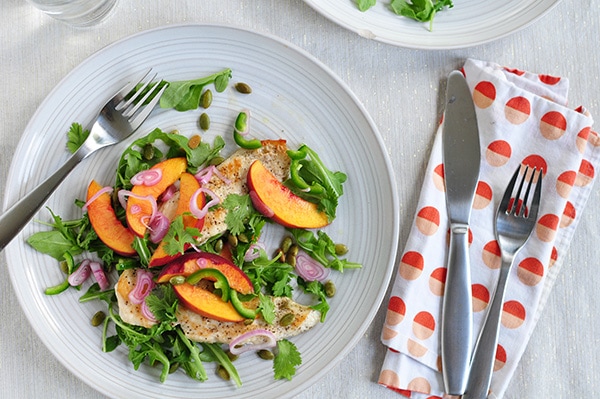 I think this would be an ideal way to supplement a delicious fresh meal into your week. I plan to add this to my Christmas wishlist, as this subscription box would be a perfect gift idea.
Easy Weeknight Dinner Idea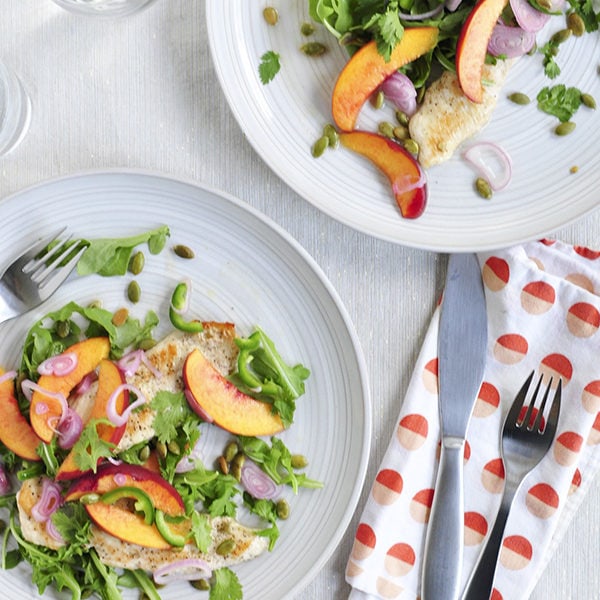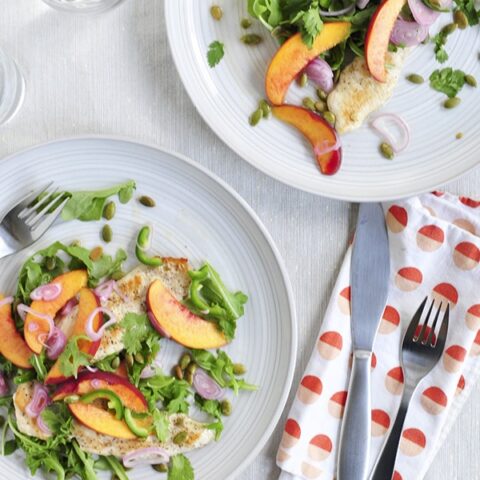 Chicken Paillards and Spicy Arugula Salad with Pickled Peaches
Additional Time:
5 minutes
Learn how to make this delicious weeknight meal, Chicken Paillards. Your family will think you are so fancy, but only you will know how easy it is to make!
Ingredients
1 ripe Peach
1 Shallot
1 small Jalapeño
1 Lime
½ cup White Vinegar
2 boneless Chicken Breasts
2 oz Arugula leaves
1 tablespoon Pepitas
few sprigs Cilantro
Olive Oil
coarse Salt
freshly ground Black Pepper
Instructions
Slice the peach into ¼-inch wedges. Cut the ends off the shallot, peel and thinly slice. Dice the jalapeño into small pieces. Wash then zest and juice the lime. Set this all aside for the pickling process.
To pickle the peaches and onions, combine the peaches, shallot, jalapeño, lime zest, lime juice, vinegar and ¼ cup water in a medium bowl. Add salt and pepper. Set aside until the shallot is soft and bright pink, tossing occasionally, about 15 minutes.
Carefully cut through each chicken breast, halving them completely. Then season the 4 seperate pieces with salt and pepper.
Heat 1 tablespoon oil in a large skillet over medium high heat. Cook the chicken breast halves until browned and cooked through, about 2 minutes on each side.
Place the cooked chicken breast halves on each plate and top with arugula and some of the pickled peaches and onions.
Drizzle each plate with a little of the pickling liquid and a drizzle of oil. Garnish with pepitas and cilantro leaves. Enjoy!
Nutrition Information:
Yield:

2
Serving Size:

1
Amount Per Serving:
Calories:

362
Total Fat:

13g
Saturated Fat:

3g
Trans Fat:

0g
Unsaturated Fat:

10g
Cholesterol:

102mg
Sodium:

394mg
Carbohydrates:

18g
Fiber:

4g
Sugar:

11g
Protein:

41g
I'll end with this quote included in my box, "Learn how to cook – try new recipes, *learn from your mistakes, be fearless, and above all have fun!" – Julia Child

Interested in my other 12 Months of Martha projects?