INSIDE : Check out my Little Girl's Updated Bedroom Plan that I am taking on over the next four months. And quite possibly it's going to be more Tween Girl Bedroom when we are all done with this makeover!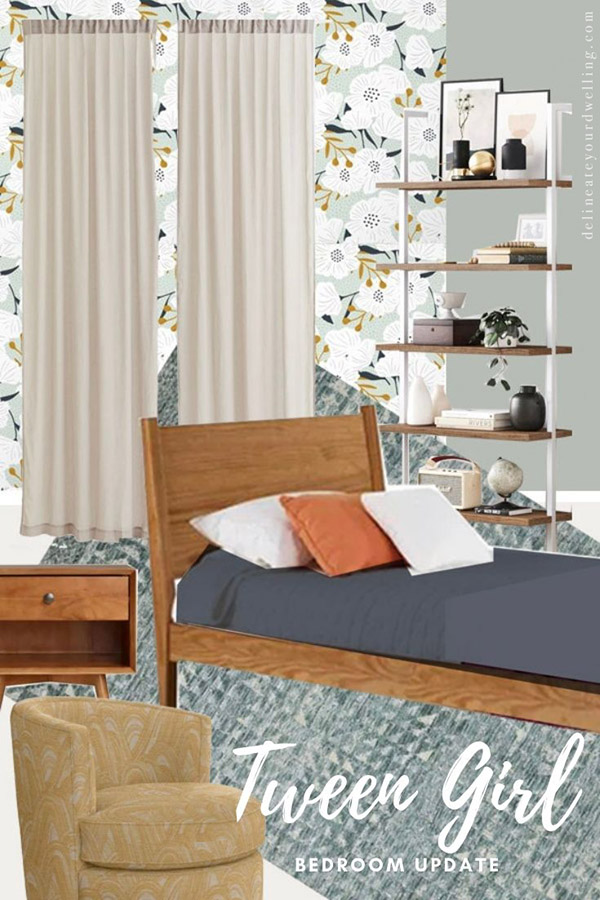 This post may contain affiliate links. See full disclosure here.
I can't believe I get to join for another round of the New Year, New Room Refresh Challenge hosted by Stephanie of Casa Watkins Living. Last January I participated and was able to give my front entry a major refresh. The year before that I gave my Master Bedroom a whole new look.
Over the course of the next 4 weeks, about 12 of us bloggers we will all be taking on a room in our home. Each Tuesday this month, we will be sharing progress update posts on our blogs and instagram. The final reveal is on January 25th, so keep checking back.
Read to the bottom of the post to see everyone' plans for the month!

I have told both of my children that when they turn ten years old, I would officially redo their bedroom. Up until now, there has been very minimal "design" into their spaces.
My daughter turned ten last year, but it was January 2021 and I was exhausted from life and the pandemic and I just couldn't tackle such a big task. So she very patiently has waited and now will be turning 11 in just a few days.
Happy birthday, sweet girl – you get a new updated tween room!! And the best part of this room makeover is how hands-on she's been during the entire design process. This really is a room that she and I have worked on together, which is just such fun.
DAUGHTER'S BEDROOM BEFORE :
As you can see below, my girl's bedroom is quite the "before". She is a lover of collections and things and stuff… probably like many 11 year olds. Her room is the same creamy color that it's been since the day we moved in four years ago.
We've added pennants and artwork and drawings and IKEA red poppies to the otherwise dull walls.
Another issue we are currently having is the amount of furniture pieces in her room. It feels like she almost has wall to wall furniture to hold everything. And with such nice big closets, I'm not sure if we are currently organizing the space as well as we could be.
The wooden shutters are a fun feature in our home, but they are broken in my daughter's room and really hinder putting much over against that side of the room. So, I think we have decided to remove them in her room and hang up curtains instead.
And lastly her accordion closet doors… they are old and constantly breaking. If the knobs aren't falling off, then the actual doors are coming off the track. Something will need to be done about them for sure.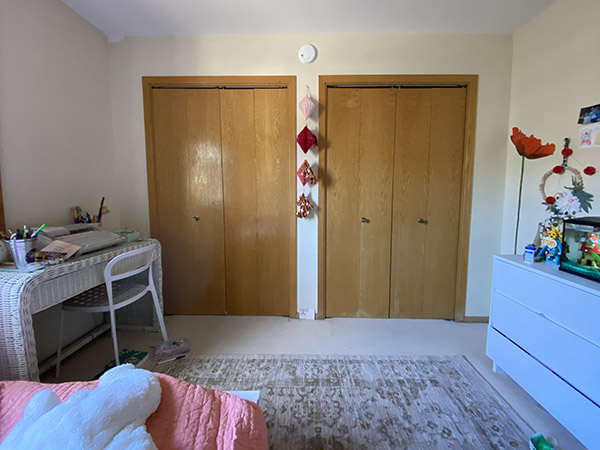 Now that you see what I have to work with, let's talk about where we want to go for this makeover!
TWEEN GIRL BEDROOM INSPIRATIONS :
Color –
Color is a key component of this room. My daughter is ready to move on from the peaches, pinks, corals and yellows of her previous bedding colors. Together we picked a cooler minty – gray wall color.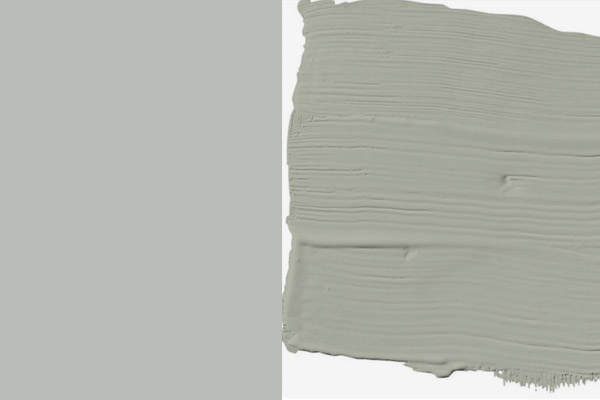 This Spoonflower wallpaper really spoke to my little girl and became the building block color for the entire room. The wallpaper helped us decide to add in Mint, Navy, White and pops of yellow / ochre colors.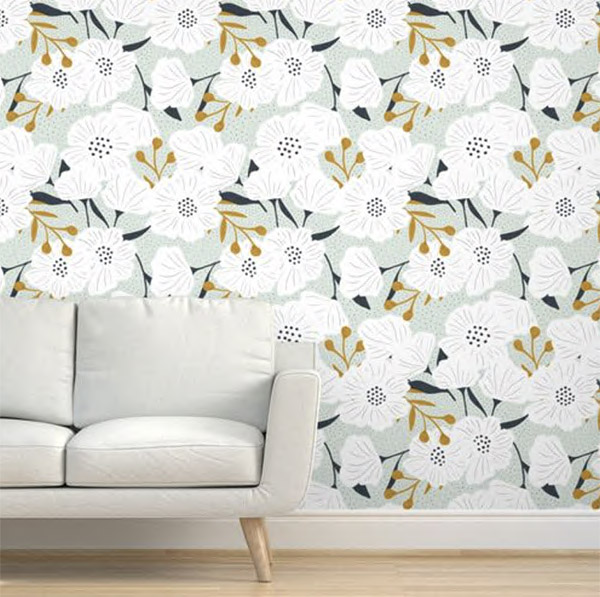 Style –
Overall, we are going for a relaxed less cluttered "chill" feel in my daughter's tween room. Rooms like below have the style and feel we are going for. Thrifted art mixing cool mints with warmer ochre colors are perfect!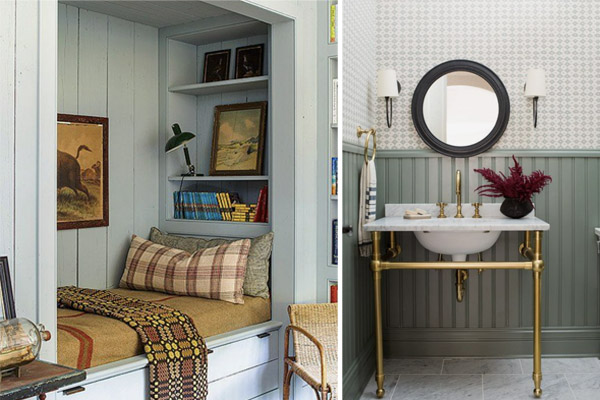 But also we want a bright and airy feeling. I think her bedding might be white, along with some of the main furniture.
She is in need of a new bed and I found a great leaning shelf + desk combo. Hopefully I can thrift a nightstand and possibly a cool lounge chair.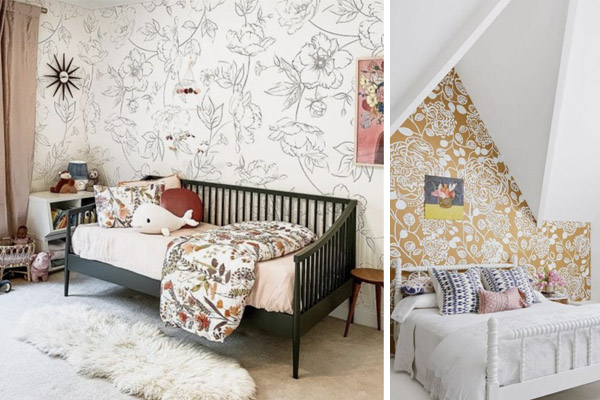 LITTLE GIRL BEDROOM TO-DO LIST :
Paint the cream walls a minty – gray – green.
Add Accent Wallpaper.
Remove Wooden Shutters and hang curtains.
Remove and Install new Closet Doors.
Install new Ceiling Fan.
DIY art/yarn focal point.
Add new rug.
Assemble new furniture.

Do you think I can get it all done in 4 weeks???? I sure hope so!
Want to check out all the projects?

Be sure to check out the other amazing Room Refresh plans from the other participating bloggers! I can't wait to see what they all will be working on.
Casa Watkins Living
Delineate Your Dwelling
Domicile 37
House by Hoff
Iris Nacole
JZ Holmes
Live Pretty on a Penny
Love Your Abode
My Eclectic Nest
Our Fifth House
This is Our Bliss
Uptodate Interiors
Want to see more inspiring spaces in my house?
You can check them out here –> My Home