INSIDE : Do you have a duvet cover, but the comforter slips and slides inside? Learn how adding Easy Duvet Ties makes all the difference. Sewing these simple loops into a duvet cover will keep everything perfectly in place!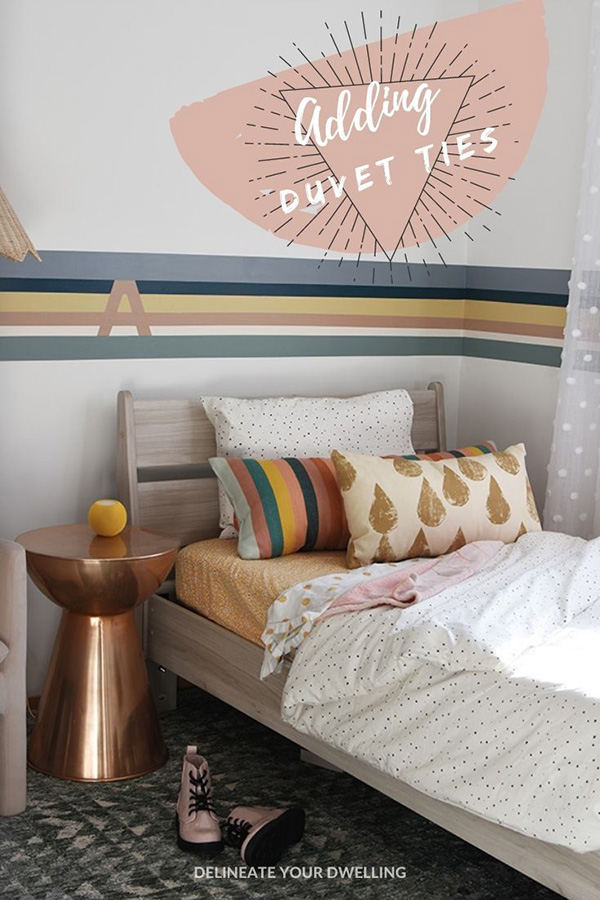 This post may contain affiliate links. See full disclosure here.
If you have been following along, you know earlier this year I spent six weeks updating my daughter's bedroom from a mish mash of randomness, to an adorable Modern Tween Bedroom.
So many wonderful big and small projects go into giving any room an update and today's post is just one example of that.
Want to check out all the projects?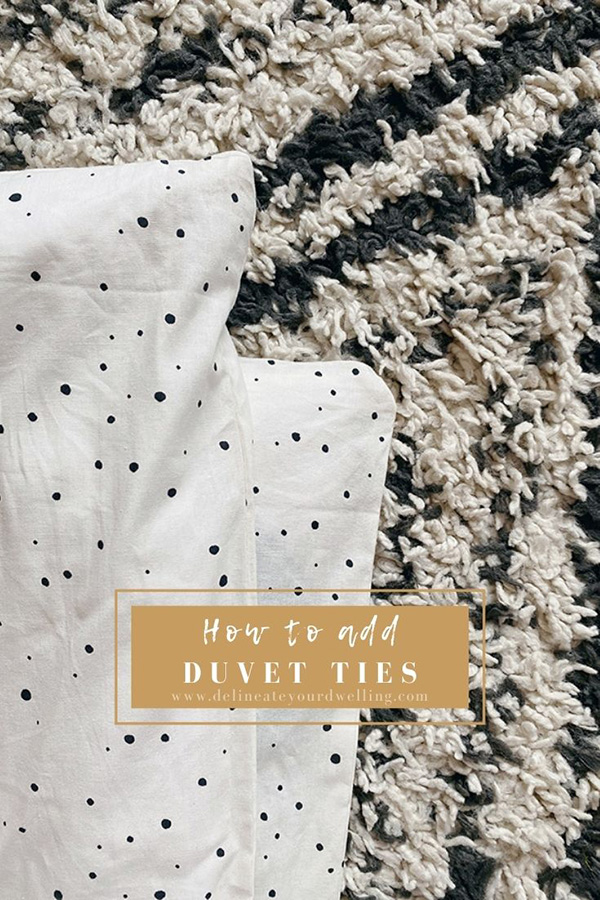 What supplies do I need to sew duvet ties?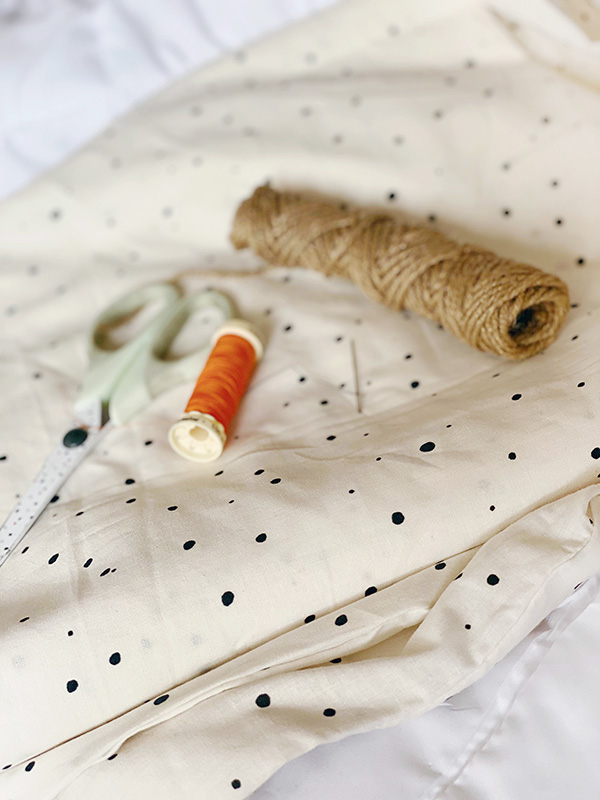 How to keep my duvet from moving?
The best way to keep your duvet inset from getting bunched up is by using ties on the inside. However, not all duvets and duvet inserts come with them. The fun Polka Dot duvet I got from HM didn't have any ties or loops inside, so I needed to add them.
No duvet ties? Just create your own.
Start by cutting about 4″ of your jute twin or any sturdy yarn. You will be using this to create your duvet ties.
Next, cut a piece of thread about 8″-10″ long. Once your needle is threaded, tie a knot at the end with both pieces of thread. You want your thread to be double strong for this project, as shown below.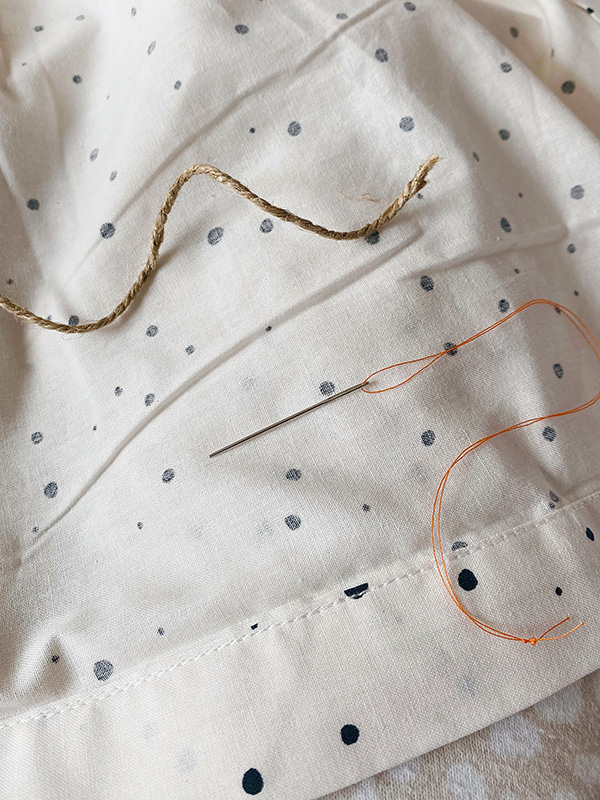 Folding your jute twine in half, pierce the needle through the middle a few times to secure the thread and jute twine together.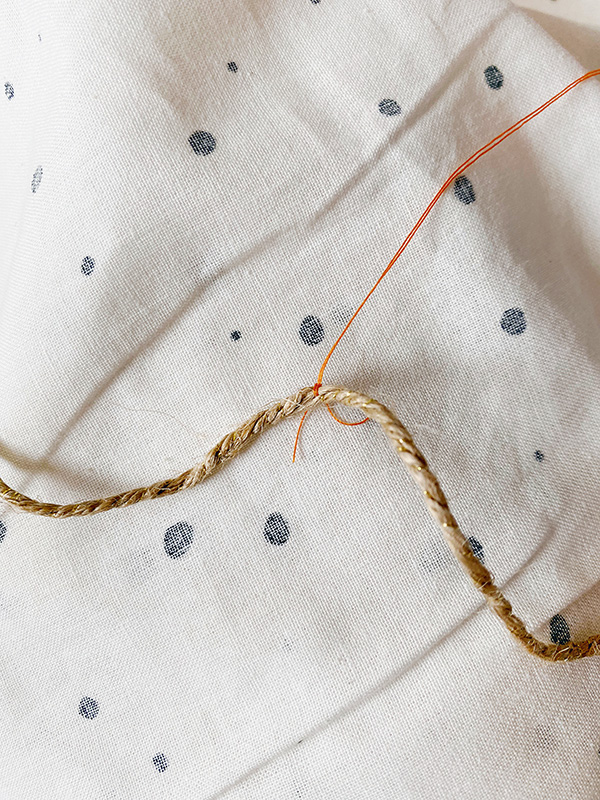 Turn your duvet inside-out and sew your jute twine ties to each corner.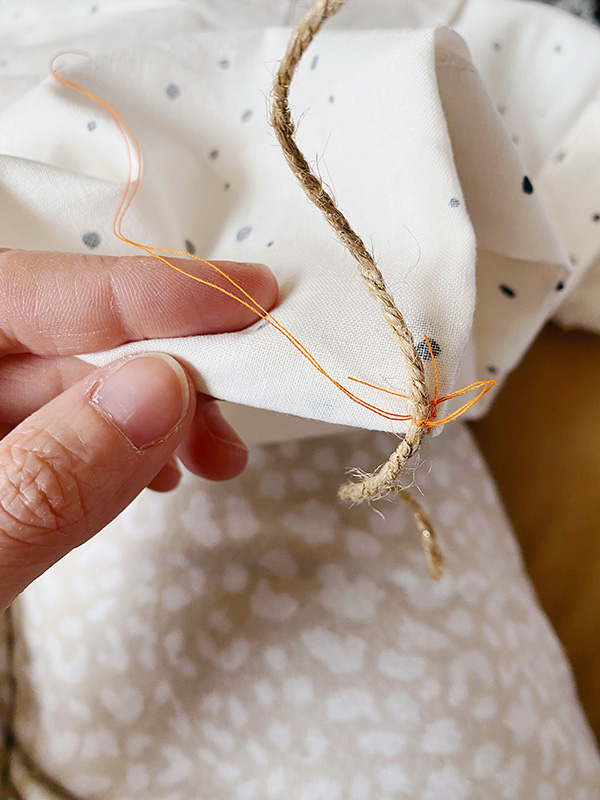 I ended up having jute twine ties at each corner and then two more in the middle of each long side of the duvet for extra holding strength.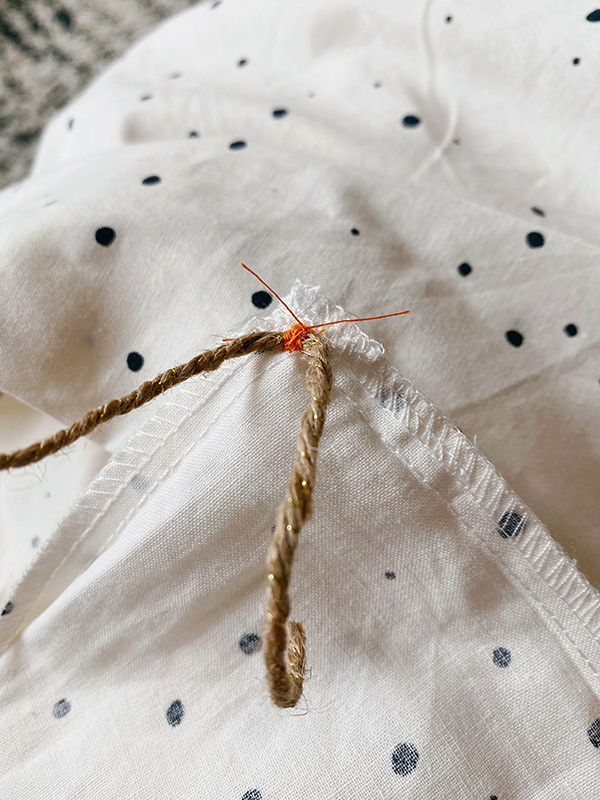 No duvet loops? You can make your own.
If your duvet or duvet insert doesn't have loops either, you will simply repeat the above steps. Instead of sewing the jute twine in half to create ties, you will sew the ends together to create a loop and then sew that loop to the corresponding corners to match up with the ties.
Do you have duvet loops, but not sure what they are for?
If your duvet does have loops, then you are in luck! I highlighted in peach and orange dashed lines below of my loops.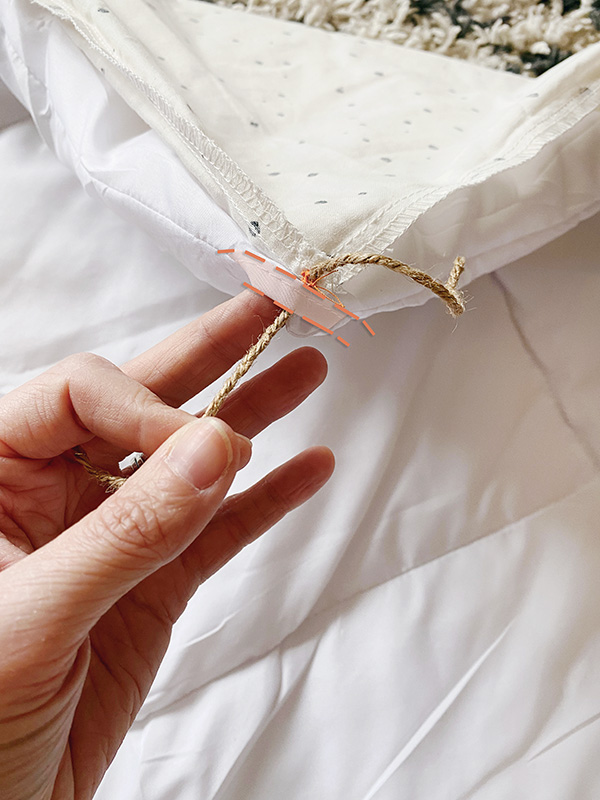 Simply, pull your jute twine through the loop and make about 2 or 3 knots to secure it.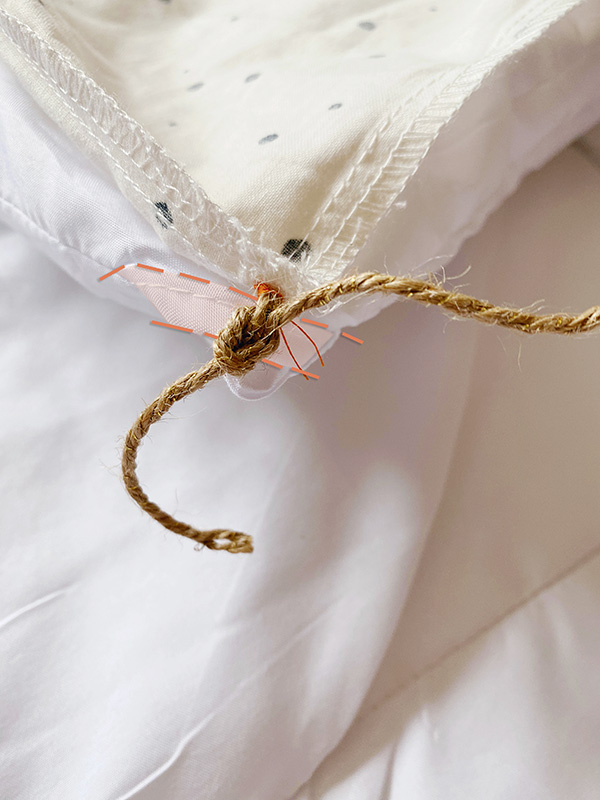 Once you have tied all the jute twine and loops together, you can flip your duvet right side out again.
You might need to find a sharp object and slightly fix the corners, but you now have yourself a no-slip duvet and insert!
Looking for some nice quality duvet inserts? Check these out, make sure to get your correct bedding size.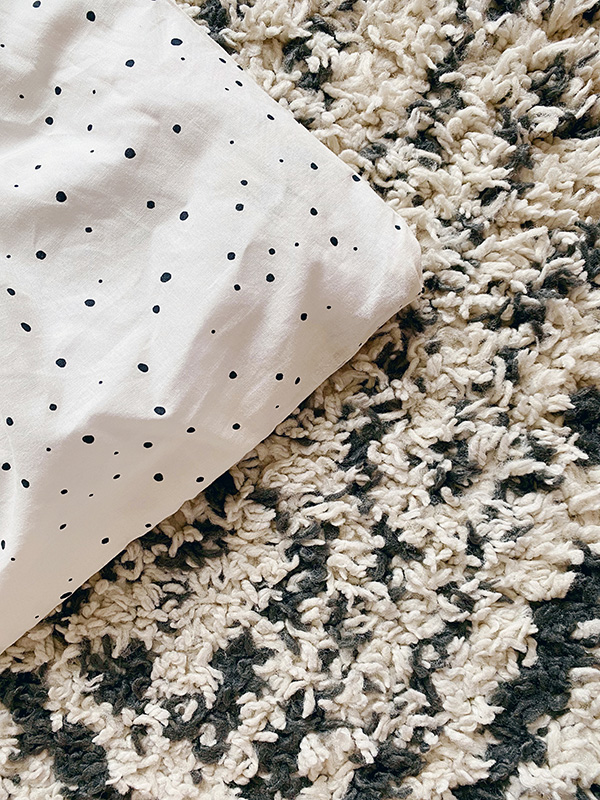 Now if we need to launder the duvet cover, I can simply untie the ties and wash it without issue. I don't know why all duvets and duvet inserts don't come with pre-made loops and ties. It seems like it should be an easy enough thing to add!
Regardless, now you can add your own in less than an hour. Win win.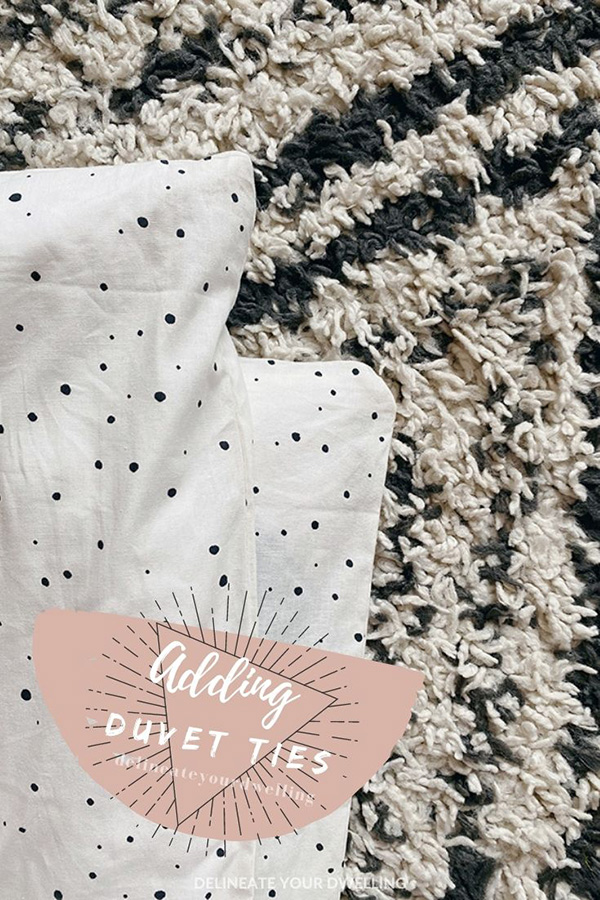 Want to make a lounge tassel pillow or pom poms to an existing pillow? Let me show you how!