Organizing a Tween Bookshelf
INSIDE : Organizing a Tween bookshelf shouldn't be a hard task to do. However, too many books, clutter of decor and not enough clever storage items can make it difficult. Learn how to best organize a bookcase with a few simple tips.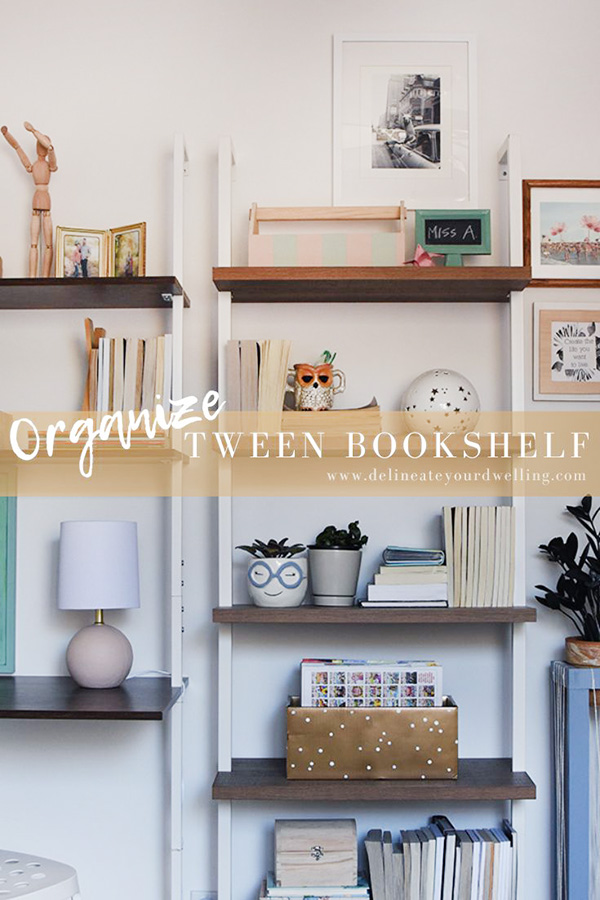 This post may contain affiliate links. See full disclosure here.
Bookshelf Organization
Keeping a bookshelf organized can sometimes be quite a task. There are those bookshelves that are full of items, styled once and never touched again – those are the easy ones to keep looking nice… because you never use them!
However, if you have a working bookcase full of books that are being read, it is important to have a few systems in place to keep your bookshelf organized and tidy.
Let's get into some of those systems below.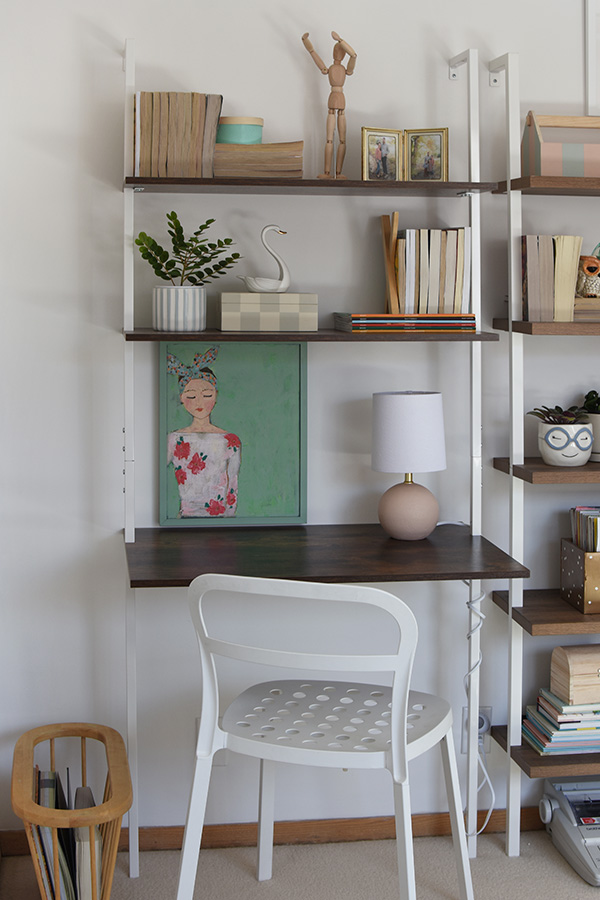 Bookshelf Decluttering Ideas
The very first step to getting your bookshelf organizing is to declutter. Decluttering bookcase items means thoughtfully assessing your book collection. If you are holding onto a book you didn't even enjoy, it might be time to part ways with it.
When decluttering a tween's bookcase, make 3 piles of books – books to keep, books to donate and book to put into a "memories" pile. These are the books that your child may have aged out of currently, but you want to hold onto them for future memories.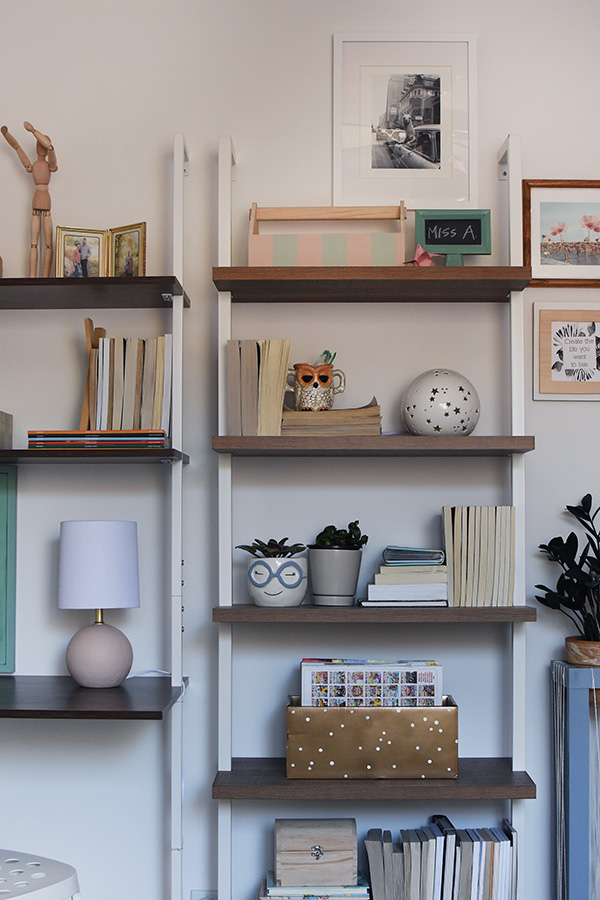 Lastly, take inventory of any decor on your shelves. Do you have dead plants that have been forgotten? Do you have too many decor knick knacks sitting around? Are there too many toys on your bookcase where books should live? If so, pull some of them aside and find other homes for them.
Aesthetic Bookshelf Organization
I am big into having an aesthetic bookshelf. In my opinion, if your bookshelf looks pretty then you are more likely to keep it organized.
The key to having a cohesive and aesthetic bookshelf is mixing in home decor elements of similar style or color. For my daughter's bookshelf, we used lots of neutral and soft toned items. Potted plants with creams and soft blue, white ceramic ring holder swans, raw wood book holders, etc…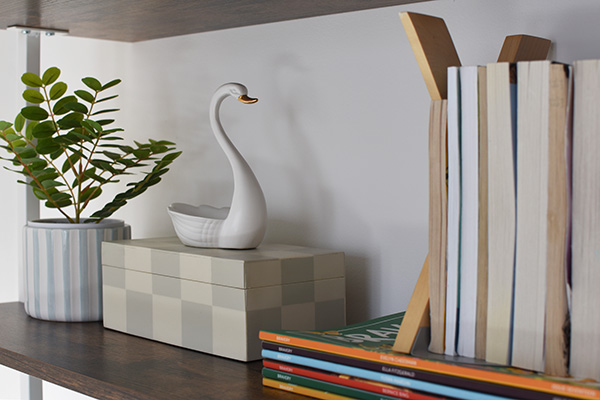 A sweet thrifted owl mug holders her blue light glasses and it just so happens to be in the perfect colors to help tie everything together.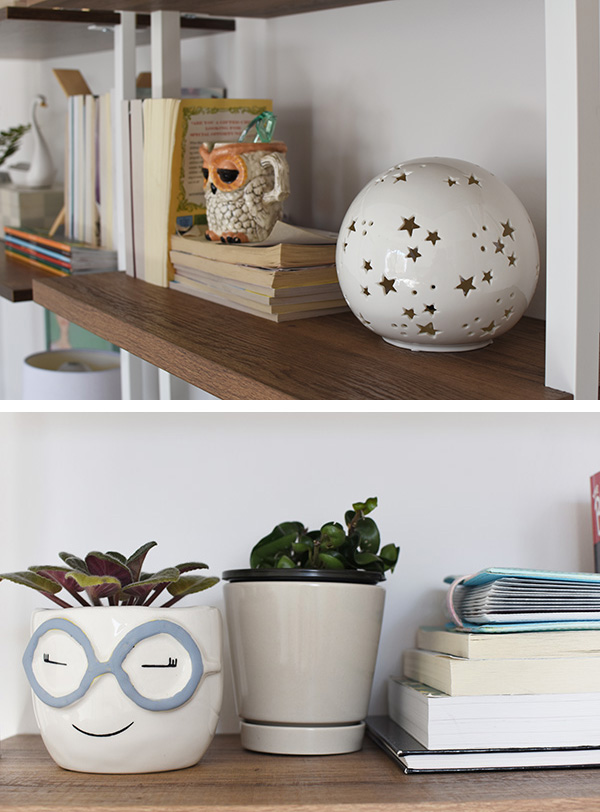 When you step back using your aesthetic eye, you can see how having the same tonal palette really doesn't make it look like a thought design choice.
If you are looking for more organization posts, you might like :
Toy Organizer Bookshelf
Tweens are still in that in-between stage where they aren't quite children, but they also aren't full on teenagers yet. So, if your tween is anything like mine… you still have toys sitting around. It's helpful to store them on your bookshelf and baskets, containers and bins are the perfect way to do that!
And if they are cute enough, leaving some toys out adds a fun touch. This wooden figure is dabbing, as one does – ha.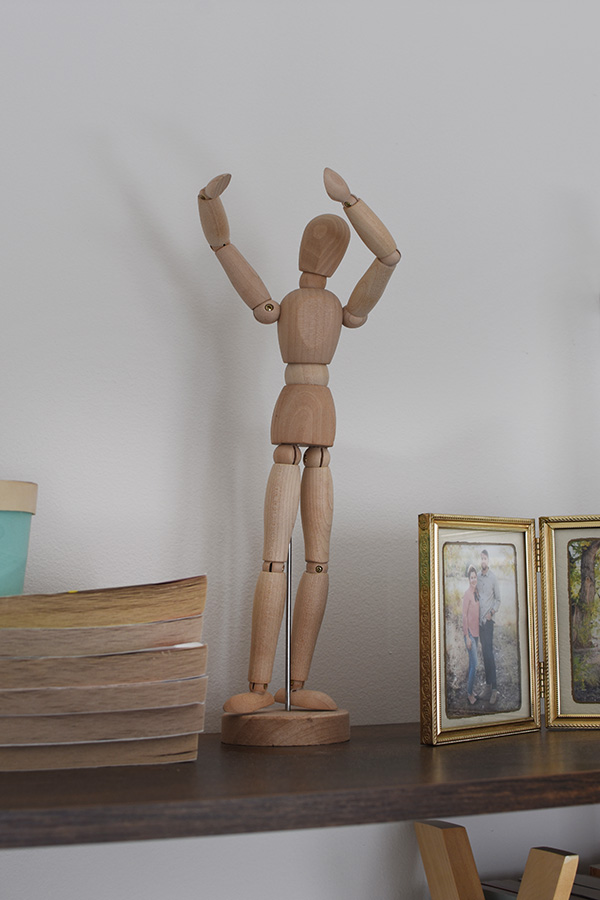 I bought this fun wooden caddy and painted it to match her room's colors. See how to paint perfect stripes on a wooden box here. This caddy is always full of miscellaneous treasures of some kind, collected shells and rocks, paper Ninja Stars, stickers, bouncy balls, etc.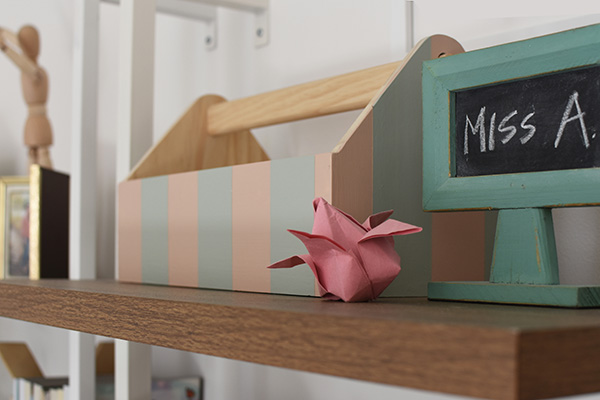 I also spray painted a cardboard box in a bronze color and added white polka dots to it to store all of my daughter's magazines. A little extra, yes. Totally adorable, definitely yes!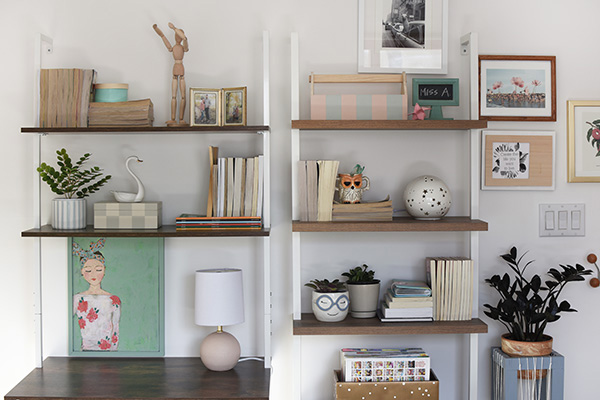 How to Organize a Bookshelf
Now that you have done some decluttering and selected a few miscellaneous home decor items of similar style or color, it's time to actually get to the organizing!
There are numerous ways to organize a bookshelf.
You can put all the book covers in rainbow order to give your bookcase a cheerful look. I have books in our dining room organized this way.
For my daughter's bedroom books, I grouped chapter books, series books, and misc books together. Then, to have the bookshelf look pretty, I staggered the sides the books were stacked on. As you can see in the image below, there is never books on shelves directly underneath more books.
Also mixing up which directions the books are stacked is a fun way to stage books. Having some laying flat and others sitting upright keeps interest high visually.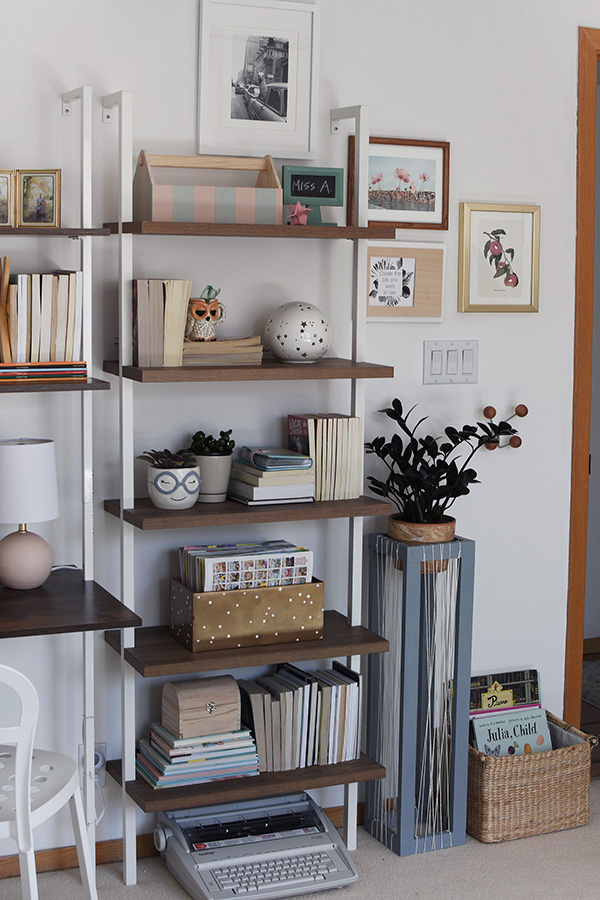 Handy Bookshelf organizer
The handy four tips for organizing your bookshelf are :
Declutter Bookcase
Have an Aesthetic Eye
Organize your Books
Contain Toys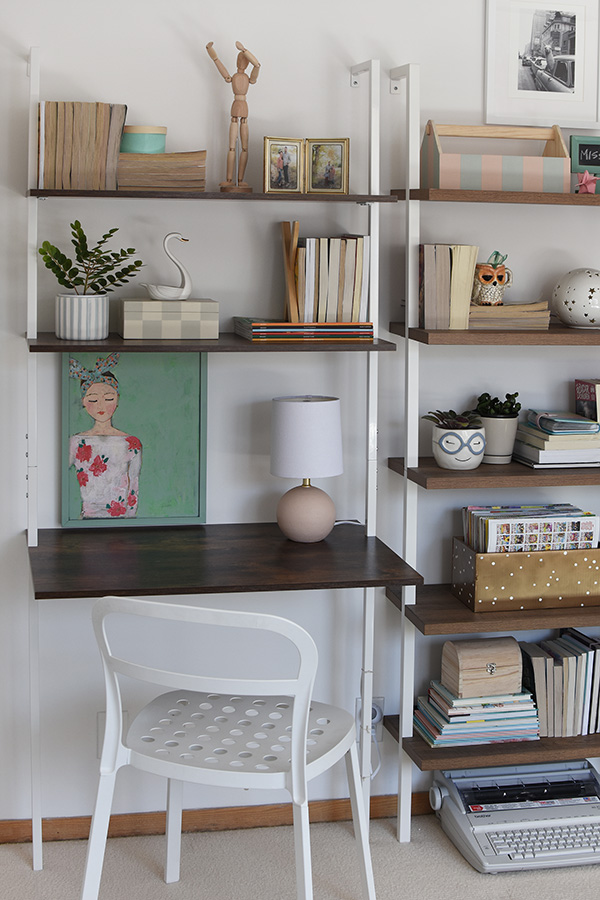 Bookshelf Sources
This post is part of my daughter's Modern Tween Colorful Bedroom Makeover. If you would like to see how her room was transformed, be sure to head over and check it out.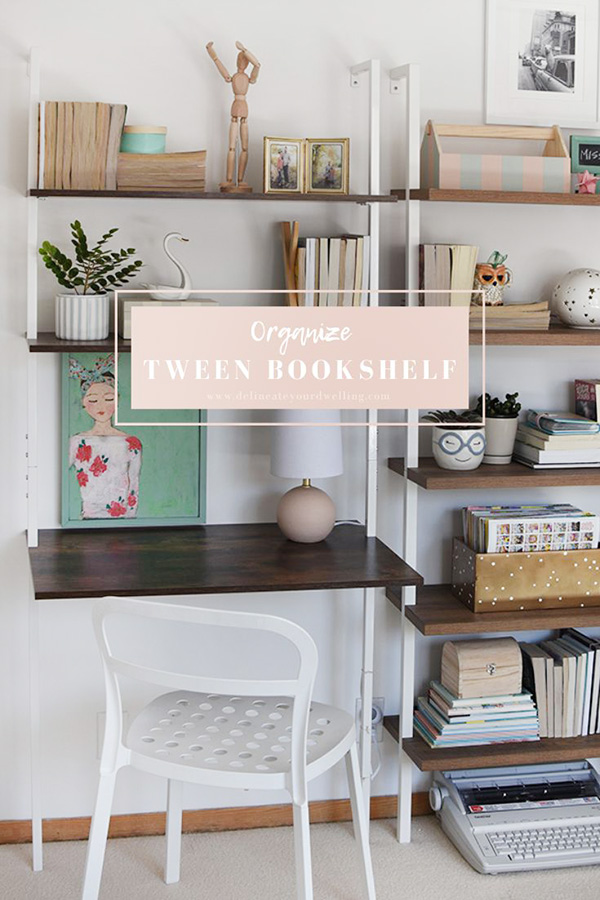 You can check out all the projects here.