Thanksgiving Table Setting
INSIDE : Enjoy friends and family while learning how to set a cozy and eclectic Blue and White Thanksgiving table setting during the autumn season.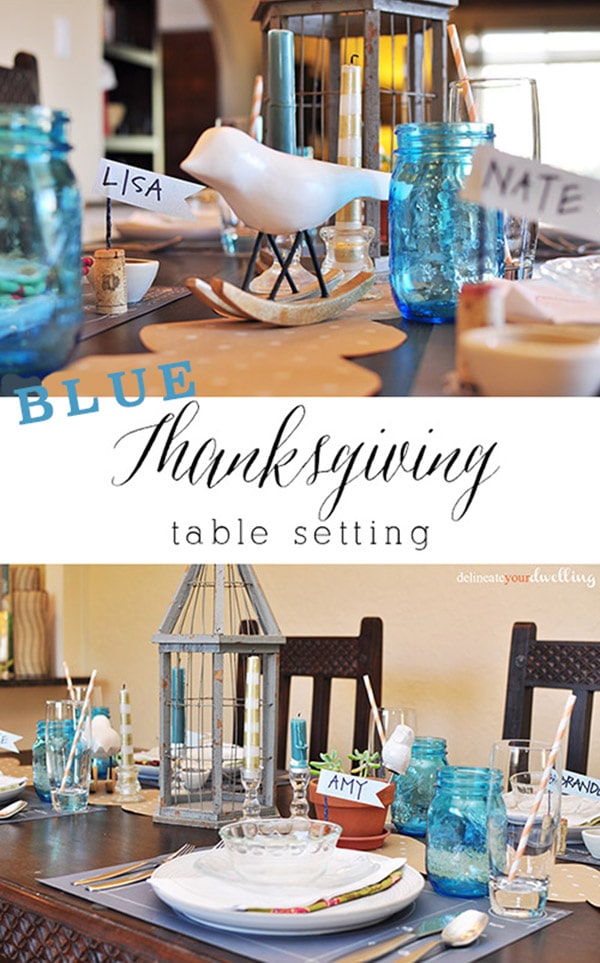 In keeping with my attempts for non.traditional colors this year, I recently put together my thanksgiving table. I used many items from around our home, so this was a simple and zero cost table setting. I used different shades of blue, white and brown.
(It's been brought to my attention that Hanukkah and Thanksgiving will be overlapping this year for the first time in over a century. So this color combination is quite timely.)
I also went for a more fun and carefree feel than most traditional Thanksgiving table settings.
How to create a Thanksgiving paper table runner:
I found this adorable craft paper with white polka dots in the dollar section at Target a while ago. Using a circle template (a fruit basket), I cut it down to size and made it into my table runner.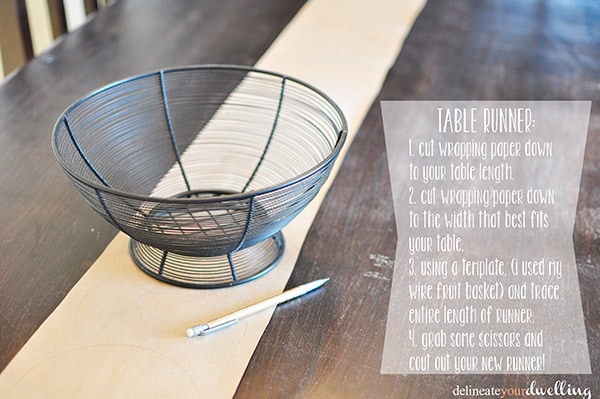 How to set a cozy and eclectic Blue and White Thanksgiving table:
Even though I'm deathly afraid of birds (excluding flamingos and hummingbirds), I can not get enough of my white West Elm rocker bird.
If only all birds were like rocking chairs, then this world would be a more peaceful place. Ha ha, happy thoughts…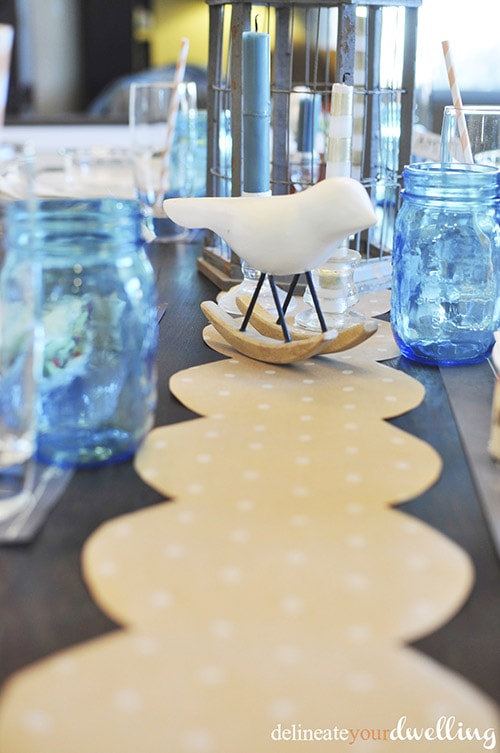 I used my mismatched DIY sewn napkins for small pops of color peeking out from under the clean crisp white top napkins.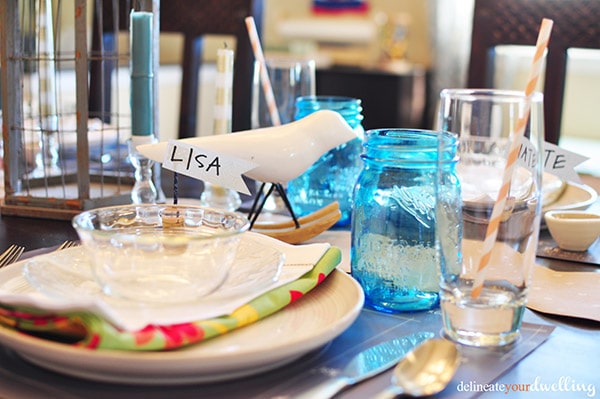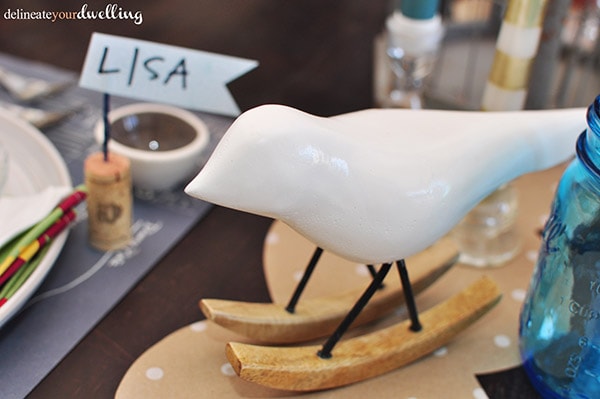 I wrapped navy blue washi tape around toothpicks and stuck them into saved wine corks. I made small pennants with our thanksgiving guest's name on them for simple place cards.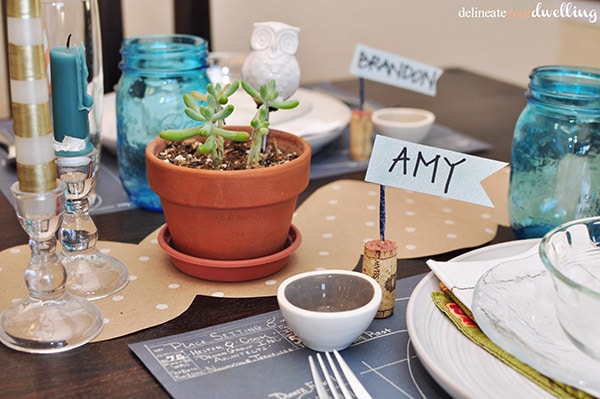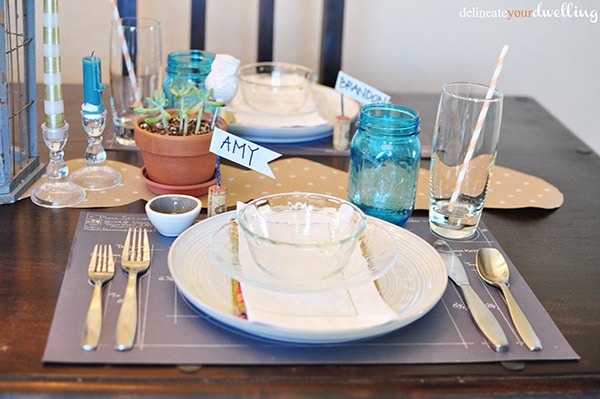 A simple gray bird cage is the center piece for this table setting. I envision that all day we write small notes of gratitude and put them in the bird cage. After our thanksgiving meal is over and the birdcage is full, we can pull the gratitude notes out and read them aloud to each other.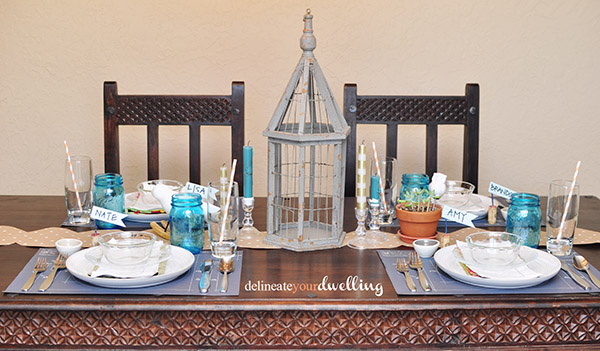 Stunning blue Mason Jars are used as drinking glasses.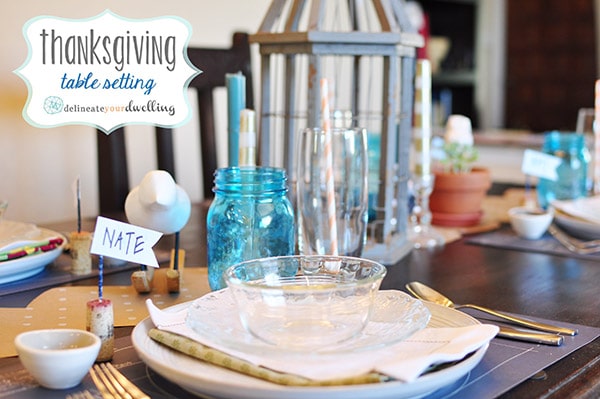 I love mixing live plants, candles and found objects around the home for a fun and eclectic feel.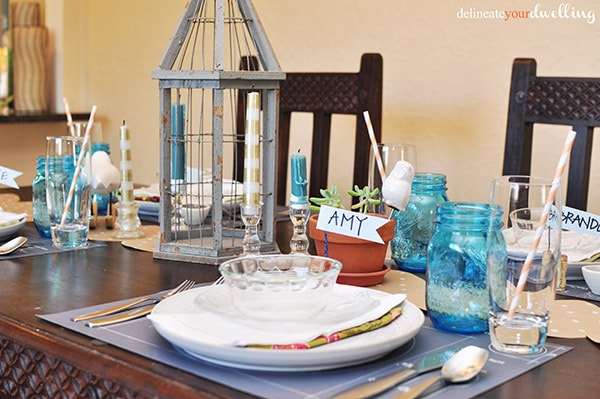 Will you go traditional or mix up your color palette for your Thanksgiving Day celebration? Maybe doing a little more
minimalistic Thanksgiving
this year?