INSIDE : Celebrate those special moms in your life. Learn how to set a Mother's Day Garden Table using things from around your home and a few other home decor items, like fresh flowers, cloth napkins and floral table clothes!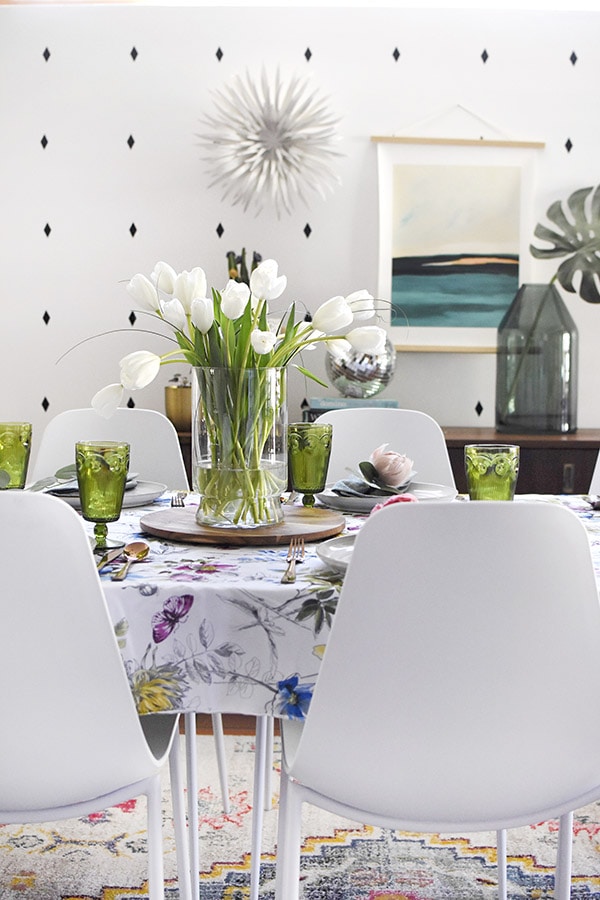 This post may contain affiliate links. See my full disclosure.
Mother's Day this year is on Sunday, May 10th. It is a day that I love celebrating my mama and being celebrated as a mother, myself.
How to celebrate Mother's Day at home
Sometimes we think to celebrate or throw a party, you need all new decor and table settings. However, that really is not the case. Oftentimes, we can shop our own home and find the most lovely decor items!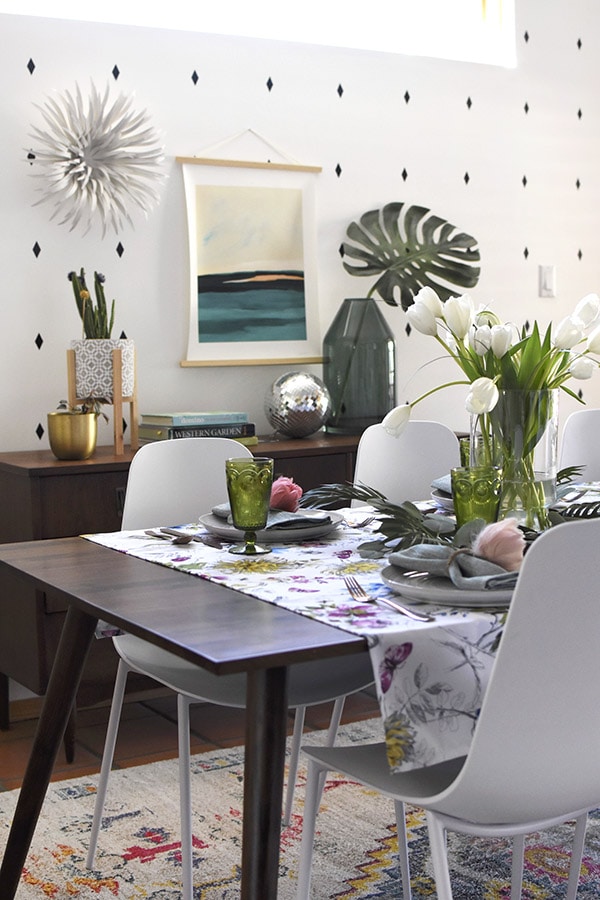 Use silk flowers, feathers or other items as napkin rings.
If you don't have napkin rings already on hand, you can use simple bases like this or this and add your own items to them!
Using these lovely feather flowers, I was able to add a lovely pop of color to my napkins. I love using cloth napkins and have tons of them in my home already. If you don't have cloth napkins, you could easily use spare fabric and with a few quick stitches make them into elegant square or rectangular napkins.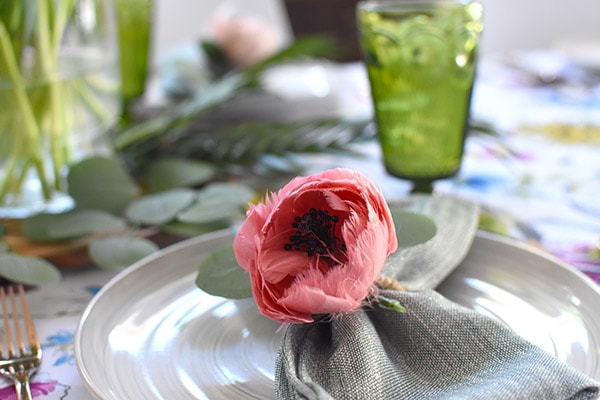 Garden Fresh Flowers
Fresh flowers are an amazing way to set the garden mood for your Mother's Day celebrations! A simple vase of white tulips was the highlight of our table, but any flower or even twigs would be wonderful.
You can walk around your own backyard or even neighborhood on the lookout for flowers, branches or leaves to place on your table.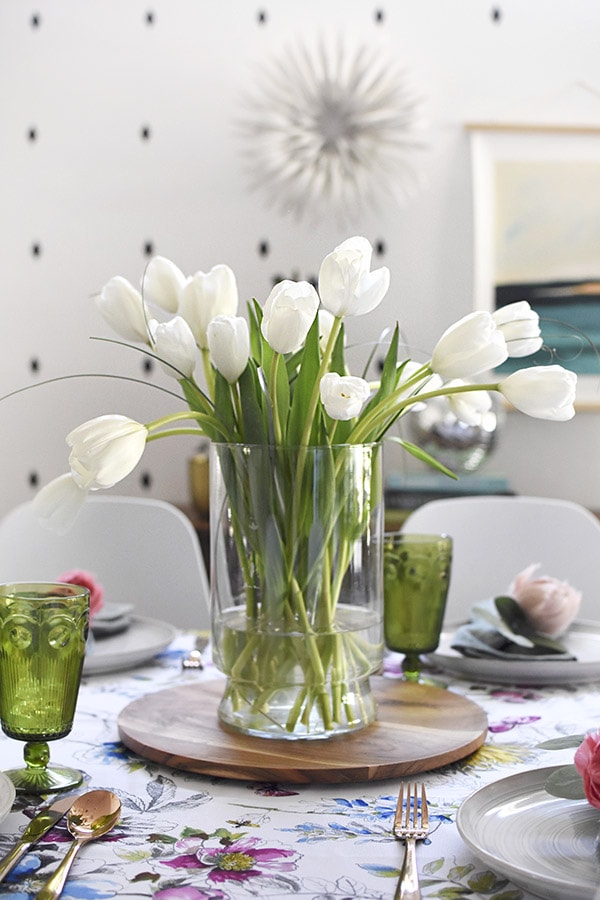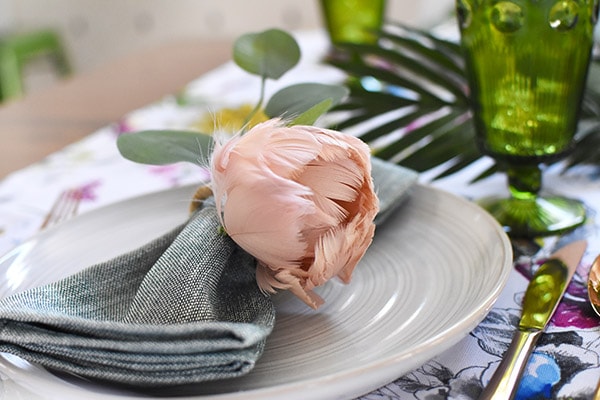 Pull out your fancy Mother's Day glassware
I set the table with our everyday plates, but then used a set of vintage green goblets that I had thrifted last year. Using fun glassware or even colored glassware is a perfect way to set your table apart from the usual look it has.
Plus, this lovely green really pulls in the fun garden theme of the table! These goblets and these have a very similar look to mine.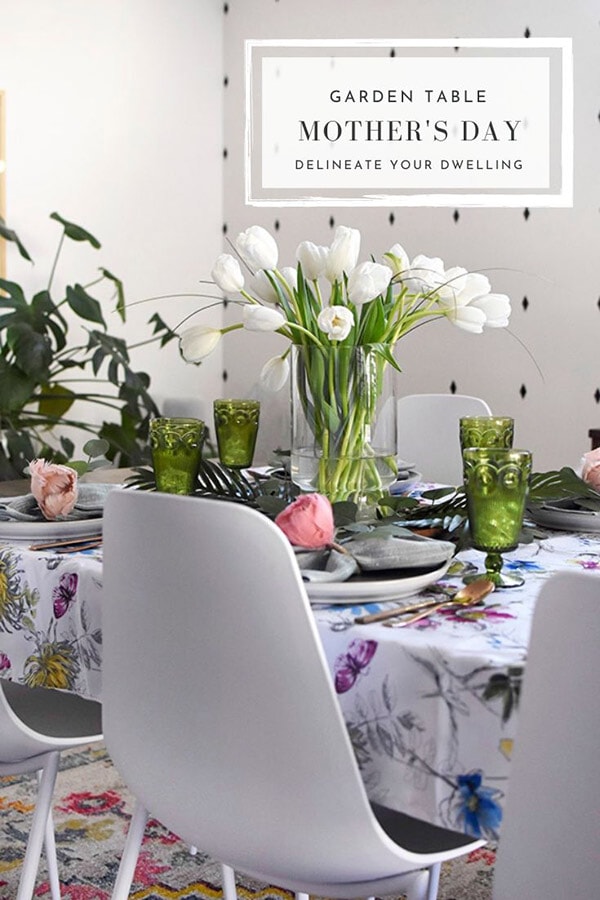 Tablecloths
Do you normally use a tablecloth for everyday meals? We do not. So using a tablecloth or even a table runner is another way to really show your mom how special she is!
This Floral tablecloth is light and cheerful with pops of color in butterflies, flowers and leaves. It is the perfect garden themed cloth without being too heavy "garden".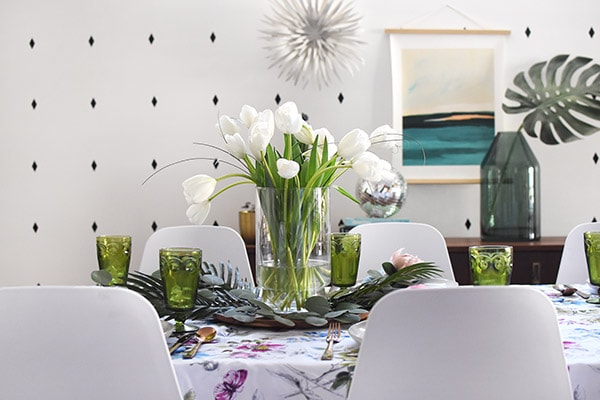 Mother's Day Garden Table
Get creative this year and look around your home. I bet there are more garden and plant items you could pull out to make your Mom feel loved and cared for, even while we are all stuck indoors.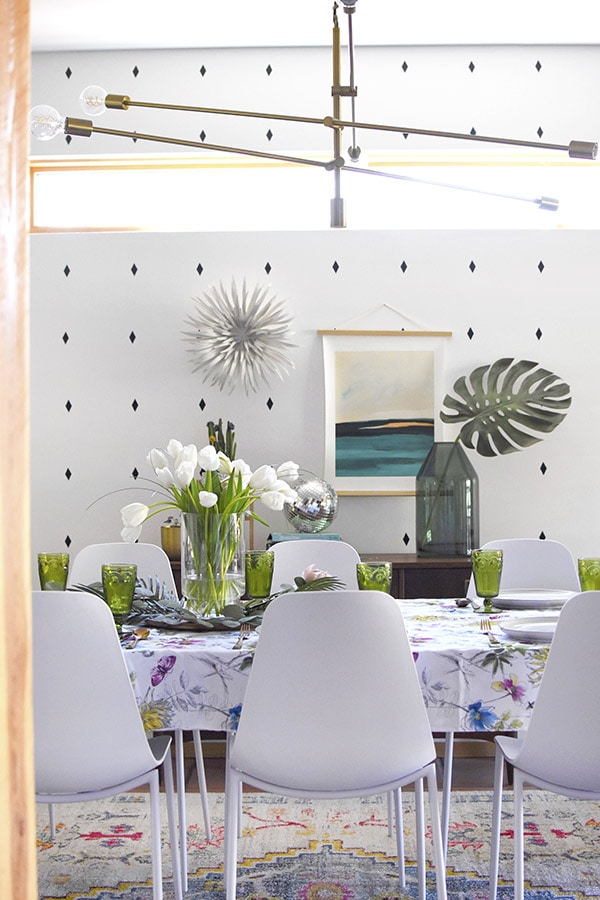 Resources :
Garden Tablecloth
Simple Napkin Rings or these
Green Goblets or these
Setting a beautiful and welcoming table is such a fun part of hosting friends or family. Check out these lovely tablescape ideas to take your table to the next level.