I have been wanting to make our guest room + office feel cohesive literally since the day we moved into our home… almost 7 years ago. As with most guest rooms, it became the dumping ground for all leftover furniture. We had like five different vibes going on in there. So today I am sharing my first Guest Room + Office Update post.
The first task at hand was evaluating what could be tossed. I'll be honest, I LOVE this step. I am not a saver so it is with great joy that I purge old un-needed items.
Then, I drew up a few floor plans and realized, I was not utilizing the floor space to it's best. I might add we also use this room on a daily basis for kiddo #2 to take naps in, hence the "lovely" pack n' play that is permanently setup in there. Eye sore, much?
With some major heave ho, I completely rearranged 90% of the room (on my own, might I add) and with everything stacked all over, piles falling over, lights on the top of bookshelves and chaos everywhere… it looks so much better already! Here is a quick picture of where we started.
I know you can't even imagine "this" looking better, ha! But believe me, if you look beyond the crazy, it's made the space seem triple in size.
And I've got plans like you can't believe. So it's only going to get better.
What I wouldn't give to turn back time and have put some more thought into buying a corner desk AND two additional file cabinets from Pottery Barn. I'd love to paint that sucker but with the price tag… the hubs is currently saying- no way.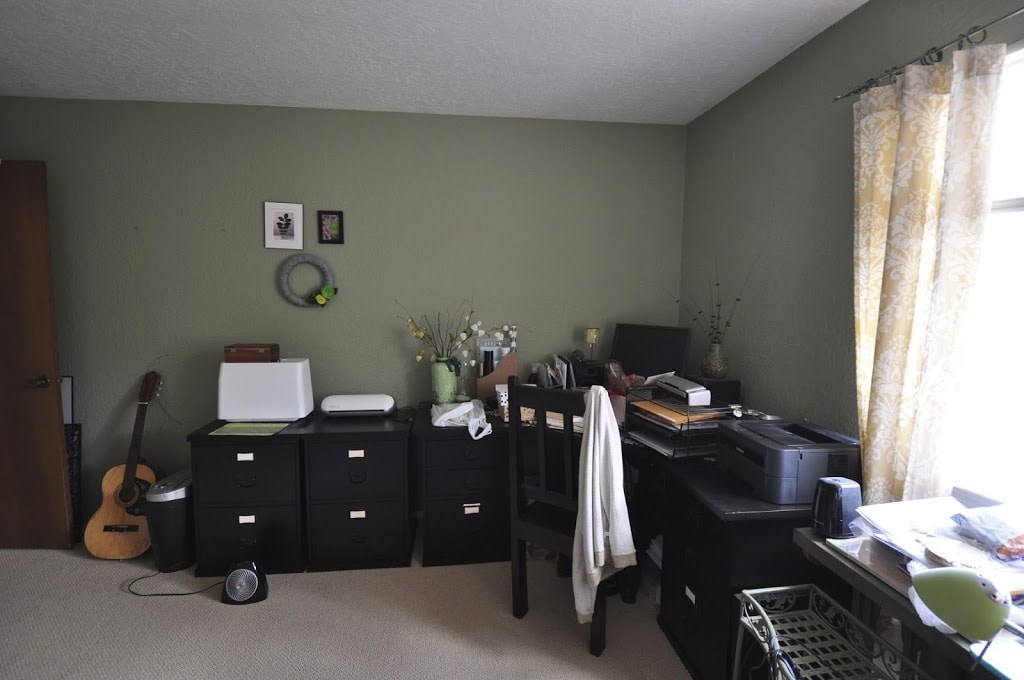 Next up, moving all that furniture I just re-arranged into the center of the room for some painting! Goodbye green, hello clean white. I've loved my green but after 7+ years I'm over it.
I don't know if I can squeeze one more thing in this room, but I'd love to have a chair by this view.