How to wrap an Open Light fixture cord
INSIDE : Learn how to wrap an open light fixture cord with yarn to add color to an otherwise boring black cord! No more dull cords creating mess, make them shine with this simple colorful DIY project.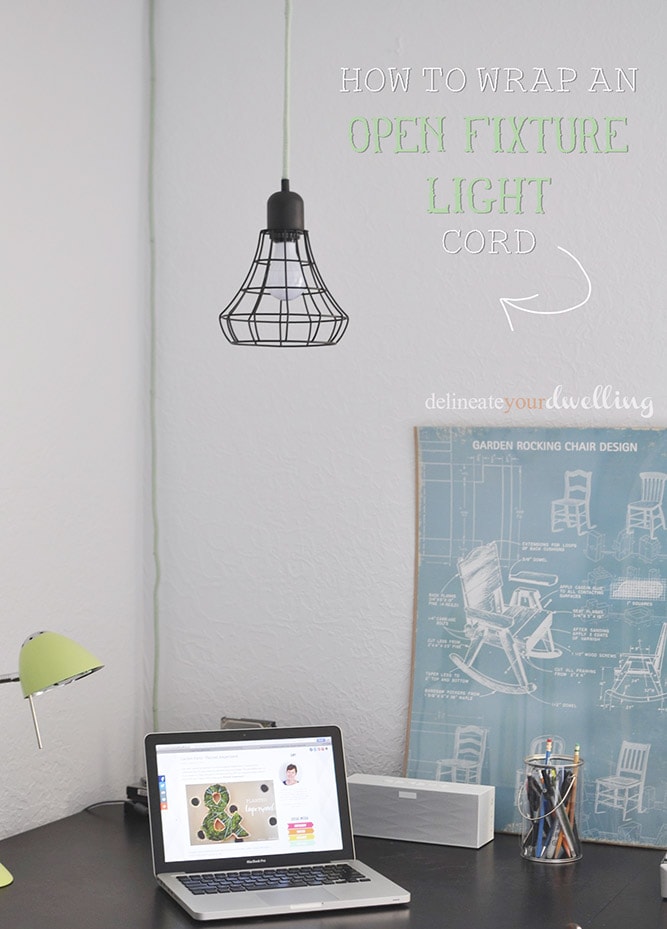 This post may contain affiliate links. See full disclosure here.
This post has been updated since it's original publish date of May 2014.
Sometimes I take a peek into our guest room and office space and think – Wow, one baby step forward and 87 big steps backward!!
It seems with each small progression of updating the room, more stuff is pilled high and things feel like constant chaos. But, that's normal though… right? It always gets really messy before it gets really clean, at least that's what I keep telling myself.
Today I am sharing How to wrap an Open Light fixture cord. I took an inexpensive Farmhouse Open Light Fixture and wrapped the cord for a little extra color of my own.
What supplies do I need to wrap a lamp cord?
I bought three different yarns and planned on wrapping the cord with all of them in varying lengths, but after I had used a portion of all three… I decided I didn't like that look at all. So, in the end, I just went with this Mint Green Yarn color for the whole thing.
And I didn't want to do anything too permanent to this fixture, so except for the very end – I didn't use any glue.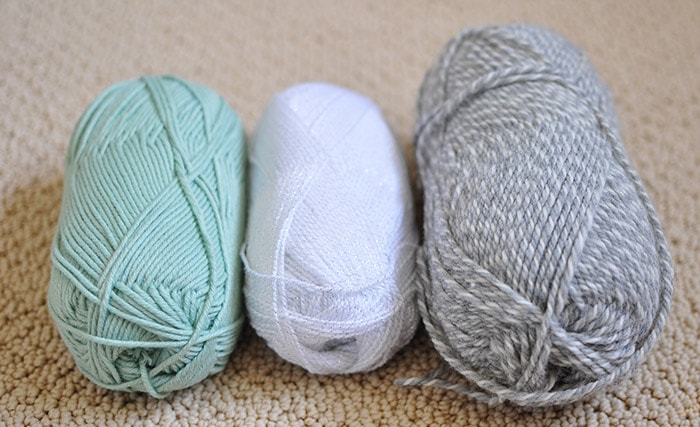 How to wrap a boring lamp cord with yarn
To cover up my boring lamp cord, I started by doubling the yarn and cutting it off at about a 5-6′ length.
I know zero "knot" knowledge, so there is probably a knot or string term for this 'mickey mouse' looking loop I have created.
Next, hold the center of your doubled yarn over the start of your cord and then pull the two pieces through, as shown below.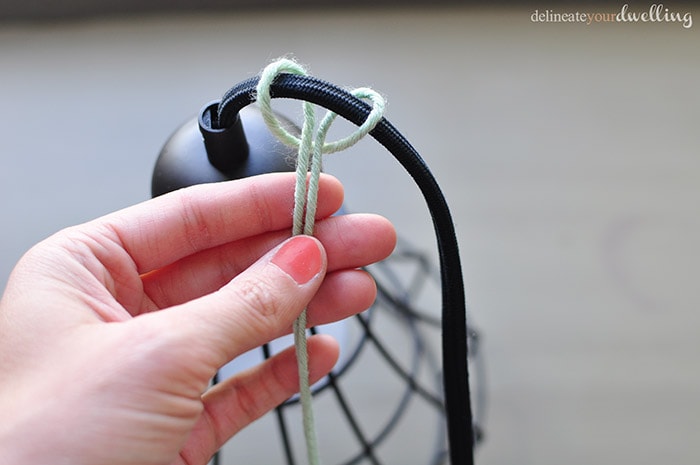 Then using your double yarn, start looping and looping AND looping. The double yarn makes the work go twice as fast, so that's a big plus.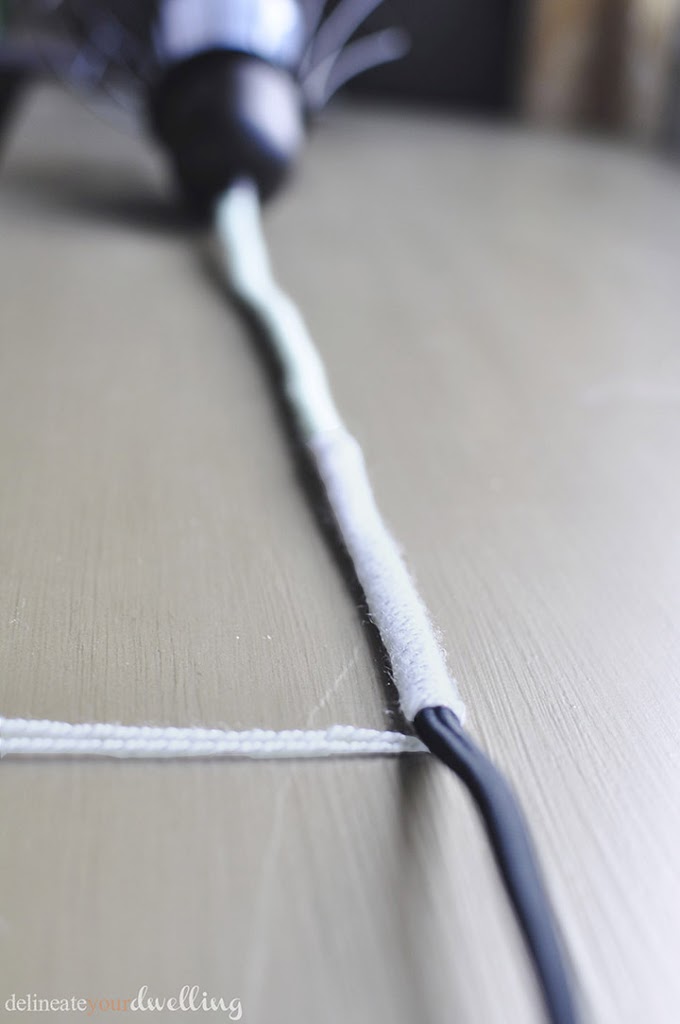 When I came to the end of the yarn length I had cut, I simply held that last little bit of yarn in place as I started another long section. I would tie my 'mickey mouse' knot just a little bit over the end of the previous yarn, so as to keep it secured and in place.
Also you could use just a bit of hot glue, as well.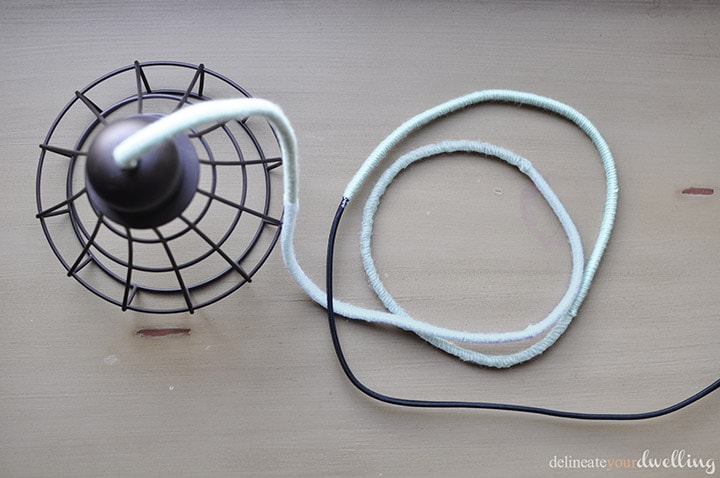 Due to the placement of my Open Light fixture being on the ceiling, I had quite a bit of lamp cord showing. I ended up wrapping about nine or so feet in total and worked on it for small amounts of time for a few evenings.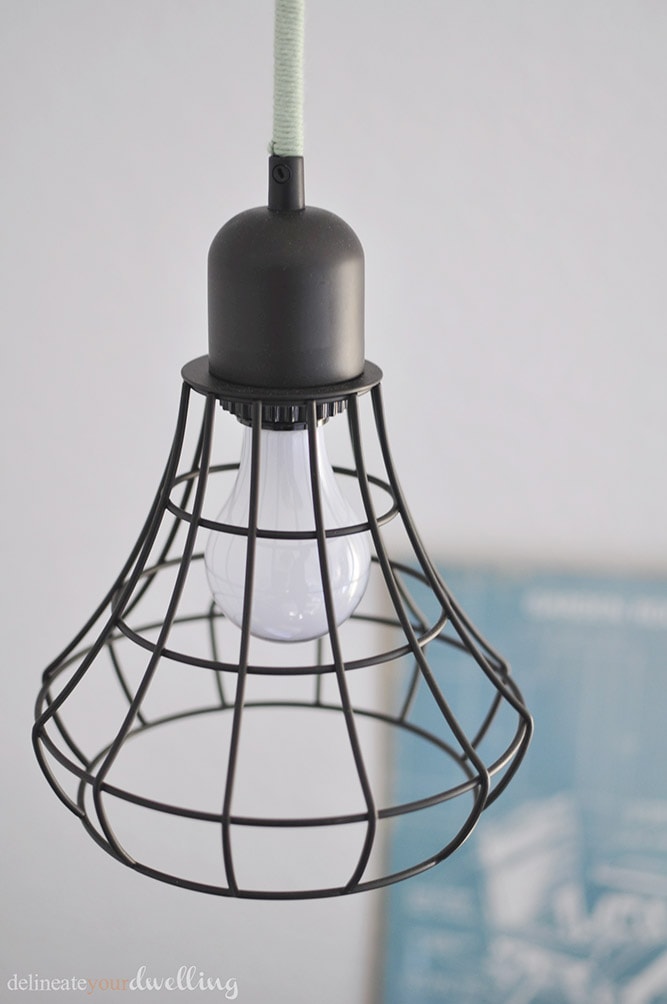 How to hang a Farmhouse light fixture
Once my farmhouse light fixture cord was completely wrapped, I used two simple white 'J' shaped screw hooks.
I hung the Open Light fixture over our desk and then made the cord go across the ceiling and down the wall.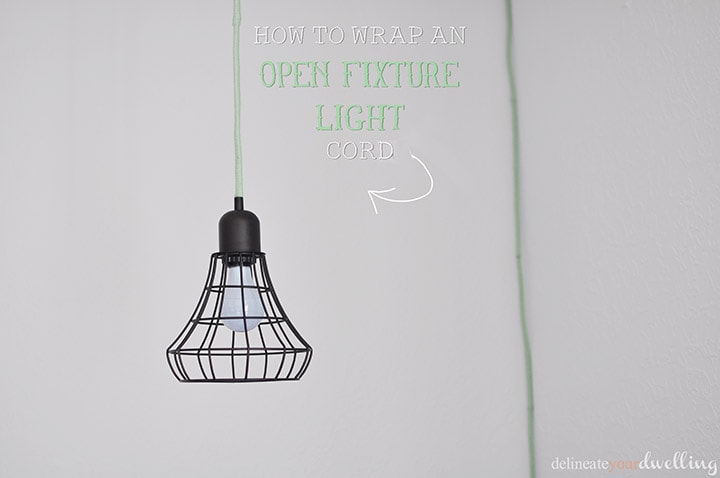 I love the slight graphic vibe wrapping the cord, brings to the amazing little light!!
I'm also highly contemplating wrapping a few other desk lamp cords. I've so fallen in love with that look!
Looking for some of the other fun Office craft / DIY projects I did? Check these out…