INSIDE : The ultimate summer water float list! These fun water toys and floats are perfect for lounging in the pool, bobbing on a lake or spending time beachside at the ocean.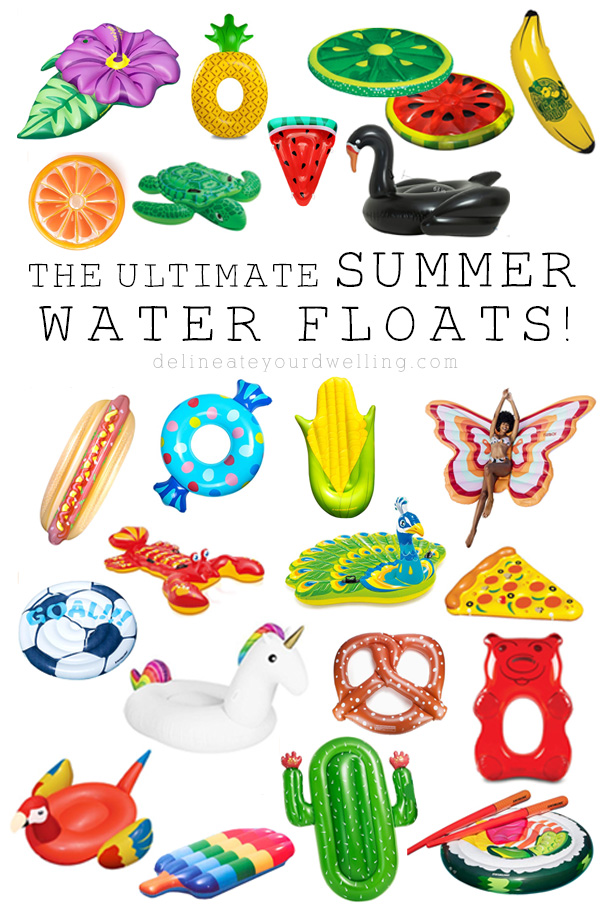 This post has been updated from it's original June 2016 publish date.
My family just returned from a wonderful weekend family reunion at my Grandma Gloria's Lake Cottage in northern Indiana. You might have seen this gorgeous picture over on Instagram, from Saturday late afternoon at our beloved Lake Wawasee.
The cottage was built by my great great great grandparents (actually I forget how many "greats" it goes back, but trust me – it's at least 2 or 3) and it is a wonderful place to unwind and relax. Time spent on water is always calming to my heart.
Since I was a young child, we would pack up the car and head to northern Indiana to visit Lake Wawasee every summer and most holidays. There are some amazing childhood memories from summers spent there… and almost all of them involve a huge alligator water float, brightly colored inner tubes or a rented pontoon boat.
This year I brought a few fun water toys for my kids and a…. pretzel water float! The pretzel was the talk of the family and it was my favorite float of the weekend.
So today, I'm sharing the Ultimate Summer Water Floats list with you because they are just so dang fun!
This post may contain affiliate links. See full disclosure here.
DELICIOUS FRUIT POOL FLOATS:


ANIMAL POOL FLOATS:


TASTY TREATS CANDY, DESSERT, SNACKS:


FLOWER AND PLANT POOL FLOATS:


VEHICLES AND TRUCK POOL FLOATS:


OTHER MISC. POOL FLOATS:


All the summer pool floats in one location!

I still think the pretzel is my favorite, but the full pizza is huge and looks like it would fit a few people. Although, how could I pass up a pink flamingo or a red gummy bear? What are your favorite floats?
And if you get more than one of these, I would HIGHLY recommend looking into this lifesaver!