INSIDE : See how simple it is to make these DIY Air Dry Clay decor pieces for your home! Create these whimsical Colorful Clay Animal Heads in no time at all to hang on your walls.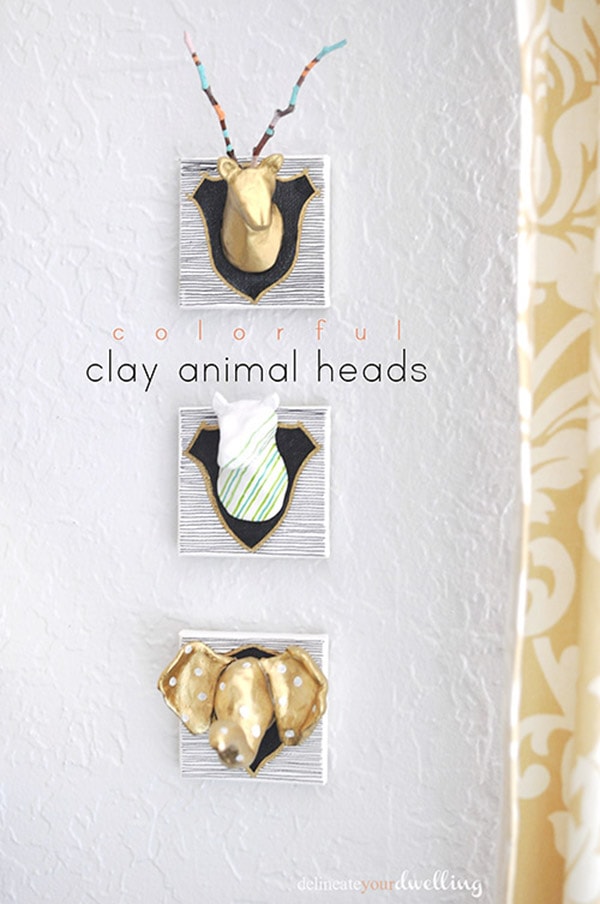 I am so excited to be sharing all three of my Colorful Clay Animal Heads today. You may have noticed them during my Guest Room + Office Makeover reveal. I have them secured on the wall right by my desk. They are the perfect fun little touch to my space!
This post may contain affiliate links. See full disclosure here.
What are the supplies for Colorful Clay Animal Heads?
Air Dry Clay
Mini Square Canvas
Small twigs
Acrylic Paint
Paint Pens (gold, dark green, light green)
Hot Glue
Velcro Command Strips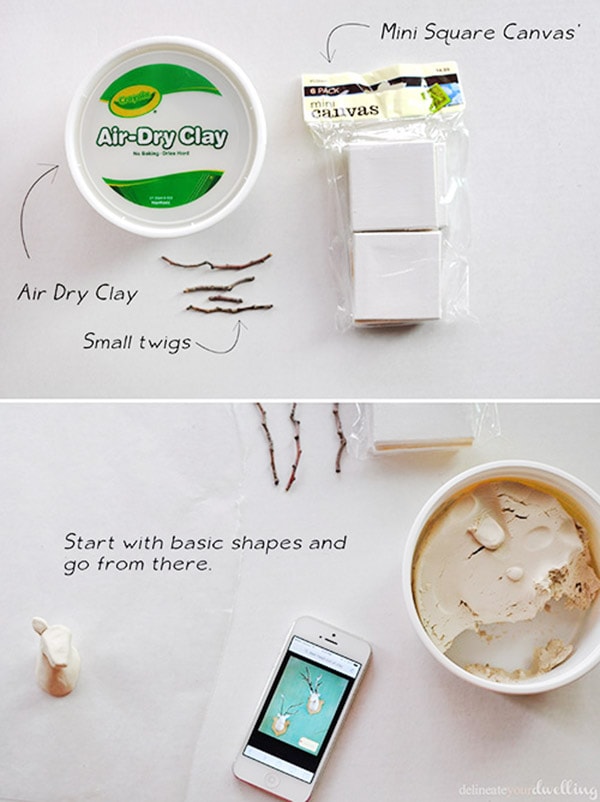 How do I make Colorful Clay Animal Heads?
First, I started by pulling up an image or two of animal heads on my phone to help create the basic shape of each animal, the deer, zebra and elephant. I found the key was to really study the image and break it down into simple forms and shapes.
The deer was a log shape for the neck and an oblong circle for the head. I originally thought the elephant would be the hardest to create, but it actually wasn't too bad.For the elephant, I started first with the basic shape of his head.
Then I created both ears and had them curl a bit. And then last was the elephant nose and connecting it to the head.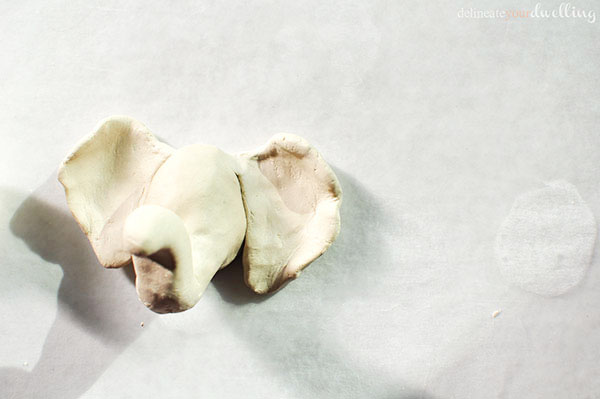 Next up was the zebra head. He really didn't have any major defining shapes so I had to redo this guy like 4 times before I got it even "semi" zebra-esque… by far the hardest one for me to create.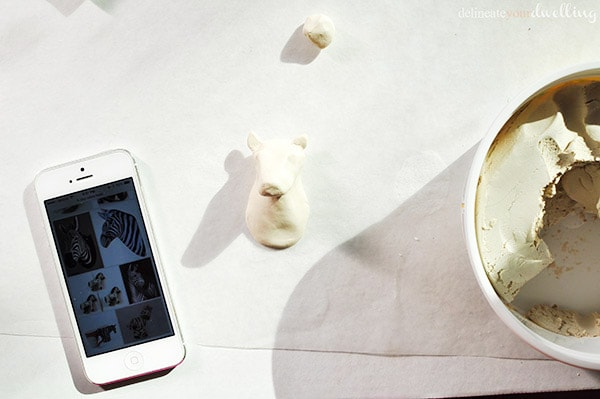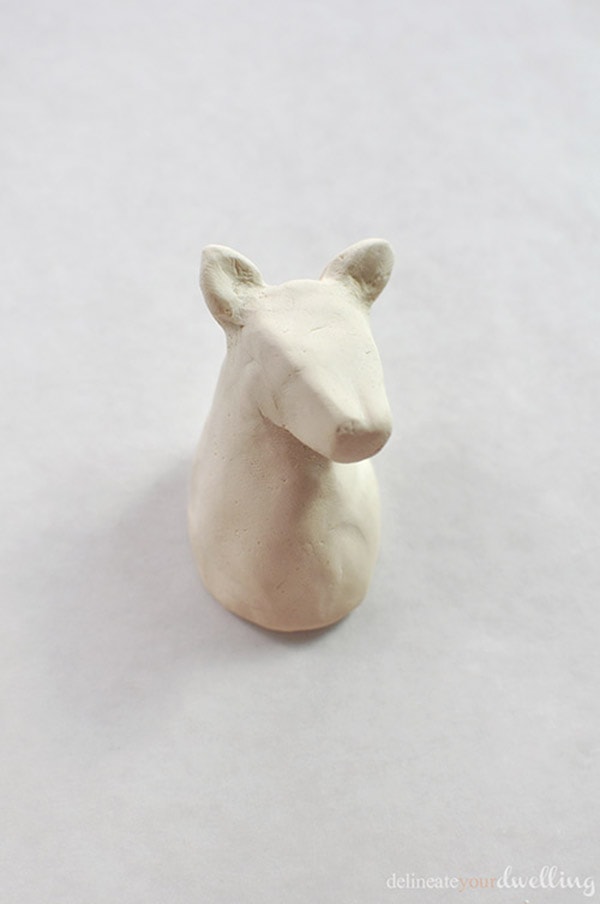 Air dry clay typically takes around 24 hours to dry, but since these were more dense shapes they took closer to two to three days to dry. So while the animal heads were drying out, I started working on the mounting canvas'.
I hand drew a simple mount shape on my mini canvas' and then painted it in with Martha Stewart's black chalkboard paint. Then, I seasoned the mount once I had applied three coats of paint for a nice thick look.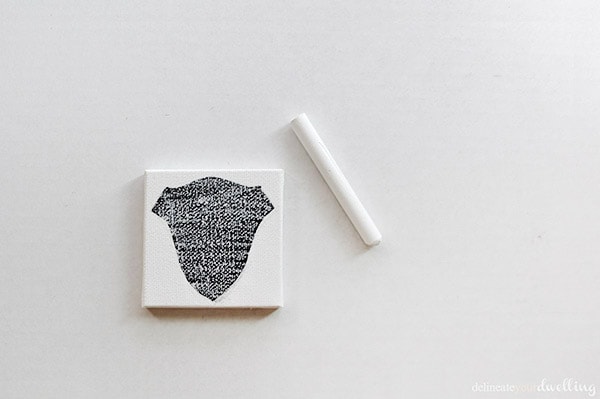 Using a thin sharpie, I added some texture to the remainder of the canvas and outlined the mount with a gold paint pen.
Next each animal got a base coat of spray paint. The elephant and deer received some gold spray paint love. The zebra got a dose of white (the clay dries white, but I just wanted to make sure it was white white).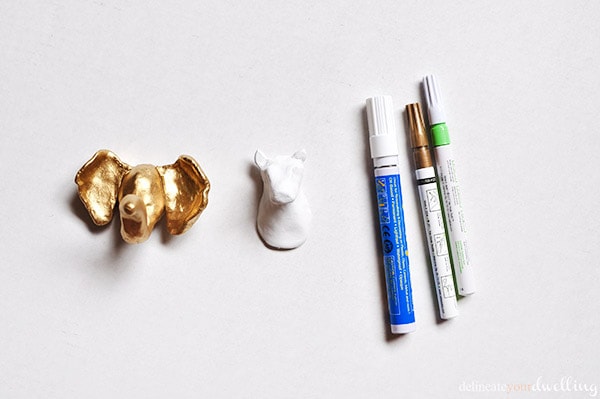 I painted colorful stripes to the twigs (antler) with acrylic paint. Once those were dry, I hot glued them to the back of the deer head. He is by far my favorite of the three!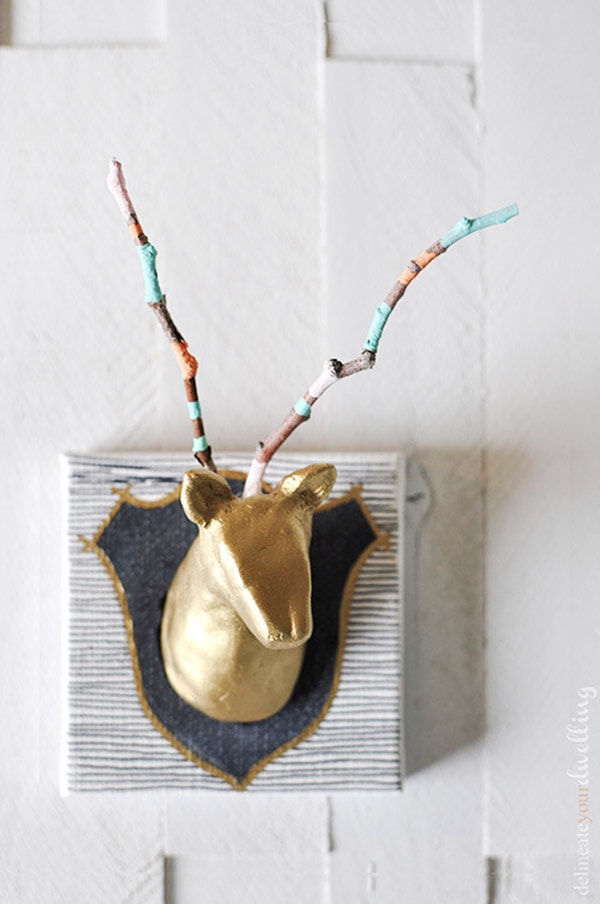 Then using a dark green and light green paint pen, I gave the zebra some stripes. And with a white paint pen, the elephant got some polka dots.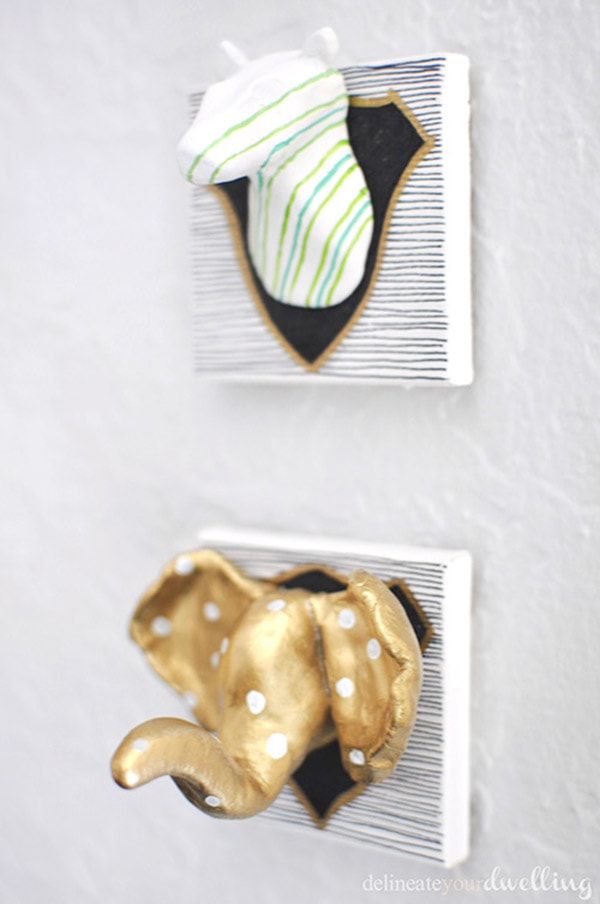 Then, using simple Velcro Command strips, I easily mounted these awesome Colorful Clay Animal heads to my wall!
Looking for MORE Air Dry Clay projects? Hope you are inspired by them!
TIPS, TECHNIQUES + TRICKS FOR USING AIR DRY CLAY.
Colorful Clay Animal Heads | DIY Clay Garland | Geometric Place card Holders | Clay Rings | Clay TDAY Banner | Colorful Clay Animal Heads | Geometric Clay Jar
Fourth of July Tea Light Holder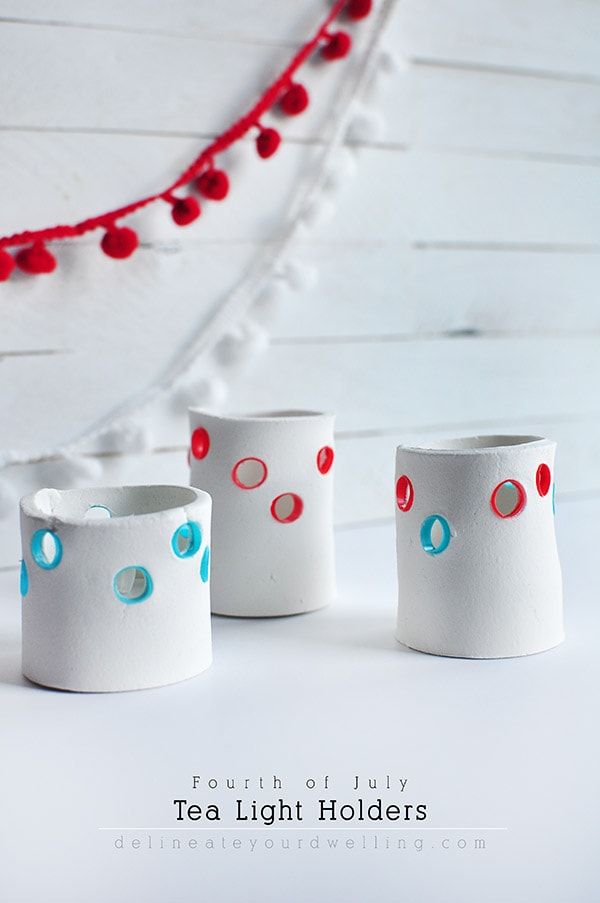 SaveSave
SaveSave
SaveSave
SaveSave
SaveSave
SaveSave
SaveSave
SaveSave
SaveSave
SaveSave
SaveSave
SaveSaveSaveSave
SaveSave
SaveSave