INSIDE: Looking for an inexpensive way to update your home? Check out how I gave my Craft Room + Guest Room a makeover for mostly the cost of paint!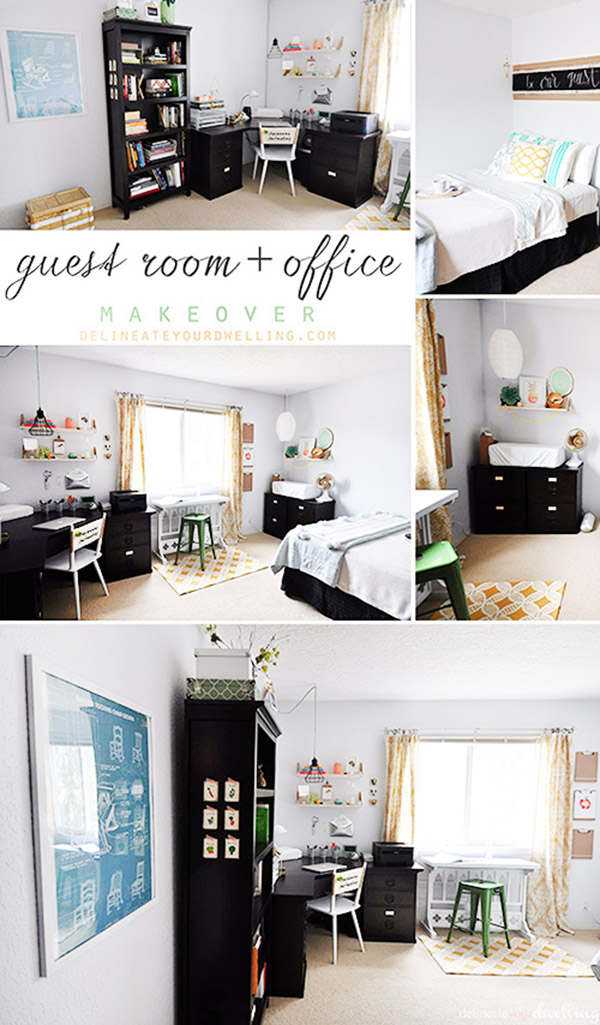 This post contains affiliate links. See my full disclosure here.
I have been working on our guest room + office update for many MONTHS now. This is a true testament to the fact that a room updates take time to give a makeover.
I'm also quite proud that we didn't buy a single new piece of furniture (other than four open shelves from Ikea) for this update. I reused and made simple updates to all kinds of random things I had sitting around the house.
Let's jump in!
Let's take a quick trip down memory lane. The "before" guest room + office sat like this for seven years. The arrangement I had the bed in, took up 80% of the room which made it uncomfortable when we used it as an office. And when guests stayed, their luggage filled the small walking path around the bed. Not a good layout for either function of the space.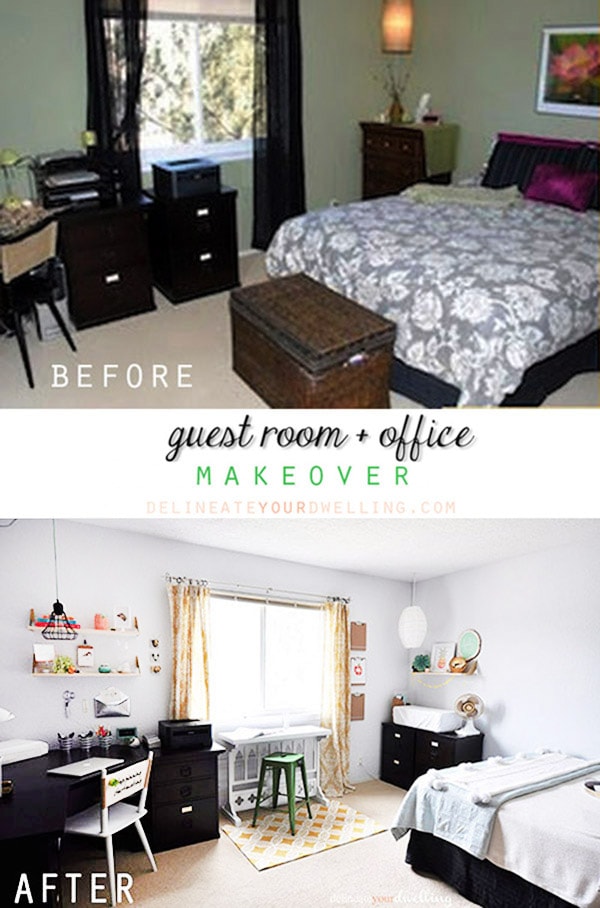 A major positive in the space for me, are the now white walls! I've had a lovely light green color in the room for the last seven years. So, having a lighter more airy space makes a huge difference. I also felt like white walls allowed me to add quite a few pops of color without looking like a rainbow room.
With this new room arrangement, I tried to create specific spaces for specific tasks. An office zone at the desk and an area for taking blog pictures with natural light at window.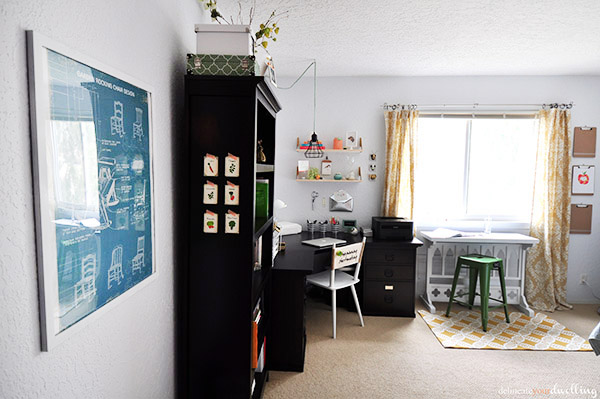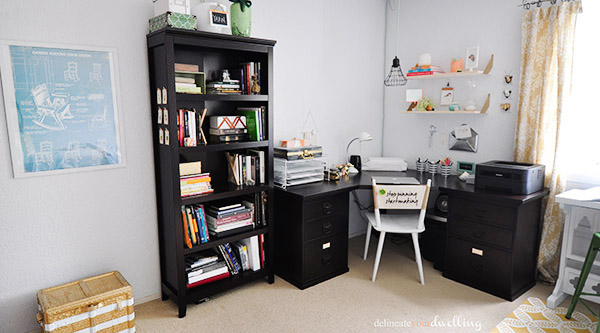 Another zone I created in the room was an area for all things printing and silhouette cutting is on the far right side of the room.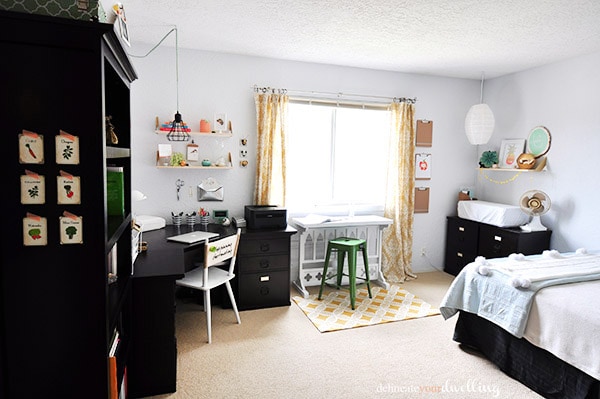 Small details are always fun additions to the room. I used washi tape and added fun vintage garden playing cards to the side of my bookcase. Not only are they lovely graphics (for us plant nerds) but that side of the bookcase is the first thing you see when entering the room.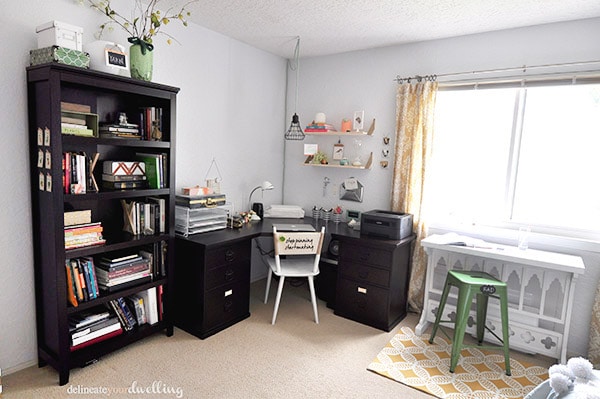 These yellow curtains were sitting in our linen closet and when I found the yellow rug at Target on clearance, I just knew it was meant to be. Here is a similar one.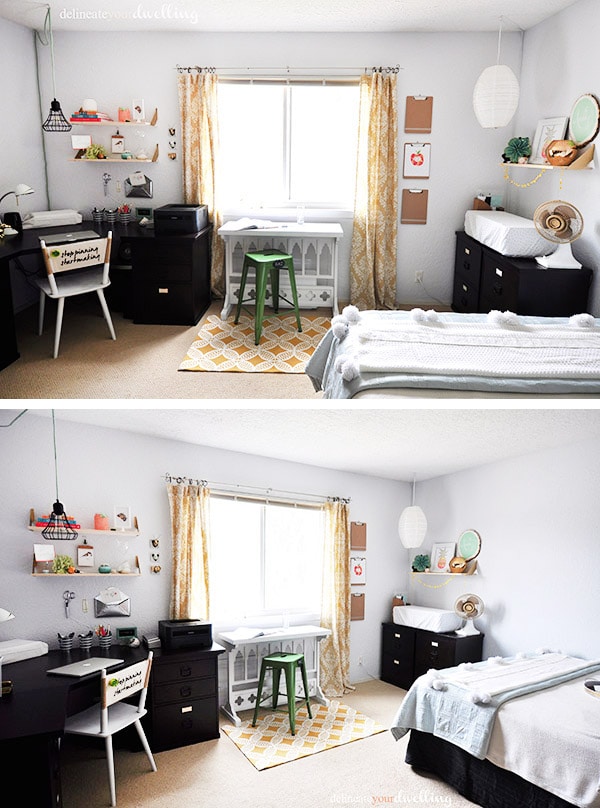 I bought four Ikea
Fabian Wall shelves
for a lovely $7.99 price tag. I ended up only using three for now, but they all got a little gold spray paint update. Here is a similar shelf.
Transitioning to the guest bedroom area of the space, I knew I wanted to do something special to the wall with the bed against it. But, all my amazingly creative ideas were shot down by the hubs. My motto is, 'go big or go home' and his is, 'don't do anything weird that would someday hurt resale value of the house'. So…. yeah. I had to get even more creative to overcome the hubs' "views" on all my ideas.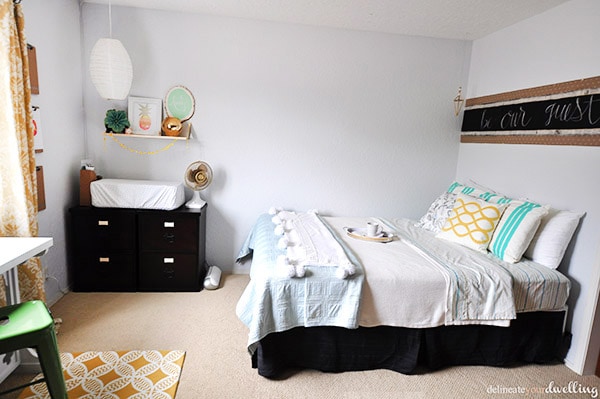 Two projects I had previously really fallen in love with were my
Easter Newspaper chalkboard
and then my
Urban Outfitters inspired Himmeli wall decor
. I decided to incorporate both of those elements into a feature wall. Very temporary to make the hubs happy and very fun and different to make me happy. I carried the polka dot craft paper across the closet door (slight eye sore) and along to the wall. It's all in the details.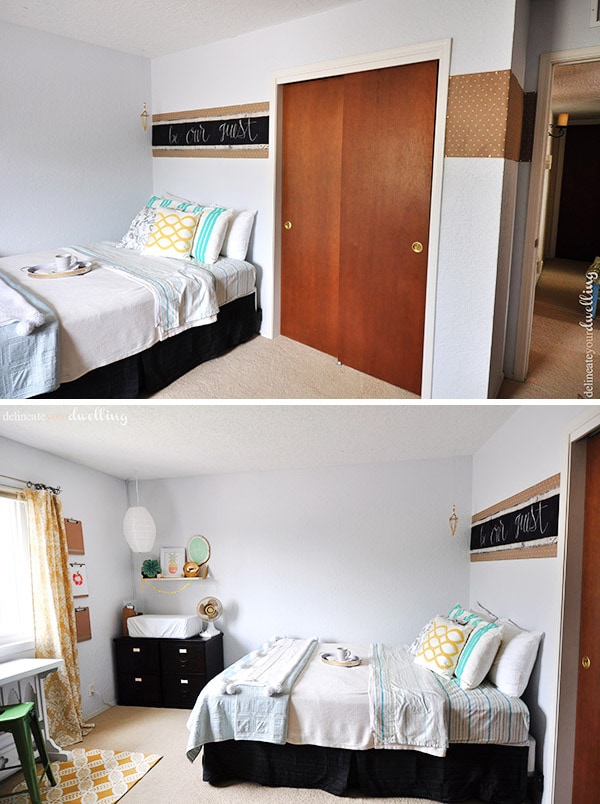 Thanks so much for joining on this fun and easy updated space!
Looking for all the updates in one place? Check out my Guest Room + Office Tour post.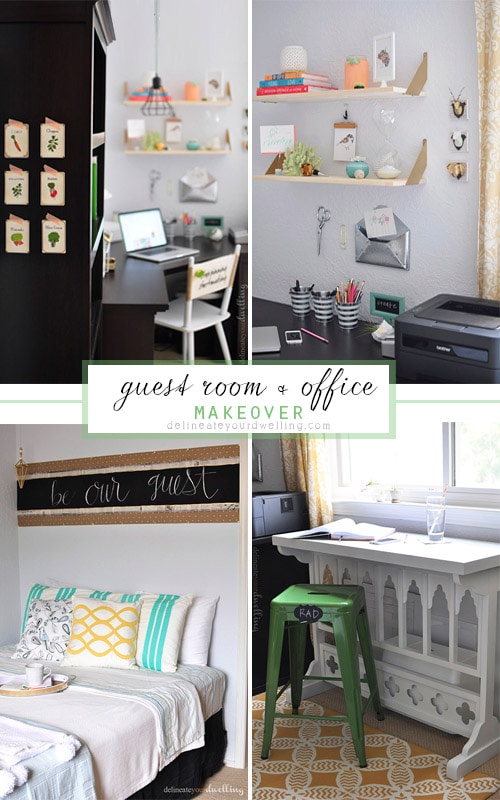 You might also like these projects used in this space.