Craft + Printing Space Updated
INSIDE : Learn how to create a beautiful craft and printing space in your home office by adding color, texture and a ton of organization!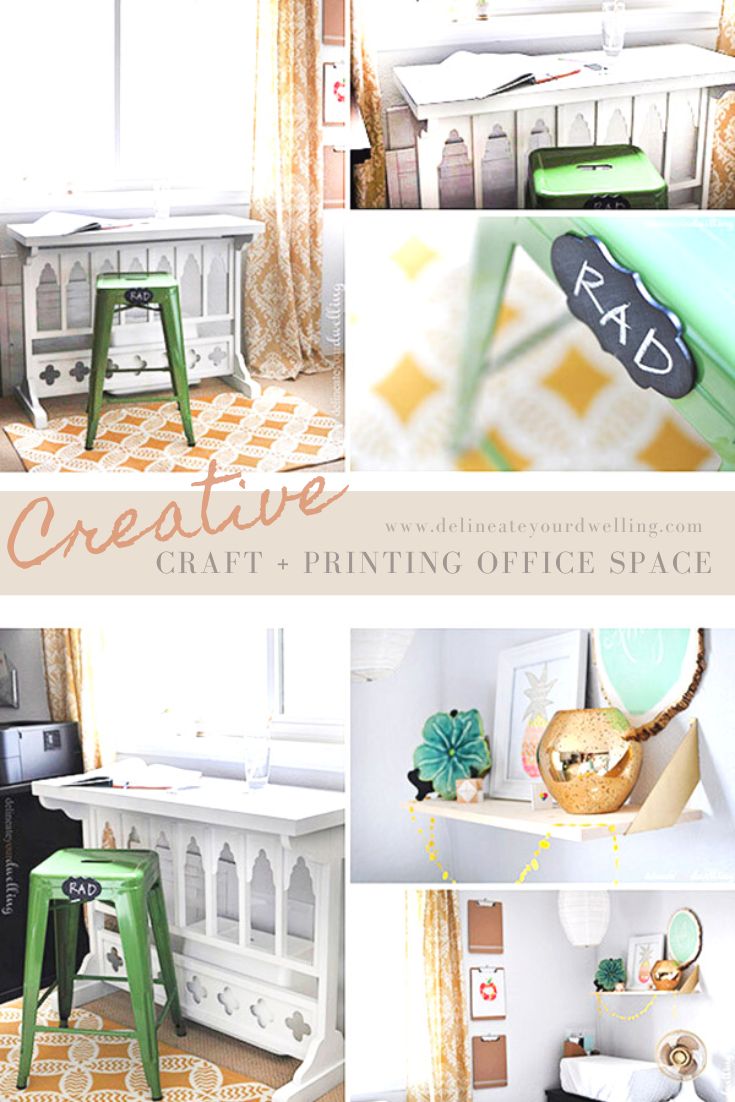 This post may contain affiliate links. See full disclosure here.
This post has been updated since it's original publish date of October 2014.
Today is Monday and that means I am sharing another updated Guest Room and Office update post, the Craft + Printing area of the room!
Before we get into todays fun area… let's take a look at all the progress that has been made so far. First a scary before photo…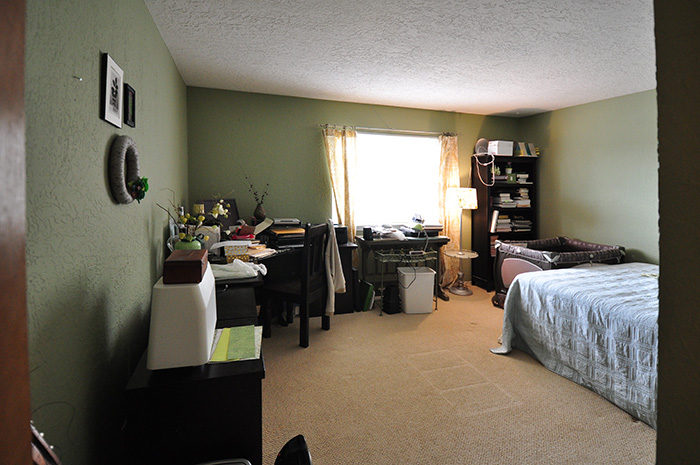 Space Planning your room
When space planning your room, it's important to key in on the major zones of your space. In this room, there are three zones. There is –
guest sleeping zone (the bed area)
an office zone (the corner desk + file cabinet area)
my crafting and printing zone (the space near a window that I make and then the are to hold our printer)
The guest sleeping zone will touched on more in depth in my Chalkboard Headboard post.
The office zone is touched on in Creative Office Corner Desk and Office Shelves.
The area of my craft room that I spend the most time is near this big window. It allows so much wonderful sunshine into the room. So I moved this ornate white side table right to the window and now I love sitting and looking out at the mountains as I work.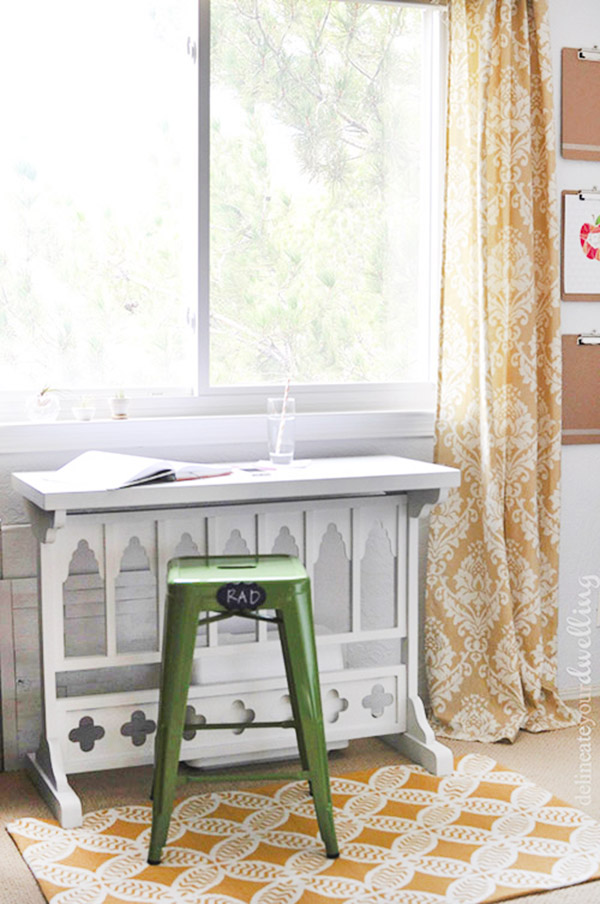 Look how happy I am that I now have a completed crafting space, as well as lovely area for my guests to stay and sleep in!
It is about 1000% more functional for both uses now… and so much prettier, too.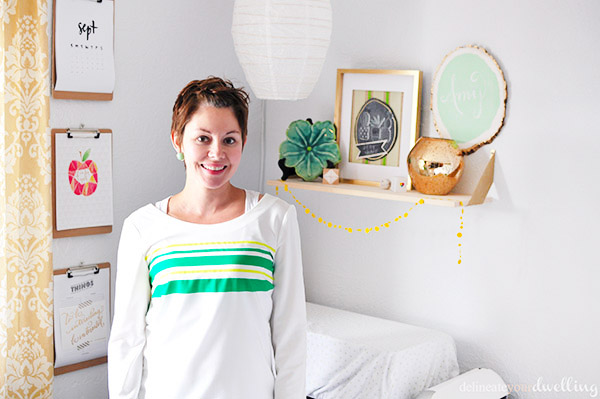 I had bought the table a few years ago at Cost Plus World Market. It was a shabby chic "chipped" green color, which was good for a while… until it wasn't good anymore.
I gave it a few coats of white spray paint and completely fell back in love.
It always amazes me what paint can do to a room and the same is for furniture! Although this table maybe isn't my exact style still, the clean white look gives it such a new more modern feel. And I can tuck my sewing machine and various white boards I use for photography behind it.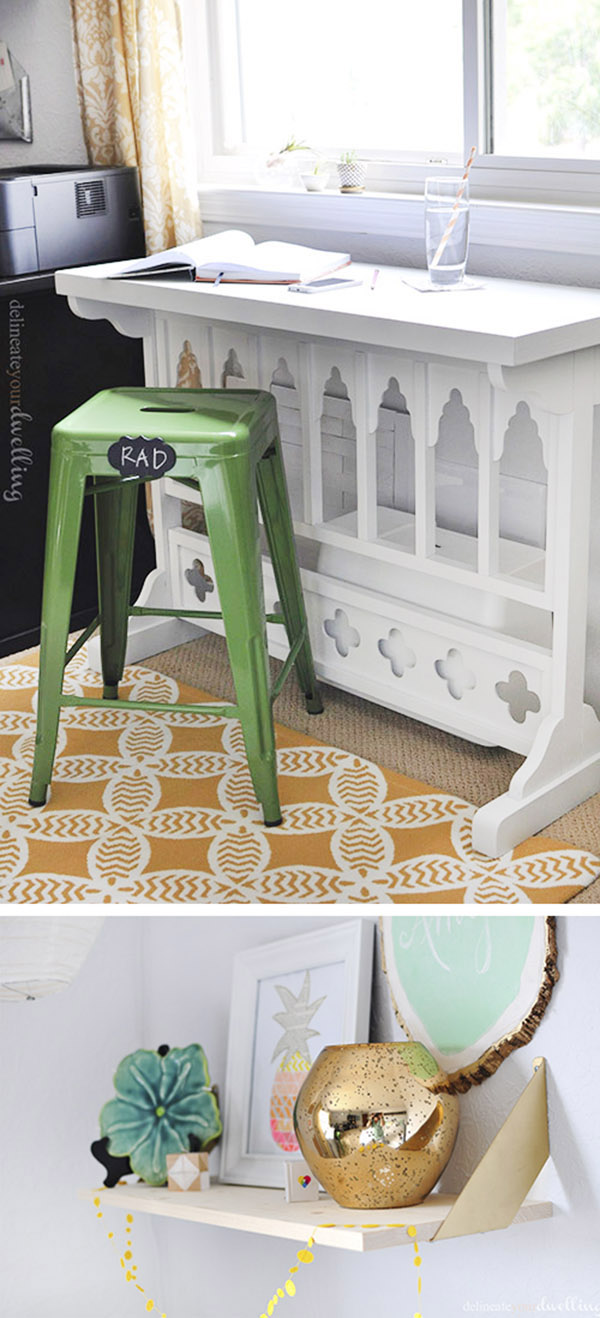 Craft seating area
Part of creating a zone that holds a "creative space" is making fun craft seating!
I was given these super adorable magnetic chalkboards (similar) from my sister. Using chalk, I wrote out "RAD" and stuck it on my green barstool chair. My kids have probably erased it a million times already but that's the beauty of chalkboards… you can just write on them again!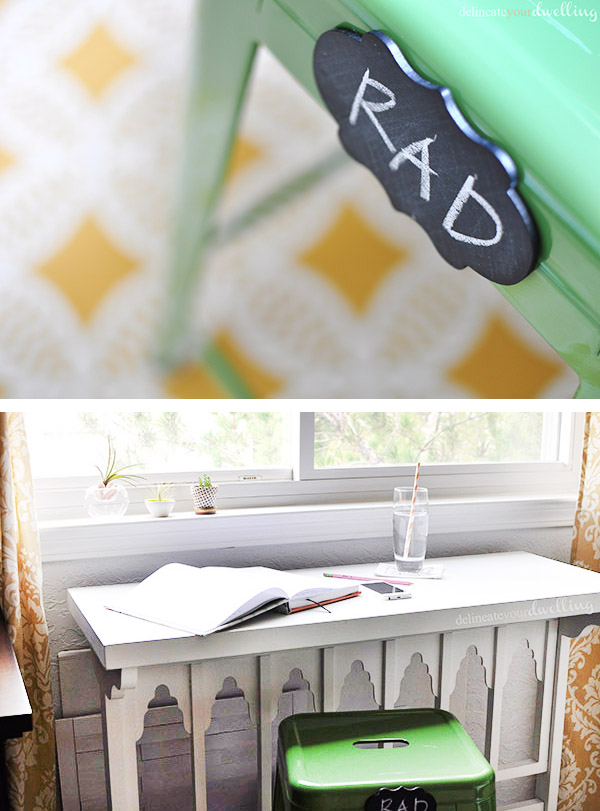 Creating a Printer Zone
Creating a printer zone is important for any home office space. However, often times printers aren't the most beautiful looking appliances. Thankfully there are a few ways to make them look better while sitting out.
This corner of the room holds our printers and all my silhouette tools/vinyl. As well as being the home to my Pineapple Washi Tape Print and my Tree Ring Chalkboard.
Since we don't use our huge printer on a daily basis, I took an old crib sheet and covered the printer. The simple white and gray polka dot print of the sheet is just enough to give this area a more clean tidy look. And containing my vinyl tools in a cardboard container, keeps them handy to use but out of sight.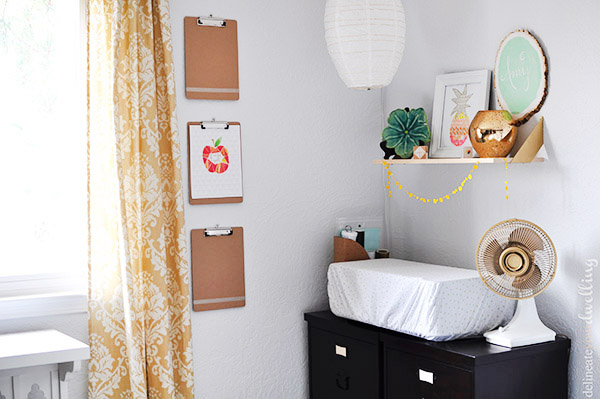 Looking for all the updates in one place? Check out my Guest Room + Office Makeover Reveal post.
Want to see some of the creative crafts I used in this room?