INSIDE : Learn about creating vertical storage in your home with creative open office shelves. Store important documents, spare office supplies, inspiring books, inspirational quotes and other home decorative items.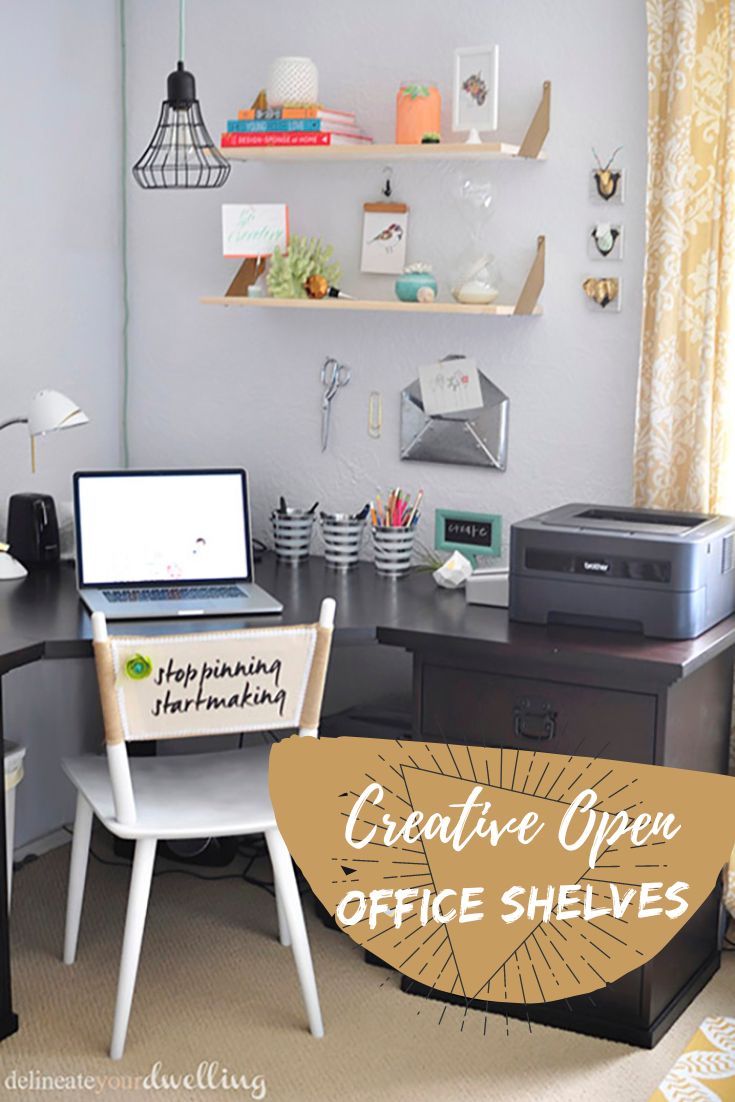 This post may contain affiliate links. See full disclosure here.
This post has been updated since it's original publish date of September 2014.
Today we are on post number three of my Guest Room and Office Makeover. There are so many beautiful crafts, creative details and helpful organizing tips I used into today's Open Office Shelves post and be on the lookout for my little Ikea hack.
Check out all the posts I've done for this room below…
Upgrading IKEA Open Shelves
When I saw these simple Open concept Ikea Wall shelves (similar), I fell in love. We made a quick trip up to Colorado to IKEA, we sadly don't have one in New Mexico and I picked four of them up!
They shelf brackets came black, but I knew I could paint the metal gold and they would be perfect for our guest room and office space. I love Ikea, so versatile and easy to update per your taste… yay for an Ikea hack! Did I mention they were only $7.99 a piece.
I took the brackets outside and gave them each a few light coats of paint in my favorite Rustolem spray paint. They had the perfect golden glisten now and were ready to install!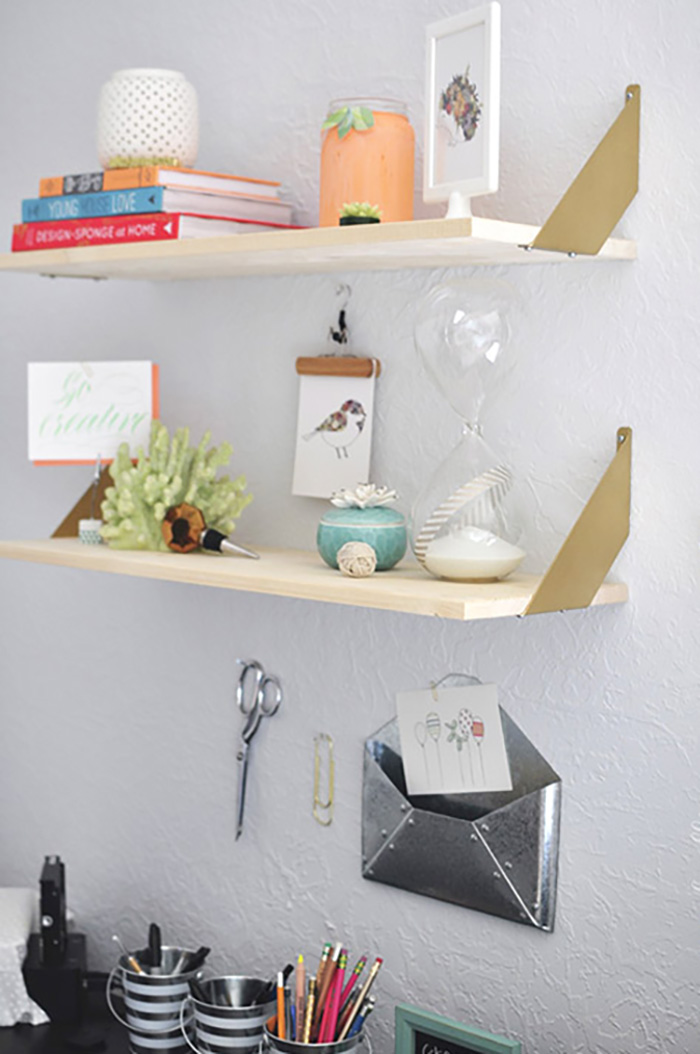 Other great shelf bracket options…
Open Concept Shelving tips
I love open concept shelves when you are looking to display items.
Tips to using open concept shelves are displaying what you use everyday, adding layers to create depth, using different textures to create interest, use the rule of three and displaying contrasting sizes and shapes.
This shelf holds a coral piece that we used as decoration at our wedding, a few fun prints and a sand timer.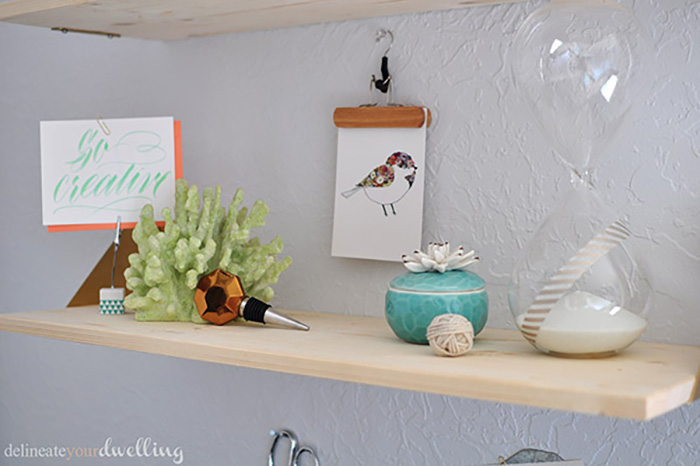 I hung a single light over the corner desk and shelf area to provide just a bit more light in this area. You can read more about how I wrapped an open light fixture cord. Adding the mint green to the corner really added color and interest!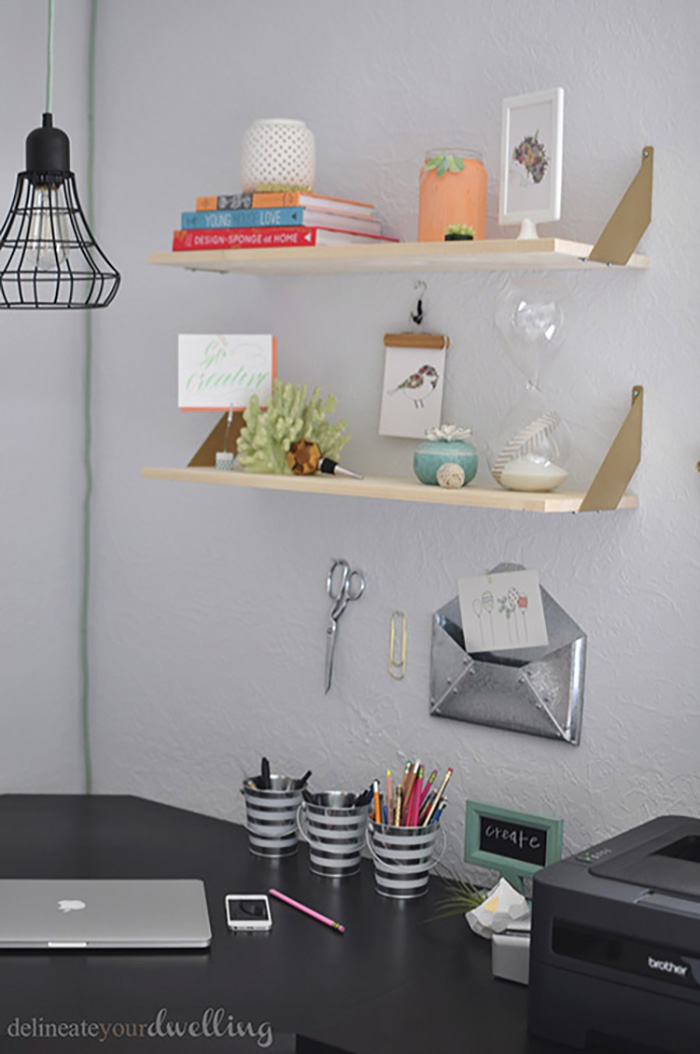 How great is this galvanized mail holder. I have passed on purchasing it so many times, not knowing what I would use it for, but it works perfectly near my desk for holding little notes.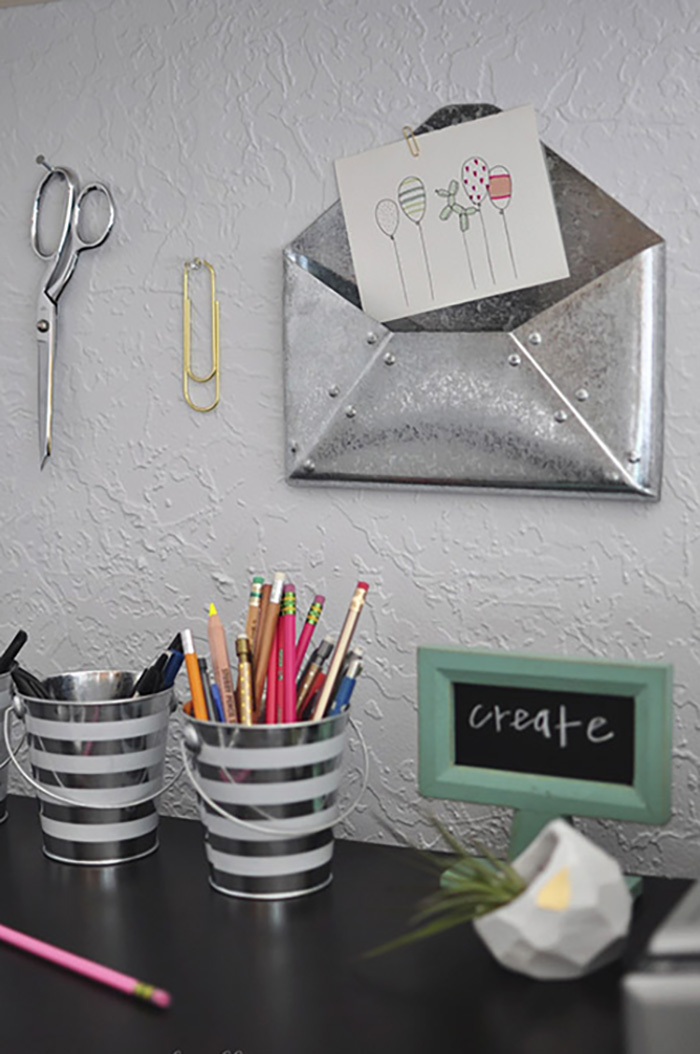 The top shelf holds some of my favorite recent design books (Chalkboard Lettering, Young House Love + Design Sponge at Home), one of my painted mason jars and a fun floral porcupine print.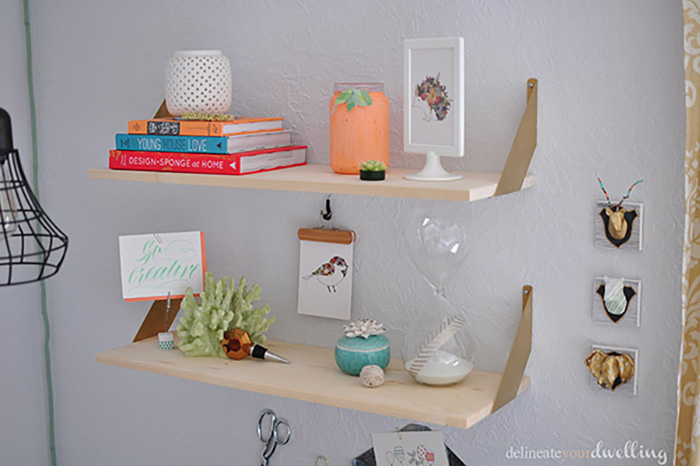 Looking for all the updates in one place? Check out my Guest Room + Office Makeover Reveal post.
Want to see some of the creative crafts I used in this room?