INSIDE : Learn how to create a desert landscape plan on a budget. Using three simple steps you can bring beauty to your front yard while using native low water plants.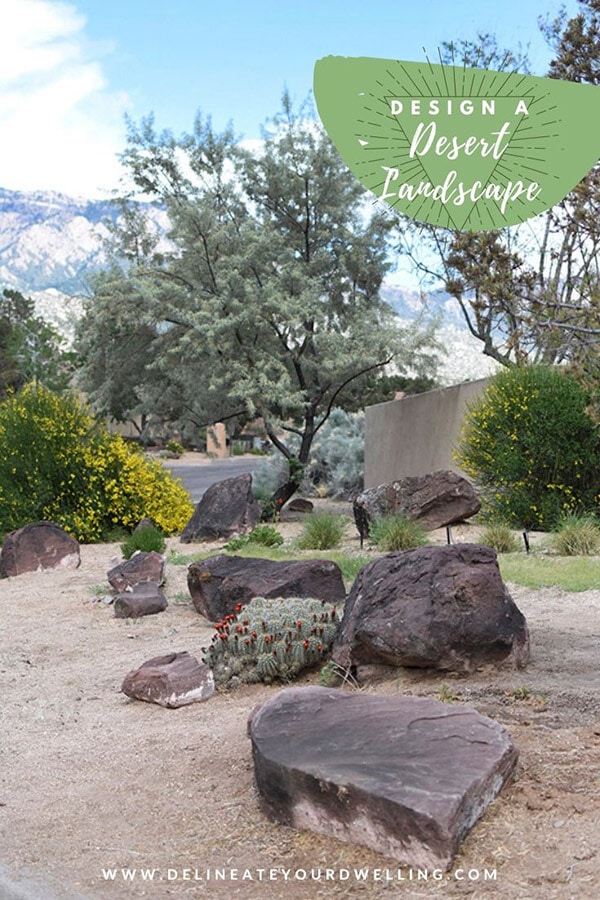 This post may contain affiliate links. See full disclosure here.
If you are like me and live in a dry arid climate (New Mexico) having lush landscape, turf grass everywhere you look and all the plants your heart could want, sometimes just isn't quite an option. If you love plants like I do, you might like some of my other Plant Crafts or Plant Care.
I have lived in two homes here in New Mexico and our first home had quite a bit of landscape work done in the front and back yard – so it wasn't very challenging for me to add my plant-y touch and feel pretty good about our space.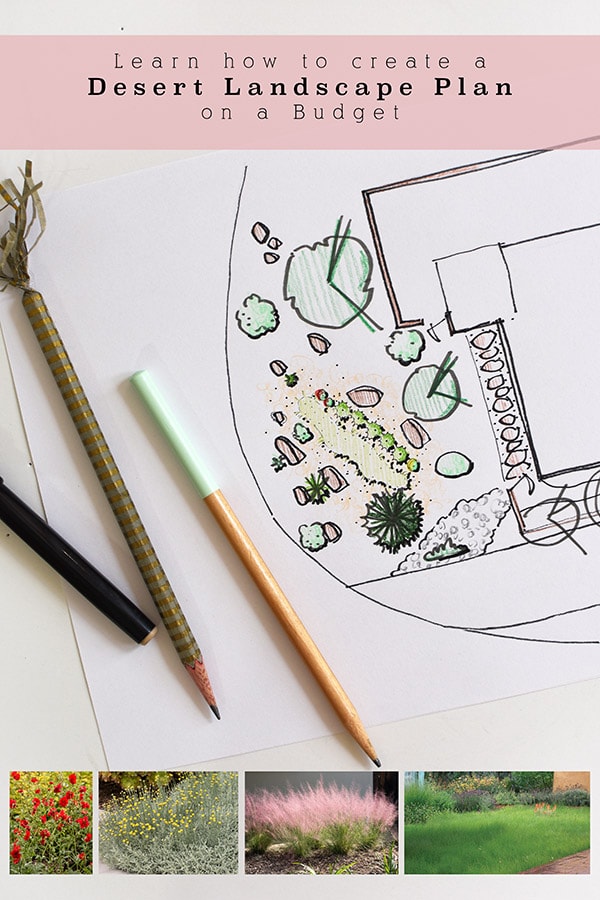 However, our second home is nestled in a VERY natural desert neighborhood. We have ordinances on what plants we can use, no sidewalks, no street lights are allowed, etc… It is supposed to look like our homes were just dropped into the native high desert landscape without hardly any disruption.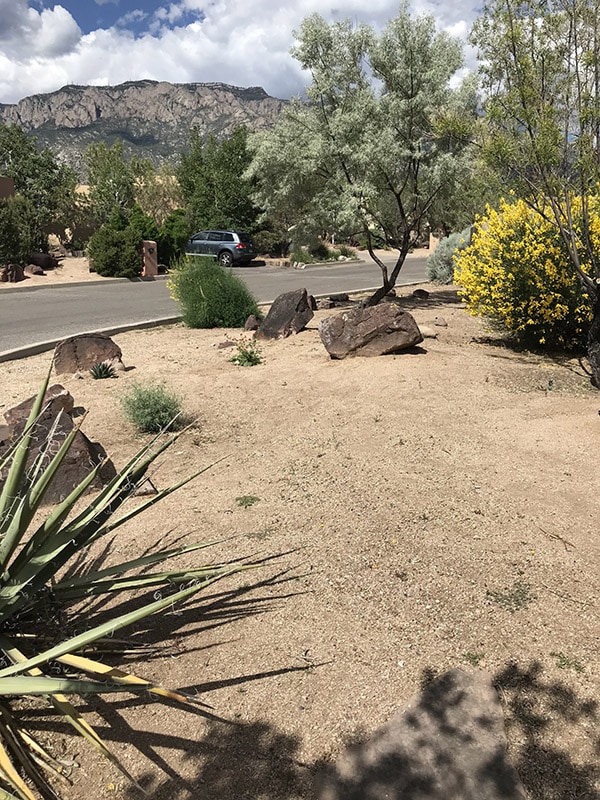 While I fully support low water, native planting… part of my heart will always be a Midwesterner (go Hoosiers) and I don't know if I can ever fully embrace 100% native. I need some design, I need some plants that don't have spines and stickers and things that would impale my body.
Ready for the good news?!! I am here today to tell you, if you are a desert dweller, you can have both low water, native plants AND a gorgeous lovely yard to enjoy and I have three tips to help you get closer to that landscape you have always dreamed about!
How to make an inexpensive Desert Landscape Ideas
I believe when designing a landscape there are three main items to consider, regardless of your geographical location. Obviously there are numerous considerations to make – I was a practicing landscape architect for 8 years, but I believe these three items will help guide you along on your yard design.
1. FOCAL AREA
First, decide on a focal area. Being in the desert means we can't have green lush landscapes in every square inch of our spaces (most of the time). However, pick one main space to plant more heavily. This could be the area around a back porch or even the area near your front door if you live in a more traditional neighborhood.
We live on a curved corner lot, so I choose a basic area that when driving past our home, would be a clear focal area.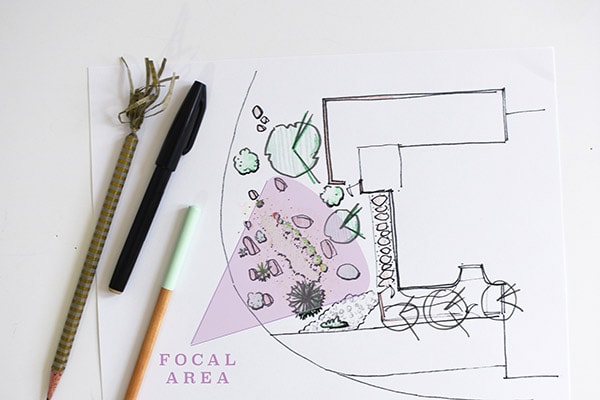 Creating a more dense landscape in one main area, also helps cut down on expenses.
Typically when you create your most used spot in the yard or the main focal area, you can then create concentric circles around that to label as the other use zones. I've shown my main landscape focal area in orange. The next highest planted and used space is in green and the peripheral area that is used least and the least planted is shown below in purple.
This is known as landscape zones and no matter if you use this method in the middle of the Midwest around your deck or deep in the desert, this concept will apply.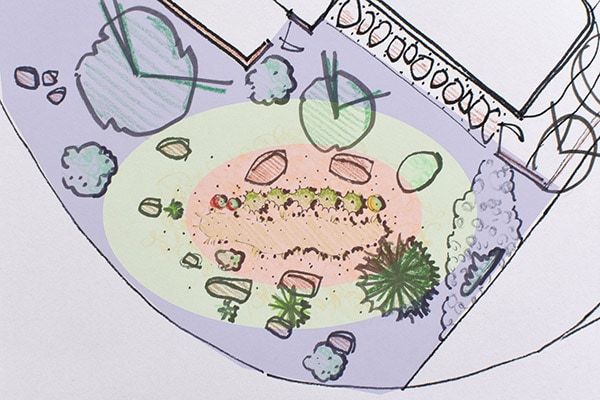 Once you have your main area that you will be focusing on in your yard, it is time to move to the next step.
2. Capture all the water
It's no surprise to learn that the desert does not get much water. Here in Albuquerque we get 8″ of rainfall per year… Indiana, where I am originally from, gets 22″ per year just to give you an idea of how dry the desert really is.
When designing a desert landscape or yard space it is so critical to plan for how you are going to capture all runoff water and then how you will supplement with irrigation. It is important to collect any excess water from the roof drainage, to the slope from your yard. Collect and harvest that natural water!
I'm excited to try a new temporary irrigation system for my project. We already have an irrigation system for our native trees and larger shrubs, however this new area I am planting has many native plants that once established won't need much water. So I decided to try a hose faucet irrigation system. I ended up getting this Orbit Programable Hose Faucet Timer. And this Smart Hose Faucet timer was very tempting to get, however since I plan to make this watering system fairly temporary I decided to stick with the other system.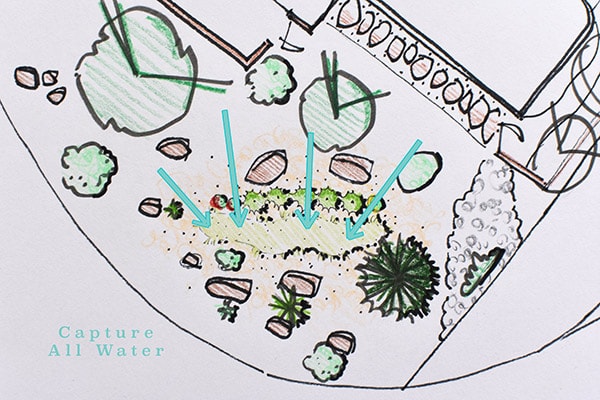 Now that you have your main area located, you are working to harvest all water from the site, it's time for the final tip.
3. Use Local Plants
This is another tip that will work best for wherever you live. Heading to your local nursery, instead of a big box store, will help give you better insight into plants that are native to your part of the country. Those types of plants will thrive in your particular climate and water needs. And the staff at local nurseries should be able to help you with any questions you may have about sun requirements, too.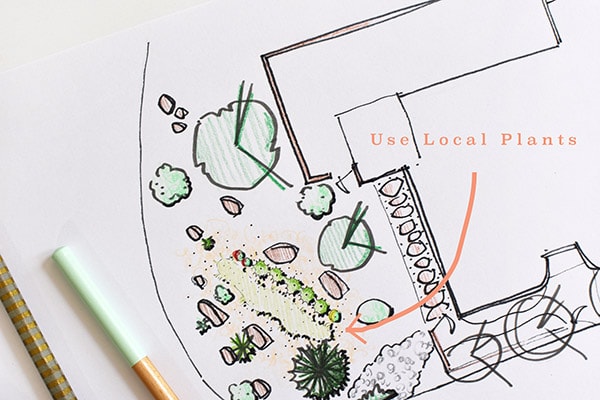 For my little planting area, I decided to create a mass of grasses with pops of color on either side. Then, I am creating a natural swath of native warm season grass that I hope will eventually naturalize and spread a bit through out the area.
I am using Mrs. Bradsahw Geum, Ruby Muhly Grass, Santolina and buffalo grass.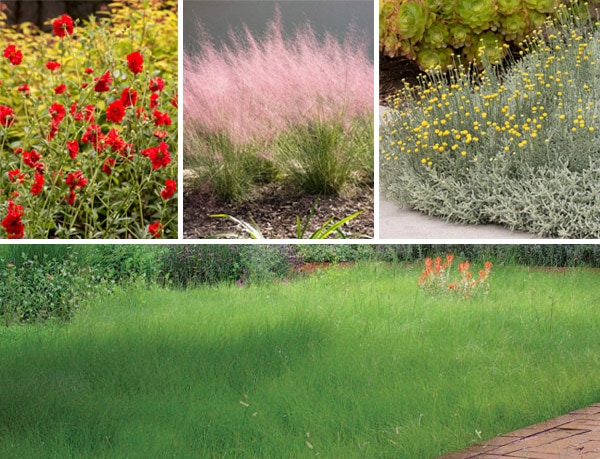 Favorite High Desert native flowering perennials plants
Hummingbird Mint
Sunflowers
Blanket Flower
Coneflower
Red Hot Pokers
Whirling Butterfly (THE BEST PLANT!)
Allium
Desert Broom
Columbine
Salvia
Favorite High Desert native ornamental grasses
Sideoats Grama
Regal Mist
Mulhy Grasses
Buffalo Grass
Blue Grama Grass
Elijah Blue Fescue Grass
Shanandoah Switch Grass
Karl Forester Feather Reed Grass
I will share how this landscape grows in – be on the lookout!
Front Yard Desert Landscaping Ideas on a Budget
Looking for front yard desert landscaping ideas on a budget that will help improve your space, but won't break the bank while doing it? Here is a list of simple ideas to help you achieve a beautiful native desert front yard.
Seed your yard with Native Wildflower Mix
Incorporate a few larger boulders
Pick one or two larger native shrubs (Desert Broom or Russian Sage) and allow those to grow to their 6′ width size, then plant just a few smaller plants to help fill in
Use potted plants to create interest in your yard
Looking to really keep those plants alive and doing well? You might be interested in my Keep Plants Alive checklist and my Indoor Houseplant Care ebook.
If you are looking for more outdoor projects, you should check out :
5 Must Do tips for Updating your Outdoor Patio
Create a Desert Landscape plan on a budget
Create a simple Raised Vegetable Garden
Painted DIY Dash Doormat