INSIDE : Learn how to remove a small concrete patio by hand. You may think they only way to cut up concrete is with a jack hammer, but if you have a small slab you can use a sledge hammer and crow bar which is much more budget friendly!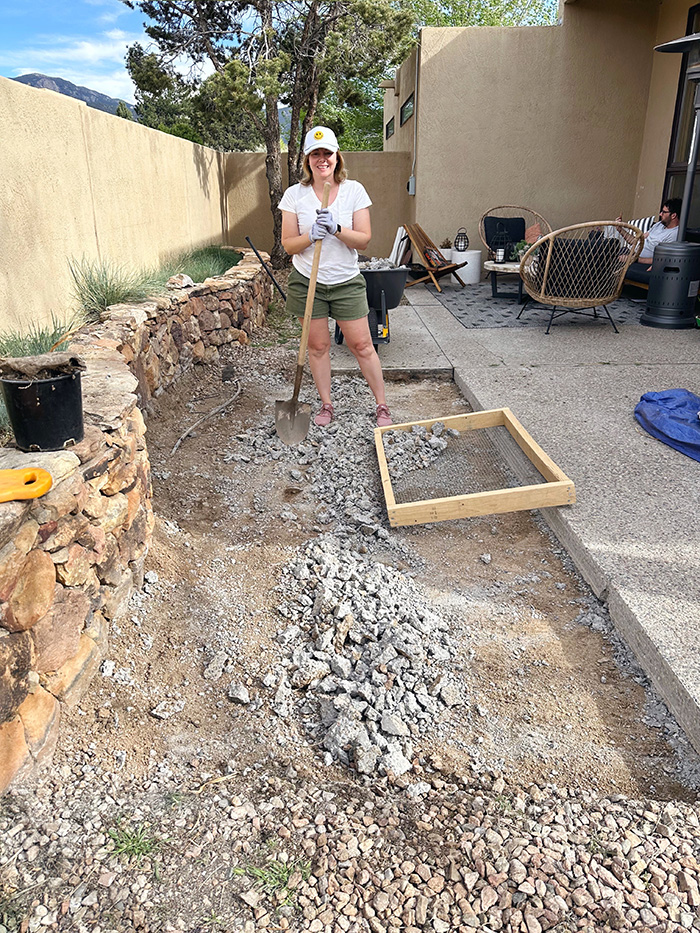 This post contains affiliate links. See my full disclosure.
This is the summer we turned our concrete and rock backyard into a lovely oasis that we actually want to spend time in! I'm not sure why we waited until it was over 100'F here in New Mexico to tackle this project, but what can you do – ha.
The BEFORE
Here is the before. We have all these odd shaped concrete pads, a pine that constantly leaves sap and pine needles for us to step on and lots of gravel rock that basically grows weeds.
Call me crazy, but I wanted a just a small section of grass to help soften the space. A place for my kids and dog to run around a bit.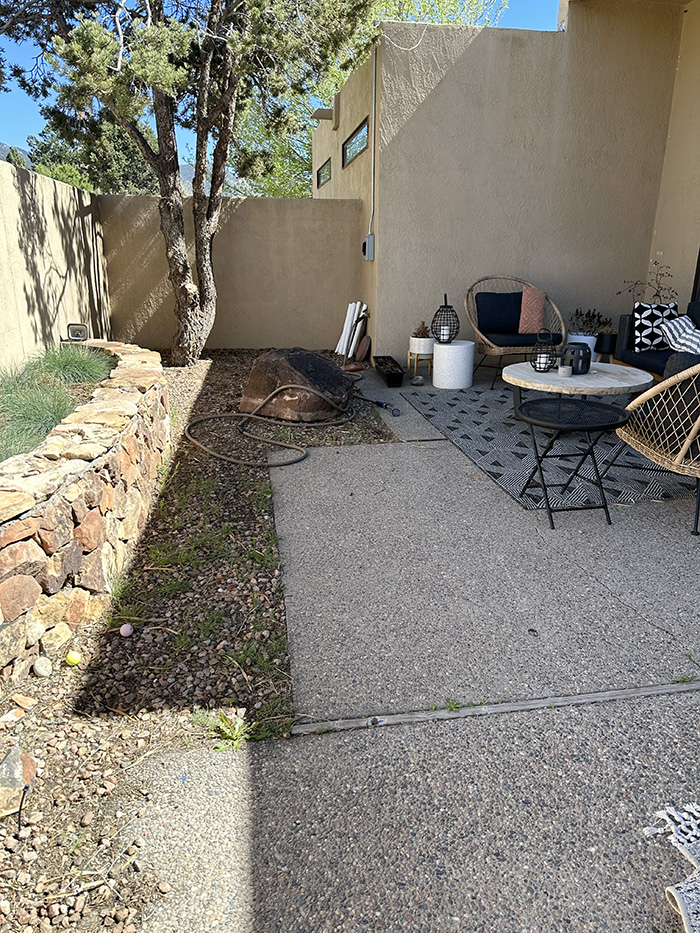 With the right tools and a little elbow grease, you can actually remove a concrete slab patio without major power tools. We spent two days working on removing ours, but if you started early in the day – it could totally be done in a single day depending on how big your slab is.
You can see the entire project timeline here…
Installing a Small Turf Irrigation System
Installing a Small Sod Area
Installing Bistro Lights in your Backyard
Negatives of using a jack hammer to remove a concrete patio
We debated renting a jack hammer to remove our concrete, but ultimately decided against it because mainly jackhammers can weigh up to 90 pounds, which is quite heavy to use and maneuver around our little patio area. A jack hammer just seemed like overkill for our space.
In the end we bought a 20 lbs sledgehammer, which we could both lift (it was a bit harder for me, I'll be honest), swing and found it to be highly effective. Unless your patio has rebar in it, I would recommend this method for most residential concrete removal projects.
Cost to remove concrete patio by hand
Removing a concrete slab yourself is an affordable alternative to hiring a company to come and do it. Contractors can change from $500 to $5,000 for concrete removal. And we found you can't take concrete to the dump, so there is an extra fee for disposal of concrete.
The cost of the supplies needed to remove concrete yourself is significantly cheaper. Depending on which items you may already own, it could be less than $200.
Supplies needed to remove a concrete patio
How to remove concrete patio
As I mentioned in my how to cut patio concrete post, we used a walk behind concrete saw. So the concrete was "cut" but the pieces were still roughly 4′ x 10′ long.
The next step was to actually break those larger pieces into smaller manageable chunks that we could then lift and remove.
Cover the Surrounding Area Before Removing the Concrete Slab
Before you start removing your concrete, it's important to protect any surrounding outdoor furniture, rugs, delicate plants and even other concrete that you plan to keep.
We covered our outdoor furniture with these covers and rolled up our outdoor rugs, to set to the side. Drop clothes work well also for covering and protecting your nearby area.
Use a Sledgehammer to break up the Concrete Slab
If you already have cracks in your concrete, those are a great place to start using a sledgehammer. If there are no cracks yet, start in a corner and give your concrete a few good hits to get things going. You should start to see cracks begin to form soon.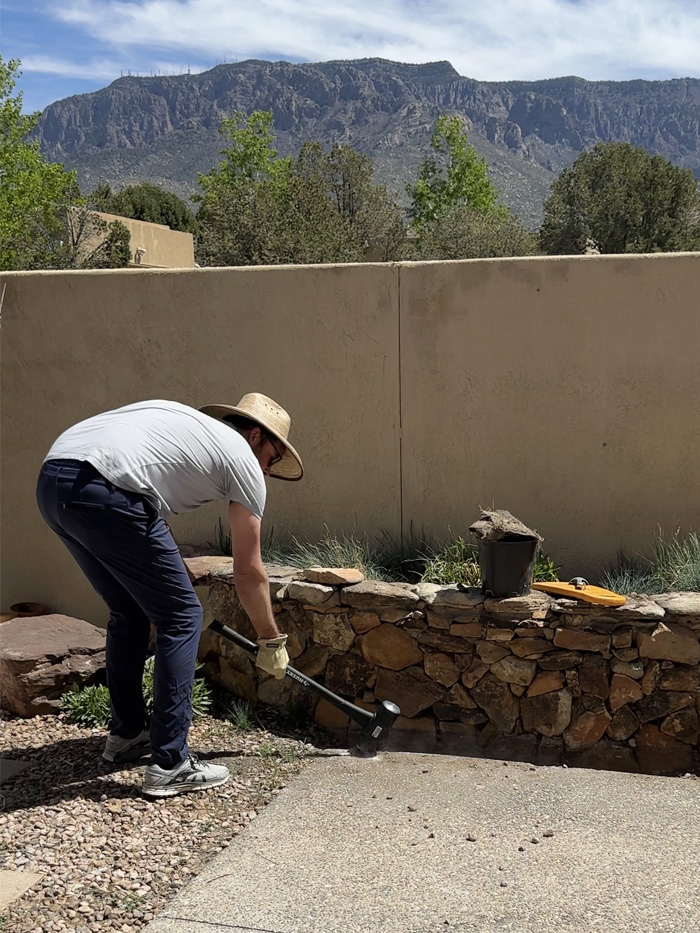 Keep using the sledgehammer to break apart pieces of concrete and ideally make more cracks.
Please note, when using a sledgehammer, let it fall onto the concrete patio naturally. If you swing it down, there is chance of getting hurt. Simply lift the sledgehammer and let gravity do the work for you.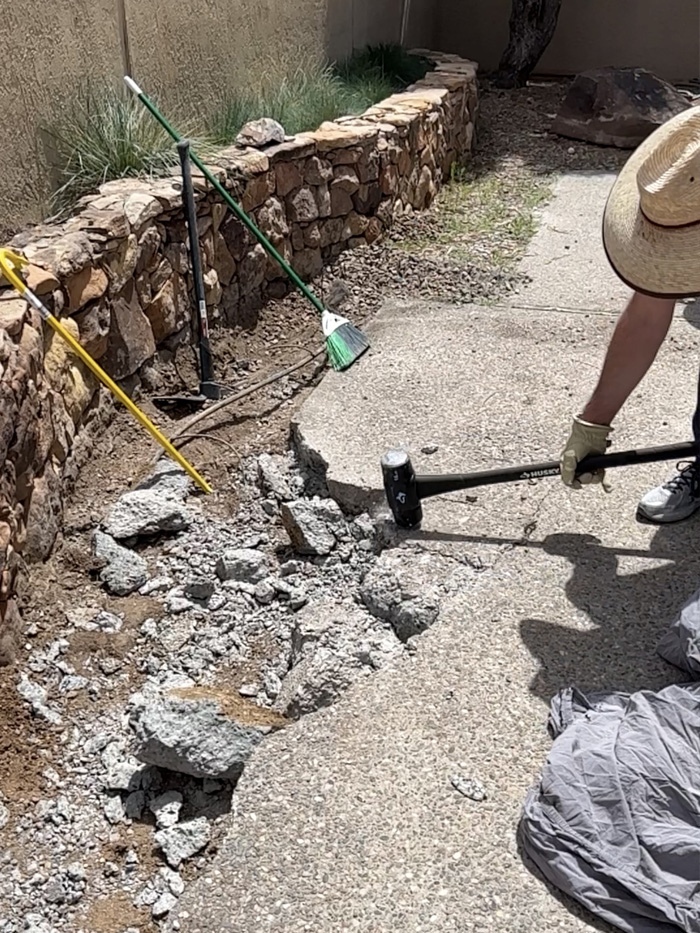 Begin Prying up the Concrete Slab
Once you begin to see cracks form in your concrete, it's time to start using the crowbar. Wiggle the end of your bar under the concrete near a crack and place a large concrete chunk, large rock or even a piece of wood to create a lever.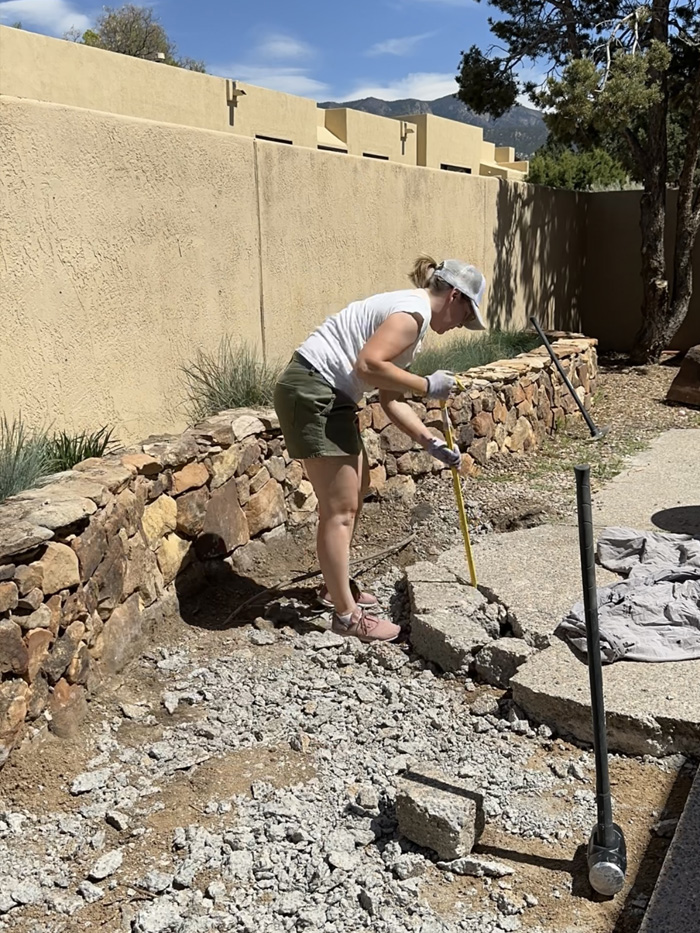 Creating an air gap under your slab, is WILDLY helpful during the sledgehammer cracking and removal steps. Even digging out just a tiny gab under your concrete helps.
You can see I kept a chunk of concrete to use below for my lever.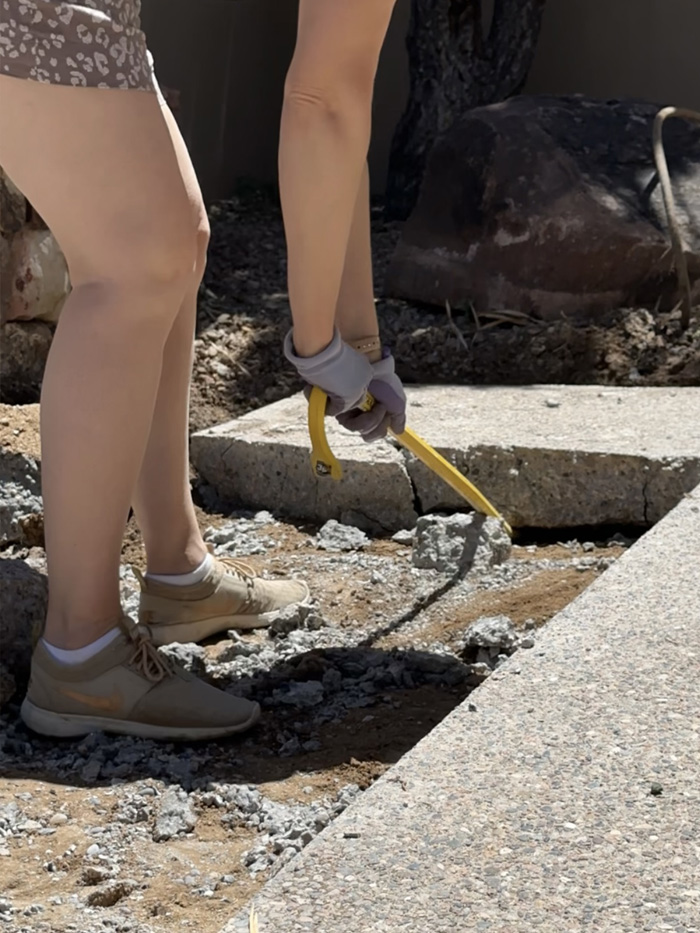 Clear concrete debris as you go
As you continue with this process, you will quickly see that there is a lot of rubble, concrete chunks, dust and debris that accumulates.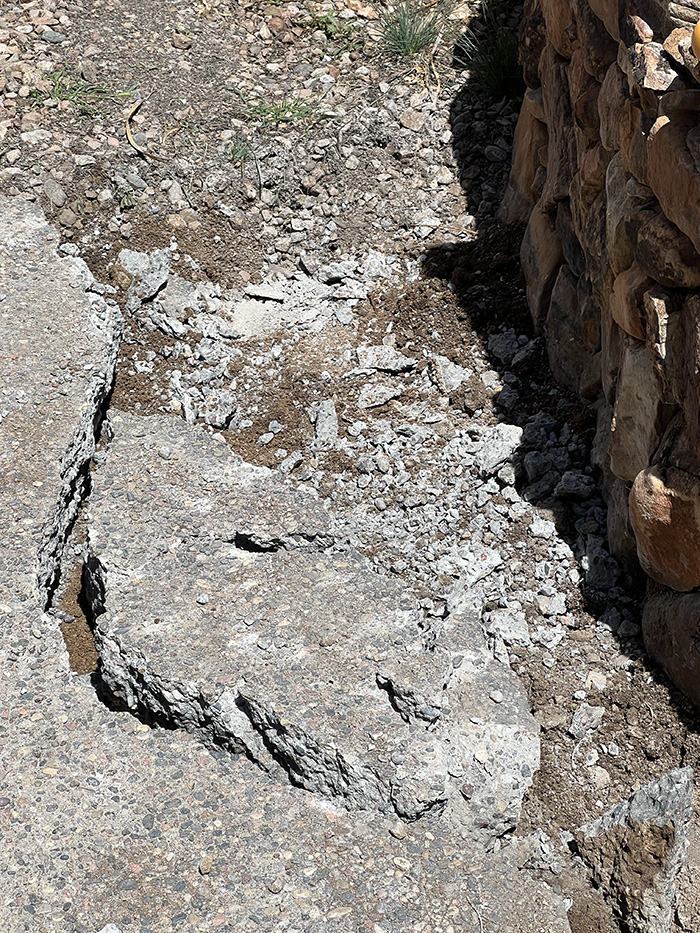 There may also be mesh or even rebar in your concrete, which you will need to cut as you go.
As you work, it's easiest if you make piles to be picked up later – whether that's on the ground, in a wheelbarrow or buckets or even the flat bed of a truck.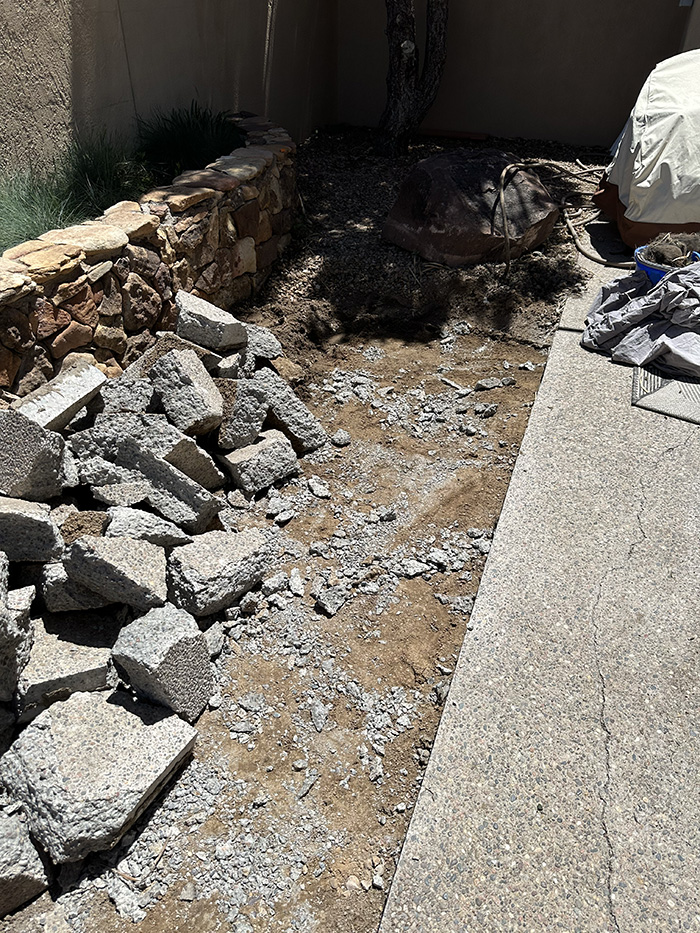 We threw the larger pieces of broken up concrete behind our backyard wall and eventually hired someone to come and haul it away for us. Concrete can not be disposed of in the normal dump, so this is something to take into consideration during this project.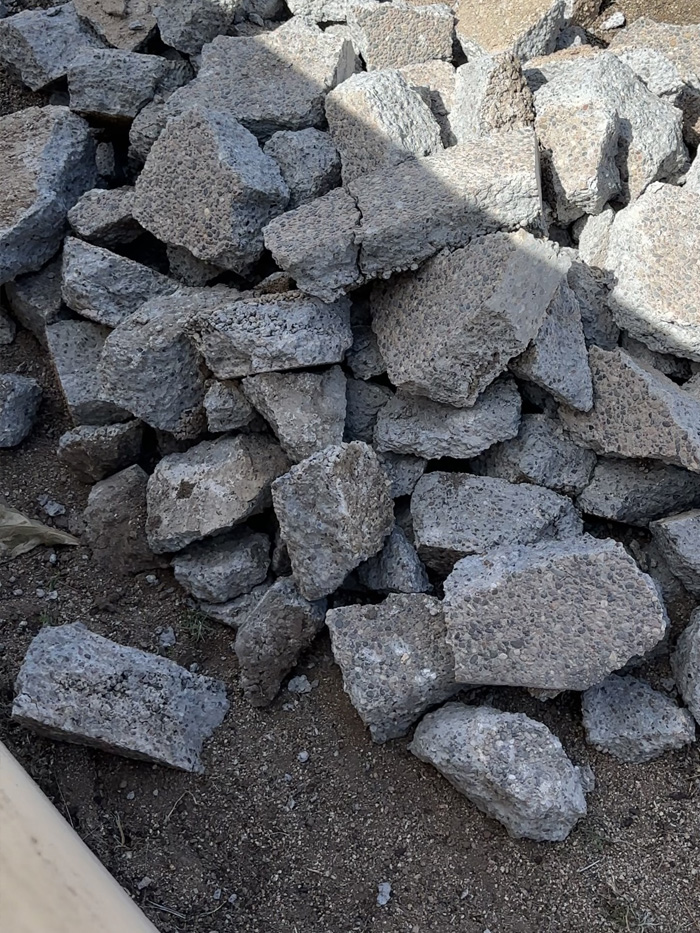 Tips for Breaking Concrete by Hand
I can not stress this tip enough, you MUST wear eye protection. When using the sledgehammer and pry bar, concrete and dust even can easily fly into the air – protect those eyes.
Before starting this project, do a little investigative digging to see the depth of your concrete. If your concrete patio or sidewalk is roughly 4″ or less, breaking up the concrete by hand should be fairly easy. If it is thicker than 4″ it will be doable, but more difficult.
Removing a concrete patio by hand is hard and tiring work. Make sure to have the appropriate protection and keep well hydrated!