INSIDE : Learn how to make a simple outdoor stone wall repair in just one day! No more loose rocks and stones falling off your backyard wall anymore.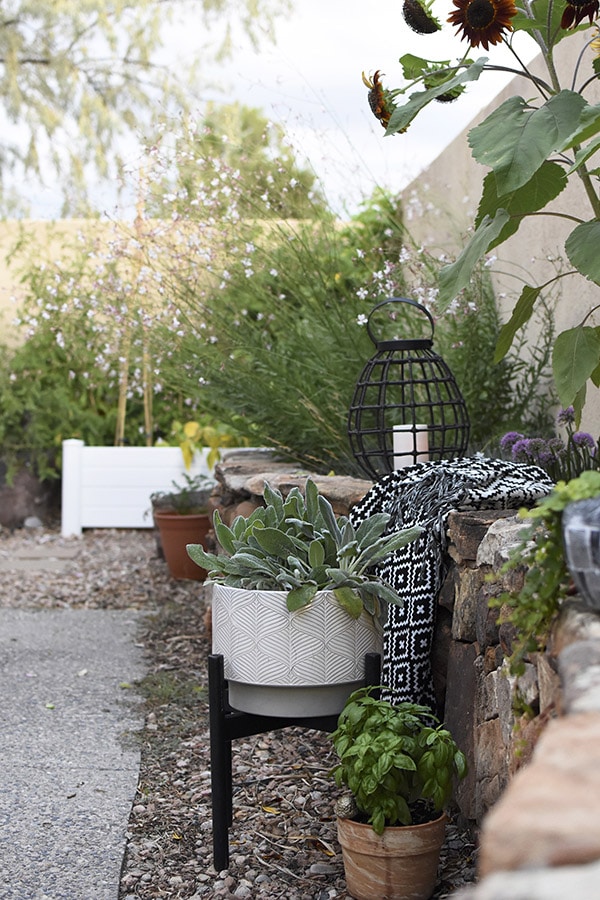 This post may contain affiliate links. See full disclosure here.
Our backyard has a nice long rock planter wall filled with all kinds of lovely plants. It's the perfect height for sitting at and my kids love walking back and forth on it to see over our stucco wall to the rest of the neighborhood.
When we first moved into this house three years ago, there were maybe just two or three rocks that were loose on our wall. However, after a while more and more rocks were getting loose and coming right off. Someone would go to sit down and a rock would fall right off. Or my kids would walk be walking along the wall and a stone would slip right out from under them. Not safe at all, so it was time I took matters into my own hands.
What supplies do I need to repair a stone retaining wall?
Mortar Mix, Quikrete
Bucket
Work Gloves
Brick and Block Trowel
Water
Sponge
Large Stiff Bristled Brush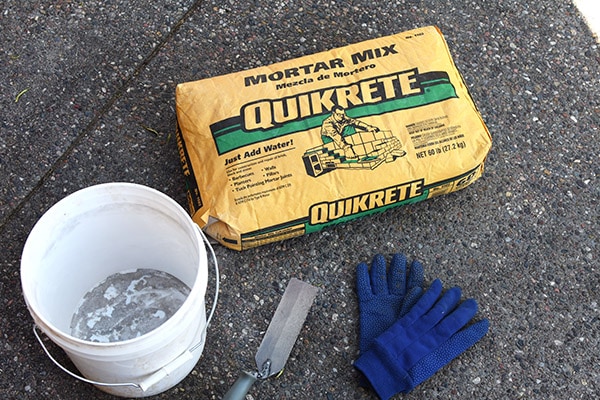 How to repair an old stone wall :
Start by removing any of the loose stones from your wall. I found it best to stack them on the ground right in front of where they go. Depending on the type of rock used on your wall, there may be very specific directions that your stones will fit.
If you have a more rounded stone, it may not be as essential to keep the rocks nearby their original location.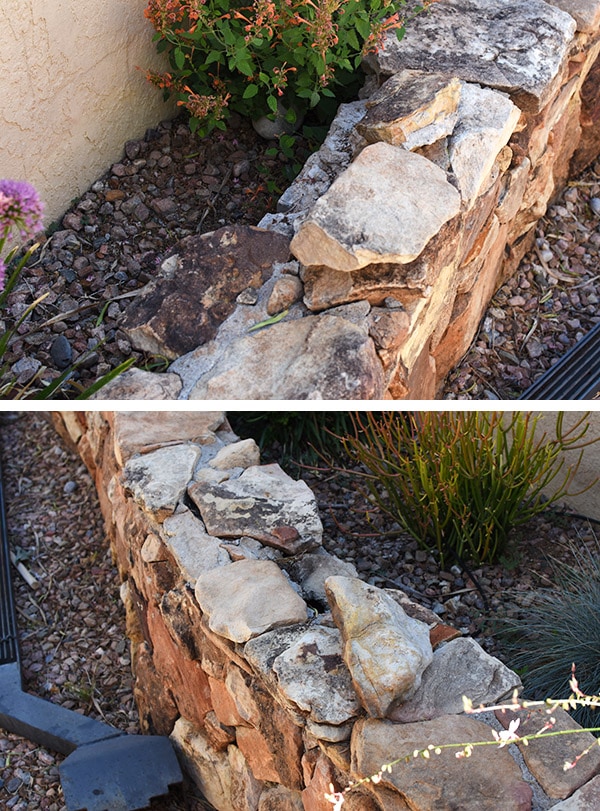 The next step in repairing your stonewall is giving both the rocks and the place on the wall where the rock had been located a nice good brush down. It is helpful to use a hard bristled brush for this job to really remove any major dirt, debris or additionally loose mortar from the area before adding new mortar.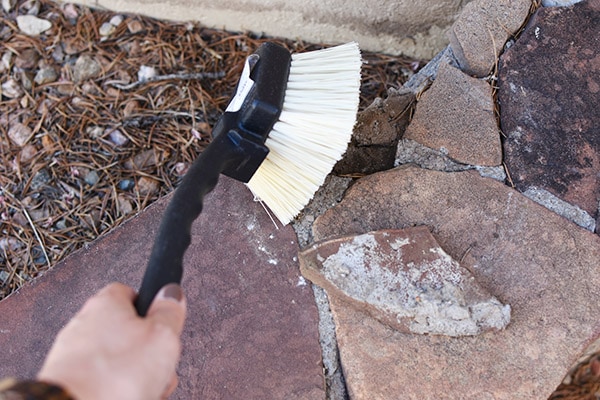 As per the directions on your specific type of Mortar Mix, I used Quikrete add your mortar into a small 2 gallon bucket and apply the specified water. Be warned, quikrete hardens very quickly so be ready to mix and apply!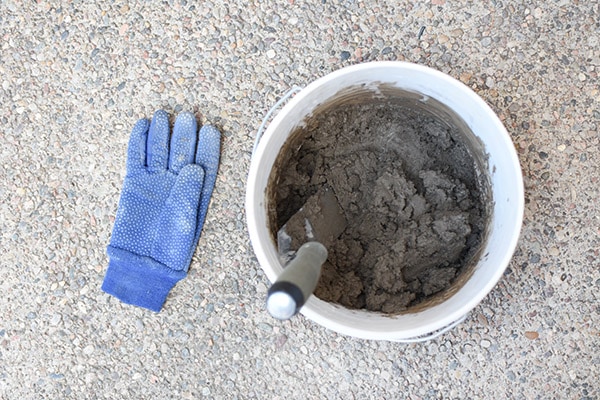 Whenever you are working with mortar, it's best to wear gloves as concrete can dry your skin out so badly and it's not great to get covered in that stuff.
Once you've mixed the mortar and water, using your trowel apply it to the edges of your wall where the rock had been located. I also then applied about an inch of mortar to each side of my stone.
Nestle the rock into place and scrape off any excess mortar with your trowel.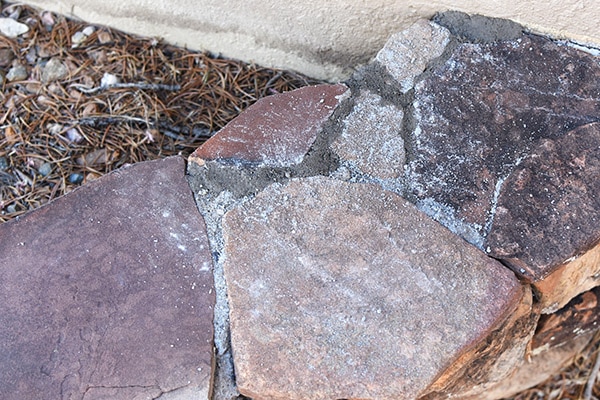 I found it helpful to lightly spray the areas I had completed with my hose on a mist setting and then using my hard bristle brush and a sponge, clean up the stone's top side.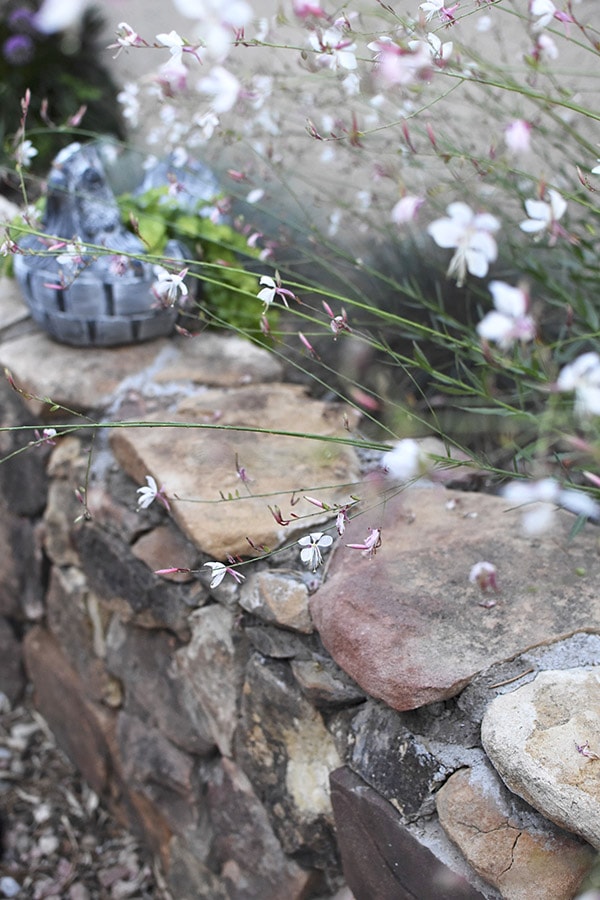 Outdoor Stone Wall Repair :
The pattern on our wall is very rough and sort has a stacked stone look. It's important to try and mimic that look when you are repairing your wall.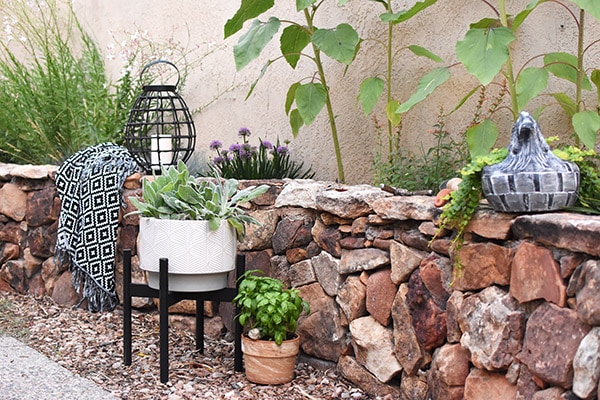 How much does it cost to repair a Stone wall?
The cost of a stone wall repair is fairly inexpensive. I spent about $38 for all my supplies and it only took about an hour to do the entire wall's rock repairs.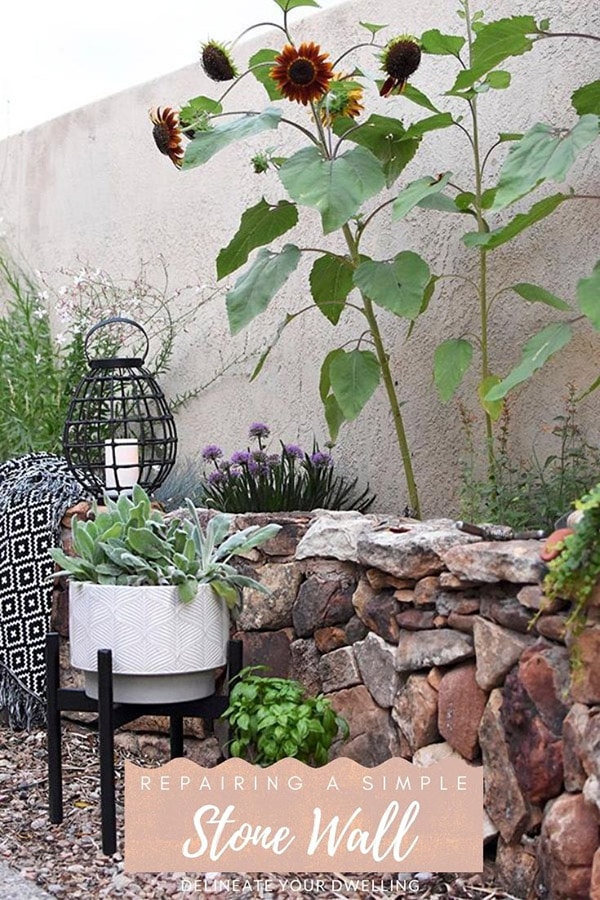 Here is the cost breakdown for each supply –
Mortar Mix, Quikrete $8
Bucket $2
Work Gloves $7
Brick and Block Trowel $6
Water
Sponge $4
Large Stiff Bristled Brush $11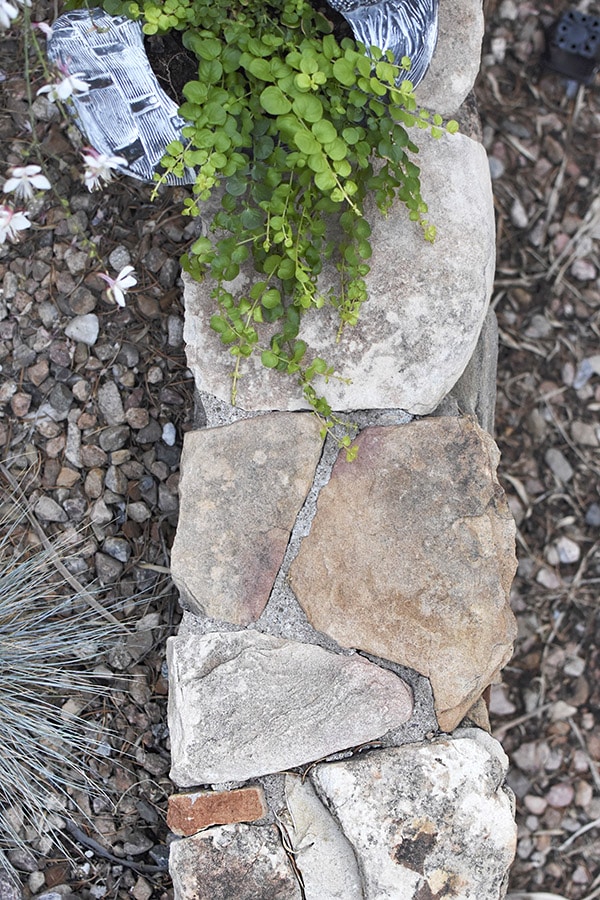 It is so nice now to have all the stones set in place and able to use and enjoy the wall without worry and concern!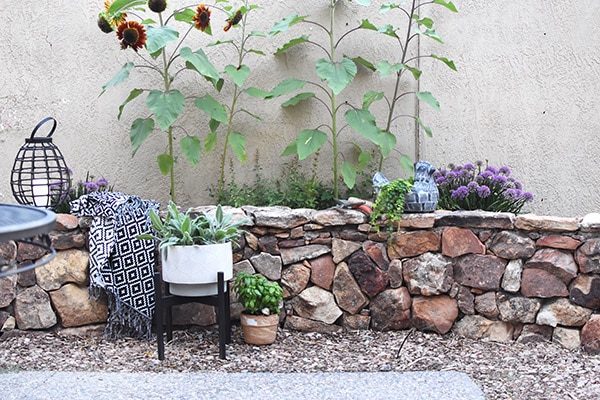 If you are looking for more outdoor projects, you should check out :
5 Must Do tips for Updating your Outdoor Patio
Create a Desert Landscape plan on a budget
Create a simple Raised Vegetable Garden
Painted DIY Dash Doormat
Shop the supplies and materials in this post :