INSIDE : Learn how painting your mailbox and address tiles can completely change the look of your home! It's so much easier than you think and is an inexpensive curbside update.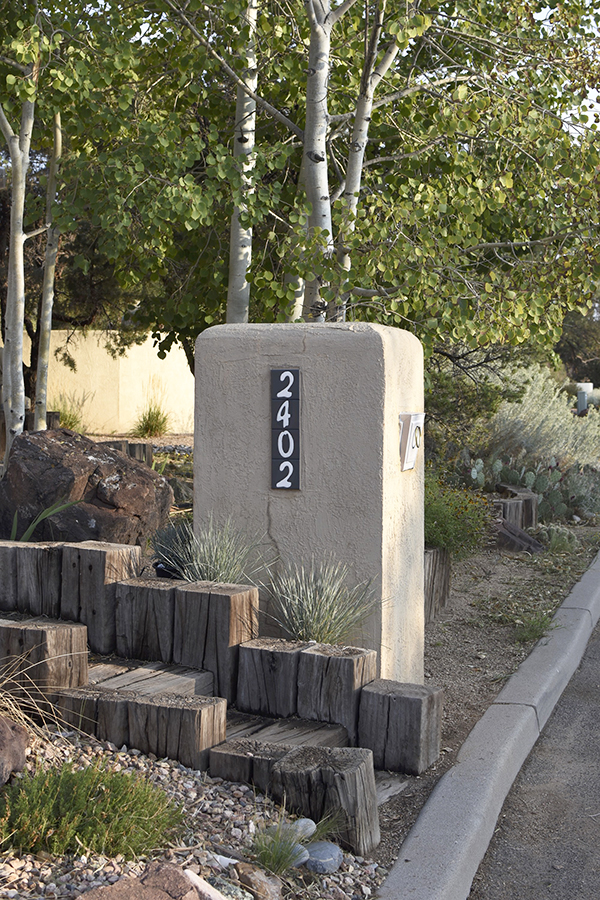 This post may contain affiliate links. See full disclosure here.
Last week, I finally shared my refreshed curb appeal Front Door and how I was able to do it all with a little wood repair and PAINT! Part of giving your curb appeal a new look, is updating your mailbox. Our mailbox is built into a stuccoed structure, so there isn't a ton I can do to update it but there are a few things.
Today I am going to share two of the most simple updates, how to paint your mailbox to match your home and how to paint your address tiles with new colors.
What supplies do I need to paint my mailbox and address tiles?
Sanding Blocks
Microfiber Cloth
Rubbing Alcohol
Wooster Shortcut Angle Paintbrush – This is my FAVORITE brush and I use it ALL the time.
Small Craft Paint Brush
Painter's Tape
Behr Ultra Exterior Paint + Primer in Winter Way (for mailbox)
Behr Ultra Exterior Paint + Primer in Gazebo Gray (for address tiles)
How do I paint my mailbox?
Your mailbox most likely is the more typical free standing mailbox on a post of some kind. However, regardless of the type of mailbox you have, the steps to painting it should be fairly similar.
You might have old peeling paint on your mailbox and if so, the first to updating the look is to sand down any peeling paint. Once you have sanded your mailbox, wipe down all the dust with a damp cloth and allow it to fully dry.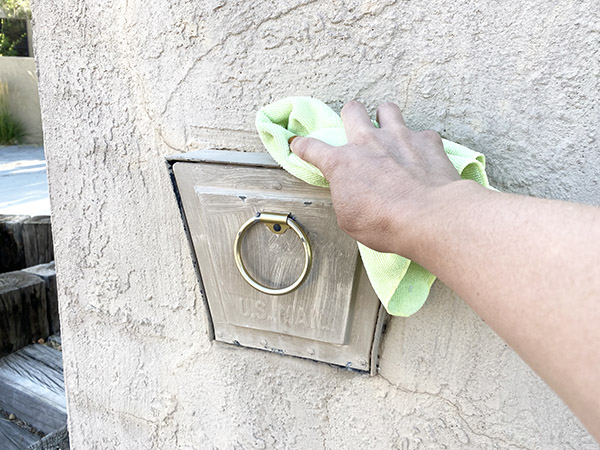 Next, prep your mailbox with painter's tape if you have areas you want to remain unpainted. This might be around a mailbox flag, decorative metal work or in my case, where the mailbox and the stucco structure meet.
Lastly, be sure you are using an exterior paint and get to painting! I use a Small Handheld Paint Brush for most of the larger flat areas and then a small Craft Paint Brush for the tiny detail areas.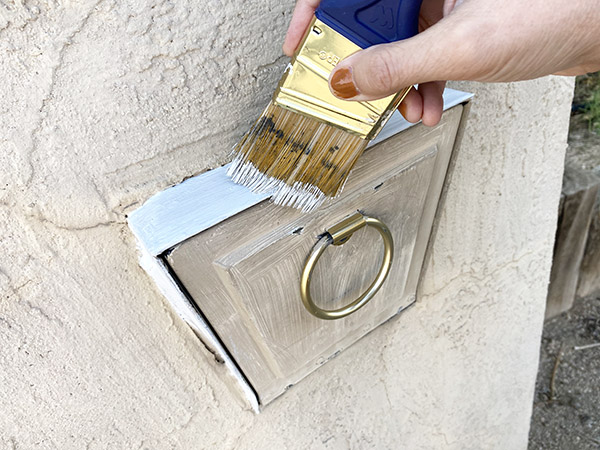 Allow your mailbox to dry fully and then do another coat. I found if you are using quality paint, two coats were sufficient coverage.
How do I paint my home's address tiles?
Often times, address tiles on your home can be a very particular choice for a homeowner's style and aesthetic. However, every home I have moved into… I never like the address tile our home has had. Either the colors are way off or there is a random Chili Pepper at the end of the numbers. I have a simple fix that I've done at both of our homes and it takes 15 minutes to do!
Exterior paint is the answer again. Be sure to clean off your address tiles with a cloth and rubbing alcohol.
If your address tiles are flush with your home or the wall, it might be helpful to put painter's tape around the tiles. Our address tiles were stuccoed onto the mailbox and weren't flush. So I didn't need any tape on mine.
Next, it's painting time! To make sure you can paint around the smaller details of numbers, I found it best to use a small craft brush. I used an angle brush so I could paint wider areas, but also could handle some details.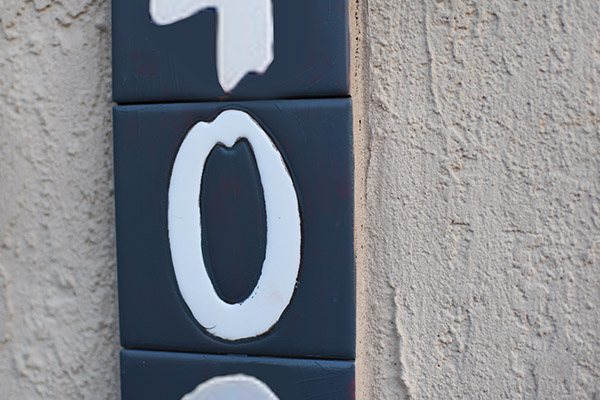 When you paint with exterior paint on tile, the first coat will immedatialy make you nervous. The first coat looks like a disaster, but thankfully the second coat goes on smoothly. I found it covered perfectly on that second coat.
I've done this technique on two different houses and have never had any trouble with the paint scratching off, bubbling or having any issue.
Updated Mailbox and Address Tiles
I can't even express how much better these two very simple items did to our front curb appeal. The address tiles previously were red and now they perfectly match our front door and gates.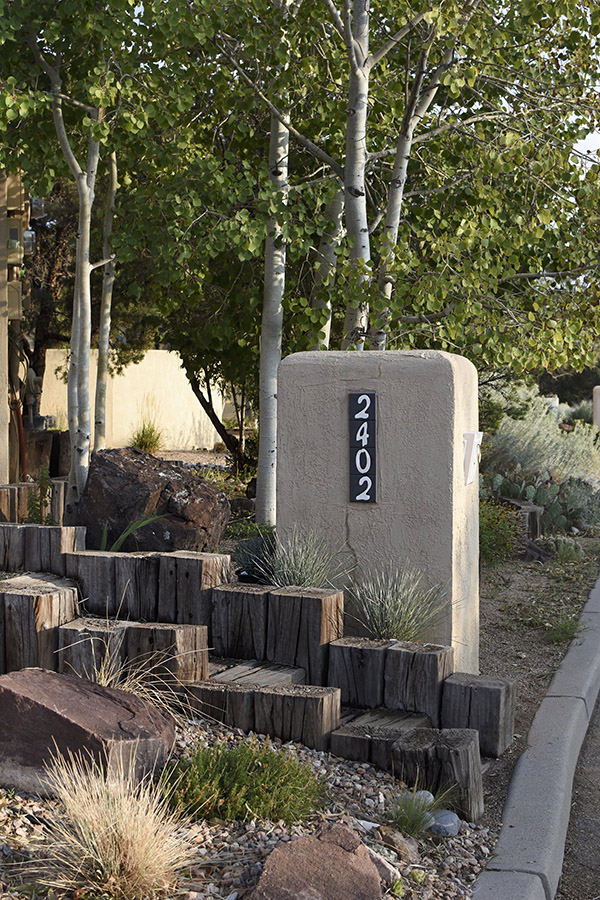 And the best part is I used paint we already owned! Inexpensive curb appeal updates are my favorite thing ever.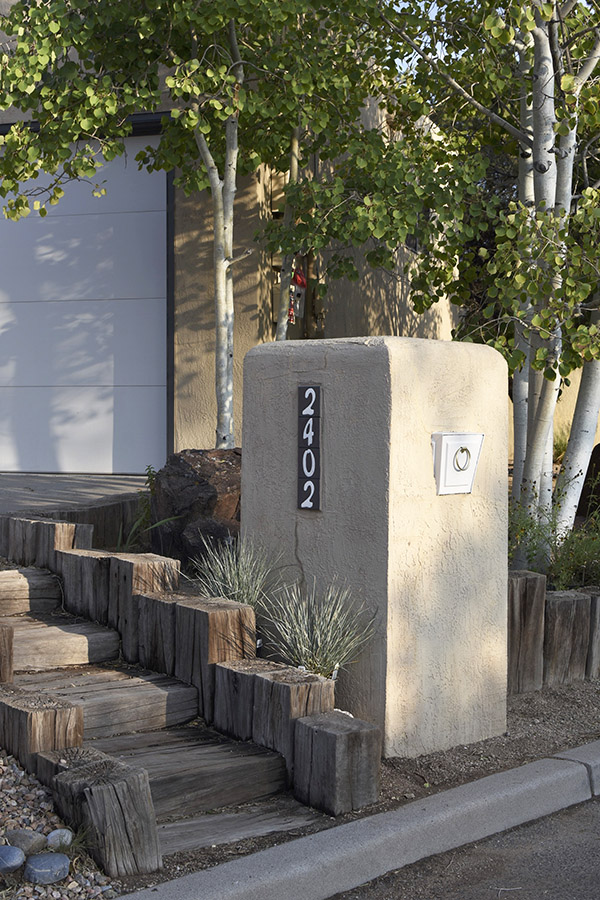 Looking for my other outdoor Curb Appeal projects? Look no further!
MY Home –> Want to check out a few other rooms in my home? I love sharing inspiration, tips and inexpensive ways to make your home YOU.