INSIDE : Learn how to build yourself a DIY Wooden Sunburst Doormat from pine boards and paracord. A sturdy wood doormat with tons of interest, your friends will be asking for one soon!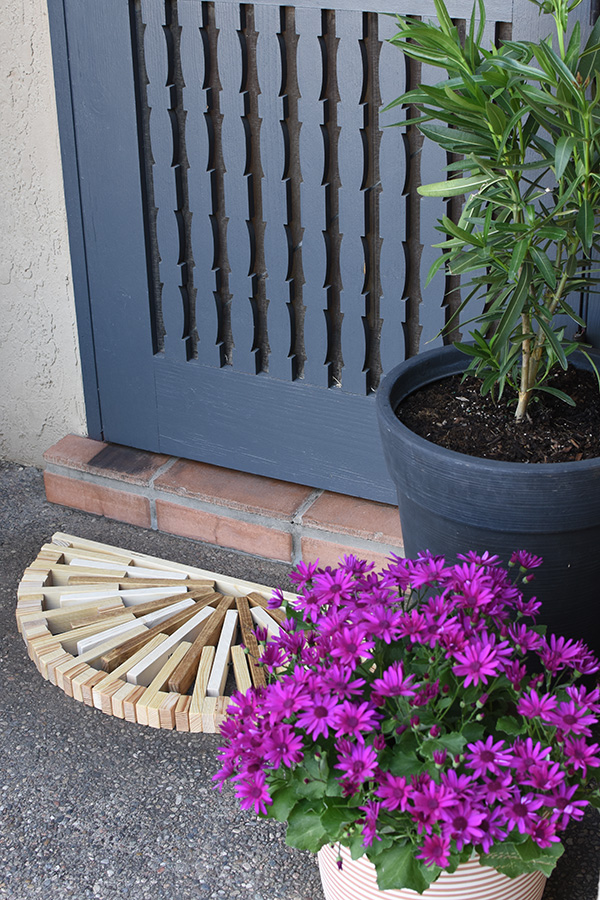 This post may contain affiliate links. See full disclosure here.
Does anyone else seem to go through doormats at least once a season? I love a simple design, but maybe it's because of our harsh NM sunshine… but they never seem to last very long.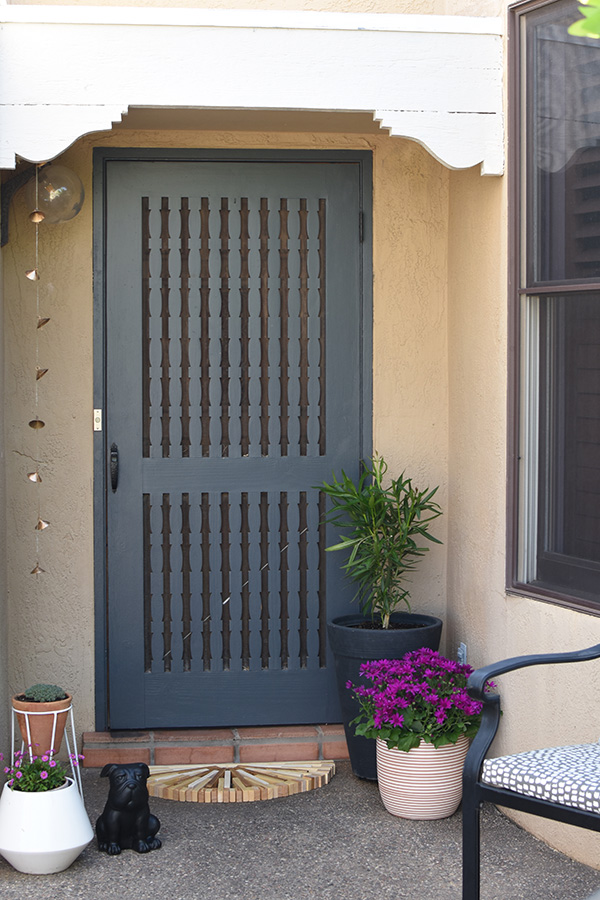 If you are looking to buy a stylish doormat, check these out…

Looking for my other outdoor Curb Appeal projects? Look no further!

- Give your Curb Appeal a fresh look with paint
- Painting your Garage Door
- Painting your Mailbox and Address Tiles
- How to Easily Repair Minor Wood Rot
- Install Faux Garage Door Windows
- Decorative Garage Door Hardware
- DIY Wooden Sunburst Doormat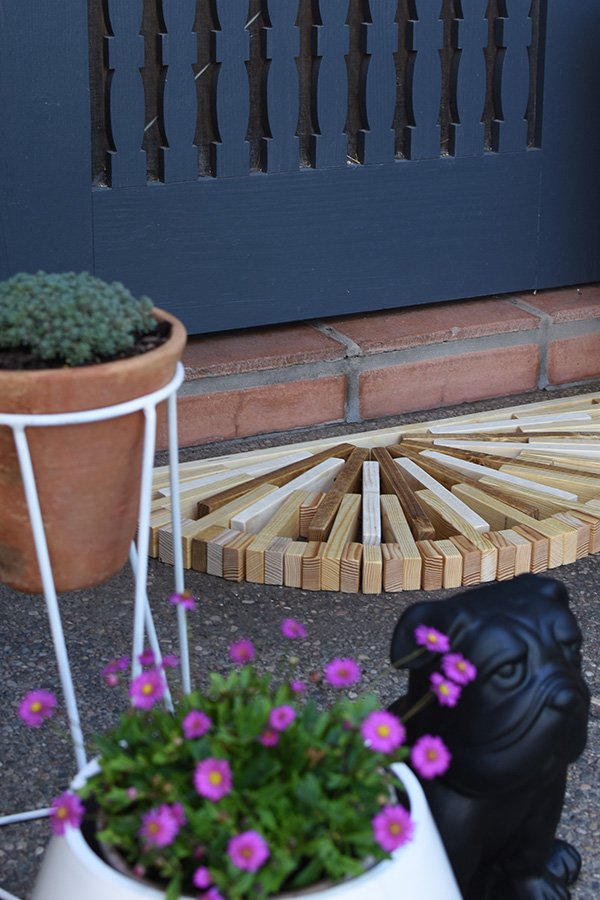 DIY Doormat Supplies –

Wooden Sunburst Cut List
*See the Color Coded Layout Diagram a few images below to reference the colors.
(1) 30″ base piece
(6) 10″ pieces *coral
(7) 8-1/2″ pieces *lime green
(14) 7″ pieces *brown
(41) 1-3/4″ pieces *peach
How wide to build a Wooden Doormat
The average American doorway width is 36″ wide. Most doormats I checked were just about 30″ wide which gives just a bit of wiggle room on each side of the door.
Once I knew I was going to have my maximum width 30″, I was able to draw out a rough diagram of how I wanted each piece of my sunburst doormat to fit together. I made a few small modifications once all the pieces were cut, so it is very important after doing all the cuts, to do a dry fit to make sure everything works just like you had planned.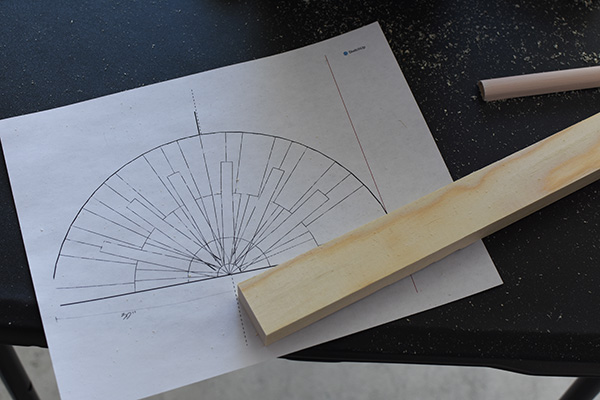 Wooden Doormat Cut Pieces
The first piece you will measure to 30″, mark and cut on this project is the long base piece of your wooden sunburst doormat.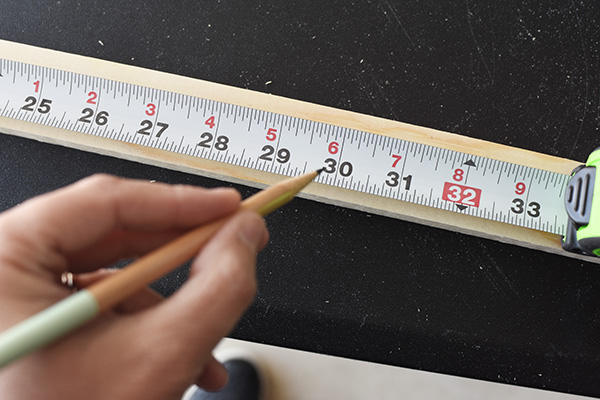 I printed out my cut list and began making piles of each size needed, marking them off as I went.
Using a miter saw for all these cuts made everything go so much faster and also gave me very accurate cuts. However, you could always use a hand saw if you don't have a miter saw available to you.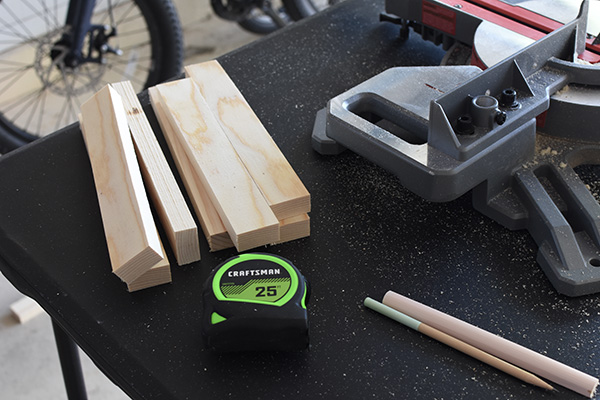 And I ended with the smallest cuts last, the 1-3/4″ pieces.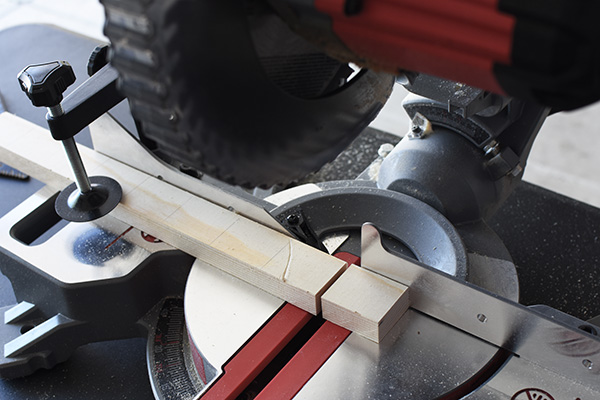 Sunburst Doormat Dry Fit
I can not express how important this step of the project is. See the color coded diagram I put together below of the sizes and how they all fit together.
Set up your main 30″ base piece and using a pencil, mark 15″ as the centerline. From the centerline, mark 1-1/2″ on each side and that will be the start points for your 10″ (coral) pieces.
Once your 10″ pieces are in place, place the 8-1/2″ (lime green) pieces on either side… be sure once they are in place that they start roughly at 3-1/2″ on either side of your centerline.
Next you will place the 7″ (tan) pieces on either side of the 8-1/2″ pieces. Make sure the start of those 7″ pieces line up with the OUTSIDE edge of your main 30″ base – as these 7″ along with the 1-3/4″ (peach) pieces will make up the outer sunburst arch shape.
Note, I added two 1-3/4″ (peach) pieces inside my 7″ (tan) pieces to make the shape work a little better. Don't stress if you need to tweak the design a little, move things around or cut a few extra pieces here and there.
The main objective is keeping everything even on both sides of your centerline mark. As long as you are able to copy exactly the same pattern on each side, take as much creative freedom as needed!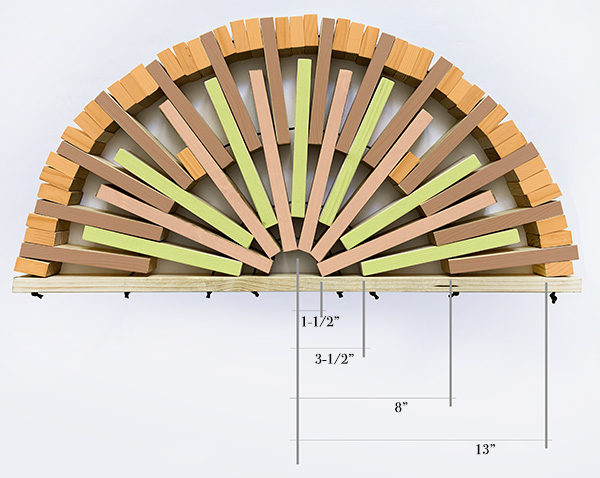 After you have each wooden piece just how you would like it, it's time to decide where you will be adding the holes to string together this doormat.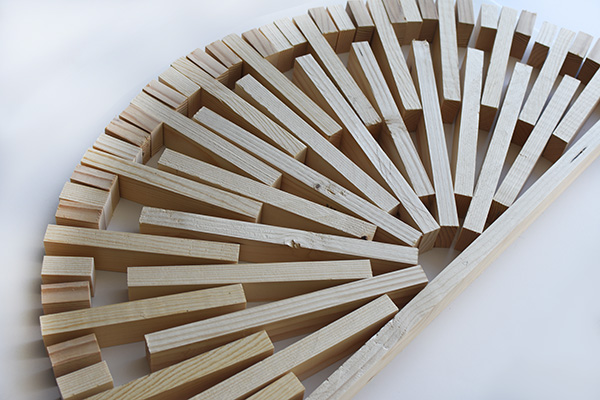 Other than the small 1-3/4″ pieces, each wooden section will have two holes in it for stability and keeping all the pieces properly in place.
I'm sure there is a very technical way to do this, but I simply decided where I wanted to have my paracord strung through and drew lines from one edge to the other edge with a pencil.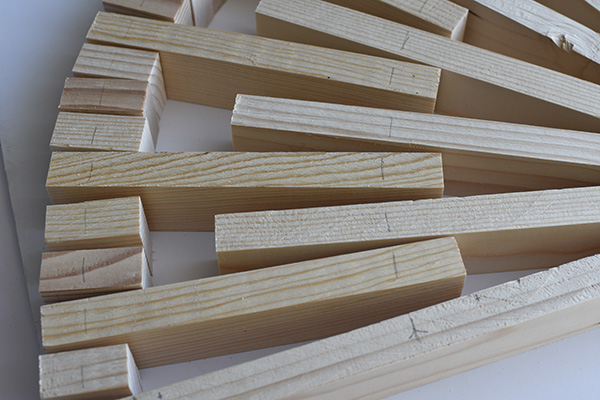 Drill Press Cuts
Once you've drawn where the two holes need to be for each wooden piece, it's time to pick your drill bit size. This is done based on how thick your cording is. I used Olive Green paracord and using a 1/4″ drill bit gave my cord enough space to easily move through the hole, but not so big that there were any issues.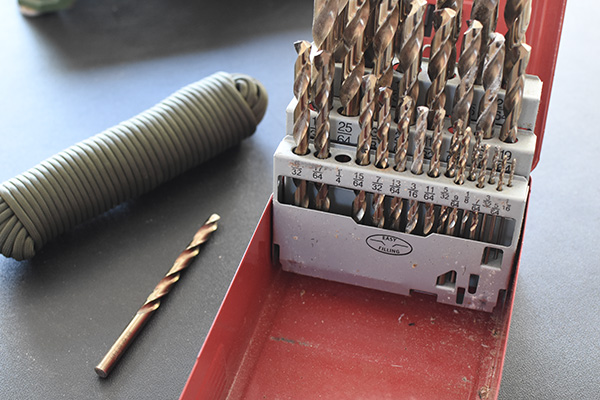 If you don't own a drill press, you can use an electric drill for this step. However, a drill press makes much more straight consistent and fast cuts. So it might be a tool worth thinking about getting.
Be sure when you are making your center cuts, that you are following your marks and cutting in the center of each board. You want to keep all your cuts as consistent as possible for a clean professional look.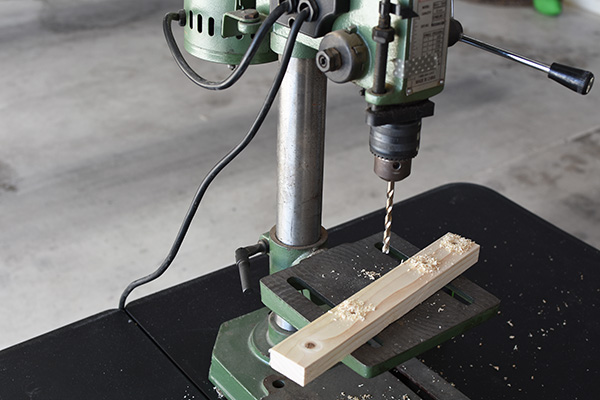 Sanding wooden pieces
I started off sanding all the edges, as well as loosely sanding the two holes on each piece of wood with a sanding block. And if you wanted to just slowly work away at this project, that might be a perfect method to sand all these pieces.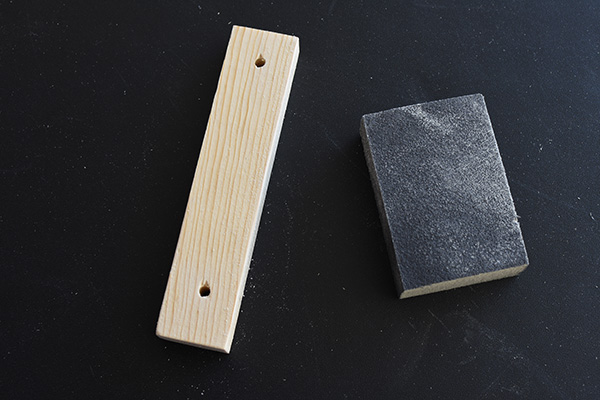 However, my hand got quite tired so I about 10 pieces in I decided to move to my electric sander. That also made my hand and wrist hurst to be completely honest because our sander is heavy… but it was significantly easier and faster than sanding by hand.
Looking for more Doormats?  Check out the Best Summer Doormats and Painted DIY White Dash Doormat.
Staining your DIY Doormat
I knew I wanted to keep this wooden doormat fairly neutral in color, but I wanted a lovely wood tonal contrast to help with my sunburst look. So I choose to use Minwax Natural and Puritan Pine Wood Finish Stains along with a 10″ stain pad that I cut smaller to use for each color.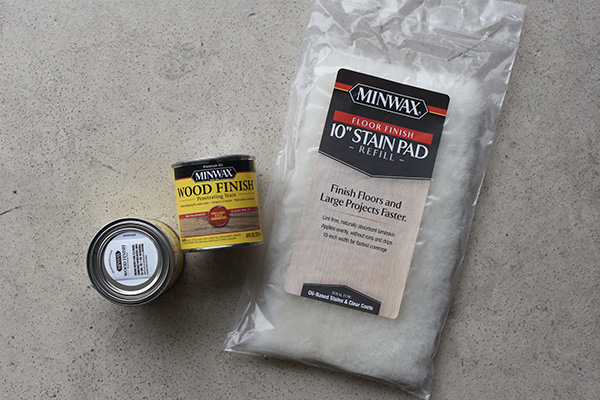 Follow the directions on your stain container. I wanted my natural wood stain to be very light, so I covered the pieces in stain and then wiped them down a minute later. I did the same for the few pieces I added Puritan Pine stain to. And then some pieces I left raw wood.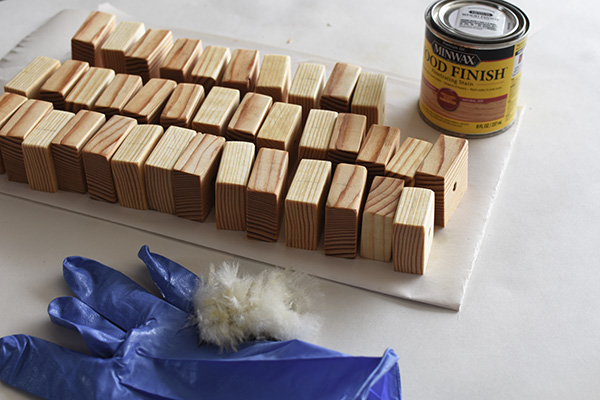 Paracord String Doormat
Once my wood staining was complete, I did another dry fit and prepared to string the doormat all together.
I started in the center and worked my way out. Once you have gone through each set of holes make sure to leave at least 6″ of cord on each end of the main 30″ base.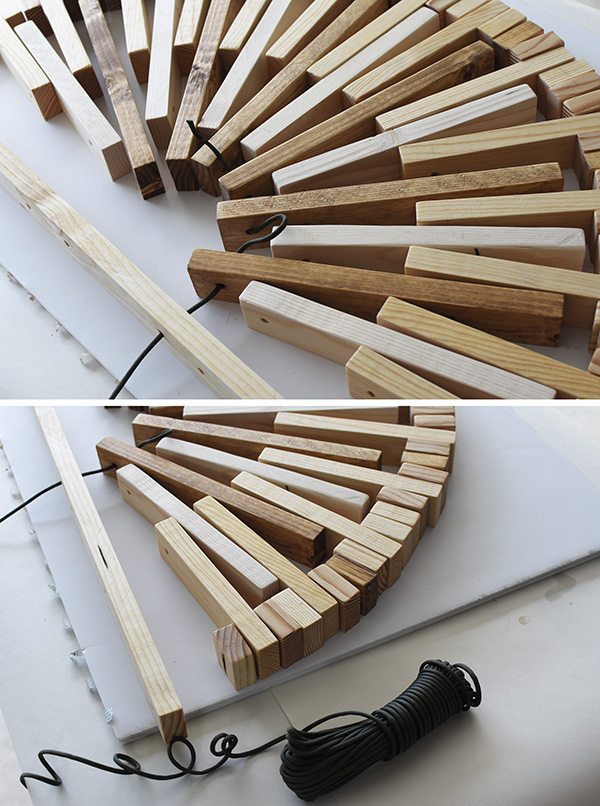 Once you have strung all the pieces and have all the excess cording, start in the center and pull the paracord tight. You can even tie a simple knot on one end to make sure everything is snug before tying the other side.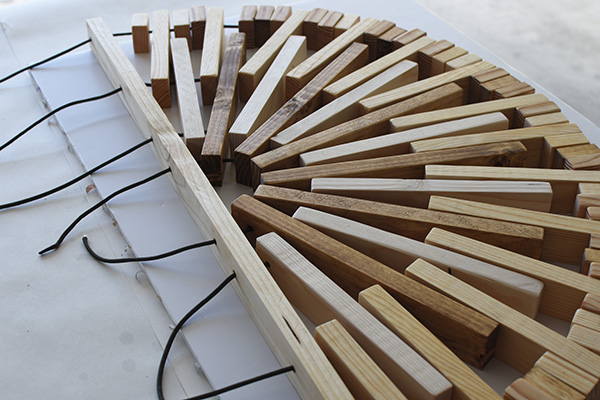 Once you have made all your knots, you can VERY LIGHTLY burn each cord end with a match to keep it from unraveling.
DIY Wooden Sunburst Doormat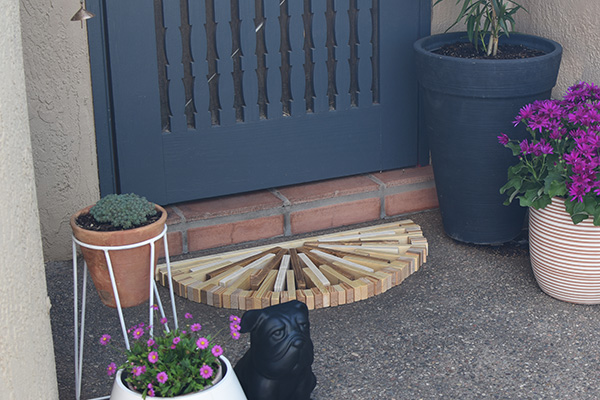 I adore how this wooden doormat turned out. I love the variation in colors from the stains.
This beauty will stand the test of time and look good doing it!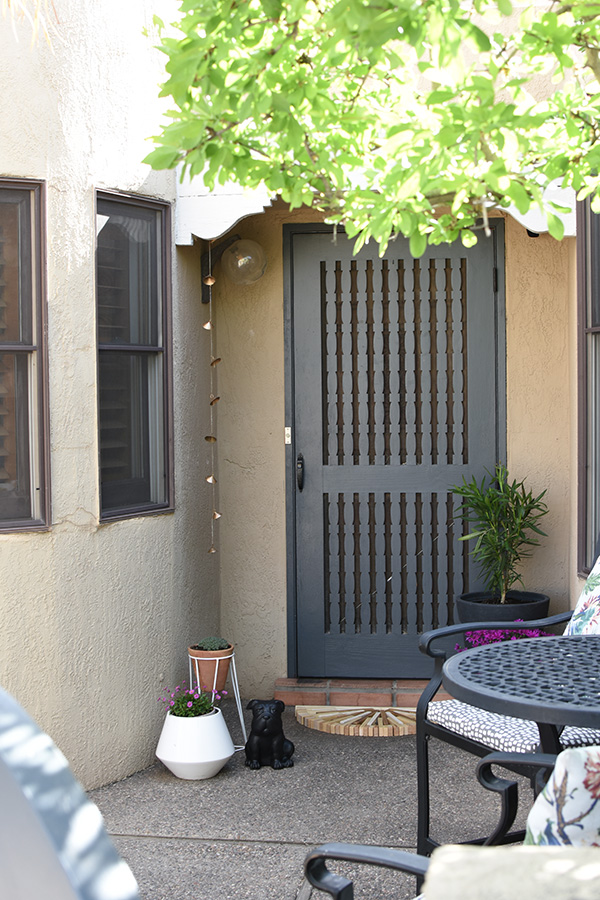 MY Home –> Want to check out a few other rooms in my home?
I love sharing inspiration, tips and inexpensive ways to make your home YOU.