INSIDE : Learn the most Simple Block Weekly Meal Plan hack and a printable to help make dinner meal idea prep take- no time at all! The more you use this dinner menu tip and print, the faster deciding on the weeknight meals will become.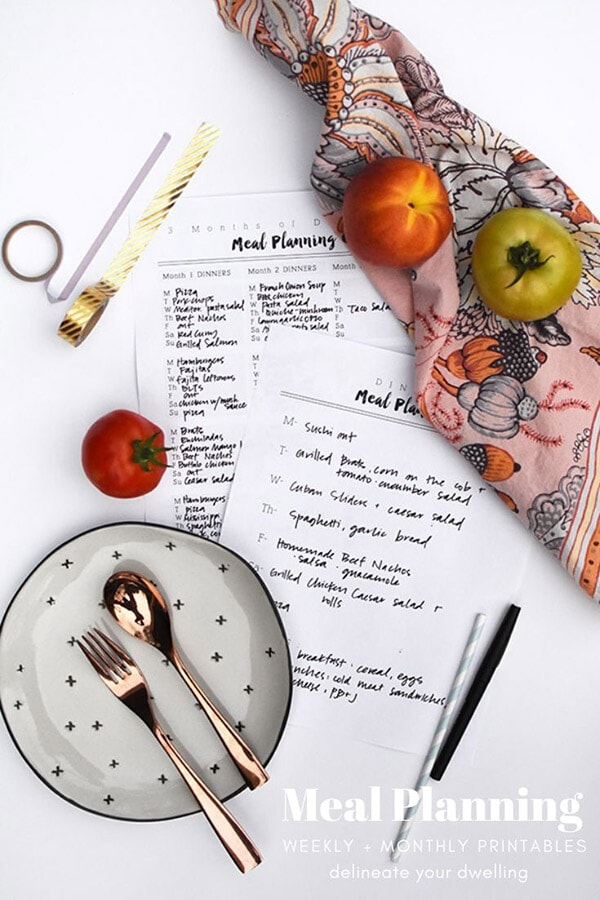 This post may contain affiliate links. See full disclosure here.
Maybe it's just quarantine life that has got me drained on meal menu making, but week after week it can get to be so difficult to come up with ideas for dinners.
About 7 months ago, I started the simplest new system and it has changed my MEAL PLANNING LIFE! Honestly, when I share what I do now, you may laugh out loud. But, this simple little hack will save you enormous amounts of time – I promise.
If you are looking for the actual steps, what tools I use, how I store my recipes when planning weeknight meals check that post out. It's helpful if you are stuck on how to stay organized, knowing how to actual handle the art of picking meals for your family or the best thing to display your meals on… hint, this chalkboard is my go-to. Once you've mastered weeknight menu planning, you can transition to my Block Weekly Meal Plans.
Ready to dive in?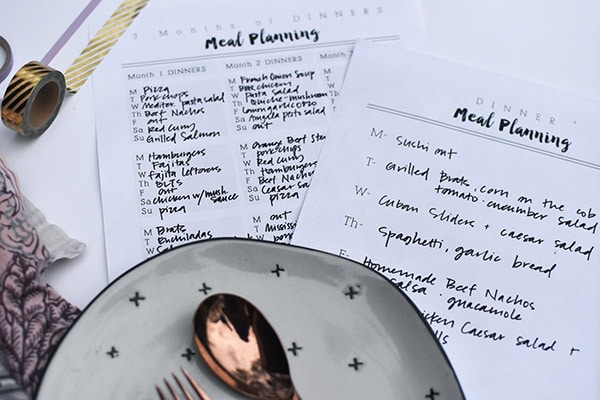 Meal Planning Hack
It does not matter where you are logging your meals, but start by logging them. I started originally by getting on my iPhone, in the Notes app and writing out Monday through Sunday in a list format. Then, that first week I simply wrote down exactly what we ate each night.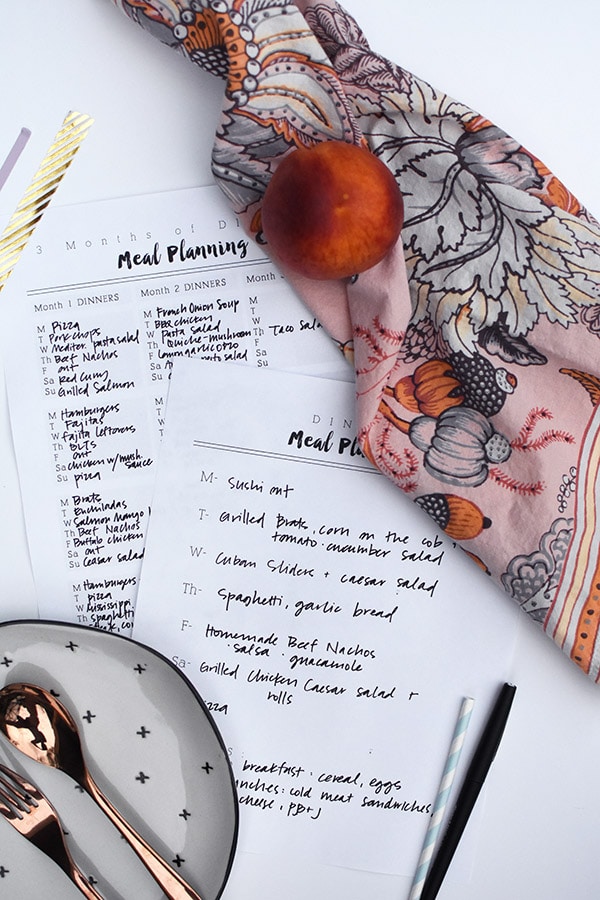 My note would look a little something like this in my phone –
MONDAY – Spaghetti, Caesar Salad, Garlic Bread
TUESDAY – Brats, Tomato/Cucumber Salad, chips
WEDNESDAY – Red Curry with Chicken, Naan Bread
THURSDAY – Veggie Pasta Salad
FRIDAY – Pizza OUT
SATURDAY – Taco Salad
SUNDAY – Burgers, Corn on the Cob, Grilled Zucchini
And then the following week, I would do the exact same thing. I wrote out Monday through Sunday and wrote down exactly what we ate that week. I continued t do this for one solid month.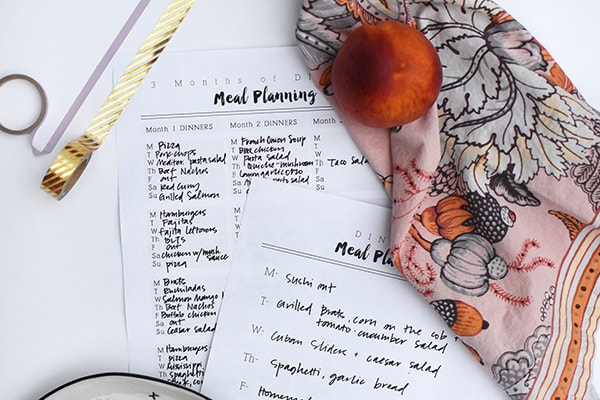 Once you have at least a month worth of weekly meals written and documented, the meal planning hack really starts to happen. Get ready for this.
Block Weekly Meal Plan
On whatever day it is that you sit down to plan your meals, instead of planning what you will eat for dinner on Monday, on Tuesday, on Wednesday, etc…. you plan the entire week of meals in one solid block.
So, you look at the four weeks of meals you have planned and you pick from a block of those meals instead of picking from daily meals. #mindblown Now there still will be some slight moving and adjusting because sports outings or evening get togethers, etc will pop up here and there. But overall, you are able to look at meals for the week and at a glance say, these 7 meals from week 3 are perfect and within moments your meals for the week are completed.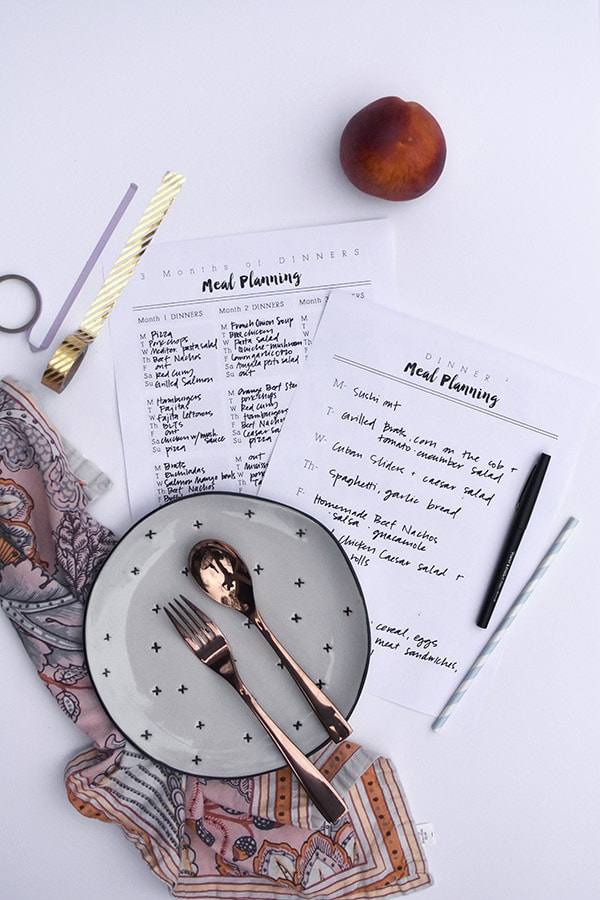 LOOK AT MEALS IN BLOCKS OF WEEKS, NOT NIGHTS.
I currently have 29 weeks of dinners written out in my notes app. Now when I sit down to figure out what we are going to eat, I have 29 slightly different combinations to select from. It is as simple as a copy/paste and and my menu planning then happens in a fraction of the time.
Once I copy + paste my menu for the week in my iPhone Notes app, then I transfer that to my kitchen chalkboard or this helpful Meal Planning printable I made. You can read about my step by step method for planning meals – what tools I use, how I pick the meals, what I use to store all our recipes, etc in Tips for Planning Weeknight Meals.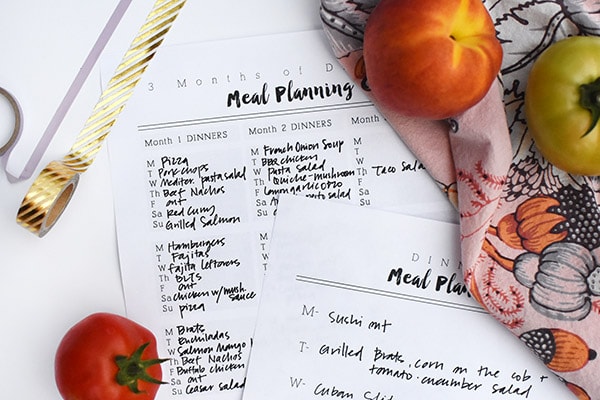 If you are interested in following and using my weekly batch planning method, you can use your notes app OR you can download my lovely Weekly Dinner Planning worksheet and the 3 Month Dinner Meal Planning worksheet. They were exactly the same way as your iPhone does. Document, document, document!
> > SIGN UP for the Delineate Your Dwelling NEWSLETTER
to get access to my ENTIRE DYD Printable Library and this MEAL planning print! < <
Already a DYD Newsletter Insider? Click on over here to access the printables library using the password found at the bottom of any email I've sent you.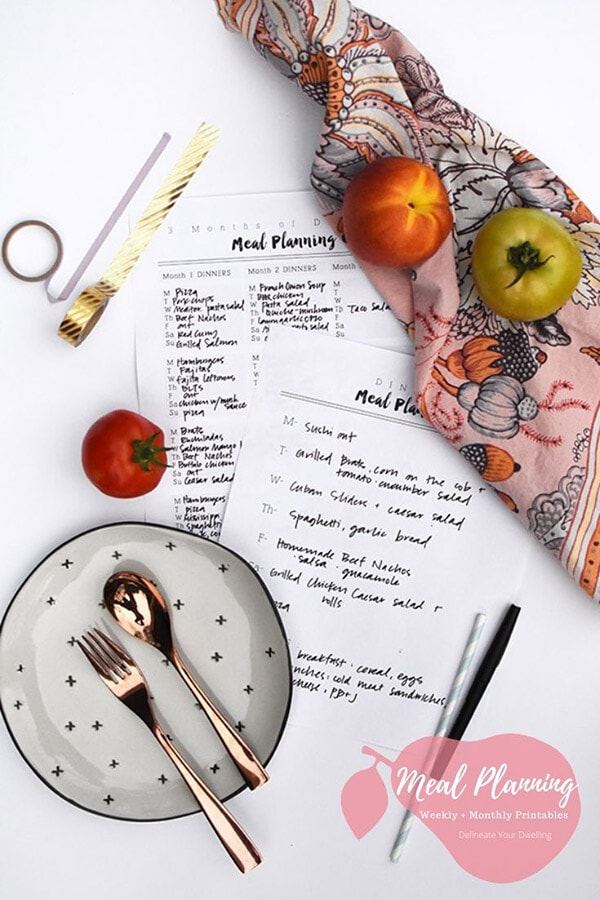 Looking for some tasty meal ideas? I have got you covered :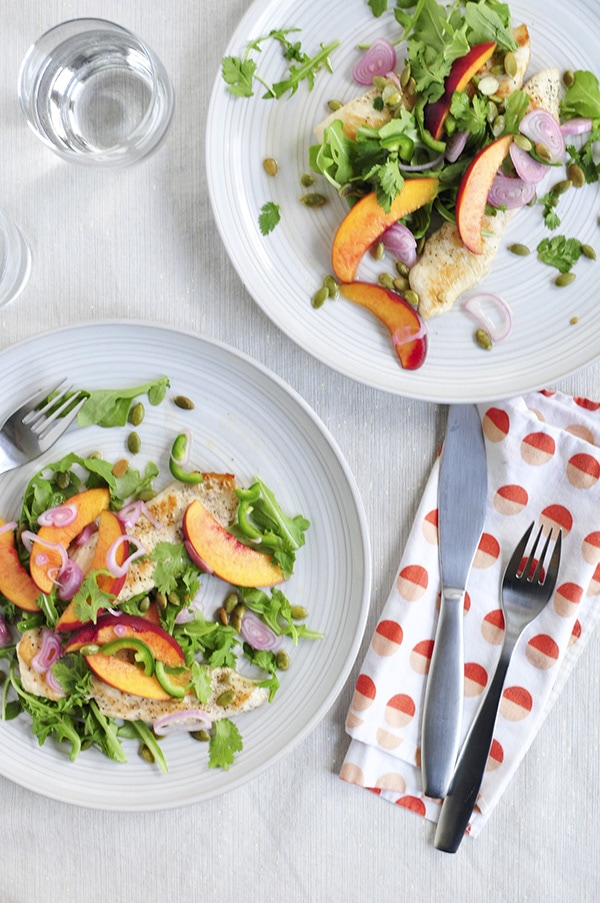 Wild Mushroom Pizza