INSIDE : Learn the most Simple Block Weekly Meal Plan hack and a printable to help make dinner meal idea prep take- no time at all! The more you use this dinner menu tip and print, the faster deciding on the weeknight meals will become.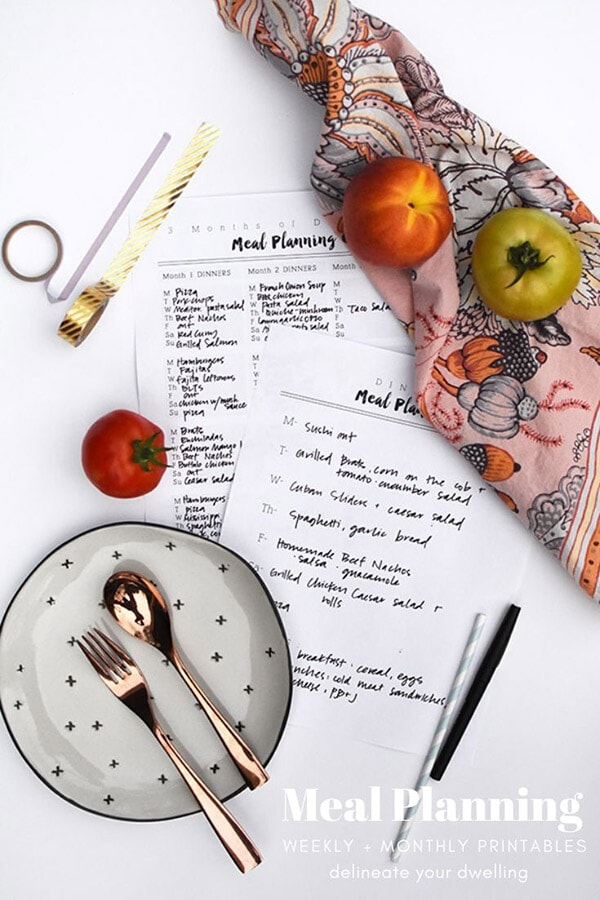 This post may contain affiliate links. See full disclosure here.
Maybe it's just quarantine life that has got me drained on meal menu making, but week after week it can get to be so difficult to come up with ideas for dinners.
About 7 months ago, I started the simplest new system and it has changed my MEAL PLANNING LIFE! Honestly, when I share what I do now, you may laugh out loud. But, this simple little hack will save you enormous amounts of time – I promise.
If you are looking for the actual steps, what tools I use, how I store my recipes when planning weeknight meals check that post out. It's helpful if you are stuck on how to stay organized, knowing how to actual handle the art of picking meals for your family or the best thing to display your meals on… hint, this chalkboard is my go-to. Once you've mastered weeknight menu planning, you can transition to my Block Weekly Meal Plans.
Ready to dive in?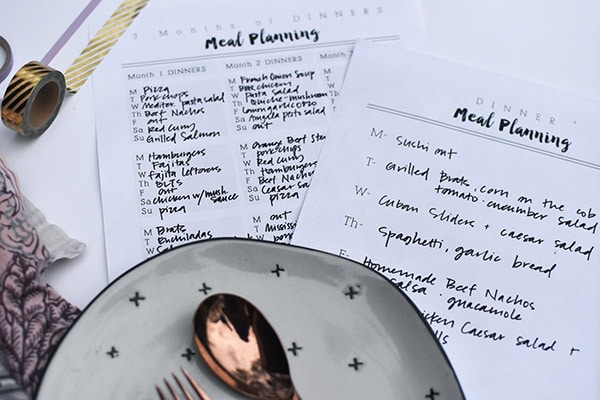 Meal Planning Hack
It does not matter where you are logging your meals, but start by logging them. I started originally by getting on my iPhone, in the Notes app and writing out Monday through Sunday in a list format. Then, that first week I simply wrote down exactly what we ate each night.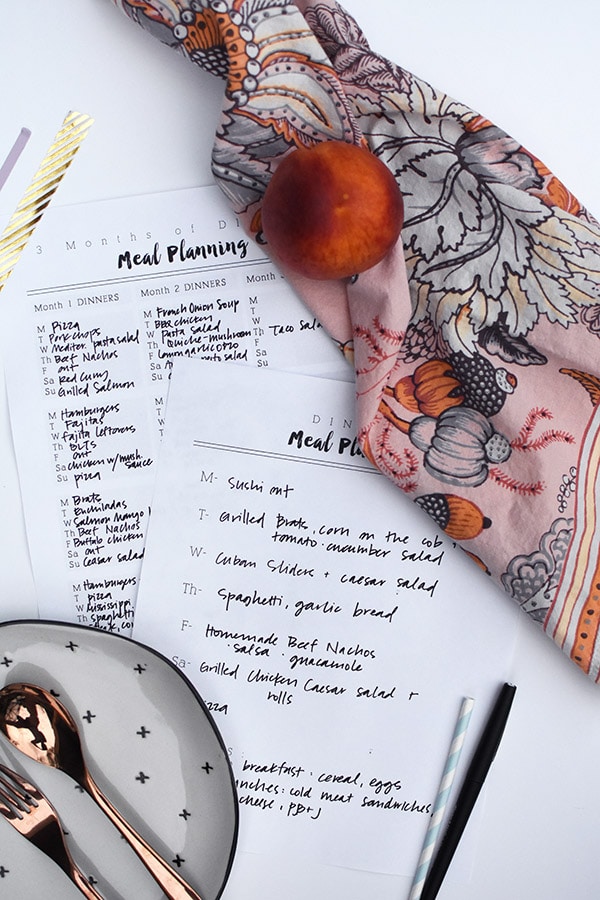 My notes looked a little something like this in my phone –
MONDAY – Spaghetti, Caesar Salad, Garlic Bread
TUESDAY – Brats, Tomato/Cucumber Salad, chips
WEDNESDAY – Red Curry with Chicken, Naan Bread
THURSDAY – Veggie Pasta Salad
FRIDAY – Pizza OUT
SATURDAY – Date night
SUNDAY – Burgers, Corn on the Cob, Grilled Zucchini
And then the following week, you do the exact same thing. I wrote out Monday through Sunday and wrote down exactly what we ate that week. I continued to do this for one solid month.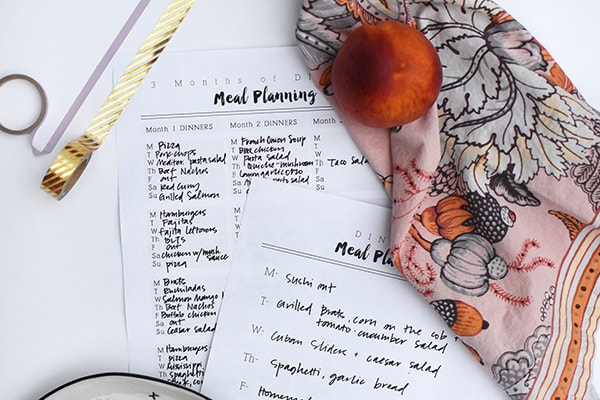 Once you have at least a month worth of weekly meals written and documented, the meal planning hack really starts to happen. Get ready for this.
Weekly Block Meal Planning
On whatever day it is that you sit down to plan your meals, instead of planning what you will eat for dinner for each individual day on Monday, on Tuesday, on Wednesday, etc…. you plan the entire week of meals in one solid block.
So, you look at the four weeks worth of meals you have planned and you pick from those "blocks of meals" instead of picking from daily meals. #mindblown
Now, there still will be some slight moving and adjusting because sports outings or evening get togethers, etc will pop up here and there. But overall, you are able to look at meals for the week and at a glance say, these 7 meals from week 3 are perfect and within moments your meals for the week are completed.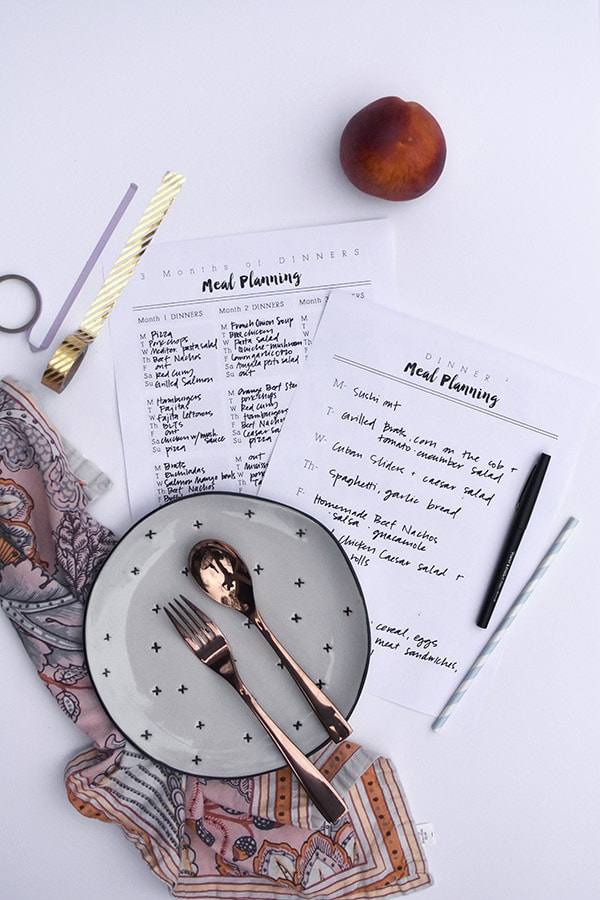 LOOK AT DINNERS IN BLOCKS OF WEEKS, NOT NIGHTS.
I currently have 70 weeks of dinners written out in my notes app!!! When I sit down to figure out what we are going to eat, I pick the week of meals from last year that I made and boom. Plus, I now have 70 slightly different combinations to select from if something doesn't sound good. It is as simple as a copy/paste and and my menu planning then happens in a fraction of the time.
Once I copy + paste my menu for the week in my iPhone Notes app, then I transfer that to my kitchen chalkboard or this helpful Meal Planning printable I made (download below).
You can read about my step by step method for planning meals – what tools I use, how I pick the meals, what I use to store all our recipes, etc in Tips for Planning Weeknight Meals.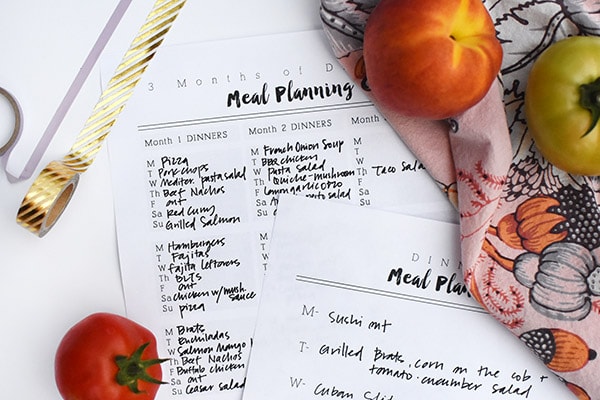 If you are interested in following and using my weekly batch planning method, you can use your notes app OR you can download my lovely Weekly Dinner Planning worksheet and the 3 Month Dinner Meal Planning worksheet. They work exactly the same way as your iPhone does. Simply document, document, document!
And want some great simple dinner ideas to get you going? Keep reading below for a great list generated my readers on Instagram.
> > SIGN UP for the Delineate Your Dwelling NEWSLETTER
to get access to my ENTIRE DYD Printable Library and this MEAL planning print! < <
Already a DYD Newsletter Insider? Click on over here to access the printables library using the password found at the bottom of any email I've sent you.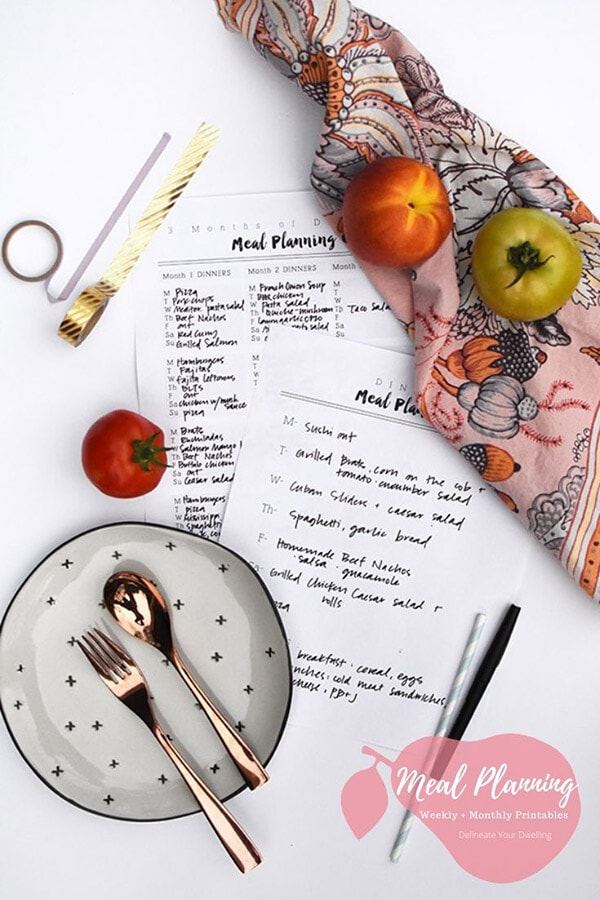 Looking for some tasty meal ideas? I asked my friends on Instagram what they were making and here is what they shared :
Trader Joe's Scallion Egg Pancakes with Bibigo (Costco) pot stickers and rice
Fritata and a warm salad
Pizza
Trader Joe's Chili Lime Chicken Burgers
Minnesota Chili
Grilled Provolone and Mozzarella Sandwiches
BBQ Slow Cooker Sandwiches
Grilled Salmon
Tacos
Mexican Fried Rice, homemade Chicken Gyros with Roasted Potatoes
Pumpkin Lasagna
Trader Joe's Orange Chicken, Costco Veggie Stir Fry Mix and rice
Homemade Chicken Noodle Soup
Korean Beef Bowls
Breakfast for dinner
Bibigo (Costco) Pot Stickers, Thinly Sliced Chicken, rice and peppers in Ginger Honey Sauce
Chicken Curry over rice
Costco Street Tacos
Costco Vegetable Barley Soup, Kielbasa (sliced and sautéed), Parmesan, Crusty Bread and butter
Moroccan Quinoa Salad
Spaghetti
Costco Tortilla Soup, Tortilla Chips, Cheddar Cheese, Sour Cream and Jalapeño sauce
BLT sandwiches
Alison's Roman's Spiced Chickpea Stew
Caldo de res
Canned Chicken, Taco Seasoning, Bell Peppers (all sautéed together), Cheddar Cheese and torillas
Costco Rotisserie Chicken, Enchiladas the first day – Soup the next day.
Shredded Beef tacos

Want even more food ideas?
Tips for Planning Weeknight Meals