INSIDE : Stop stressing about what to fix for dinner each night and check out these six easy Tips for Planning Weeknight Meals!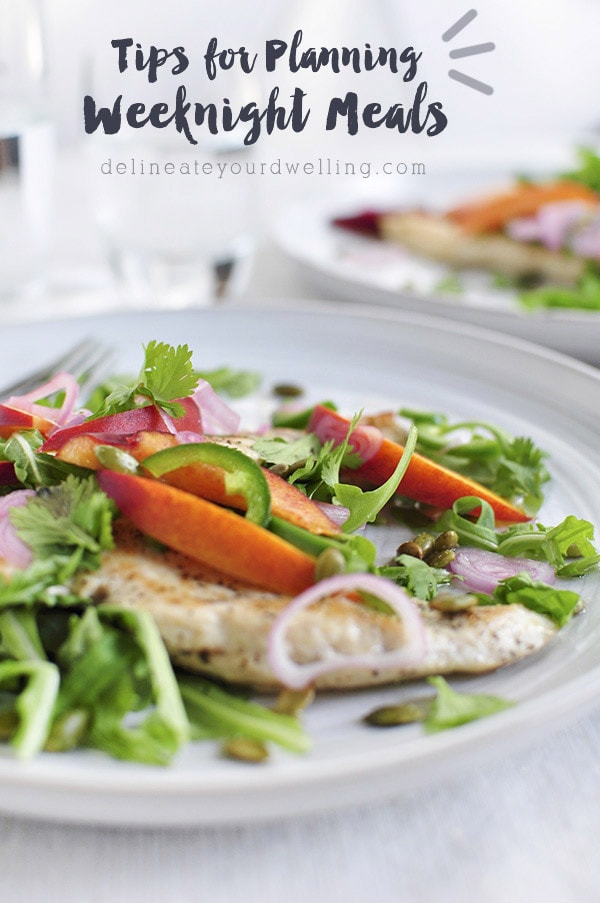 CHICKEN PAILLARDS
Has this happened to you before?  You are chatting with your girlfriends and someone brings up the grocery store.  Everyone rolls their eyes and conversation turns to the dreaded daily meal making task, the same ole recipes and how we go to the grocery multiple times a week!  I just had that conversation with two friends last week.  Today I am sharing my SIX Tips for Planning Weeknight Meals because I have a meal planning routine that has always worked well for me.
This post may contain affiliate links.  See full disclosure here.
Before Planning Weeknight Meals, get out your scheduling supplies.
Now I am not going to sit here and say you have to meal plan exactly my way.  Some have binders and post-it notes and others grab a scrap piece of paper to write their menu out on.
Personally, I like seeing what we are eating each night in an easy to view spot.  So for about 10 years now (yes, I am old) I have had a board that I write out the weekly menu.  I used to have a framed dry erase board (which I painted to match my dining room colors), but I've moved to a simple square chalkboard with a thin gold frame for the last 3 years.  It is hanging in my dining room.  I also like these two chalkboards, though.  (1, 2)
So the first thing I do when it's time to plan out meals for the week is grab my cell phone, a piece of chalk, a chalkboard eraser and head to the dining room.

Before Planning Weeknight Meals, look at  your calendar.
I can not tell you how much time it has saved me each week to simply pull out the calendar to see what we have going on that week.  I can plan all the meals in the world but if we have school events or dinner dates with friends, meals start getting pushed back and before you know it… I'm throwing out food that has gone bad.  LITERALLY there is nothing that frustrates me more than throwing away food.
I only plan meals for a week at a time because it feels like a manageable amount of time to commit to our weekly evening plans plus and fresh food + meats will keep for at least a week.  Also, depending on the weekly events, I will plan for easier crock pot type meals or if I have more time, I can spend more effort making something delicious from scratch.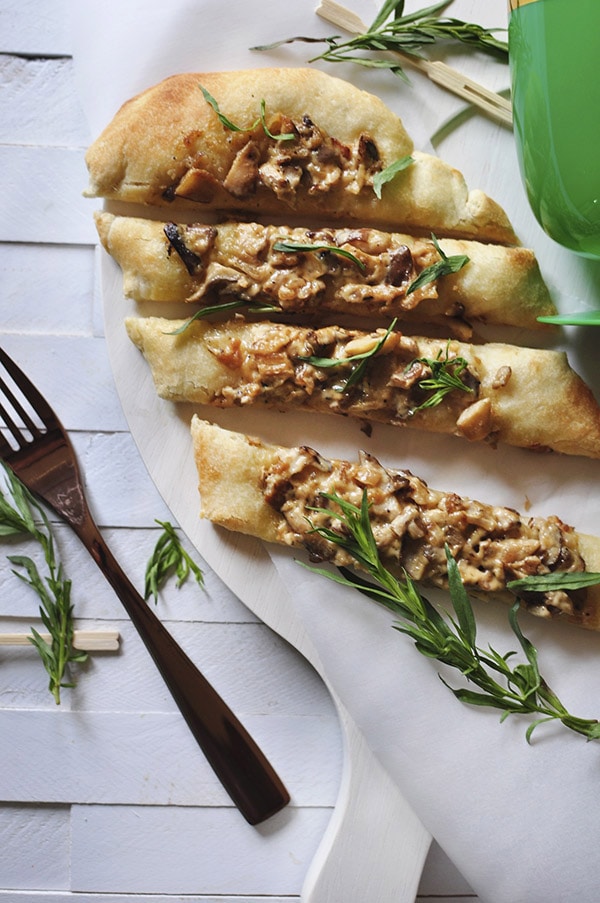 WILD MUSHROOM PIZZA
Before Planning Weeknight Meals, know and embrace your Cooking Skill Level.
Not everyone enjoys cooking an elaborate meal and that is okay (I have recently become obsessed with all meals from Foodie Crush).  But even if you do have amazing cooking skills, you may be in a season of life that you just have no spare moments beyond making spaghetti 3x a week.  (I feel like my kids are just old enough now that I can actually make a meal and not be rushing around cooking + entertaining them.)  Planning for your weekly meals doesn't have to mean fancy gourmet food, but if you are honest with your time and skill level, it will be helpful in executing a do-able weeknight meal.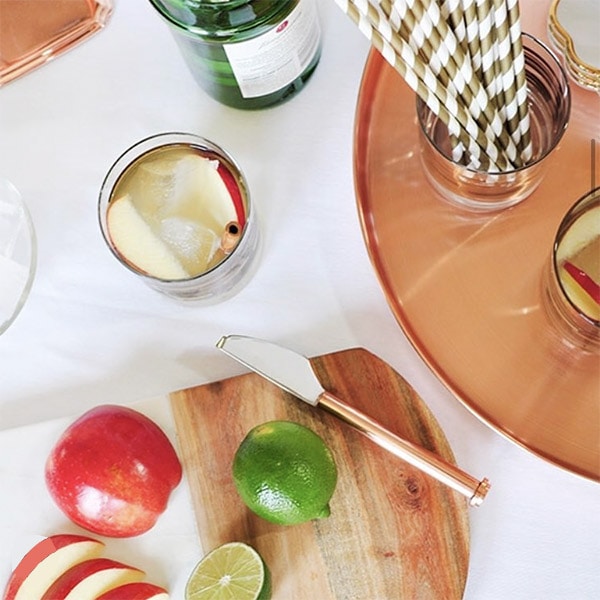 APPLE CIDER MULE
Before Planning Weeknight Meals, get organized and put all your recipes in one place.
This can really make your meal planning a make or break event.  I used to have a binder with clear sheet protectors that were filled with all my recipes organized alphabetically organized.  I LOVED that system.  I would find new recipes from Pinterest or from a friend, give the recipe a try and IF I liked the meal, THEN I would print it off in a 3×5 size and include it in my binder.  I then was able to flip through the binder, knowing that every single recipe in there my family liked and enjoyed.
However, for the last 5+ years I have been using the app Paprika on my phone (I just noticed it's now a paid app.  Bummer but honestly 100% worth it in my opinion).  I really love it so much more than my binder method.  When getting started with it, there is some initial setup time as you will have to input your recipes that were passed down in the family and on paper.
One of the many things I love about Paprika is the ease of adding new online recipes!  Wherever I am on the internet, I can simply copy the url of a recipe blog post, open Paprika and immediately it recognizes there is a copied link and will ask if you would like to turn it into a recipe card.  It pulls the entire recipe, direction and ingredients for you.  In about 5 seconds, I can have the entire recipe added to my digital "recipe box".
You can also create grocery lists from Paprika and they can be added to your iPhone reminders list.  It's so convenient and makes sharing recipes a breeze with it's simple "share this recipe" button.  It emails the recipe in a clean, easy to read fashion.  I seriously love Paprika.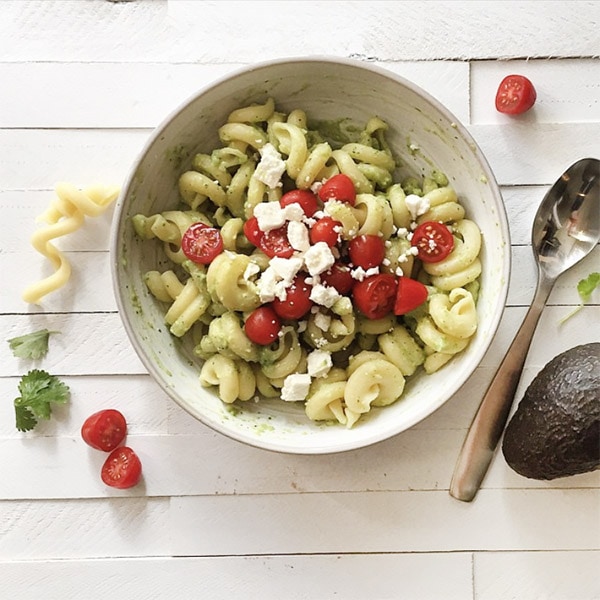 After Planning Weeknight Meals, actually get your food.

I have recently become an enormous fan of Click List at my grocery store and I know there are many grocery stores that have a similar service.  Basically I have an online free account and when I am making my plan of what meals to make and writing them on my chalkboard, I have my laptop right beside me and am adding the ingredients right on the screen to my "cart".  For a $5 fee, I can pick when to pick up my groceries, I pull up to the assigned parking area, call the number and within a few moments my groceries are being put in my trunk.  I love that they will find me deals.  They will upgrade to organic vegetables and fruits with no extra charge if they are out of the produce I had originally asked for.
However, as lovely as Click List is, 80% of the time I just go to the grocery store.  But when you are in a time bind, Click List is the way to go.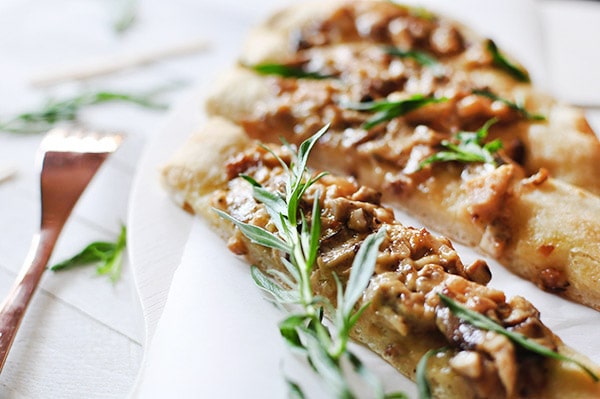 WILD MUSHROOM PIZZA
Give yourself a break when it doesn't work out.
I try to have at least 3 legit meals planned out during the weeknights and then have one or two of those be leftovers.  And then one easy meal out or delivery like pizza.  But goodness, life happens and when it does, you need to be okay with skipping a meal at home here and there.
I like having easy Trader Joes frozen meals in the freezer as backup meals.  Also making and freezing meals are great for those emergency type nights.  Other ideas are starting a meal making club and cooking in large quantities and diving among the friends.  Basically, don't stress if life hands you lemons and all you can do is pick up the phone and order thai to go!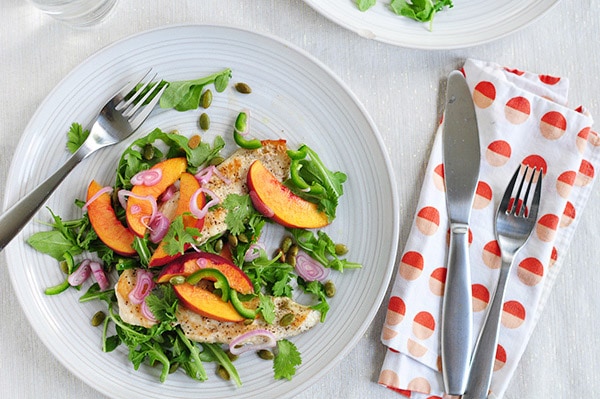 CHICKEN PAILLARDS
So that is my weeknight meal planning routine!  What do you typically do?  I would love to hear!
SaveSave
SaveSave
SaveSave
SaveSave
SaveSave
SaveSave
SaveSave
SaveSave
SaveSaveSaveSave