INSIDE : Learn the best method for how to cut patio concrete using a walk behind concrete saw. It looked much more intimidating that it really was. Be sure to the best practices and set yourself up for easy concrete removal success.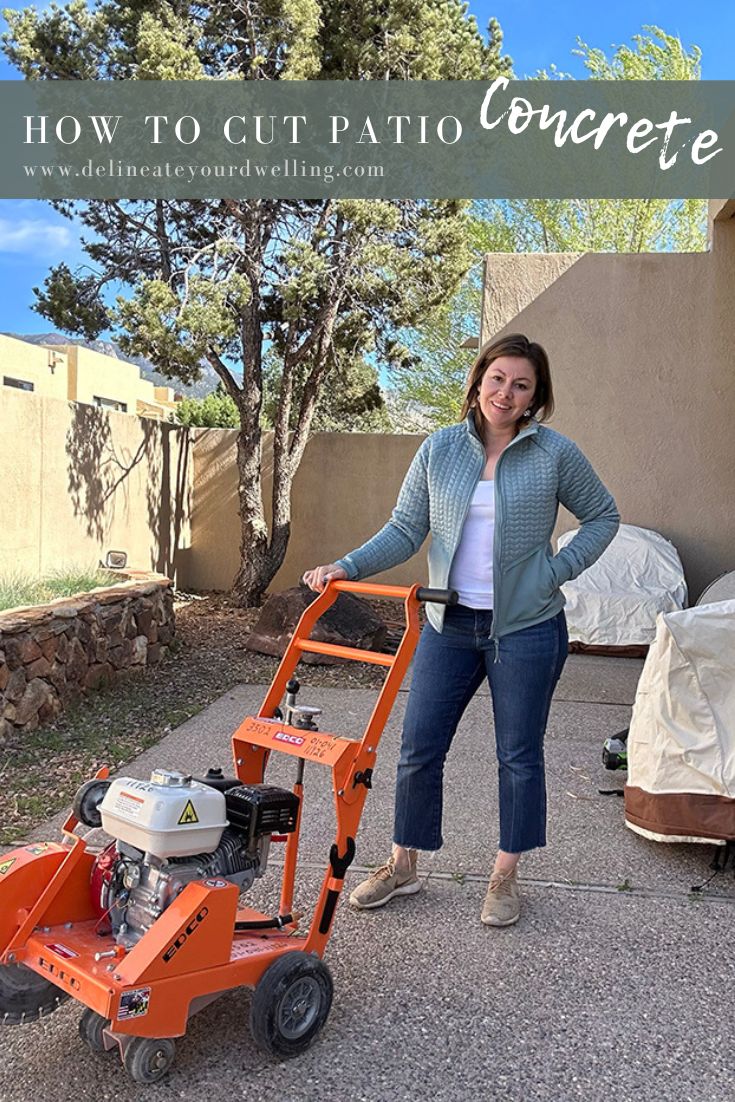 This post may contain affiliate links. See full disclosure here.
We've lived in our current home coming up on six years and although there are many things I really love about our southwest styled home, the backyard isn't one of them. Over the years, I have really improved the space and really worked with what we had to make it work for us… but it was time to take some bigger action!
You can see the entire project timeline here…
Installing a Small Turf Irrigation System
Installing a Small Sod Area
Installing Bistro Lights in your Backyard
Step one was to creating a more green (water friendly) oasis in our desert backyard was to remove some of our concrete patio to eventually lay some sod, among other improvements. We thought about hiring someone to help us cut concrete but that increased the cost greatly… so DIY to the rescue.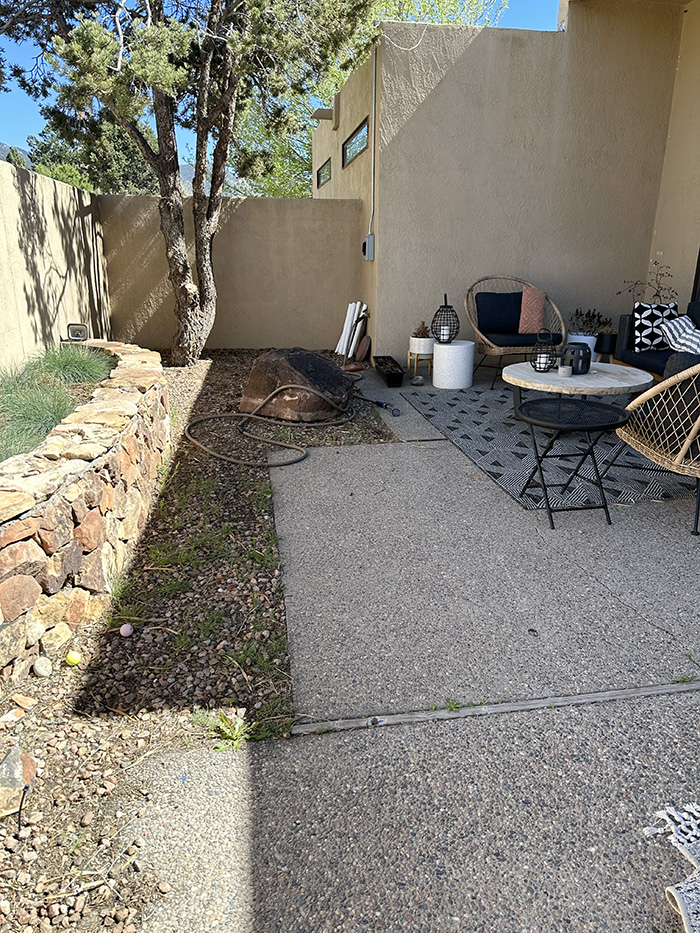 Concrete saw cutting costs
We drove to Home Depot and rented the MK Diamond Walk Behind Concrete 14″ Saw for a full 24 hours. We actually only needed it for probably a few hours, but it was nice to not feel rushed since we were beginners.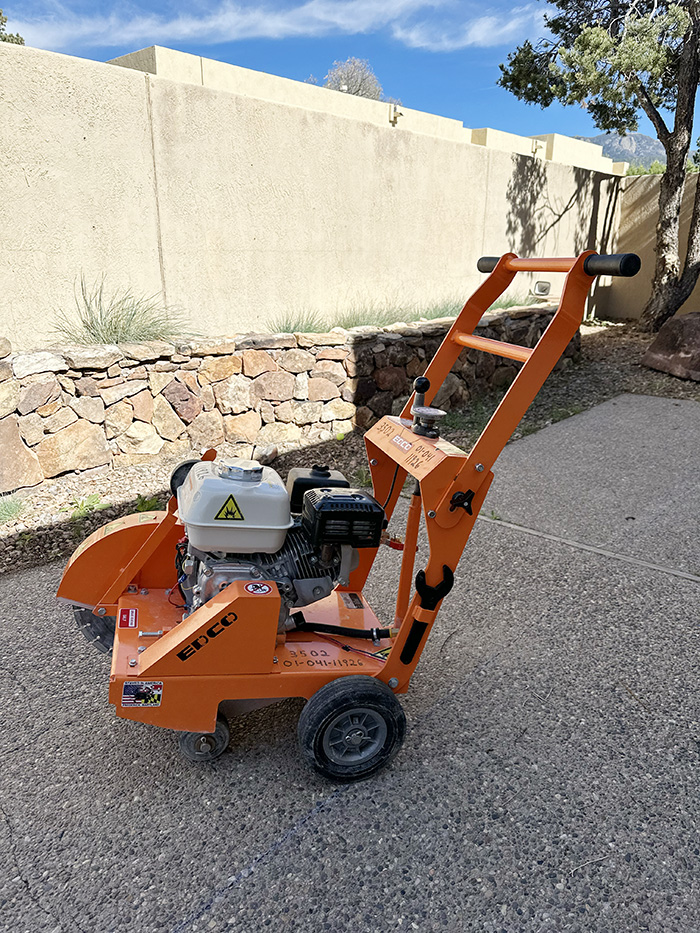 It cost around $100 for the walk behind saw and $50 for the saw blade we needed. For our backyard, we were cutting a straight line roughly 22′ in length.
Walk behind saw rental costs
Handheld Concrete Saw vs Walk Behind Concrete Saw
A handheld concrete saw is perfect for smaller concrete cutting jobs. For example if you are cutting concrete cinder wall blocks (or CMU blocks) a reciprocating saw with a diamond-coated blade makes this project quick and easy. The reciprocating saw uses an electrical motor that moves the saw blade back and forth, mimicking the motion of a hand held saw without as much work.
Walk-behind saws are used while standing behind the saw and walking along with it. These types of saws are much faster cutting machines as they're equipped with much higher horsepower. A walk behind concrete saw is ideal for longer stretches of cutting that require straight even lines.
How to cut concrete by hand
Before starting, it should be noted if your concrete is thicker than about 6″ in depth, it might be worth hiring a professional for the task. Otherwise, you are completely capable of doing concrete cutting yourself with a little knowledge of the basic steps of your method.
You can cut concrete with a handheld reciprocating saw or even a circular saw and a masonry blade. You can start by scoring the concrete or completely cutting through the concrete block.
However, cutting concrete by hand allows for more user error and not perfectly straight lines.
How to cut a concrete patio with a walk-behind saw
Prep your space
Start by covering any furniture, rugs or other items that you don't want covered in the very fine dust the cutting concrete creates. If you are working indoors, tape drop cloths or plastic over doorways.
Since we were cutting our patio concrete, I pulled up our outdoor rug and covered all the nearby furniture.
Mark your line
Even when using a walk-behind concrete wet saw, the weight of the saw aides greatly in keeping it straight, however it is STILL important to have a good strong line to follow.
First using a measuring tape and chalk, measure from a known point (like a wall) to get your basic cut line. Then, go back with a long level to make sure your measured points are straight.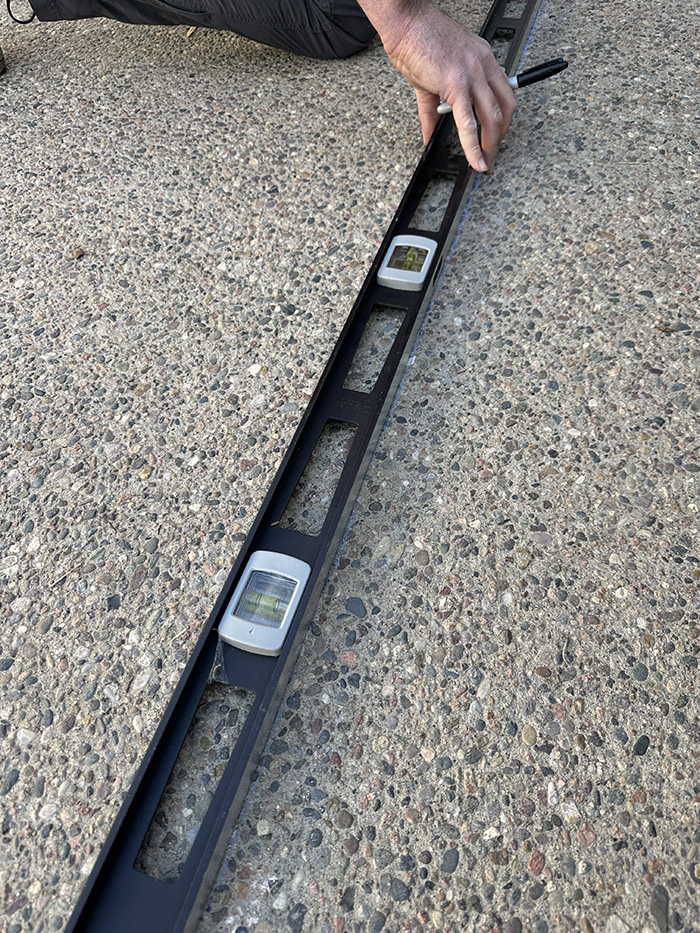 Then, using a chalk line span the entire length and chalk it. Make sure the first and last points are tight and then pull the string up and let it hit the ground. This will leave a nice long STRAIGHT chalk line.
However, since you will be using a walk behind saw, there most likely will be water… so go back over the chalk line every 12″ or so with a black sharpie so that the chalk does not get washed away.
Eye and Ear protection
SAFETY is so important while using a walk behind concrete saw. Going slowly, wearing toe covered shoes, having eye protection and ear plugs are essential.
I have these safety glasses that I use when doing DIY projects and they also are blue light… which I'd probably never use for that, but perk I guess. I also own these because clearly having "cute/retro" safety glasses are important to me, ha.
I used small ear plugs for this project, but just ordered these bigger easier to slip on and off hearing protection.
Connect water source
Next, connect your water source (hose) to the concrete saw. This was as easy as connecting our hose to the machine, tightening the nut and turning on the water at the spigot AND the level on the saw. Both of those need to be "on" to keep your blade wet and cooled down.
Looking for other backyard improvements projects? You might like these…
Set blade depth
While the saw is still completely off, low the blade until it touches the ground. Make sure it is perfectly lined up with your sharpie marker cut line. Once you feel confident that your cuts will be on the line, raise up the blade so that you are cutting a maximum of 1/2″.
Slow shallow cuts will help you keep in better control of the saw and staying in a straight line.
Power up saw
When you are ready, take a breath and turn on the saw at the lowest revolutions per minute (RPM) setting and begin your cuts.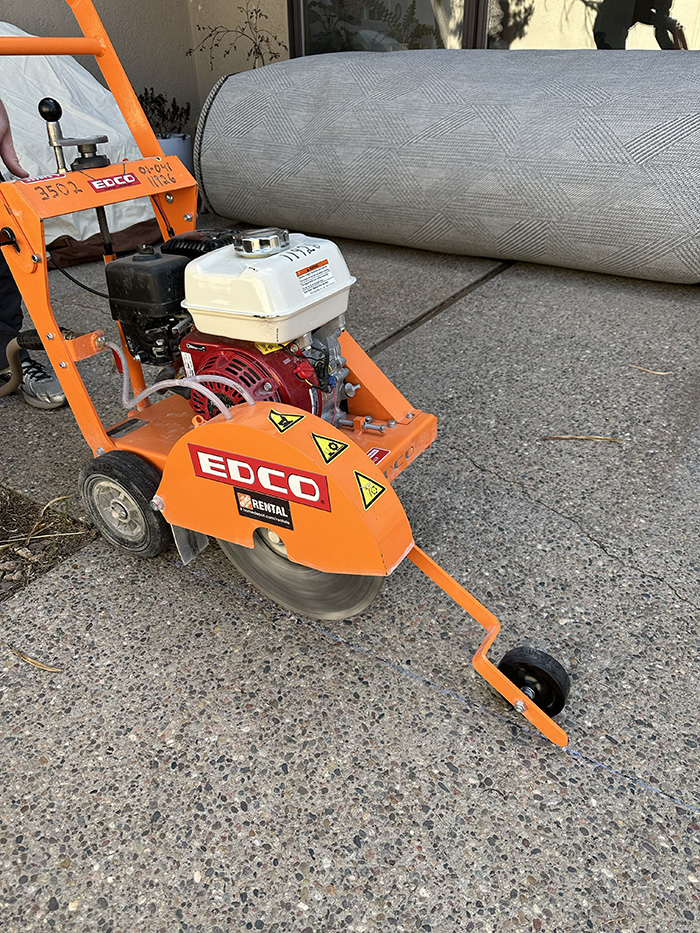 It is important to over and over again repeat in your head, go slow.
Keep both hands on the saw grip and let the saw do the work. It will do the cutting, you simply are there to keep it going slow and maintaining it's straight direction.
Move along the entire length of your cut at the max of 1/2″ (don't stress if the saw cuts a little deeper here and there) and once you have reached the end, slowly lift the blade up and turn off the saw.
This first guided cut will ensure you keep your cuts straight during the rest of the project.
Slow small cuts
Now that you are at the end of your line and the saw is off, walk backwards to your starting point. Turn on the saw again and increase the blade depth by about 1/2″. Repeat this process, increasing the blade depth at 1/2 inch increments until you have cut to the depth needed.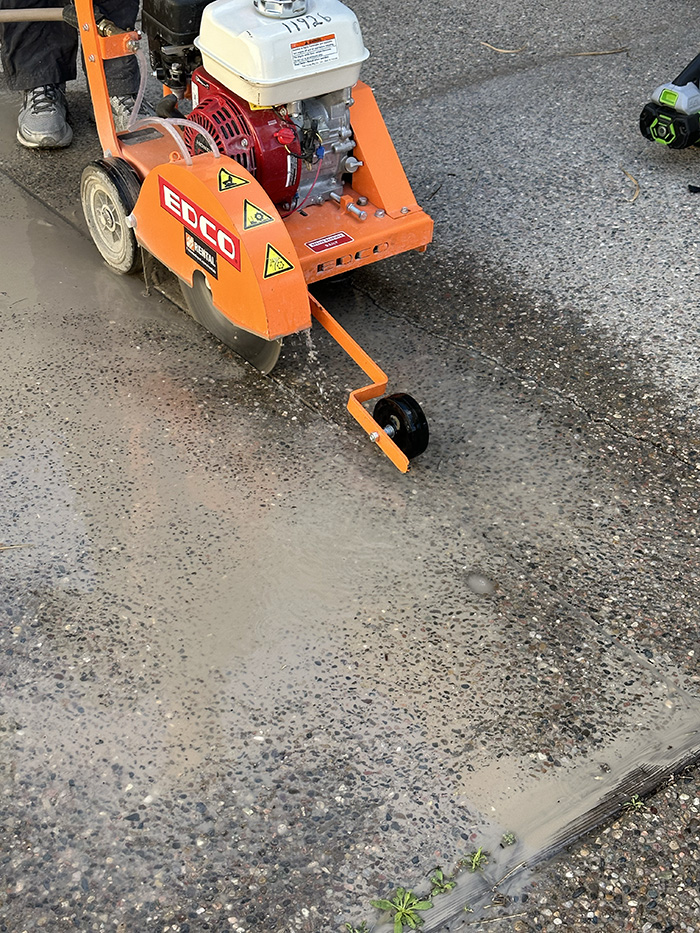 Check back for my next post on how to remove a small concrete patio by hand. It took us about 3 hours total, so although it was some work… it was completely doable!