INSIDE : Learn how to completely transform your kitchen by installing a removable wallpaper backsplash. Removable tiled wallpaper is both easy to put up (and eventually remove) but also quite cost effective when compared to purchasing tile.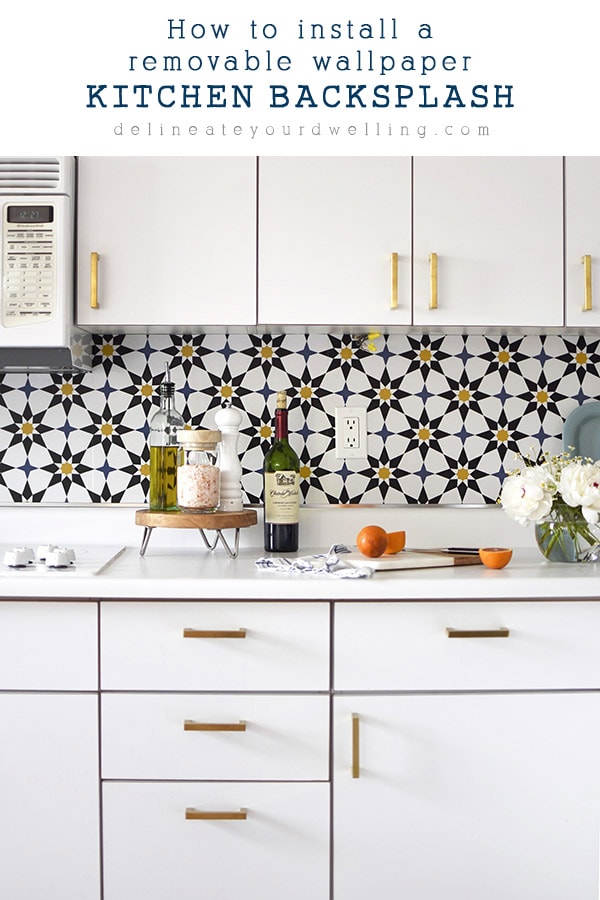 This post has been a long time coming and I am so thrilled to share I have partnered with an amazing company, Tempaper Designs, on this gorgeous Moroccan backsplash wallpaper.
Before Kitchen:
Now, before we get too far along on how to install this wallpaper – let's quickly take a peek at what our kitchen looked like when we bought the house.
This lovely home had a mirrored backsplash in the kitchen. I was constantly trying to keep it clean, really disliked the outdated look it gave the room and to be honest, didn't like seeing my lower mid-section each time I was cooking dinner! After a while, I painted the kitchen white and our island a dusty navy blue color. You can see the full updated kitchen reveal post here.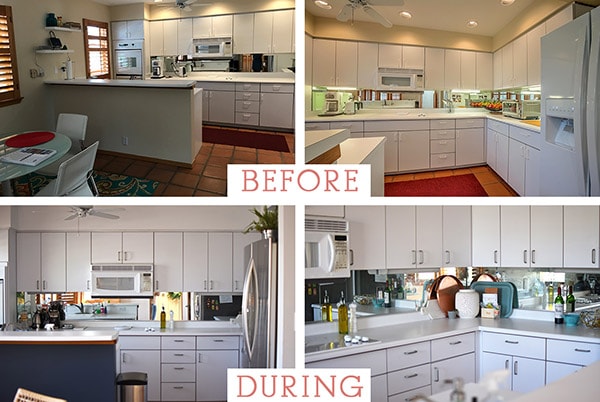 What supplies do I need to install a Removable Wallpaper Backsplash?
Tempaper : Soleil Moroccan Spice
Measuring Tape
Sharp Scissors
X-acto Knife
Small ruler
Optional – Wall putty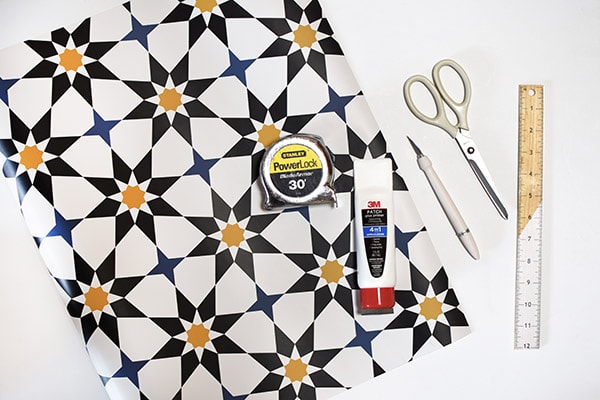 How to install a Removable Wallpaper Backsplash in your kitchen:
The first item to take care of is prepping your existing backsplash. As per Tempaper's website, removable wallpaper adheres best to clean smooth surfaces. I followed their direction and cleaned our mirrored backsplash with a vinegar cleaner.
2. Secondly, remove all light switch and electrical outlet covers – I had to laugh that even our covers were mirrors!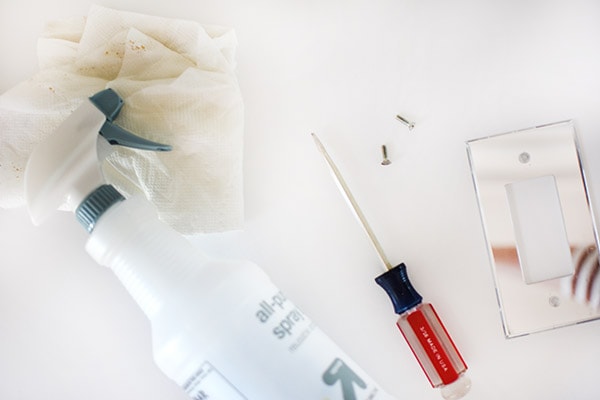 3. Next, BE SURE TO TURN OFF YOUR ELECTRICITY. Then, remove any under cabinet lighting fixtures. Ours were also quite old and took a bit of muscle for me to remove them.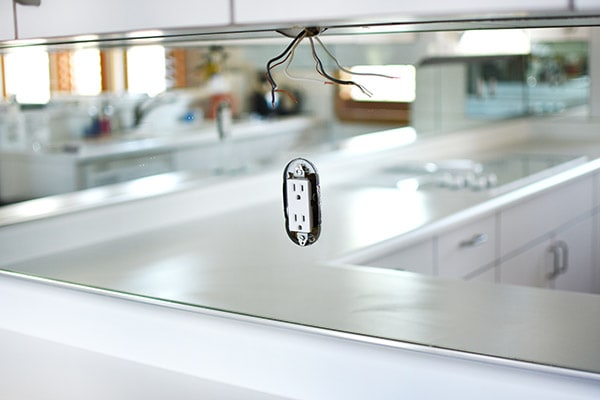 4. It's time to start measuring and cutting your removable wallpaper now! One of the things I loved about buying my paper from Tempaper was they had online video instructions, a wallpaper calculator and even a FAQ page. So I really felt like I had all the resources I needed as I got started.
One thing to remember, just like if you were hanging this paper on a full wall, you install at the top of your backsplash to the bottom of your backsplash – this ensures that your patterns will match up correctly and you have manageable sized sections to adhere to the wall.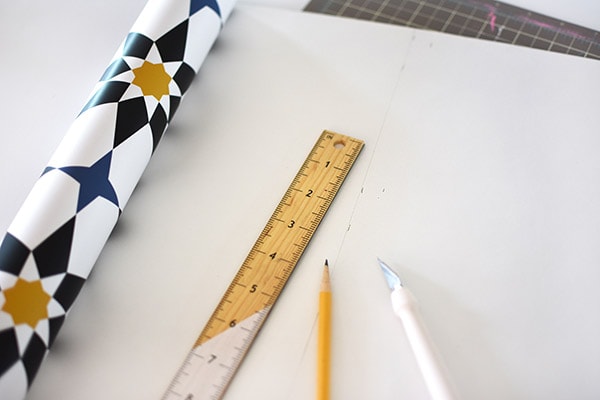 As I went along, I ran into many electrical outlets that needed to be cut out prior to installing the wallpaper onto my mirrored wall. I simply, measured the location and size of the cuts and then using my x-acto knife was able to cut them out. (I highlighted the cut outs in pink below for ease of viewing.)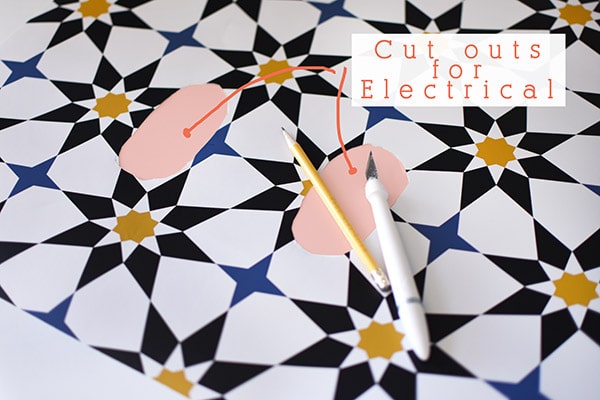 5. I also found it easier to start by pulling maybe 3-4″ of the backing off the wallpaper in the upper left hand corner and getting that full edge lined up correctly. Once that far left hand side was lined up and stuck to the wall, I would slowly pull the backing off with one hand and use the Tempaper smoother tool to get all the air bubbles out.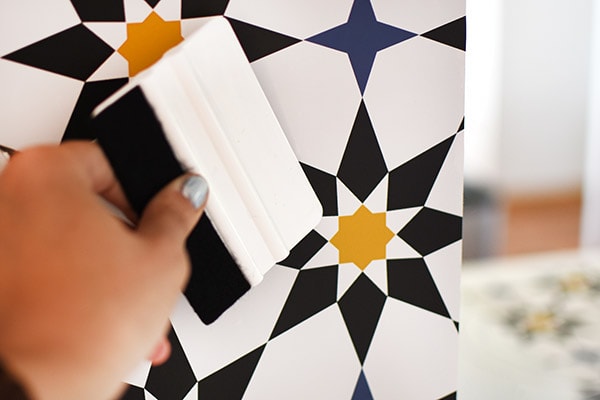 You can see how that process looked below – starting from the far left hand side and slowly working section by section to the right.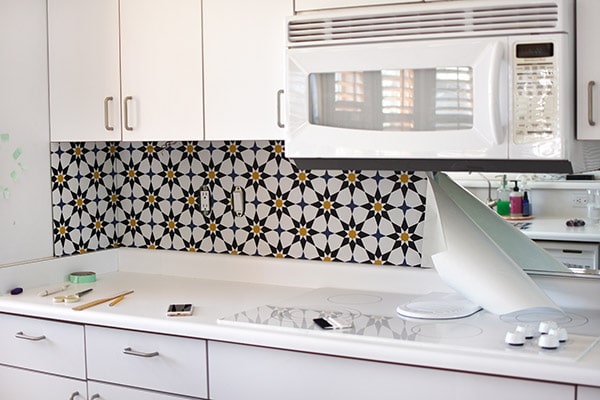 6. Another tip I read on Tempaper was if you can't seem to get a few bubbles here and there with their smoother tool, you can use a small needle pin and pop the bubbles. I found that very useful.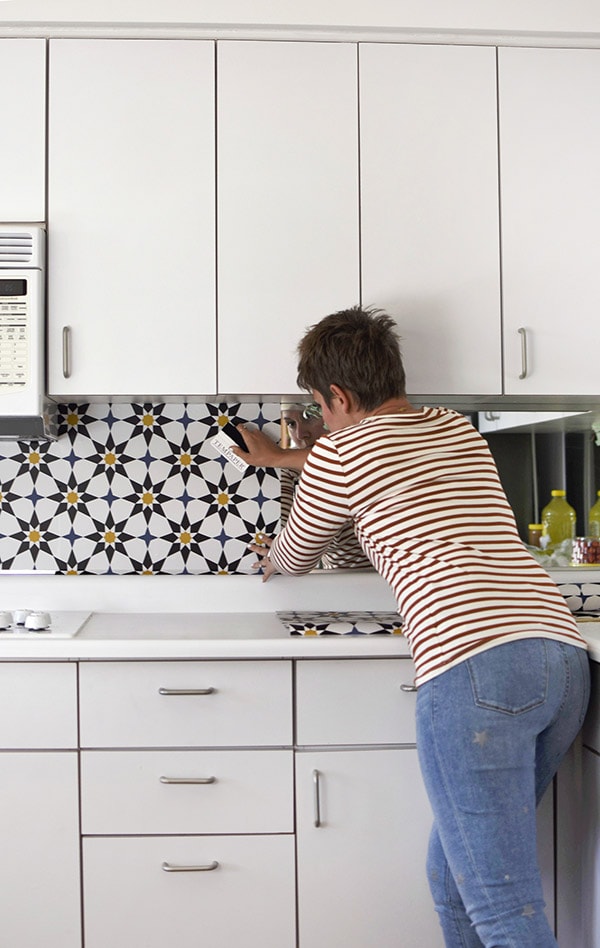 As I went around the kitchen on the backsplash, I just could not believe how amazing it looked! I loved the Moroccan / Geometric feel it brought to our kitchen but still think it speaks to our Southwest styled home perfectly.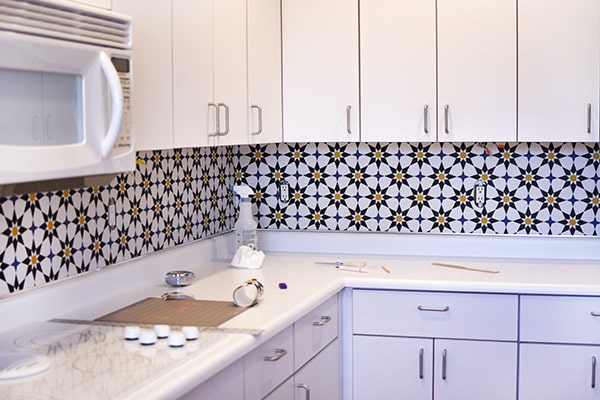 Once all the removable wallpaper was laid, I went back and made a few final trims to the lower edge. I also installed new crisp clean white electrical covers!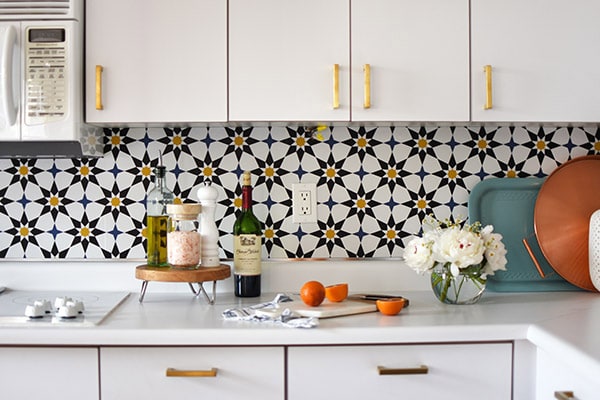 If you want to see all the updates I made (hint hint, EVERYTHING totaled under $300) you can check out my Kitchen Update post.
However, the real show stopper of this room is 100% the wallpaper. I am so in love with it and am ready to start adding removable wallpaper to every room in my home!!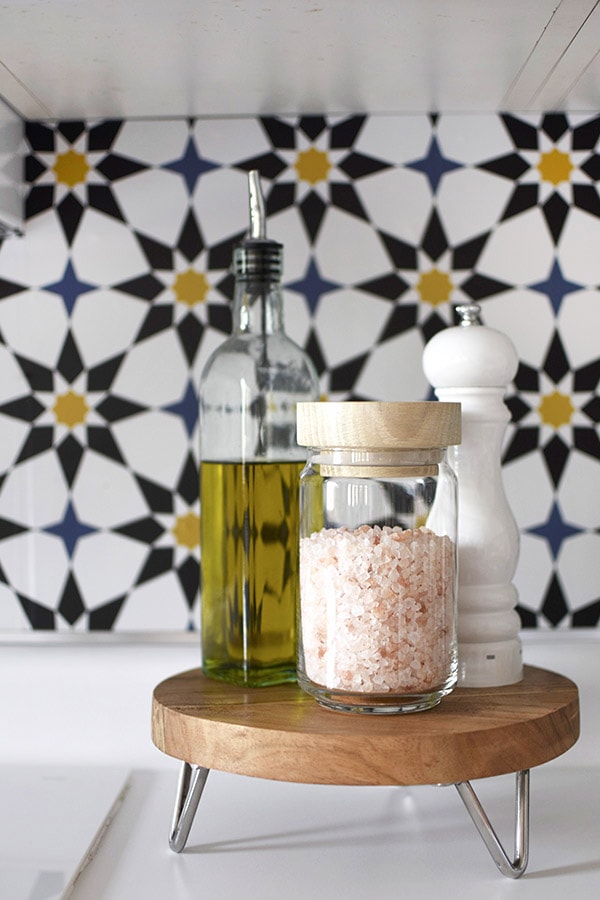 I was provided the removable wallpaper for this post. Thank you for supporting the amazing brands like Tempaper that make Delineate Your Dwelling possible.