How to create a Circle Accent Wall with Wallpaper
INSIDE : Everyone is adding painted circles to their walls, but what about a fun new twist? Learn how to create a Circle Accent Wall with Wallpaper and it's removable so this DIY just got that much better!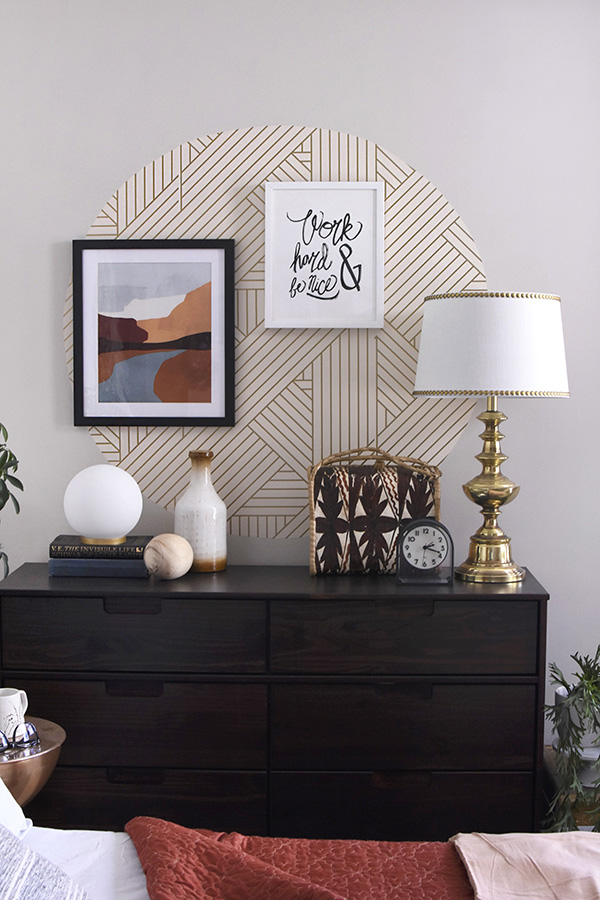 This post may contain affiliate links. See full disclosure here.
I recently gave my office a little update makeover. You can see how I created a Dual Office + Guest Bedroom. One of the updates was a painted a wall in my office in a surprising color for me… beige! I actually loved how the color looked, but it felt a little flat when I started hanging artwork.
I took a quick picture with my cell phone and printed it out on my home printer. Then I did some sketching to see if I could paint something to create a little more interest. Then suddenly, I thought what if I used removable wallpaper to add something unique to the space?
What do you need to create a Circle Accent with Wallpaper?
Removable Wallpaper
Measuring Tape
Wall Level
Scissors
Painter's Tape
Pencil
String
Thumbtack
How do you create a color blocked wall with Wallpaper?
Start by measuring the basic size that you want your wallpaper circle to be. Mine measured to be 52″. With a pencil make lines for the center, top and bottom of your circle on the wall. This can just be a few dashes, there is no need to actually draw the circle out on the wall.
Once you know how wide your circle accent will be, lay the wallpaper on the floor. My circle was about 3 sheets of wallpaper wide.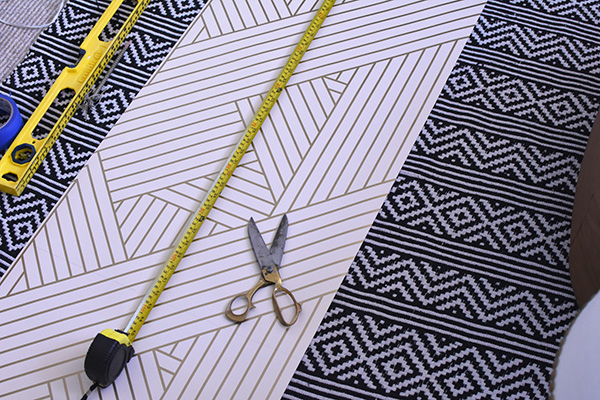 I cut, matched the pattern and taped up the wallpaper in the spot I was going to create my accent circle feature.
Next, take a piece of string and using a thumbtack, place it in the very center of your wallpaper RIGHT where the centerline of your circle will be located. Measure the string to be half of your circle length, so my string was 26″ long. Tie a pencil to the other end and slowly draw out your circle onto the wallpaper.
I used this same technique when I was creating my Arch Accent Wall.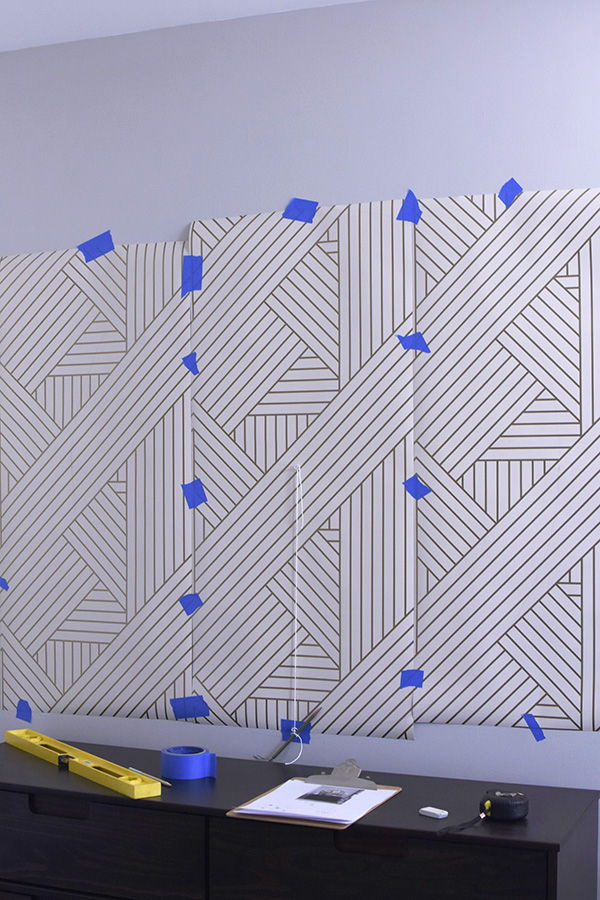 Check out these amzing wallpaper projects!
Circle Wallpaper
Remove your wallpaper from the wall, but keep all the tape adhered along the seams so they don't come apart and cut out your circle with scissors.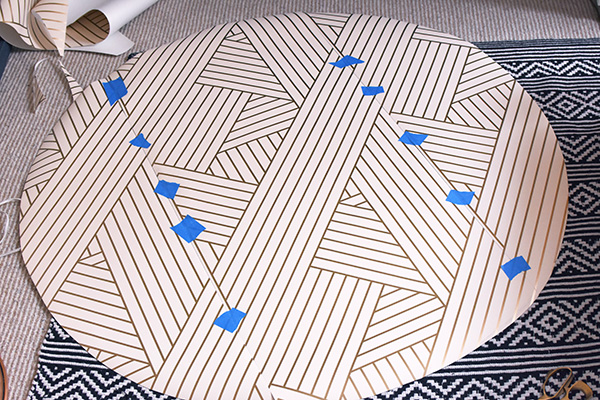 Installing Circle Wallpaper
It's finally time to hang the circle wallpaper and because I used removable and not the paste type, this step took maybe 15 minutes total. Yay for quick wins!
Find your centerline pencil mark at the top of your circle and be sure to mark the exact center of your center piece of wallpaper. Make sure to match those two lines up. Then VERY gentle tap the first few inches of wallpaper down to stick to the wall.
Using a level, double check that each corner of that top portion of wallpaper is level. Once you get this piece of wallpaper level on the wall, the other two pieces are very simple to add on.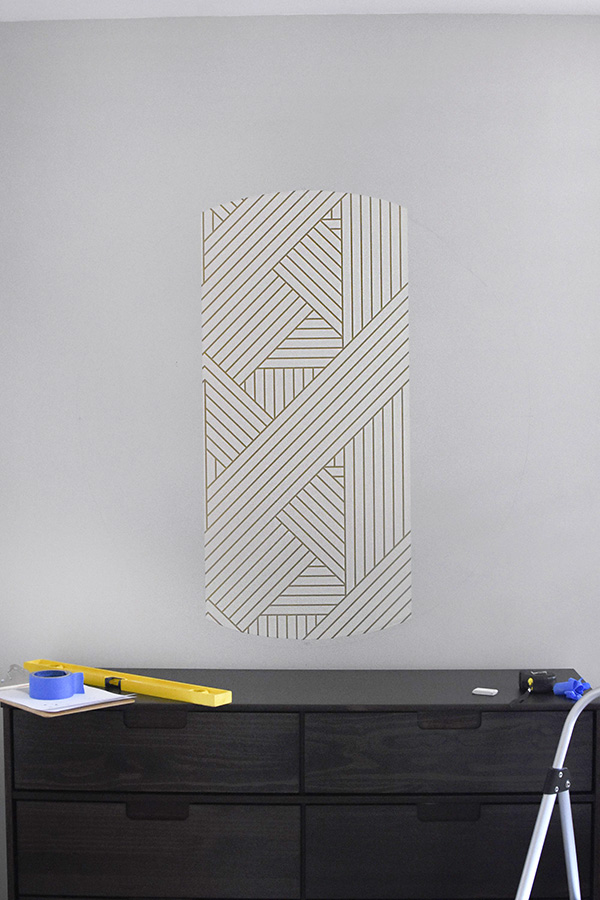 Since I took a moment to make sure that first piece was done correctly, the second piece of wallpaper is a breeze to put up. I started at the very top and made sure the edges matched up. Slightly remove the backing underneath as you smooth the wallpaper down to get rid of any air bubbles.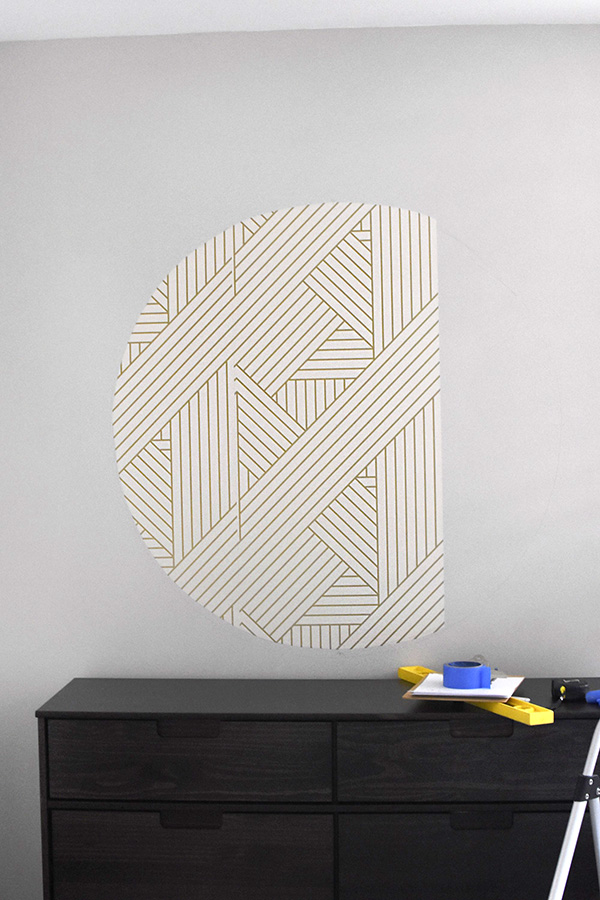 Follow the same steps for the last piece and you are done with this beautiful circle wallpaper moment!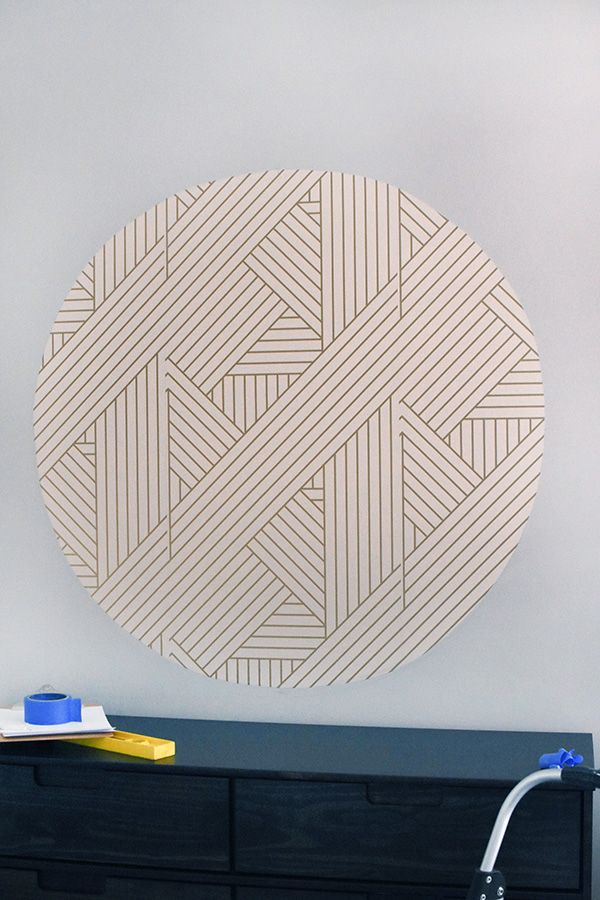 Pattern Color Block Accent Wall
Now that your color blocked wallpaper wall is done, you can add artwork and a few fun decorative accessories. I'm so crazy for this globe lamp and how the Sedona artwork colors work so perfectly.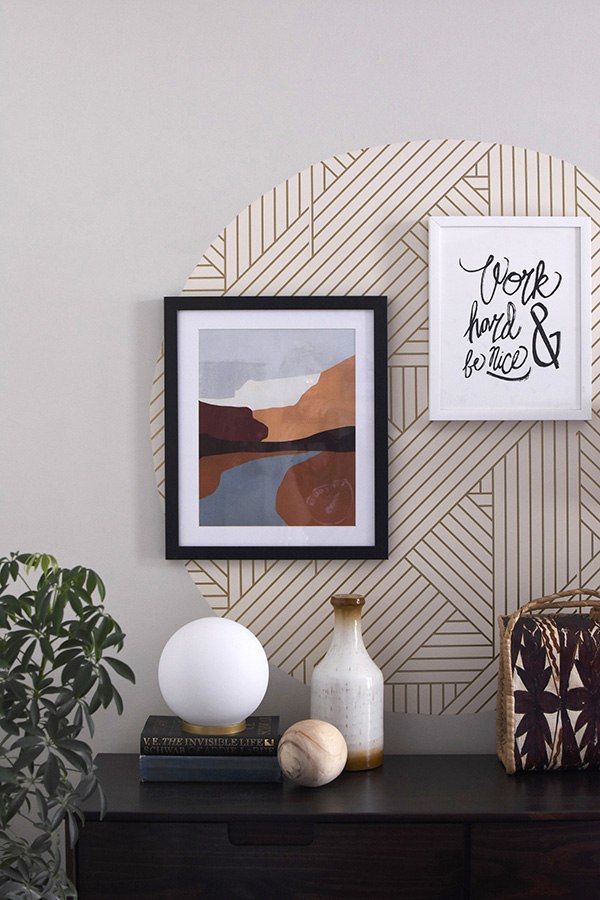 Looking for an entire post about beautiful Accent Wall Ideas?  Check it out now.
Patterned Circle Wallpaper
I love the pattern that this circle accent wallpaper brings to a more chill relaxed wall. And since the patterned wallpaper is removable, it's easy to update, move or even eventually remove!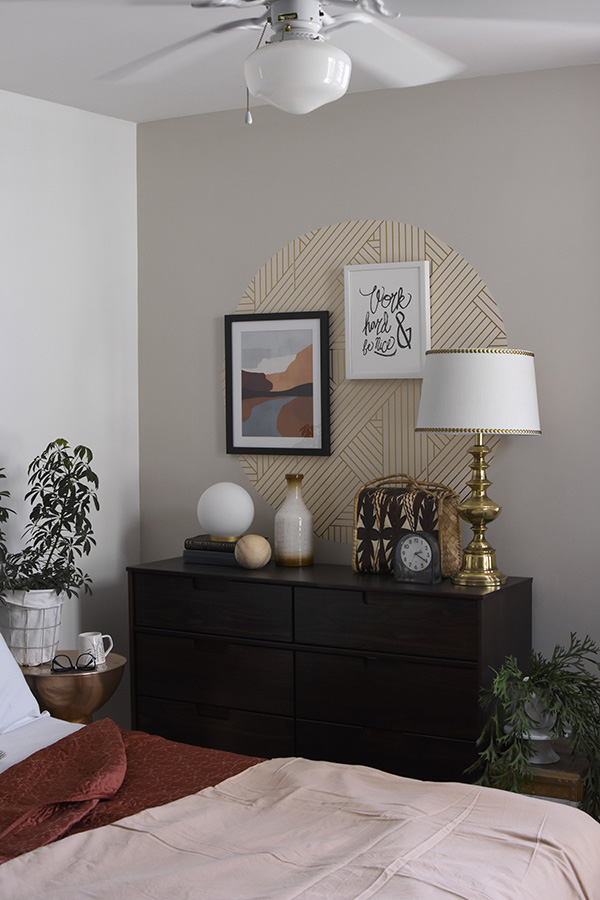 Interested in more Accent walls?
– Modern Board and Batten Accent Wall
– Organic Paint Line Accent Wall
– Painted Arch Accent Wall
– Tween Girl Modern Bedroom Accent Wall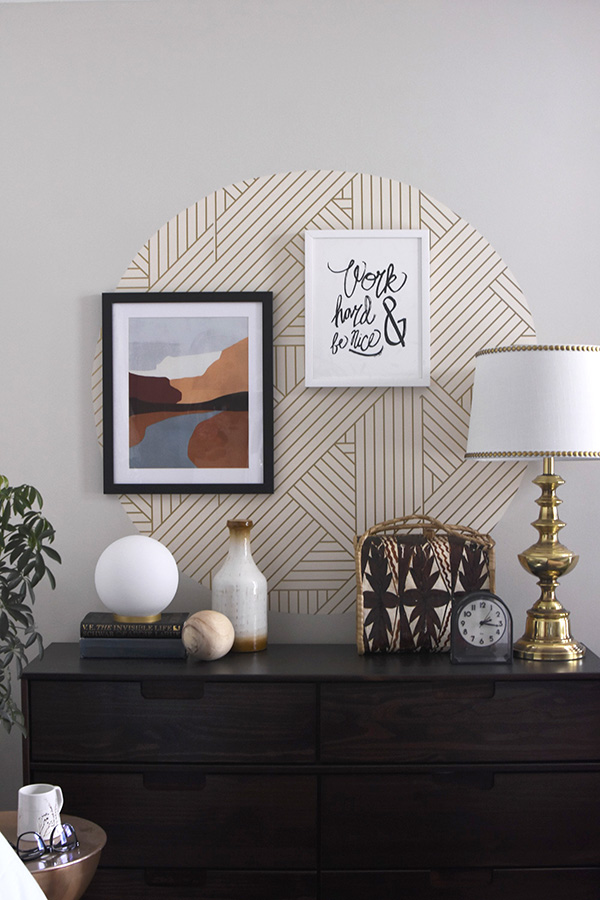 Do you think you would try a Circle Accent wall with wallpaper now? I'd love to hear all about it!