Stylish Saltillo Tile Ideas
INSIDE : Check out this roundup of stylish Saltillo Tile Ideas – from using it in kitchens, living rooms and even outdoor patio spaces! Learn how to give this old world charm Tile a new fresh look in any home.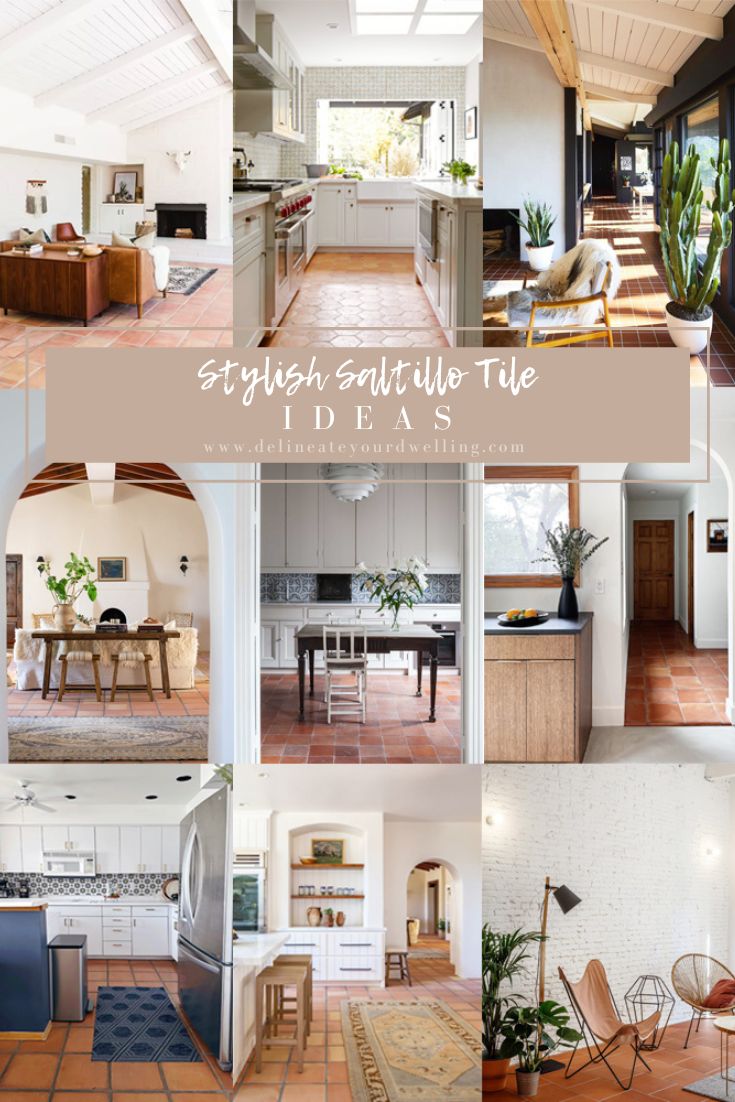 This post may contain affiliate links. See full disclosure here.
It's easy to hear the word Saltillo tile and have an immediate idea of what type of home or space those tiles would be used in. However, there really is quite a broad range of ways this Mexican tile can use installed.
What type of homes have Saltillo Tile?
You can install Saltillo Tile in any style of home that you want. However, the iconic flooring often is seen in many of the below types of homes.
Spanish style homes
Mid-Century Modern style homes
Moroccan style homes
Southwest style homes
Hamptons style homes
Tuscan style homes
You can see more about our Modern Saltillo Tile Kitchen we have and how I was able to embrace the tile and still create a beautiful space in our very Southwest style home.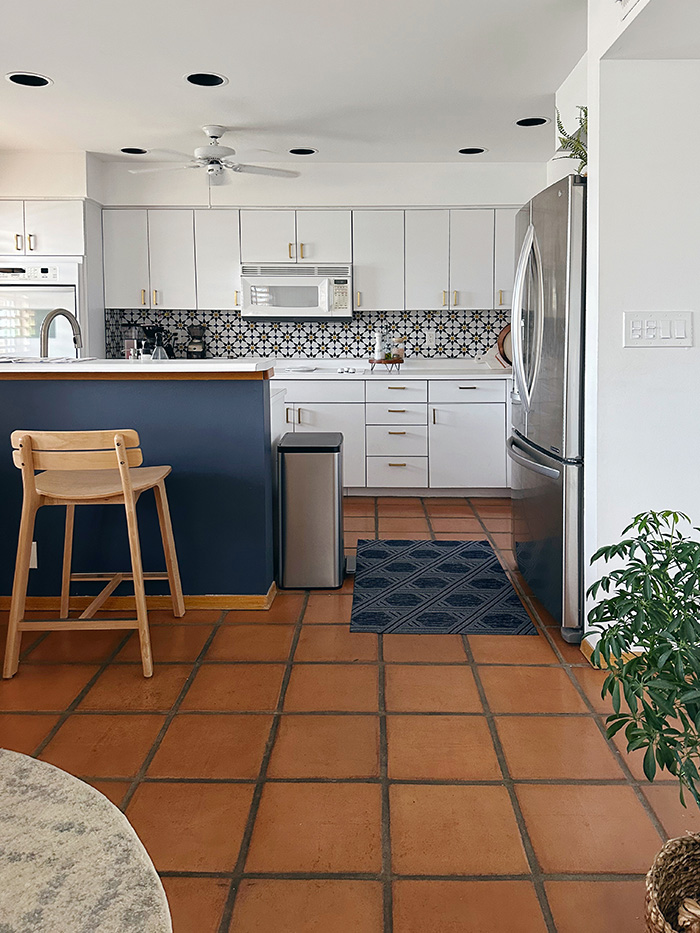 Looking for other content about Saltillo Tile? Check these out below.
Where should I install Saltillo Tile?
Saltillo tile can be installed both inside and outside. It can be used indoors to give rooms a warm feel, but can also be used in outdoor patios or even on walls.
A few other examples of places to use Terracotta colored tiles are…
Bathroom floors
Living Room floors
Dining Room floors
Fireplace details
Backsplashes
Kitchen islands
Decorative walls
Restaurants floors
Patio floors
14 Mexican Saltillo Tile Ideas
Photo Credit: www.dezeen.com
Beautiful smooth terracotta tiles create the perfect contrast against this white exposed brick wall.
Photo Credit: clayimports.com
The color variation of these saltillo tiles is a perfect combination to create warmth on the floors in this modern bathroom.
Photo Credit: www.cletile.com
Terracotta tile paried with white diamonds makes for a gorgeous floor pattern!
Photo Credit: www.cletile.com
The Flemish Red Terracotta tile immediately warms up this space. The tile shape is such a fun twist to the design, as well.
Photo Credit: www.intimatelivinginteriors.com
This living room is the quintessencial Spanish Bungalow and the Saltillo tile is a perfect addition to the room.
Photo Credit: www.instagram.com
These square terracotta tiles are the perfect modern twist to this gorgeous Mid-Century Modern home.
Photo Credit: decordemon.blogspot.com
I love the relaxed feel that these Mexican tiles bring to this eclectic room.
Photo Credit: thespaces.com
A simple chic living room with terracotta tile is the perfect look here.
Photo Credit: clayimports.com
Such a cool twist using these saltillo tile in a herringbone pattern on this kitchen floor!
Photo Credit: homeadore.com
These soft saltillo tiles are the perfect touch in this crisp white living room!
Photo Credit: ruemag.com
These multi colored Saltillo tiles look wonderful against the fresh crisp white walls in this California home.
Photo Credit: cecyj.com
Nothing quite says cozy like a beautiful hex Saltillo tile in this soft olive green colored kitchen.
Photo Credit: www.yellowtrace.com.au
The warmth of these Mexican tiles is wonderfully contrasted by the cool griege cabinetry in this Madrid Apartment.
Photo Credit: www.elmueble.com
Celebrate the beautiful old world charm of these Saltillo tiles on the floor and ceiling!
Looking for other content about Saltillo Tile? Check these out below.