INSIDE : Learn the best tips on how to clean Saltillo tile in your home, business or outdoor space.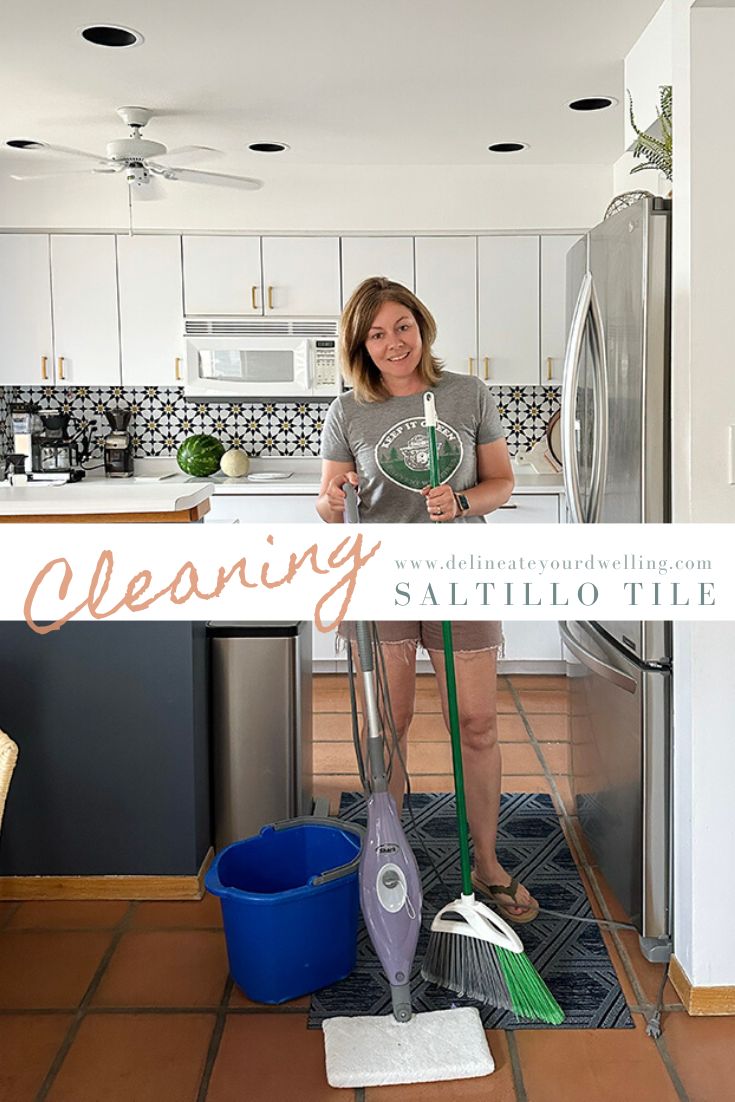 This post may contain affiliate links. See my full disclosure.
Anyone who has Saltillo tile knows they are a unique tile style, all of their own. And being such a unique tile, it should be no surprise that they can require a few special ways of cleaning them.
We've lived in our current Southwest home for 5+ years and we have saltillo tile throughout our main living spaces (front entry, living room, dining room, kitchen, hallways and bathrooms). I have learned the best ways to clean those tiles and I'll be sharing that with you all today.
Looking for other content about Saltillo Tile? Check these out below.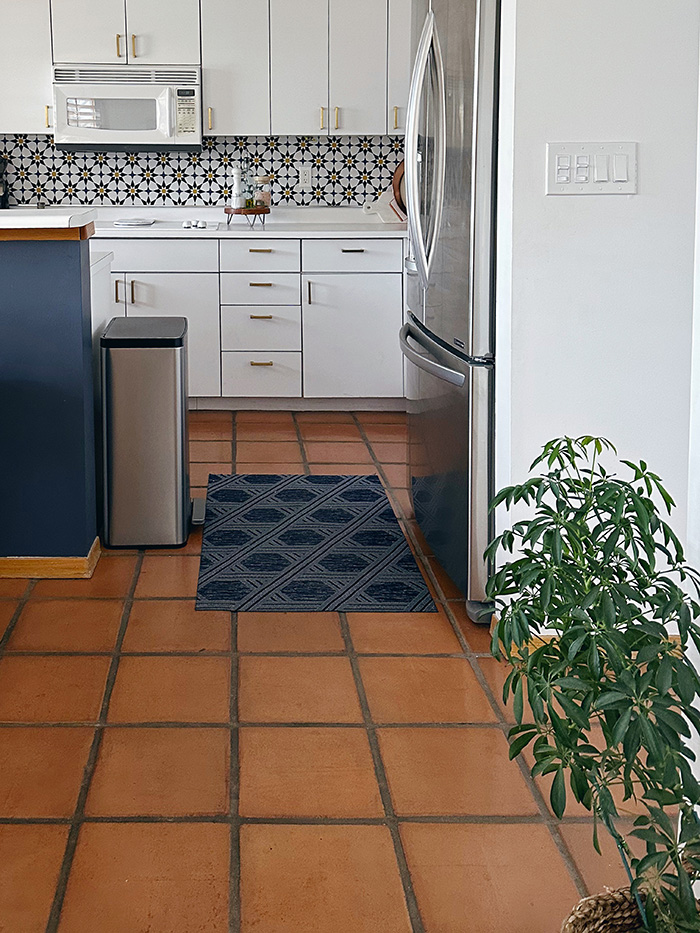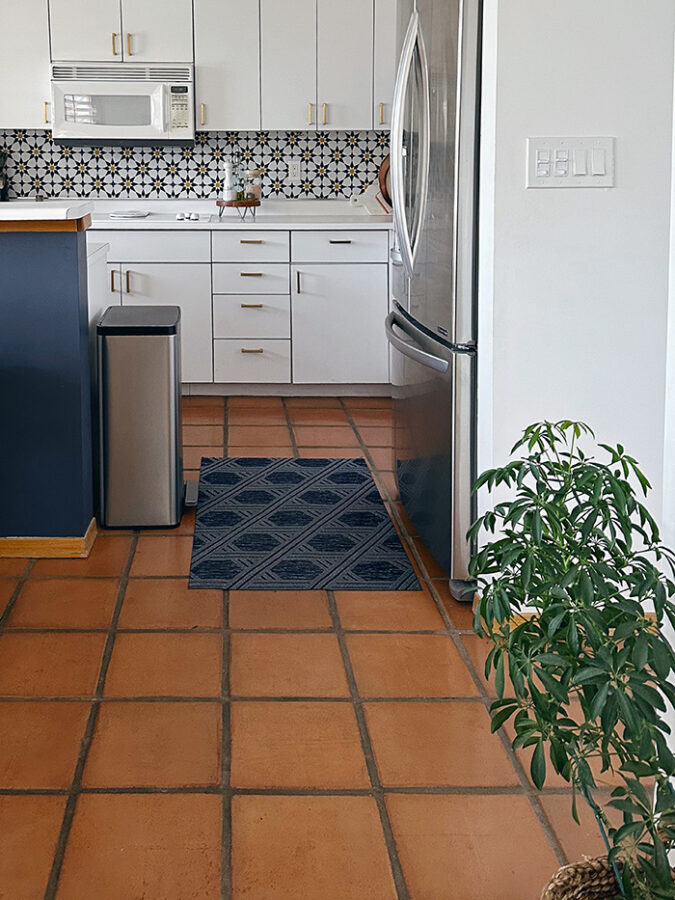 Is Saltillo tile hard to maintain?
Saltillo tile is a simple product that has been used in Mexico for centuries. They are handmade and fired at a relatively low temperature. Saltillo tile are most commonly used in the Southwest, but not exclusively.
Saltillo tile can sometimes have more wear and tear than other tiles because of the material they are made of, the day to day upkeep and maintenance is simple.
Most recommended is using a broom to sweep up dust, dirt and debris and mopping your tiles with white vinegar diluted in warm water. However there are many methods you can use to accomplish this. Read below for more information on each of them.
Sweep clean Saltillo tile
Here in the Southwest, keeping dust off our Saltillo tile floors can be what feels like a nonstop job. We have swamp coolers instead of air conditioning and therefore our doors and windows are open a large portion of the year. With open windows and doors, comes more than normal dust.
Sometimes a simple broom is the best way to sweep your floors clean on a daily basis.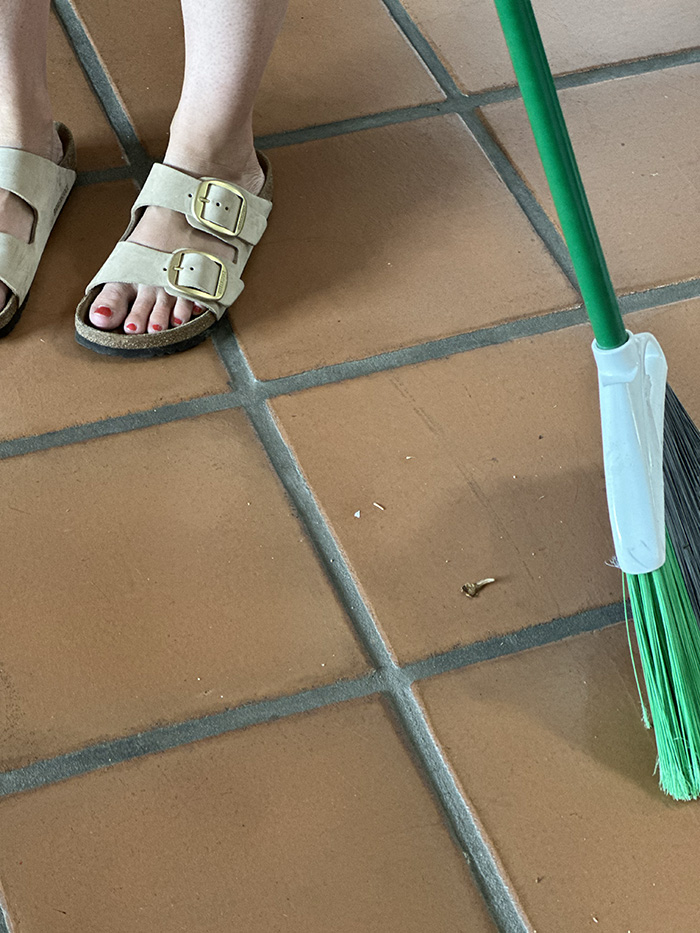 However, using a vacuum cleaner at least weekly really helps with keeping dirt out of the lager than normal grout joints used with Saltillo tile. The Shark NV356E Navigator Lift-Away Professional Upright Vacuum with Swivel Steering is a great vacuum perfect for getting up dust, debris, pet hair and more.
We have a iRobot Roomba i7+ set on a weekly schedule of vacuuming our front entry, hallway, dining room and kitchen. It's been such a game changer for those small floor messes to keep picked up and off our tile.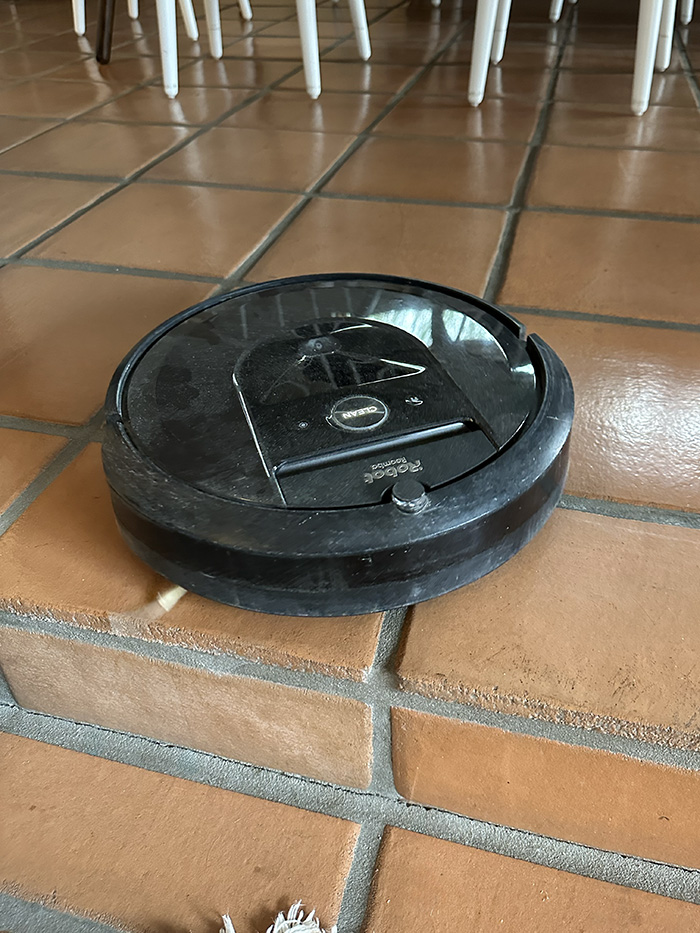 Hand Mop clean Saltillo tile
A standard soap and water combination for mopping is fine, however if you use too much soap it can leave a foggy or filmy residue. So for hand cleaning my saltillo tile I like combining white vinegar and hot water. I've also heard really good things about this clean product, Aunt Fannie's Floor Cleaner Vinegar Wash.
Simply fill a mopping bucket with about 2 gallons of hot water and add to it 1 cup of white vinegar. Having the proper dilution is important. When mopping, less is more; so make sure to wring out your mop thoroughly after each dip.
This is my favorite mop. I love being able to easily spin my mop and remove the excess water from it.
Steam clean Saltillo tile
Another method for cleaning your tile is using a steam mop. We have this mop, the Shark S3501 Steam Pocket Mop, but I have been keeping my eye on this highly rated PurSteam Steam Mop Cleaner 10-in-1 from Amazon.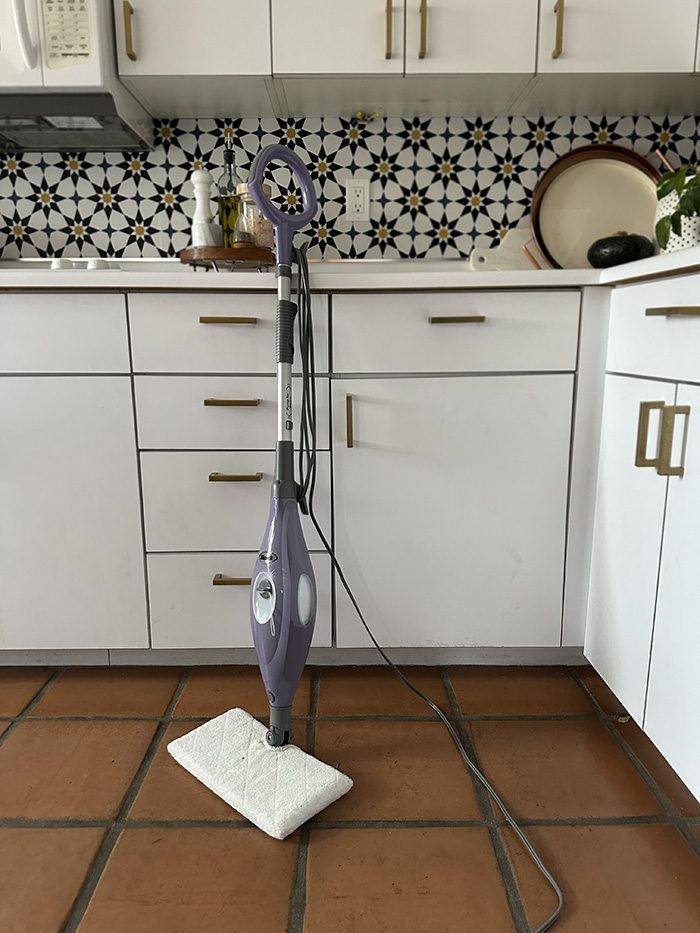 Steam cleaners are generally safe to use on most types of flooring, but do not use on vinyl planks. The steam from the mop can get through the joints and not dry properly. Approved steam mop flooring includes – linoleum, ceramic or porcelain tile, and on some forms of hardwood and laminate flooring.
I love steam cleaning my tiled floor. Not only is it a very simple setup process, but my floors feel wildly clean afterwards. I steam mop my floors about once every other month and do hand mopping for the other times.
Cleaning Saltillo Tile Grout
Saltillo Tile grout is much wider than typical tiled flooring grout lines. The average grout line is 1/2 – 3/4 inches and this wide grout line accommodates the size variations from tile to tile since they are handmade and can have slight size variation.
To clean Saltillo tile grout, spray the floors with grout cleaner. I like this Grout-Eez product. Simply spray the solution onto the tile grout and wait for about 1 minute.
After you have sprayed the grout on your tiles, it's time to scrub them clean! Using a brush with stiff bristles helps get the job done easier. You will start to see the cleaner suds up white and it will start to get brown as you are removing the dirt from the grout.
Using a wet rag, wipe the grout lines clean. This will remove most of the product solution from your floors. And then I recommend mopping the floors as a final cleaning step.
Looking for creative ways to use Saltillo Tile? Check out this post.