INSIDE : Looking for best practices when Freezing Basil in Ice Cube Trays for the winter? Well, I have you covered! I go over the best time to harvest, how small to chop your basil, which ice cube trays are the best to use and more. You'll be glad you spent the time all year long when enjoying these great frozen herbs.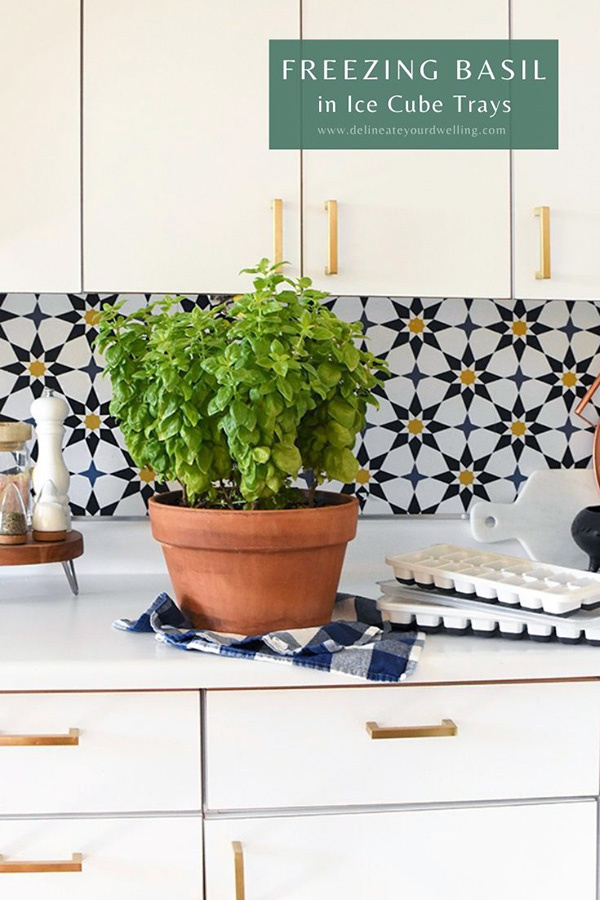 This post may contain affiliate links. See full disclosure here.
I spend so much time in the late Spring and Summer seasons planning, prepping and growing my small Raised Vegetable Garden. It brings me such joy to tend to all the vegetables, flowers and hersb. So much so that each Fall and then Winter, I lament that my garden is slowly going to die. Well, no longer!
This year, I decided to do whatever I needed to do to harvest, can and freeze my lovely summer spoils so that we could extend the life of all that work.
I am so excited to share how I froze my Basil herbs this year in just a quick bit of work.
What supplies do I need to freeze garden basil for the winter?
Basil Plant
Pruning Shears
Colander
Drying Towel
Knife
Cutting Board
Silicone Ice Cube Tray with Lid
Olive Oil
Harvesting Fresh Herbs
There are a few ways to harvest your herbs. I grew my basil in a nice big terra cotta pot this summer, so it was as easy as bringing the post right into our kitchen.
Then, you can either use your fingers and pinch off a few stems or you can use pruning shears.
Fingers should be used for more delicate plants and leaves. You will want to make sure to pinch tightly right through the stem of the leaf.
Since I was taking off the entire stem and not just a few single leaves, I opted to use kitchen scissors (or pruning shears).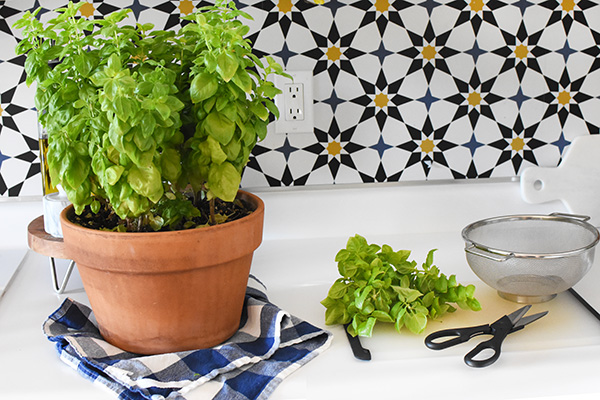 How to clean Fresh Garden Basil Leaves
Once you have removed the basil leaves from their stem, it's time to clean off the herbs from any dirt, debris or bugs that may have creeped onto your food – eek.
I simply place the herbs in a stainless steel colander to give them a wash. Run the herbs under cool water and using your fingers, mix the basil so that the water can rinse over all of the leaves.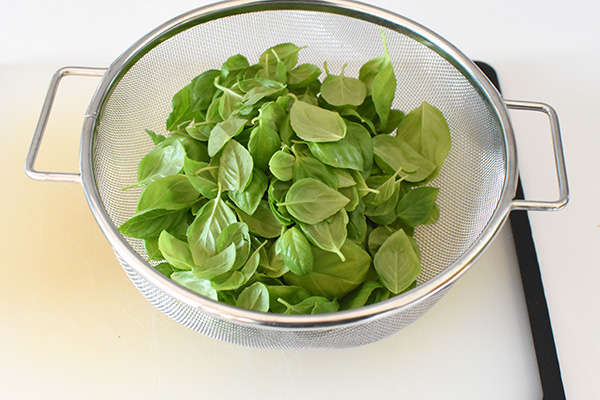 Once the basil leaves are rinsed off, it's time to dry them off a bit. I placed a towel down and laid the basil on top. You can either allow the basil to air dry or take another towel and gently tap off the excess water.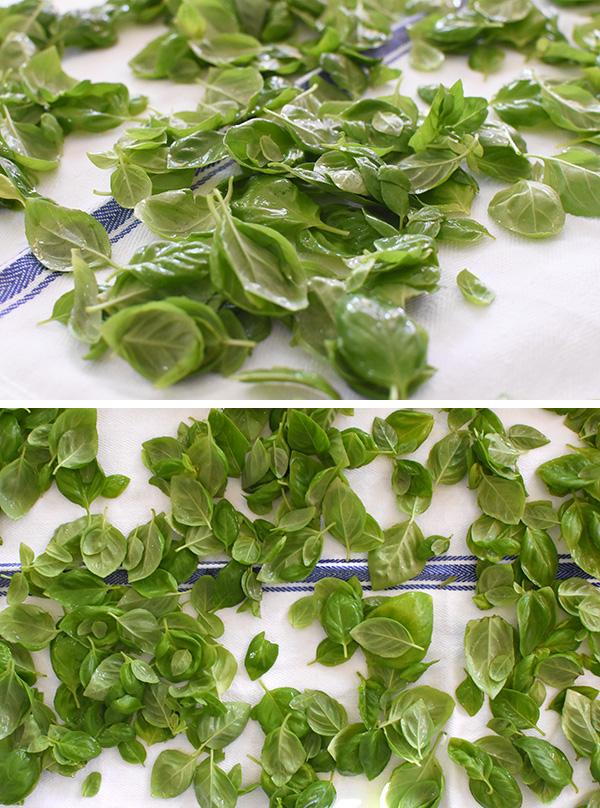 Chopped Basil Leaves
Once the herb leaves are mostly dry, you can begin to chop them on a cutting board. Make sure to cut them in into thin ribbons as they will fit in the ice cube trays easiest this way.
Start by stacking the basil leaves onto top of each other, maybe 3 or 4. Then, roll the leaves into a tight tube. It doesn't matter which direction you roll. Keep the roll as tight as you can, as this makes cutting into ribbons a cinch.
Using your knife, begin to cut the basil into thin ribbons now.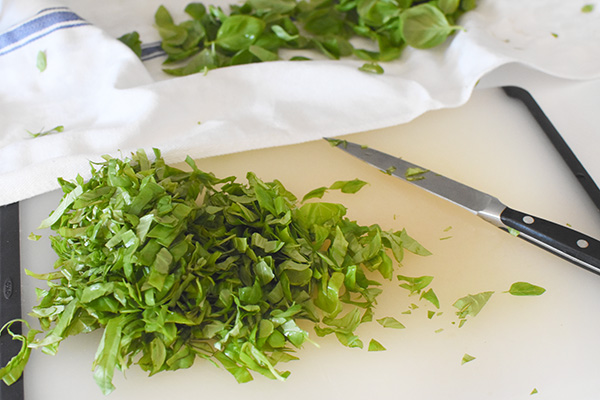 Adding Olive Oil
Next, place a small handful of basil into each of your ice cube trays and drizzle olive oil over top. You don't need to completely fill the ice cube spot with oil, but make sure to have enough to cover the basil.
The olive oil helps prevents the basil from turning black when it is frozen and helps gives it a richer flavor when you do use it. You can also use water instead of oil, but I prefer oil.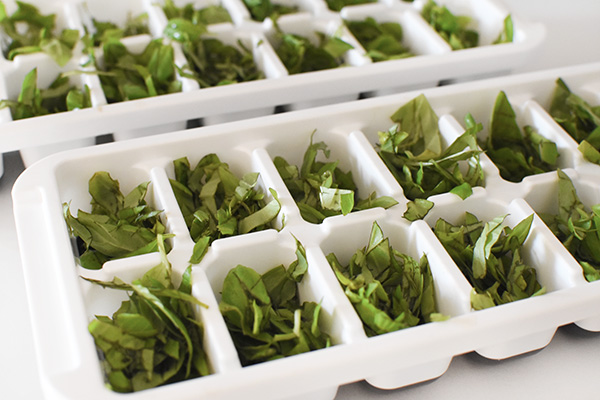 How to freeze fresh Basil leaves in ice cube trays
Once the chopped basil and olive oil has been added to each of your trays, you can safely add the lid (if your trays have a lid) and place them in the freezer.
I checked on mine the following day and they looked and smelled amazing!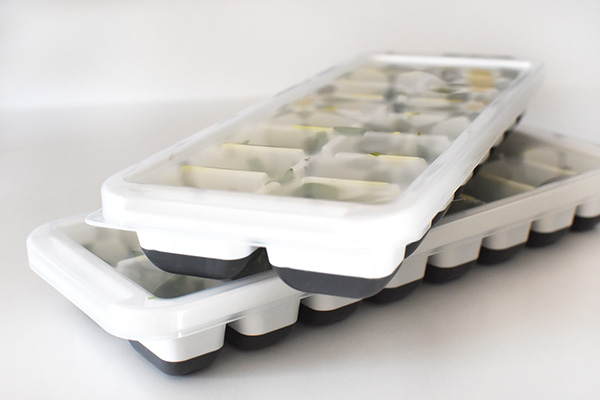 Basil Ice Cubes
Once your basil herbs are frozen, they should last in the freezer for up to five months. And based on when you freeze yours, mine was done here in November, they should last until just about it's time to start growing fresh ones in your garden again!
Win win win.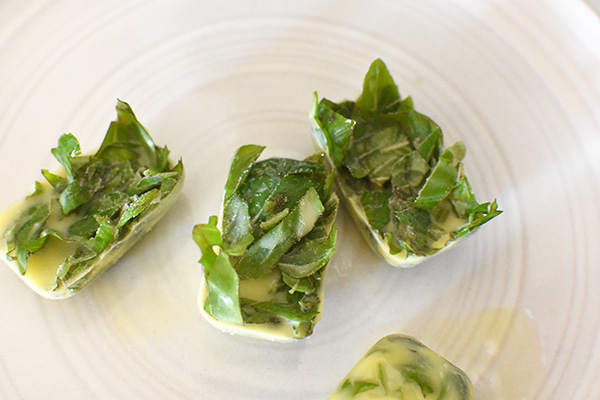 What do you use Frozen Garden Basil Cubes for?
When you freeze basil, it will obviously not be the same exact consistency as using it fresh. However, frozen basil, in my opinion is much more flavorful than using dried basil herbs in your cooking.
Frozen basil is great for flavoring soups, stews, sauces and even salad dressings. I can't wait to get cooking with mine!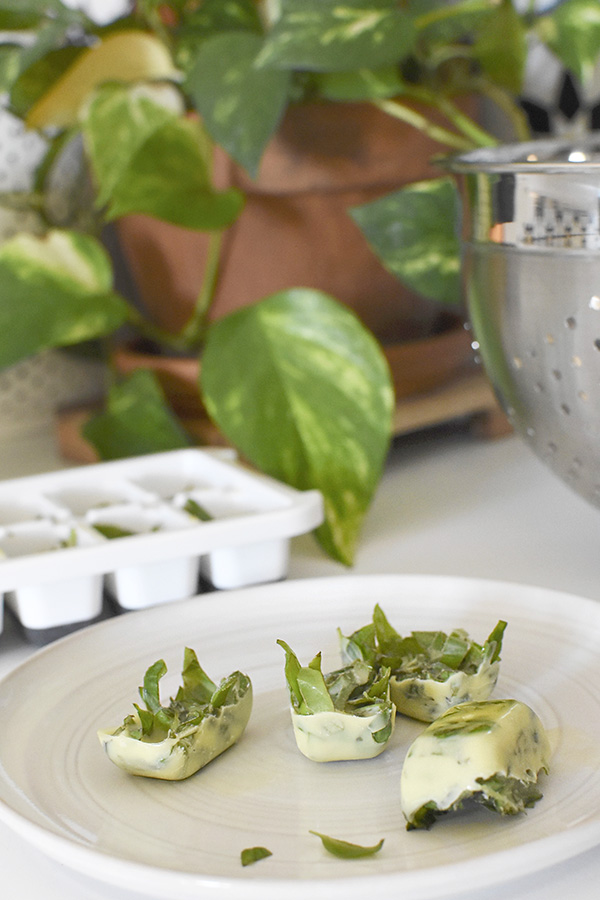 If you like gardens, you might like checking out some of these posts too.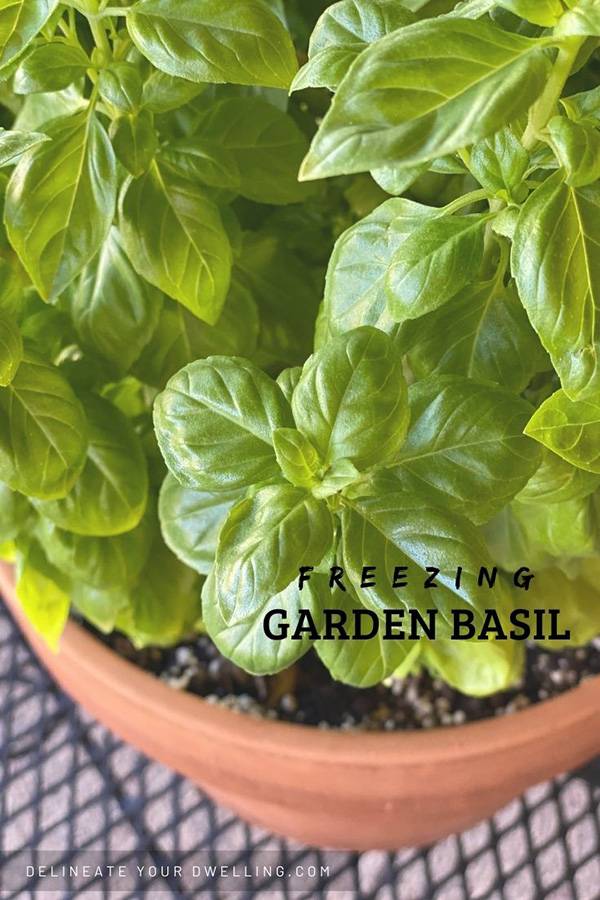 Looking for other garden related posts? You might like these :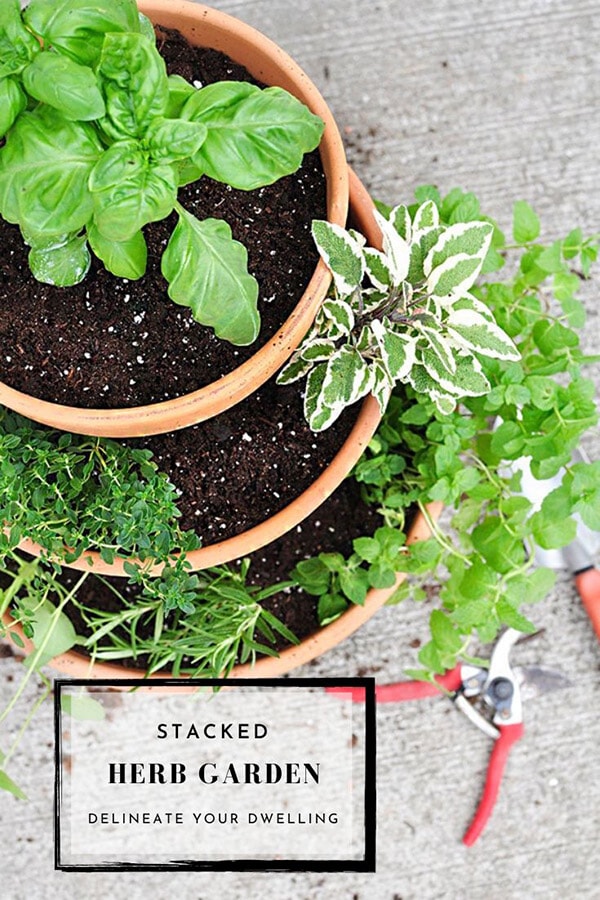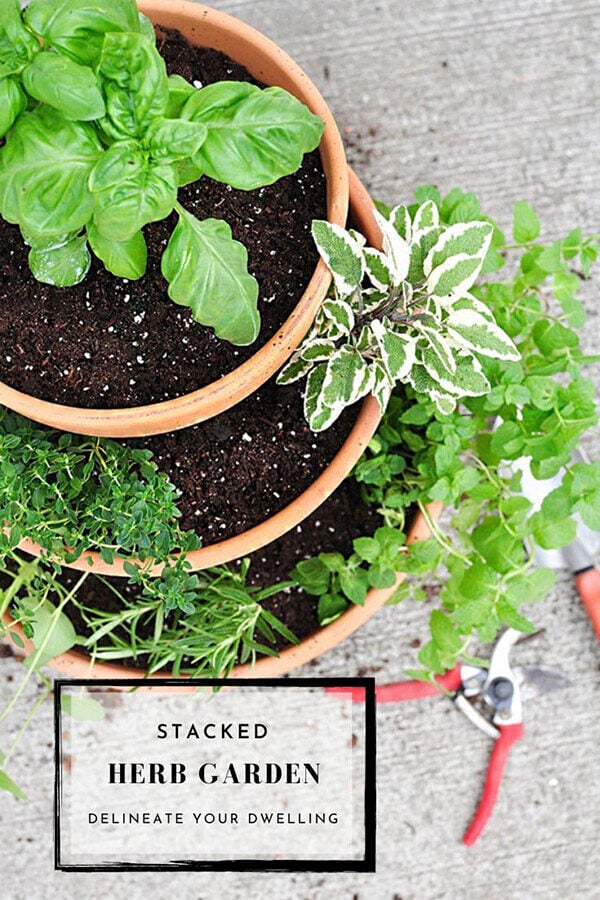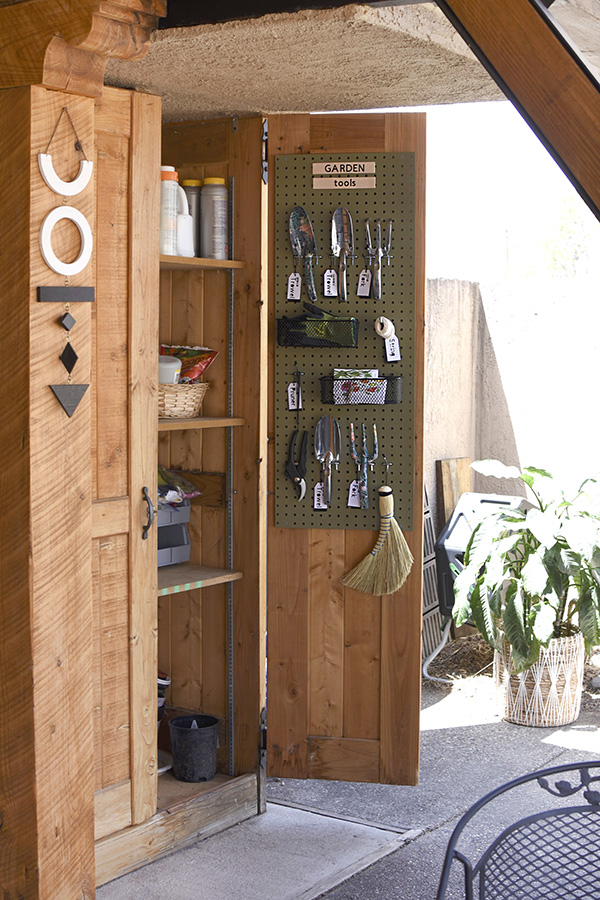 Create a Simple Raised Vegetable Garden