INSIDE : Learn how to create a DIY Stacked Herb Garden Planter. It's perfect for a small patio, an apartment balcony or having fresh herbs nearby your back door.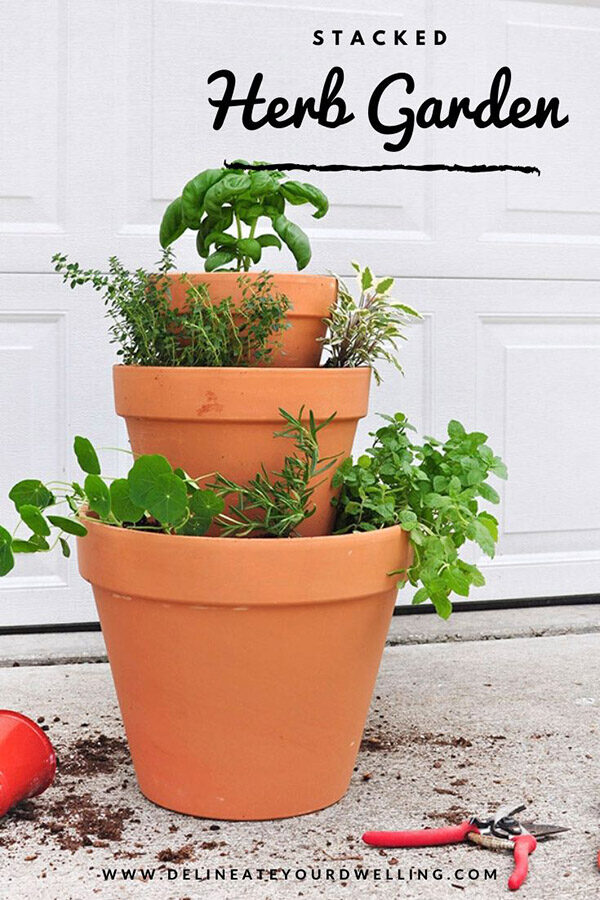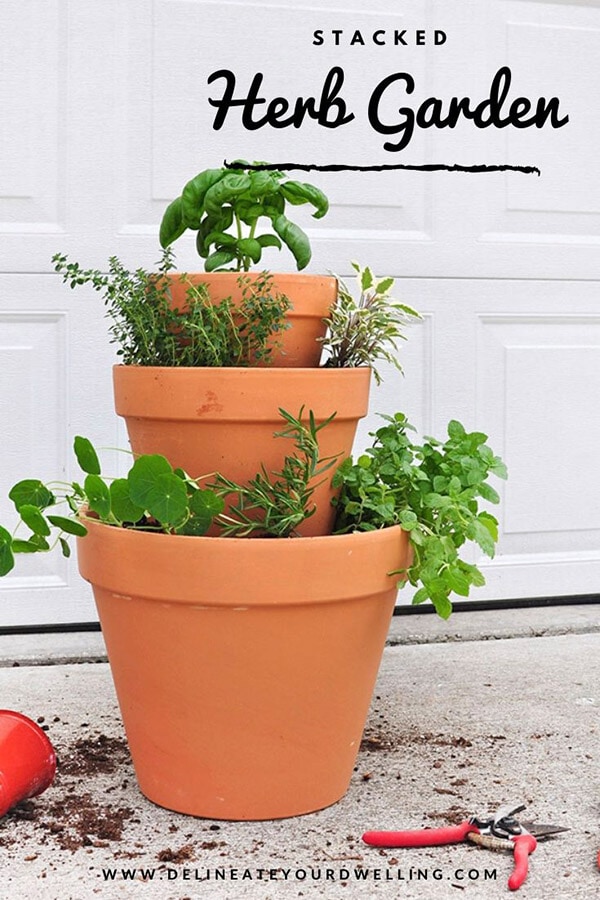 If you know me at all, you know I love plants… LOVE plants. So to say, I am excited to share today's post would be an understatement. Most of you know, we moved across the country roughly nine months ago and into the cutest little rental house. When living in a rental, sometimes you do not have the freedom to till up your yard and transform it into a lovely raised vegetable garden.
If you liked this plant related post, you will definitely like my easy checklist to help Keep Your Plants Alive? Sign up for my newsletter to get your FREE copy today and access to my how-to care for plants ebook coming soon!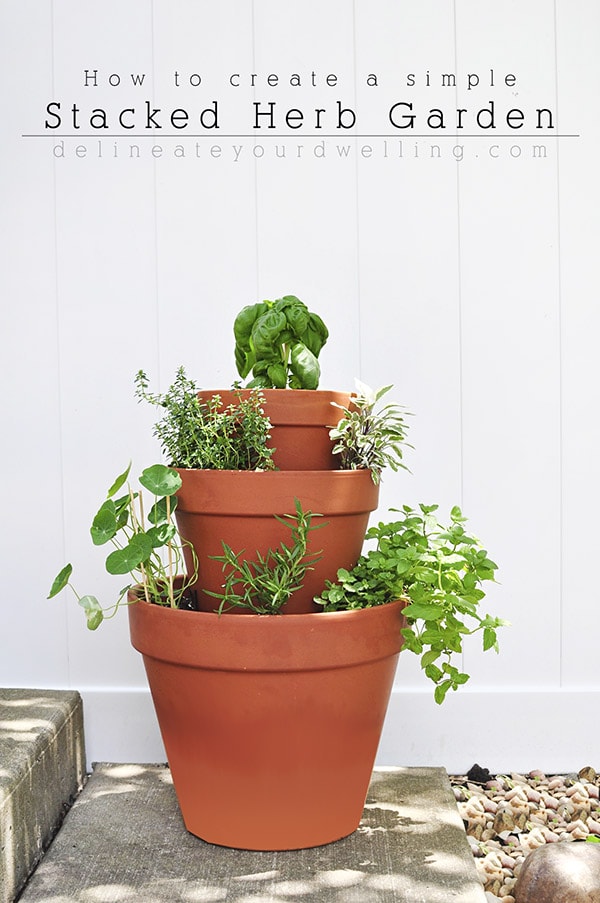 Also many times, if you are renting an apartment there may not even be a backyard or much outdoor space. So, today I am sharing how I partnered with my local plant nursery, Prairie Gardens and created this simple Stackable Herb Garden!
This post may contain affiliate links. See full disclosure here.
What supplies do you need to create a stacked herb garden with pots?
(5) Five Terra Cotta Pots
(6) Six Herbs
Garden Trowel
Garden Gloves, if needed
Hand Pruners, if needed
(1) One bag of Garden Soil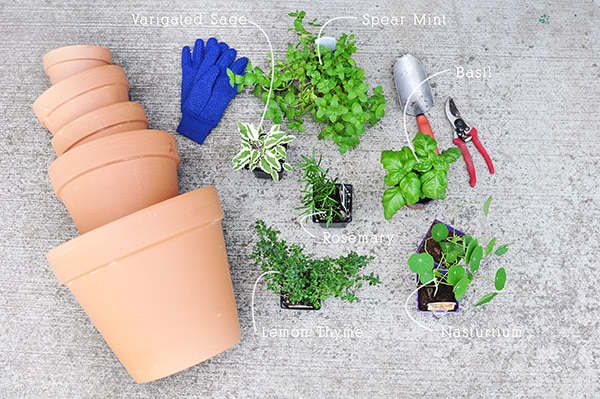 I'm giving you fair warning now. This post is picture heavy because 1. I love plants and 2. I would move into this plant nursery if they let me – it's so good. I teamed up with Prairie Gardens, my local Champaign, IL plant shop and it was a match made in green heaven.
How do you make a stackable herb garden with terra cotta pots?
The first step to creating a stacked herb garden is selecting the appropriate sized pots. I played around with various sized pots to find just the perfect ones. The exact sizes depend on how large you want and what your local nursery has available. As you can see, Prairie Gardens has quite a nice terra cotta selection.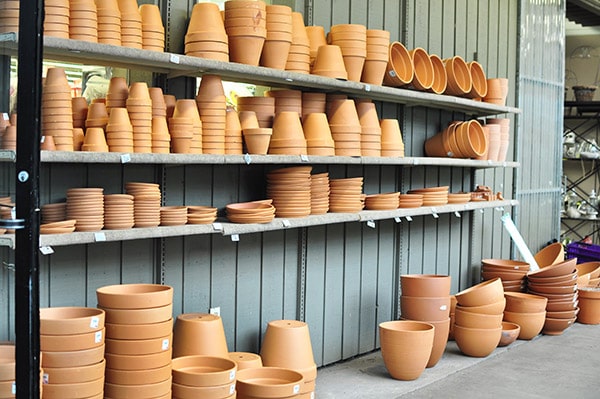 The biggest pot will be the base of your stacked garden, pot 1 (see diagram below). Then, pot 2 will be the next smallest pot. Pots 3 and 4 are the next smallest in size. These will be turned upside down, inside of pot 1 and upside down, inside of pot 2. They allow for the appropriate height in the stacked garden. Pot 5 is your smallest pot and it will be located at the very top.
I bought six different herbs, but the selection was so bountiful it was hard to narrow it down to only six plants! I bought basil, lemon thyme, spearmint, variated sage, nasturtium and rosemary.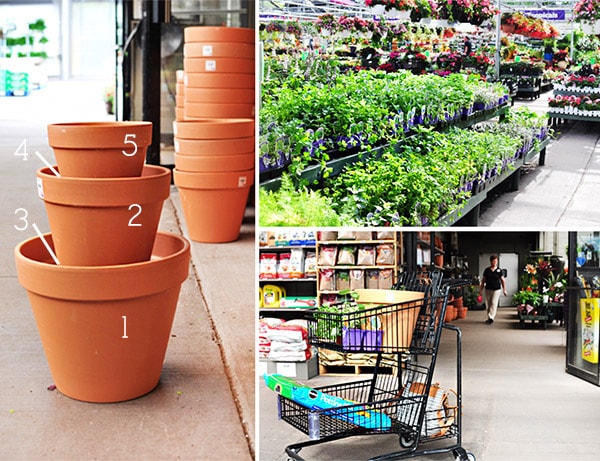 Next is the fun part, putting it all together. I started stacking the pots per my layout and adding in small amounts of the garden soil to hold the pots in place.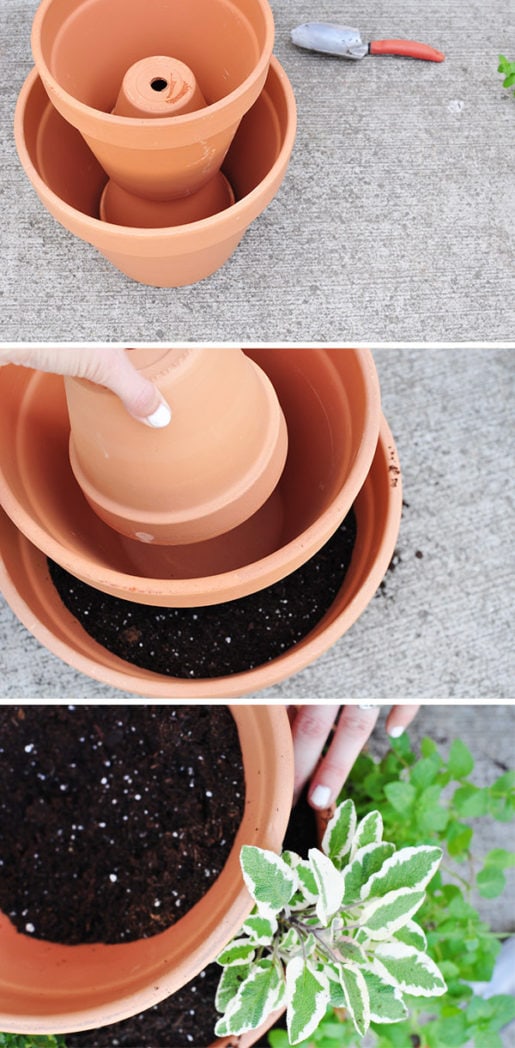 Then, starting at the bottom, pot 1, I started planting my herbs. Take into consideration the size and style of each herb you plan to use. I tried to vary heights and trailing herbs to keep it looking interesting throughout.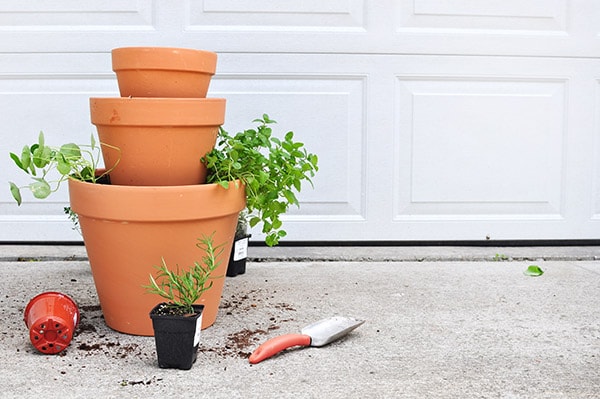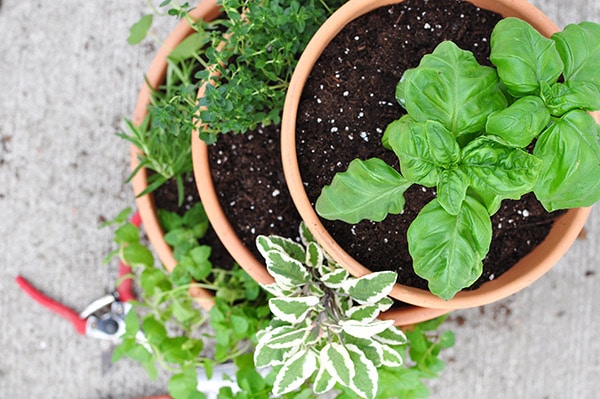 I think these nasturtium might be my favorite plant. The flowers (they'v not bloomed yet) and leaves are edible and I'm very excited to try them this year!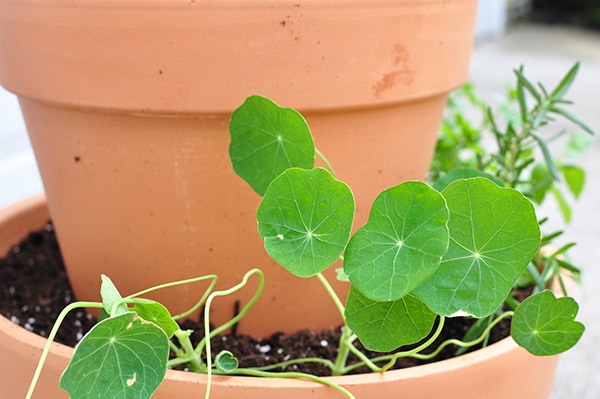 Did you know I wrote an ebook all about How to not kill your indoor plants? It has a helpful checklist for the 6 steps to keep your plants alive + thriving. In addition is has a deep dive on 7 trending "it" plants and 5 plant printables to hang in your home. Be sure to buy it below.
I could not be more thrilled with the outcome.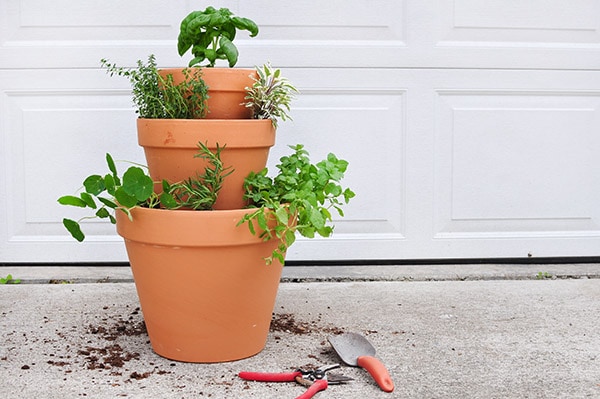 I found a perfect spot for my stacked herb garden. It gets just a little morning shade with plenty of afternoon sun.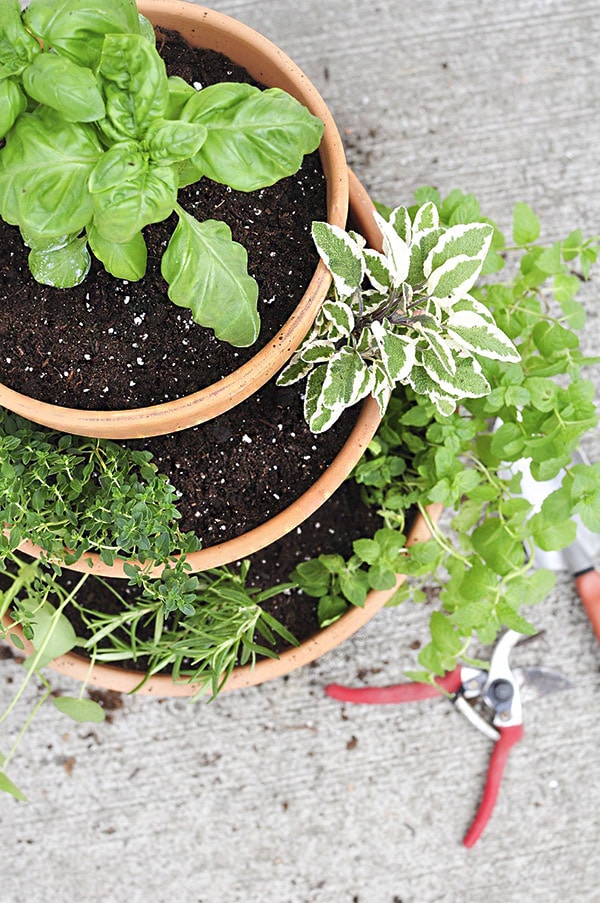 What are the best herbs to grow in a stacked herb garden?
I am growing quite a fun selection of green herbs this year in my stackable terra cotta pots. There is basil, lemon thyme, spearmint, variated sage, nasturtium and rosemary growing in our stacked garden.
Another bonus of growing herbs in pots, is you can visually see when the pots have dried out, versus when they are still wet and various portions of the pots are different colored from the moisture of the water in the soil.
I made a caprese salad over the weekend and loved being able to use basil from my new stacked herb garden! What is your favorite herb and have you tried this type of garden before?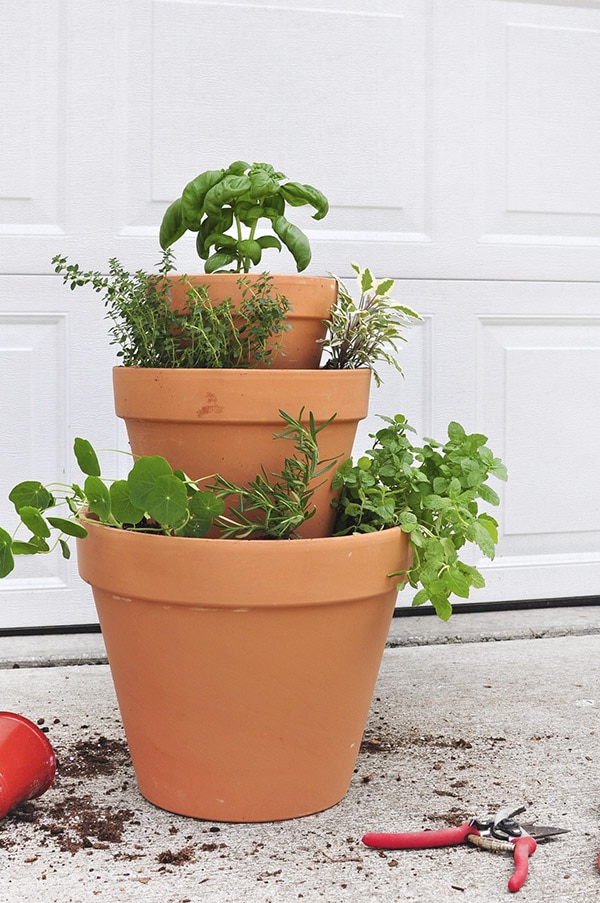 Don't forget to pin this fun idea for later!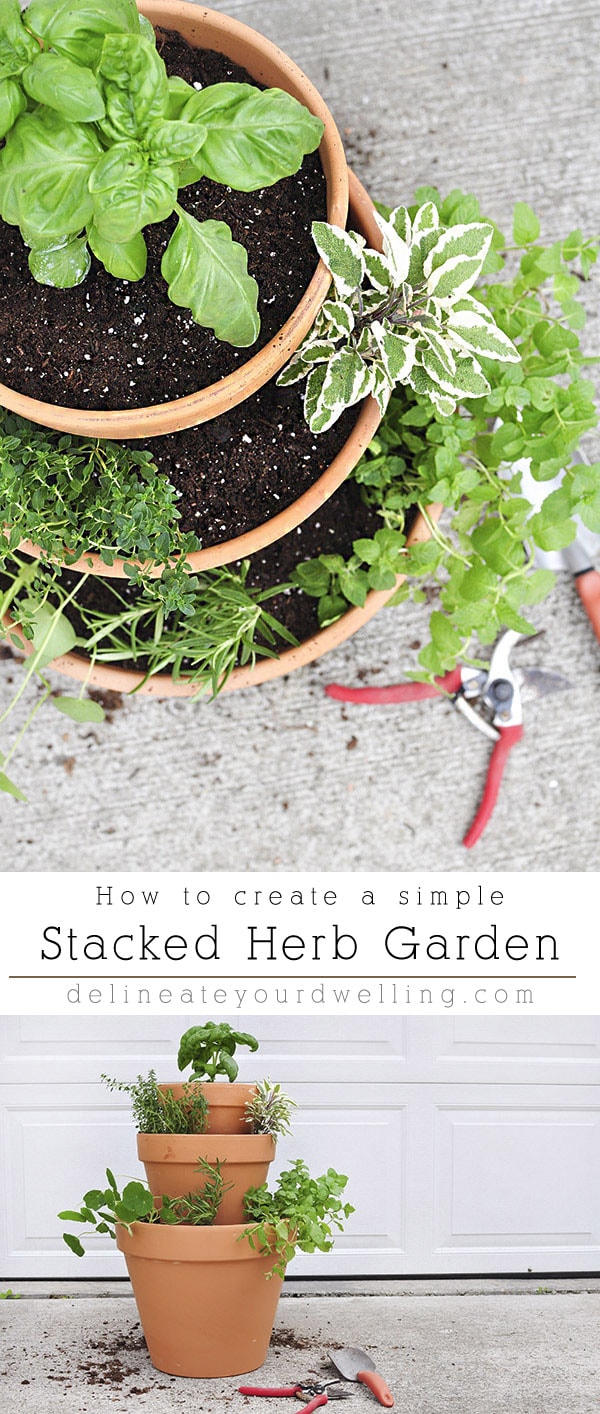 Looking for more plant related posts? I have tons of them that you might be interested in!
Thank you to Prairie Gardens plant nursery for collaborating with me on this project. I was compensated with plant material but all opinions are 100% mine.
SaveSave