It has been quite some time since I did a rental house post, so today is the day!  Today I am going to share my Rental House Front Stoop Update.  Notice I didn't say renovation or even makeover… sometimes when you live in a rental, there is not a lot you can actually do to change a space.  However, I am here to show you what a huge difference just a few little small updates can make!!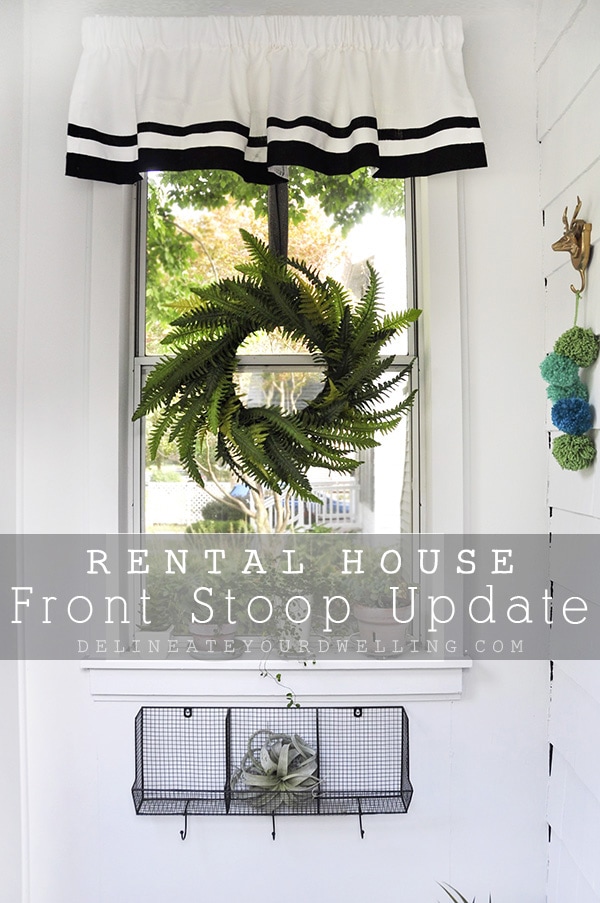 This post may contain affiliate links.  See here for my full disclosure.
In full disclosure, here is what our little front stoop looked like before my little update.  It's just a few steps from the outside into our home and I lived with it being three shades of green for a full year.
There was intense hunter green indoor/outdoor carpet, soft sage green trim + accent wall, pale pale sage green remaining walls and two green and white check valances.  It wasn't awful but felt a little dingy and didn't match the exterior of our home or the interior.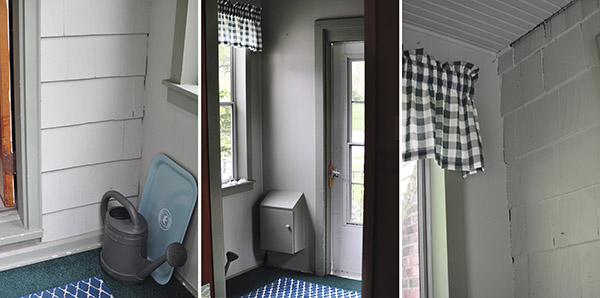 One day during the spring (yes, I'm so slow on sharing this post!) while my kiddos took their hour long quiet time, I went into the basement and grabbed a can of WHITE paint we already had and just started painting.  Instantly things started to feel so much better.
Why is it that when living in a rental home, we are so afraid to make our home… OUR home?  The room has quite a bit of detail work due to a gorgeous planked wall, but painting it was so worth the effort.  And what a better space to make look welcoming and more like my family than the front stoop – literally the very first impression of our home.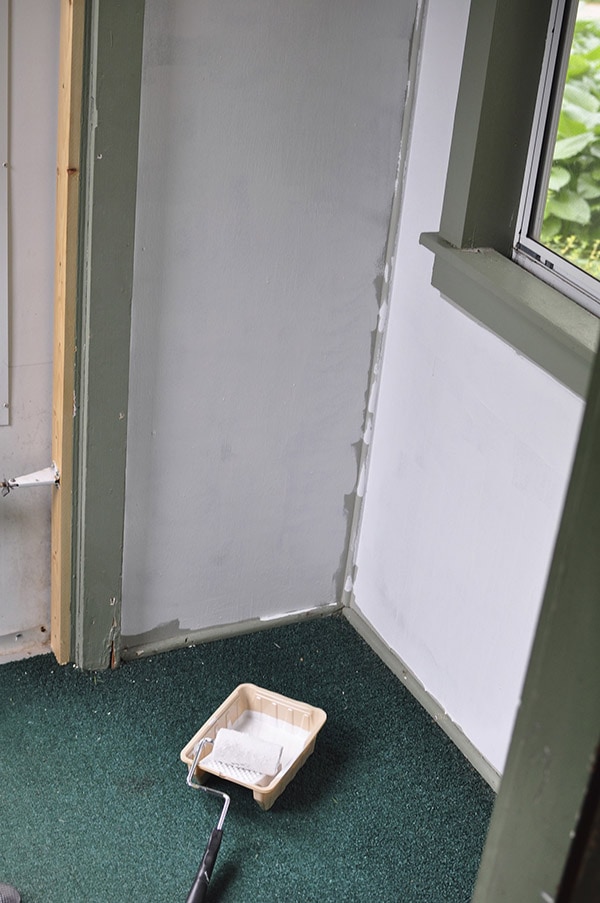 While the paint dried, I shopped my home a little and then headed off to Target for a few finishing decor touches.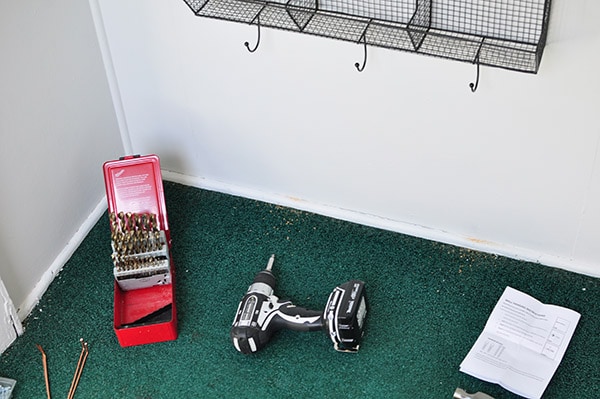 A wire wall hanger | A gorgeous black and white plaid rug | Deer hook (I already owned)
Copper pipe shelves | Two white valances | A hanging fern wreath | Allllllll my plants.
This is the view right when you open the door into the stoop area.  The very first thing you notice is the plaid rug, which is probably my favorite part of the room.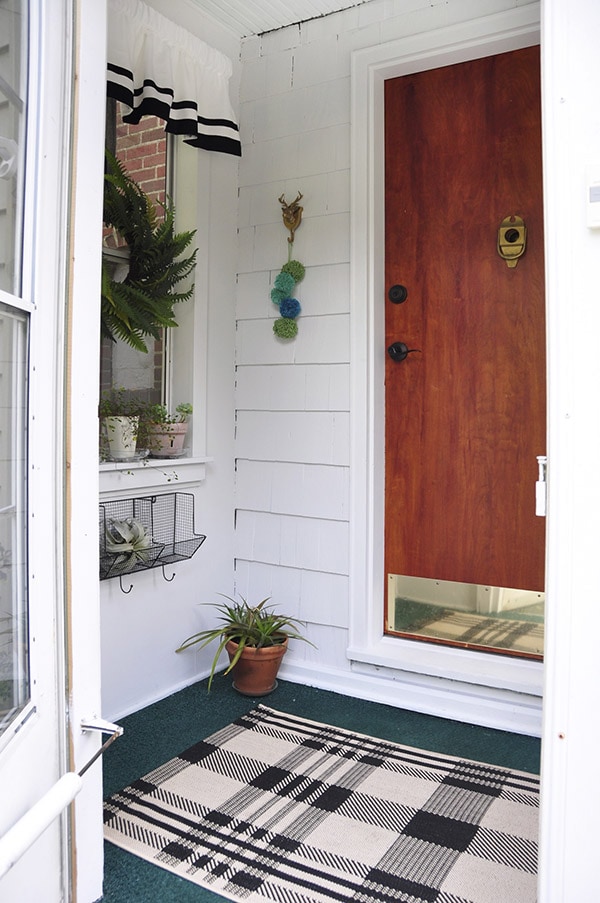 On the left side of the space I hung the black wire basket with hooks.  Over the summer these baskets were filled with bug spray, citronella candles and of course, air plants.
I was also channeling my inner preppy Jungalow with covering all the window sills with my plants.  It works as a perfect little green house and I love pop of plants every where I look.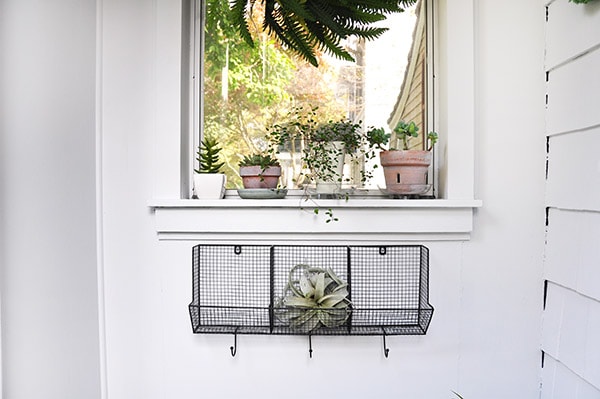 I took these super inexpensive white valences and painted simple black stripes on them for an instant crisp update!  I used painters tape to mark off the lines and it took maybe an hour plus dry time.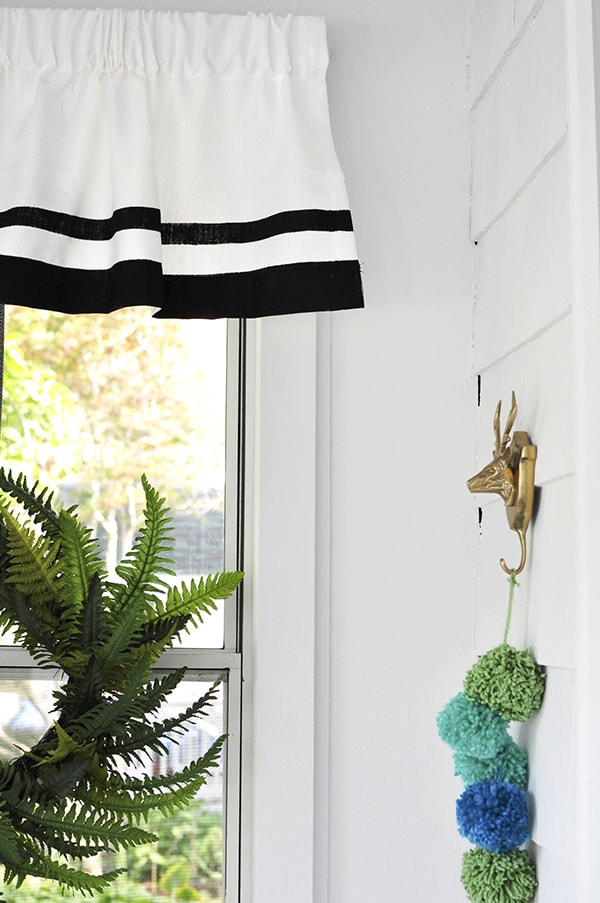 I bought the 2'7″ x 5′ rug size because it was the biggest I could go to cover as much of the indoor/outdoor carpet as possible.  If this were a home we owned, I would have replaced this carpet but a rental a rug was the perfect option.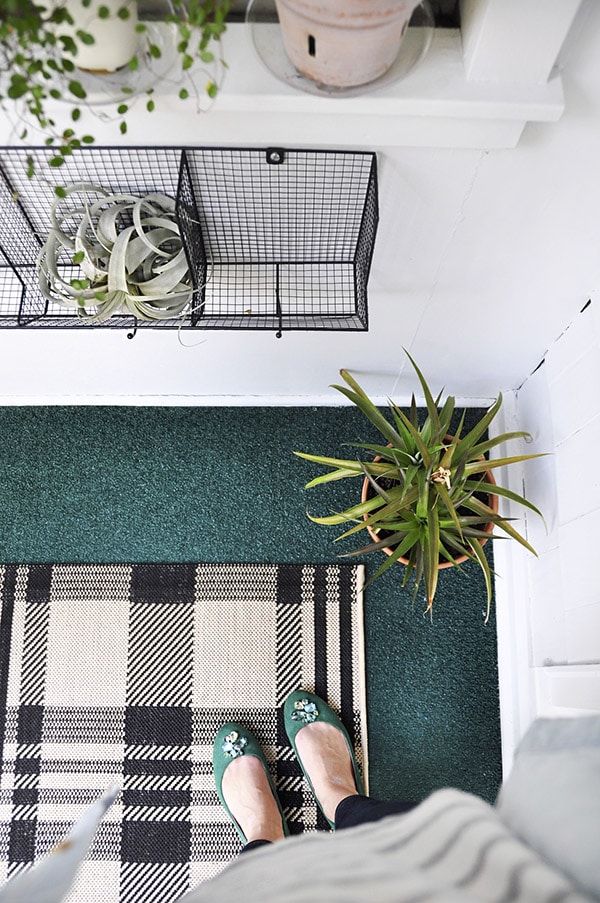 And because it hurts my heart just a little to be too white and black, I hung my sweet deer hook with a string of pom poms I made.  Every room needs just a little odd, don't you think?  (Similar hook, here)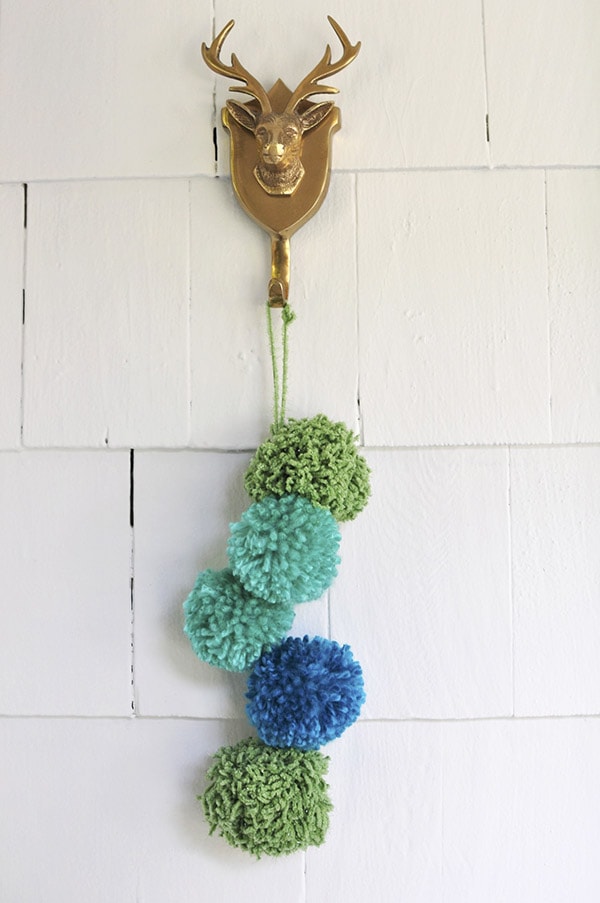 I also moved my Ikea Pineapple plant inside, so hopefully he will keep growing over the winter!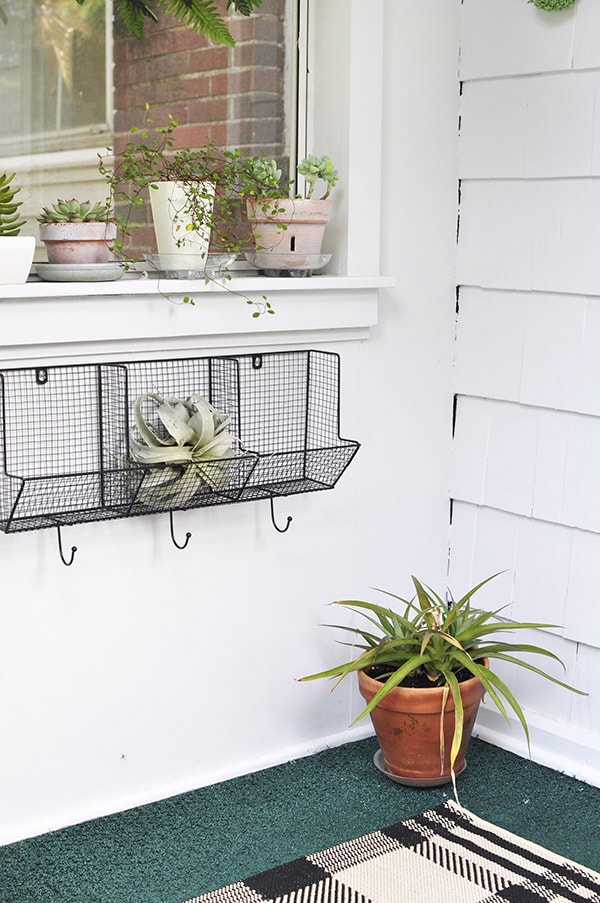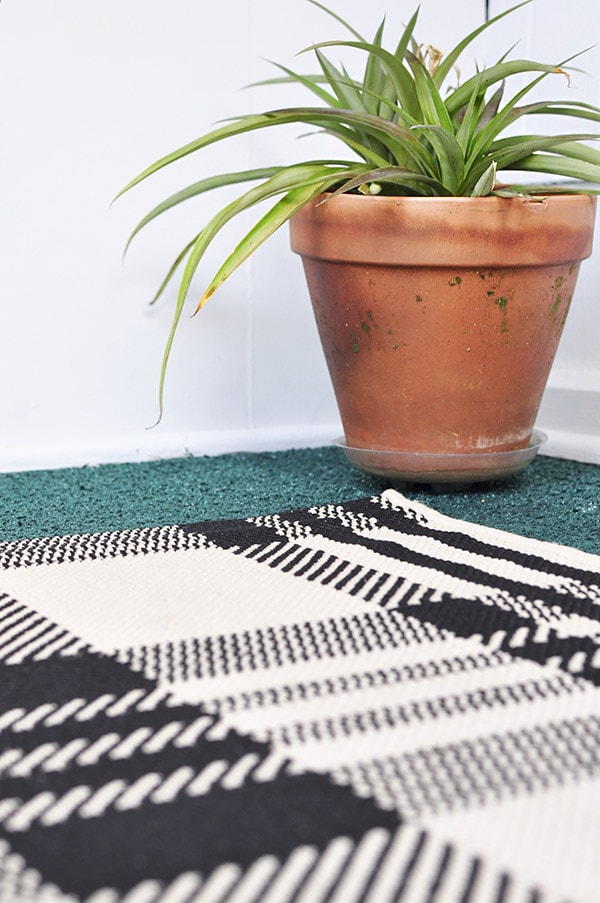 On the other side of the front door, I hung my DIY Copper Pipe Shelves.  They are the perfect size to hold my smaller air plants and they add just a touch of copper to the room.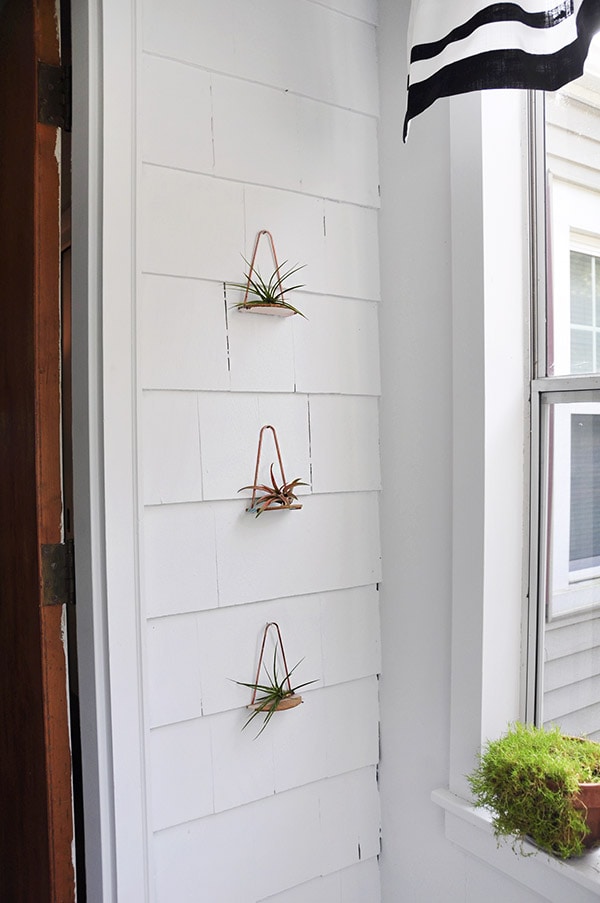 And more plants on the other window sill because… why not.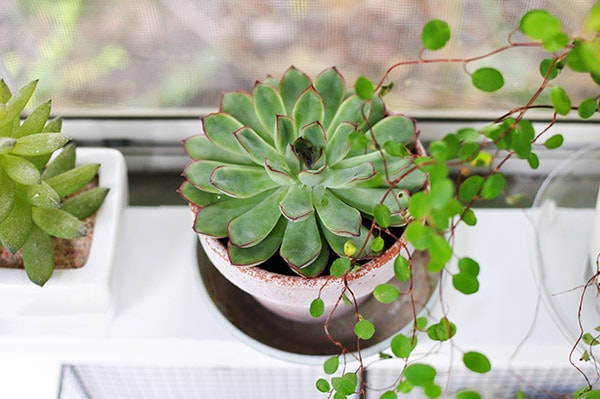 Our mailman delivers the mail right to our house and this little door is where our mail enters from outside.  I had wanted to remove the old wooden knob and replace it with a copper knob.  As much as I twisted that wooden knob was NOT coming off so I got smart and PAINTED it copper!!  I used my favorite copper foil paint (it's actually a bronze color but it looks perfectly copper).  It's remarkable how real it looks.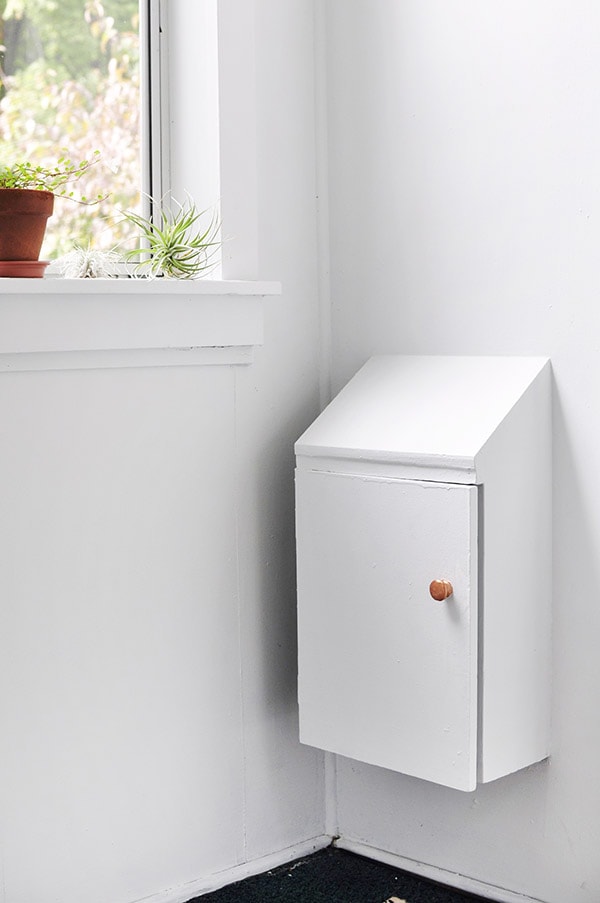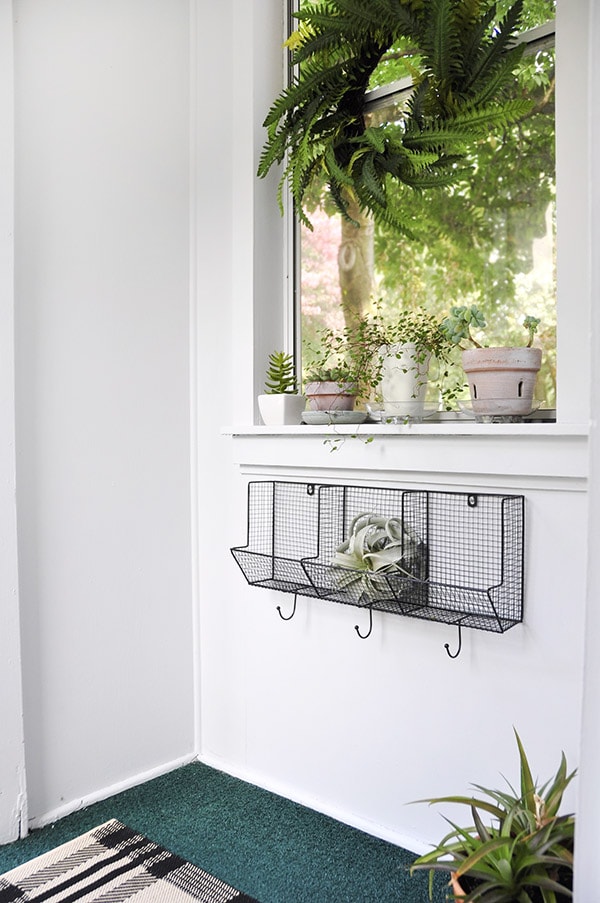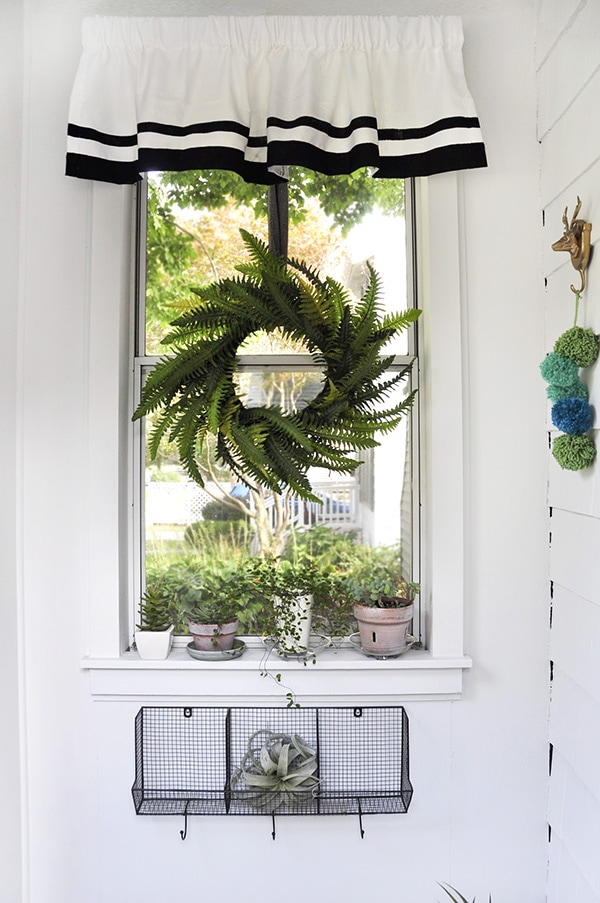 It may seem silly, but I wish the space was even 12″ wider so I could put a little chair in there.  The room makes my heart sing with it's cheerful white walls and plants all around.  Really there isn't much more you could want from a room in your home.  So whether you are an owner or a renter – make your space work for you!
RENTAL FRIENDLY DIYS:
SaveSave
SaveSave
SaveSave