Rental Friendly Wood Memo Board
INSIDE : Learn how to create a beautiful Rental Friendly Wood Memo Board for your home. Keep yourself organized and stylish without upsetting the landlord!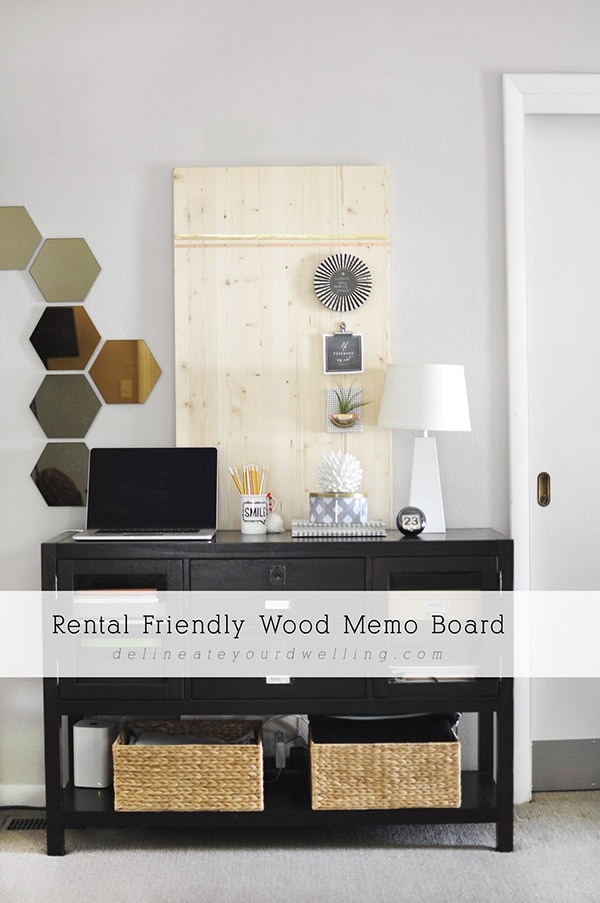 This post may contain affiliate links. See full disclosure here.
I'm back today with another Rental Friendly project for you. What do you do when your landlord or apartment doesn't allow for nail holes on the wall? Do you honestly want to live in a home void of pictures and decorations that speak to your aesthetic? Today I am sharing how to create this Rental Friendly Wood Memo Board.
Check out some of my other Rental Home posts:
What supplies do I need to create a huge wood memo board?
I went to a few different home improvement stores to do some shopping around for my main board. Originally was going to do a peg board but for the size I wanted they boards became very heavy hang with command strips. We are lucky and in this rental we can make nail holes, but our walls are plaster so we've already bent about 20 nails trying to put things up.
Using Command Hooks and Strips for nearly everything is our best bet for this house. Also, I would have had to buy all kinds of parts and piece to use on the peg board. I love the idea, but it wasn't the right one for this situation.
Solid Spruce Wood Panel
Finally, while walking the aisles of Lowes I found this Solid Spruce Edge-Glued Panel. I was looking for a bit wider of a board but for the price, quality and close enough size, I was sold! I wanted to literally buy a piece of wood and be done and this piece, exactly fit that bill.
I also selected a piece of wood that was tall enough that I could simply set it right on the ground and against the wall and still have enough room beyond our entry table.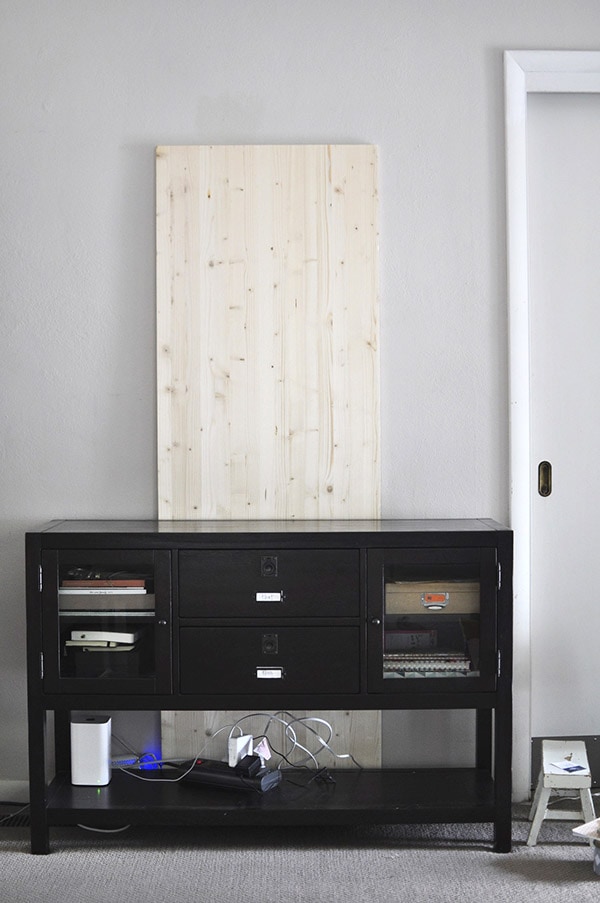 Personalizing your Memo Board
The next step to creating this large wooden memo board was setting out all my supplies. I pulled out gold thumbtacks, washi tape, clips, a door knob from Ikea and various items I thought might look good on my wood board.
I'm a big fan of sketching things out, so I took a quick picture with my phone, printed it out and did a few sketches until I found my perfect layout.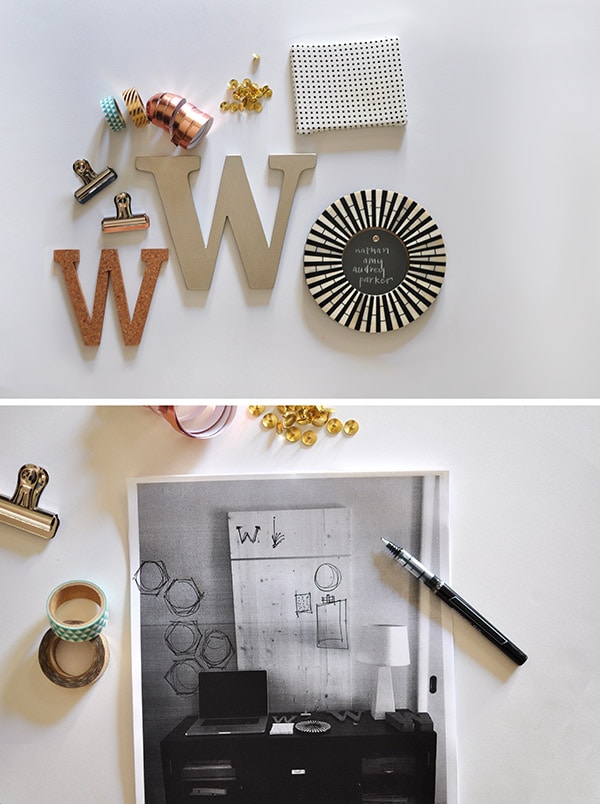 Plus, since I already had my layout drawn out, it was easy to put the pieces together.
I added two strips of washi tape, gold + copper. I also added a small strip of copper washi tape to an Ikea knob that I turned upside down and am using as an air plant holder.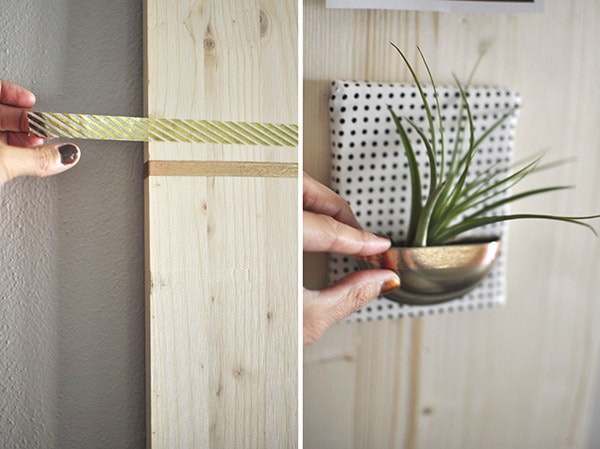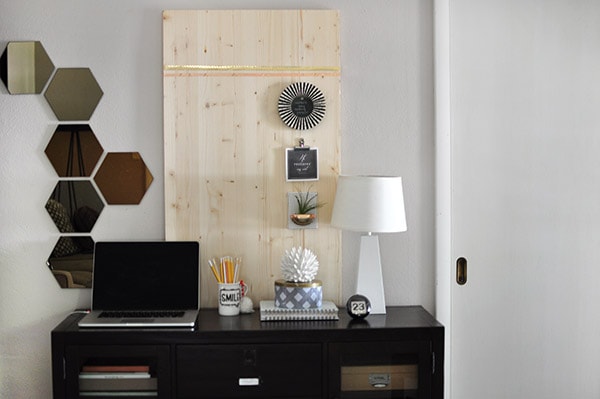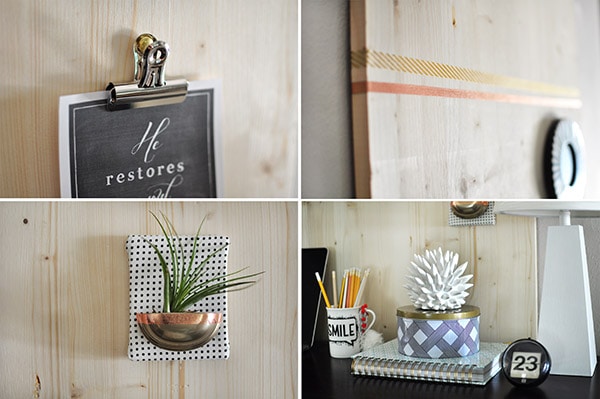 Rental Friendly Wood Memo Board
Using this wood memo board, I can put holes and move things around all the time without worry of messing up our rental home's walls. But, I'll be honest I really like the simple look so I may stick with that for a while!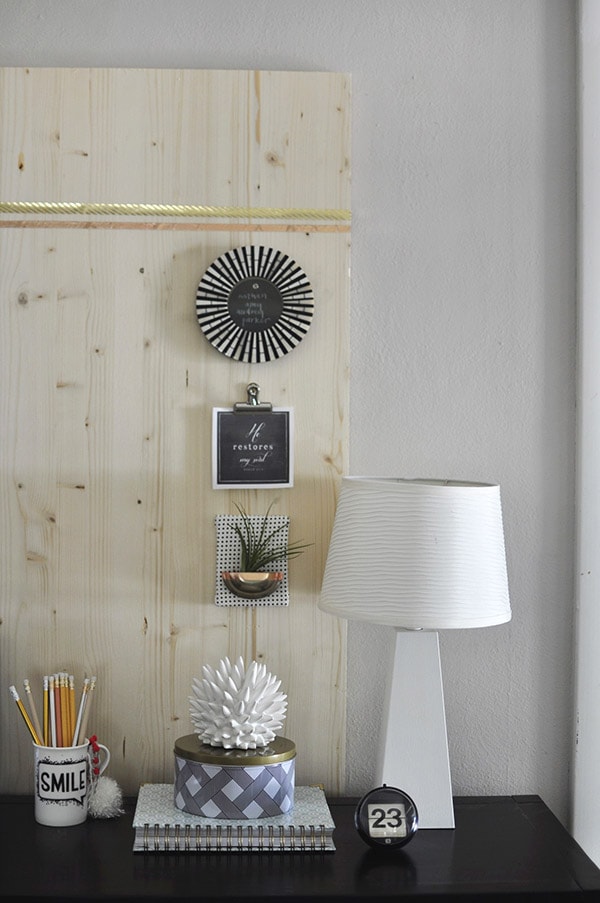 Okay, honesty time. Do you think I am completely crazy for setting a piece of wood against the wall in my house? The hubs thought I had lost my mind at first, but now he actually likes it! Let me know.
RENTAL FRIENDLY DIYS:
SaveSaveSaveSave
SaveSave